Day 36 (July 18, 2018 – Innsbruck, Austria): "Tuxed Away"
I awoke at 5am and did the now usual routine of getting caught up on documenting yesterday's happenings.
It took some time as usual to get ready for the day, especially that we were going to check out of our cramped studio room. Julie had also spent some time cooking breakfast while I had to help with the cleaning duties, especially since this place had no dishwasher.
So it wouldn't be until about 8:15am when I fully loaded up the car, and five minutes later when we took off for good.
The drive out of Val di Gardena west towards the direction of Barbiano and then north towards Chiusa and onto the A22 went pretty smoothly. Once we were on the autostrada, we then had the familiar ticket system where the cost of the toll depended on how far we went.
We wound up paying about 4.10 Euro once we made it to the toll station near the Brenner Pass, which was actually not bad considering that we had driven over 80km on the autostrada at this point. However, after driving a bit further north towards the end of a long descent, there was a pricier toll of 11 Euro on the Austrian side, where the A22 became the A13.
Apparently when we were done paying our toll, the guy in front of us was randomly stopped by police. We'd been fortunate not to be stopped by any of the police to this point, but I wondered if the cops here were checking for those vignettes, which we dutifully bought back on July 10th for the period starting July 11th that would last for 10 days (which would put us right up to the day we were leaving Austria).
Anyways, with diesel running low and me being indecisive about what to do for today (knowing full well that today and tomorrow were forecasted to be good weather days but the weather would get worse come Friday afternoon and all day Saturday and Sunday), I knew that we had to try to get the good weather excursions in.
So I had it in my mind to drive out to the Hintertux Glacier area, where there were some waterfall hikes as well as the opportunity for Julie and Tahia to do some glacier activities while I would be doing a hike or two. That kind of divide-and-conquer approach seemed to be working out on various parts of this trip knowing full well that they could get bored waiting for me if they didn't want to be subjected to a difficult hike, which Austrian Waterfalls tended to be.
Thus, the drive resumed on the autobahn where the speed limit was pretty much capped at 100km/h, which was frustratingly slow for a multi-lane autobahn. Still, with it being too early to check into Innsbruck at this time of the morning, we continued driving onto the A12, and then eventually got off the autobahn onto the B169 road heading south into the Zillertal Valley.
This was where I paid a more reasonable price of diesel at around 1.25 Euro per liter, which was actually on the pricier side compared to the area around Mittersill or even Pongau (where I paid on the order of 1.17 Euro per liter), but it was still much better than paying upwards of 1.7 Euro per liter, which could have amounted to a nearly 50% markup in diesel price on a single fill-up!
I still didn't fill the whole tank thinking there could eventually be something cheaper along the way today or tomorrow, so we continued the surprisingly busy drive south as we'd eventually leave the B169 Road onto the Tuxerstrasse. This side road then climbed steeply before being stopped at a restrictive one-way traffic light where only a few cars were let through at a time. We got here at around 11am.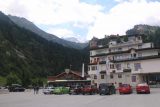 But aside from that delay, we'd eventually drive this road all the way to its end at the Hintertux Resort area (a short distance beyond the Hintertux town), and then we'd finally park the car at 11:35am.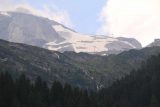 It took some time to gear up, but right off the bat, we could see a waterfall tucked away at the head of the valley behind the lowest of the cable cars (or "Gletscher Bus") as we were aware that this place offered reportedly the country's only year-round skiing resort. And it was indeed quite strange to see people in shorts wearing ski boots and carrying around skis. Clearly, the cable cars (there were multiple sections) would take people up-and-up-and-up to where there was still snow or ice near the summits of the 3000+ meter mountains overlooking the valley we were in.
By around 11:55am, that was when we started to go our separate ways as I started hiking while Julie and Tahia looked for a place to have lunch.
First up, I decided to go to the waterfalls I saw at the head of the valley. Along the way, I saw a sign that suggested that the Schleier Waterfall (one of the target waterfalls in this area) was a whopping 3 hours away! Yet I saw in my research notes that it was only 45 minutes away. So did we somehow park in the wrong car park or something?
Regardless, I went for the low hanging fruit, and after going along a mostly paved road, then passing by some kind of Water World playground (with a swing that actually gets you wet as well as water gun shooting at some shield targets), I then get past the swinging fence and briefly up to the first waterfall at around 12:20pm, which was called the Kesselbachfall.
This attractive waterfall fell into what looked like a series of rocky tiers with one small pool that didn't seem swimmable. Still, there were a handful of people here, and the spray from the falls felt refreshing even if the view of the falls was somewhat against the sun at this time of day.
After having my fill of this falls, I then continued up along a steeply ascending trail (by now, I've been conditioned to thinking that all Austrian hikes were very vertical), where there was one confusing section near some electrical substation or something like that, as I went through a broken fence to continue onto some steep switchbacks as the trail went up what appeared to be a dry gully.
Eventually as the steep, rocky, and rooty gully momentarily petered out, I then was at an overlook looking right at the Schtraubenfall, which appeared to be smaller than the first waterfall, but it had this weird quirk in that the falls' course then veered left and went right into what appeared to be a natural bridge. Actually, that span was hard to see, and even the waterfall was a little difficult to see due to the positioning of the barricade to prevent people from getting too close to the edge.
The trail then continued climbing as I targeted some fences overlooking this spot of waterfall and natural bridge or tunnel. Eventually at around 12:50pm, I had arrived at the top of the Schraubenfall, where a short spur trail led me to a different overlook in the opposite direction with a much better view into the cave-like tunnel as well as the overlook I had just been to earlier. Looking in the other direction, there were strange tiny natural arches revealing on hints of the waterfall.
Well, this was my turnaround point, and then I headed back downhill eventually returning to the resort area at 1:15pm. I didn't see Julie nor Tahia at this time so I figured they must have been inside one of the restaurants having their meal. And so I decided that if I was going to do the Schleierfall (3 hours+ and all) then I mind as well get started on it now.
So I first got onto a trail that climbed gently above the valley though it was headed in the opposite direction as the first two waterfalls. But soon enough, after the first switchback, the trail then climbed a bit more steeply alongside some fencing. Looking back towards the head of the valley, I could see more of the Kesselbachfall as well as a cascade way higher up the mountain closer to the glaciers and snow.
The view back was so captivating that I paused frequently to take pictures even though I knew that time was of the essence (since we couldn't keep the owner of the apartment in Innsbruck waiting for too long, and since Julie initially promised an arrival time of around 4pm give or take).
Eventually, the trail then split off into a flatter and wider path leading towards the Bichalm (some kind of cafe I think) with a separate path veering left up a much steeper path. I took the steeper path since the signs still suggested that the Schleierfall was in that direction.
Along the way, there was one person in a hiking group going down who asked me in English how the hike was going? I told him it was going fine, and then I asked him how far the waterfall was.
At that point, the guy looked at his watch and said it was a long ways away, and that I mind as well go to the Bichlalm for a drink or two, because he said I'd have to hike beyond that alm. So that further made me wonder whether that 45-minute trail I had read about in my research had existed or not.
This climb was definitely sweat-inducing, and when I got up to a part where I saw the next signage, I was scratching my head at the absence of a waterfall sign. Did I somehow take the wrong path or missed it? There was even a small wire fence that made me think the trail to continue was closed.
So I then backtracked across a grassy area and back onto the flatter wider trail, as I saw that there was more signage further ahead. But when I got to that sign, I saw that there was no Schleierfall sign to be found there either. So at that point, I saw that there were metal sticks that were probably snow-sticks or avalanche sticks or something like that, and I followed them up at a steep grassy slope as I sensed that this could have been either a steep ski run or an old road. It was hard to tell.
But as I continued following these sticks, the path became increasingly grassier with no trail to be found (at least none that returned to that trail I had forsaken earlier), and I then saw how high up I had to go to get up to some construction cranes and hikers, which was where I'd imagine the trail was supposed to be.
So this steep scramble continued as I was now really breathing heavily and dripping with sweat. Eventually at 2pm, I'd make my way up to the trail, which was actually as wide as an unpaved road. Then, I took a guess and continued walking towards the mountains in the uphill direction (though it was fairly flat at this point).
After asking a couple in German if my direction was to the waterfall, they confirmed and I continued with a renewed sense of hope that I would eventually get to the target waterfall.
Indeed, after some more gradual grade hiking, then after rounding a bend, I finally got my first glimpse of the Schleierfall in the distance. However, I also saw that there were a couple of paths that forked ahead of me. One veered left towards another junction before climbing up to the falls, but there was another steep straight ascent to the right that seemed to get up towards the top of the Schleierfall.
I actually went ahead and took the steeper path hoping that there would be a connecting trail that would get me to go back down the other trail. And as I was especially getting tired as this last ascent was relentlessly tiring and persistent, I'd finally make it to a point where I would climb no more near another swinging fence at about 2:30pm.
From this vantage point, I managed to get somewhat top down views of the falls with some peaks in the distance still clinging on to what snow and ice was left at this time of the year. And much to my relief, I saw that there was a descending trail leading to the base of the falls as well as people going in both directions further below. So I wouldn't have to backtrack and then go up again as I had feared.
By 2:45pm, I was in front of the Schleierfall, which was throwing up enough mist to keep me refreshed and cool. This waterfall was certainly tucked away in a side valley and I doubted that any cable car rider would even see this waterfall since it seemed to face away from everything in a different ravine.
Regardless, I enjoyed this moment and captured what I could of the waterfall even though I had promised Julie and Tahia that I'd be back in the resort area by 3pm. Clearly that wasn't going to happen on this hike, and it was conceivable that it wouldn't be until around 4pm that I'd be back if I went down the sanctioned way via the Bichlalm.
However, when I made my return to the main trail, I was at the bridge over the stream responsible for the Schleierfall, and I saw that there was actually a direct trail that left from the front side of the bridge. That must have been the trail I should have taken in the first place!
And so I quickly made my descent initially along a grassy area by the stream before the trail followed a more conventional ledge as it hung over the stream. Then, as the trail re-entered a forested area, there were some spots where the trail was a bit on the rocky and rooty side (there was a young boy carrying his bike up this path, where a group of 3 that he was with were actually speaking North American English, which was something I didn't expect in this part of Austria).
Anyways, the descent continued a short while longer before the trees started to clear and I found myself back at that spot where I made the mistake of not trusting my instincts and kept going along the trail on the way up. So indeed, the rest of the downhill hike was a breeze, and I made haste as I was thinking that Julie and Tahia were probably waiting for me for over a half-hour back at the resort part of Hintertux.
By about 3:25pm, I finally made it back to the car park, but at first I didn't see the note that Julie and Tahia left for me. So I spent another 10 minutes walking around and even back up to the Kesselbachfall before I returned to the car and finally saw their note. Apparently, they went up to the Natur Eis Palast, and they took the 2:30pm tour. So I knew at that point that it would be a while before they finally would make their way all the way back down from the top to get back to the car park.
Indeed, as I sat and unwinded at one of the rest benches near the cable car station area at 3:35pm, I was just checking pictures on my camera, while also getting a kick out of some people who left the cable car in skiing and snowboarding attire. That was indeed quite an unusual sight considering that we were in mid-to-late-July in the height of the Summer season.
Eventually by 4:25pm, Julie and Tahia excitedly rejoined me as they were back from their ice-capade, and we were back in the car. Tahia and Julie both had smiles on their faces as they beemed about their ice palace experience. Indeed, it seemed like quite an interactive experience as this tour included a boat ride on a glacier river inside the ice field as well as lots of climbing and walking through ice tunnels.
Julie said it was almost like the Eisriesenwelt experience except you got to take pictures given the artificial lighting of the ice caves. So indeed, I was glad they got to experience the very reason why the Hintertux resort area was built in the first place. And while I didn't get a chance to go up there with them, at least they weren't left bored while I was doing my hikes.
Indeed, in the end, we got what we came for, but now we had to get back to Innsbruck and check into the apartment, which was one of those things where we had to keep in contact with the owner and meet with them outside their apartment. So we couldn't keep her waiting for too long, but it was a far cry from the 4pm expected time as we were now expecting to be there at around 6pm!
But with the traffic and the delays on the way back onto the B169 and then eventually onto the A12, we were really concerned that we might even slip that expected time as well!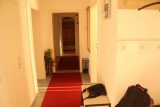 Well, overall, we'd ultimately make it to the main train station in Innsbruck at just before 6pm. We managed to find temporary street parking just a few paces from the apartment that we were supposed to be at, and so Julie did her thing and spoke to the lady she was supposed to meet while Tahia and I waited at the car to make sure we were in the right place.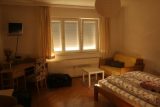 Ultimately, Julie had paid for about 30 minutes for our street parking, and then we went ahead and got most of our stuff out of the car and lugged them to the apartment where the lady was waiting for us. We then got up to the Lisa Apartment (that's what she called it, I guess even though the place had no room number), and then she showed us the rounds of this refreshingly spacious apartment.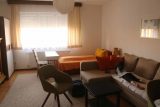 Indeed, we've found on this trip that doing these private apartments was the way to go, and this just confirmed that we'd at least have plenty of space and relative comfort for the next 4 nights. Of course, we did have to pay a city tax as well as car parking so that put us out around 56 euros in cash.
Then, after Julie and Tahia got settled, the lady went back down with me so she can direct me on where the park the car.
It turned out that it was not trivial to find the parking garage, which was a non-descript underground entrance at 30 Adamgasse. Then inside the garage, I had to make a couple of tight left turns before making a right turn and finally ending up in a spot labeled "20". So that was where I was parking, and then we had to walk back out of the car park.
While there was a pedestrian exit, she said that it was complicated and that we were better off walking up the way we drove down. This resulted in a bit of a struggle for the apartment owner as she apparently twisted her ankle real bad from high heel shoes and a misstep apparently not that long ago.
So I kept her company on the walk back to her garage where I got to practice a little more German with her some more before we then went our separate ways. Eventually at 7pm, I was back at the apartment and we were all settled in.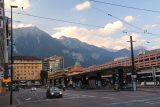 We then went back to the train station where we went into an MPreis supermarket that was open everyday until 9pm! That was crucial because everywhere else was closed at 6pm. And when we got into the supermarket, we were blown away at how big it was (relatively speaking of course) and the variety that they had even though bio-obst (fruits) were not as available.
Eventually at 8:25pm, we were back in the apartment where we actually opened the door to a parallel column of a lift and several flights of steps, but the apartment area was something we didn't recognize and it was almost as if we were in the twilight zone or something. However, when we realized our mistake, we went back down, then found the correct entrance (also by a cafe), and then finally we were back in familiar territory.
The only snag to the rest of the evening was that we realized that there was no freezer, and we had bought some bio gelato to satisfy Tahia's craving for ice cream since we didn't get ripped off at Hintertux. So we had to eat that stuff before dinner to ensure that it wouldn't leave a goopy mess had we waited any longer.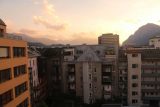 And so after our self-cooked dinner of shrimp, we unwinded on the day, got cleaned up, and tried to stay cool as it was quite warm in Innsbruck (said to be 30C or more). It was probably the warmest day we've had on this trip so far, and tomorrow, we were still looking forward to taking advantage of the good weather to do yet another high alpine road with some waterfalls to boot before the weather was forecasted to turn bad.
We'll see how it all plays out going forward as the trip's home stretch was definitely coming…
Visitor Comments:
No users have replied to the content on this page