Day 37 (July 19, 2018 – Innsbruck, Austria): "Everything Under The Sun"
It was about 5:15am when I awoke. I heard lots of noises on the side of the train station since I had the window cracked open to let some air inside the apartment, but I guess that noise was the tradeoff. In any case, I once again did the usual routine of getting ready for the day after I got caught up on the blogging.
However, it once again took Julie and Tahia a lot of time to get ready for the day. I was hoping to be out the door before 8am, but it wouldn't be until around 8:30am when we were finally in the car. I had a feeling that that would put pressure on the rest of the day in terms of coming back to Innsbruck after things were closed like they were yesterday. Mentally, I thought the cutoff was 6pm since that was what the apartment owner told us.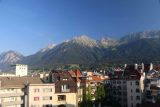 Anyways, with today's forecast for good weather, we were determined to check out the Kaunertal Glacier Road. I knew that that was the automatic call considering that it would be best experienced in good weather considering how high we'd have to climb. Also, I was planning to do the Stuibenfall, which was said to be Tyrol's biggest waterfall, and that trail was on suspension bridges and many metal steps so I also figured that we had better fit that in on a good weather day.
So with that in mind, we made our way out of Innsbruck but had a few delays on the way because Tahia couldn't find her doll in the car, and then the GPS routed us to Stuibenfall first, which I had assumed was on the way to the Kaunertal Glacier Road. Unfortunately, we were intending to do the glacier first, and that Stuibenfall detour costed us a few more precious minutes to this fine day.
Indeed, the Kaunertal Glacier Road was in the direction of Landeck (where we were intending to head tomorrow to do other excursions) and it was quite a bit further from Stuibenfall's exit, which was in the direction of Otztal Valley.
So given that, it wouldn't be until well after 10am that we finally got to the start of the road, which costed us a whopping 24 euros. For some reason, I was under the impression that the toll was on the order of 4 euros, but maybe my memory was failing me. In any case, these expensive high alpine tolls were painful, and by this time, it was one thing on this trip that certainly didn't help in terms of cost overruns as the most expensive independent trip we've done just got even more expensive.
Regardless, we were given a map that was keyed to roadside numbered signs and so we followed along as we made the drive.
At first, the drive was pretty uneventful as we were driving through a valley flanked by steep cliffs, but when the road rose up to the rubble reservoir, we pulled over and took some shots at 10:30am. This was where the nearly perfect weather combined with the calm blue reservoir backed by mountains clinging onto snow or ice in the distance really made this a compelling place to stop.
Next, we continued our drive at 10:55am, but then we started to see waterfalls alongside the road that compelled us to stop once again.
At 11am, we stopped for the Wurmtalbach Waterfall, which was looking right against the sun at this time in the morning. It was near the stop 11.
We then stoppedd for another waterfall across the reservoir some five minutes later. And then after that, we made yet another stop for the Bliggsbach Waterfall by stop 12 at 11:20am.
By this time, waterfalls were already becoming a dime a dozen and we knew that we couldn't stop for every one so we kept the drive going.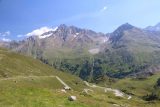 Next, the road started another steep ascent over several switchbacks. The "Kehre" signs were counting backwards so we knew we had quite a ways to go.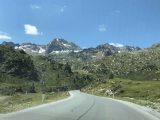 However, as the road kept climbing, the more the roadside views became more compelling. We even passed by some really clear and blue lake along the way somewhere near stop 24 though we stopped at the next stop at 25 at around 11:50am just so we could get something out of this dramatic drive. At this vantage point, we managed to capture an intriguing glacier as well as a tall thin waterfall that might have been the Bliggsbachfall again.
As we continued the drive, we passed by stop 28 which we reminded ourselves that we should come back and stop there on the return. That was where we would get a top down view of the lake we had just passed. We also passed by more trailheads and miscellaneous cascades along the way.
Eventually at 12pm, we finally made it up to the car park for the Gletscher Restaurant as well as other things. There were some running gondolas going even higher up the mountain apparently ultimately touching the Italian border though cable cars were expensive, and we couldn't stomach the time nor money to do that.
As Julie and Tahia were busy going to the self-catered cafe inside, I was busy trying to capture the landscape of the semi-dirty ice of the Kaunertal Glacier with other parts of the mountain clinging to the snow and ice. There were some parts of the ice that appeared to be covered by white tarps (kind of faking the snow, it seemed) though I wasn't sure what those were for.
Looking in the other direction from a non-functioning gondola, I looked back down towards the reservoir though there were hills in the way so the view wasn't as compelling as it was from the road.
Ultimately after having my fill of taking photos, I then rejoined Julie and Tahia in the restaurant where we wound up paying a whopping 38 euros for our lunch. But at least it was a lot of food. However, we were once again charged for tap water (which should be very clean up at these heights) and we were charged a whole small salad for our bowl of sauerkraut so we loaded up some more of it.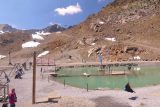 The rest of our lunch consisted of seasoned rotisserie chicken, some kind of fish, and a frankfurter for Tahia.
By the end of the lunch, we checked out the terrace and found out that there was a playground area that got Tahia excited because there was a little zipline-like contraption as well as that floating raft that was too popular for her to line up and start doing that. So instead, she settled for the zipline thingie as well as some rings acting as monkey bars.
And with that, we returned to the car at 1:15pm, which was baking under the hot sun even though the temperatures were mild up here.
As we made the drive back down, we made the stop at stop 24 to get the top down view of the lake at around 1:40pm. This was the compelling view where we also got 3 waterfalls as well as another glacier all converging in view near Kehre 7.
Then, Julie tried to capture road shots as we continued to descend down the mountain. After one more pit stop at the reservoir, where we knew there were clean toilets, we then made the long drive out of Kaunertal Glacier Road towards Stuibenfall. I knew that at the rate we were going, there'd be no way we'd be back in Innsbruck before say Julie's Denn (kind of like Alnatura in Austria) would close shop at 6pm.
Sure enough, it wouldn't be until about 3:25pm when we finally arrived at the very busy car park for Stuibenfall. I guess we were late enough in the day to score some parking spots and pay the 4.5 euros for the day, but man it was hot by the time we got here. It was so warm (had to be in the 30C range or higher) that Julie and Tahia didn't want any part of the waterfall excursion even though I knew that Stuibenfall was perhaps Tyrol's most impressive one.
That said, there were lots of people having fun in a playground area (I think it was called Badesee), where people were swimming or doing dives in a man-made lake, there were lots of playground apparati, and others were playing beach volleyball or other things under the sun. It was almost reminiscent of what we're used to seeing in the beaches back at home on a hot day. Of course in landlocked Austria, they take their water-based recreational activities where they can, and in this case, Badesee was it.
Anyways, I then went on to do the hike by myself for Stuibenfall. I knew it would take a minimum of two hours to do the hike. But I had allocated 4 hours in my itinerary because I knew they had constructed a new trail that involved metal suspension bridges and lots of lots of metal steps.
And as I was doing the uphill trail along what appeared to be a road leading to some kind of Waldcafe (where there were some water diversion contraptions leading to some fountain and other things), it would be just a few minutes more before I finally got up to the apparent first main viewing area for the Stuibenfall.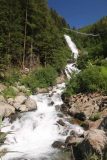 At this point, I could see that there was an impressive side view of one of the drops as well as lots of cascades tumbling its way down past the viewing area, which was very busy when I showed up some time after 4pm. However, I also noticed the suspension bridge near the waterfall itself, and supporting signage suggesting that there were at least 5 more platforms further up the trail.
And so after having my fill of this spot, I proceeded to do that trail, which climbed steeply in earnest.
It only took about 5 minutes before I got up to the first platform, which had a similar view to the main viewing area down below. The only difference was that the cascades below the main drops were more prominent.
So I continued on up the switchbacks as it would take another 10 minutes or so before reaching the second platform. Along the way, there was one switchback with a bench where I managed to get a decent view of one of the upper drops that weren't visible from further below. There was even a rainbow starting to show up in the mist below.
It seemed like the steepest inclines came from this stretch between platform 1 and platform 2. By the time I got up to the platform 2, I was able to get a more direct view of the upper drops of Stuibenfall in succession. From this vantage point, it was clear why this was considered to be Tirol's biggest waterfall, but the kicker was that the lower cascades and drops were harder to photograph from this spot.
So indeed, I could see that the 159m height figure was probably justified.
Regardless, after having my fill of this spot, I then continued along the trail which then got the start of the suspension bridge. This impressive-looking bridge spanned the width of the gorge leading right up to the cliff supporting the Stuibenfall. There were also steps on the suspension bridge, which was the result of the generally uphill trajectory that it took.
The thing was that this part of the trail was probably the bounciest part as some jokesters were trying to sway the bridge back and forth to amplify the already mobile nature of the bridge as people just walked on it.
This made me a little nervous about dropping something into the gorge below so I clung tightly to Julie's iPhone as well as my DSLR camera and lens hood. And I was constantly caught between whipping out the cameras to take compelling pictures on that bridge even despite its seismic nature.
Eventually, after getting up to the end of the suspension bridge, the trail then went up more inclines and steps before reaching platform 3. On that particular lookout, mist was blasting from the main drop of Stuibenfall right onto the platform itself. There was no way I could take any meaninful pictures from there, and it was really a spot to experience.
However, at platform 4 just a few paces further from the platform 3 spur, I was able to get a real up-close view of the main drop of Stuibenfall right before the trail ascended a pair of spiral towers labeled Stuibenturm 1 and Stuibenturm 2.
Eventually after getting up to the tops of both towers (and leaving the suspension bridge far below), I then found myself on a more conventional trail. I followed this briefly towards another smaller bridge that overlooked the uppermost drops as well as the brink of the main drop of the Stuibenfall. There was also another spur trail continuing further upstream towards some gasthaus or something like that (suggesting that perhaps it might be possible to drive all the way up here).
Anyways, up at this vantage point at the bridge, I could clearly see that there were actually two natural bridges spanning over the turbulent waters of the Stuibenfall. The first natural bridge was in the shadows beneath the upper two drops before the main plunge. The other bridge was right above the brink of the main drop.
So this hastened my paces even more to finally get down to the platform 5. When I finally got there at around 5:30pm, I got the butterflies-in-the-stomach views back towards the brink of Stuibenfall and its second natural bridge as well as looking down at the nearly circular rainbow in the mist of the falls as well as the rest of the falls itself with the metal parts of the trail in the background.
At the same time, me and a bunch of other strangers also saw a pair of climbers beneath our viewing platform. They ultimately made their way to the natural arch, where some ropes were in parallel with the arch.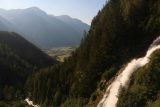 And after having my fill of this pretty harrowing spot, I then made my way back to the car park where I knew that Julie and Tahia would be waiting for me. I sure hoped they got to enjoy the experience because there was that playground and lake as well as a fairly tame hike to at least the main viewing area.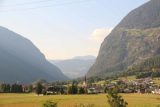 Anyways, the hike down went way faster than on the way up (no surprise there). I even managed to take a few more trail shots on the way down as the shadows grew longer (so the trail was even shadier than it was on the way up).
Finally at 6:15pm, I rejoined Julie and Tahia who were waiting by some bench. When I asked if they did the falls, Julie said they didn't. Oh well, they missed out on what I would consider to be at least a 4.5 and up there with Krimml Waterfalls as one of Austria's best.
This particular falls had a bit more of an intimate experience even though it was less powerful than Krimml, but it still held its own in terms of volume combined with its height. And in that sense, it was almost Yosemite Falls-like though the one back home in California was in a far more natural state than these adventure trails that they built around the Stuibenfall.
As we got back to the car, Julie relayed to me about her ice cream experience at one of the places here. Apparently, she thought the waitress at one of the restaurants was racist as she was routinely ignored even though she had been caling out to her. So she actually decided that rather than give money to that business, she took it elsewhere that was a little more receptive.
While we know that there can be incidents like these (especially with restaurants since they know we're not getting alcohol or anything else with a high markup), and when people are just showing up for ice cream, I guess I can kind of see where the business owners would be coming from.
Still, the treatment that Julie allegedly got didn't sit well with me either. But you gotta take the good with the bad, and pick your battles. This was one case where it wasn't wise to force the issue, and I'm glad that Julie didn't.
By 6:25pm, we were finally back at the car and headed back to Innsbruck. With this late return to the city, Julie gave up on trying to self-cook on this night. So she already had it in her mind to do Vapiano or something like that to try some pizza that could be made gluten free.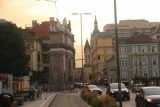 Meanwhile, on the return, we made a couple of Spar stops, and it wouldn't be until about 7:35pm that we would finally return to the car park in Innsbruck. And about 20 minutes later, we were finally back at the apartment so we could get changed into city clothes while also putting away the Spar stuff in the refrigerator.
At 8:05pm, we then headed back into town to finally start getting a feel for the altstadt of Innsbruck for the first time since we've checked in. Even though most of the insides of the buildings were closed at this time, we still were keen on checking out the old town after dinner to get a feel for the happening parts of the city in a bit of a twilight tour.
Ultimately, we'd finally find the Vapiano at 8:25pm, which was actually right next to the Triumphal Arch that looked very Romanesque. Then, we had our dinner of a pair of gluten free pizzas (I got their Capricciosa while Tahia got Margherita) and Julie got her gluten free pasta.
However, it wouldn't be until about 9:25pm when we finally got out of the restaurant and finally started checking out Innsbruck. Of course, since we didn't have a map nor Rick Steves' book with us, we were flying blind. So we just basically followed the footpath where we saw the most foot traffic.
There was also some kind of live concert going on, and mentally we figured we might check it out later in the evening after getting the altstadt touring parts out of the way.
As we continued strolling from the Triumphal Arch towards some church tower in the distance, we'd eventually stumble upon a happening plaza that was lined with shops while filled with people eating outside people watching and having a chat over dinner or just a smoke and drink.
We'd continue walking through this charming part before crossing a street and getting onto an even more charming part of town with a slightly tighter alleyway and some real old-school-looking buildings near another platz.
At this plaza, Julie managed to find the "Golden Roof", where there was some slanted roof that looked shiny gold even in the dark. There was also a tall clock tower of some sort overlooking the platz, and there were several buildings with cute paintings on them as well as pretty fancy decorations around the windows.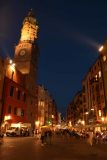 In fact, these buildings looked so elegant and old world that Julie thought they looked "feminine" probably in acknowledgement of Maria Theresa's influence if she did indeed have something to do with it. And that would kind of make sense since the Habsburgs (mainly Maria Theresa) expanded their empire by making love (i.e. marrying off her children to other important royal families) instead of war.
By this time, the twilight lighting was long gone and it was now pretty much straight night time.
So after having our fill of this spot, we then walked back the way we came, and then we made a detour towards the concert, which was busy with people just checking out the live band that was playing.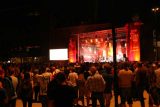 It turned out that the band was playing some kind of New Orleans Jazz music that reminded me of Big Bad Voodoo Daddy. And it kind of made me want to swing dance with Julie like in the old days when we first met. Of course, that wasn't going to happen on this night, but indeed the urge was there.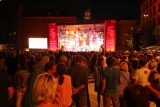 And it was no wonder that they were playing big band jazz stuff because apparently we stumbled upon the New Orleans Jazz Festival or something like that. Anyways, it was getting late and we were getting tired. So we then walked all the way back to our apartment by the train station, and finally at 10:25pm, we were back in our much quieter apartment.
With such a long activity-filled day, it was time to unwind, get cleaned up, and crash for the night. Hopefully, tomorrow's activity would be tamer, but I somehow feel that it, too, was going to be busy as somehow we'd have to get some outdoor activities in as well as Hall in Tirol before the onset of rain and thunderstorms.
We'll see how this all plays out, especially since it wouldn't be until well after midnight when we'd all go to sleep…
Visitor Comments:
No users have replied to the content on this page