Day 38 (July 20, 2018 – Innsbruck, Austria): "Fitting In Before The Rain"
It was 5:40am when I awoke, which was later than I expected to get up. But considering the long day that we had yesterday and the consequential late night to go to bed, it wasn't surprising that I had overslept the alarm.
Speaking of the alarm, since it didn't look like there was going to be a French Rail Strike for the rest of this month, we went ahead and finally booked first class train tickets. Unfortunately, I wouldn't be sitting together with Julie and Tahia as apparently the other seats weren't available. Not only that, but we booked a 5:58am departure time so we better not oversleep our alarms, where setting it up for 4am would probably be a wise move.
At least Julie expected that our accommodation in Frankfurt would be right across the street from the train station. So that should remove at least one complication.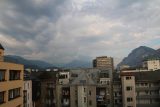 Anyways, when I was looking out the window, I could already see puffy thunderclouds starting to form over the neighboring mountains. That would suggest that the forecasts were on their way to being accurate about afternoon thundershowers popping up. The fear was that the latter part of this day would involve sightseeing or doing activities in the rain.
Now in terms of getting ready for the day, we did a little better considering that we sold Tahia on going on an alpine rollercoaster in Imst today. So that got her up and excited about looking forward to doing that. I'm sure all this waterfalling and more adult sightseeing stuff that Julie and I were more into wasn't exactly Tahia's cup of tea at this age.
So at 8:15am, we were at the car after having our self-cooked breakfast and getting stuff ready for the day.
The drive out from Innsbruck was uneventful as we took the same familiar streets to get onto the A12 and then heading west all the way to Landeck. The first target of the day was to visit the Zammer Lochputz, which was a waterfall gorge. I think this would be the first klamm experience for Julie and Tahia on this trip, and I sure hoped that it would be a pretty easy and short visit considering how some of my other experiences were a bit challenging and long.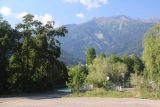 By about 9:10am, we parked the car at an empty lot with limited shade. It was already getting hot on the day, and with us being the only ones at the car park, we also weren't sure if the place was open yet. At first, I thought about going back in the car and parking in the shade underneath the A12 autobahn, but then I looked closer and saw that it was parking for some construction work or some kind of office. It was definitely not for this excursion.
After gearing up (I had forgotten to bring my wool socks so I had to hike in Chacos), we proceeded to walk up to the entrance for the Zammer Lochputz. Then we went inside, paid our 11 euros for the family, paid an additional 2 euro per chip card deposit (which we'd get back if we returned the card keys), and then we were on our way.
Right off the bat, the path made us go on a loop tour. The turnstile at the entrance immediately made that clear to us. We then started off by checking out some fountain shooting water up in the air like a geyser producing an attractive morning rainbow. There was also some kind of ruin of a smithy as well as some smaller man-modified waterfalls and mill-like channel waterfalls around.
We then proceeded to walk along a metal pathway that flatly led us to a waterfall viewing platform where we were pretty much right in front of the impressive waterfall at Zammer Lochputz. Unfortunately, the viewing platform was a bit too close to the waterfall to properly capture the whole thing. However, the mist it was throwing up definitely felt cool and contrasted the already budding heat of the day.
After having our fill of the waterfall, we then started to go up steps and switchbacks as the trail ultimately climbed up to a tunnel, where after going through it, we then ended up on a metal ledge walkway allowing us to look beneath our feet at more tiers of the Zammer Lochputz Waterfall as well as a commanding top down view towards the town of Landeck as well as the fountain and walkways that we had checked out earlier.
This part of the trail was the kind of klamm experience that I had been accustomed to after doing several of these throughout Austria. However, in Julie and Tahia's cases, this was their first time, and I was glad they got to experience this without it being too much of a challenge.
The path would continue to climb past more hidden tiers of the Zammer Lochputz Waterfall before reaching some kind of mill contraption adjacent to more attractive cascades. At this point, we then entered a doorway, which led right into a long tunnel.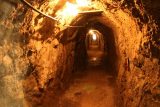 The funny thing about this tunnel (beside the apparent mirrors or window-like rocks flanking the tunnel itself) was that it was playing some kind of music. I wasn't sure what the music was for, but Julie suspected that since this rundweg was kid-friendly that perhaps it was to reassure younger visitors that there was nothing to be spooked out about concerning this tunnel.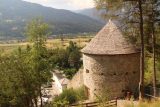 On the other side of the tunnel, there were descending switchbacks eventually leading down to an exit turnstile, then past a really small playground for very young toddlers, and then we ultimately briefly checked out the museum by the kassa where they talked about clean energy, global warming, hydroelectricity, and benefits of nature among other things.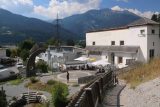 By about 10:35am, we were back at the car where suddenly the car park was full. Good thing we got the early start.
The early start also allowed us to go to the next excursion, which was to check out the Alpine Coaster at Imst. I knew this was Tahia's carrot at the end of the stick, and I decided that we were going to skip visiting Schloss Landeck as we were pretty much castled out and we were afraid of another Burg Hochosterwitz rip off experience.
So the drive went about pretty uneventfully as we eventually arrived at the packed but free car park at the Hochimst area, which was way up the hill from the town of Imst. Although it was quite hot and humid outside, we could also start to see that the thunderclouds were getting thicker.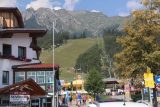 In any case, we proceeded to pay for one ride (we weren't sure if we could do multiple rides given the weather could change at any moment, and the long queues kind of made it unattractive to spend too much time forcing the issue with additional rides).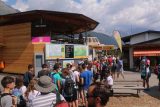 Now with this experience, there was a chair lift that took people up to the top of the coaster run. However, this place seemed like it received more visitors than the one we did at Saalfelden. Perhaps having the title of longest rodelbahn run (at over 3km) was something to hang your hat on and show up on the internet searches. At least that was my theory on why this place seemed to be very popular.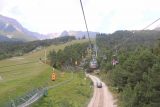 Anyways, we did the chair lift, which seemed to go faster than the Saalfelden one. From looking at the tracks below, it was clear that this wasn't on a luge course but instead on rails like a conventional roller coaster. So I already figured that this place was going to be like a typical roller coaster except we got to control the speed.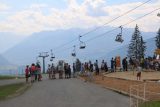 Once we were on top of the chair lift, we then had to go down to the next queue of people waiting their turn to get onto the coaster run.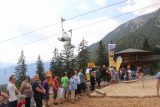 As we were doing this, the clouds were forming quickly and we quickly got sprinkled on as we were getting near the next turnstile. However, Julie and another lady in front of her were forced to go back up to the chairlift and put their bags onto the contraption so they would be waiting for them back at the bottom. Apparently, it was a problem to ride with these packs on. At least I got to carry my camera with me, but I knew that I would need both hands to control the tobagan so I couldn't film it while I was riding.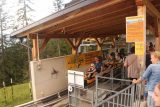 Eventually, Julie and Tahia riding together got onto their rodel first, and then I got onto mine thereafter. And when we did our run, it didn't take long for me to catch up to both Julie and Tahia. It turned out that they were already caught up to some other mother and daughter combo in front of us, and so they kind of impacted the overall experience as we couldn't keep our speed going down.
I often found myself at a full stop to give some distance between Julie and Tahia against myself, but then it got to a point where the British speed demons behind me caught right up to me and had to apply their brakes.
Thus, the rest of the coaster run was pretty much stop and go, stop and go. And by the end of the run, I felt that it wasn't as thrilling as the Saalfenden experience we had earlier even though I did manage to crash and hurt myself on one of our two runs. Plus, it had more of that thrill factor as it dropped faster and had less of a crowd than this one in Imst.
So either way, we got this place out of our system, and we then went for lunch. There were only two places to choose from and they both had very limited options regarding gluten free food. The first place Julie decided not to go for since only one main dish was gluten free and she didn't care for it.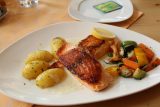 The second place had a few more gluten free options (mainly fish) but they didn't take credit card so that put more pressure on our dwindling cash supply that we hoped would last us for the remainder of this trip. Paying about $12-$15 USD for each withdrawal of 200 euros (resulting in costs of around $250 per withdrawal) very painful.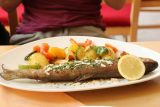 At least our lunch of salmon in creamy sauce and trout (both with grilled veggies and potatoes) was very delicious, they didn't charge us for tap water, and the service was pretty quick for a European place. So after paying (and leaving a trinkgeld), we were back in the car at 1:30pm.
As we were now driving back in the direction of Innsbruck and Hall in Tirol (the latter was what we were targeting next for sightseeing), we passed through a cloudburst as the thunderstorms were already upon us on the A12. But the weather then cleared up a bit as we got closer to Innsbruck and eventually to Hall though there were always dark clouds threatening to dump rain.
At about 2:40pm, we managed to park the car in the sheltered P2 parking lot. I could have sworn the parking said something to the effect of gratis, but I could have misread it and it just said "frei" meaning available and not free of charge. As we were walking around, we managed to pick up a map from the tourist info office across the street, but it seemed like there really wasn't much in the way of getting lost or figuring out what the touring program should be here because it really was compact according to the map and according to the reaction of the tourist info clerk who helped us.
Indeed, after dealing with a brief sprinkle under the dark clouds, the weather then cleared up in time for us to walk around the compact city center of Hall in Tirol. We first walked up a ramped alleyway into a plaza in the center of town. Then, we checked out a church which had an unusual arrangement in that the altar was off center from the rest of the aisles. I think that was a first amongst all the churches we had poked into throughout this trip.
This church also had a bit of bling to it as it was certainly ornate and worth a look. But our visit was short, and then we checked out a chapel as well as a small shrine next to some tombs that were just outside the church.
We then meandered about randomly in the compact area of Hall in Tirol, and eventually after a brief but fruitless visit to the Mint Tower (we didn't pay to go into the museum), we were then back in the car at about 4pm. With this early of an end to the sightseeing, Julie was looking forward to finally grocery shopping at the Denn Markt, which seemed to be Austria's answer to Germany's Alnatura.
Eventually by 4:25pm, we were back in Innsbruck, and by 5pm, we were back downstairs ready for our grocery run.
As we walked to the Denn, we noticed that the New Orleans festival was still going on. Plus, there was still a bit of a daytime audience checking out the performances as we were hearing a soulfoul duet rendition of the "Saints Go Marching In".
So we finally got to do Julie's anticipated grocery run, which was actually barely a half-block from the happening part of Innsbruck (though not quite at the oldest buildings). And when we got our stuff and left, it was raining outside though the rain was light. So we had to bust out the umbrellas and walk brisquely back the way we came.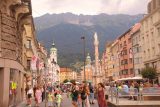 It seemed that rain or shine, the New Orleans Festival was still going on, and the audience still persisted. I guess the rain hadn't gotten so bad that people would be popping out umbrellas and perhaps impacting the overall experience. But regardless, we finally got back to the apartment at 6:10pm.
By this time, it looked like Innsbruck was getting more steadier rain, and I guess with our early end to this day, we were glad that we managed to fit in all that we wanted to do before the uncomfortable conditions under the rain would persist. While it was still muggy outside (and it was muggy throughout the day), we were still a bit of a sticky mess.
In any case, tomorrow would be our last full day in Innsbruck, and I was going to divide-and-conquer by visiting the last two waterfalls of the trip early in the morning while Julie and Tahia could do their city thing without me. Perhaps later on, we could do Innsbruck together, or if I was making good on time on my waterfalling excursions (hopefully without too much danger from the rains that were forecasted throughout the day tomorrow), we could do Innsbruck as a family without dividing and conquering.
One thing that happened when we returned to the apartment was that both the internet and the cable TV were not working. Despite resetting the cable box, it appeared that there was something going on with the service. It was amazing how much time could be spent on internetting, but now with extra time to kill, we could get to bed earlier.
The only complication was that when we booked the train ticket this morning, it was for the wrong date! We accidentally booked it for the day we were flying from Paris to home instead of the day before! Now, we had to eat exchange fees and hope there would be availability. I had also fancied rearranging the schedule to cancel the night in Bamberg, move Frankfurt up by a night, and take the train a day earlier than expected so we'd have two nights in Paris at the end.
But given the cancellation fees we were facing with the accommodations, it was best to just exchange the train tickets for the 15 euro penalty (122 euro penalty had we cancelled), and just figure out how else to kill time whilst in Bamberg and Rothenburg longer than expected. Perhaps, there might be an opportunity to visit Nurnberg or some other Romantic Road stops along the way.
We'll have to see how that plays out as we could feel our long (and expensive) Summer trip was drawing to a close with less than a week remaining…
Visitor Comments:
No users have replied to the content on this page