Day 39 (July 21, 2018 – Innsbruck, Austria): "Operation Scorched Earth"
It was 5:15am when I awoke. It was definitely wet outside, and the internet (and TV) still weren't working in the apartment.
Indeed, lots was weighing on my mind this morning given the snafu that I caused yesterday morning by booking the wrong date for our return TGV ride from Frankfurt to Paris. The internet not working further compounded the issue as now we had to solely rely on the internet from the mobile sim card from the Orange Holiday Plan that we had bought back in Paris and kept topping off throughout this trip.
Funny how the internet was working well enough for me to make the wrong booking, but ever since yesterday afternoon when we returned to the apartment, all our network connectivity went kaputt (just in time for us to make it much harder for us to try to make an exchange of our train ticket for the correct date). Time was running out and we were worried about being unable to make the exchange the longer this went on.
Regardless, after having a quick breakfast of kefir and fruits, I then got into the car at the garage at 6:10am. It was raining lightly but enough so that it was getting me wet. I figured that I could take these conditions hiking in the rain, but any worse and it would get a bit more uncomfortable and awkward (not to mention the potential damage done to the DSLR from getting it wet).
The drive out to the A13 and then into the Stubaital Valley near the exit at Schonberg was surprisingly busy even in the wet weather. Apparently, this autobahn going up to the Brenner Pass was a pretty important corridor linking Austria to the Mediterranean via Northern Italy, and from the quantity of trucks on this route, that was quite clear to see.
Anyways, as soon as I got off at the correct exit, there was a toll station waiting for me. There was no one manning it at the time so I had to use the automatic machine, which thankfully took my credit card so I could pay the 3 euros. Then, I proceeded along the road through several towns even passing by an attractive waterfall that was between the towns of Gasteig and Volderau.
I didn't stop for that waterfall, but I made a mental note to come back to it. And I wondered if that was the Mischbach Waterfall that I was also targeting this morning. But for now, the main target was to visit the Grawa Waterfall.
The drive continued as I was passing some surprisingly busy car parks and trailheads, but as soon as I got up to a large empty lot right before a tunnel, I wasn't sure if I had made it to the Grawafall or not. The signage here didn't make it that obvious.
However, the GPS claimed that I still had at least another 600m to drive and so I went ahead and drove through the tunnel, where then I saw a different smaller car park right on the right side of the road. I got here at around 6:55am where it was raining quite moderately (even more so than back at Innsbruck).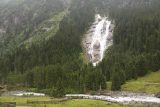 I wasn't sure if this parking was official or not, but there were plenty of spaces. And given the foul weather and early morning start, I just took one of the spots since I could clearly see that the Grawafall could be visible right from this spot.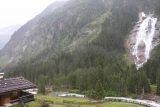 After donning my rain poncho (and realizing too late that I had forgotten to bring Julie's iPhone again so this couldn't be shared straight away), I then got the camera and proceeded to head down a driveway towards some signs explaining the Grawa Wasserfall. There were also yellow arrows labeled "zum wasserfall" pointing to the right going right to a cafe called the Grawa Alm.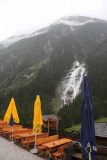 When I had my fill of documenting the impressive Grawafall from this vantage point, I then followed the signs which suggested that it was a handicap path that went around the Grawa-Alm building, and then continued onto a conventional trail that descended towards some junctions and a bridge.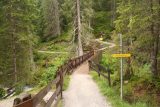 Looking upstream from this bridge, I could see another attractive cascade and small waterfall. Once I was on the other side, I then continued on a downhill path revealing glimpses of the Grawafall before I'd eventually make it down to a bridge that went across its stream. Right before the bridge, there were signs pointing the way to a couple of overlooks at least 10 minutes away.
However, in looking at the condition of the trail given the wet conditions, I thought better to not tempt fate and hike on the narrow and rocky path where every step could result in an injury given the slippery surfaces.
So I was content to take my videos and shots from the bridge, which was proving difficult at best given the spray from the falls as well as the rain coming from above. My camera was already taking a beating from all the moisture and I knew that I was playing with fire regarding its functionality if some of that water got into the wrong places in that camera.
I was still lamenting that I didn't bring Julie's iPhone as this would have been a nice one to share, and I could have taken even more photos without as much risk to my DSLR given the rainy conditions.
Thus, my visit here was a brief one. I then went back the way I came and returned to the car at 7:35am as the rain appeared to be coming down even harder than when I had gotten started.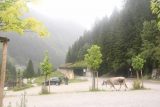 Next, I drove back the way I came in search of Mischbach Waterfall. And as I got past the town of Volderau, I once again saw that roadside waterfall, which was indeed the Mischbachfall as I had suspected.
Since there wasn't a legal pullout within view of the falls, I just went ahead and parked right at the start of the walking path on the east side of the blue-railed bridge. Given the rain, I was lazy about parking so I just went the illegal route since it was still early (I showed up at 7:55am), and I didn't even bother going up the short hiking trail leading to its base.
Instead, I was content to take my shots and videos from around the bridge. As I surveyed the surroundings, I saw that there was an impressive looking glacier in the distance that I presumed was the Stubai Glacier though I couldn't really be sure.
Anyways, I then headed back to Innsbruck at 8am. The drive back was pretty uneventful though a little bit slower than I would normally go given the rain. I also had to pay another 3 euros to get back on the A13, and it wouldn't be until about 8:40am when I returned to the familiar underground parking garage back in town.
I then walked back to the apartment just in time for Julie and Tahia's breakfast of bacon and poached eggs. At this point, the next thing on our minds was the whole mistaken train booking situation.
Well, after having the breakfast and having more unsuccessful attempts at trying to exchange our tickets for a different date, Julie next had this idea that perhaps the train station across the street might be able to help us.
So at 9:45am, we finally got ready for the day and went downstairs. Then, we walked in the rain across the street to the train station, where we were then directed to go to the OBB booking and info office. From there, we waited in line, then when it came our turn, we asked the lady about our situation.
When her eyes widened, I knew what she was going to say next.
Yep, she said that she couldn't do anything for us because they only do train bookings regarding Innsbruck, and any calls they make could only be internal to Austria. Any calls to SNCF would not be feasible or at least out of her job jar.
So at 10:10am, we were SOL and then pretty much carried around this uncertainty as we were starting our city touring of Innsbruck. At this time, Julie was in an argumentative mood with me considering it was me who screwed up on the pre-booking of the TGV tickets in the first place.
I was already beyond kicking myself for the self-inflicted wound of bleeding money (I was afraid I'd have to eat 122 euros worth of cancellation fees) at this point, and I'm sure there could be more repercussions as a result of it, but there was also this sense of deja vu where we've had things go wrong on us on trips like this. I'm sure years from now, this will just be another story to tell, but it definitely wasn't fun knowing that we're hemorraging more money on a trip where we were already spending way more than we were hoping to spend in the first place.
Regardless, we were making our way back to the Innsbruck Altstadt, and by about 10:25am, we were right at the kassa for the Hofsburg in Innsbruck. We paid the 18 euro family ticket but didn't have an audio guide (we weren't sure if they offered it, and we certainly weren't in the mood to pay for it).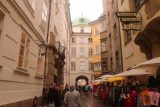 Next, we then walked up the stairs and proceeded to use the tickets to get through the turnstiles to start the self-tour of the royal apartments.
It became pretty immediate that in this tour, this place was pretty much mostly about Maria Theresia. For it was her who was the only female of royal position in the Habsburg line, and she was the one who strategically married off her children to other royal families to expand the Habsburg rule through "making love not war".
Like with the other fancy palaces and apartments we've visited throughout both Bavaria and now Austria, there were some fancy rooms full of wall paintings, frescoes, and blinged out furniture as well as trinkets as we went from room to room. Without the audio guide, it wasn't quite the intimate narrative that we got from the Royal Apartments in Vienna. So we wound up spending most of our tour reading the signs and trying to relate what we were seeing with what we were reading.
Tahia was a bit more bored with this visit as a result.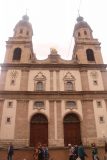 In any case, the key highlights of this tour was the Grand Room, which was once the Family Room that Maria Theresia celebrated her family through portraits of them here. This was kind of a smaller version of the Gallery Room of the Schonbrunn Palace in Wien, but it was still quite impressive.
We also went to the portrait exhibit downstairs from the royal apartments where there were portraits of various members of the Hapsburg family including Franz Josef I, Sisi, and even Marie Antoinette (of French Revolution fame).
By about 11:25am, we were done with the visit, and then we decided that perhaps we should check out the Hofkirche since we had these Innsbruck Welcome Cards that perhaps might grant us free permission into the church itself. At least that was the impression we got from talking with the cashier at the Hofsburg kassa. However, once we got to the museum entrance for both the Hofskirche and some other thing, the person at the kassa said that our Welcome Card was no good there.
So we decided against spending more money on yet another church (not knowing that there were life-sized statues of various members of the Habsburg family in there), and then we decided to have an early lunch.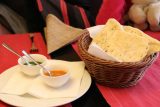 Julie was in the mood for some Indian food since we were kind of tired of the same Austrian or Tyrolean dishes. Thus, we ended up at this place called Himal, which was right in front of some Jesuit Church. We got there at 11:45am, where we seemed to be one of the first ones eating at this restaurant.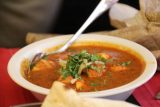 After placing our orders for a couple of different kinds of chicken curry dishes as well as some small onion salad, and leitungswasser that turned out to be free of charge, Julie then managed to find a number to call SNCF to see if we could rectify our mistaken booking situation.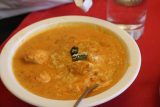 After several minutes on the phone with this person, Julie then broke the bad news to me. Apparently, our booking did not have the ability to exchange tickets for 15 euros except to be done in person. But we couldn't do it in person because the only SNCF offices in Germany were in Aachen, Dusseldorf, and Koln – all of which were pretty much in northwestern Germany and away from our route between Rothernburg ob der Tauber and Frankfurt.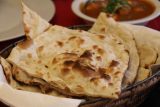 So instead, we'd have to eat the 122 euros in cancellation fees and then start over and re-book our train tickets for a different date. So essentially, if we counted this cancellation fee and added it to the ticket prices for the new train tickets, then it would be as if we bought the more expensive flexible train tickets in the first place.
Either way, the system wins as there's no way to outsmart our still come out ahead when a mistake is made. The only way to come out ahead was to stick with the booking, but what good would that be when we mistakenly had booked it on the same day as our flight back to LAX!
Given that bit of information, we accepted that we'd be bleeding the cancellation money, and then we enjoyed our lunch. The naan bread went perfectly with the curries, and all of us ate up our meal no gladly with nothing left behind.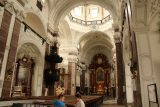 We then paid in cash (so we didn't get a third dish to try out as a result), and then at 12:45pm we proceeded to go to the jesuit church briefly. Having seen so many churches to this point, this one didn't hold our interest much (which also explained why it was so quiet and devoid of people).
Next, we headed towards the St Jakobs Dom somewhere also in the Innsbruck Altstadt. It didn't take long before we found the entrance to the cathedral, but its heavily scaffolded frontside was an eyesore. Even the scaffoldings on seemingly half the Hofsburg Building on the other side of the Dom were also eyesores.
As we went inside the St Jakobs Dom (St James Cathedral), we paid the 1 euro for a photo ticket from a machine (seemed like it was based on the honor system or something), and proceeded to check out this pretty grand cathedral with the typical high ceilings, lots of side altars, frescoes on the ceiling, and even three of those giant hanging incense spreaders that the Compostela Cathedral in Northwestern Spain featured though not nearly as huge as the Spanish one.
This cathedral was also pretty full of visitors taking pictures (I'm sure many of which didn't pay the euro for that photo ticket), and plenty of others having a seat and just looking up at all the bling plastered on the walls and ceilings of this rather ornate interior.
As it was 1pm when we were done with the Dom visit, the altstadt now took on a whole different vibe as it was crowded with tourists. Also the rain had let up so there was a bit more color in the old buildings.
We aimlessly wandered back to the Golden-roofed building as well as noticed people standing atop some kind of clock tower though we were in no mood to spend more money on going up there. Julie was aiming to go to some konditorei (cakery) for some gluten free desserts, and we ultimately found it in this spot called Cafe Munding, which was kind of tucked away in one of the quiet side alleys from the main hustle bustle of the altstadt throughfare.
We went in there at 1:35pm and we thought we were going to take these away. But instead, they gave us a ticket to take to a table so we could sit down and enjoy the desserts (and perhaps order a drink or two). Indeed, Europeans don't do take out, and they tend to go about things at a slower pace, which is probably better for the body and soul. This is definitely one of those culture shock things that travel teaches us, as it's quite a far cry from the always-rushing nature of home in the USA where it seems like a rat race everywhere you go, and it seems someone's always out to get you and your money someway somehow (though in Europe, this happens too but it's more of the nickel-and-dime type of affair).
After having our desserts of a cheesecake with chocolate brownie underneath, Julie's nutty gluten free cake with caramel mouse or something like that, and Tahia's raspberry tart, we then headed out at 2:05pm, walked back towards the Triumphal Arch (to see Maria Theresia's bust now that we knew where to look), and then return to the apartment.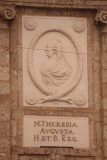 On the way back, we heard music from the stage of the New Orleans Festival again (which was dead earlier in the morning), but now that it was getting into Saturday afternoon, I'm sure it would be quite happening come Saturday Evening rain or moonshine.
When Tahia and I got back to the apartment at 2:40pm, we saw that the door was open, but there was someone in a red shirt who came in here to check out the internet since it wasn't working. Unfortunately, there was nothing he could do as it seemed to be an issue on the service provider end and not in the cable boxes or routers. I figured as much since if the cable TV and internet were both out, then something that was in common to both had to been having issues.
So that wouldn't be fixed until Monday, which would be when we would be long gone and headed back to Germany. So any other things we'd have to be doing via internet would have to be on my mobile with the Orange Holiday sim card. As awkward as that would be, it would have to do.
I guess it kind of sucked that we'd be without WiFi for another night, but in the grand scheme of things, it wasn't that big of a deal as it was merely an inconvenience. Also not having TV for another night wasn't that big of a deal either. We're here to be in the moment and not wasting time on the boob tube anyways.
Julie came into the apartment a few minutes later after going grocery shopping to make steak later on this evening. It was already after the guy in the red shirt left the apartment after telling us there was nothing more he could do.
At this point, I was already thinking about throwing out the original itinerary of our last three nights consisting of Bamberg, Frankfurt, and Paris. And instead, substitute that with Frankfurt, and two nights in Paris. We could easily visit Bamberg within a half-day on the day we show up to Rothenburg or on the full day we'd have in Rothenburg.
Since we already had to cancel our train tickets anyways, I figured the cancellation fees from our pre-bookings wasn't going to be fun, but since we kind of suspected that we didn't need to spend an extra night in Bamberg, then this rearrangement was called for.
When I told Julie about this idea, she was more than receptive to this idea, and it didn't take much convincing to get her started on making these changes happen. She really did want to have that extra night in Paris and not another night in Germany.
And so the rest of the afternoon was spent doing what I was calling "Operation Scorched Earth" where our original plans pretty much went to hell. And in its place, we had to eat whatever fees were coming to us as a result of our change in plans. And once again, we tried to tell ourselves that all this trouble was in the name of staying in the moment as best we could. When else would we have this opportunity?
Our change of plans pretty much amounted to the following…
Cancel Bamberg and eat the 80 euro cancellation fee through booking.com (owners wanted 100 euros in cash anyways for staying there; still gonna try to request for cancelling without the penalty fee)
Change the date of the Frankfurt accommodation to replace Bamberg (or cancel and re-book to something closer to the Hauptbahnhof)
Book an additional night in Paris through Intercontinental, but if that's too expensive, then try to book something cheaper and closer to the Gare du Nord so we could take the RERb to CDG Airport first thing in morning that we leave for home. If we do the latter, try to get our rewards night back.
Cancel the TGV train ticket, eat the 122 euro cancellation fee, then re-book for July 25 instead of July 26 to accommodate the additional night in Paris
Indeed, a lot had to happen in order for Operation Scorched Earth to work. However, this wouldn't be the first time we've wasted money on pre-booking accommodations we didn't stay at. I'm sure it won't be the last.
But sometimes, you just gotta do what you gotta do. And so the wheels were turning and the actions were committed. There was no turning back now, even if it put us that much closer to our credit limit…
Visitor Comments:
No users have replied to the content on this page