Day 40 (July 22, 2018 – Rothenburg, Germany): "Pushing Limits"
I awoke at 5:30am, which seemed to be par for the course even as I overslept through some of my earlier alarms. However, outside the weather was calm for the moment though dark clouds were low and everywhere. I knew it was just a matter of time before there would be more rain.
I then went through the usual routine of getting caught up on blogging while also getting dressed and ready for the day. With this being our return to Germany, I figured we were going to be in for a lot of driving.
I didn't really have any particular sights in mind, and it wasn't until yesterday evening that we figured that perhaps we should target visiting Bamberg so we could spend a day at leisure visiting Rothenburg ob der Tauber the following day, and then an easier day to return the rental car a day earlier in Frankfurt the following day after that.
Apparently, we got lucky in that no one asked for additional cancellation fees (according to Julie) from Bamberg and Frankfurt as we were trying to add an extra night in Paris at the very end of our trip. However, that still didn't take away from the sting of having to eat 122 euros in cancellation fees for the whole TGV pre-booking snafu.
Not only that, but we had to eat over 400 euros in booking the additional night in Paris at the Intercontinental on top of the rewards night we had already booked on the very last night several months earlier (so the average cost per night was now a more reasonable 200 euros per night though I still didn't like having to pay that much for a single night in the first place).
The morning was spent getting the apartment cleaned up, while we were packing our belongings, and still eating Julie's self-cooked breakfast of poached eggs and bacon with some fruits eaten with dairy products like kefir or Tahia's yoghurt.
I actually went down to move the car at 7:05am, but it still wouldn't be until about 8:15am when we were finally leaving the apartment. By this time, I was hoping that we could break up the early part of the drive visiting the Ettal Monastery, which was something we didn't get a chance to do when we visited Linderhof Palace way earlier on in the trip. So I figured that this could be the second chance.
Unfortunately with today being Sunday, they had mass at 9:30am. This made me conerned that our visit would be cut short or intruding upon the service as the GPS predicted that we wouldn't get there until at least 9:30am or later.
So I made haste in the drive only to be frustrated by slower vehicles in front of me (including one that allowed a tour bus to get in front then proceeded to slow everyone down for the whole drive). I was looking for opportunities to pass, but there were too many vehicles coming from the other direction, plus too many cars to pass before even reaching that tour bus.
Julie didn't like that I was rushing to get to Ettal before the Sunday Mass nor that I was looking to pass any vehicles in the rain. But my mindset was that both Julie and Tahia knew that we should be out the door well before 8am, but they lacked that sense of urgency. Who knows when we'll be back and have this opportunity again?
At least the driving route we took got us out of Austria and quickly into Germany. That was a good thing because the 10-day vignette that I had bought when we left Vienna had expired today. I wasn't in the mood to spend more money on another vignette that was no longer necessary.
So it wouldn't be until about 9:20am when we finally arrived at the P2 car park for the Ettal Monastery. Out in this town, it appeared that the rain had stopped just as we showed up, but the clouds were moody and shrouding the neighboring mountains as they hung low.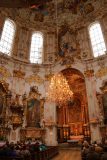 While Julie paid the bare minimum to pay for the parkschein, I made a beeline straight for the monastery knowing that the Sunday Mass service could start at any time. And when I did manage to get in about five minutes later, the place was already busy with people sitting and waiting for the service to begin. So I was already being discreet about taking pictures from the back without even attempting to walk the aisles at this time.
It was probably as rushed of a visit as you can get at the Ettal Monastery, and Rick Steves was right about trying to avoid the service times to get the most out of a visit here.
Julie and Tahia showed up minutes later just when the service started as we heard singing as people were standing up and doing the bidding of the guy at the altar conducting the service.
Of what we did notice inside the monastery, it was a small basilica though the ceilings were very high. There were also some blinged out trims as well as wall paintings. Aside from that, I couldn't stick around and notice any more things as we excused ourselves.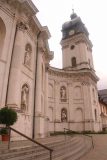 Outside the monastery, the courtyard area was also pretty compelling to photo as we tried to compose the capitol-looking building with the mysterious Bavarian mountains overlooking it. It was a reminder of the mystical quality of the mountains here that probably lured Ludwig II to come here and build his fairytale castles.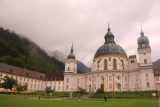 By about 9:55am, we were back in the car as we didn't bother with the kloster or any other parts of the monastery that would have costed us money and time.
At that point, we then embarked on a very long drive that took us mostly through the autobahn as we eventually made our way to the A95 heading right into Munich and then onto the A9 after getting through the congestion as the autobahn passed through several tunnels and busy streets bypassing the city center.
It was raining noticeably harder in the city and Julie was actually noticing more some giant corporate high rise buildings for Mercedes Benz as well as BMW (how many people realize that it stood for Bavarian Motor Works when translated into English?).
The drive would continue a fair bit on the A9 as we went mostly 120km/h due to the hard rain throughout the drive. There were some moments where the autobahn proceeded without a speed limit, but then it became a trade off between losing control of the car under the wet conditions and fighting the urge to go as fast as possible.
There were also plenty of moments of stau due to road construction and just the overall heavy volume of vehicles. Indeed, driving from Austria to Germany really made us realize just how many more cars were on the road in Deutschland compared to the mountainous neighboring country of Osterreich.
As the drive eventually proceeded onto the A3 as we left Nurnberg, the traffic volume was still heavy and there were still moments of stau due to road construction. The stau persisted throughout much of this section of the drive, too, as apparently this rain storm seemed to reach well north of the Bavarian mountains and into the noticeably flatter plains and hills of south central Germany.
Ultimately as we finally got off the A3 and onto the A73 before leaving the autobahn for the B22 Road (following the signs at this point), we'd eventually circle by the Bamberg Altstadt once before finding the tricky-to-find underground garage close to the zentrum at 1:40pm. Having driven nearly 3.5 hours, our butts were sore and we badly needed to get out of the car.
Apparently the rates at this car park were 2 euros per hour. But with todady being a Sunday, I wondered if free street parking would have been possible. Still, as we left the car park and walked around, we noticed right off the bat that there was a parking enforcement person about to ticket someone who didn't parked in a marked spot. So I guess saving a few euro for the risk of getting a much more expensive parking ticket just wasn't worth it.
Anyways, with it being around late lunch time, we all were looking forward to having a meal. So we promptly walked through the charming parts of the old historical center en route to finding some restaurant that Julie found on TripAdvisor (hoping there should be gluten free food there). Along the way, we were captivated by the Altes Rathaus (Old Town Hall), which had frescoed exterior with half-timbered characteristic on the side of the building facing another bridge.
It also had a tower and plenty of photo ops from any of the three bridges surrounding the town hall itself. There were definitely lots of people crowded around these bridges as well as the charming altstadt, and it kind of reaffirmed to us that we were indeed back on the tourist route. That said, Bamberg only got a mention in one sentence in the Rick Steves Germany book, but apparently it had enough publicity on TripAdvisor or other internet websites (it also showed up on DK) that there was definitely a foreign tourist presence.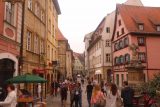 Of course, we knew it was on the tourist radar given how many Chinese tourists were here. That's usually a dead giveaway that tour buses come here. We even heard lots of American accents, which further affirmed to us that indeed, we were noticeably back on the tourist trail when we had largely been one of the few foreign tourists in much of Austria (mostly Southern Austria).
And given all the old world charm that we were witnessing in this university town as we made our stroll, I wondered if we would regret not spending a night here to really get to experience this city. Regardless, Julie kept going back to the fact that she'd rather have a second night in Paris than to vagabond it for three straight nights starting with a stay in Bamberg.
Anyways, by about 2pm, we finally found this place called Kachelofen, which was a busy eating joint just a few blocks from the Altes Rathaus. Indeed, this place apparently offered up traditional Bavarian and Bamberg fare, and the interior definitely had that old warm charm to it.
Since this place took cash only, we didn't bother with drinks or desserts though they did charge for tap water (leitungswasser). Our lunch consisted of a recommended pork shoulder dish (said to be a Bamberg local special) as well as some kind of smoked trout of the entire fish. Tahia got a Franconian Sausage with kraut.
It turned out to be a lot of food, and we were quite stuffed by the time we were done and resumed our tour of the Bamberg city center at 3pm.
First and foremost, we walked uphill and up some stairs to the Bamberg Dom. Surrounding the four-spired cathedral were lots of cobblestone streets and buildings. Since vehicles were allowed to drive through this section, it wasn't exactly the most relaxing spot to chill and relax.
On the inside of the Dom, it was not as blinged out as many of the churches and cathedrals we had done to this point, but it did seem to let visitors take pictures of some underground chambers (including what appeared to be some tombs or something like that), as well as most of the main hallways like most other cathedrals and churches.
After about a half-hour, we were done with our visit and then we walked towards an arched entranceway that eventually led us to the Rosengarten (Rose Garden) at around 3:45pm. From here, we managed to get some ok views of the red-roofed city with some tall spires in the distance. There was also some schloss in the distance but it was heavily scaffolded so we didn't think of going there or taking more pics of it.
Anyways, after having our fill of the garden, we headed back into the rathaus area again. What I didn't realize was that Bamberg was still part of Bayern (Bavaria), which illustrated just how huge this state really was (considering it took us about 3.5 hours to drive from the Austrian border out to this part of Central Germany)!
So we'd continue making our rounds strolling by the Altes Rathaus, which seemed to be best seen from a flowered bridge looking back at the rathaus. We'd then have a gelato while briefly checking out some church in a quieter part of town near some Neptune statue before finally getting back to the car at 4:45pm.
Apparently parking was free since the barricade was open, but I didn't know that and wound up paying 4 euros for our parking spot even though I swore that we were here for longer than 2 hours.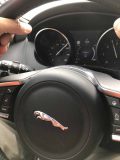 Next, we made the long drive from Bamberg to Rothenburg ob der Tauber (the signs abbreviated it to o.d.T.). The weather out here was definitely much more stable than it was back in most of Bavarian throughout this day, and so we were able to gun it on the autobahn without speed limits.
Normally, I felt uncomfortable about going too fast on the autobahn, but I did discover that the Jaguar rental car we were using had an odometer that topped out at 199km/h. I wondered if we could still go faster than this, but with my GPS showing speeds at around 10-15km/h slower than what the odometer showed, I didn't want to test that out and put our lives at more risk, especially when carrying precious cargo.
My GPS wanted me to take the southern route, which was apparently shorter in distance, but we stuck to our guns and went the autobahn route around the north via the A70 and A7.
Eventually at around 6:20pm, we finally arrived at the Altes Brauhaus, which looked like one of many historical buildings inside the city walls of Rothenburg ob der Tauber. Even getting into this accommodation required us to drive through the city gates and onto the cobblestoned streets before arriving at the front of the accommodation.
Julie checked in and then directed me to park in an underground garage right underneath the property, which was a relief considering our tired state that I really wasn't in the mood to be rolling broken luggages (especially Julie's giant blue one) on cobblestone streets for several blocks.
Finally at 6:45pm, we got settled in the spacious apartment, which was on the top floor and had views on three sides of the surrounding buildings within the city walls of Rothenburg o.d.T. This apartment was also very well equipped with a refrigerator that actually had a freezer, a dishwasher, a working WiFi, and several beds.
The slanted ceilings really made us feel like we were literally beneath the roof.
So after getting settled and unpacked, we then got into our city clothes, before walking back downstairs at 7:35pm for our late dinner. With today being Sunday, there was no way any supermarket would be open so it would pretty much be eating out tonight as well as eating the included breakfast at our accommodation first thing tomorrow morning.
As we briefly strolled the charming cobblestoned streets of the center of Rothenburg o.d.T., we'd eventually find this really happening platz where lots of people were sitting around people watching. Overlooking the scene were tall clock towers and spires as well as more half-timbered buildings.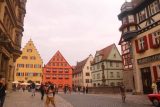 We could have easily spent hours just chilling out here like other young people were doing. But we did promise the restaurant that we'd be there at 8pm.
And sure enough by 8pm, we were at this place called the Herrnschlosschen, which was actually a bit of a fine dining establishment. Right from the moment we walked in, I knew that tonights dinner would be a splurge.
We wound up ordering a fixed price menu that consisted of some octopus appetizer, some kind of curry soup with shrimp, a venison cheek main, and "chocolate souffle" (which we were skeptical would be the real deal). Julie got some kind of roast beef, and Tahia got some kind of burger with truffled salsa.
The meal turned out to be very filling because there were also chef special appetizers on the house that further filled our stomachs before any of the main dishes came out.
They thoughtfully considered Julie's gluten free restrictions so her chef special was also made gluten free as well as the bread and sour creme.
The meal was indeed slow food as eating out in Europe was really more about the experience than the food itself. We could totally see how Europeans were really enjoying their meals and having long chats letting hours burn by, which the American table had their food and were long gone (which would be our tendency though since we got the degustation menu, we couldn't be in a hurry anyways).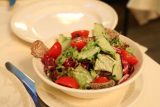 As we were patiently going about our dinner, we saw a giant group of people outside following a guy holding an old school lantern. I knew that this was the Night Watchman's tour, which was said to have begun at 8pm. This particular tour was for English speakers. Nearly 90 minutes later, we saw that there was a second Night Watchman's tour with a smaller group of people. I knew that this was for German speakers. We wondered if we should be doing this tour tomorrow evening as Julie made a mental note to look at the TripAdvisor Reviews of it.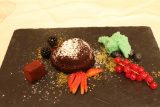 By now, both Julie and I were getting sleepy and full by about 9:30pm, which was still before the dessert. And when the dessert finally showed up, we could see that it was indeed not the real souffle (instead it was more like a lava cake surrounded with berries, mouses, and other things).
The lava cake could have really used vanilla ice cream, but it was still good.
In fact, this was one of the better meals we've had on this trip though in terms of the value, it was certainly on the pricey side.
Since the dinner took over 2 hours, by the time we were back outside and walking back the way we came to the apartment through Rothenburg's charming altstadt, I took a few more night shots of the quiet streets (though there were still a handful of people out and about window shopping or bummel gehen).
The twilight was over so the photos weren't as impressive. Still, I figured that tomorrow evening would be another shot at this, where we intended to self cook.
And by about 10:25pm, we were finally back at the apartment. With such a late end to this day, we were really looking forward to getting cleaned up and crashing in bed. And so ended this eventful day, where we could definitely feel that the end of our 6-week trip was near. It was even nicer that tomorrow was a day at leisure in Rothenburg so I wouldn't have to go crazy driving long distances or doing any more waterfall hikes. Indeed, I really looked forward to sleeping in for the first time in what seemed like a while…
Visitor Comments:
No users have replied to the content on this page