Day 41 (July 23, 2018 – Rothenburg, Germany): "Leaving An Experience"
I awoke at 7am, which was way later than probably any other time on this trip. I thought about getting up to my alarm at 5:30am, but with no real agenda for today, I decided to take advantage of the extra time and sleep in.
I doubted that I could sleep any more than past 7am because the church bell went nuts at this time.
Also, I was suffering from a bit of heartburn after all the overeating from yesterday – both for lunch at Bamberg and for dinner at Rothenburg.
At 7:30am, we went down for breakfast. After paying 5 euros per person, it turned out that this brekkie was pretty good though it probably wasn't quite as good as the one from Munich, which was actually included in the room rate and probably made up for its not-so-spacious accommodation.
The brekkie had all the cold cuts you could ask for, had all sorts of different gluten-based carbs, different kinds of sausages, fruits, and even drinks that could be combined with champagne to make mimosas or using other kinds of safts (juice) to mix with it.
Perhaps the one thing this place didn't have that Munich had was the giant pretzel.
By 8:25am, I was back at the room. It wouldn't be until around 9:40am when we finally headed downstairs and started touring Rothenburg. Julie had this strange idea of being at the yellow house by the Siebers Tower in spitalstrasse without people, but I knew that starting the day this late in the morning was wishful thinking to have a peaceful tour of town.
We basically ambled over through the marktplatz (the center of town) while window shopping en route. Then, we got some info from the info office at the town square before walking over the St Jakob's Cathedral at 10:25am.
Inside the cathedral, it had a pretty plain interior with lots of different wood carvings and panels. Only I paid the 2.5 euros to get inside as Julie didn't feel it was worth paying extra euros for the rest of the family to go in and take pictures when most other cathedrals were free to pop in and out of.
I even managed to check out a wooden carving behind the organ though when I got my fill of that, the lady manning the church closed off access so I wasn't sure if I made it up there on a fluke, or if the lady was setting something up for the children who were filing into the Dom.
Next, we headed out of the cathedral and randomly took a stroll towards one end of the city walls as we sought to try to improve our views of the Dom from a higher vantage point.
Once we got up there, we briefly experienced the atmospheric wall under the shelter of the wall itself so we kind of avoided the sun that was breaking through the clouds. However, when Nature called, we had to go back down the wall and find a place to do our business.
By about 11:05am, we arrived back at the Marktplatz. We told ourselves that we'd go back and do other parts of the wall after lunch. But with it being this late in the morning, we decided to head over to the supermarket to pick up some foodstuffs to cook for the rest of our stay in Rothenburg.
It turned out that we had to walk out the east end of the walled part of the town of Rothenburg ob der Tauber, where we passed beneath at least two or three different gates along the way. We then kept walking past some cemetery before finally seeing a LIDL, Edeke, and Aldi.
Knowing that these places were definitely no Alnatura, we browsed around and didn't get the kefir or bio fruits we were looking for. However, we did pick up some meats and veggies at Edeke before indulging on some desserts bought from Lidl. Finally, we walked back to the apartment but not before buying a schneeball (snowball) on the way.
At 1pm, we checked out the window shutters opening up and revealing a couple of dudes having a drink on either side of the clock. It was certainly no Marienplatz display and we quickly got our fix before continuing on our way to the apartment.
By about 1:15pm, we were back at the apartment. Indeed, it had been quite a hike to get to the supermarkets, and we wondered if it was intentionally designed that way so tourists would pretty much buy the pricier desserts and foodstuffs within the city walls. In order to go the independent and money-saving route, we had to earn it by going well out of the city walls.
While Julie was preparing the lunch of curry chicken and veggies, I dozed off and had a power nap. It wouldn't be until about 2:15pm when I finally woke up just in time for lunch. I guess that power nap was what I needed because I felt greatly refreshed as a result.
As we were having lunch, it sounded like there was some kind of marching band that was playing music probably at the Marktplatz. As much as I wanted to be part of the action, this was the tradeoff with living in an apartment within the city walls. On the one hand, we were saving money and didn't have to deal with slow service, tip, getting charged for tap water, and overpaying, etc. However, whilst in the apartment, we weren't part of the action that was out there. And such was the tradeoff.
In any case, it wouldn't be until 3:20pm when we finally headed back into town. This was after finishing the lunch and indulging on a dessert of schneeball with Tahitian Vanilla ice cream. It was too bad that the schneeball didn't have the vanilla filling we thought we were getting (we paid 3 euros for it), but it didn't seem to have it. Were we bait and switched?
Anyways, the schneeball was nothing more than a glorified biscuit with frostings, and so we were probably over spending any more money on the stuff.
Once we were back in town, we then walked south towards another attractive gate. This time, Julie spotted a cafe that actually served black forest cake, which was probably our last go at this. So we made a mental note to come back here after we were done with this round of walking around the old town.
We then decided to head over to the city walls starting from the southeast side of town before following it backwards (from most of the foot traffic) as we walked towards the east gate. Along the way, we saw more views of the St Jakob's Dom as well as other towers and half-timbered homes. We also checked out the plaques or donor names on the city walls themselves, where we must have passed by a Japanese row because there were lots of Japanese donors back to back in a particular stretch of the wall.
Eventually, we got to the familiar east gate, then we went downstairs and headed back to the Marktplatz. From there, we continued walking west towards the castle garden. There was definitely no more marching band playing at all when we were out and about touring so that kind of took away from the atmosphere I was hoping to be a part of while having lunch.
The stroll descended towards what appeared to be a former castle gate before arriving at a park area with overlooks towards some small scattering of homes outside the wall as well as the exterior of the walls itself.
This garden could easily warrant a much longer extended stroll, but we had our fill of the immediate area near the gate before heading back through the gate itself then heading back to the Marktplatz.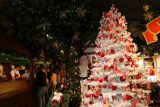 While window shopping (bummel gehen), Julie and Tahia wanted to go inside this place called the Kathe Wohlfahrt Weihnachsdorf, which was basically a giant top shop.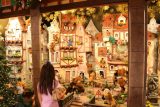 But what set this toy shop apart from the rest was that they really went out of their way to decorate this place as if it was Christmas every day! It was a bummer that photos were not allowed inside the store because there was definitely lots of cute exhibits throughout.
As we went from room to room it was clear that this place really overdelivered on creating and selling the experience of getting into the Christmas spirit even though we were in the latter part of July! It was certainly the kind of place that would induce spontaneous purchases though I wanted nothing to do with that as I couldn't blow off hundreds of more euros over toys to gawk at.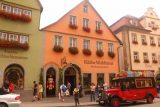 Eventually at 4:50pm we finally got out of the Kathe Wohlfahrt Weinachtsdorf where I swore that this place probably ruined it for any other toy store experience. And indeed, as we continued to bummel gehen, Julie and Tahia saw other toy stores that carried the Kathe Wohlfahrt brand though they were far more boring compared to the Weinachsdorf experience altogether.
It was almost analogous to how Le Souffle ruined the souffle experience for any other place as they simply couldn't compete with the quality of the real deal in Paris. Well, this Christmas shop in the heart of Rothenburg just did it for toy stores. There's no way any other store can compete with this except in the movies.
I'm sure if Toys R Us took a hint from this place, they probably could have survived a bit longer considering that the toy store chain that recently closed its doors after going bankrupt could have sold the experience as opposed to just selling toys which you do with Amazon or any other online shop.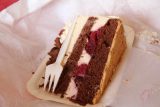 And so we'd continue to window shop along the spitalstrasse within the walls before coming back to the bakery with the Black Forest Cake for takeaway. We'd indulge on this after dinner, but with time running out on trying to cook the food before catching the Night Watchman's tour at 8pm, we had to get back to the apartment.
Eventually at 5:25pm, we were back at the apartment once again. By this time, we felt like we did about as much of Rothenburg ob der Tauber as you can do, and really the last thing left to do is the Night Watchman's Tour just to see what the hype is all about.
I still remembered seeing at least over 100 people on the tour last night while dining out, and I wondered how the experience would be impacted with so many people. In any case, we looked forward to doing that last thing as our last night in Rothenburg (and in Bavaria) was drawing to a close…
After having a self-cooked dinner of shrimp and leftovers from last night as well as indulging in finishing off the cinnamon schneeball along with cookies and cream ice cream from Lidl, we then went downstairs at 7:50pm fully stuffed and ready for our final experience in Rothenburg.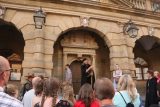 We pretty much went right to the Marktplatz where the night watchman Georg stood and drew quite the crowd just as the 8pm bell went off and the window shutters flung open to reveal the two guys enjoying a drink. Right away, he got into character, spoke slowly, was in his signature dark robe and hat carrying around a weapon that night watchman used back in the day, and we got right into his story.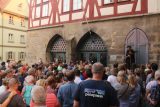 As Georg went from place to place with over 200 people following him and his every word (it was a bit tiring for me because when Tahia couldn't see and hear, I had to hold her up so she could see even with taller adults in front of her), we were really getting the history of Rothenburg spoken to us but in a very engaging way through Georg's masterful storytelling.
I found it interesting that now we were one of the many whom we saw last night while having dinner.
At first, I wanted to take pictures to show the scene of hordes of people entertained by the night watchman of Rothenburg, but by the end of it, no one was taking pictures and they were hanging on his every word. The story started back in the Middle Ages around the 12th century and it went as far as the end of World War II and beyond.
The big takeaway from the story (besides the thoroughly entertaining and informative experience) was how haphazard history is, and how Rothenburg was lucky to be the big tourism town it currently is. This just has to be experienced, and I wondered how much longer Georg is going to be doing this (noting that on the Rick Steves video, he looked much younger than he does now).
In the end, when the tour ended, everybody dropped money in his hat. We didn't have exact change so we actually overpaid 20 euros (it was 8 euro per adult and children under 12 were free). It was pretty much the honor system, but I think the way people were willing to crowd up around him and drop the money in his hat was a testament to his control of the audience and leaving everyone with an experience you can't get anywhere else.
Just like with the Christmas Shop earlier on today where them leaving a unique experience resulted in spontaneous buys, Georg was masterful in his storytelling and act and left us with an experience we won't forget. What a great way to end our experience in Rothenburg as our trip was winding down.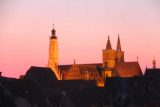 By 9:15pm, we were back in the room. Most of the activity in the town of Rothenburg (in the name of busy streets) was all because of the night watchman. Now, everyone was either retreating back to their accommodations or even retreating to their cars who happened to be staying outside the town walls.
Julie and I could totally see why Rick Steves loved Rothenburg, and the magic and mystique of the town was definitely in full effect as we were winding down this day and our time spent in Germany.
In our itinerary, this place was almost skipped because of how out-of-the-way it was. It was only at the end of our grand tour of the German-speaking countries of Germany and Austria because I had to figure out a return route back to Frankfurt from Innsbruck. I'm glad we gave this place two nights so we had the time to leisure enjoy this medieval town that was probably second only to Colmar in the charm department as far as this trip was concerned.
Tomorrow, we were headed to Frankfurt, where we'll be returning the rental car one day early (hopefully we'll be getting a refund for the extra day as well as the auto service for needing to top off the diesel exhaust fluid). From that point forward, we'll be without a car. So the rest of the evening was spent packing up, getting cleaned up, and taking care of other logistics like filling out forms for Air France on our flight home.
Indeed, this epic trip was soon coming to an end. And while on the one hand, I didn't mind going home and hopefully stop bleeding the amount of money we'd been spending on this trip. However, on the other hand, there was a part of me that didn't want this to end.
Such is life though. You can't have it both ways…
Visitor Comments:
No users have replied to the content on this page