Day 9: TRES CULTURAS
It was 6:30am when Julie and I awoke to her alarm. Last night, we didn't sleep until about 1:30am because it was still quite busy outside and downstairs as we were staying in an apartment pretty much next door to the action. So we were pretty groggy, but at the same time, we also knew that there were things to do before we would get the chance to explore Cordoba in the afternoon.
The first order of business was to get packed and load up the car. That would mean I'd have to go to the garage, drive out of the car park, then park illegally in the Plaza Primero de Mayo to enable us to load up the car in parallel with Julie and Tahia getting ready. Then, pay Jose and return the keys before we would be off, and do all this before 7:30am.
Well, we did pretty well though it wasn't until 7:50am when we finally left. Tahia had another pooping urge, which kept us in Ubeda a little bit longer than we wanted. But after that, we were off onto the autovias to get out of town and towards Cordoba, which was pretty much completely empty on the high speed freeways.
The drive went pretty smoothly, and the duct-taped passenger rear-view mirror stayed with the car despite the high speed and the drag from averaging 120km/h. So by 10:15am, we finally arrived in the Europcar car park in Cordoba. Though we could've been there a little earlier if not for a final diesel fill-up as well as making one long loop after making a wrong turn near the Estacion de Autobuses, which was where the car park was supposed to be.
Anyways, after emptying out the old car and getting our stuff together, we went upstairs and waited patiently for our turn at 10:40am as there was already a queue. There was only one guy working on Sunday and we could see that he was quite a busy guy.
In any case, after filling out the paperwork and getting through all the formalities, we'd finally be in our replacement rental car at 11:30am. It turned out that the replacement car was essentially the same make and model car, except it was now a red color instead of white. Hopefully, we'll have better luck with this car than we did with the previous one.
At 11:50am, we'd finally find the AC Cordoba Hotel though we embarrasingly showed up at a different Cordoba Hotel further up the Avenida de la Libertad. Nonetheless, once we were in the on-site car park, Julie had to help me out given how tight the parking was down here.
I don't know what the deal was, but it seemed like parking garages were the most treacherous environments for rental cars. After all, we damaged the previous car in a parking garage, and it was really scary trying to fit and park within the confines of this underground garage beneath the AC Cordoba. Fortunately, we wouldn't be driving for the rest of this day as we'd be back on the road first thing tomorrow morning.
After finally checking into our room and dropping off our stuff at 12:15pm, we then headed back downstairs for our tour of the main parts of the city by 12:45pm. The receptionist said it was only a 20-minute walk so we were game to give it a go (it looked pretty far on the city map he gave us) even though it was starting to get warm. The Europcar clerk I spoke to earlier had warned me that it would be at least over 40C (a little over 100F) today.
The nice thing about the walk to the general vicinity of the Mezquita (mosque) was that we got to walk within the cool and shady confines of the urban green park area sandwiched between major city roads going in opposite directions (ala Buenos Aires in Argentina).
However, we had to cross through about three of these significant elongated park areas before encountering an old town wall and an archway that led right into the real bustle of the Jewish Quarter. Once we were on the other side of the wall, we found ourselves within a maze of lanes flanked by restaurants and shops. It was definitely a happening and busy place, and I'd argue this medina-like take by the Spanish was more happening than the Albayzin Quarter in Granada.
So we meandered about in the general direction of the Mezquita. At one point, it seemed like I had lost Julie and Tahia. So for a few minutes, I just went back and forth near our separation point (learning from the Rome experience) before we were able to continue on our search for lunch. Tahia was also hungry.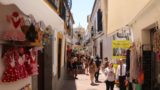 As we continued to navigate the narrow lanes, the nice ambience, which stretched for several blocks, was really the pleasant surprise of the day. Our expectations of Cordoba were set low after looking at what the Rick Steves book had to say, but we were quite pleasantly surprised by this part. That said, all of the shops were made for tourists so perhaps that was his beef with the area since it wasn't like a working medina in Fes (though the Albayzin in Granada was also made for tourists, too).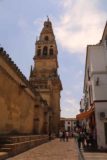 Finally at 1:30pm, we found the Bodega Mezquita. Although it was hyped up on TripAdvisor, the food was quite good. I recalled the meatball tapa was different. There were other creative tapas that we tried as well, and one of the waiters really went out of his way to ensure that we were looked after (which was a rarity in our Spain dining experience).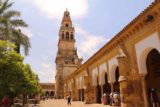 At 2:40pm, we were done eating and then proceeded to the Mezquita, which was just a few paces from where we were at. The gate to the courtyard area was already open, but just as we were able to line up for tickets, as I was waiting for Julie to take some snaps of the Jewish Quarter, there were huge mega tours one after another that went straight for the Mezquita as well. So the place went from a fairly peaceful area into a zoo as quickly as they showed up!
There was already a line for the tickets even though the doors into the Mezquita wouldn't be open until 3pm, and we were fifteen minutes early. Fortunately, the line was moving fairly quickly and Julie managed to get her tickets by 2:50pm.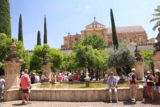 There was one tourist who decided to try to cut in front of Julie, but she was having none of it. And she made sure to create a scene so the guard who happened to be standing there tried to force him to go to the back of the line.
I don't know what the deal with that was, but perhaps he must've assumed that we were passive Asians who would've let it go and not say anything.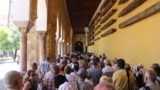 While Julie and Tahia were in line taking pictures, I was out of line busy taking more pictures of the courtyard and the huge tower that we were almost under. It didn't look like you could go up this tower, so it was pretty much like an ornament to the site.
Next, with tickets in hand, we then queued up at another line for getting into the Mezquita. This line was even longer and wider. Fortunately, it was mostly in shade so it wasn't too bad of a wait as the heat of the afternoon was really starting to pick up.
Once we got inside the Mezquita, we finally got to see for ourselves why the hype and the lines were justified. Indeed, after getting past a blinged out entrance, we were then in the great hall, which I'd imagine was where people would come and pray five times and day while kneeling and facing towards Mecca.
With the rows upon rows of Muslim Arches adorned with red and white blocks arranged in a near circle following the contours of each arch, Julie and I quickly realized that this could very well be the most impressive mosque we had seen on this trip (though there was one we had seen in Egypt that had really high ceilings and lights dangling way down from them in a circular fashion).
Indeed, it seemed like the rows of arches were surrounding a huge Catholic chapel. Meanwhile, the periphery contained smaller altars and relics (some of them blinged out), including a pair of rooms full of treasures or blinged out idols.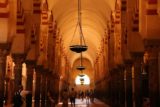 It was a strange mix of Muslim and Catholicism, and evidence of the Reconquista was clearly seen here.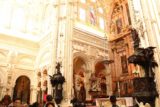 Anyways, the beginning of our 90-minute visit was crowded and some parts were like a zoo. But as the visit wore on, it seemed like the tour groups thinned out, and the Mezquita was back to being relatively tranquil. Of course by that time, we were starting to get Mezquita'd out as Tahia was insisting that I carry her for the latter half of our visit.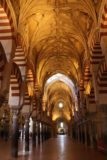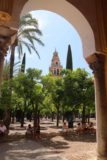 As I was carrying her, my sore knees were getting increasingly more painful. And I was now concerned that my knee condition wasn't going to get better unless I somehow managed to get some rest. They were probably overworked from all the hiking, carrying Tahia, and city walking on unforgiving stone streets and monuments.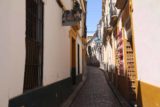 It was about 4:30pm when we finally left the Mezquita. And when we left, man was it scorching hot! The 40C temperature that the Europcar guy warned us about certainly was coming to fruition, and I even recalled he apologized about it.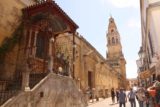 So instead of going right to the Roman Bridge and the Alcazar, we decided to look for a place to chill out. But I think Julie was looking for a Teteria (Tea House) for a pick-me-up or an ice cream spot in an air-conditioned cafe, but neither of those were found on the streets that we had meandered about on.
With all this searching combined with me carrying Tahia as well as the scorching heat, it was really wearing me down, and my left knee felt like it was getting worse.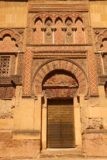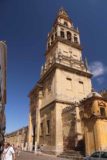 So we finally settled on this random Arabian place called Petra, and while there, the air-conditioned room was a relief though it felt like we had isolated ourselves from the action given it was rather hidden in an obscure lane.
Even despite the mint tea, I still managed to doze off for a few minutes. Tahia was still sleeping in the child carrier.
By about 5:30pm, we finally left Petra, then ambled slowly towards the Alcazar de los Tres Reyes Cristianos. We'd arrive twenty minutes later and really had to think hard about going in because we knew it wasn't nearly as impressive as the Alcazar in Sevilla, but it commanded 7 euros per person, which I think rivaled the cost of the one in Sevilla.
Anyways, we went inside, checked out the towers though only one tower allowed us to get the views over the Rio Guadalquivir as well as the Roman Bridge, the Mezquita, and even the extensive gardens with basins and fountains looking in the opposite direction.
The other tower was closed for ascending.
We didn't want to linger too much out in the exposure of the sun given the heat so we then retreated into other rooms and chambers in the Alcazar including a little hammam that reminded us of the one we had seen in one of the palaces in Marrakech.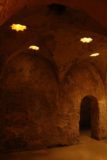 Our visit was interrupted a couple of times by Tahia needing to poo and clear her unsettled stomach, and on the second go while we were visiting the extensive gardens, that was when she pooped in her pants again.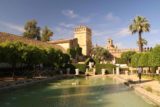 At least when Julie washed the underwear, she got to clip it on my pack, and we let the intense heat of the day dry it off in a few minutes of walking.
While the gardens were extensive and picturesque, I came to realize that the 7 euro admission price must've also included the sound and light show in the evening that we were encouraged to visit. That said, we just didn't have the time or the will to want to do it.
Finally at about 7:15pm, we concluded our visit then ambled over to the Roman Bridge while trying to stay in the shadows to avoid the intense heat.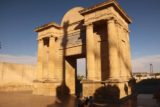 When we saw that the Roman Bridge was totally bathed in the hot sun, we felt that it wasn't worth going across the bridge over the smelly Rio Guadalquivir just to get a view across the river back towards the Mezquita especially as the sun was right against the line of sight. So instead, we then ambled back towards the Jewish Quarter for a place to eat for dinner.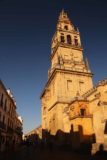 Julie's second restaurant of choice was La Flamenka, but it was closed at 6pm. In hindsight, we should've had this place for lunch then the Bodega for dinner since that place was still open. Even other backup options were closed like Luque.
So in the end, we settled on the Patio de la Juderia, which served up decent half-raciones, but they didn't let us have agua del grifo and we had to buy a couple bottles of water while they also mistakenly given us two cups of sangria, but we figured we both could use the drink anyways.
That said, the price of dinner (nearly 40 euros) was really for the entertainment value of the live flamenco show while we were eating.
And both Julie and Tahia enjoyed it as there was actually the guy and girl dancing together before the lady went solo. Actually, the format wasn't all that different from the one we saw in Sevilla, but perhaps the inclusion of this show during dinner as well as its intimacy was what made this entertainment feel like it generated good vibes all around.
At 9:25pm, we were done eating. While the waiter told us there was a second part of the show later on, we had to prioritize getting back to the hotel and sleeping early so we could get to Toledo on an early wake-up first thing tomorrow. So as much as we wanted to stay, we still had a long walk to get back to the hotel ahead of us.
Finally at 10pm, we were back in the room. It felt like the evening paseo along the Avenida de la Libertad was in full effect as twilight was upon us. But we couldn't linger. Besides, it was still 28C this late in the evening, and by the time we retreated to our air conditioned room (maybe that was what AC stood for in AC Cordoba Hotel?), we were dead tired and showered then crashed to sleep.
Unfortunately for me, my left knee really felt uncomfortably painful and the minibar drinks acting as ice packs didn't do a whole lot to help. I'm hoping this won't kill us while we tour Toledo tomorrow. In any case, I figured this concluded the Andalucian part of Spain as we continue north towards Central Spain with Toledo then Madrid up next…
Visitor Comments:
Got something you'd like to share or say to keep the conversation going? Feel free to leave a comment below...
No users have replied to the content on this page