Day 1: IMPROVISATIONS
…eventually the boat would finally dock at around 1:50pm, but we wouldn't be out of the boat with our luggage until about 2pm. After rushing our way past more corridors and another passport control, we then finally learned that we had to hail a taxi to get to our rental car office in downtown Algeciras.
Well, we hailed the taxi at 2:10pm, but then the driver warned us in Spanish that we need to call the rental car office because they were closed at 2pm. And when Julie tried to call, no one was picking up. When we got to the Europcar office five minutes later, we saw that indeed the office was closed and we were pretty much SOL.
It was just our luck that the ferry was well over an hour delayed and that caused us to miss our rental car pickup. In hindsight, we should've spent a night in Tangier, then ferried over to Tarifa (like the tour operator suggested) before shuttling over to Algeciras. Even then, who knows how much delayed that ferry would be, but at least we would've had the option of taking an earlier ferry had we spent another night in Tangier, Morocco.
Now, we were in a bind. No rental car, possibly stranded in Algeciras, and therefore there were no options for the moment. Our Spain part of our trip already started off badly, and we'd have to figure out a way to make things work given the blow that we were dealt…
So after a minute of two of assessing the situation, we realized that we were pretty much screwed out of trying to rent a car out of Algeciras (which would've allowed us to drive right towards Ronda to enable us to spend the rest of the afternoon there). Clearly, that's no longer an option as the phone number shown on their window was only the EuropCar Madrid office and the number on Julie's confirmation was of this office here in Algeciras but no one was picking up because no one was here.
Then, Julie thought quickly and called the Auto Europe office (who were the brokers or consolidators we went with). And when Julie managed to get a hold of some operator by the name of Austin, he then helped us rearrange our car rental to pick up in Malaga. In my mind, I was thinking we were going to show up in Ronda much later than we wanted and it was going to cost us a lot of money to go there by taxi, but at least we wouldn't be stranded in Algeciras without our own wheels.
And so at 2:40pm, we were back in the taxi and we were promptly whisked away from Algeciras to Malaga (which was over 100km). But the taxi driver was jamming on the autoroute and he knew where the speed cameras were so by the time it was 4pm, we ultimately made it to the Maria Zambrano Station (as opposed to the airport), which was where they were able to accommodate our last minute change request.
We paid the taxi driver some 140 euros, which Julie was going to file with the Travel Insurance to try to recover this lost cost from the ferry delay. However, getting back the time was something that was not going to happen.
Next, we had to look around to see where the Europcar office was. We actually went across the street towards the Europcar sign, and even asked inside a supermarket when we realized that this didn't seem to be the right place. Then we went downstairs to the garage and saw that the office was back at the train station. So once we went back, we would finally see the Europcar office at 4:20pm.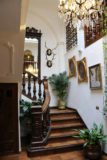 It took some time to get settled, but it wouldn't be until 4:40pm when we'd finally get the rental car. Then, after looking for damages, getting the car seat set up, figuring out how to use the voucher to get out of the car park without paying some 6 euros, and then figuring out how to do the reverse on stick shift, it wouldn't be until 5:20pm when we were finally leaving Malaga.
Now we were backtracking on the carretera all the way back to the turnoff for the mountain road leading to the southern approach of Ronda. The drive was actually quite scenic though it was getting late in the day and we knew that our time in Ronda would be very limited thanks to our late arrival.
Nonetheless, our top priority was to check out the waterfall by the New Bridge and Tajo Gorge. And at least do this before it gets dark.
It wouldn't be until about 7pm when we would finally arrive at the Hotel San Gabriel. It took us some trouble to figure out how to even find this place (maybe some 30 minutes or so), but when all was said and done, we managed to unload our stuff at this very charming hotel, and then we would eventually park the car near a different plaza further down the hill in town at 7:45pm.
From there, we meandered about the Moorish Quarter of town, which was pretty quiet and quite touristy given that there seemed to be many more foreigners and locals in this part of town. There were plenty of churches and cathedrals that we superificially checked out from the outside as we continued walking towards the Puente Nuevo (New Bridge).
Then, we walked a little further down the hill before finding another plaza with a nice panorama to the west of Ronda. Someone was playing live music here, and despite the many people enjoying this spot, it had a quaint ambience about it.
Next, we hiked down a well developed but fairly steep path winding down beneath the cliffs towards a handful of panoramas. Once down there, we finally got to see the waterfall flowing well as it plunged beneath the arches of Puente Nuevo. Not since Cascade de Salins in France did we encounter suched an arched bridge by a waterfall, but this one seemed to have a dramatic flair about it.
We spent a lot of time just trying to capture the scene with the fading light of the day. The shadows were already covering most of the gorge, but the sun was hazy enough behind some patchy clouds to help keep the contrast to a minimum.
Julie and I noticed that there seemed to be some kind of aqueduct running beneath the cliffs and to the side of the falls. We weren't sure if they were genuine aqueducts or if they were more modern things to be used for some degree of water diversion. There was also some hydro scheme down below, suggesting that the river behind this falls should be quite reliable.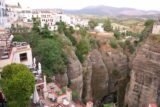 Eventually by 8:30pm, we had our fill of the gorge and we started making our way back up to the town. By 8:40pm, we were back on flat land, and then we promptly walked over the Puente Nuevo (checking out the other vistas from there both upstream and downstream) and into the more modern part of town.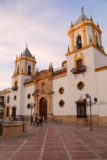 It was about 9pm when we stumbled onto the Plaza Socorro, which was quite a happening and neat place as locals were all around and it had a bit of a festive atmosphere. I guess the evening paseo had already begun as this plaza seemed to consist of mostly locals.
Julie was trying to find tapas eateries, and she wanted to go to Tragatapas. Unfortunately, their credit card machine was not functioning, and we had only 20 euros in cash left (the taxi took the rest of our reserve). And since it was too late in the evening, there was no cambio that would be open at this time. Plus, we didn't trust the ATM machines. So in the end, we had to forego this place and settled on Nueva 13.
We had some rabo de toro and calamares, but in the end, the tapas here wasn't as inventive as what Julie was hoping for. Well, at least they took credit card, and it was intimate enough that we could have a sit down dinner before it started to get a little chilly as the darkness of night was over us when we left at 10:05pm.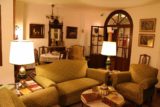 We were back in the room at 10:30pm, but not before taking a few more views of the gorge over the New Bridge with night lighting. And so ended this very drama-filled and exhausting day. Indeed, it seems like no matter which trip that we go on, there are always moments of drama, and perhaps today's events were just that.
Hopefully, we wouldn't have to go through more of these on this trip as we have another 4 more weeks to go…
Visitor Comments:
Got something you'd like to share or say to keep the conversation going? Feel free to leave a comment below...
No users have replied to the content on this page