Day 2: RAIN FOLLOWS US WHENEVER IN EUROPE
It was about 6:30am when I awoke to Julie's alarm. Given that yesterday we had such a late start to our time in Ronda, I thought that I might spend this early morning paying the Tajo Gorge another visit to fully experience what there was to that place. And that I would be doing this while Julie and Tahia were getting ready for the breakfast at the Hotel San Gabriel (which costed us 5 euros a pop).
At 6:55am, I went out of the hotel. It was actually a little bit chilly and the lights were still on as the sun still had yet to breach the horizon. Plus, I had noticed that there was some light sprinkles, which caught me by surprise. All this time, I was thinking that Southern Spain had been dry for the last couple of months so surely the long dry Summer had to have already begun in these parts.
But as I made my way back to the familiar overlook, I could see out in the distance that indeed, there were rain clouds above and some of the places further out did have streaks of dark clouds coming down (signifying rain).
Anyways, I continued down the descending cobblestoned walkway, which was starting to get slippery due to the light rain that was starting to come down a little bit harder. Eventually, I'd go past the last turnoff that we took to get the views of the waterfall beneath the New Bridge, and I'd end up at a different turnoff where there seemed to be old walls with arches in them.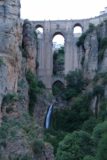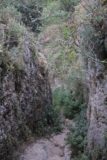 It was at this spot that I managed to get a more direct view of both the waterfall and the arches of the New Bridge above it. When I looked out in the distance towards the farm lands and hydro facilities below, I managed to notice an impressive thin arch on the opposite side of the gorge practically beneath perhaps the Plaza de Toros part of Ronda.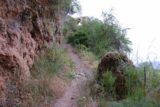 I also explored a little bit below the overlook as I noticed more trails descending further into the overgrown depths as that trail started hugging the walls.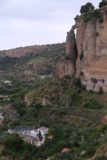 When one of the side trails deposited me near an audible (but not photographable) part of falling water channeled by a diversion ditch, I decided that I had probably hit a point of diminishing returns. And so I headed back up at 7:25am. Now, the sprinkles were quite persistent. And eventually by 7:45am, I had returned to the room, where sure enough Julie and Tahia still weren't ready.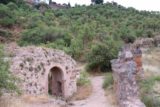 During the commotion, I walked with Tahia to the brekkie room, and helped her to the continental-style brekkie. It was pretty minimalist, and I wondered whether this was worth the 5 euros. Anyways, we had met a seemingly large group of seniors and middle-aged folks from Florida. Apparently, they were on some sort of self-organized tour ('cause I couldn't imagine a full-on tour group coming to Ronda or even staying at the charming Hotel San Gabriel).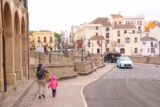 Nonetheless, we eventually figured out that we were supposed to spread tomato "jam" on toast and put cured ham on top, then eat them together for our quick pick me up breakfast. And with that, we were fed and retreated to our room at 8:50am.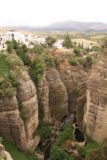 Then, when we knew that our check-out time wasn't until 12pm, we decided to wait out the opening of the Ronda Bullring (since we had lost out on it yesterday thanks to the unforeseen delays).
And then, by 9:35am, we started the walking. And now as we were out and about, the rain was a little heavier but it was on-and-off.
At 9:45am, we were back at the Plaza de Toros, but there seemed to be a lot of Herbie-like cars motoring around Ronda, and a lot of them were gathered at the Plaza de Toros for what appeared to be some kind of race or something called the Trans Iberia III.
Since we were still a few minutes early to the opening of the bullring, we then checked out the overlook of the gorge from the garden in the backside of the bullring. That was a good distraction, because by 10am, we finally had a chance to check out the bullring.
Instead of going through all the exhibits, we just cut straight to the chance and proceeded to go right into the bullring. It was an impressively large circle, and we were busy trying to find ways to get up to the upper terrace where we could take better contextual photos of Spain's oldest bullring.
Looking in the other direction, there were lots of modern buildings in the background which meant a kind of anachronous juxtaposition of old and new.
By about 10:35am, we were done with the bullring, then proceeded to take a few more photos of the matador statue on the outisde.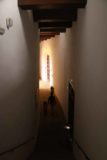 Then, we walked back to the hotel to finally do the checkout. We'd be back there at around 10:55am, but not before getting a bit wetter from the rains that were now coming down a bit harder.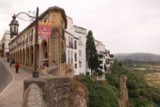 At this point, Julie and I started to think the same thing… Without fail, whenever we go to Europe, it always seems like we get hit with bad weather. We haven't had one European trip that wasn't adversely affected by rain, and we hope that in this case, it would just be a short passing rain. But given our luck, we weren't holding our breaths.
At about 11:10am, I had fought the rain and made it back to the car, which was parked a few minutes walk away. The intent was to drive back to the Hotel San Gabriel so we could lug our belongings into the car right in front of the hotel.
Then, at 11:20am, we were finally heading out of town. The first priority was to see the Cueva del Gato, which was something I was interested in visiting more for its waterfall than for the cave itself (which by the way looked like a pair of eyes above an open mouth).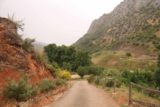 We would arrive at the Cueva del Gato car park at about 11:45am after deviating from the A374 to go on the MA-7401. Most of the short drive was during some pretty substantial rain.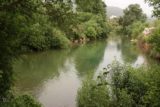 Anyways, while Julie and Tahia were getting ready, I continued on the trail, which descended some kind of driveway that led to a cafe or hotel. The road was a bit on the slippery side thanks to the rain. After I got down to the hotel, the pavement then gave way to a more conventional dirt footpath as it passed what looked to be a kiosk before going onto some wooden bridge that traversed a river. The bridge itself looked like it was damaged as some parts were so tilted that they also presented slip hazards.
Anyways, after crossing this bridge, the trail then went beneath the railroad tracks under an arched bridge before getting to a spot where I could see the Cascada del Cueva del Gato and its clear pool with a partial view of the cave opening behind and above them.
As I was busy taking photos, there was only one other couple that was coming back from the cave itself (which gave me the idea that we ought to be able to at least get to where they went). Then, Julie and Tahia showed up.
Since the returning couple decided to take photos, we then decided to go up the rocky and slippery (thanks to the rain) path that led right up to the mouth of the Cueva del Gato. There seemed to be some degree of man modification around the falls (making me wonder whether the falls itself was legit) though we couldn't argue with the fact that the cave did indeed yield a passing creek that just so happened to descend in a waterfall beneath its mouth.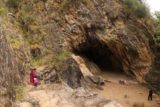 However, when we would finally get to the mouth of the cave itself, we couldn't proceed further as the official trail was gone. The signs here did seem to indicate that with some prearrangement with the folks working in or around this area, that it could be possible to go spelunking here.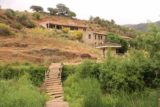 Upon returning from the mouth of the cave, we started to notice there was another group of folks. And after waiting patiently for one group of four to finish taking photos of the waterfall fronting the cave, Julie, Tahia, and I finally got our turn.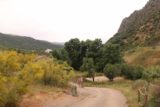 Then, when we finally took off at around 12:30pm, we made our way back up to the car, which we would get to in ten minutes. But as we looked back at the cave (especially from a mirador or lookout just below the car park), I saw a train of people on the trail leading to the cave. I guess we had just beat the rush. Plus, their timing was such that the rain had stopped at this time. In fact, the weather had calmed down when we started to return to the car.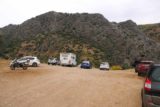 At 12:45pm, we started the drive towards Sevilla. Since we were staying in an apartment in the city, Julie had to call and let the hosts when we were showing up. But aside from that, we would eventually make it into the city of Sevilla and find underground parking at Avenida de Roma at 2:30pm. It felt much warmer here than it did in Ronda plus it wasn't as rainy at the time.
Once we got up from the parking garage with our stuff, we then found ourselves in some kind of plaza that was bustling with activity from tourists and locals alike. Once we got oriented, we found the apartment (Sevilla Central Suites) and finally checked in to our room at 3:05pm. The room was nice and spacious and further confirmed that apartments were the way to go when it came to finding accommodations where we'd spend multiple nights in one location. In this case, we'd have two nights.
Then, after dropping off most of our stuff in the apartment, we then headed back out ten minutes later. But not before we picked up some cold water and some sandwiches with jamon (these cured charcuterie-like meats seemed to be ever present in Spain). Since Tahia was both thirsty and hungry, we briefly had a picnic lunch in the middle of the square.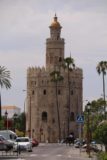 Finally at 3:55pm, we got back in the car and headed to the Cascadas de Huesna (or Hueznar). I figured that since we still had to visit this waterfall, which was the nearest one we could identify within the vicinity of Sevilla, we mind as well do it on a day like today where rain was off and on. Besides, it was Sunday and most things (including the Cathedral) seemed to be closed on this day or had shorter hours (in which case we were too late).
The drive out of Sevilla was initially on some surface streets (one street was called Avenida de Kansas City?) before hopping on the fast-paced autoroute. It looked like this route headed towards Cordoba, but we'd be doing that town a few days later on this trip. Then, after getting onto the A457 near Carmona (where we left the autoroute), we then headed north on the A455 passing through the towns of Lora del Rio, then Constantina, then finally San Nicolas del Puerto.
It was only after passing through San Nicolas del Puerto did we finally see a sign for Cascadas del Huesna. As we passed through the small town, there was a turnoff onto the SE7101 just to the north. Then at 5:35pm, we finally saw a sign leading to a car park for the Cascadas del Huesna. Even though there was a pretty rutted access path to get to the signed car park, I couldn't believe how busy the car park was (as it was full of cars).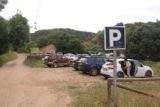 Once we got out of the car, we then started to look for where the trail was. However, it didn't seem to be that well-defined. I had seen that there were more cars and people further down the hill, but there didn't seem to be an official trail linking the two spots. Then, I just decided to follow the paved path towards a power pylon. I wasn't sure if this road belonged to some local company providing power or cell reception, but beyond the pylon, I saw a somewhat defined trail of use through a field then leading to some folks chilling out by a creek.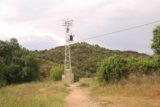 We asked these folks where the falls was, and they said the best way was to cross the creek. I guess the main waterfall was the first one on the left, but it appeared we would be only at the top of the falls. Anyways, we followed their advice, got to the other side, then passed through (along with other people) a field with an opening in the fence that said something to the effect that passage through there was prohibited. But that didn't deter any one of the people that were here.
Eventually, we found a somewhat decent descent towards another fairly defined trail of use along the creek before reaching a rocky spot that yielded an obstructed view of what turned out to be the first of a handful of Cascadas de Huesna at 5:55pm. Some folks were leaving just as we showed up so we had the spot to ourselves, but we didn't want to change Tahia and Julie getting wet or risking a slip-and-fall to cross the creek to get a better more open view of the falls.
So I did it myself taking advantage of the Gore-tex waterproof properties of the hiking boots. A little after 6pm, I had had my fill of the falls then continued to follow some more trails of use further downstream. It seemed like the trail branched where I first went left, which ultimately led to a second waterfall just downstream of the first falls.
I'd arrive at this second falls at 6:15pm. Though this one was smaller and had some broken stone walls to climb on to get there, there were still a handful of people still enjoying this falls and even playing music.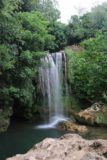 After this falls (I convinced Julie and Tahia this one wasn't as worth it as the first one when they finally went down the steep hill to get to the access "trail"), Julie and Tahia headed back to the car while I did a little more exploring of the remaining falls here.
At 6:30pm, I managed to scramble to yet a third waterfall, which appeared to be a cascade with lots of young folks chilling out and taking pictures on it. And after leaving this falls around 6:30pm, I then found yet another path leading to a fourth falls whose access was near a picnic area full of folks. While exploring one of the side tracks to see where it went, I managed to scrape myself on one of the sharp branches protruding onto the overgrown path. Not good.
Anyways, the fourth falls (which was upstream from falls 3 and both seemed to be on a different creek than falls 1 and 2) wasn't very impressive though there was an interpretive sign by it. That was kind of the first sign of any bit of "officialness" to this excursion as the rest of the hiking was more like scrambling and following use trails as opposed to more formal trails.
At 6:45pm, I was finally back at the car where Tahia and Julie awaited. Julie and I thought this falls was really more of a place to swim and cool off from the heat of Southern Spain in the Summer. But aside from that, the falls weren't all that impressive.
The drive back was a pretty straightforward affair. We'd eventually get back to Sevilla at 8:30pm, but Julie and I argued over where we should park – the "free" parking near some University as suggested by the hostess, or the Avenida de Roma underground parking which would cost us 18.50 euros per night! Well, we opted to fork over the nearly 40 euros for parking just so we could have some piece of mind that our car wouldn't be broken into even though we could've taken everything out of the car and to the apartment to save that kind of money.
At 8:45pm, we were finally back in the room. Then, shortly after 9pm, we decided to do our little evening paseo, which we could clearly see a lot of people were out and about doing at this time of night. Eventually, we'd be passing by the impressive Cathedral in Sevilla (which was so grand it was overwhelming), where we settled on this place called Alminanta, which was not on the hostess' suggestions list for tapas.
But we settled on this place at 9:25pm because it started to rain fairly hard and we just sought the shelter here rather than go tapas searching elsewhere in the rain late at night.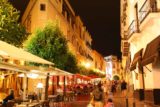 Well, it turned out that the tapas here were pretty decent, and the price was on the order of 22 euros or so with a 4% tip included (mandatory I guess). Anyways, all of us ate (including Tahia who seemed to enjoy some of the foods that we got), and by 10:15pm, we were out exploring the area around the cathedral in Sevilla.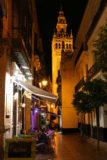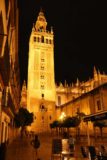 It was still quite happening all around town here at this time, and though the weather calmed down, it was a good opportunity to experience the evening ambience for ourselves before retreating to our apartment. The tour was dominated by the cathdral though we saw a bunch of pretty happening arcades full of cafes and restaurants. Just wandering about with no real purpose seemed to be the thing to do to capture the magic of the moment.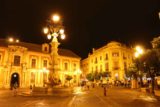 Then, after seeing the square fronting the main entrance of the cathedral, we then headed back for some late night gelato before finally returning to our apartment at 11:05pm. At this time, all of us were exhausted but we still had to shower, brush and floss, then settle in. So it wouldn't be until well after midnight before we'd finally go to bed.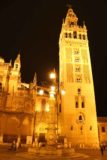 But there was one last bit of drama in that my portable hard-drive complained of some corruption when the computer was woken up from sleep mode as was the HDD. So from that point on, I just switched all the power management settings for both devices to prevent sleep, and I ran some kind of check disk overnight, which pretty would took all night. And with that, I had myself a worrisome sleep given that I wasn't sure if I had lost all my photos from the trip or not!
Visitor Comments:
Got something you'd like to share or say to keep the conversation going? Feel free to leave a comment below...
No users have replied to the content on this page