Day 3: THE SEVILLE HIT PARADE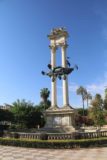 It was 6:45am when I awoke, which was a little before Julie's 7am alarm. Worried about last night that my portable hard drive was corrupted and that I potentially lost all the trip photos taken to this point, it didn't take long for me to shake off the cobwebs and get back on the computer.
Boy was I relieved when I saw that the checkdisk routine that took all night found no bad sectors. And when I rebooted the computer, I could see that I did indeed get back my photos. But just so I didn't take any chances, I also made a backup (on the same HDD though).
Most of the morning was spent dilly-dallying in the room. Julie was busy trying to read TripAdvisor and figure out what were the places to eat tapas. So it wouldn't be until 9:45am when we finally left the apartment and immediately aimed for the Real Alcazar as the first attraction of the day.
Unfortunately, we weren't really oriented and missed the opportunity to get further oriented last night so it turned out that we made a pretty long loop passing through the Barrio Santa Cruz after walking alongside some urban gardens on the northern side of the Alcazar. Eventually, we'd finally get to the Real Alcazar by 10:15am though truth be told, it should've been no more than 5 minutes to get here (not 30 minutes as we had done).
Once we were inside the Real Alcazar, we pretty much saw a crowd of people browsing about the various gardens, quarters, hallways, and courtyards that made the place the attraction that it was. Indeed, it was pretty grand, but the thing that struck Julie and I most was that it pretty much reminded us of a riad on steroids.
Then, it dawned on us.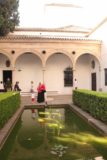 The thing that made our visit to Morocco feel so exotic was that we actually got to stay in homes that were kind of like smaller scale versions of the Real Alcazar. In fact, we saw so many things about the Alcazar that reminded us of riads such as grand atriums, tiled floors and walls, elaborate arches, etc. that the cultural similarities between Morocco and Andalucian Spain was especially apparent to us given that we had just been in Morocco just a few days earlier.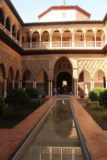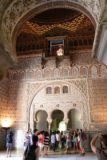 Indeed, we thought we were in a grander version of places like the Ben Youssef Medersa or the Mausoleum of Moulay Idriss all rolled into some elaborate and grand palace that also had all the resource concentration of a Versailles Palace.
The complex itself was quite extensive and it could've easily consumed the better part of a half day just to take in all the rooms, gardens, hallways, etc. that we were allowed to tour. There was even a part of a garden where there was an attractive pool fed by some kind of pipe that poured out water like a waterfall while being backed on two sides by some ornate walls with windows and patterns.
It was a spot where we wanted to chill out and not move for a while, but with all the people around and the fact that we had a lot of stuff to do, we didn't linger for too long. So even though we could've spent at least two or more hours here, our visit ultimately wound up being only an hour long.
At 11:15am, we left the Real Alcazar complex, and then as we headed to the exit, we got a few more attractive looks at the imposing Cathedral next door. And as we looked for the entrance to the cathedral, we saw that there was quite a long line to get in. It made Julie and I balk at doing the cathedral at this moment, but the hours were short enough (from 11:00-15:30) that we mind as well bite the bullet.
And so at 11:25am, we started queueing up to get in. At least half the wait was in shade so it wasn't too bad. Plus, while we were a captive audience, Julie seized the opportunity to exchange some more cash into euros so we wouldn't feel as handicapped as in Ronda by having insufficient cash. It seemed like they gave an exchange rate of $1.20 USD for every euro, which wasn't that great, but at least it wasn't the rip off of $1.33 USD per 1 euro at the airport in Madrid.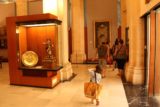 Plus, the last part of the queue was at the grand entrance where we got to gawk a little more at the gargantuan scales of the doors and the statue fronting it. It wouldn't be until about 11:55am when we would finally be inside the cathedral, but the overall imposing grandeur of it prompted both Julie and Tahia to say "Wow!" when they first got in.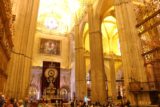 Tahia was starting to feel both hungry and tired so I caved in and let her ride the child carrier. Then, as we just ambled about the grand interior of the cathedral, I guess the novelty of how big everything was kind of wore off.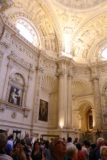 In a way, we got the sense that since we had seen many other cathedrals in other parts of Europe, they all started to feel the same way. And this was despite the fact that Rick Steves said the Sevilla Cathedral was the third largest one in Europe.
There were a few hidden little nooks and crannies that the cathedral had let us explore, including the treasures. However, when we were about to leave for lunch at around 12:30pm, we then noticed that there were people going in and out of a corner of the cathdedral near the signpost for Giralda Bell Tower.
It was a good thing we noticed that because we were about to leave the premises without having done this!
So we promptly went up what turned out to be 36 turns (they were numbered, which Tahia started counting them aloud as she saw each numerical sign at every turn). The passageway was wide enough to accommodate bi-directional traffic (unlike most other cathedrals or duomos that we had been to), and that the ascent was really up ramps as opposed to steep stairs. So this setup was good because there were many people going in both directions.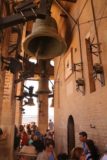 Plus, carrying Tahia up these passages wasn't easy but the layout definitely helped with letting us even take her up there to the near top.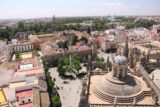 The last turn and ascent was on a single flight of steps so that one had a small queue since it was narrower, but when we finally made it to the top, we could see that the Giralda Bell Tower was packed with people as well as being well named for it had numerous bells hanging above us. Not only that, but it was so busy that just about every opening of the vistas were overtaken by people trying to snap pictures through the cages (to prevent people from falling out of the tower). Thus, we had to wait our turn at every opportunity in order to get in and get our own shots.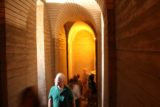 The views were quite grand from up here though admittedly, once you get the flavor of the birdseye views, the pictures start coming out flat and uninteresting (or at least they weren't that much different from say the vista over Siena, Firenze, Toronto, etc.
Finally at 1pm, we were out of the cathedral. And since I had been carrying Tahia all this time, I definitely needed a break.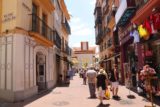 Fortunately, the exit of the cathedral took us onto the street called Hernando Colon, which just so happened to be the street that contained this tapas restaurant that Julie wanted to try out called the Albarama. About ten minutes later, we would finally find the restaurant though we did have some reservations considering that it looked like we were the first ones here.
Still, we just settled in and immediately started writing down the tapas that we wanted to try. As we were ordering then waiting for our food to arrive, we saw that other groups and people started to trickle in. So I guess we also happened to beat the rush.
This place turned out to be the first creative tapas experience that we had had on this trip. We had things ranging from some kind of caviar-topped sea urchin (which we liked so much we got two of these) as well as some kind of fall-off-the-bone pork cheek among others that it was a pleasant lunching experience. The fact that we were able to try so many things without feeling overstuffed or overpaying that it brought us back to the Jose Andreas experience when eating at the Bazaar in Beverly Hills.
In fact, the whole tapas concept really suited the way we like to eat (by trying different things out and being surprised at what we were getting) that it was pretty easy to get caught up and repetitive about having tapas for every meal as each restaurant had different things and did their food their own way.
No, we couldn't do the whole tapas hopping experience since we were less mobile and flexible with Tahia in tow, but even staying put at one restaurant and trying different tapas was good enough for us.
At 2:10pm, we were finally done eating. Next, we would continue to walk northwest as we pursued the mushroom-shaped Parasol Metropol. We had to walk through more charming alleyways flanked by many different clothing stores though one stretch in particular seemed like it was one shoe store after another.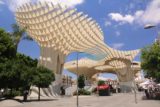 At 2:25pm, we would eventually arrive at the Parasol, which was an impressive canopy if you will that was wavy and held up by columns. Tahia and Julie started to feel a bit tired so they just chilled out under the shade of trees nearby while I did a little more exploring of the small complex myself.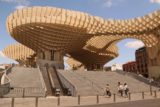 I went up the stairs opposite the street where cars were going back and forth beneath the Parasol. Then, I saw a bunch of kids playing some kind of keep-away using their feet like they would playing soccer. Meanwhile, I just took the opportunity to try to compose more photos of the Metropol given its unusual architecture while providing shade from the pretty warm sun.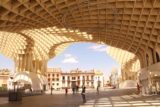 At about 2:45pm, we were done visiting the Parasol. Julie wasn't that impressed with this place given that it seemed pretty modern. But it was still an unusual place that drew our camera clicks, including family shots using Julie's selfie stick.
Eventually at 3:20pm, we were back in the apartment. Just as we arrived at the room, I went to the bathroom as my stomach hadn't been feeling too well. And it turned out that I would have another bout of diarrhea. So I was confined to the bathroom while Julie was busy trying to reconcile the confirmation of a flamenco show that we were going to attend at the 5pm showing.
Anyways, once that was done, Julie conked out and Tahia was busy messing around (refusing her siesta). Meanwhile, once I got out of the bathroom, I immediately resumed the touring of the Plaza de Espana, which we knew was a film location of one of the newer Star Wars movies. But since it was 3:50pm when I had got out the door, I was a little concerned about doing the place justice while still getting back in time to leave for the showing.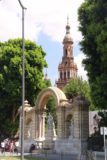 So as I was out and about, it turned out that I wasn't as oriented as I thought I was and I took a slightly more roundabout way of getting to the Plaza de Espana by walking near the river before realizing my mistake. But eventually, I'd arrive at the Plaza de Espana by 4:10pm, and that was when I knew right away that both Julie and Tahia were really missing out!
Indeed, the square was very grand and semicircular. Inside the massive square was a lot of empty space with patterns on the floor. In one concentric half-ring, there were small little basins that curved with the curvature of the imposing buildings behind. There were also mosaic-tiled railings surrounding the basins as well as some impressive towers at both ends of the semicircle as well as a grand palace-like building in the middle. And in the middle of all of this empty space was a large fountain.
Indeed, I could totally see why this place was the stand-in for the Republic in those Natalie Portman Star Wars movies. The resemblance was uncanny, and it was clear where George Lucas got his inspiration rooted in reality.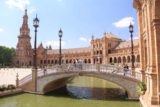 I did what I could to try to capture the experience, but I was running out of time and had to leave by 4:25pm. And even that felt like I'd be cutting it close.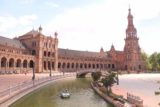 But knowing what I knew now, I then took a more direct approach back to the apartment. Along the way, I saw the open-air parking for free that the lady working the apartment told us about. And that was too bad because I saw what a big lot it was, and we could've really saved ourselves nearly 40 euros in parking.
Oh well, it wouldn't be until 4:40pm when I arrived at the apartment just when both Tahia and Julie started to come out of there. Apparently, Julie was freaking out that Tahia had come out of the apartment by herself as she was asleep. We were very lucky not that she wasn't abducted!
Now, it was time to go find the Museo del Baile Flamenco for our reserved 5pm showing. It turned out that it took some time to find the place once we got past the cathedral. And when we finally asked for help as it appeared that we had overshot it, we'd ultimately make it to the museum at 4:55pm.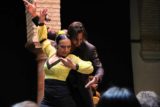 And we were pretty much just in time for the showing despite our brief moment of getting lost.
Well, as for the show itself, perhaps the most compelling part of the traditional flamenco performance was the first act when both the man and lady were dancing together. There was a singer dressed in black in the background as well as a guitar player with some nifty fingers both providing the background music to the dancing.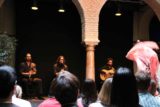 The rest of the acts consisted of a guitar solo as well as solo flamenco dancing performances by the lady herself then by the man by himself. There wouldn't be a combination of the two until the very end, and even that was pretty brief.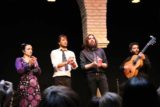 But since I had done some reading so I knew what to expect out of a traditional flamenco performance, I knew all along that flamenco dancing was more about the facial expressions, the movement, and the stomping of the feet, snapping of fingers or castanets, and clapping or vocal injections to act as musical instruments to complement the story that was trying to be told. Some of the foot stomps were so frequent and so fast that it was like they sounded like machine guns. In a way, it kind of reminded me of how the gestures of hula dancing in Hawaii was like though flamenco certainly had its flair.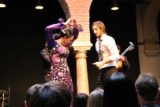 I don't think Julie nor Tahia was that into the show since they didn't seem to understand it (or at least it wasn't quite what they were expecting from the stereotypical flamenco performances that might have led us to believe it was one thing when it really wasn't). And Tahia was already asleep after the first act.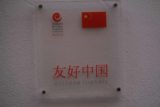 At 6:15pm, the show was over. Indeed, the performance was intense, but now we could be out and about and after telling Julie how much she missed out on Plaza Espana, that was where we were headed next. It looked like there was already a queue for the next showing, and we also noticed some strange sign next to the entrance saying that this place was "Chinese Friendly", whatever that meant.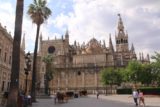 But first, Tahia was really fussy since she complained that she was tired. She insisted that we carry her, but we didn't have the carrier with us. So we briefly pacified her with an helado (ice cream), and we were back at the apartment at 6:45pm. That was when I realized that somehow I had lost one of the key cards to the apartment.
I didn't know how much we'd be charged for this, but there wasn't much we could do about it now. Anyways, we then promptly went back out the door and proceeded to walk to the Plaza Espana where we'd finally be there at 7:15pm. The whole time Tahia was complaining once again that I didn't carry her, but that wouldn't be until afterwards since we knew we wanted to have family shots at the grand plaza.
Indeed, once Julie finally saw the Plaza de Espana, she too was drawn by the imposing grandeur of the large semi-circular square.
At the time of our arrival, the late afternoon sun was hiding behind a patch of clouds so the reddish colors didn't come out of the buildings as much. But eventually as we were busy just taking this place in, the sun did manage to show itself as it was approaching sunset.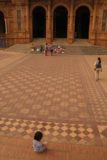 That was when we had our most compelling photos, and it was also when we made use of Julie's selfie stick to take some memorable family photos. Eventually we would leave at 7:45pm (now with me carrying Tahia in the carrier again), and this time we were headed to the Torre del Oro, which was the last of the sights we wanted to see before calling it a day and going to dinner.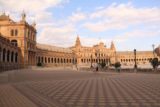 Well, it wasn't until about 8:05pm when we did get to the Torre del Oro (which was not far from our apartment). But it was kind of a "meh" kind of attraction. I guess we showed up too late to take advantage of the Monday free entrance thing that the lady at the apartment had told us about. I'm sure that could've yielded some decent elevated views of both the Cathedral and Alcazar.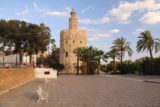 Anyways, we took our shots, then crossed the street again, and proceeded to look for a dinner spot. Julie had raved about wanted to eat tapas at Casablanca, but it looked like they were just setting up for dinner when we got there. So Julie decided to keep going to this Italian place with good reviews, which we knew that Tahia would eat something considering Italian food tended to be children friendly.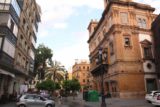 But as we were passing by the north end of the cathedral once again, we noticed this place called Don Juan de Alemanes that caught Julie's eye. It turned out that they not only served pretty creative tapas, but they also served spaghetti so Tahia would eat it.
Sold. So we decided to eat here at 8:25pm instead for our last night in Sevilla. And it turned out that we would order about 7 different tapas as well as a sangria. Perhaps the best dish of the lot was a foie gras with truffle-infused potato underneath it. That was smooth and it was worth the wait as it was the last dish that came out. It was also the most expensive dinner that we had to date at around 40 euros (or $50 USD), but we thought it was worth it in this case.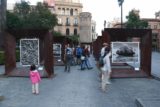 At about 9:35pm, we had left the restaurant and then headed back to our apartment. On the way back, Julie and Tahia noticed some kind of outdoor art gallery that contained a bunch of black and white photos of places that seemed familiar to us from around the world. I believe they were by Sebastiao Salgado, and from what I could tell by the Spanish sign, these works were meant to explore the genesis of our natural world as well as make us aware of how fragile it is.
All of us were quite tired from such a long day of touring. So we ended up crashing after showering and tending to our dental hygiene. Of course, we still couldn't find the missing second key card, and that was disconcerting because we weren't sure how much we'd be charged for it. But if we can't do anything about it now, there was no use crying over spilled milk.
Indeed, our Sevilla Hit Parade finally ended, and now we had Granada to look forward to tomorrow…
Visitor Comments:
Got something you'd like to share or say to keep the conversation going? Feel free to leave a comment below...
No users have replied to the content on this page