Day 4: OF TAGINES AND SOUKS
It was 5am when I awoke. There was a buzzing mosquito inside the room that went by my ear and woke me up. So I spent the time getting caught up on stuff that I meant to do last night but couldn't because I was so dead tired.
Eventually at 7am, Julie got up and she tended to her hygenic needs before wrapping up her packing. The rest of the early morning was spent cleaning up the apartment in addition to the packing. We figured we shouldn't be charged for the cleaning fee, but we might get charged for losing a keycard.
Ultimately at 9am, we checked out of the room. The lovely receptionist wasn't there, so we followed the instructions and left the keys on the table in the apartment. At that point, I went straight to the car park, loaded up the car, then waited for Julie and Tahia to come down to the car as they were getting breakfast on the go.
By 9:25am, we were finally leaving the car park and headed to Granada.
The drive out to Granada was mostly uneventful and smooth thanks to the relatively sparse traffic on the highways (carreteras). We made a couple of restroom breaks because Tahia was constipated.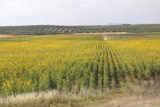 And while Julie and Tahia were doing their deeds on the first restroom break, I snapped a few pictures of the rows upon rows of sunflowers as we just so happened to be stopped near a large field of them. We had actually seen many more of these earlier in the trip both between Ronda and Sevilla as well as on the way to and from the Cascada de Huesna. They were clearly farms (we weren't quite sure what was being produced – sunflower oil? seeds?), but it prompted Julie to think that these were the REAL flower fields as opposed to the more contrived one in Carlsbad, CA.
Julie noticed the same thing when she got out and braved these annoying swarming gnats to take a few more photos on her camera. I had to retreat and stay in the car with the doors closed to keep them from covering my face.
But eventually at around 12:30pm, we would drive into the centro of Granada. Now, given the parking situation at our place, which was the Arte Vida Suites, we had to follow their instructions carefully, which involved us driving into camera-enforced restricted zones.
Ultimately, after making one loop (from missing a particular confusing turn), then inadvertently pissing off one of the local tram drivers from apparently preventing him from passing me as I was slowly trying to get to where we needed to go, we'd ultimately get onto Calle Recogidas, then Calle Angel Gavinet, then Calle San Matias, then finally onto the narrow Escudo del Carmen, where we'd eventually arrive at the Parking Gambo at 12:55pm.
This was where we were supposed to park for the accommodation which was just a few minutes walk from this parking spot. However, the attendant told me that the Arte Vida parking was the next level down. The top floor was for the larger hotel that shared parking spaces with Arte Vida. That said, I could already see that parking was really tight down there, and even maneuvering between columns and other cars was pretty tricky.
At 1:10pm, we checked into the Arte Vida Suites and Spa, where the manager had pretty good command of English and he had his recently hired receptionist explain stuff to us while showing us the room. Once we got that done, I had to go back downstairs and follow the receptionist back down to the car park where she'd guide me towards my assigned parking spot (210), which was one level below just as the attendant had said earlier.
As I vacated the spot belonging to one of the patrons of the other larger hotel, I tried to keep to my lane then make an extremely tight turn down to the lower level. However, there was a hideously positioned column that made the left turn extremely difficult with the car that we were driving. It might have made it in one or two shots with a smaller compact car, but our intermediate sized one was hard to maneuver here.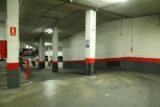 It ultimately got to a point where I managed to slightly scrape the left side of the car against that hideously-positioned column. And then it was suggested by the attendant to back out and go against traffic on the closer lane, which was easier to clear. That would be something to consider the next time we would have to re-park the car tomorrow (when we drive out to Las Alpujarras and back).
It was 1:45pm when I finally parked the car, then I followed the receptionist back to the suites. While doing this walk, we made small talk, and I learned that she was from Barcelona. I joked that "oh, so you are not Spain" since that seemed to be the motto of Catalonians based on what I had read going into this trip. She also explained to me that speaking Catalan is more similar to Spanish than say Euskaran or Gallego.
It took us some time before we started to set out. The reason why was because Julie was trying to figure out how to use the laundry machine since we desperately needed to do it. I was also having difficulty trying to recharge the battery on my laptop, which the default plug was struggling to do. I wasn't sure if it was the adapter that was having problems or if the power pin inside the laptop itself was having connection issues. Regardless, I needed to at least rule out (or use) the switching the power adapter option.
So a different receptionist that we happened to encounter at 2:35pm was willing to show us El Corte Ingles, which was a department store that was sure to have an electronics section. And so she patiently walked us a few blocks back down Calle San Matias towards some more modern part of town before we saw El Corte Ingles. At that point, she was out on her way while we entered the department store hoping that we might pull a rabbit out of a hat on this one (once again, drama always seems to rule on our trips).
Eventually after asking around and trying to convince people in Spanish that we weren't looking for a plug to switch to European plugs, we'd eventually have some kind of solution with different-sized plugs. So we bought that, and then we headed over to one of the blocks where we knew there were tapas restaurants.
Ultimately at 3:25pm, we would up eating at the Nuevo Restaurant in Calle Navas. It was pretty much a random place that we picked out as walking by one restaurant after another started made it difficult to tell one restaurant from another let alone figure out which ones we could remember.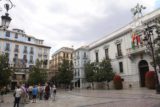 So it turned out that we might have gotten a little bit too much food at this place for such a late lunch (maybe 5 different dishes). The food was descent though honestly we were starting to get tired of tapas at this point.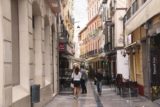 At 4:25pm, we left the restaurant then promptly headed back up to our room. That was when we learned that the laundry was still going on because when we left, we took the keycard with us so the machine stopped working. So I guess the plan of doing laundry while we were out wasn't going to work unless we left one of the keys in the room.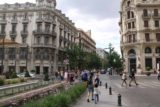 I also took this time to try out the power adapter bought from the department store Corte Ingles. It turned out that one of the plugs did work, but I had to position the plug in such a way that it would make contact to complete the circuit (and thereby charge the laptop). That was worrisome because it suggested the problem was with the power pin on the laptop side and not the plugs. Fortunately, the replacement one we bought had a thinner outer shell so there was some wiggle room to try to complete the circuit. Hopefully, this would do for the remainder of this trip, in which we still had nearly another four weeks to go.
Anyways, it wouldn't be until 5:40pm when we finally started exploring town and getting oriented. We began by walking towards the Plaza Nuevo, which was an interesting-but-subdued public square. We then followed the creek towards some random lookout with a statue.
When we looked at our maps, we saw that we had overshot the recommended walking path towards the San Nicolas Viewpoint, which was the most famous one given its view of the Alhambra backed by the mountains of the Sierra Nevada.
It took us some time to figure out the correct alleyways, steps, and narrow passages to walk, but ultimately at 6:30pm, we would finally make it up to the Mirador San Nicolas.
It was quite busy up here because I'd imagine a large majority of the folks here would wait it out until sunset to get their view of the Alhambra. Keeping people occupied were a group of buskers trying to keep the tourists entertained enough to get them to give them propinas (tips) for their entertainment.
The view here was nice, but it was hard to capture in photos given how wide the palace of the Alhambra was, and given how there were many heads from other folks sitting all across the barrier marking the edge of the mirador (which was really a small square in front of some convent).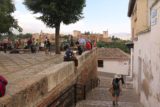 Now there were a lot of benches occupied by trinket sellers so even though the views from the ground were somewhat intruded upon by buildings and heads below (so the view was never really totally clean here), there were limited chances to stand on a stone bench and try to improve the view provided one was opportunistic about competing for a spot on one of these benches with these trinket sellers as well as other tourists looking for the same thing.
I guess from a photography standpoint, it really required being selective on what to capture. There was absolutely no way to capture it all without things getting in the way despite the temptation to try to do it.
After a while, we figured that there were only so many ways to compose a photo of the same thing with the same obstacles over and over again with slightly different lighting or clouds backing the scene. So that prompted Julie and I to think that we couldn't sit around here until sunset, and by 6:50pm, we left.
Next, we followed the Rick Steves route in reverse, which involved going down more narrow streets and stairs. We started to wonder if we'd ever get to the part of the Albayzin Quarter that earned it UNESCO World Heritage Status, because so far, it just seemed like any other set of narrow streets in Spain. At least there were some partial views of the Alhambra along the way.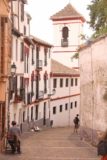 Then, at about 7:15pm, we then entered what appeared to be the familiar souks that we had been accustomed to seeing in Morocco. However, in this instance, it wasn't as bustling nor as crowded as the ones in Morocco. Nor was it priced like the stuff in Morocco (indeed, in euros, we wouldn't be getting the deals that we were getting before). Well, at least these souks indeed had the visual feel of what we had seen in Fes and Marrakech, and to a lesser degree Chefchaouen. Moreover, there weren't touts or agressive folks trying to get your attention and get you into their shop.
By 7:30pm, we ultimately decided to eat at this Moroccan restaurant called Teteria Kasbah. Julie and I were getting tired of tapas and we were missing Moroccan food and tea. And once again, we had no disillusions about getting Moroccoan prices (where some of our meals were able to feed four people for just roughly $6 USD).
In the end, we had the familiar chicken tagine and chicken b'stilla (pastela) as well as a couple of cups of Moroccan tea.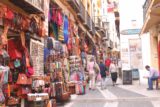 Unfortunately, the tagine was not the fresh fall-off-the-bone types we had been spoiled with in rural Morocco. And the b'stilla seemed to be mushier than the crispier contrasting one we had in Morocco.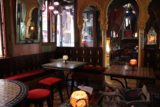 This prompted Julie to say that we should really stop comparing this experience at the Albayzin to Morocco. I guess nothing really compares to the real thing when you think about it. But then again, I guess it kind of showed to us how much we were missing the Moroccan experience.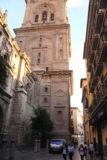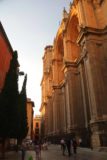 Anyways, by 8:30pm, we left and proceeded to walk towards the Cathedral and Royal Chapel. By 8:45pm, we meandered in front of the cathedral, which was impressively grand, especially since it was now bathed in near sunset glow. It also appeared that we were able to go inside the cathedral, but it seemed like there was some kind of private function going on inside.
So we didn't linger for too long in there though we could see right away how grand the interior was given the towering arches. But from the outside, it seemed like a pretty nice place to take photos all around even from a block or two away from other neighboring squares.
At 9pm, we then arrived at the entrance for the Capilla Real (Royal Chapel). It was closed now, but we determined that we ought to go inside on another day (probably Thursday).
Next, we were ambling about some dining areas where it was one tapas bar or restaurant after another. It had a sort of happening ambience, and we could see there were a bunch of locals and some tourists joining in on the atmosphere. Little did we realize that we stumbled upon the Bib Rambla area, and it was here that we made a spontaneous stop at some churreria that had chocolate con churros.
We had another craving of it, and so we decided to sit down at a cafe that was titled "Alhambra" though there seemed to be more than one of these at 9:20pm. The churros looked more like sao-bing-you-tiao, which we would dip in this bubbly chocolate syrup, and after we all ate it up (including all the chocolate), it was finally time to go back to the room.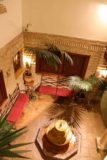 I had a feeling that I might pay for it with heartburn given all the fried stuff that we had had on this day, and sure enough, when we finally got back to our room at 9:55pm, my heartburn was definitely acting up. Meanwhile, Julie was brewing some tea for me to try to help loosen up the grease in my system and wash it further down my gut. And on top of that, we were trying to wrap up our multiple loads of laundry.
Indeed, it was probably going to be a long night with limited sleep given that tomorrow, we'd have to drive out to Las Alpujarras as a day trip. And so ended this scouting day of Granada. Next up, the white towns and the Sierra Nevadas…
Visitor Comments:
Got something you'd like to share or say to keep the conversation going? Feel free to leave a comment below...
No users have replied to the content on this page