Day 5: SAN NICOLAS REGRETS
It was about 6:30am when I awoke (without Julie's 7am alarm again). This time, I couldn't go back to sleep because I was actually worried about how tight things were in the car park. So figuring that it was futile to waste time trying to catch more winks until Julie's alarm, I was checking on the clothes that were supposed to be drying overnight.
Well, it turned out that most of the clothes in this load were still not dry. So I just put in another 30 minutes for good measure.
It wouldn't be until about 7:55am when we were leaving the Arte Vida for our excursion for today, which was a visit to Las Alpujarras, which were picturesque white towns clinging to the Sierra Nevada Mountains (the very same mountains backing the Alhambra in Granada). Tahia was quite cranky when she woke up (as usual) so we quickly tried to pacify her with promises that she could sleep in the car or get some goodies to eat for brekkie.
Anyways, traffic was already getting pretty hectic this early in the morning, but the navigation through to the outskirts of the city were pretty straightforward with a GPS. And within about 20 minutes or so, we would ultimately get onto the A44 autoroute towards Motril.
Once on the autoroute, it was pretty smooth sailing. I even noticed how the Cadena-100 radio station seemed to follow us around (must be a national popular station though not really my cup of tea). Eventually at 8:30am, Tahia claimed that she needed to poo so we found the nearest roadside stop (I didn't need diesel at the time plus the prices were quite a bit higher than what we expected). Julie picked up some junk food because the cafe at this stop still was't open yet.
Five minutes later, we left the stop and continued smoothly along the A44 until we left la carretera and into the curvy roads of leading to Las Alpujarras and the Sierra Nevada. The drive was pretty uneventful as both Julie and Tahia were lulled back to sleep (to get caught up on sleep I guess) while I was concentrated on the turns. At least the road was wide enough to accommodate bi-directional traffic.
The sun was somewhat against me and the shadows were long. So we didn't make any stops along the way even though we knew that perhaps on the return, there would be some opportunities to make up for what we skipped this early on.
We were passing through towns like Olgivas, Pampaneira, and more. However, at 9:25am, I spotted what appeared to be some kind of mountain goat with long horns. Julie happened to see it too, and figured that we must be pretty high up to even see have this kind of a wildlife encounter. It somehow reminded me of bighorn sheep, but I knew those tended to have rounded horns. This one had long horns, and perhaps was some kind of ibex or something.
Anyways, the moment passed by too quickly and I couldn't capture it while driving. That was too bad.
At 9:35am, we finally made it to the Fuente Agria. It was just east of the town of Portugos. And we were practically the only ones there except for a backpacker who was walking about checking out the church right next to where we parked, then continued on his way (maybe he already saw the waterfall?). Nonetheless, it took me some time to figure out where the waterfall was in the first place as I went down some of the steps near the small car park and just saw some little bridges.
But then I saw a "Chorreron" sign and continued down past a small picnic area before going down more steps into the rather shady and secluded Fuente Agria, which was more of a tiny spring area with a small 5m waterfall, and lots of reddish-colored rocks probably deposited by the minerals of the stream itself. The shadows were still long at the time so we involuntarily took long exposure photos.
Still, Tahia seemed to enjoy the place and we did what we could to take people shots (Julie left the selfie stick in the car) on my camera as well as on hers.
At 10:10am, we were back in the car. Going up those steps made me realize that in our relative altitude, the air was still a little thinner here so I was momentarily out of breath.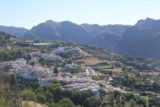 Next, we drove another half hour before finally arriving in Travelez, which we determined would be our turnaround point for our little jaunt into Las Alpujarras. Admittedly, we went into this excursion not really knowing what the main sight to see was nor what was the main allure of the entire Alpujarras area. All I knew was that it was one of the top experiences of LP (Rick Steves made no mention of it), and that there was a bit of history with it as well.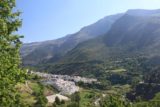 So we randomly drove up and parked at the Barrio Alto (also had the choice of Barrio Bajo and Medio) at 10:40am. Tahia complained that she had to poo again so we walked around quickly and randomly stopped at this humble cafe with a handful of locals all watching Spanish daytime TV. We felt like intruders stumbling in on this place, but we came in with the intent to use the toilet.
Well, we also went ahead and just ordered a couple of raciones (the Spanish spoken here was a little harder for me to understand) just so it wasn't like we used the facilities and left. So we ended up with an impromptu late breakfast of local Travelez ham (I knew they were famous in this area) and local cheese with olive oil. The bread that came with all this was very tasty and it costed us a total of 10 euros, which was very fair compared to the prices we were paying in the cities.
Even Julie liked the ham (though she took the trouble to take off the fat) saying it was no where near as salty as the kinds of jamones we had before.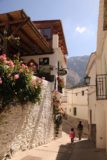 And with that, we then meandered about the town some more. I was determined to look for a mirador that would give me a view over the pueblo with a mountainous backdrop.
But Julie and Tahia didn't seem that interested in this town nor any of the Alpujarra region as she was jaded by the Chefchaouen experience where if nothing came close to the charm of that place, then other mountain villages and towns would be a fail.
So they went back to the car while I meandered about looking for the mirador on my own.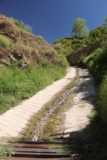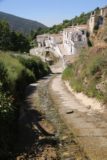 Eventually, after speaking with a local and asking about the nearest mirador. Eventually, I was pointed to the Mirador Era de La Fuente, which was about a 15-minute walk up a small cascade ON the walking path itself to a circular lookout with lots of tiny wildflowers growing between the gaps in the stone surfaces.
From there, I got my views over the upper Travelez, though I wondered if there were more miradores. Instead, I headed back down into town before rejoining the impatient Julie and Tahia. I guess they had had enough of the town and area so it was now time to return to Granada and see and do things in the city on a more relaxed pace. I decided to give up on finding Mirador de la Cruz.
So at 12:05pm, we left Travelez and started driving out. Along the way, we made spontaneous stops where it seemed like there were small pullouts or more formal miradores to check out the scene of white towns clinging to the tall mountains of the Sierra Nevada.
We ended up making brief stops just outside Travelez, then at Busquistar, then a quick stop at Mirador Portugos (which had interesting outdoor exercise machines that both Julie and Tahia enjoyed), a stop by some service station at Poqueira (sp???), then finally a stop at Pampaneira. In the latter two stops, there were gorgeous views of two white towns (Bubion and Capileira) looking up towards the last bit of snow at the highest peaks of the Sierra Nevada.
Finally, we left Pampaneira at 1:15pm, and then it was time to drive back to Granada. By this point, I was starting to fight road fatigue. Fortunately, Julie noticed this and gave me some stuff to munch on (bananas and what was left of the not-so-good pound cake) as we got out of the curvy roads and into the autoroute headed back to the city.
There was quite a bit of traffic (mostly at the roundabouts) when there was way too much cross traffic going on at the off-ramp. So in the end, we had to use a bus (that blocked my view of oncoming traffic anyways) as a screen, then go out onto the roundabout as directed. Once we got off onto the Calle Recogidas, we then went up the familiar roads to Angel Gavinet then San Matias before getting onto the narrow Escudo del Carmen before finally arriving back at the Parking Gambo at 2:50pm.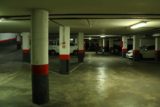 Again, Julie helped me navigate through the parking area as well as parking in the narrow spot given how tight things were, but we managed much better this time than I did yesterday.
At 3pm, we were back in the room, where Julie tried to wrap up the laundry duties while I was in a state of constipation or diarrhea (my stomach wasn't appreciating me on this trip). Anyways, it wouldn't be until about 3:40pm when we headed back into town. The day was much warmer than it was yesterday, and we noticed there would be fewer clouds so we mind as well check out the San Nicolas Viewpoint and this time wait it out for sunset and the twilight magic hour thereafter.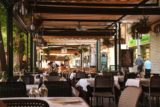 But first, at 3:55pm, we had lunch back at Bib Rambla. This time, it was one of the random outdoor seating spots, where one place offered 9 euro pizza (to pacify Tahia) as well as six tapas for one drink all for 12 euros. I think it was called Restaurante Asador. I still wanted to do one of those things where you have a free tapa with a drink purchase, but Julie didn't seem that interested in it, especially if we couldn't sit down and eat given Tahia was with us.
The tapas were pretty good and creative, but Tahia's pizza sucked. And while it took Tahia time to eat, I was finding myself starting to doze off a bit. Maybe I needed a siesta myself.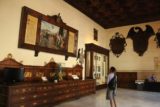 Anyways, at 4:40pm, we left the restaurant and ten minutes later, we entered the Capilla Real. Since they didn't allow photos or videos, we could only gawk at all the wealth that they concentrated in this one place (which happened to be the final resting place for both Ferdinand and Isabella – the monarchs whose marriage essentially "united" Spain as opposed to remaining a bunch of disjoint regions).
At 5pm, we were done, and since we couldn't capture the experience, it was kind of disappointing (though Rick Steves liked it). I guess different strokes for different folks.
Next, we slowly walked towards Plaza Nueva where we went into the Tourist Info center for a better map, then took the C1 bus up to the Mirador San Nicolas. We'd ultimately get there at a little after 6pm as it was clearly too hot to be walking up.
Mirador San Nicolas always seemed to be a people magnet with tourists and hippies. It had the same festive atmosphere as it did yesterday. And most of the people up here weren't even speaking Spanish except for the buskers and a few locals lingering around.
We then made a reservation for 7:30pm at this restaurant called Estrellas de San Nicolas knowing they seemed to have the best view in the area since the restaurant was elevated above the rooftops and heads of people at Mirador San Nicolas.
Yet it was only about 6:35pm at the time so we decided to chill out over Moroccan tea at this place called El Huerto de Juan Ramas. Again, we were just vegging about, Tahia was being restless as usual, and in hindsight, we probably should've visited the Great Mosque nearby. Oh well, you live and you learn I guess.
Ultimately at 7:35pm, the doors finally opened for us to get into the Estrellas Restaurant. They seated us kind of by ourselves at a table next to a window. In hindsight, we should've insisted on sitting up at the terrace for the best views and just chilling there through sunset and the twilight hours.
The food was actually pretty good albeit pricey (we were definitely paying for the views here), and I realized the whole woulda-coulda-shoulda syndrome when I went up there to take photos myself. Then, when we were finally done eating at 9pm, it got busy up there and taking photos became awkward and kind of messing with other peoples' dinners and the waiters' routes.
We left the restaurant at 9:10pm then rejoined the chaotic ambience of the Mirador San Nicolas. From there, I had to once again contend with heads and crowds of people, and I was really kicking myself for not insisting on being seated at the restaurant's terrace so we could get the best photos with the best light. Argh!
At least on the flip side, Tahia was busy entertaining random folks who also happened to be at the mirador. In one instance, there was a group of young ladies (hailing from New York City, Philadelphia, and other parts of the east coast from what we learned) who really took to interacting with our little girl. I guess the Elsa shirt and socks plus her wanting to get attention from them while speaking kid gibberish about Elsa kind of kept everyone entertained until the sun was really setting.
Ultimately at 9:45pm, we were done with the sunset views and the twilight views (which happened after sunset) when the lights of the Alhambra got turned on, and we got the soft purplish light on the Sierra Nevada mountains backing the whole scene. Again, I couldn't take whole panoramas given all the other artifacts that got in the way at the free viewpoint.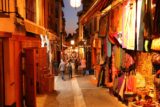 Then, we quickly made our way down back towards the Bib Rambla part of town via the route recommended by Rick Steves through the Albayzin quarter. It was definitely getting dark so we were concerned about taking a wrong turn and subjecting ourselves to a compromise in our safety, but eventually we'd follow where most of the people were going, and we'd ultimately get through the familiar souks, then to the familiar happening part of Bib Rambla, before finally arriving at our room at 10:15pm.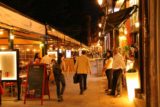 And so ended this day where the original plan was to spend the day in La Alpujarra, but it wound up being another day fully experiencing the San Nicolas viewpoint. Thinking that we had done all there was to do without actually doing the Alhambra yet, we thought tomorrow would be a pretty easy day.
That was until Julie checked TripAdvisor and now wanted to add Sacromonte, La Basilica de San Juan, La Madraza, and that Great Mosque we could've visited today, all before going with our scheduled visit to Palacio Nazaries and the rest of Alhambra for the entire afternoon. Clearly, something would have to give as we couldn't do it all in a day. Why didn't we do some of these things today when we had the time?!?!
Visitor Comments:
Got something you'd like to share or say to keep the conversation going? Feel free to leave a comment below...
No users have replied to the content on this page