Day 6: BEST FOR LAST
It was 7:15am when I awoke. I awoke naturally without an alarm, and I think Julie did the same too as I didn't hear her alarm go off. Even despite the relatively early wake-up, I felt like I had slept in last night though everyone was pretty much conked out from the time we had returned to our room at 10:15pm.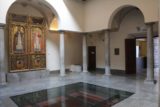 Most of the morning was spent folding clothes and packing. Tahia managed to get up pretty refreshed and not cranky since she had an opportunity to sleep in while Julie and I were busy doing errands.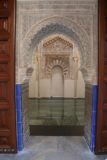 Eventually, it was 9:40am when we finally left the room and proceeded to begin our busy day of touring. After about 15 minutes of walking, we would show up to the door at La Madraza (which Julie and I thought was equivalent to a medersa in Morocco). However, we saw on a sign that it wasn't open until 11am even though there was someone manning it near the entrance.
Seeing that was the case, at 10:05am we then decided to walk over to the Plaza Nueva where we then caught a taxi that took us directly up to the main part of Sacromonte. After paying close to 4 euro for our ride, we then tried to figure out where to go next.
The initial instincts would've said that we should take the steep stairs leading up past the white buildings at the front before continuing further up to the Museo de Cuevas del Sacromonte. Then, we asked a tourist who was making his way down whether we were going the right way or not. Well, it turned out that he made the attempt to go up earlier, but there was a section that was under construction, and that was what turned him back.
So we took the temporary access path, which was a little further from the center, then it proceeded to go up switchbacks containing gardens and canopies. Eventually at 10:40am, we finally made it up to the Museum of Caves of Sacromonte. All throughout the hike to get up there, we were treated to nice views looking back towards the Alhambra.
Once we paid the admission and proceeded to explore the cave rooms one-by-one, we were also joined by the same tourist who we talked to earlier as well as an Italian group. I guess with fewer people out and about on this day, this little mosque felt like it was a pretty special occasion.
Since the Italian family took the vivienda (the first room), we proceeded to check out the other rooms, which showed off a stables as well as some kind of weaving room. It was really cool inside the caves given how hot it was starting to become on this morning. However, Tahia seemed like the size of the cave dwellings pretty much suited her. As for Julie and I, we really had to bend over to avoid knocking our heads on something bad.
Julie was appreciative of this visit because it showed what life was like back then, especially pertaining to the reconstructed furnishings of each of the cave rooms. Once the Italian party of four vacated the Vivienda, we then checked out that room ourselves. And upon looking inside, this was when we saw an interesting cave dwelling that prompted Julie to say that this was what was missing from all the past palace visits (not just in Spain, but also elsewhere in our world travels).
The size of these rooms were such that I really had to bend over on a few occasions to ensure I didn't hit my head or my pack on the low ceilings. That said, these tight quarters really seemed to suit Tahia well, which perhaps underscored the more minimalist conditions that people had to live with back in the day.
After we got through the rooms displaying way of life (vivienda, weaving, ceramics, metallurgy, etc.), we then looked inside a cave talking about the origins of flamenco, which was a very gypsy and moorish thing apparently.
Eventually, as Julie and Tahia were going through a restroom break, I did a brief walk through a small cave network of corridors and rooms displaying interpretive signs about other cave dwellings around the world. Even the looping interpretive in the last room video helped to make this a good chilling out spot since I could get a little more educated from about the signifance of Sacromonte versus other places around the world as well as take advantage of the seats that were provided to rest my legs (and my aching shoulder blades).
Unfortunately, Tahia pooped in her pants right after going to the restroom so Julie and Tahia had to return to the restroom. Fortunately, Julie thought ahead and brought an extra underwear for her. Then, when the undie was done washing, she used my biner to clip it to my child carrier to let it dry (knowing full well how arid the climate was here in Southern Spain).
So, it wouldn't be until a few more minutes later when we capped off our visit trying to take panoramic and selfie-stick photos of the Alhambra and the valley we were in higher up from the rest of the city of Granada.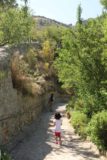 Finally at 11:25am, we left the Sacromonte and headed back down the hill. I saw a gate and alternate path leading down to the main part of town, and it appeared that this path was the one we were supposed to take except for the work that was being done.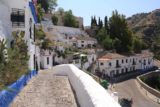 Julie insisted that we just go back the down the way we came on the temporary path, which was definitely much longer. And eventually after a few more minutes, we'd be back down where the taxi dropped us off. Now, it didn't look like many taxis would make it up this way, and while Julie and Tahia were waiting, I scouted out the main throughfare of Sacromonte, which seemed to have a pseudo-Chefchaouen vibe about it as homes clung to the hillsides painted white and in some cases painted blue (though with a darker shade than what we saw in Morocco).
It didn't take long before I would get to the part where passage was a bit rougher due to the construction or repair work going on. So I rejoined Julie and Tahia, and it wasn't much longer before the C2 bus showed up.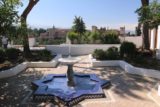 Once we got on the C2 bus, we then were driven a few stops until Julie wanted to get off near the San Nicolas Viewpoint again. I thought coming here was now a waste of time as we had gotten all we wanted to get from this area in the past two evenings, but now, Julie wanted to check out the Great Mosque (which we failed to do yesterday when we were killing time for sunset).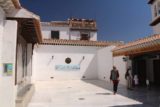 Well, it turned out that all we could do was to take photos of a tiny courtyard as well as the garden with a view of the Alhambra on the outsides as the inside was closed to the public at the time due to prayer.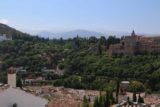 So we wasted no time going back past the San Nicolas Viewpoint, then to the C1/C2 stop a short distance below. And sure enough, one of the C1 buses showed up and we were then whisked away to an area near the Plaza del Triunfo, which upon asking him in Spanish was where the driver said was the nearest stop to the Basilica de San Juan de Dios.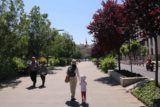 Eventually by 12:10pm, the bus driver dropped us off near the garden of the Triunfo, which appeared to be an attractive public space in and of itself. However, we knew that time was short on this busy day so we walked around trying to get oriented. Then, Julie asked a stranger where the Calle de San Juan de Dios was, and the local eventually set us straight.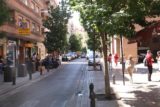 From that point on, we walked a fairly bustling narrow street where lots of pedestrians flanked a narrow one-way street that appeared like only cabs could use. And within a few more minutes, we found ourselves at the Basilica de San Juan de Dios.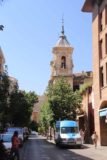 From the outside, the basilica didn't look like much, but we had already seen the TripAdvisor reviews raving about the inside of this place. We also skipped out on this because it wasn't mentioned in the Rick Steves book.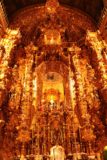 Anyways, we wasted no more time going inside, paying the admission, and then started checking out an entrance room before the main cathedral part. This time though, it seemed like everything around us was all blinged out with gold.
Upon closer inspection, it appeared the walls were painted in gold, but there was no denying that some of the idols and decorations were definitely the real deal. Plus, for one euro coin, it seemed to operate lights that made the altar shine even more brightly so photos would show up better.
We spent a good deal of time just trying to capture the grandeur of it all (the same kind of dilemma from all other religious site visits), and then at around 12:45pm while we were trying to take a selfie-stick photo, one of the staffers said that the door to the upstairs was open.
So we went ahead and did that, which again showed just how blinged out everything seemed to be as we walked up the stairs. Then, on the second floor, we got overviews of the main altar, parts of the chapel, and even got a closer look at some very blinged out decorations and lighting that was at the main heart of the altar.
Then, after going down the steps, we found ourselves back in the main chapel on the other side before going back to the main entrance area where we dropped off the audioguides, then exited into what appeared to be a hospital.
When we left the building at 1:05pm, we could see that the entrance to the basilica was closed! Then, we saw a sign saying that indeed the closing hours for siesta was at 1pm, so we were quite fortunate to have made it here before they closed! Whew!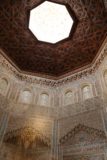 That said, Julie and I were quite glad to have done this basilica because there weren't many (if any) churches or cathedrals that even let us experience the upper floors let alone take photographs. Plus, the bling factor made it quite a bit different from the other churches we had been to throughout Europe.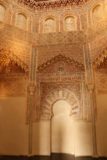 Then, we hailed a taxi, paid about 4 euros worth when we arrived at Capilla Real, and then proceeded to go back to La Madraza at 1:15pm where we paid the admission and checked out a pair of rooms. The first room was the humble prayer room, which was basically an empty room with one of the Arabic arches on one side.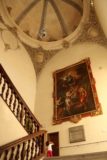 Then, we went upstairs where there was a huge picture of Jesus surrounded by angels (Tahia was starting to see a pattern here as she was now identifying the "bleeding guy" though this particular picture didn't show Jesus bleeding).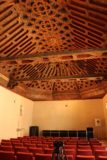 Upstairs, there was the knights room, but it looked like the room was set up for some kind of conference. So we took some photos of this before heading back down the stairs, and that pretty much concluded our tour.
This was definitely not a Muslim medersa, but we could tell there were glimpses of the Muslim influence. Now, it had more of a Christian/Catholic feel, and something just seemed a bit off, especially having seen the real deal in Morocco. In fact, it could be said that the Moroccan experience probably ruined the cultural Andalucian experience (as far a sights go) in much the same way that Le Souffle in Paris ruined our souffle experience at home from that point on.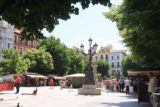 By 1:25pm, we were outside the basilica, then we were harassed by a beggar who was pretty persistent in asking for money. Eventually, he found someone else to harass when he wasn't getting anywhere with us, and by about 1:30pm, we were eating at the relaxing Bib-Rambla Plaza for lunch at this place called Gallio.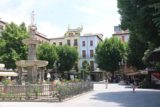 Again, it was the ability to try different tapas while one of them was a spaghetti that Tahia could have that really sold us on this place. Plus, the lunch special seemed to be a decent deal. Julie noticed that the restaurants surrounding the open square at Bib-Rambla was more family friendly while the more happening spots just a few meters over in a different and smaller square seemed to be more for locals or well-off folks as some of the prices there were quite over-the-top (think more than 10 euros a dish though we couldn't tell if they were tapas or not; maybe you get free tapas with a drink there?!?).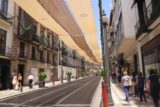 Speaking of Andalucian-style tapas, I still wanted to try having a drink at the counter then a free tapa with it. But it wasn't family friendly so I relented. I'm not sure if I'd be able to live down not being able to experience something authentically Andalucian here regarding tapas, but oh well.
We were done eating at 2:40pm. We knew that we could've already started visiting the main complex of Alhambra since 2pm, and so any moment we tarried now would be time encroaching on Alhambra visitation time. So instead of going back to the apartment, we headed straight for the Plaza de Isabella La Catolica, where we showed up just in time to catch the C3 bus right up to the entrance of the Alhambra. We got on at 2:45pm.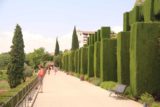 At 2:55pm, we were deposited right at the entrance of the Alhambra y Generalife, where there were lots of people and quite a few more folks waiting in line to buy tickets. We knew that we had bought tickets in advance, and while I was holding a spot in line, Julie did a little scouting around until she found a kiosk where she could enter the card that she had bought the tickets with, then the machine would dispense the tickets with the time slot to visit the Palacio Nazaries.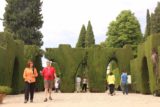 So with that bit of success, we then got through the gate, and we were now finally starting to tour what seemed to be the huge complex of Alhambra at 3:10pm.
Since we knew how big the complex was from seeing the maps (and from being told explicitly that it was a 15-minute walk from Generalife to the main Alhambra part), we visited the Generalife Gardens first.
Right off the bat, we could see there were beautiful basins and fountains flanked by hedges cut into archways as well as some arched trellises allowing some plants and flowery vines to form canopies.
Given that there were so many people out here at the time, it wasn't easy to get decent selfie shots or other people shots nor artsy shots without someone walking into the photo. And it would turn out that the rest of our visit would pretty much suffer from this given its popularity.
As we strolled through the long garden, we also managed to get views back at the Alhambra. Then, we were able to go into the Generalife Palace, which was white and impressive in its own right. Once inside, it was quite chaotically crowded thanks to the tour groups.
We basically took our time trying to get some of the groups pass by and keep going before us, but then there'd be other groups behind starting to make us feel crushed again. So that made it a little harder to appreciate some of the more decorative or elaborate rooms without the stress of too many people.
Anyways, the Muslim influence was definitely in effect here as we could see the elaborate decorations surrounding the familiar archways in the Arab style that we had see so much of in Morocco. But the sheer grandeur of just this the Generalife Palace was nothing more than a precursor of what was to come in the main Alhambra area.
At about 3:50pm, right when we were pretty much smack in the middle of touring within the palace, Tahia got tired so now I had to carry her as well. I was already starting to wear down even without her on my back.
It wouldn't be until about 4:30pm when we were done touring the Generalife complex. Now, we had to walk quite a bit to get to the main Alhambra area.
Along the way, we saw there were a handful of private vehicles as well as the Hotel America. I didn't know that you could stay here, but I guess given the size of this estate, it would make sense to stay overnight and have a more relaxing time.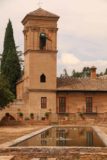 And like the Generalife, it was just as crowded (if not more) here at the main part of Alhambra.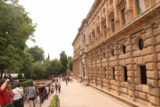 We first headed beneath another Arab arch fronting the Alcazaba. Then after getting through a courtyard of that part, we then entered the fortress walls and walked up to what would be the first of a handful of towers. The first one was the Torre del Cubo, which we got to at 5pm.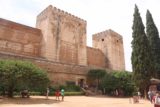 With Tahia on my back, just getting up and down the steps was a challenge. But anyways, we got nice views back towards Albayzin as well as further down the hill towards the general city of Granada. When we looked straight down at some of the homes in the Albayzin quarter, we could see that a lot of these homes had courtyards or atriums. It really started to make me wonder if the tiled rooftops above these homes could've been green at some point like in Fes.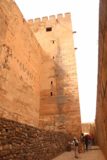 Nonetheless, we suspected that these homes could've been riads in a past life. Indeed, Granada in general was kind of like our last taste of Morocco becoming we'd become even more immersed in Spain as we'd continue to go further north during the course of our trip.
As we continued touring the Alcazaba, we would be walking between impressive fortress walls then out onto the another courtyard that had a maze of what appeared to be either old quarters or an old medina. It was hard to tell since all that was left was the wall fountains that were no taller than our knees.
On the other side, we then went onto the next tower, which again had more views. Plus, there seemed to be a large Korean group that was here as well, so that made things a little more crowded (but not as crushing as Generalife) in this part of the tour. We also noticed some people walking along the interesting ramparts atop the fortress walls, and I wondered how they managed to get there.
After having our fill of this tower, we then climbed up stairs (passing by the entrance of the Space of the Month, which we opted not to do), which ultimately led us up to the highest tower in the Alhambra. Again, with Tahia on my back, it was not an easy climb. Plus, I had to watch her head given how some of the arches had a little bit of a lower clearance.
Up at the top of the highest tower, we were then able to not only get views back down towards both Albayzin and the general Granada area, but we were also able to look back towards the mountains of the Sierra Nevada, which was just clinging to its last bits of snow fallen from this past Winter.
There was some orange building with domes in the foreground in which we weren't quite sure what that was for.
Anyways, this spot had a nice breeze, and we got an interesting perspective of people down below looking like ants moving along their predetermined path for their tour (unlike the chemical trail that we saw normal ants would do when self-organizing to do their tasks to help their queen).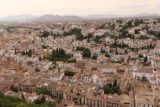 Nonetheless, we took our obligatory photos before trying to make our way back down (squeezing by some folks from the Korean tour group which now made their way up here).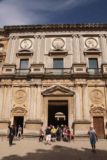 After that, we went past a small garden before leaving the Alcazaba. Now, I really wondered how it was possible to get up to the ramparts like they did, and I wondered if the Space of the Month had something to do with it. Oh well, that was that for the Alcazaba.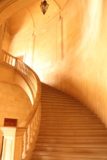 Next, we chilled out for a few minutes as now Tahia had finally woke up again at around 5:40pm. We bribed Tahia with strawberry ice cream so she could get off my back again. Meanwhile, Julie and I had a refreshing granizada, which was the same as the sugary iced-lemon drinks they sell in Southern Italy as well as Magic Mountain. Quite refreshing on a hot day like this.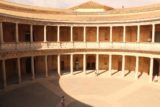 When the break was over, it was getting closer to the 6:30pm entry time for the Palacio Nazaries. But we weren't sure how much longer it would take to visit the Charles V Palace so we went ahead and went straight in there while huge tour groups were leaving the palace and headed to the Palacio Nazaries.
Once we were in the circular palace, it almost felt like we were back in a bullring ala Ronda. But this time, the middle was just an open courtyard instead of sandy dirt patch. Still, the surroundings was full of arches, which seemed to be a recurring theme in all the historical sights we had visited through Morocco and now Southern Spain to this point.
It didn't take long before we had our fill of this palace. At 6:10pm, we showed our ticket to the lady managing the entry point for Palacio Nazaries, and she was quite strict about us coming before 6:30pm. So she sent us back, but not before reminding us that we needed to drop off the child carrier at the locker (consigna).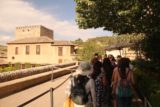 So we promptly did that, took another restroom break, and then found ourselves in a much longer queue by about 6:15pm for the Palacio Nazaries.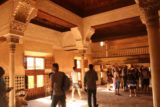 We were waiting in the hot sun before the line finally started moving at 6:30pm, and by 6:35pm, we were finally past the entry filter and into the palace complex itself. It was too bad for the folks who had to be turned away for their tickets didn't include the Palacio Nazaries, but we had read the Rick Steves book during our trip planning and knew that we had to take care of this stuff several weeks in advance.
In our case, it was four weeks in advance, but even then, the desired time slots were all taken up (mostly by tours we'd imagine). It was a good thing we had booked for three nights stay in Granada, because without this flexibility, we would've been SOL when it came to the most important part of the Alhambra visit. So in the end, we had to save the best for last.
The Palacio Nazaries consisted of many rooms and courtyards containing more elaborate wooden mosaics and patterns filling in the spaces that weren't let open by Arabic arches. There were also tiles in the lower parts.
In short, it was like going from one Ben Youssef Medersa to another. But then the courtyards were also quite grand. And that was like going from one Moulay Idriss Mausoleum courtyard to another.
The main rooms were huge. The wooden tops either had stars on the ceilings or there were plaster "stalactites" as Rick Steves liked to call them.
The main courtyards consisted of a Taj Mahal-like basin reflecting the arched exteriors on either end with fountains bubbling at either end. Of course taking photos of these things in the most desirable way was difficult due to the mega tours. There was always a crush of people no matter how long we waited. There was only pockets of tranquility between mega tour groups.
That said, the crush was probably the most intense at the Courtyard of the Lions. There were even more protruding and elaborate arches packed tightly together on either end of the rectangular courtyard while the lion fountain was in the middle. There were also grooved water channels spilling towards the fountain from all four directions.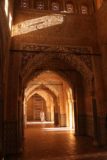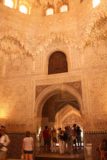 Indeed, this was where most of the people were at, including those with huge tripods. With the growing shadows, I'm sure Julie's photos didn't turn out too well, but I put my ambience lighting on my Canon into "shade" mode to get some of the dark spaces filled in.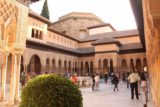 After the Lion Courtyard, there were a few more rooms to check out before exiting to a garden with one last view towards Albayzin, then down into the cooler gardens. And then, we'd eventually find ourselves right onto yet another large garden upon the conclusion of the Palacio Nazaries visit at a little before 8pm.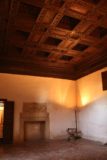 I think the very last garden at the exit was called the Partal Gardens. While out there, I noticed there was one more basin with one end of it having another structure (turned out to be the Palacio del Partal). This yielding some interesting reflection shots though I could see that this late in the afternoon, there were insects nesting or doing something in the still water.
This was kind of the last real photo op (though looking up at some impressive tower as we were leaving the garden was also nice) before we left to go recover the child carrier. Indeed, we were all pretty Alhambra'd out at this point, and Rick Steves wasn't kidding when he said we needed at least a half-day to tour the entire grounds.
Indeed, the Alhambra was one of those things where all you see of it is postcard photos or web photos of it, but they really don't do this place justice.
For the entire visit would really be more of an experience that can't be captured in photos. And it's no wonder. For a visit taking over a half-day packed with so much to see, it was definitely something that just can't be conveyed in photos.
Besides, we weren't the only ones totally pooped. We saw other tourists were also eager to leave as they were totally exhausted from their long visit to the Alhambra.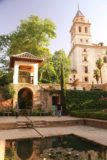 So at 8:05pm, we got the pack back, then at 8:10pm we were at the C3 stop. Unfortunately, the buses were delayed and we soon found out why…
Each bus that showed up were packed like sardines (keeping with the "everyone-wants-to-leave-now" theme)! We ended up crowding into the second bus we saw and had a bit of an adventurous journey back to the City Center. In hindsight, we should've stuck with taking a taxi and eating the 4 euros or so. Oh well.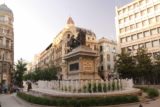 We were back in the center at 8:35pm, and the rest of the evening was spent having a dinner at this place called Platitos Alhambra. It was the only affordable spot in the really happening square just adjacent to Bib-Rambla, but it turned out that the food was quite on the disappointing side.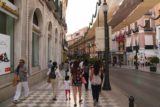 We tried caracoles (the Spanish version of escargot except it was much smaller and there were many more of them to fill us up) as well as some other tapas that weren't memorable. They didn't even let us have agua del grifo and the bottled water was both warm and small (plus overpriced).
At least we were entertained briefly by an impromptu flamenco dancing street performance, where a young girl was going the singing, a man (probably father) was doing the guitar-playing, and one man and one woman was doing the dancing. It was really the woman that drew most of the applause and tips.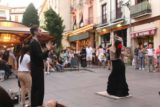 However, I don't think they earned as much as they would've liked because they started the performance at 9:15pm and they ended it at 9:25pm before moving on.
It wasn't until about 9:50pm when we were done with dinner. And five minutes later, we enjoyed one last go at ice cream.
By 10:05pm, we were finally back at the Arte Vida. Indeed, we had a very long day, and we pretty much crashed into bed after a shower and brush thereafter…
Visitor Comments:
Got something you'd like to share or say to keep the conversation going? Feel free to leave a comment below...
No users have replied to the content on this page