Day 7: BROKEN MIRRORS
It was 6:45am when I awoke, but this time I awoke to discomfort in my bowels. So the first thing I did was go to the toilet. Thinking it was just the standard emptying of the bladder in the early hours of the morning, it turned out that I was also running out the other end as well at the same time! Clearly having another case of diarrhea, I was starting to wonder if there was something more substantially wrong with me on this trip because it now had to have been well over a week since my gut last felt somewhat functional.
At 7am, Julie awoke to her alarm. And not much longer afterwards as I had finally vacated the bathroom, apparently Julie also had the case of the runs, too. We both suspected that perhaps it was the snails that we had eaten last night that somehow didn't sit well with us.
It wouldn't be until another couple of hours later before we were finally all packed up and ready to go. At 9:20am, I went ahead and lugged almost all of our luggage by myself all the way down to the car park so I could load up the car. Afterwards, I had rejoined the family, and then we went down together to do the final checkout. We didn't see the general manager down there, but we did see the lady from Barcelona at the reception desk as well as the lady that helped us out to get to Corte Ingles on the day we checked in.
They helped us get through the checkout formalities. Then, we went down to the car park, where Julie helped me to navigate between the columns and avoid hitting anything. Eventually by 9:45am, we were finally in business and on our way out to Ubeda.
After having done mostly historical and city center stuff for most of the last week, today was supposed to get back to Nature and mix things up a bit. The original plan was to head straight for a waterfall before going to Ubeda or Baeza to check in, but we ultimately decided that since we were staying in an apartment for the next two nights, we were better off checking our stuff into the apartment, getting the keys, and getting a little oriented before continuing on.
The drive out was mostly uneventful though Julie and I were quite amazed at how many olive plantations were flanking the A44 motorway. In fact, these olive fields stretched pretty much as far as the eye could see, and I guess olive oil really was big business in Spain. It was clearly surpassing anything we had seen in Italy (maybe we didn't go south enough over there?).
At about 11:45am, we had finally found the Plaza Primero de Mayo, which required quite a bit of city driving before it degenerated into driving in narrow alleyways. Ultimately, Julie called up Jose (one of the managers of the apartment we were staying in), and so we put the emergency blinkers on and parked illegally momentarily so we could drop off the luggage and get the low down from Jose about getting oriented in Ubeda as well as the apartment.
At about 12:05pm, we were back in the car. Then, under the instruction of Jose, we then took a route through more alleyways until we reached the car park hidden in a garage a couple of blocks from our apartment (overlooking the Plaza Primero de Mayo). Once we got through and into the car park, we then descended all the way down to the bottom level, where we were assigned either spots 6 or 7.
At 12:15pm, we would finally be in business and on our way to begin our waterfalling for today. We had a choice of doing Cascada de Linarejos or Cascada de Chorrogil. My original intent was to do Chorrogil because it appeared to have better volume and might be more reliable. However, Linarejos seemed to be the closer of the two and it appeared that we might be able to make a stop in Cazorla for a quick lunch (as we hadn't had a significant meal so far on this day).
Jose said Linarejos was quicker to get to by car. He hadn't heard of Chorrogil, but he did hear about Salto de los Organos, which was perhaps the most famous of the falls in the general area, but we would be looking at over 20km of walking in each direction.
It was ultimately decided that we would do Linarejos due to the distance and due to the fact that the hike was said to be much shorter than the one for Chorrogil. Unfortunately, I was very worried that Linarejos might be dry or trickling since Jose warned us that it hadn't rained here in over a month.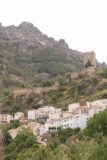 Eventually at 1:20pm, we arrived in the town of Cazorla. At first, there was a bit of confusion where the tourist info center was. So after making a roundabout way of seeing the Cazorla town with the impressive mountains in the background, we'd ultimately find a parking structure at 1:30pm, where we would leave the car and look for a quick bite to eat in town.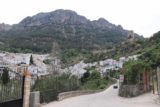 Cazorla was a steep and pretty vertical town. The initial thought was to head towards the tourist info center, but when we followed one of the signs showing the "i" and it pointed up a road, we eventually followed it to a large car park where there were a handful of buses parked. Proceeding further on the road then took us on a very narrow street that seemed like it was pedestrians only unless you were a local.
So we turned around, then stopped momentarily at the car park at for a quick photo of the upper part of town, where there was also the ruins of a castle perched above some of the uppermost buildings. And all this was backed by some jagged mountains. It was quite scenic to say the least even without the snow and without the sun given that there was a bright hazy cloudiness.
We saw from a map by the car park that the info center would be quite a walk all the way from this part of town towards some plaza further along. That seemed like a lot of work for what we were hoping would be a quick lunch stop since Julie and Tahia were looking for a place to eat before continuing on to do a waterfall hike.
So five minutes later, we then drove back the way we came and towards the center of town. This time, we could see that street parking was going to be hopeless. So instead, we would look for the next structured parking, and we'd finally park the car at 1:30pm, which was pretty much right below the roundabout at the center of town.
As we left the car park on foot, Julie was pretty picky about which place to eat. Eventually, she'd settle on this somewhat smokey locals bar with a handful of tables outside (I think it was called Cafe Club) because she was doubtful about the other two cafes she saw. It was right next door to an heladeria (ice cream shop).
Once we were seated at Cafe Club, we looked at the menu and there was an interesting looking carne con tomate racion. But when the bartender (who also served as our waiter) said it was a kind of cured meat, that prompted Julie to go with chicken instead. I guess Julie got a little sick of having cured meats at this time.
At about 2pm, we got our food, and it turned out to be fried chicken instead of rotisserie chicken as she had hoped. Well, I guess that's what happens when you make assumptions and you don't roll with what the Spanish do best. At least she got a sandwich from the heladeria next door so Tahia could have something to eat.
We were back at the car park at about 2:35pm. Then, we promptly paid our 1.05 euro to the machine to validate our ticket before returning to our car. As we were all loaded up, I drove up to the machine controlling the barricade, inserted the ticket to open the lever guard on our way out, and then suddenly when I pulled forward, we heard a brief crunch, then next thing we knew, the right passenger mirror was dangling!!!
"What happened?!?!" both of us said and thought together.
And upon seeing that the window was dangling, we knew now that we were in trouble.
So instead of leaving Cazorla for a waterfall (and after staying longer than we wanted to in Cazorla), it now became an emergency in which we had to pull over somewhere then figure out what to do next.
Apparently, when I was inserting the ticket to get out, I wasn't paying attention to how close I was on the other side to the narrow opening of the car park. That was what did us in, and finally after all the close calls we had in driving about the cities of Spain, now it looked like it had gotten to us.
The next thing we did was then to go back up to the main roundabout, where we spontaneously found a temporary parking spot (mostly for commercial purposes for the businesses here). Even though there were cops monitoring the roundabout, they seemed like they were socializing with a few locals and didn't seem to mind what we were doing (illegally parking and all).
That was when we assessed our situation and could see that the mirror was dangling by its electrical cord wrapped in rubber. Clearly, there'd be no way we could drive the car with the possibility of losing this mirror.
So then Julie went walking on her own looking for a place to get some duct tape. When she returned a few minutes later (completely bypassing the cops who might've been a help to us), the cops had left and Julie came back empty handed.
Next, I went back to the Cafe Club where we had just had lunch. Julie stayed behind to watch Tahia and the car. After a little bit of difficulty trying to explain the problem we were having to both the bartender and the locals who happened to be there (my Spanish wasn't proficient to the point I could say exactly what was wrong), I managed to show one local who was game to let me show her, then she returned to explain it to the bartender, who then went out and saw the issue himself.
Inside his restaurant, he looked at their toolbox and all they had was plumbing tape. No duct tape. He then gave his holy-cross gesture from forehead to chest, then across the chest (it was a deja vu moment since first time we saw this on the trip was from the taxi driver upon realizing that we were trying to get our rental car from Algeciras after 2pm on a Saturday when the Europcar there was just closed).
Fortunately, he then gave us his local knowledge by telling us that there was a Chinese-owned shop just past the Dia supermarket. He directed us to go straight down the hill to our right as we faced the roundabout for about 500m. He was worried that we couldn't understand him and offered to literally show us the way, but that was when I told him, "Vamos a encontrarlo" (We're going to find it).
Eventually after making one turnaround (because we saw that we were now back in a familiar part of town that we had been to earlier), we finally found this place that Julie just happened to notice had a Chinese person inside it. This must be it! It was called Bazar Cazorla, and we quickly found an awkward spot to park alongside the road.
Julie then went in and happened to converse with the proprietor in Mandarin Chinese! I'm sure Julie was glad about this because her Spanish was worse than mine, and I wasn't confident about explaining the need for duct tape in this circumstance. And so by 2:50pm, we had finished doing a makeshift duct-tape job on the mirror so it wasn't dangling anymore.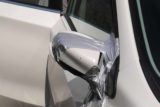 Now, the mirror was up and covered in duct tape, but I had to hunch forward while driving before I could see the blind spot and adjacent lane (I had to look over my shoulder anyways for that though).
Finally, we could at least move, and we were momentarily relieved about what we thought was a wasted lunch at the cafe turned out to be an unexpected help in terms of him helping us to get to the Chinese place, which was still open during siesta hours! Julie did say this place was busy while everyone else was closed, so I guess there was something to be said about the hard work she (the Chinese proprietress) was putting in.
Next, we drove further up Cazorla and La Iruela and into the mountains. The roads were narrow to about 1.5 lanes or so, but the roads were paved and in good shape. However, the signs for Cascada de Linarejos wasn't well signed. There was even a part where there was a fork at a sharp left turn, where the GPS didn't tell me whether to take the first right (going higher up the mountain) or second right.
On a lark, I took a guess and took the first right up the mountain. Then, we followed this road past another intersection (the one going below to the right said something about the Birth of the Rio Guadalquivir), where we kept going straight. As we kept climbing, I was having doubts about whether we were on the right path since waterfalls tended not to be at the tops of mountains.
Anyways, we then saw a sign that said "Linarejos" and it pointed us further up the mountain before encountering another junction. This time, we took an unpaved road down to what looked like a pretty empty lot with some closed up snack bar. There also happened to be a family trio who were camping here, it seemed.
When I got out the car and saw that the signs here weren't helpful, I then spoke with the family about Cascada de Linarejos. This time, my Spanish got us a little further with these folks though the lady (mother of the daughter who was the third in the group) took the opportunity to practice her English with me (it was probably as limited as my Spanish was to the bartender at Cafe Club).
Anyways, I got the gist of the instructions (which was to backtrack, then turn right, and then continue straight until we'd get to a bridge where there was a cafe, which was the trailhead). And with appreciation for their help and friendliness, I got back in the car and started heading out. It just so happened that they were heading out too, and they patiently drove up to the return of the main road where the family pointed me to go right while they were going left.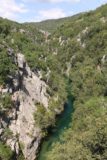 I gave the thumbs up and thanked them once again. After a brief stop at the Mirador Linarejos (not a whole lot to see up here except a few peaks), we'd eventually get to the car park for the trailhead for Cascada de Linarejos at 4:05pm. It was quite warm and it took us time to park so we didn't protrude onto the road. Plus, it took time to get Tahia ready so we didn't start walking until 4:20pm.
The bridge was quite scenic in its own right as I could see there was water below (a good sign), and that we were hiking into a steep gorge flanking the Rio Guadalquivir.
That said, I knew from my trip research that La Cascada de Linarejos wasn't on the river though. So it was still in doubt whether the falls would have water or not.
At about 4:45pm, we heard a waterfall. But when we got closer, we could see it was water spilling over what appeared to be a dam. Just downstream of it, there was another family here playing in the water. We weren't sure if this was the falls or not, but I suspected it wasn't it given what I had recalled from the pre-trip research.
At the same time, we also saw a goat nearby. In fact, I couldn't believe how close this goat was to the family playing in the water.
Anyways, we continued walking a short distance further as we were flanked on one side by nearly vertical red cliffs. And that was when we finally saw an area where we could look across the gorge at a very thin waterfall coming down the mountain. It was now 5:05pm.
The falls was definitely visible to the naked eye, but it was hard to capture on camera (except by video where I could zoom in on the action). Meanwhile, we noticed what appeared to be condors gliding high on above the cliffs, and that was when we realized just how naturesque this place was.
So I couldn't say this experience was surprising. And for that reason, it wasn't as disappointing as I had anticipated. But for all the drama and trouble we had to endure to get here, that was the disappointing part.
Eventually at 5:35pm, we were back at the car. Now, there appeared to be a few more people parked further up the road by the cafe (I guess that would be where spillover parking would be). And then we were off.
At about 15 minutes we arrived at an attractive mirador with an expansive view of the valley below us.
Finally, at about 6:20pm, we were back in Cazorla again. This time, we pulled over by the Dia supermarket where we then took some time to call Roadside Assistance from Europcar. The plan now was to drive the car in the current condition until we could get it changed in Cordoba on Sunday. It would be a shame that we'd have to change the car because this car had a navigation system, a rear-view camera, and overall, we liked it.
So it took some time to get all this arranged and worked out with the company so there would be one ready in Cordoba. It turned out that we'd have to go to the bus/train station there for the replacement. I guess we'll find out how that would turn out since we'd be driving into the city.
Eventually, after Julie then picked up groceries at the Dia, we finally left Cazorla at 7:20pm. The weather was now sprinkling as the reaches of pop-up thunderstorms were expanding out over Cazorla.
It was after 8pm when we got back to the town of Ubeda. Now, there were a lot more people out in the streets than there were at midday when we first showed up. I guess it happened to be evening paseo time as people would get back from their siestas. I was also now much more sensitized to the narrowness (as if I wasn't before) of the alleyways. We'd eventually make it back to the car park at 8:10pm.
Once we got stuff out of the car, we noticed some of the duct tape had loosened so we reinforced it with a little more of it while in the garage.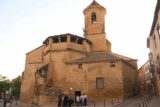 After a brief walk from the car park and through the Primero de Mayo Plaza, we'd be back at the room at 8:35pm, where we passed through a bustling plaza with local kids playing in the square and some of the nearby cafes and restaurants starting to get busy. I had entertained eating now (but Julie insisted on checking TripAdvisor before going out).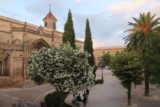 It wouldn't be until about 9:25pm when we left the room. By this time, the bar that was reviewed on TripAdvisor happened to be the Misa 12 in the plaza (we had passed by it on the way back to the room). Now that place was crowded and there'd be no hope of eating there unless we acted like locals.
Maybe tomorrow, we'd try it.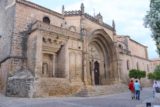 Instead, we went next door to Cafe Moss. From that point, we would have a dinner of spaghetti, lamb chops, and some delicious orange-sauced pork. The dinner was decent but not great. Perhaps it was more interesting watching locals mingle here and there. There was also a lot of well-dressed people leaving some building next door. We weren't sure if it was for a wedding or not, but it was interesting to see people dressed in their best at this time while also out on a evening paseo.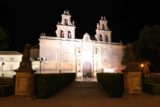 Eventually, at 10:30pm, we were finally done eating. Now, it was dark and we felt some sprinkles from time to time. We had left a lot of stuff in the car (water, jackets, etc.) and we didn't feel like going back there (too much trouble). So we just made do with what we had.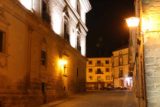 Now, Tahia could go play in the playground in the plaza with Julie's supervision while I was busy exploring the main sights in town. It was only a couple of blocks away, and that was when I took photos of the Capilla del Salvador as well as the Plaza de Vazquez Molina. There was also the Santa Maria de los Reales Alcazares and Palacio de las Cadenas here.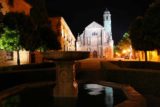 It turned out that our apartment was in a pretty central location. Too bad that we didn't have a whole lot of time to enjoy it given what had happened earlier this day.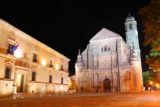 Eventually at 11:05pm, I was back at the apartment. Julie and Tahia had gotten in first, and they didn't hear me as they were showering. So it took a few tries until I finally was able to get back in.
Now, given a better perspective of how long things take here, and how much drama we were having, and how hard it was to drive within each cities (even if they're small), I decided that of the three waterfalls left to do here tomorrow (Cascada de la Cimbarra, Chorros del Rio Mundo, and Cascada de Chorrogil), it would be Cimbarra tomorrow and we'd have to forsake the rest.
And so ended this day where the locals were still out and about well past 1am, and we could hear a lot of it since we're situated next to the square…
Visitor Comments:
Got something you'd like to share or say to keep the conversation going? Feel free to leave a comment below...
No users have replied to the content on this page