Day 8: DIA TRANQUILO
It was 6:45am when I awoke. Now, it was kind of a pattern that I could wake up naturally at this time prior to Julie's 7am alarm. This was probably the third straight day or so that this has happened despite the late night bedtimes.
At 7:45am, Julie took advantage of the fact that we had an apartment so we had ourselves a combination of a croissant and fruit breakfast with some tea. It was the first time while in Spain that we actually had the time to have breakfast as a family. Up until now, it was either we had lots to do and didn't have time, or it was on a day when we couldn't self-cook.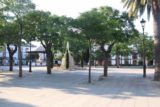 As we were busy having breakfast together, we ultimately decided that it was time to pick a waterfall out of three today. The original plan was to visit two of the waterfall excursions, but after seeing how long it really takes to get from place to place as well as to deal with the narrow lanes of city driving, I've now learned to pare back expectations to the point that doing more than one waterfall (that weren't exactly close to each other) in a day could be unrealistic.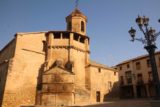 So we had a choice between doing Cascada de Chorrogil (the one we skipped yesterday in lieu of Cascada de Linarejos), Cascada de la Cimbarra, or Chorro del Rio Mundo. We ended up choosing Cascada de la Cimbarra since it seemed to be the most accessible of the three. It was almost certain that we wouldn't be able to do both Cimbarra and Rio Mundo and then Baeza on the same day. So something had to go.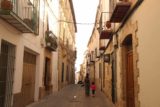 At about 8:50am, we were in the familiar garage and were in the car ready to go. Again, with the tight quarters, it wasn't trivial getting out. Plus, when getting out of this car park, it looked like I was faced with no entry signs (for going the wrong way on a one-way street) in all directions. But in any case, it wasn't busy enough this morning yet that I was able to just randomly keep going straight until I got to a familiar road leading to the autovia on the northern end of town.
Once we were on the autovia, it was pretty smooth sailing for much of the way though the GPS was pretty insistent that I take a more local approach for a long ways to get up to the town of Aldeaquemada, which was the closest town to Cascada de la Cimbarra.
Eventually, as we were headed north on the high-speed A4, we were making great time though the whole time I was keeping an eye out on the mirror we duct-taped together. This was especially the case since the drag would want to push the mirror towards the car, which was the weakest point of our duct tape contraption.
We'd ultimately exit the A4 at the A6200 leading to Aldeaquemada. From there, we were then on a pretty narrow road where the top speed was not supposed to top 50km/h but even that felt like it was too fast given how narrow the road was and that the road didn't have a shoulder and was frequently up against a cliff, a wall, or a dropoff.
Plus, the road was very curvy with blind turns, making this a pretty treacherous road.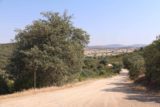 Still, we'd eventually make it to the town of Aldeaquemada at around 10:30am, where we saw signs showing the Cascada de la Cimbarra. From there, it was pretty straightforward to get to the trailhead though for the last 2km or so, we had to drive on an unsealed road with a few small potholes and ruts.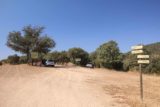 That said, we got to the trailhead no problem at 10:40am, where we picked one of the few shady spots as this road seemed to be on top of a mountain or hill. Then, we got out of the car and started walking ten minutes later.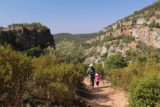 Already, it started to feel quite warm though it was considerably cooler up here than it was down in Ubeda. The signs here said doing the loop walk of 1.2km would only take 30 minutes, but I brought the child carrier anyways, just in case Tahia would be complaining.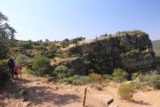 And so we were on the pretty well-signed and well-defined trail. We could see right away that we were above the gorge containing the waterfall. As we were walking along the trail (we were the only ones so far as a man was going the other way), and then Tahia noticed a tortoise next to the trail at around 11am. It was alive!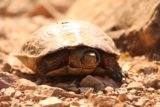 I guess seeing wildlife like this was one of the perks of being the first ones on the trail. And being the first was something that we weren't really able to accomplish throughout this entire trip though this would usually be my MO when it came to nature touring (though all that tended to change for the later when we had Tahia).
The trail then curved around a head of part of the gorge containing the waterfall. The well-defined trail led us to a junction where we started with the trail branching to the right, which descended sharply over a few switchbacks flanked by blooming poppies (or poppie-like flowers). Tahia picked a couple, then we continued the descent, which went by what appeared to be an old ruin fronted by a couple of circular mortars.
The trail became a little rough but still defined and manageable all the way to a spot where we could look right at the waterfall and plunge pool.
At about 11:15am, we finally made it to the bottom of the Cimbarra Waterfall. There wasn't a whole lot of water in the falls, but at least it was more signficant than the Linarejos waterfall we had seen yesterday. There were some nice colors in the layers of rock backing the falls, and it looked like it might be possible to go behind it. I suspected that there might have been a scrambling trail that started from the ruins.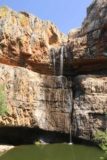 Anyways, we knew some people were coming when we started to hear shouts from young boys at the top of the gorge. It was only a matter of time before we wouldn't be the only ones at the falls. So we did what we could both documenting the experience as well as trying to take people shots before the falls.
At about 11:30am, the family with the boys making the noise joined us at the base, which was just when we were about to leave.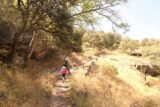 All in all, we enjoyed the experience, and when the family came down (it was a fairly large family of over a half-dozen people), we then went back on the trail and continued to climb up to the Mirador Cascada de la Cimbarra.
At 11:45am, we were at the mirador, which had a nice view looking down at the Cascada de la Cimbarra as well as the geology surrounding the waterfall itself. By this time, lots of other people had overtaken us and were already at the overlook when we arrived. I think most of the hikers on this day liked to interact with Tahia.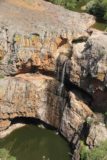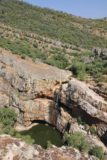 This overlook was quite hot and quite exposed to the sun. After all, it felt like we were on the top of a hill flanking the very gorge responsible for La Cascada de la Cimbarra.
At about 12pm, we were done with the mirador. There was a nice breeze at around the time that we left, which was a moment of relief as the heat of the day was just getting started. Next, while Julie and Tahia joined the other folks at a different mirador overlooking what appeared to be a different stream to the Cascada de la Cimbarra (either that or downstream of the falls), I went over to another mirador just 100m from the waterfall overlook.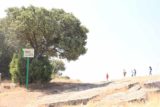 This short side excursion was called Mirador del Desfiladero, which I believed had something to do with the geology of the bending layers of rock right across the gorge. Since waterfalls tended to be around hard layers of rock, this bending and warping of the rock layers that were clearly seen also demonstrated how waterfalls tended to be geology lessons in addition to the evidence of geologic events that must've taken place in the past here.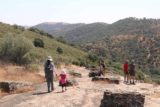 After having our fill of the falls and this mirador looking in the other direction from the falls, we then continued further on a trail that we thought was the continuation of the loop trail. Unfortunately, after a few minutes, we could see that the trail was rougher and more overgrown as well as steep on the way down, and after coming to terms that this sun-scorched side of the hill might not be the completion of the loop hike that I was hoping for, we turned back and returned the way we came.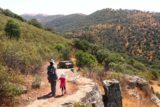 At about 12:25pm, Tahia was complaining as we had made it back to the Mirador de la Cascada de la Cimbarra. So I carried the spoiled little girl for the remainder of the hike, which ended at 12:40pm. By now, the car park was a much busier spot than when we first showed up.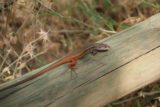 Finally at 12:40pm, we were back at the car. We noticed that our car was still in shade so we had parked in the perfect spot. There were a lot more cars in this lot now, and just about all of them were exposed to the hot sun.
At 12:45pm, we made the drive for Baeza. It turned out that the GPS had us go back the way we came via Aldeaquemada, then on the narrow and twisty A6200 road. It took us about 35 minutes to get back to the Monumento Natural de Los Organos turnoff near the top of the steep climb that started from the autovia exit.
The drive back was pretty uneventful as both Julie and Tahia were pretty much out and sleep. Meanwhile, we'd arrive in a public car park in Baeza at 2:20pm. And after the Cazorla experience yesterday, I made sure to try to stay away from the edges more so than before to the extent that I would be able to do it with reason.
Then, we walked along this busy stretch of restaurants on one side of the elongated plaza in the center of Baeza. We'd eventually settle in on this place called Pagos del Rey at 2:35pm. Since the place was so busy that it wasn't easy to find a shady outdoor spot, there was a series of indoor tables way in the back, but it appeared that no one was buying anything back there so it was pretty dead.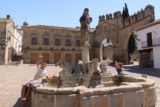 Eventually, when people were vacating seats closer or in the outside, we were able to get one of the outdoor seats (I don't think one of the staff cared for the musical chairs we were playing). That said, it was so quiet on the inside that we knew we'd be ignored back there. So moving to the outside was wise despite the cigarette smoke.
By 3:40pm, we were done eating. It was decent value for the food as we had one lunch special as well as a five-tapas package for one person. All this was under 20 euros which was reasonable. And now that we were finally done with the meal, we then started the tour of Baeza using our DK as a guide (since Rick Steves didn't cover this UNESCO town).
At first, we went straight for the lion fountain fronting some arches. There were some local kids there that wouldn't leave us alone and insisted on us taking their pictures. So we obliged then continued on our tour. But rather than following the DK street-by-street route explicitly, we just meandered about in the opposite direction.
As we went around some university (I believe it was the Andalucian International University), we then saw another arched fountain fronting some impressive cathedral. I think this was the place where some people took twilight shots as the intense early afternoon sun casted some shadows and we were kind of looking against the sun, which was practically on top of us.
Speaking of the sun, it was been quite hot (and we'd find out later that a sign stated it was 35C today!). Since it was pretty much siesta time, it seemed like nothing was open so we just checked out things from the impressive facades at the exterior of most of the buildings of interest. We did go inside the university, but outside of the riad-like courtyard near the entrance, there wasn't much more we could see.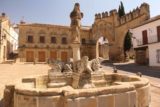 Eventually, we'd return to the lion fountain where the kids had found something else to do as now it was vacant. So we took some photos of that before going back to the main plaza (near where we ate) since that was where there was a playground that we promised Tahia she could play in if she behaved.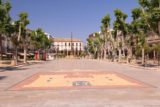 And so while I was checking out this large square with an obelisk on the far end and the playground at almost the nearest end, Julie and Tahia were interacting with the same kids who were at the lion fountain though now they're at the playground.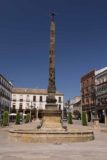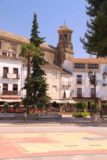 Tahia was beside herself as she was busy playing around. The kids were trying to ask us questions about how you say certain things in Chinese (though I wasn't sure if they were doing it out of genuine curiosity or if it was so they could mock us). In any case, it was an opportunity to ask them some stuff about themselves and practice some Spanish (though the Spain Spanish was a bit different than what I was used to hearing at home so I had to think about some of the things said and not really react as quickly as they were expecting).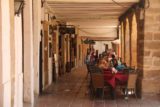 Finally, it was 4:40pm when it was time to go. I think the kids still wanted to take more photos of them (especially the two boys), but we were headed out and wished them well. It seemed like kids out here were more independent because this trio of kids (the oldest was 9) was roaming around without their parents.
We had one last ice cream break at 4:45pm before we recovered the car at 5:05pm. And as Julie and I recalled our Baeza experience (however brief it was), we could characterize it as nice and relaxing. In fact, for most of Andalucian Spain that we had visited so far, there was always a crush of tourists with hordes of tour buses and crowds from many different countries.
Yet here in Baeza, it was quiet (except for the buzzing restaurants during our late lunch). In fact, it was so refreshingly peaceful and relaxing that we wondered whether this UNESCO town was as quiet as it was because it wasn't reviewed by Rick Steves (so that probably knocked out a good chunk of the American market, I'd imagine). Though I did hear some American spoken so perhaps the DK or LP market revealed this place to those readers.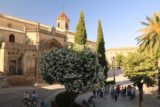 Finally at 5:35pm, we were back at the hidden parking structure in Ubeda. And ten minutes later, we crossed the pretty dead Plaza Primero de Mayo and returned to our room. I had a real bad urge to go to the toilet (again, my stomach had been unsettled) so the timing of this return was just in the nick of time.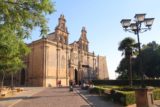 It wouldn't be until about 7pm when we heard some church bells going crazy, which I thought might've signalled the end of the siesta or something. It definitely wasn't one of those bell chimes telling you what time it was on the hour.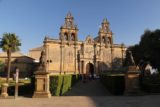 Roughly 15 minutes later, all of us checked out the main square just south of the Primero de Mayo Plaza (I believe it was called Plaza Vazquez de Molina). It was the same plaza that I had visited earlier yesterday night (the day we checked into the apartment here).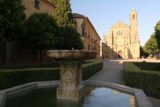 Now, the churches and fountains were getting the benefit of near sunset lighting though the shadows were long. Plus, there looked to be some kind of wedding or something going on by one of the churches here. There were definitely lots of people dressed in their Sunday best even though it's only Saturday. We suspected that it was for a wedding as opposed to some kind of mass.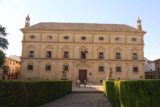 We meandered a bit more in another adjacent square near the Ayuntamiento before returning to the main plaza Primero de Mayo so Tahia could play in the playground there before we headed up for dinner at the Misa de 12 Restaurant.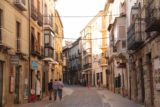 The place didn't open exactly at 8pm, but we were patiently seated there anyways so we wouldn't have to contend with the rush that would surely come after 9pm.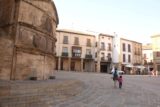 Eventually at 9:40pm, we were done with the dinner and returned to our apartment shortly thereafter. We'd have to sleep early today so we could get packed up and ready to go first thing in the morning tomorrow. The idea was we had to get to Cordoba first thing in the morning to exchange cars and get through the unpleasantries of reconciling the damage that we had caused to the car in Cazorla.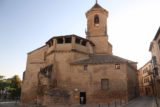 Julie and I found it supremely ironic our original itinerary had us return the rental car in Cordoba near the train station before taking the bullet train up to Madrid before picking up the rental car up there a few days later. Well, on this go around, we'd have to return the rental car in Cordoba though this time it was to get another car so we wouldn't have to keep driving with a dangling or duct-taped mirror on the passenger side.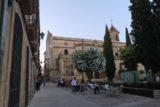 Oh well, the show must go on, and hopefully, we'll have plenty of time to experience Cordoba, and especially the Mezquita, after the rental car drama has passed.