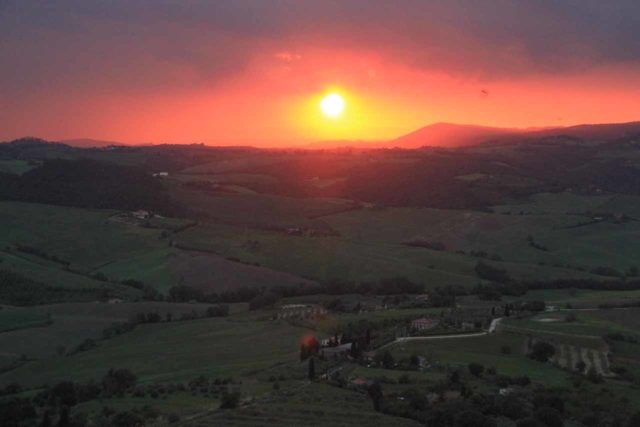 21-May 2013 to 26-May 2013:
We could see that we were surrounded by some mean-looking squalls as we went down. And after getting our car with the permit in hand (that the receptionist gave us), we then finally parked next to the accommodation at 8:10pm.
I then contended with more bouts of diarrhea and discomfort, and the timing couldn't have been worse because Julie ended up observing one of the most surreal sunsets she had seen. All I could do was listen to her descriptions and rely on the photos that she took.
It wasn't until I was finally done with the porcelain god that I went out to see for myself, but by then, then sun was gone. Damn!…
Day 6: LEI, NO SI SENTE BENE
It was 6:30am when we awoke. The familiar morning view of Positano as we looked out the window showed mostly clear skies with a few small patches of clouds hanging onto the cliff towering above the town itself. There were also a few clouds hanging onto the very top of the cliffs where they also concealed the sun that was about to breach them and radiate its warmth on the town.
Julie and I were pretty efficient about getting ourselves up and ready. At around 7:20am, we took our luggage downstairs where the receptionist got the owner to help process our transaction (since we were paying by credit card to check out).
It was pretty quiet in the morning except for a lady who was getting the breakfast prepared by 8am. The owner offered us to have some breakfast, but I stayed downstairs to watch the bags. Meanwhile, Julie was shuttling up and down the stairs to grab some bread and water to bring to me.
I was hoping that our driver would show up an hour early like Roberto did when we were staying in Napoli. But it wasn't until 7:50am when our driver Ferdinando showed up. I was getting a bit nervous about today since there was going to be a significant amount of driving to cover at least two waterfalls – Cascata del Rio Verde (Waterfall of the Rio Verde) and Cascate del Liri (Waterfalls of the Liri).
So we left at 7:55am. Ferdinando seemed to have a functional grasp of English but since I was of the mindset to learn more Italian, we were mixing up the languages. He said, "you help me with me English, I help you with Italiano."
Ferdinando was driving at a pretty laid back pace. We were routinely passed by other cars, but he didn't seem worried at all about how much time it would take to get to the Naples Airport. Actually, when we explained to him that we were renting a car to go to the Abruzzo Region and then back to Isola del Liri, he then realized that he didn't have to take us to the airport directly. Instead, he just had to drop us off at the car rental area.
We had originally thought the car rental place and the airport were one and the same. But based on Ferdinando's response, I had a feeling this car rental place might be in a more obscure spot. And that planted in the back of my mind that it might not be easy to drive out of there, especially since this would be my first time trying to get acclimated to the way Italians drive or use the roads.
As we were going about the narrow winding roads to leave the Amalfi Coast and enter the Sorrento Coast, Ferdinando complimented us on hiring a driver because he told me that he could see the look of horror on drivers' faces when they're not used to the driving and the narrow roads. Indeed, he knew that driving would be no fun even though lots of people who come to Amalfi Coast do it.
Actually, the deciding factor was stressing about finding parking. I recalled there was a parking garage in Positano that we didn't know about, but we didn't investigate whether it was full or not. In any case, we made our decision, and we found our Amalfi Coast part of the trip to be quite pleasurable and not as stressful as if I would be self-driving that part to save money.
He also mentioned that most (maybe 80%) of Roberto's clients are cruise ship passengers who have limited time on port. Although we didn't fit the demographic, Julie and I were definitely felt that we made the right call.
Anyways, the drive was pretty uneventful as we were talking about his life in Sorrento (where he was from) as well as his holiday dreams. He had two daughters (one in high school and another in middle school), and that pretty much put his holiday dreams on hold.
He confessed to us that he dreamed about going to New York and Los Angeles (upon hearing we were from LA) since he watched lots of TV like CSI as well as movies. Clearly, Hollywood does quite a job of selling the imagery of our cities to the international audiences.
Ferdinando also said he dreamed about visiting the fjords of Norway because he was into the natural stuff that he said was hard to get at home. That said, however, he said that life was heaven in Sorrento because it was close to Pompeii, Amalfi, and Capri.
I really wished that we could have stopped the car to take photos because the weather was pretty beautiful (albeit a little hazy) as we passed through Sorrento and along the Bay of Naples where we could see Mt Vesuvius rising above the body of water and the developed areas down its hills.
Ferdinando pointed out where on the mountain Pompeii was, and we could totally see how any major eruption would be serious trouble from the 600k people or so at its base. Ferdinando also pointed out how there was some construction going on to expand the lanes (to 4) on the autostrada, but he was like, "If it erupts, you need 20 lanes. When everyone panic, who knows?"
When we got to the car rental center at 9:30am, Ferdinando said that today's drive was like a dream. It only took 80 minutes (even at his relaxed pace) while the drive would normally take at least 90 minutes.
We said "Ciao!" to each other with firm handshakes and payment as he dropped us off right at the Europcar lot. I thoroughly enjoyed chatting with him with practicing some Italian. It's times like these that I felt more connected to the place we were visiting that if we had exclusively gone with group tours or hadn't gone off on our own.
Anyways, now we had to pick up the car and get going.
As we were getting the paperwork, payments, and formalities done, Julie had spent a bit of time in the restroom. She later told me that she had diarrhea, and that was not a good sign. Apparently, something we ate in the not-too-distant past must have disagreed with her body. We didn't pay too much mind to it thereafter, but it would turn out to be a foreshadowing of what was to come for the rest of this week.
At 9:50am, we were finally able to start driving. With our GPS ready to go and our stuff in the car, now it was time to figure out how to get back on the autostrada (since the rental car center wasn't exactly at the airport).
At first, I tried to turn right (the only way I could go) before attempting to make a U-turn to go back the way I saw Ferdinando get to the rental car center. However, the traffic was too heavy and I didn't have the guts to get aggressive and cut in front of someone to get through so I decided to continue going straight hoping to find an autostrada.
Well, it turned out that there was a sign for an autostrada, but we ended up taking the wrong turn and once again, we found ourselves in some pretty busy streets in the streets of suburban Napoli (Capodochino) where we made a U-turn then turned left at a very chaotic roundabout. Then, we saw a sign for the autostrada but it pointed left and we couldn't see where it would let us go left.
So we overshot the autostrada and made another U-turn, before we then turned right at a sign that said it would lead us to Roma and the autostrada. But after a bit of more driving, the sign for the autostrada had us make a couple more lefts, and then we were on the autostrada, but we were going in the opposite direction that I was hoping we'd go!
To make matters worse, our GPS was freaking out as it was trying to get better accuracy and it wasn't doing anything.
After maybe some 10km of driving towards Napoli instead of away from it, we finally got off at a service station at around 10:15am. We were worried that our GPS might be useless on this trip and we'd be going blind. So we went into the place looking for a road atlas to navigate the old fashioned way.
However, they didn't have an atlas of Italy so I basically had to ask the clerk in Italian how to get back to the A1. He told us to get off at the next exit (Arenella, I think), and then U-turn to go back the other way on the autostrada.
So I thanked him and we were on our way. Fortunately after power cycling the Garmin Nuvi, it was working again.
Unfortunately, after taking the next exit and paying the toll (fortunately they took our credit card), and entering the suburb with its narrow streets and pretty chaotic driving in rush hour, we had a little trouble figuring out how to turn back around. We thought we found a way to do it on a small street, but there was a car with no one in it parked right in the middle of the road. So I had to back out into the traffic (luckily someone let me get out) before following the traffic lights on consecutive left turns to get back on the autostrada.
Indeed, if there was a stressful start to driving in Italy, this had to be right up there.
Well, once we were going the right way on the autostrada (passing by another toll collection booth), we were then on our way to the A1. And from there, it was pretty smooth sailing on the autostrada.
After roughly 30 minutes on the A1 (plus another half-hour of getting lost initially in Napoli), we had finally got to a point where we could follow the GPS, whose directions were pretty consistent with what we had captured and downloaded to Julie's iPhone from Via Michelin as backup.
The key thing was to follow the signs for Castel di Sangro once we got past some other landmark towns whose name I forgot.
The drive was initially through some picturesque countrysides with farms and some jagged foothill mountains with some medieval-looking towns clinging to those mountains as well as perched on top of some of the lower hills. The weather was fine but some of the roads were pretty beat up in places.
Plus, most of the driving was on two-lane highways (one in each direction) so I frequently found myself trying to be very patient while waiting for opportunities to pass the diesel-belching beat-up pick up trucks (at least the European version of them) as well as some larger trucks or lorries that seemed to be hauling supplies along the highways we were taking.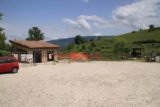 Eventually, we took some pretty twisty rural roads to get to the town of Borrello (though the autostrada was closed anyways just where we were exiting), and that was when we finally saw a sign for Cascata del Rio Verde for the first time. So naturally, I followed the signs and we eventually found ourselves in an unpaved car park at 12:50pm.
The skies were threatening rain though it was still pretty warm with sun out.
As we started to leave the car, we saw a local who was driving out. He gave us a wary look, but we said "Buongiorno" to him and then he went about his way without saying anything to us.
Next, there was another guy who came in and stopped his car in the middle of the road in front of the biglieteria (ticket booth), which was closed. We thought he might be working here and collecting our entrance fee, but the somewhat middle-aged driver was on his cell phone.
I asked him, "Lavora qui?" ("Do you work here?")
That's when he smiled and said, "No" and then he said something real fast in Italian that I couldn't process.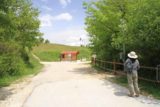 I had to tell him, "Non parlo Italiano bene," which drew a smile out of him. He then said, "Cascata?" and I said "Si!" and with that, he nodded and drove onto the unpaved road. So Julie and I finally started hiking at this point.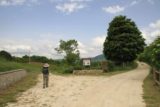 Julie and I weren't sure if it was OK to see the falls since the biglieteria was closed, but the beat-up gravel road to continue was wide open although there was a red circle sign with a while bar across it indicating it was forbidden to drive there. It looked like vehicles could drive it, but the road was beat up enough that we stood a better chance of walking.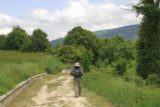 Anyways, we made a left turn at a fork as indicated by an arrowed sign, and then we found ourselves on a footpath descending a lot of stairs.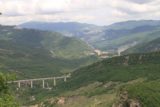 At first, we checked out a first overlook with a view towards he autostrada we would have taken had we continued past Borrello.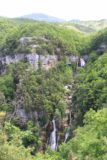 Meanwhile, the view of Cascata del Rio Verde was partial but impressive as we looked towards the far right of the overlook. The waterfall was indeed tall, which confirmed what I had researched in the literature, but it was of the strandy variety.
So we then went down a steeper series of steps until we made it to the second and lower lookout area, which was right in front of the middle of the main tier of Cascata del Rio Verde.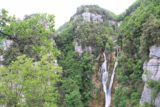 From this vantage point, we could see the color of the rocks (probably from algae or moss growing on the wet underlying rock beneath the falls) though the very bottommost section of the falls was partially blocked by a tree growing right in front of it.
In any case, Julie and I got our movies and our shots, and we then went back up to the car. Unfortunately, Julie was starting to get a splitting headache as well as the chills, so apparently she might have come down with a case of food poisoning (probably from the seafood bucket or "soup" from Chez Black in Positano last night since there were lots of bottomfeeding mussels and clams).
As we neared the car park, we saw a nice open field where I was able to see Borrello fronting some snow-capped mountains in the distance under the dark clouds.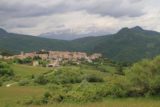 By the time we recovered the car at 1:50pm, it started to sprinkle. I guess it was a good thing we visited when we did.
So now that we got this waterfall excursion done, it was now time to go all the way to Isola del Liri. It was a good thing that this walk was only 2km round trip (maybe shorter) and not 2km one-way. So I had scheduled more time and worried about showing up real late to Isola del Liri, but it looked like we might be able to check in to our hotel by 5pm after all while possibly squeezing in a visit to the waterfalls of Isola del Liri.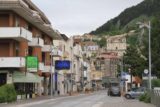 The drive to get to Isola del Liri was quite long and involved plenty of winding and mountainous roads. We made a quick stop at Castel di Sangro for a takeaway lunch of cold microwave-warmed pizza.
The weather was definitely a mix of on-and-off again rain. It was a good thing we were mostly driving at this point though so the rain didn't really bother us too much except it made the roads slicker and it probably kept me from taking more panoramic stops along the way.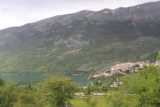 As we left Castel di Sangro, we then entered the Parco Regionale di Abruzzo e Molise, which featured more mountain driving with lots of panoramas and even some snow-capped mountains that suddenly seemed like they could be touched.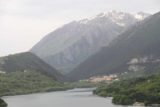 In particular, we made a few photostops at Lago di Barrea and the town of Barrea at around 3:15pm. The town itself seemed like it was hugging cliffs while it stretched all the way down to the lake level. This was probably the one Abruzzo town where we really felt that medieval charm, which was only fitting since Abruzzo was said to be the land of a thousand castles as each town seemed to have retained that bit of medieval charm anchored by at least a castle or two.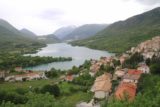 However, when we drove through town, we came to realize that the Flume di Sangro was actually dammed, and that was what was responsible for Lago di Barrea.
The driving was quite reminiscent of driving through Greece's mountains and cliffhugging towns. I wondered if there was any correlation between Italy and Greece given their shared histories during Greek times as well as during Roman times.
It was starting to rain pretty hard and consistently as we continued making our way west while waiting patiently for opportunities to pass trucks in front of us. Julie was definitely getting a full-fledged chill and she was pretty much trying to sleep it off as I was navigating the mountain roads. Clearly by now that bout of diarrhea that Julie had while picking up the car in Napoli suggested that she might be coming down with a pretty bad case of food poisoning.
We'd ultimately get through the town of Sora (by now, it was pretty much urban driving again), and then the town of Isola del Liri.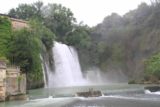 The GPS led us right to a bridge and alleyway with a view of the Cascata Grande portion of the Cascate del Liri (The waterfalls of the Liri River). We drove a cobblestone alleyway adjacent to the arm of the river downstream of the big waterfall (little did we realize that there was a second waterfall here which we missed on this go around).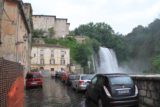 We were lucky to find a spot to park the car at 4:45pm. There was an old man standing next to the door staring at us while smoking a cigarette. I wasn't sure if we were in his spot or not. So I said, "Buona sera" and he returned the greeting. Still, he had that wary look.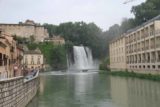 Julie stayed in the car while I was out in the rain trying to take as many photos and movies as I could to convey this waterfall. And as crappy as the weather was at the time of my visit, I had a feeling that I'd be back here again tomorrow morning to perhaps give this waterfall another go.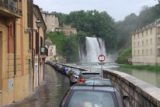 Anyways ten minutes later, after having my fill of the grand waterfall, we then navigated the narrow cobblestone streets until we were back on the main street. At this point, we headed back up towards Arpino where we could finally try to check into our accommodation at the Hotel il Cavalier in Arpino.
As we drove the climbing and narrow road, we managed to catch a glimpse of the impressive town of Arpino as it was perched atop a hill that we were headed towards. I really wanted to stop and take more photos of the approach, but there wasn't an available place to stop at the time, and with Julie not feeling well, we had to check in.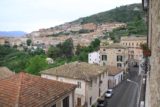 At 5:15pm, we made it to Hotel it Cavalier. The weather was threatening rain but for the time being, it wasn't raining.
When we got settled at 5:35pm, Julie really wasn't feeling well, and she was suffering from nausea. She finally threw up in the toilet multiple times, and it momentarily seemed to help her headaches.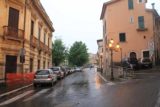 So at 6:30pm, we decided to walk back into town. I had aspirations of doing some twilight touring of the town itself, but once we saw that it was raining pretty hard outside, I had a feeling it wasn't meant to be (especially in light of Julie's illness).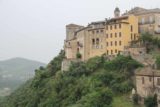 The receptionist had said that the pizzeria place we were targeting for dinner wouldn't be open until 8pm. And when we got there (about a 300m walk), I asked the folks inside if they were open for dinner (in Italiano).
Well, it turned out that the restauranteur answered my question of "E il ristorante aperto?" (Is the restaurant open?) with "Anche adesso" (also now).
I guess in a town like this where not many tourists go, it was nice to know that the Italian lessons were paying off somewhat, but I was definitely struggling to commuicate since the guy didn't know English. And as Julie and I were ordering our food, there were a couple of young English guys who seemed to have better broken Italian that me and so they were also helping out with our order.
Julie wasn't too picky about her food though she wanted something with ragu sauce in it. However, the choices were limited and we ended up a type of cannelloni pasta with tomato sauce and cheese along with an antipasti of bruschetta and a green salad.
As the restauranteur and then his wife who had just come in were busy preparing not only our meal but also other folks who were patiently waiting to take away pizza, Julie started to fear that she was getting meningitis as her headaches were back and so were her chills.
So I went up to the restauranteurs and asked in Italian if we could take the food away instead of eating in. Clearly sympathetic to Julie's condition when I explained to them, "Lei, no si sente bene" (she's not feeling well), the lady offered to bring the food to our hotel, which was really nice of her.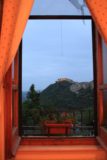 But we didn't want to trouble her so we waited for the food to be done, paid the 10 euros for the whole dinner (a very reasonable price, especially compared to Positano), and then walked in the rain back to the hotel.
Given Julie's condition, we found one convenience store where Julie picked up Aqua con gas as well as some salted crackers to help with her diet that was becoming a BRAT diet (bananas, rice, apples, toast).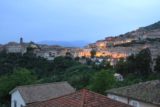 At 8pm, we were back in the room. We were having the takeaway dinner on the bed, but clearly Julie couldn't keep the food down because she hurled some more in the toilet. So from that point on, she was content to just eat the bread that came with our meal, and I was left to finish the rest of the pasta and salad.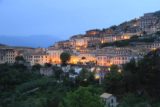 During the dinner, it was starting to become twilight in Arpino so I managed to take a few twilight photos from our hotel room. The weather seemed like it had calmed down somewhat, but the dark clouds were still there hovering over us so who knew if anything could be read into this momentary calm.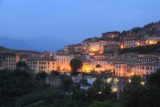 Anyways, it was clear that no more touring of Arpino was going to happen on this day, as I had originally feared. We'll have to see what tomorrow brings (both as far as Julie's health was concerned as well as what the weather would be like)…
Day 7: THAT'S MARMORE
It was 5:30am when I awoke. I knew that Julie still wasn't feeling very well because she threw up yet again the middle of the night. So in anticipation of this, I let her stay asleep to rest off whatever was ailing her. In the mean time, I decided to go out into the town of Arpino in the early morning when things would be most quiet.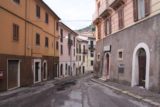 When I got out of our room and into the streets at 6am, the skies were still overcast and threatening rain. There were lots of birds singing as well signaling that indeed we were in Spring though somehow I got the sense that the consistently unsettled weather we were experiencing was more of a Winter phenomenon.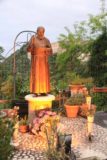 So I with the Arpino map in hand, I ended up walking a couple of the itinerary routes in there. The first was a loop that encompassed the main throughfare of Arpino as well as some panoramic views of the many towns below (including Isola del Liri though I couldn't see either of its two waterfalls from this angle and distance).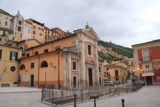 I completed the walk by going in a different alleyway that was pretty much an atmospheric stroll through the tight confines of aged walls and brick medieval walls of residences and shops. For this early in the morning, it was eerily quiet.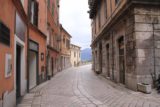 The loop completed at the town's main square where there was what appeared to be some very old foundation of the town (I wasn't sure what was that group of flattened rocks on the ground surrounded by a fence) as well as a statue of il Cavalier and of course the obligatory church and clock tower.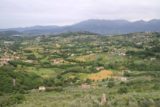 I returned to the accommodation at 6:45am. Julie was still in bed so I had my mind made up to check out Civitavecchia. But it wasn't until 7:15am when the friendly lady who runs this place came down to open the gate after I placed a call to her.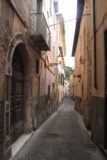 And from that point, I went driving another 3km further up above Arpino towards the hilltop hamlet and archaeological site of Civitavecchia.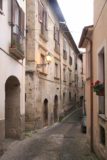 At first, I had some trouble figuring out where I supposed to park the car. In fact, I swore there were no signs that indicated as such (though there a few brown signs pointing the way to get up to Civitavecchia).
Once I finally parked the car right in front of the hamlet's entrance at 7:35am, I then walked towards the arch entrance as well as the tower that was right behind it.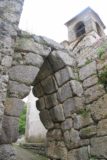 The old arch was said to be very important because it was where the original entrance to the town was. But behind the arch, there was a small open area where there were several cars parked. Those cars kind of took away from the atmosphere of the place, but then again, I guess this was really an actively inhabited town (almost like a smaller version of Arpino).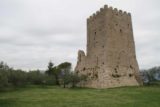 I then went to the tower though it didn't appear I could go up it. Instead, there were panoramic vistas from both in front of the tower as well as another small field just a few paces from the tower's lawn area as well.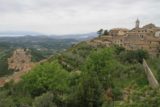 The vistas were quite expansive as I could see the town of Arpino down below. It was too bad the skies were still overcast and grey because this would've been a real cool place to have the blue skies really add some color to the panoramic scene.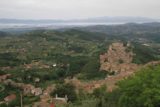 When I had my fill of the views, I then took out the map and went ahead with the quick tour through town. There were some neighborhood dogs here that were barking about my presence. Given the town was still mostly asleep, I tried my best to get past the dogs so the barking the stop.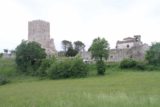 I wasn't sure if I had walked far enough to notice the archaeological ruins of Civitavecchia, but it didn't appear that there were many worthwhile atmospheric things to photograph during the brief self-guided tour. So by 8am, I was back at the car. And five minutes later, I was back at the hotel where Julie was still struggling to get up out of bed.
So I ended up having breakfast alone so Julie could take her time trying to get ready for the day. I also brought her some breakfast stuff which was really nothing more than a hard-boiled egg, some hams (or were they some kind of prosciutto?), bread, and even some dessert-like pastries.
It wasn't until about 9:15am when we were finally leaving Arpino. Julie said she was still wavering between hurling and keeping it in, but fortunately, she didn't have to hurl. On the other hand, we were getting late to catch the Cascata della Marmore when it would be flowing between 12-1 today, so that was really where the time pressure was coming from on this day.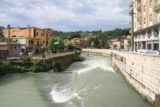 In the mean time, I still had to check out the waterfalls at Isola del Liri before leaving. So we ultimately got down there at 9:40am. Fortunately with Julie still in the car, I was able to park somewhat illegally while I was quickly doing my photo run on the "island" itself.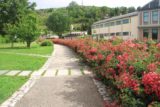 The thing with Isola del Liri was that with both waterfalls being really urban ones, it really felt like the waterfalls here weren't genuine. I wasn't sure if these waterfalls were real or not or if they were created through diversion.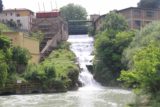 But whatever the case, I guess that's what made this urban place unique. It was just that the waterfalls seemed out of place. So with that, my quick photo run ended at 9:55am and now it was time to get moving to Cascata delle Marmore.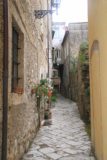 We were still on the order of 120km or so away from the next waterfall and the GPS indicated that we were to be there some time around 12:15pm, which would be right during the scheduled release. So we pretty much jammed on the autostrada A1 as we left the Frosinone area and headed towards the Terni area.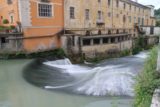 I was a bit nervous about the presence of speed cameras everywhere so I tried to stay with the flow of traffic which was generally around 130km/h give or take. I just hoped I wouldn't be in for an expensive surprise at the end of the rental regarding the photo-enforced speeding or ZTL fines.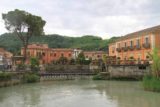 During the drive, the weather was mostly hazy with plenty of sun, which contrasted mightily with last night's rainy weather. This weather persisted as we had to navigate through the streets of Terni as we followed the plethora of brown signs for Cascata della Marmore. We made sure to follow the signs for the inferior (lower) lookout since our experience told us that bottom up views of waterfalls tended to be way better than top down views.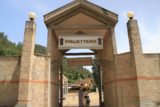 We'd ultimately get to the car park for Cascata delle Marmore at 12:10pm where we could definitely see that the falls was indeed flowing. Actually, it was flowing so forcefully that its uppermost main tier was shrouded in bright mist and it was hard to see it.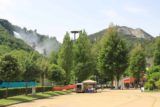 Anyways, we found parking, walked a ways to the biglietteria to pay the 8 euros per person, then walked all the way back some 300 meters more through the entrance and into the waterfall viewing area.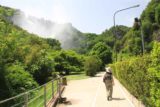 There were quite a few junior high kids here, but for the most part, it was a pretty peaceful visit. It was too bad that the falls wasn't so photogenic given the intense mist and position of the sun rendering that main tier of the falls invisible to us. So we just did what we thought we could in photographing the falls (especially the more visible lower tiers) while fighting the mist before heading back to the car park area where Julie wanted to get a sandwich for lunch.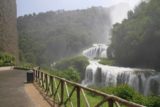 While we were having the lunch, Julie ended up getting this sandwich she thought was going to be like a panini, but it ended up tasting gross. I think her expectation of the sandwiches in Italy were mostly on the disappointing side because we had yet to see the kind of crispy ciabatta sandwiches with pesto or some other light ingredients that would've made the sandwiches much better tasting (or at least somethingg more familiar to us as Italian-style sandwiches we were exposed to back at home).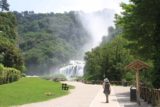 That all proved to us that perhaps the "Italian" sandwiches and pizzas we were revering in the States might not have been authentic at all. Instead, they were probably American twists to Italian products, and our tastes gravitated more towards the American-style way of doing things. The same went for the Naples-style pizzas, which were more doughy and "soggier" than the Grimaldi's type pizzas in New York (according to Julie).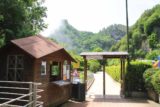 Anyways, when we were done eating, it was past 1pm, but then we started to notice that the falls was more attractive now as it assumed lower flow than earlier. So we took this opportunity to go back to the falls viewing area and get even more photos of the falls.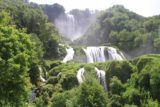 The guy at the ticket entry booth also indicated to us that today was a festival day so they would also release the water between 3pm and 10pm while floodlighting it (who knew today was a festivi day?). But after having seen the falls the way we were supposed to see it, we knew that it wasn't likely we'd come back.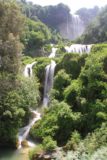 Indeed with this waterfall, it was a case of less is more.
So at 1:30pm we were back in the car. And next up was to go to the Torre Palombara (near Narni) to check in and drop off our luggage.
It turned out that the Torre Palombara was kind of in the boonies of the rolling fields of farms and forests. We'd ultimately get to the property at 2pm, and as Leonardo the owner was giving us a tour, we were quite impressed with the charm and vistas afforded to us of this place. Indeed, it felt like a taste of Tuscany in Umbria.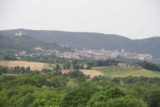 The vistas were towards the town of Narni, which was perched on a hill (where else?) while the landscape was fronted by large acres of lawn, crops, and other things that scream agriculture.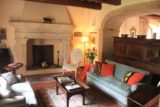 Leonardo also explained to us that this property had a bit of a history dating back a few centuries. He was the current line of the family that started this place. Leonardo also explained to us that the tower on the property (Torre is Italian for "tower") was important for communicating with neighboring towns (especially warnings of invaders).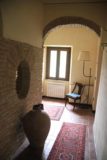 In fact, he said the dove was the primary carrier of messages, and so that was how the property came to be called Torre Palombara, where palombara meant dove.
At 2:35pm, we were done with the guided tour of the property and getting settled in, and now it was time to go to Assisi. We figured that if we could get that visit out of the way today, then we'd have options going forward in terms of knocking off the list of sights we wanted to see on our itinerary as we were getting to the Toscana section where I was pretty nervous about packing things in tightly on our itinerary.
I suspected we were some 90 minutes away from Assisi (though Leonardo thought it was only 1 hour), and we took a route that went past Spoleto and some other medieval villages perched atop hills. Julie and I were detecting a theme here as we saw medieval village after medieval village. Even Arpino was an example of this, and that was further south in Lazio.
So we were starting to get a little medievaled out though we suspected that Assisi would be yet another example of this. We also came to realize that Montepulciano, Cortona, and Lucca might be yet more examples of medieval towns (something that seemed to be a theme of lots of Italy's countryside).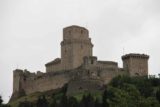 When we saw a large castle structure perched atop a hill that was signposted Spoleto, I really wanted to find a place to pull over and take photos. But given our haste to get to Assisi, the bad weather that was starting up again, and the lack of decent parking spots to enjoy looking at Spoleto from the ground, we zoomed by Spoleto and only had the memories of that place in our heads. Unfortunately, we'd have no photos of it.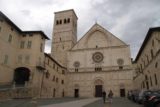 At 4pm, we were finally at Assisi. By now, we had driven through a combination of rain and wind though the weather wasn't as intense as could have been. Actually, when we parked the car near the Piazza Matteotti, the wind was quite strong and thus the weather was on the chilly side.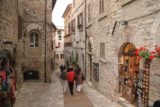 So we went ahead and walked into the town of Assisi. And as suspected, it was a mix of narrow cobblestone streets with tight alleyways as well as the odd church and clock tower here and there. And true to form, most of the main streets to walk were lined with shops, cafes, and other businesses as if it was an outdoor mall disguised as a medieval town.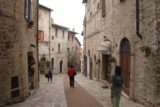 Nonetheless, the town was clearly charming, but I guess when you've seen several of these (as we have done in the last couple of days), they start to blend in with each other after a while.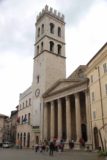 The walk to San Francesco's Basilica was pretty long and it contained undulations of uphill then downhill. It seemed like there were many nooks and crannies we could have explored as it became apparent that this was a very large medieval town.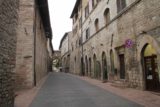 And given its high position, we could see panoramas juxtaposed with the city walls as only medieval Italy could present.
It was too bad the weather was threatening to turn sour because the vistas were quite grand.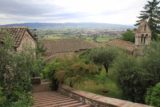 Anyways, we were also trying to make it to St Francis' Basilica before the crowd of very loud kids (whom we could hear from a few blocks away as they took a different route) would overwhelm the basilica.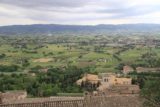 As we got to the impressive basilica, which looked like a large structure of white marble or something smoother than the cobblestone or stone edifices dominating the town, we could see there were steady streams of people coming in and out of the church as well as down below its lower exits as well.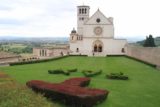 Looking out towards the countryside, we could see more of the panoramas that pictures just couldn't do justice.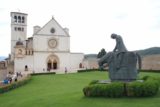 In the large front lawn of the basilica, there was a statue of a man on his worse with head down as if he was frozen in a pose of humility (either that or he was slumped over as if he was dead or something on his horse).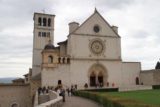 Inside the basilica, it was very grand but dark. I was very tempted to take a photo, but no photography was allowed inside. Silence was observed and we took note of the elaborate paintings or drawings all over the ceiling and the side walls. In a way, it was reminiscent of our experience in the Sistine Chapel.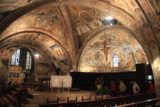 Then, we went downstairs where I managed to sneak one photo in before I realized there was another no photography sign. Down here, the ceilings weren't tall, but it was quite decorated with more frescoes or other paintings.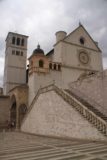 Then, we went downstairs another level into the tomb of St Francesco, where there was an altar with a tomb perched at the top of it. There was no way we could see what was in there given the elevated position of the tomb, and once again, I wanted to take photos of this eerie chamber but refrained.
Quite a few people actually paid their respects to St Francis as they'd make the cross gesture across their chest before going around the tomb or altar. Indeed, Catholicism was quite alive and kicking in the home of the religion over the past two millenia.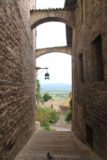 It was amazing how much infrastructure and extravagance was devoted to the cause as we had noticed examples of these things that have now become world famous tourist attractions, especially at the Vatican. I guess being non-religious folk, we probably weren't as impacted emotionally by the scenes, but the grandeur of it all made it easy for us to see why it was a huge part of Italy's tourism.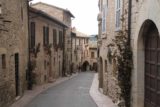 Unfortunately, we were seeking Nature and it seemed like Nature was harder to come by. Indeed, the only true back-to-nature experience we had was Cascata del Rio Verde near Borrello in the Abruzzo Region, which was quite a ways away from civilization. Any closer to civilization and you end up with Cascate del Liri or the manmade (by Romans doing the water diversion) Cascata della Marmore.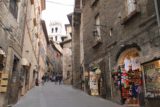 At 5:30pm, we were finally back at the car after a very long walk back the way we came. The rain didn't deliver during our visit so we did get some more photos of the atmospheric medieval town.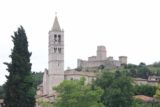 I think this place would've been even more atmospheric if they didn't allow cars here, but then again, there would be a good deal of walking (and carrying of supplies) without motorized transport within the city so I guess you just take the good with the bad.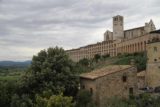 As we were leaving Assisi, we were preoccupied with trying to find a way to photograph the brilliance of the medieval town in a comprehensive way. There was no way to get that from within the town, but as we were making our way back down to the countryside below, we managed to find a large grassy field with a broad (but flat) view looking back at Assisi.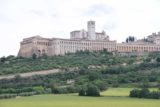 It wasn't quite the LP view which was further to the west of us, but given that it was getting late and we wanted to visit Narni before getting back to Torre Palombara, we had to make haste. So it wasn't until 6pm when we finally left.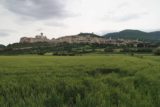 The drive back was on the E45 going the other way to complete a large loop. So it was a quick drive through some dark weather that included some flashes of lightning out in the distance. There were a lot of cars on the road, and it seemed like the E45 itself was pretty beat up for an autostrada that allowed a 110km/h speed limit.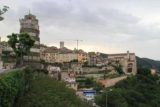 Julie and I noticed just how much better the A1 was and we reckoned that it was due to the fact that they collect tolls on the main autostradas while the E45 didn't collect any money. And it showed…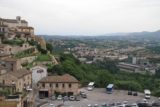 Eventually at 7:30pm, we finally made it to the medieval town of Narni.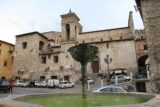 As Julie and I were quite medievaled out at this point, we only spent most of our time in the Centro Storico (Historical Center) and dined at a nice restaurant (kind of hidden away) with a second floor view of the fountain below along with the church behind the fountain. We could have done more hide-and-seek type exploring, but we felt there wouldn't be much more that we hadn't seen already so we passed on that.
Our dishes consisted of a very good duck dish as well as stuff chicken pieces dish. Unfortunately, both our stomachs were still suffering from the ill effects of food poisoning (we were pretty sure it was the seafood bucket from Chez Black's in Positano) so we knew it would be a risk to have the duck and chicken as opposed to sticking with the BRAT diet (bananas, rice, apples, toast).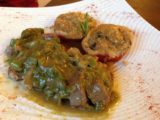 Other than the restaurant and the piazza at the centro storico, there really wasn't much more to this town visually in our minds. However, I knew from our pre-trip research that Narni happened to be the geographic center of Italy as well as the name upon which CS Lewis named a series of fantasy books after (since the Latin name for this town was Narnia).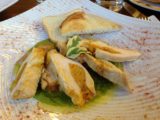 As we were eating, I could see there was some color in the overcast skies just as the sun was about to set. I really wanted to somehow photograph the square in a meaningful way along with the sunset lighting, but it just wasn't meant to be on this trip.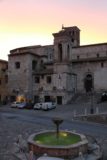 After a fairly lengthy walk, we were finally back in the car at 8:45pm. It was pretty much dark for all intents and purposes at this time, so there was a small bit of night driving that we were forced to do to get back to the Torre Palombara accommodation.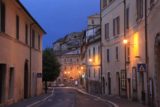 Eventually at 9:10pm, we were finally back in the room. Now, we could finally get to enjoy the villa we were staying at.
Day 8: THE HOLLYWOOD REALIZATION
It was about 7:45am when I finally awoke. Julie ended up waking up another half-hour later. It was very easy to sleep in at this place, but I knew we had some pretty serious driving ahead of us once we'd leave Torre Palombara.
As I took a look out the window, I could see that it was definitely raining this morning. It really seemed like bad weather tended to follow us no matter where we'd go or when (at least it seemed that way on all our Europe trips).
As I was getting packed and prepared for brekkie downstairs, my stomach was so upset that I spent quite a bit of time at the toilet letting the body try to dispel whatever it thought didn't need to be in my system. Julie also had to do the same thing once she was awake. Indeed, this was probably the first time that Julie and I have been on a trip where both of us were sick from food poisoning at the same time.
At 8:50am, I headed downstairs (thinking I was late for the 8:30am breakfast) to the bottom floor where there was still that familiar mood music playing in the background. There was a lady who was tending to the breakfast, and she was the one who helped make eggs to provide a little hot-cooked stuff for brekkie.
Other than that, brekkie was the same simple fare of bread, cereal, prosciutto, fruits, and desserts or at least sweet pastries.
When we were done with breakfast, both Julie and I had to pay homage to the porcelain god once again as our bodies had to dispel what we had just ate and drank.
Anyways, we ultimately got packed and ready to go, and in the mean time, we paid the bill.
Just as we were leaving, we engaged in another friendly conversation with Leonardo. The topic of the conversations were revolving around Italian life, holidays/vacations (especially in California since Leonardo really fantasized about it from old 80s shows like CHiPs, A Team, Dukes of Hazard, etc.). He had been to California once before when he said he was motorbiking along the Big Sur Coast towards Carmel, and based on that, we could totally see why he enjoyed his visit. Plus, I'd bet the weather was also nice.
We also talked about the crazy weather in which we were pretty certain that all this Global Weirding was taking place because of the unchecked effects of what we've been doing to cause Global Warming (or the imbalance of carbon released into the atmosphere versus the rate at which carbon sinks back into the ground naturally).
He shared a pretty funny story about being apprehended in Key West, FL that probably seemed like he was a victim of a little racial profiling while he was weaving through traffic on his motorbike (like the way Italians do weave through traffic on Vespas or motorbikes in Italy). In that story, the cops forcefully pulled him over, put him in cuffs, called the Italian Embassy, and thought he was a drug dealer…
Basically, he said he was quite scared at the time as he could've very well been locked up abroad in the States.
It wasn't until about 11:05am when we finally had to break off our conversation with Leonardo, load up the car in the rain, and get going. Still, we could've just talked indefinitely trading travel stories and grow some more in the process. We were genuinely interested in hearing the differing perspectives, and this is what we contend has to be one of the more rewarding aspects of travel.
At first, we thought it was a wise idea to take the E45 to the A1 before making our way up to Cascata del Sasso, but when we saw on the GPS later that there were red lines (meaning freeway or autoroute) that were more direct along the E45, we eventually turned around and did that. So that ended up being about a 30-minute out-and-back detour before we finally made forward progress towards the goals of today.
But as for the drive heading north on the E45, it was somewhat familiar since this was the way we took going back from Assisi last night. And once again, it was a combination of uneven roads with a few minor potholes (kind of like at home) except the speed limit here typically was 110km/h. And so we were reminded of how free roads like this tend to be missing something while the autostrada collects tolls with dramatically different results in the road conditions.
Most of the drive going up the E45 was pretty much in nonstop rain. So I guess that couldn't have helped matters in terms of the road conditions either.
We would eventually get off the E45 near San Giustino and then take the E78 along some very twisty roads as we went back into the mountains and into the misty low-lying clouds. Once we were on the other side of the pass, the twisty roads eventually gave way to a more straightened out road along what appeared to be a long and broad valley passing by a few more towns until we reached the town of Sant'Angelo in Vado.
The GPS had us turn right on some road for an industrial zone, which didn't look right to us. So after making a U-turn, we went back on the E78 and kept going east until the GPS kept telling us to go back as we were now well outside of Sant-Angelo in Vado and heading towards Urbania.
When we eventually made it back to the place we turned off the E78, we noticed a Cascata del Sasso sign on our left. Funny how that sign was visible as we headed west but was nowhere to be seen when we were headed east on the E78. I guess most visitors to the falls would probably come from the Adriatic side of Italy (or at least that was what must have been assumed).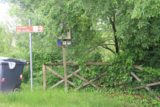 Anyways, now we were able to follow signs (which were consistent with what the GPS was telling us) and we would eventually make it to a signposted pullout (at 2pm) where one look to our right from within the car showed a pretty obvious viewing area on grass with a bench.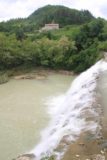 By now, the weather was starting to clear up a bit though the grass was still quite wet.
After getting my camera and letting Julie stay in the car to rest, I then went to the overlook and noticed that I was right above the waterfall. The view from here was on the disappointing side, but when I looked down at the base, I noticed a local who was angling by the shores of the river.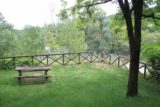 I wondered how he was able to get down there, so I explored a little bit as there was a faint path that descended towards the concrete section right at the top of the falls (stumbling through what looked like poison ivy, which was not good as I was wearing Chacos). But that was the end of the scrambling as there was no way to continue descending further.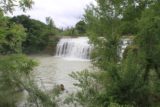 So ten minutes later, I was back in the car. I took out our laptop and double checked our research notes where I noticed there was a way to get to the base from an abandoned stone mill. I wasn't sure what this stone mill looked like, but I wondered if they were talking about what appeared to be someone's home below where the angler was chilling out by the falls.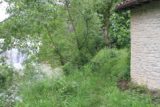 So this time I grabbed my tripod, walked down this unsigned road next to that building I saw earlier, and as I went lower on the road, I immediately started to see more improved views of the falls (albeit with trees in the way).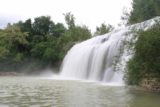 I found a path that went behind the building and that was when I saw the angler heading back up with a smile. He said something to me in Italian that I couldn't understand, but it seemed like he left the place to me all alone. I wondered if he left when I showed up because I did see signs in Italian saying something about not killing anything, and perhaps that also meant no fishing down here.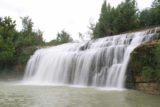 As I got towards the bottom of the path, it started to disappear. Immediately below me, there were some very steep and sketchy-looking paths that were clearly muddy and probably didn't look doable, especially on a day like today when the weather ensured that everything would be wet and slippery. So I continued forward towards the cliff wall that gave rise to the falls, and I saw how the descent going down this way was far more tame to get me right down to the base of the falls.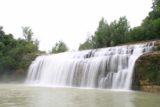 Once at the base, however, I then had to boulder my way towards improved views, but that was when I was once again confronted with poison ivy exposure as well as very slippery surfaces on the boulders themselves as well as some mud on the ground.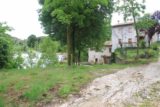 But at least the reward for my troubles down here were far better views, and now I could finally say that this waterfall was definitely worth coming out of the way for. It was a short 15m or so tall waterfall, but it was much wider so it was that block-type waterfall that Julie tends to like.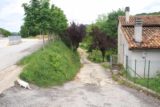 Plus, this waterfall seemed like it was in a naturesque setting though all that industrial development further uphill from me made me wonder if the water quality might have been impacted somehow. After all, the water was kind of a milky greenish color so I wasn't sure if that was just mud from the rain runoff from this morning, or if there were some chemicals that were also dumped in here.
Whatever the case, the block waterfall was attractive and I spent quite a bit of time trying out compositions and even taking shots with my tripod.
At 2:55pm, I finally returned to the car. The scramble back up was probably more drama than it should've been because I actually tried to ascend one of those steep muddy paths when I realized how futile it was. My clothes and even my tripod and camera bags collected a bit of mud as well as my hands.
When I rejoined Julie in the car, it turned out that she also got out and took a few photos of her own on her iPhone.
So we took off and now headed towards Cortona which was one of the Julie's medieval villages that she picked because she knew it was a film location of the movie, "Under the Tuscan Sun." But I had this forebidding feeling that Julie would be disappointed because of built-up expectations from the movie only to learn that reality would be far different than those expectations. I hoped that I was wrong.
We once again followed the GPS west on the E78, which took us back over the twisty mountain pass. Then, we drove through San Giustino before continuing west of the freeway. I wasn't sure why the GPS had us skip the autoroute, but at least the route looked like it was taking us directly to the town despite the fact that there were no signs indicating as such.
My stomach was killing me during this drive because it was very gassy and it wanted to let go of more stuff as diarrhea. So I held it in until we got to some random town with a gas station along the rural road that we took. Fortunately, this gas station had a toilet seat and I was able to do my business while also filling up with benzina for the car as well.
The attendant didn't speak any English but we made some superficial small talk in Italian and he seemed genuinely surprised that I was able to hold my own with him in Italian. That kind of boosted my confidence a bit though I had a feeling that as we were heading towards Toscana, there would be more English spoken because the area had gotten some heavy exposure from Hollywood.
We'd eventually drive through more winding mountainous roads through forests of green again. I started to wonder if the GPS took us on another unnecessary detour. But we'd eventually head to a part where we started to see another medieval village perched atop a hillside with another castle off on top of another hill. It was too bad that we couldn't stop to pull over given the narrowness of the road because this would have been quite the place to take a photo showing such medieval villages juxtaposed with expansive vistas.
At first Julie thought that was Cortona. But when we got to a car park next to this village, we realized that it said something to the effect of "Madonna in Bagno." And since Julie had her heart set on visiting Cortona, we kept going.
We'd eventually start to see Cortona signs at this point, however, and so we followed the signs. We'd eventually get to a spot where we found some free parking at Cortona at 5:10pm, but truthfully, the view of the town from along the roads we were driving didn't look as impressive from its exterior as that Madonna in Bagno place we passed by earlier.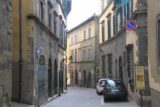 As we went through the arched entranceway nearest to us, we'd eventually get past the Piazza di Signorelli and then into the Republic Square. The latter was where there were lots more people with cafes and shops surrounding the perimeter of the compact square. Watching over the area was a big church-looking thing with a bell tower, I think.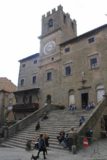 Certainly, we could've have explored some more of the alleyways branching off from this square, but Julie and I were already underwhelmed if this was the place to be in this village. So we then started to head in the direction where there might be some panoramas. We'd eventually get to the Museum of the Diocese, and that was where we caught some vista of the Tuscan countryside though the patchy clouds above us were causing shadows that compromised our photos.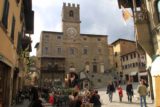 I suspected that we would hear more American voices while we were here, and I was correct. Julie overheard someone talking about buying sunflowers, and that jogged a memory in her as she revealed to me that that reference came from the movie. And based on that observation, I came to realize that those novels or movies were really nothing more than creating expectations for their audiences. That random girl was an example of this, and I had a pretty good perspective from hearing Julie talk about this place.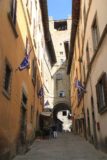 So given all this, I now came to the realization that this place was really nothing special, especially since we thought we visited better medieval villages like Arpino and maybe even Narni. Assisi was clearly head-and-shoulders above most of the medieval villages we visited to this point.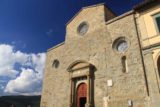 Indeed, I had concluded that most of the medieval villages that were shown in movies were probably chosen not because they were extraordinary in terms of scenery, but perhaps it just so happened to be where the producer or writer or whoever was staying or visiting. Or maybe it was a cost thing. Who knows?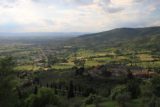 After a brief failed attempt at trying to go up to Santa Margherita Sanctuary which had a bit of a climbing path to some fortress, we decided to just leave and head towards Montepulciano where we were staying.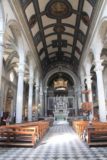 So at 5:55pm, we were back in the car and made our move.
It wasn't until around 7pm that we made it to Montepulciano. It was a good thing that there were signs pointing the way so that created a bit less confusion about how we were going about doing this drive as it was mostly consistent with the GPS. Along the way, we passed through some rolling hills that kind of fit the stereotypical Toscana in much the same way that Julie expected when we first went to Provence in France.
Now I was forewarned by a coworker who had driven here before that he had lots of trouble trying to drive close to his hotel in this town while on his honeymoon. So he had to eventually drive the wrong way or something and possibly get a fine.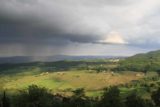 But since Julie and I were no strangers to parking our car and walking into the village with our luggage (even if it included cobblestone steps), we found car park #7 and did just that. And after a bit of a hike that took us through the main piazza with the familiar clock tower that Julie instantly recognized from the Twilight movies, we'd eventually make it to the Via Ricci street where we then descended the street towards the Camere Bellevista, where we'd be staying for the next two nights.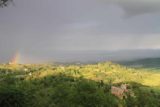 The door was locked and we had to use the intercom to summon the receptionist. During the wait, I took a few panoramic shots from the Piazza di San Francesco, which was a small square fronting a church nearly adjacent to the accommodation. There were some cars parked here with signs saying the spots were reserved for the accommodations near here, including the Camere Bellavista.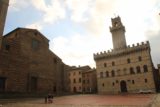 Anyways after about 5 minutes or so, the receptionist drove up to us as we waited in front of the ingresso (entrance) of the property.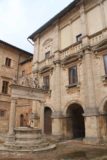 After getting the formalities out of the way, the lady showed us to our room, which was initially Room 112. But after Julie realized that this room didn't have a few, she asked if we could get a room with a view and that was when she told us to get room 7.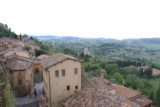 Once Julie went up there to check, that was when she was happy as she got the vista she envisioned when she was reading TripAdvisor reviews in selecting this place to stay.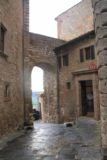 So at 7:50pm, we were finally settled in the room. The receptionist gave me a map and told me how to get to the car park that I had observed earlier. So Julie and I next went down to the car park #7 to recover the car.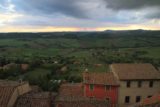 We could see that we were surrounded by some mean-looking squalls as we went down. And after getting our car with the permit in hand (that the receptionist gave us), we then finally parked next to the accommodation at 8:10pm.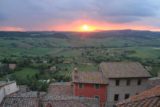 I then contended with more bouts of diarrhea and discomfort, and the timing couldn't have been worse because Julie ended up observing one of the most surreal sunsets she had seen. All I could do was listen to her descriptions and rely on the photos that she took.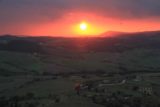 It wasn't until I was finally done with the porcelain god that I went out to see for myself, but by then, then sun was gone. Damn!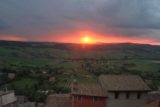 We had a late meal as we walked in the rain at around 9:25pm. The food wasn't that great as Julie wanted soup and it ended up being some kind of stew that was cheesy and was threatening to make Julie throw up. I had some Pici al ragu, which was a thick spaghetti with ground meat.
By around 10pm, we were back in the room, when we could finally call it a day. The weather forecast said more unsettled weather for the next two days at Pisa and Florence, but better weather in Venice. Unfortunately, by the time we'd reach Venice, the forecast was said to return to bad weather. Why is it that our timing always works out this way?!?
Day 9: MY NAME IS LUCCA
It was 5:45am when I awoke to another bout of diarrhea, but at least the system seemed to be stabilizing finally. Unfortunately for Julie, I heard her vomiting multiple times last night so clearly whatever she was fighting was still getting the better of her.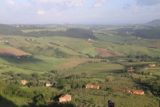 She eventually got up at around 7am. When she opened the shutters and looked at the view, we were relieved to at least see some sun looking out towards the rolling hillsides that was quintessential Toscana. That gave us some hope that at least our day trip to Pisa and Lucca today would at least have some chance of agreeable weather.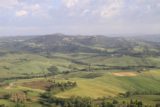 We finally got into the car and were on our way to do the long day trip at 7:50am (skipping brekkie in the process since our stomachs were still unsettled). The first order of business was to get to the autoroute A1, which promised to be a very quick approach to get to where we needed to be. But along the way, we noticed this attractive cathedral just outside the city walls of Montepulciano basking in the soft early morning sun backed by some blue skies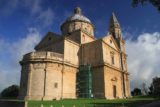 It took probably nearly 30 minutes before we would make it to the autoroute, and as we were zooming along at close to 130km/h, we noticed that we were leaving the partly cloudy skies of Toscana and headed right into some sporadic mean-looking squalls. Some of them even produced lightning!
We really hoped that the weather might not be as foul as this by the time we would make it all the way to Pisa.
The only other drama on the autoroute was the prospect of getting caught by the automatic speed cameras (as always).
Anyways, as we made it out of both the A1 and A11 autostradas (or autostrade, which is plural in Italian), we paid about 12 euro for the right to really save on time on the high speed autoroutes. And once we were within the city limits of Pisa, we pretty much followed the signs for Torre Pendente (that's Leaning Tower in Italian) and especially paid attention to the parking areas.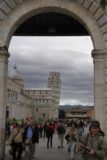 We'd ultimately stumble upon a parking area labeled Torre Pendente at 10:30am, and we were at first skeptical that this place might not be the best place to park since there were a handful of hawkers here as well as lots of empty spaces. Could it be this empty for a reason?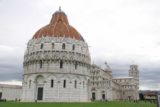 In any case, we grabbed the green token, got our stuff, and proceeded to walk in the direction of Torre Pendente. After less than 5 minutes of walking, we passed through a city wall entrance and saw before us a large crowd of people spread out around the Leaning Tower of Pisa.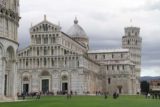 With this being my first time in seeing the marble white tower, I could totally see why it was indeed an iconic attraction. I initially thought this thing can be skipped, but I came to realize after seeing the leaning pagoda in Xi'an, there's just no way any other tower compares to this.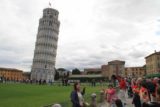 For starters, this pearly white tower had those classic columns that gave it character. Secondly, it had a very pronounced lean that made us wonder how on earth it could still stay up. We imagined that there was quite a bit of effort to reinforce the tower with the lean since it was a major source of tourism money.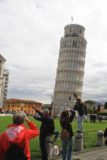 I was quite amused that there were many people putting their hands up to the air in an effort to take that photo where it would look like the smiling person would be holding up the tower. I tried to capture this comical scene in a context shot of people pushing the air, but the problem was that not enough people were doing it at the same time to really make it interesting.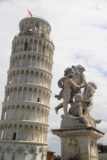 Julie had me go ahead and do that shot for her. I felt stupid being an accomplice in this activity, but at least we got that quintessential touristy photo of Torre Pendente.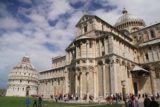 We then spent some more time walking around the complex to check out the other attractive buildings (indeed this place was more than just the tower) including another duomo and some elongated building between them.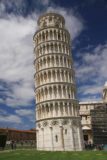 The sun was kind of against us from one side where the lean was pronounced so we went to the other side. There was a hideous chain-linked yellow-and-black fence that was in the way, but at least the polarized lighting and the sun that finally came out made this photo work nonetheless.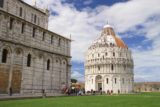 We eventually left the area at 11:50am after Julie had a hot dog that I knew she was going to regret later (though she was already sick of Italian food at this point).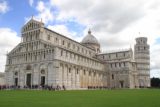 Anyways, we were quite surprised at how easy this visit was considering Julie's rushed tour bus experience several years ago. But with this icon of Italy done, we could now set our sights on the next attraction, which was the walled city of Lucca.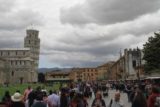 After following the signs for Lucca (instead of taking the autostrada), we'd eventually get to the city of Lucca and its traffic. After a brief difficulty in finding parking that I thought was close to one of the walled entrances, I ended up taking the Parcheggio Partucci (arriving at 12:45pm).
We then fed the machine expecting to spend no more than two hours here, put the ticket onto the dash of our car, and we were off for the walk.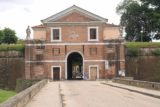 It turned out that we parked not too far from the gate called Porta di S. Donato. Apparently, there was a consistent amount of traffic they let through into this Zona Traffico Limitato (ZTL) where I knew I didn't want to risk getting fined by going in without any advance notice.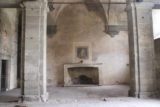 Anyways, we went through the fairly long gate where there seemed to be traces of some past use as there were columns, arches, and even some old fireplaces and murals here. It was definitely something that could have easily been overlooked given the stress of not getting run over by the cars in this narrow corridor.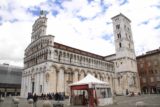 Then, once we were inside, we busted out the LP and followed its map towards the Via S. Croce, which seemed to be the main thoroughfare cutting right across the heart of the historical center of Lucca.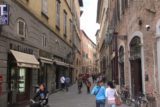 As I had suspected, this corridor where some cars were let through also had featured shops on either side. And it once again confirmed my suspiscion that this was yet another shopping mall disguised as a charming city center. Boy do the Europeans (especially the Italians in this instance) really know how to monetize their history. Perhaps that might be the main reason why pure Nature in the country tended to be so far flung away from civilization and so underappreciated.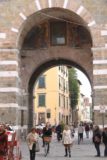 Eventually, we passed by some interesting piazzas (which by now we were figuring out that these tended to be the most photogenic spots of any historical center) before we exited out the eastern gate.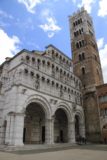 So seeing how we intended to see another square (Piazza S. Martin, I believe), we pretty much followed some lesser-trodden alleyways in search of the piazza that we had yet to see. I even fancied walking along the city walls (ala Dubrovnik), but the walls of this city seemed a bit lower and the buildings here were rather modern.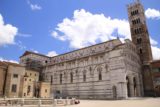 When we finally reached the impressive Piazza S. Martin, we got our shots of the tall church and tower as well as the fountain. And then, in our medievaled out state we were in, we uncomfortably (due to our persistent food poisoning symptoms) ambled about back out the Porta di S. Donato and eventually back to our car at 2:15pm.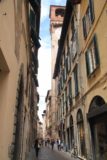 Julie and I couldn't figure out why LP considered Lucca "love-at-first-sight" as this town was too modernized, busy, and less charming than most of the towns we had already seen. We had trouble seeing the appeal and concluded that LP oversold this place.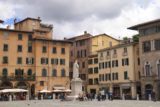 At this point, we were content to go back to our accommodation in Montepulciano and bypass the so-called "Top 3 Foodie Places", which would not be a sure thing and was quite a detour.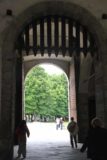 The drive along the A11 and then the A1 on the same route we had taken this morning was once again pretty smooth and event free. The skies were mostly a mix between patchy clouds and sun, and when it was around 4pm, the GPS told us to take an exit that was quite far north of Montepulciano.
Thinking this was a mistake, I kept going along the A1. But then I realized that the GPS had us take a fairly roundabout way to get to Montepulciano from an exit that was way south of town. Clearly, there was no direct exit to the autostrada, and now instead of being back at our room at around 4:15pm, it was going to be on the order of 4:35pm.
To add insult to injury, the exit we took did not have a manned kiosk. So not wanting to risk having the machine eat my credit card, we had to put in 12.80 euros of cash. That really sucked as we were running low on cash already.
And sure enough it wasn't until about 4:50pm when we parked in the familiar spot by the Church of S. Francesco (hoping we wouldn't somehow get a ZTL fine after the fact despite the hotel endorsing us to use their spot).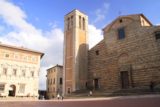 Our arrival back to our room couldn't have come soon enough as I needed to use the toilet once again as I had to battle yet another bout of diarrhea. Boy this being unable to hold our food down on this trip was really getting old fast.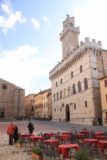 Still with that said, we headed back out into town at 6pm. In the process, we paid for our room, which unfortunately was only accepted in cash at 150 euros. That pretty much depleted just about all of our cash reserves, and now we were in worry mode as we weren't sure how we were going to exchange money between now and the full day we'd be in Florence (two days from today).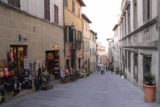 After being silly trying to photograph the Grande Piazza where Edward was supposedly trying to expose himself as a vampire in the New Moon movie, we then walked down the main thoroughfare towards the bottom where we once again walked through more mall-like passages.
We'd eventually settle on this trattoria at the bottom of the hill because they were open, and we wanted to have an early dinner so we could get back up to our room in time for sunset.
Our food was actually decent as Julie's soup really was soup this time, and the duck I had was like duck confit. The bruschetta that had garlic left a little to be desired because the garlic was brown and had a bit of a weird sour taste. I knew from my French language lessons that overcooked garlic meant sour taste, and this was definitely the case.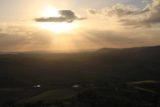 We constantly worried about diarrhea and not being able to keep the food down as we ate. And when we settled the bill and left, it was about 8pm when we finally made it back up the hill to our Camera Bellavista room.
And it was just in time as Julie went right into the toilet to do her visit to the porcelain god.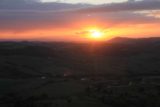 The rest of the day was spent trying to duplicate yesterday's gorgeous sunset. This time it was my turn to observe it since I was incapacitated more or less yesterday. Meanwhile, Julie was preoccupied with internetting from downstairs because somehow the router we were supposed to connect to in our room wasn't operational (i.e. we couldn't connect anymore).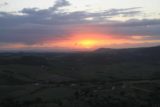 It turned out that sunset somehow didn't seem as dramatic as yesterday's, but it was still beautiful. I actually had more trouble trying to figure out how to capture the colors of the sunset without having the foreground subjects too dark. Conversely, I also had trouble trying to resolve the rolling hills and buildings in foreground without washing out the setting sun. In any case, I did what I could and that as that.
So with that, we pretty much called it the end to this rather long and very chilly (especially in Montepulciano) day. Tomorrow, we march on to Val d'Orcia with a tour to Siena. Even in our medievaled out state, we mind as well check out that place since it was so famous by so many sources. We'll have to see for ourselves. Then, Val d'Orcia was said to be UNESCO so we'll have to see that for ourselves, too.
Day 10: THE RETURN OF OUR APPETITE
It was 7:15am when I awoke up. I had a pretty restful sleep considering that I had slept before midnight for once. I couldn't say the same for Julie because she was compelled to wake up at 3am to diarrhea out more stuff she ate the day before, and then she had some difficulty going back to bed.
When I opened the windows to look outside, I could see that it was still quite cold. It didn't take long before the weather started to turn for the worse and started to rain just as I was starting to load up the car at 7:30am.
It wasn't until 8:15am when we finally left the Camere Bellavista accommodation as we returned the ZTL (Zona Traffico Limitato) permission form (in which we also photographed just in case we need to furnish this record if the rental car company tries to ding us for going into a ZTL area).
With the wet cobblestone streets and steep inclines, I was a bit worried about the tires possibly slipping on the roads, but we'd eventually get out of Montepulciano without such difficulties. We just kept the manual transmission in first gear on the inclines and gradually made our way down without relying too much on the brakes.
We drove towards our next accommodation knowing that it would be too early to check-in. But our intent was to leave our luggage at the accommodation so there would be nothing valuable in the car when we would go to Siena, which was the city that we targeted for today.
The drive was pretty much a combination of rain and some pockets of fair weather. We were weaving through some rolling hills full of long expanses of farmland sprinkled with some Tuscan villas and cypress trees.
This was the Toscana that Julie was sold on when we made a booking to do a farm stay in this region. And we couldn't wait to experience a taste of this Tuscan experience today. Of course, the weather looked like it was doing its best to not cooperate with us.
When we got into the town of San Quirico d'Orcia, we knew we were getting close to the location of our next accommodation at Agriturismo Il Rigo. However, it turned out that the GPS got confused about which road we were supposed to take to get to our farmstay turned bed and breakfast.
After seeing a service station, I asked the attendant there in Italian where the place was after showing him the address on our confirmation printout. He pointed the way saying it was 2km further down the main road from his station, and so I went by his advice to eventually find the turnoff we were supposed to take (as well as the Agriturismo Il Rigo sign).
That took us on an unpaved road with quite a few potholes, and after another kilometer or so of driving on this rural road, we got to the Agriturismo Il Rigo where there were other cars parked here. We arrived at 8:55am.
Apparently, this wasn't the low key farm stay that I envisioned from seeing on a Rick Steves DVD. Instead, this was more of a farm that was run like a B&B in which we saw an example of this in Iceland.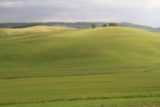 When we walked into the reception, we saw there was a large group of Germans who were on their way out. The receptionist was speaking fluent German to them, and that made me wonder if this guy was a very multilingual person who could converse in many languages with his clients.
Well, it turned out that he himself was German (tedesco) and he was related to the family that owned this property. So that explained the fluent German being spoken.
Anyways as expected, it was too early to check in to our rooms, but we were allowed to leave our luggage. So after doing that, we then drove off for Siena at 9:30am.
The drive to Siena was all along rural roads and even one small stretch of autostrada where the top speed was 90km/h. The drive was a mix of rain and calm but overcast weather. And I feared that we might have to be touring Siena in some foul weather.
We'd eventually get to Siena at around 10:30am and the weather was pretty calm at the time.
However, it took us some time to figure out where were supposed to park that made sense. This was complicated by the fact that I was very afraid of driving into ZTLs where I knew there would be hidden cameras to nab any unpermitted vehicles in the act. So I refused to go anywhere that I saw that red circle sign with white filled in the middle even if there might be signs saying there were more Parcheggios (Parking Lots) past those signs. I just wasn't willing to take that chance.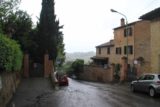 By the time we finally found parking near il Duomo (at least according to the signs) at 10:40am, it was now pouring rain.
So Julie and I tried to wait out the pouring rain by putting on waterproof pants, hiking boots and wool socks, and don our rain ponchos (just in case). By the time we were done doing that inside the confines of the small Fiat Panda (our rental car), it was about 10:55am, and the rains were still falling.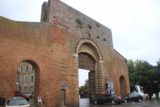 At this point, we got out of the car, Julie went to the nearby parking machine to pay for two hours (since our visits to towns like this generally took no more than that amount of time), we then put the ticket on the dash of our rental car, and then we headed through the gate called Porta di San Marco as we entered the revered town of Siena.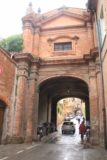 Even though Julie and I were quite prepared for foul weather like this (as evidenced by our donning our rain ponchos to protect our stuff from getting wet, and the waterproof pants to keep our exposed parts of our legs from getting drenched), the brutto tempo (bad weather) really put us in a mood that made us think that Siena might be just like another one of those medieval towns we had seen up to this point that all started to blend in to one another.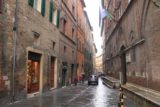 We really adopted a wait-and-see approach with Siena and it was up to the town's charms to prove to us that it was worth the hype.
And this train of thought persisted as we made a bit of a walk trying to follow signs for Il Duomo.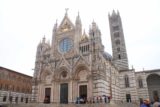 But all that changed when we finally made it to Il Duomo and realized that it was no ordinary Duomo (Cathedral). Unlike the other cathedrals we've seen, this one was decked out in whitish marble. It also had a rather grand and elaborate facade that my words just can't do justice in describing it. Plus, it was grand to the point that we needed more than a wide angle to get it all in one shot plus some context.
Even though the heavy rain persisted (making photo taking under this condition difficult), we took photos from against a wall opposite the cathedral where there was a small awning or roof protrusion that helped us a little bit with taking photos without the rain causing too much of a nuissance.
Then, we walked across the piazza and towards the cathedral when we realized that we had to buy tickets to get in. That was when we followed the signs, which pointed us to the right side of the cathedral and we saw a large crowd of people waiting to get their tickets while most of them were standing in the rain since the queue went that far.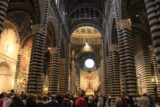 We could see that quite a few of these folks were on tours so apparently our arrival just so happened to coincide with tour groups.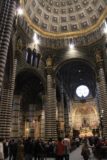 Anyways, the line probably took around 15-20 minutes or so before we finally got our all-inclusive pass at 12 euros per person (with one line accepting credit cards while the shorter faster line took only cash).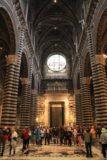 Once we had the tickets in hand, we went proceeded to go right to the entrance of the cathedral. And once we left the pouring rain, we joined the crowd of people already within the cathedral where the rain would not play a factor.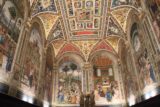 Indeed, this cathedral was grand just like some of the other cathedrals we had seen in Rome (St Peter's Basilica comes to mind). It's hard to capture the grandeur of the place in a single photo, though I'd imagine Julie's stitched photos on her iPhone 5 should communicate the grandeur of the place quite nicely.
After taking a short stroll checking out some of the side displays, painting, the main altar, and even some of the elaborate flooring, we then went into a couple of the side chambers.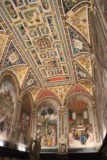 One chamber had a pretty grand room containing a bunch of paintings or drawings on the large ceilings and walls.
The room to the left of the marbled muraled room was a bookstore and some toilets that Julie used.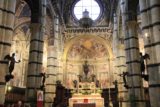 Once that was done, we headed back out to the exit of the cathedral. And by the time we were back outside, it seemed like the rain had let up.
Next, we then entered next to the ticket office where there was the museum of the opera. That was where our tour continued as we showed our tickets, and then entered the next series of rooms.
The next room went into some dark arched area that had statues, but they didn't allow photography in the area. That was a pity because I thought it was a pretty atmospheric place that owed itself to taking at least one non-flashed photo.
So when we had our fill of this place, we then followed some stairs up to another dark room where they didn't allow photography. That dark room featured a bunch of oil paintings where people sat and watched or slowly strolled by in silence. There were two back rooms that showed a few more scrolls and other artifacts.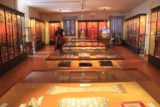 We then went up some more steps towards some room of treasures. This series of rooms housed a collection of gold and crystal artifacts. At least they allowed photography in this room, but it wasn't anything that special in photographs.
Next, we followed the signs to the panorama view. But just as we were about to have some momentum as we moved, we were stopped before a long queue just as we were turning a corner. It turned out that there were people here controlling the flow of people, and I'm imagine that there wasn't going to be much space wherever this vista was going to happen.
So Julie and I patiently waited here for probably another 20-30 minutes. We weren't sure if it was worth the wait (especially since our two-hour parking window was running out), but we figured we mind as well just wait it out since we were here already.
We occupied ourselves by flipping through Julie's stored iPhone images, especially of pictures of Tahia. Even though we were about a week-and-a-half into our Italy trip, we were sorely missing her. We knew this would be the most difficult part of the trip (being without her), but we also knew that it was necessary since it would be next to impossible to explore as much of Italy as we were doing with her, especially when she wouldn't remember anything at this age.
When it was finally our turn to join the group to go up (we were preceded by two groups), we went up some staired corridors before walking up a series of spiral steps that seemed to go on forever. The spiral steps were very tight and we could immediately see why they had to regulate traffic the way they did.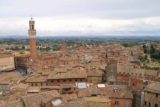 When we got up the first long series of spiral steps, another employee told everyone that we had ten minutes to go up to the very top, do our business, then head back down.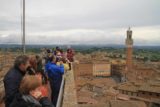 And so when we did that, we went up another long series of spiral steps. But when we finally made it up to the top of the steps, we were on a very narrow walkway with open air all around us. More importantly, we had nearly 360 degree views of the city of Siena.
To one side, we could see Piazza del Campo (or il Campo for short) with the famous clock tower rising high up above the lopsided semi-circular square.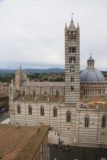 To another side, we could see the Duomo though there was a hideous crane in that direction as there was some restoration work being done.
The rest of the inspiring panorama was filled with red rooftops (kind of reminiscent of Dubrovnik in Croatia).
And even though the skies remained ominously overcast and gray, the panoramas were definitely worth the wait. Now, we understood why so many people were willing to queue up for this panorama.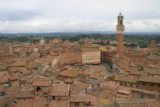 As Julie and I were busy taking our last bit of photos, we ended up being the last pair on our group to leave. As we got down the spiral steps, we snuck in another series of photos towards the Piazza del Campo after asking the employee at this level, "Posso?" (Can I?)
Once we had our fill of this lower panorama, we then went back down the endless spiral trying hard not to trip and fall, and then we finally went past the next long queue waiting to get in.
That pretty much concluded this part of the cathedral visit, but we still had the Crypt and the Battistero to go.
The Crypt was in another entrance to the cathedral just underneath a marbled archway by some marble steps. I knew full well how slippery the surface can be given how wet everything was as we walked the steps, and then we flashed our tickets to get into the crypt.
Once again, no photos were allowed in this section. So we basically soaked in the eerie atmosphere of the place before heading back out.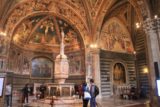 As we went down another flight of steps closer to the bottom, we then entered the Battistero, which was another room with some dome-like ceilings and some altars and statues adorning the floor of the room. At least we were allowed to take photos here, so we did.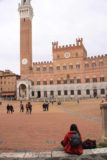 Now that we had our fill of the cathedral (we weren't going to do the 6th attraction, which was in a different part of town), we finally continued down the marble steps and down a throughfare alleyway towards the Piazza del Campo.
Julie had a craving for food so we stopped by this pizza-by-the-slice place on the way down. This would be a test of whether our stomachs had recovered from the food poisoning or not.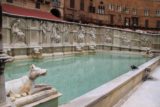 After they heated up the pizzas, we paid the euros, and took the pizzas to go, we then walked down the cobblestone ramp to descend into the grand piazza.
There were a lot of tours here as well as the general bustle of many people all converged in the heart of the city.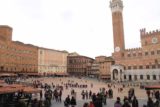 And like the many students who would come here to chill out in the piazza while picnicking, Julie and I sat on the floor on the perimeter of the semicircular piazza and did just the same as we enjoyed our pizzas.
Speaking of which, Julie actually liked these re-heated pizzas better than what we had in Napoli because she liked the crispier crust (something that was lacking in Naples since they tended to make their pizzas more doughy). Whatever the case, I just savored the fact that we got to chill out in Piazza del Campo and just soak in the atmosphere over some takeaway pizzas.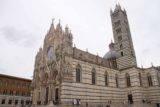 When we were finished with the pizzas, we briefly took some time for some more photos before we tried to retrace our steps to go back to the parking area where we left our rental car.
Our memories were very important in this instance because we didn't really have a map with us (though LP could've been handy had we chosen to use it). Nonetheless, we were successfully able to get back out of the main thoroughfare of tourists before we ended up in some pretty quiet streets that included a couple of grocers.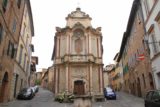 Julie stopped to buy some bananas and cherries at this store that sold produce at a very reasonable price (4.5 euros for all the produce that we bought).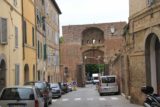 And with that, we'd ultimately return to our parked car at 2:25pm, which was 90 minutes past the expiration of our parking ticket we displayed. Now we didn't see any parking tickets on the car, but that's not to say that a cop came by, made a call to the car rental company, and dinged us that way. I guess we'll have to find out what would happen next once we return the car in Florence or perhaps even afterwards when we get home.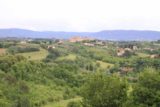 At 2:30pm, we left Siena and headed right back to Agriturismo Il Rigo.
The drive started off calm, but I knew we were heading into some inclement weather. And by the time we got to the farmstay at 3:25pm, the weather was quite brutal as there were some fierce winds combined with heavy rain.
It seemed like we just couldn't catch much of a break with the weather no matter where we go in Europe. Indeed, in 2010, we had lots of rain in parts of Greece, Croatia, and Switzerland. In 2012, our France trip was mostly dominated by rain. And in this trip, we were seeing rain just about everyday since we left Rome and Campagnia. The funny irony was that the one year in 2011 when we didn't go to Europe, they were having a drought. Go figure…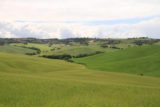 Anyways, we were finally checked into our room at 3:55pm. It turned out that we were staying in an annexed room so we actually had to get back into our car with our left luggage, then bring all that stuff to the annexed building. It turned out that the annex was that picturesque building atop a grassy field that we had photographed earlier.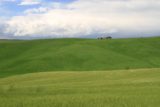 Just as we were getting settled in our room, the weather finally started to calm down a bit. That left us an opportunity to take some photos of the surrounding countryside again. And when that was done, we were finally getting settled in as we were chilling out in the public living room.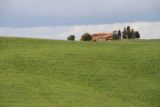 At around 5:10pm, the brief period of calm weather passed. Now, the rain and winds came back in full force. I even noticed there was some hail and lightning!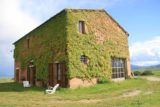 The winds were so strong that I wondered if there could have been a tornado possibility here.
In any case, it was nice to know that we could chill out in the coziness of the warm living room while watching the inclement weather drama outside. Sometimes the lights would flicker as the winds would be howling and the rains would come in horizontally.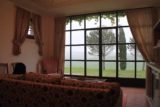 But then at 5:50pm, the storm cell had finally passed. Sun was breaking through once again, but I could still hear thunder cracking from time to time. Who knows how much longer this brief period of calm would last until the next storm cell would hit?
At 6:45pm, we got dressed in our casual dinner attire (the first time we did this over our typical hiking clothes for the entire trip) and drove back to the main area. The weather remained calm though I knew it was only a matter of time before the next big storm cell would hit our area.
When we entered the dining area where there was Wi-Fi, it turned out that there was a large group of Germans already there, and it felt like Julie and I were the only non-German speakers in the place. Clearly, this farmstay location seems to get mostly German-speaking clients, but somehow I got the sense that all the people here kind of knew each other.
So while all the commotion and socializing was going on (mostly in German with some English sprinkled infrequently here and there), Julie was busy reading on her iPhone while I was tending to business on the laptop. As much as we tried to Skype Tahia, nobody was picking up back at home. So we spent the next hour pretty much going about our business using the internet.
The fixed dinner was scheduled for 7:30pm, but we didn't really get started until around 7:45pm.
The meal was said to be traditional Tuscan dinner that was cooked by the girlfriend of the German guy who ran this place. The menu said that she was schooled in the culinary arts.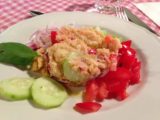 Anyways, the antipasti consisted of a fresh salad of cucumbers, onions, tomatoes, celery, and some basil with bread pieces in olive oil.
However, Julie and I could appreciate this salad because we realized that we didn't look at the food with the mindset that we couldn't eat it or the body wouldn't keep it down. In fact, we actually savored the taste. So that meant that we had finally got our appetite back after nearly four days!
It was a shame that it took until the very end of our Toscana and Umbria section of the trip, because these regions were supposed to be known for good food and fine wine. In any case, we at least couldn't say our Toscana part of the trip wasn't a total loss from a foodie standpoint.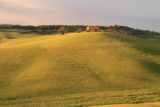 After finishing the antipasti, I started to notice that the afternoon sun was out and that I really wanted to capture some sunset images with the camera I brought with me. I could see the grasses glowing with the warm color of the sun though the winds were blowing hard and the wind chill was definitely a factor as my face was going numb from the frigid air.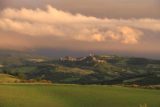 I managed to get some gorgeous shots. However, I might have spent a little too much time outside because my primi (first course) showed up a few minutes before I went back inside to rejoin Julie.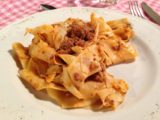 The primi was a thick pasta with ragu, which was ground meat. There was no tomato sauce, and with this being the second time we encountered this dish in Toscana, I was starting to wonder if that was the traditional way Tuscan pasta is typically made.
I know this wasn't Julie's cup of tea as she liked the sauciness of tomato meat sauce. But since it was apparent that that particular preparation of pasta wasn't authentic Toscana, that was another thing we learned about the perception of Italian food back at home versus the reality of authentic Italian food.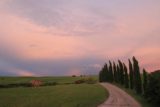 After finishing the pasta, I noticed the skies started to glow purple. When I went back outside to take a few more photos, most of the purple was gone. I also thought I would see a rainbow, but the rainbow wasn't there either. I guess that was the hazard of having dinner right around the time the sun was to set.
Indeed, I happened to return outside just when the sun had already set. So I didn't spend nearly as much time outside on this go around, and I rejoined dinner without stepping outside between courses again.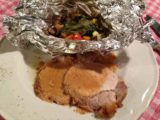 The secondi was a delicious and very different dish from what we had experienced in Italy so far. It was a pork with some kind of sauce on it accompanied by roasted veggies wrapped in foil. And once again, the food was delicious though I'm sure the proprietor must have thought we were a bit strange for not accompanying the meal with some kind of wine.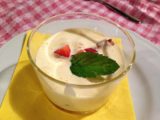 After the secondi, we had a dessert of sweetened egg whites, which was actually quite delicious and like pudding. This was actually a real test of our stomachs, but we didn't really think about it a whole lot as we just savored the dessert.
Following the dessert, we were joined by the German proprietor where we he asked about our holiday while we also learned the story of how he and his girlfriend Luisa met. Apparently, we were pretty unusual guests in that we were spending three whole weeks in Italy, and I guess that was unusual for the type of guests that they get at this farm stay.
During the conversation, one of the German-speaking folks from the other tables joined the conversation with us. Her name was Monica and she was most curious about our backgrounds since she wasn't sure of where we were from. When we explained to her that we were from Los Angeles, she said that that was totally something that she didn't expect to hear.
It turned out that she was from Switzerland in a town northeast of Bern. She was taking a class on singing as well as cooking, and that was what explained the group camaraderie amongst the German-speaking guests and hosts. She also said that no one really knew each other except that they were kept together during the class.
After the dinner, we finally connected with Tahia on Skype. Of course, she was preoccupied with loading up on bread, and it was almost as if Mom and Dad didn't exist as long as she was concentrating on her bread.
The call quality wasn't good, but at least we got to see her again. Perhaps tomorrow in Florence, we'll have better internet.
We left dinner at close to 10pm. But by then, the weather had turned really foul as it was full of thick drops of horizontal rain accompanied by strong and chilly winds. It's times like these that made me wonder if such cells would be the type that could spawn a tornado, especially in the rolling hills and plains like here in Toscana.
There was a little bit of drama in trying to return from our car to our annexed room. And after Julie first went in to get me a rain poncho then come back out to give it to me, I used the poncho to protect the electronics as I made my move back into the accommodation.
The poncho was very wet, the shoes were a little wet, and the bottom of my jeans were also a little wet. But it could have been worse…
And so at 10:30pm, Julie and I were back in the room together again. Now, it was time to sleep and hope that tomorrow's weather wouldn't be as foul as this, especially since we were supposed to visit a waterfall before dropping the rental car off in Firenze.
Day 11: TRADING FLORENCE FOR NATURE
It was 7am when we awoke. When we looked out the window, we could see it was overcast and calm at the moment, but knowing our luck, the weather looked like it could turn at any moment.
During the time we took to get ready for the day, there were moments when the sun came out. So I took this time to take a few photos of the fields and rolling hills around the annex building we stayed at.
Finally at around 8:20am, we left the annex and headed over to the main building for some breakfast and to settle our bill.
During the drive over there, we noticed there was a guy with a tripod on the road between the annex and the main area taking photos of what I'd imagine was the rolling fields and possibly one of the farm buildings or something as the subject.
I guess being a fellow aspiring photographer, I could appreciate the effort and the patience to seek out places like this for that quintessential Tuscan money shot.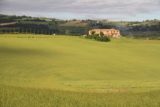 On a separate part of the road, Julie wanted me to take a similar photo from further up the hill. Given the morning light, perhaps now was the time to try to get her idea of that money shot.
Shortly thereafter, we went into the main area for our breakfast, which was the typical basic fare of toasted bread with prosciutto, cereal, fruits, and some water, juice, or milk.
The brekkie didn't take long, and I then went over to the reception to settle the bill.
At this time of the morning, it appeared that Luisa (I only learned of her name from the menu and from her boyfriend [whose name eluded me] who called her by that name) was attending to the main lobby. After settling the bill, we engaged in a little small talk about the foul weather.
I told her that the rains tended to follow us around since this was our third European trip in May in the last four years where the weather was mostly foul. In 2010, we had some intense rains in Croatia and some bad weather in Switzerland, and even some rain was encountered in Greece. In 2012, we hit quite a bit of foul weather in France (while Italy turned out to be dry). And now, this year, it seemed like we couldn't catch a break once we left the Southern parts of the country (while it appeared France was west of the action). Only in 2011, we knew that much of Europe was dry, which was the one year we didn't go there since we that was when Tahia came into our lives.
Anyways, it was in that context that she revealed that the extended Winter in Italy wreaked havoc on her wedding plans, which was supposed to happen in mid-June (only a couple of weeks away). She thought if the outdoor wedding happened on a day where the weather was as violent as yesterday, then she could shoot herself (which she said with a smile of course, but perhaps underscoring the pressure to having that perfect day).
All I could offer up to her was that she needed a Plan B, which she clearly knew needed to be done. Unfortunately, their facility had limited real-estate indoors and they'd have to figure something out with tents. But if the weather was as violent as yesterday, I'm not sure even the tents would have worked.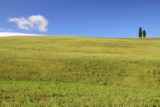 At 9am, we left Agriturismo Il Rigo, and it was now pretty sunny weather. I guess in keeping with the theme of not having good weather when it counted most, it occurred on a transit day when we couldn't enjoy it as much as we could have yesterday. I guess this was yet another example of how we've been pretty rotten with the luck and timing of our trip.
We didn't expect to be in Florence until later in the afternoon since we planned on doing a hike to Le Cascate del Dardagna (the Dardagna Waterfalls), which was the nearest significant waterfall that I was aware of to Florence (though it was probably nearly two hour's drive from there as well).
In any case, after driving nearly an hour on rural roads to get to the A1, the drive was then pretty smooth on the A1 itself (as we started on the autostrada at around 10am). After junctioning with the A11 near Florence at 10:45am, we then headed west another 24km or so before exiting the A11 and onto a fairly busy thoroughfare going up into the mountains and eventually towards Bologna (though we didn't have to go that far).
The drive was twisty but we were confident we were still making progress towards our waterfall goal for today. But then somewhere along the way, the GPS put us on some random rural roads (ultimately with Madolma being the town it was taking us through) before we finally were in Lizzano in Belvedere, which I recalled was a town that was on my research.
But I swore the GPS assumed we'd be going 90km/h on its route when in fact we were going no faster than 30-40km/h. So in the end, we probably lost another 15-30 minutes had we not stuck with the main routes, which we would eventually rejoin with in town.
Next, the GPS had us go on some other road, but the signage indicated nothing about Cascate del Dardagna which started to worry me. But without anything else to go on, we decided to entertain the GPS' directions. After all, I rebelled with the GPS the last couple of days thinking we knew something she didn't but she ended up being right in hindsight. However in this instance, she put us on some very narrow nearly single-lane roads hugging mountains.
I was already starting to have doubts about this approach the further we went and the narrower the road became.
Eventually, at 12:30pm, we showed up at the Refugio Segavecchia, which was where the GPS told us to navigate off road. I hoping that this would be the trailhead for Dardagna, but somehow I doubted it as no signage said anything of the sort.
So having seen people conversing here, I exited the car and busted out my Italian in asking about the waterfall. One of the men in the group of four said in Italian something to the effect that I was on the wrong road.
One of the other men in the group suggested that I talk to the hotel about getting a map. After I pointed to the rifugio as the hotel, they nodded.
I thought that was a good idea, and it turned out that the refugio was indeed the albergo that could help. So when I thanked them, I went into the hotel and once again tried to bust out my Italian.
Inside the rifugio, there was some activity going on behind the lobby. So I went up to the desk and politely asked, "Permesso?"
This time, a group of younger adults smiled and said, "Prego…" as they came out from the reception area, and I asked them in Italian about Dardagna. And like one of the guys I spoke to earlier, he indicated that it was either going to be a 4-hour walk from the refugio to get there, or I would have to drive some 45 minutes through a series of towns to ultimately get to Madonna dell'Acero.
That was the key town where the trail to Cascate del Dardagna started. One of the ladies gave me a map while the young male that was addressing me was showing me on the wall map where I should be driving and ultimately where I should be doing the hike.
So after this exchange in Italian (which included the infrequent word or two of English since he knew I could speak English, but pretty much kept it in his native language), I finally had a sense of where I needed to go. And with a deep sense of gratitude for their friendliness and help in this matter, I was on my way.
Indeed, after backtracking to Lizzano in Belvedere, I then passed through Vidiciatico then La Ca before finally seeing Madonna dell'Acero. I noticed there was a car park with a bus and some cars with a sign for Centro Visita (visitor center, I believe) so that was where I stopped the car at 1:15pm.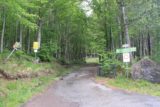 It was starting to rain again, but it wasn't bad enough that I needed to put on rain gear. Anyways, I walked over to the visitor center, and that was when I met up with a guy who had just left and closed to the door to the building. He was about to enter the car when he said, "Ciao!" to me, but then I asked him, "Sa dov'e la Cascada di Dardagna?"
Then, he verbally gave me instructions in Italian. I probably only processed 50% of what he said, but I picked up on the words "sempre dritto" (straight ahead), "santuario" (sanctuary), "300 metre", and "ponte" (bridge), and that was all the information I needed to know that I was getting close and in which direction.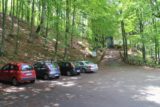 So I went back to the car, drove it 300m or so in search of the sanctuary by the bridge. And sure enough, I saw the Sanctuary of Madonna dell'Acero as well as a sign indicating "Cascate del Dardagna." Finally, a sign for the falls!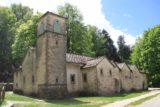 At 1:30pm, I stopped the car. It turned out that the GPS put us on the costly detour that wasted at least an hour of precious time we wanted to devote to Florence (though at least we now have a map of the area so maybe it wasn't a total waste). In any case, I prepared myself for the hike ahead and let Julie stay in the car so I could speed things up by me doing this hike solo. The sign said the hike was only 45 minutes each way, which wasn't all that bad at all since I had anticipated a three-hour return hike according to the map that I received at Refugio Segavecchia.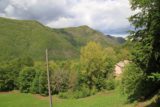 In the beginning, I loitered a little at the old-looking building that was the sanctuary. After having my fill of this edifice from the outside, I then noticed that the GPS batteries were low. So I tried to change out of the old alkaline batteries I had bought as an emergency in Tahiti before putting back in the Duracell batteries.
And that was when I realized that something wasn't right with the GPS unit as it didn't seem to like my Duracell batteries.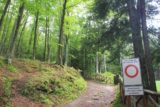 Eventually, I gave up on getting the GPS to work and finally started the hike at 1:45pm.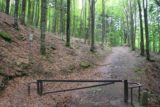 At first, the hike started to climb on some narrow paved path between a couple of buildings before reaching a gate. Then, I was able to walk around the gate and continue the uphill beginning until I reached a fork.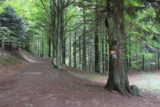 Signed arrows indicated that I should continue on the 331 trail towards falls so that I did. And as the trail started to descend on the correct path from the fork, I could feel immediately that I was truly in a back-to-nature place as I was surrounded by tall trees that reminded me of the type that might be seen in the forests back at home.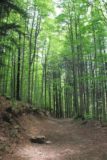 It felt like it had been a very long time between visiting natural waterfalls, and I had forgotten how relaxing and beautiful just being in Nature could be. This was the medicine I needed to get over my medievaled out or ruined out mindset.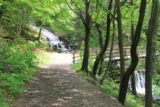 Eventually the descent ended as I was near the river. Now, the trail climbed from this point, and it seemed like it would climb for the remainder of this hike as it seemed to promise to put me on a path to the series of waterfalls making up Cascate del Dardagna.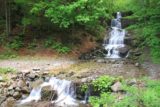 Finally at around 2:10pm, the climb momentarily stopped and made a quick descent past a bridge fronting a cascade and ultimately to the attractive lowermost tier of the Cascate del Dardagna.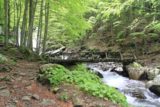 Of course I wasted no time trying to take decent photos of the falls though I also experimented with long exposure photos without a tripod. And just as I was enjoying this waterfall, it looked like some trace amounts of hail was starting to fall.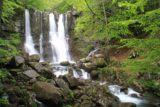 This lowermost tier turned out to not be the end of my day trip since I had noticed there were a more partial views of the upper waterfalls above this main tier. Prior to this realization, I thought just seeing the first tier of the falls was enough, but indeed, I saw that there was more to explore of this falls (thanks to some steps continuing up past the first falls), and it wasn't as dangerous as I had perceived those upper waterfalls to be based on my prior research on the web.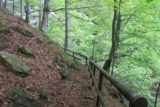 Anyways, I managed to go up the steep steps and then followed the slippery but muddy path towards the second waterfall, which I'd eventually reach at 2:30pm.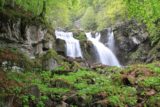 Although the hiking path passed by a pair of smaller cascades, which weren't as impressive as the first, I could totally see that the trail continued to keep going for more of the main waterfalls.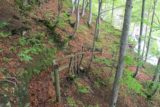 The second waterfall was short, but I still see further up that there was more to be seen and the path kept going.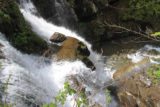 Eventually, I'd reach the third waterfall at around 2:35pm where I met a British middle-aged couple slowly making their way down the steep trail.
At first I asked in Italian, "Il finito e lontano da qui?" (Is the end far from here?)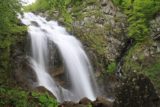 That drew a quizzical reaction by then, so I knew right away they might speak English instead (which was unusual since I never expected non-Italians to be here).
When I asked them (in English) whether the end of the trail was near, the couple told me about the end being less than 10 minutes away though the stairs were steep. The weather was also hailing somewhat in force at this point so the male of the pair bid me good luck and we were on our separate ways.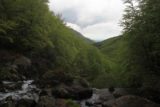 Once I got up the steep steps and followed along a narrow walkway that ultimately led me up to the uppermost tier of Cascate del Dardagna, I could see the fourth and final waterfall. And just as I was noticing this, the weather hailed on me before the weather momentarily broke and it was sunny again (where the light probably wasn't the best at this time of day). And given our persistent foul weather, I kept thinking to myself, "Are you kidding me?"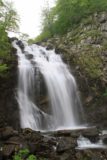 Still, I got onto the slippery rocks right before the uppermost tier of Cascate del Dardagna where I got more photos, movies, and even a downstream panorama over the third waterfall towards some views further downstream.
It was about 2:50pm when I had to leave Cascate del Dardagna. It was too bad my GPS handheld waypoint device was no longer working with Duracell batteries so I couldn't save any of my progress on this hike. I wondered if it had to do with me buying batteries as an emergency in Tahiti and now that that battery stopped working, it might have done something to the expected voltages of my handheld.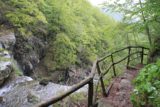 Plus, the hail was also starting to come down even harder than earlier.
Nonetheless, the path to the Dardagna waterfall was well visited, and I probably didn't need the GPS coordinates to navigate my way through to the waterfall.. In fact, I wondered how the British couple knew about this place before getting to Dardagna as I didn't expect there to be a big cotingent of tourist facilities. However, I didn't ask at the time so I guess I'll never know.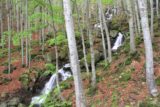 At 2:50pm, I quickly made my way back towards the parked car where Julie was chilling out with her Kindle.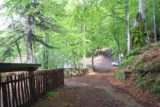 Eventually at 3:20pm, I made it back to the car and the awaiting Julie. I guess it was a good thing the weather decided to hail on me instead of drenching me with more rain because my clothes were still pretty much dry.
And after having some cherries and bananas in the car, we then took off at 3:25pm. And instead of listening to the GPS, I chose to ignore her and stay on the larger roads. We'd eventually get to the SS64, which ran smooth again once again (though the weather alternated between foul and sunny with lots of rain). Indeed, this was the way I should have gone in the first place.
Now, we had to get over to the Florence Airport where we could figure out where to drop off the car rental, and then figure out how we were going to get to the downtown city center without a vehicle.
It wouldn't be until around 5:25pm when we would finally find the parking for rental car returns.
We had a lot of trouble trying to find out where were supposed to drive in order to return the car rental. And finally after 3 or 4 round trips, we finally found what we were looking for. That bit of confusion probably costed us another 20 minutes or so. Indeed, the time we wanted to spend visiting Florence was closing fast.
And then, after uneventfully surrendering the car, we then took a shuttle bus to the airport area.
Once there, we took our luggage, then went to a cambio to exchange $300 despite the Florence Airport rate being a rip off at $1.487 dollar for every euro.
Next, we went searching for the bus stop for the downtown shuttle bus, and that was when we found it by the bus stop designated for it. And it was a good thing we got there when we did because immediately after we paid the driver and he gave us the tickets, the bus started to move before I even had a chance to put our luggage in a place and in a manner they wouldn't roll around.
Ultimately, we'd get to the central station at 6:25pm. Then, we tried looking around for our hotel at Hotels Club Firenze, which was another goose chase that took another 15 minutes (indeed the delays kept adding up).
The Tourist Info office looked like it was closed indefinitely and the other info centers were only for train-related info. So at some point, we had to wing it, and we started by walking towards the old-looking church across the street.
That was when Julie spotted the Hotel we were staying at further down the street to our right, and we made a beeline for the reception whose doors were open and we had to wait our turn behind a large French group who had just arrived to check in.
At 6:50pm, we finally made it up to our room. Whew! What an adventure just to get the car returned, and then figuring out a way to get to the hotel via the downtown shuttle bus! That made us worry about what it would be like to pick up the car in Venice and return it in Milan next week.
Anyways, now it was finally time to get to know this city that was known as the heart of the Renaissance (to be continued)…
Visitor Comments:
Got something you'd like to share or say to keep the conversation going? Feel free to leave a comment below...
No users have replied to the content on this page