Day 6: LEI, NO SI SENTE BENE
It was 6:30am when we awoke. The familiar morning view of Positano as we looked out the window showed mostly clear skies with a few small patches of clouds hanging onto the cliff towering above the town itself. There were also a few clouds hanging onto the very top of the cliffs where they also concealed the sun that was about to breach them and radiate its warmth on the town.
Julie and I were pretty efficient about getting ourselves up and ready. At around 7:20am, we took our luggage downstairs where the receptionist got the owner to help process our transaction (since we were paying by credit card to check out).
It was pretty quiet in the morning except for a lady who was getting the breakfast prepared by 8am. The owner offered us to have some breakfast, but I stayed downstairs to watch the bags. Meanwhile, Julie was shuttling up and down the stairs to grab some bread and water to bring to me.
I was hoping that our driver would show up an hour early like Roberto did when we were staying in Napoli. But it wasn't until 7:50am when our driver Ferdinando showed up. I was getting a bit nervous about today since there was going to be a significant amount of driving to cover at least two waterfalls – Cascata del Rio Verde (Waterfall of the Rio Verde) and Cascate del Liri (Waterfalls of the Liri).
So we left at 7:55am. Ferdinando seemed to have a functional grasp of English but since I was of the mindset to learn more Italian, we were mixing up the languages. He said, "you help me with me English, I help you with Italiano."
Ferdinando was driving at a pretty laid back pace. We were routinely passed by other cars, but he didn't seem worried at all about how much time it would take to get to the Naples Airport. Actually, when we explained to him that we were renting a car to go to the Abruzzo Region and then back to Isola del Liri, he then realized that he didn't have to take us to the airport directly. Instead, he just had to drop us off at the car rental area.
We had originally thought the car rental place and the airport were one and the same. But based on Ferdinando's response, I had a feeling this car rental place might be in a more obscure spot. And that planted in the back of my mind that it might not be easy to drive out of there, especially since this would be my first time trying to get acclimated to the way Italians drive or use the roads.
As we were going about the narrow winding roads to leave the Amalfi Coast and enter the Sorrento Coast, Ferdinando complimented us on hiring a driver because he told me that he could see the look of horror on drivers' faces when they're not used to the driving and the narrow roads. Indeed, he knew that driving would be no fun even though lots of people who come to Amalfi Coast do it.
Actually, the deciding factor was stressing about finding parking. I recalled there was a parking garage in Positano that we didn't know about, but we didn't investigate whether it was full or not. In any case, we made our decision, and we found our Amalfi Coast part of the trip to be quite pleasurable and not as stressful as if I would be self-driving that part to save money.
He also mentioned that most (maybe 80%) of Roberto's clients are cruise ship passengers who have limited time on port. Although we didn't fit the demographic, Julie and I were definitely felt that we made the right call.
Anyways, the drive was pretty uneventful as we were talking about his life in Sorrento (where he was from) as well as his holiday dreams. He had two daughters (one in high school and another in middle school), and that pretty much put his holiday dreams on hold.
He confessed to us that he dreamed about going to New York and Los Angeles (upon hearing we were from LA) since he watched lots of TV like CSI as well as movies. Clearly, Hollywood does quite a job of selling the imagery of our cities to the international audiences.
Ferdinando also said he dreamed about visiting the fjords of Norway because he was into the natural stuff that he said was hard to get at home. That said, however, he said that life was heaven in Sorrento because it was close to Pompeii, Amalfi, and Capri.
I really wished that we could have stopped the car to take photos because the weather was pretty beautiful (albeit a little hazy) as we passed through Sorrento and along the Bay of Naples where we could see Mt Vesuvius rising above the body of water and the developed areas down its hills.
Ferdinando pointed out where on the mountain Pompeii was, and we could totally see how any major eruption would be serious trouble from the 600k people or so at its base. Ferdinando also pointed out how there was some construction going on to expand the lanes (to 4) on the autostrada, but he was like, "If it erupts, you need 20 lanes. When everyone panic, who knows?"
When we got to the car rental center at 9:30am, Ferdinando said that today's drive was like a dream. It only took 80 minutes (even at his relaxed pace) while the drive would normally take at least 90 minutes.
We said "Ciao!" to each other with firm handshakes and payment as he dropped us off right at the Europcar lot. I thoroughly enjoyed chatting with him with practicing some Italian. It's times like these that I felt more connected to the place we were visiting that if we had exclusively gone with group tours or hadn't gone off on our own.
Anyways, now we had to pick up the car and get going.
As we were getting the paperwork, payments, and formalities done, Julie had spent a bit of time in the restroom. She later told me that she had diarrhea, and that was not a good sign. Apparently, something we ate in the not-too-distant past must have disagreed with her body. We didn't pay too much mind to it thereafter, but it would turn out to be a foreshadowing of what was to come for the rest of this week.
At 9:50am, we were finally able to start driving. With our GPS ready to go and our stuff in the car, now it was time to figure out how to get back on the autostrada (since the rental car center wasn't exactly at the airport).
At first, I tried to turn right (the only way I could go) before attempting to make a U-turn to go back the way I saw Ferdinando get to the rental car center. However, the traffic was too heavy and I didn't have the guts to get aggressive and cut in front of someone to get through so I decided to continue going straight hoping to find an autostrada.
Well, it turned out that there was a sign for an autostrada, but we ended up taking the wrong turn and once again, we found ourselves in some pretty busy streets in the streets of suburban Napoli (Capodochino) where we made a U-turn then turned left at a very chaotic roundabout. Then, we saw a sign for the autostrada but it pointed left and we couldn't see where it would let us go left.
So we overshot the autostrada and made another U-turn, before we then turned right at a sign that said it would lead us to Roma and the autostrada. But after a bit of more driving, the sign for the autostrada had us make a couple more lefts, and then we were on the autostrada, but we were going in the opposite direction that I was hoping we'd go!
To make matters worse, our GPS was freaking out as it was trying to get better accuracy and it wasn't doing anything.
After maybe some 10km of driving towards Napoli instead of away from it, we finally got off at a service station at around 10:15am. We were worried that our GPS might be useless on this trip and we'd be going blind. So we went into the place looking for a road atlas to navigate the old fashioned way.
However, they didn't have an atlas of Italy so I basically had to ask the clerk in Italian how to get back to the A1. He told us to get off at the next exit (Arenella, I think), and then U-turn to go back the other way on the autostrada.
So I thanked him and we were on our way. Fortunately after power cycling the Garmin Nuvi, it was working again.
Unfortunately, after taking the next exit and paying the toll (fortunately they took our credit card), and entering the suburb with its narrow streets and pretty chaotic driving in rush hour, we had a little trouble figuring out how to turn back around. We thought we found a way to do it on a small street, but there was a car with no one in it parked right in the middle of the road. So I had to back out into the traffic (luckily someone let me get out) before following the traffic lights on consecutive left turns to get back on the autostrada.
Indeed, if there was a stressful start to driving in Italy, this had to be right up there.
Well, once we were going the right way on the autostrada (passing by another toll collection booth), we were then on our way to the A1. And from there, it was pretty smooth sailing on the autostrada.
After roughly 30 minutes on the A1 (plus another half-hour of getting lost initially in Napoli), we had finally got to a point where we could follow the GPS, whose directions were pretty consistent with what we had captured and downloaded to Julie's iPhone from Via Michelin as backup.
The key thing was to follow the signs for Castel di Sangro once we got past some other landmark towns whose name I forgot.
The drive was initially through some picturesque countrysides with farms and some jagged foothill mountains with some medieval-looking towns clinging to those mountains as well as perched on top of some of the lower hills. The weather was fine but some of the roads were pretty beat up in places.
Plus, most of the driving was on two-lane highways (one in each direction) so I frequently found myself trying to be very patient while waiting for opportunities to pass the diesel-belching beat-up pick up trucks (at least the European version of them) as well as some larger trucks or lorries that seemed to be hauling supplies along the highways we were taking.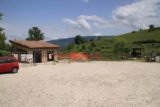 Eventually, we took some pretty twisty rural roads to get to the town of Borrello (though the autostrada was closed anyways just where we were exiting), and that was when we finally saw a sign for Cascata del Rio Verde for the first time. So naturally, I followed the signs and we eventually found ourselves in an unpaved car park at 12:50pm.
The skies were threatening rain though it was still pretty warm with sun out.
As we started to leave the car, we saw a local who was driving out. He gave us a wary look, but we said "Buongiorno" to him and then he went about his way without saying anything to us.
Next, there was another guy who came in and stopped his car in the middle of the road in front of the biglieteria (ticket booth), which was closed. We thought he might be working here and collecting our entrance fee, but the somewhat middle-aged driver was on his cell phone.
I asked him, "Lavora qui?" ("Do you work here?")
That's when he smiled and said, "No" and then he said something real fast in Italian that I couldn't process.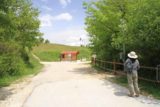 I had to tell him, "Non parlo Italiano bene," which drew a smile out of him. He then said, "Cascata?" and I said "Si!" and with that, he nodded and drove onto the unpaved road. So Julie and I finally started hiking at this point.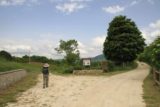 Julie and I weren't sure if it was OK to see the falls since the biglieteria was closed, but the beat-up gravel road to continue was wide open although there was a red circle sign with a while bar across it indicating it was forbidden to drive there. It looked like vehicles could drive it, but the road was beat up enough that we stood a better chance of walking.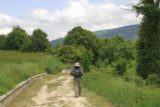 Anyways, we made a left turn at a fork as indicated by an arrowed sign, and then we found ourselves on a footpath descending a lot of stairs.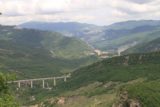 At first, we checked out a first overlook with a view towards he autostrada we would have taken had we continued past Borrello.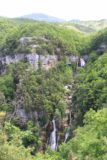 Meanwhile, the view of Cascata del Rio Verde was partial but impressive as we looked towards the far right of the overlook. The waterfall was indeed tall, which confirmed what I had researched in the literature, but it was of the strandy variety.
So we then went down a steeper series of steps until we made it to the second and lower lookout area, which was right in front of the middle of the main tier of Cascata del Rio Verde.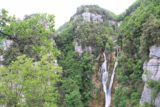 From this vantage point, we could see the color of the rocks (probably from algae or moss growing on the wet underlying rock beneath the falls) though the very bottommost section of the falls was partially blocked by a tree growing right in front of it.
In any case, Julie and I got our movies and our shots, and we then went back up to the car. Unfortunately, Julie was starting to get a splitting headache as well as the chills, so apparently she might have come down with a case of food poisoning (probably from the seafood bucket or "soup" from Chez Black in Positano last night since there were lots of bottomfeeding mussels and clams).
As we neared the car park, we saw a nice open field where I was able to see Borrello fronting some snow-capped mountains in the distance under the dark clouds.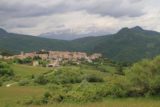 By the time we recovered the car at 1:50pm, it started to sprinkle. I guess it was a good thing we visited when we did.
So now that we got this waterfall excursion done, it was now time to go all the way to Isola del Liri. It was a good thing that this walk was only 2km round trip (maybe shorter) and not 2km one-way. So I had scheduled more time and worried about showing up real late to Isola del Liri, but it looked like we might be able to check in to our hotel by 5pm after all while possibly squeezing in a visit to the waterfalls of Isola del Liri.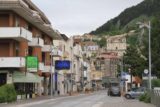 The drive to get to Isola del Liri was quite long and involved plenty of winding and mountainous roads. We made a quick stop at Castel di Sangro for a takeaway lunch of cold microwave-warmed pizza.
The weather was definitely a mix of on-and-off again rain. It was a good thing we were mostly driving at this point though so the rain didn't really bother us too much except it made the roads slicker and it probably kept me from taking more panoramic stops along the way.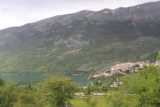 As we left Castel di Sangro, we then entered the Parco Regionale di Abruzzo e Molise, which featured more mountain driving with lots of panoramas and even some snow-capped mountains that suddenly seemed like they could be touched.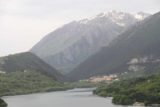 In particular, we made a few photostops at Lago di Barrea and the town of Barrea at around 3:15pm. The town itself seemed like it was hugging cliffs while it stretched all the way down to the lake level. This was probably the one Abruzzo town where we really felt that medieval charm, which was only fitting since Abruzzo was said to be the land of a thousand castles as each town seemed to have retained that bit of medieval charm anchored by at least a castle or two.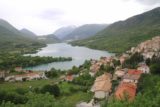 However, when we drove through town, we came to realize that the Flume di Sangro was actually dammed, and that was what was responsible for Lago di Barrea.
The driving was quite reminiscent of driving through Greece's mountains and cliffhugging towns. I wondered if there was any correlation between Italy and Greece given their shared histories during Greek times as well as during Roman times.
It was starting to rain pretty hard and consistently as we continued making our way west while waiting patiently for opportunities to pass trucks in front of us. Julie was definitely getting a full-fledged chill and she was pretty much trying to sleep it off as I was navigating the mountain roads. Clearly by now that bout of diarrhea that Julie had while picking up the car in Napoli suggested that she might be coming down with a pretty bad case of food poisoning.
We'd ultimately get through the town of Sora (by now, it was pretty much urban driving again), and then the town of Isola del Liri.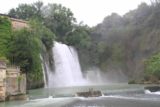 The GPS led us right to a bridge and alleyway with a view of the Cascata Grande portion of the Cascate del Liri (The waterfalls of the Liri River). We drove a cobblestone alleyway adjacent to the arm of the river downstream of the big waterfall (little did we realize that there was a second waterfall here which we missed on this go around).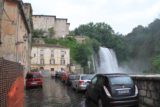 We were lucky to find a spot to park the car at 4:45pm. There was an old man standing next to the door staring at us while smoking a cigarette. I wasn't sure if we were in his spot or not. So I said, "Buona sera" and he returned the greeting. Still, he had that wary look.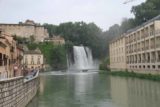 Julie stayed in the car while I was out in the rain trying to take as many photos and movies as I could to convey this waterfall. And as crappy as the weather was at the time of my visit, I had a feeling that I'd be back here again tomorrow morning to perhaps give this waterfall another go.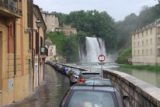 Anyways ten minutes later, after having my fill of the grand waterfall, we then navigated the narrow cobblestone streets until we were back on the main street. At this point, we headed back up towards Arpino where we could finally try to check into our accommodation at the Hotel il Cavalier in Arpino.
As we drove the climbing and narrow road, we managed to catch a glimpse of the impressive town of Arpino as it was perched atop a hill that we were headed towards. I really wanted to stop and take more photos of the approach, but there wasn't an available place to stop at the time, and with Julie not feeling well, we had to check in.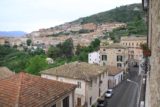 At 5:15pm, we made it to Hotel it Cavalier. The weather was threatening rain but for the time being, it wasn't raining.
When we got settled at 5:35pm, Julie really wasn't feeling well, and she was suffering from nausea. She finally threw up in the toilet multiple times, and it momentarily seemed to help her headaches.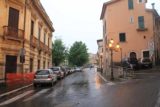 So at 6:30pm, we decided to walk back into town. I had aspirations of doing some twilight touring of the town itself, but once we saw that it was raining pretty hard outside, I had a feeling it wasn't meant to be (especially in light of Julie's illness).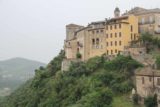 The receptionist had said that the pizzeria place we were targeting for dinner wouldn't be open until 8pm. And when we got there (about a 300m walk), I asked the folks inside if they were open for dinner (in Italiano).
Well, it turned out that the restauranteur answered my question of "E il ristorante aperto?" (Is the restaurant open?) with "Anche adesso" (also now).
I guess in a town like this where not many tourists go, it was nice to know that the Italian lessons were paying off somewhat, but I was definitely struggling to commuicate since the guy didn't know English. And as Julie and I were ordering our food, there were a couple of young English guys who seemed to have better broken Italian that me and so they were also helping out with our order.
Julie wasn't too picky about her food though she wanted something with ragu sauce in it. However, the choices were limited and we ended up a type of cannelloni pasta with tomato sauce and cheese along with an antipasti of bruschetta and a green salad.
As the restauranteur and then his wife who had just come in were busy preparing not only our meal but also other folks who were patiently waiting to take away pizza, Julie started to fear that she was getting meningitis as her headaches were back and so were her chills.
So I went up to the restauranteurs and asked in Italian if we could take the food away instead of eating in. Clearly sympathetic to Julie's condition when I explained to them, "Lei, no si sente bene" (she's not feeling well), the lady offered to bring the food to our hotel, which was really nice of her.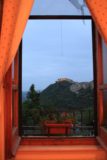 But we didn't want to trouble her so we waited for the food to be done, paid the 10 euros for the whole dinner (a very reasonable price, especially compared to Positano), and then walked in the rain back to the hotel.
Given Julie's condition, we found one convenience store where Julie picked up Aqua con gas as well as some salted crackers to help with her diet that was becoming a BRAT diet (bananas, rice, apples, toast).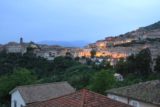 At 8pm, we were back in the room. We were having the takeaway dinner on the bed, but clearly Julie couldn't keep the food down because she hurled some more in the toilet. So from that point on, she was content to just eat the bread that came with our meal, and I was left to finish the rest of the pasta and salad.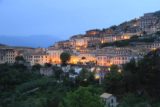 During the dinner, it was starting to become twilight in Arpino so I managed to take a few twilight photos from our hotel room. The weather seemed like it had calmed down somewhat, but the dark clouds were still there hovering over us so who knew if anything could be read into this momentary calm.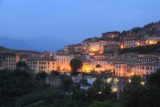 Anyways, it was clear that no more touring of Arpino was going to happen on this day, as I had originally feared. We'll have to see what tomorrow brings (both as far as Julie's health was concerned as well as what the weather would be like)…