Day 7: THAT'S MARMORE
It was 5:30am when I awoke. I knew that Julie still wasn't feeling very well because she threw up yet again the middle of the night. So in anticipation of this, I let her stay asleep to rest off whatever was ailing her. In the mean time, I decided to go out into the town of Arpino in the early morning when things would be most quiet.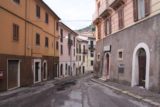 When I got out of our room and into the streets at 6am, the skies were still overcast and threatening rain. There were lots of birds singing as well signaling that indeed we were in Spring though somehow I got the sense that the consistently unsettled weather we were experiencing was more of a Winter phenomenon.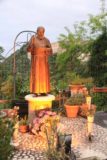 So I with the Arpino map in hand, I ended up walking a couple of the itinerary routes in there. The first was a loop that encompassed the main throughfare of Arpino as well as some panoramic views of the many towns below (including Isola del Liri though I couldn't see either of its two waterfalls from this angle and distance).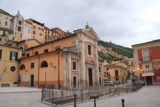 I completed the walk by going in a different alleyway that was pretty much an atmospheric stroll through the tight confines of aged walls and brick medieval walls of residences and shops. For this early in the morning, it was eerily quiet.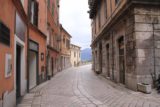 The loop completed at the town's main square where there was what appeared to be some very old foundation of the town (I wasn't sure what was that group of flattened rocks on the ground surrounded by a fence) as well as a statue of il Cavalier and of course the obligatory church and clock tower.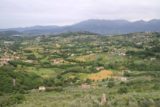 I returned to the accommodation at 6:45am. Julie was still in bed so I had my mind made up to check out Civitavecchia. But it wasn't until 7:15am when the friendly lady who runs this place came down to open the gate after I placed a call to her.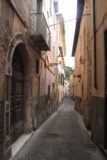 And from that point, I went driving another 3km further up above Arpino towards the hilltop hamlet and archaeological site of Civitavecchia.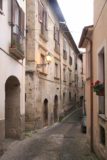 At first, I had some trouble figuring out where I supposed to park the car. In fact, I swore there were no signs that indicated as such (though there a few brown signs pointing the way to get up to Civitavecchia).
Once I finally parked the car right in front of the hamlet's entrance at 7:35am, I then walked towards the arch entrance as well as the tower that was right behind it.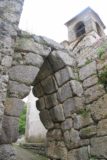 The old arch was said to be very important because it was where the original entrance to the town was. But behind the arch, there was a small open area where there were several cars parked. Those cars kind of took away from the atmosphere of the place, but then again, I guess this was really an actively inhabited town (almost like a smaller version of Arpino).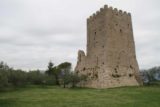 I then went to the tower though it didn't appear I could go up it. Instead, there were panoramic vistas from both in front of the tower as well as another small field just a few paces from the tower's lawn area as well.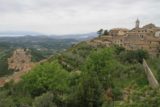 The vistas were quite expansive as I could see the town of Arpino down below. It was too bad the skies were still overcast and grey because this would've been a real cool place to have the blue skies really add some color to the panoramic scene.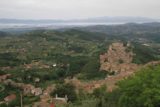 When I had my fill of the views, I then took out the map and went ahead with the quick tour through town. There were some neighborhood dogs here that were barking about my presence. Given the town was still mostly asleep, I tried my best to get past the dogs so the barking the stop.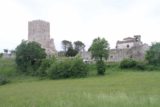 I wasn't sure if I had walked far enough to notice the archaeological ruins of Civitavecchia, but it didn't appear that there were many worthwhile atmospheric things to photograph during the brief self-guided tour. So by 8am, I was back at the car. And five minutes later, I was back at the hotel where Julie was still struggling to get up out of bed.
So I ended up having breakfast alone so Julie could take her time trying to get ready for the day. I also brought her some breakfast stuff which was really nothing more than a hard-boiled egg, some hams (or were they some kind of prosciutto?), bread, and even some dessert-like pastries.
It wasn't until about 9:15am when we were finally leaving Arpino. Julie said she was still wavering between hurling and keeping it in, but fortunately, she didn't have to hurl. On the other hand, we were getting late to catch the Cascata della Marmore when it would be flowing between 12-1 today, so that was really where the time pressure was coming from on this day.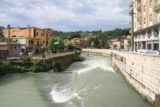 In the mean time, I still had to check out the waterfalls at Isola del Liri before leaving. So we ultimately got down there at 9:40am. Fortunately with Julie still in the car, I was able to park somewhat illegally while I was quickly doing my photo run on the "island" itself.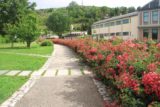 The thing with Isola del Liri was that with both waterfalls being really urban ones, it really felt like the waterfalls here weren't genuine. I wasn't sure if these waterfalls were real or not or if they were created through diversion.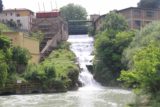 But whatever the case, I guess that's what made this urban place unique. It was just that the waterfalls seemed out of place. So with that, my quick photo run ended at 9:55am and now it was time to get moving to Cascata delle Marmore.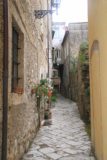 We were still on the order of 120km or so away from the next waterfall and the GPS indicated that we were to be there some time around 12:15pm, which would be right during the scheduled release. So we pretty much jammed on the autostrada A1 as we left the Frosinone area and headed towards the Terni area.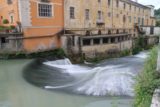 I was a bit nervous about the presence of speed cameras everywhere so I tried to stay with the flow of traffic which was generally around 130km/h give or take. I just hoped I wouldn't be in for an expensive surprise at the end of the rental regarding the photo-enforced speeding or ZTL fines.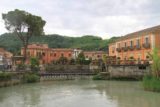 During the drive, the weather was mostly hazy with plenty of sun, which contrasted mightily with last night's rainy weather. This weather persisted as we had to navigate through the streets of Terni as we followed the plethora of brown signs for Cascata della Marmore. We made sure to follow the signs for the inferior (lower) lookout since our experience told us that bottom up views of waterfalls tended to be way better than top down views.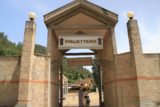 We'd ultimately get to the car park for Cascata delle Marmore at 12:10pm where we could definitely see that the falls was indeed flowing. Actually, it was flowing so forcefully that its uppermost main tier was shrouded in bright mist and it was hard to see it.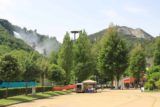 Anyways, we found parking, walked a ways to the biglietteria to pay the 8 euros per person, then walked all the way back some 300 meters more through the entrance and into the waterfall viewing area.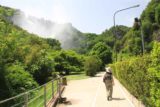 There were quite a few junior high kids here, but for the most part, it was a pretty peaceful visit. It was too bad that the falls wasn't so photogenic given the intense mist and position of the sun rendering that main tier of the falls invisible to us. So we just did what we thought we could in photographing the falls (especially the more visible lower tiers) while fighting the mist before heading back to the car park area where Julie wanted to get a sandwich for lunch.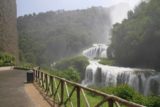 While we were having the lunch, Julie ended up getting this sandwich she thought was going to be like a panini, but it ended up tasting gross. I think her expectation of the sandwiches in Italy were mostly on the disappointing side because we had yet to see the kind of crispy ciabatta sandwiches with pesto or some other light ingredients that would've made the sandwiches much better tasting (or at least somethingg more familiar to us as Italian-style sandwiches we were exposed to back at home).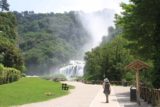 That all proved to us that perhaps the "Italian" sandwiches and pizzas we were revering in the States might not have been authentic at all. Instead, they were probably American twists to Italian products, and our tastes gravitated more towards the American-style way of doing things. The same went for the Naples-style pizzas, which were more doughy and "soggier" than the Grimaldi's type pizzas in New York (according to Julie).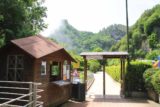 Anyways, when we were done eating, it was past 1pm, but then we started to notice that the falls was more attractive now as it assumed lower flow than earlier. So we took this opportunity to go back to the falls viewing area and get even more photos of the falls.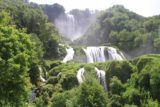 The guy at the ticket entry booth also indicated to us that today was a festival day so they would also release the water between 3pm and 10pm while floodlighting it (who knew today was a festivi day?). But after having seen the falls the way we were supposed to see it, we knew that it wasn't likely we'd come back.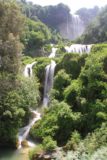 Indeed with this waterfall, it was a case of less is more.
So at 1:30pm we were back in the car. And next up was to go to the Torre Palombara (near Narni) to check in and drop off our luggage.
It turned out that the Torre Palombara was kind of in the boonies of the rolling fields of farms and forests. We'd ultimately get to the property at 2pm, and as Leonardo the owner was giving us a tour, we were quite impressed with the charm and vistas afforded to us of this place. Indeed, it felt like a taste of Tuscany in Umbria.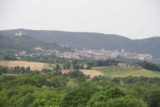 The vistas were towards the town of Narni, which was perched on a hill (where else?) while the landscape was fronted by large acres of lawn, crops, and other things that scream agriculture.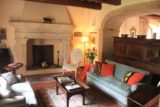 Leonardo also explained to us that this property had a bit of a history dating back a few centuries. He was the current line of the family that started this place. Leonardo also explained to us that the tower on the property (Torre is Italian for "tower") was important for communicating with neighboring towns (especially warnings of invaders).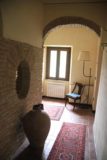 In fact, he said the dove was the primary carrier of messages, and so that was how the property came to be called Torre Palombara, where palombara meant dove.
At 2:35pm, we were done with the guided tour of the property and getting settled in, and now it was time to go to Assisi. We figured that if we could get that visit out of the way today, then we'd have options going forward in terms of knocking off the list of sights we wanted to see on our itinerary as we were getting to the Toscana section where I was pretty nervous about packing things in tightly on our itinerary.
I suspected we were some 90 minutes away from Assisi (though Leonardo thought it was only 1 hour), and we took a route that went past Spoleto and some other medieval villages perched atop hills. Julie and I were detecting a theme here as we saw medieval village after medieval village. Even Arpino was an example of this, and that was further south in Lazio.
So we were starting to get a little medievaled out though we suspected that Assisi would be yet another example of this. We also came to realize that Montepulciano, Cortona, and Lucca might be yet more examples of medieval towns (something that seemed to be a theme of lots of Italy's countryside).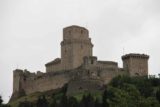 When we saw a large castle structure perched atop a hill that was signposted Spoleto, I really wanted to find a place to pull over and take photos. But given our haste to get to Assisi, the bad weather that was starting up again, and the lack of decent parking spots to enjoy looking at Spoleto from the ground, we zoomed by Spoleto and only had the memories of that place in our heads. Unfortunately, we'd have no photos of it.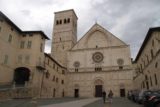 At 4pm, we were finally at Assisi. By now, we had driven through a combination of rain and wind though the weather wasn't as intense as could have been. Actually, when we parked the car near the Piazza Matteotti, the wind was quite strong and thus the weather was on the chilly side.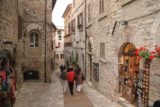 So we went ahead and walked into the town of Assisi. And as suspected, it was a mix of narrow cobblestone streets with tight alleyways as well as the odd church and clock tower here and there. And true to form, most of the main streets to walk were lined with shops, cafes, and other businesses as if it was an outdoor mall disguised as a medieval town.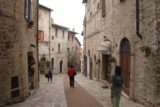 Nonetheless, the town was clearly charming, but I guess when you've seen several of these (as we have done in the last couple of days), they start to blend in with each other after a while.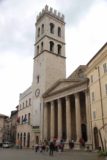 The walk to San Francesco's Basilica was pretty long and it contained undulations of uphill then downhill. It seemed like there were many nooks and crannies we could have explored as it became apparent that this was a very large medieval town.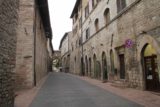 And given its high position, we could see panoramas juxtaposed with the city walls as only medieval Italy could present.
It was too bad the weather was threatening to turn sour because the vistas were quite grand.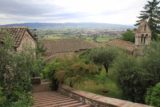 Anyways, we were also trying to make it to St Francis' Basilica before the crowd of very loud kids (whom we could hear from a few blocks away as they took a different route) would overwhelm the basilica.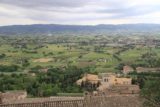 As we got to the impressive basilica, which looked like a large structure of white marble or something smoother than the cobblestone or stone edifices dominating the town, we could see there were steady streams of people coming in and out of the church as well as down below its lower exits as well.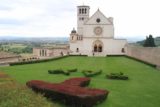 Looking out towards the countryside, we could see more of the panoramas that pictures just couldn't do justice.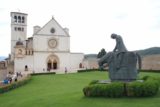 In the large front lawn of the basilica, there was a statue of a man on his worse with head down as if he was frozen in a pose of humility (either that or he was slumped over as if he was dead or something on his horse).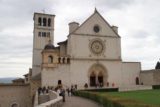 Inside the basilica, it was very grand but dark. I was very tempted to take a photo, but no photography was allowed inside. Silence was observed and we took note of the elaborate paintings or drawings all over the ceiling and the side walls. In a way, it was reminiscent of our experience in the Sistine Chapel.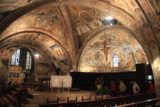 Then, we went downstairs where I managed to sneak one photo in before I realized there was another no photography sign. Down here, the ceilings weren't tall, but it was quite decorated with more frescoes or other paintings.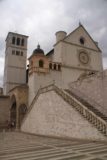 Then, we went downstairs another level into the tomb of St Francesco, where there was an altar with a tomb perched at the top of it. There was no way we could see what was in there given the elevated position of the tomb, and once again, I wanted to take photos of this eerie chamber but refrained.
Quite a few people actually paid their respects to St Francis as they'd make the cross gesture across their chest before going around the tomb or altar. Indeed, Catholicism was quite alive and kicking in the home of the religion over the past two millenia.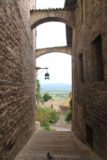 It was amazing how much infrastructure and extravagance was devoted to the cause as we had noticed examples of these things that have now become world famous tourist attractions, especially at the Vatican. I guess being non-religious folk, we probably weren't as impacted emotionally by the scenes, but the grandeur of it all made it easy for us to see why it was a huge part of Italy's tourism.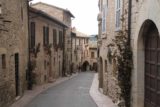 Unfortunately, we were seeking Nature and it seemed like Nature was harder to come by. Indeed, the only true back-to-nature experience we had was Cascata del Rio Verde near Borrello in the Abruzzo Region, which was quite a ways away from civilization. Any closer to civilization and you end up with Cascate del Liri or the manmade (by Romans doing the water diversion) Cascata della Marmore.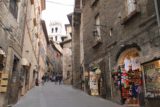 At 5:30pm, we were finally back at the car after a very long walk back the way we came. The rain didn't deliver during our visit so we did get some more photos of the atmospheric medieval town.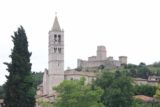 I think this place would've been even more atmospheric if they didn't allow cars here, but then again, there would be a good deal of walking (and carrying of supplies) without motorized transport within the city so I guess you just take the good with the bad.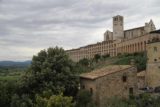 As we were leaving Assisi, we were preoccupied with trying to find a way to photograph the brilliance of the medieval town in a comprehensive way. There was no way to get that from within the town, but as we were making our way back down to the countryside below, we managed to find a large grassy field with a broad (but flat) view looking back at Assisi.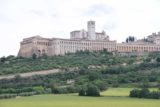 It wasn't quite the LP view which was further to the west of us, but given that it was getting late and we wanted to visit Narni before getting back to Torre Palombara, we had to make haste. So it wasn't until 6pm when we finally left.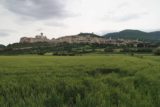 The drive back was on the E45 going the other way to complete a large loop. So it was a quick drive through some dark weather that included some flashes of lightning out in the distance. There were a lot of cars on the road, and it seemed like the E45 itself was pretty beat up for an autostrada that allowed a 110km/h speed limit.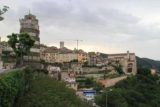 Julie and I noticed just how much better the A1 was and we reckoned that it was due to the fact that they collect tolls on the main autostradas while the E45 didn't collect any money. And it showed…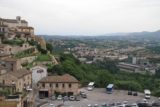 Eventually at 7:30pm, we finally made it to the medieval town of Narni.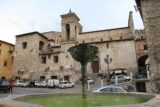 As Julie and I were quite medievaled out at this point, we only spent most of our time in the Centro Storico (Historical Center) and dined at a nice restaurant (kind of hidden away) with a second floor view of the fountain below along with the church behind the fountain. We could have done more hide-and-seek type exploring, but we felt there wouldn't be much more that we hadn't seen already so we passed on that.
Our dishes consisted of a very good duck dish as well as stuff chicken pieces dish. Unfortunately, both our stomachs were still suffering from the ill effects of food poisoning (we were pretty sure it was the seafood bucket from Chez Black's in Positano) so we knew it would be a risk to have the duck and chicken as opposed to sticking with the BRAT diet (bananas, rice, apples, toast).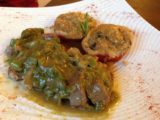 Other than the restaurant and the piazza at the centro storico, there really wasn't much more to this town visually in our minds. However, I knew from our pre-trip research that Narni happened to be the geographic center of Italy as well as the name upon which CS Lewis named a series of fantasy books after (since the Latin name for this town was Narnia).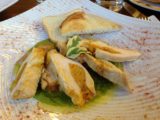 As we were eating, I could see there was some color in the overcast skies just as the sun was about to set. I really wanted to somehow photograph the square in a meaningful way along with the sunset lighting, but it just wasn't meant to be on this trip.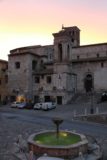 After a fairly lengthy walk, we were finally back in the car at 8:45pm. It was pretty much dark for all intents and purposes at this time, so there was a small bit of night driving that we were forced to do to get back to the Torre Palombara accommodation.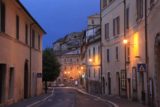 Eventually at 9:10pm, we were finally back in the room. Now, we could finally get to enjoy the villa we were staying at.