Day 8: THE HOLLYWOOD REALIZATION
It was about 7:45am when I finally awoke. Julie ended up waking up another half-hour later. It was very easy to sleep in at this place, but I knew we had some pretty serious driving ahead of us once we'd leave Torre Palombara.
As I took a look out the window, I could see that it was definitely raining this morning. It really seemed like bad weather tended to follow us no matter where we'd go or when (at least it seemed that way on all our Europe trips).
As I was getting packed and prepared for brekkie downstairs, my stomach was so upset that I spent quite a bit of time at the toilet letting the body try to dispel whatever it thought didn't need to be in my system. Julie also had to do the same thing once she was awake. Indeed, this was probably the first time that Julie and I have been on a trip where both of us were sick from food poisoning at the same time.
At 8:50am, I headed downstairs (thinking I was late for the 8:30am breakfast) to the bottom floor where there was still that familiar mood music playing in the background. There was a lady who was tending to the breakfast, and she was the one who helped make eggs to provide a little hot-cooked stuff for brekkie.
Other than that, brekkie was the same simple fare of bread, cereal, prosciutto, fruits, and desserts or at least sweet pastries.
When we were done with breakfast, both Julie and I had to pay homage to the porcelain god once again as our bodies had to dispel what we had just ate and drank.
Anyways, we ultimately got packed and ready to go, and in the mean time, we paid the bill.
Just as we were leaving, we engaged in another friendly conversation with Leonardo. The topic of the conversations were revolving around Italian life, holidays/vacations (especially in California since Leonardo really fantasized about it from old 80s shows like CHiPs, A Team, Dukes of Hazard, etc.). He had been to California once before when he said he was motorbiking along the Big Sur Coast towards Carmel, and based on that, we could totally see why he enjoyed his visit. Plus, I'd bet the weather was also nice.
We also talked about the crazy weather in which we were pretty certain that all this Global Weirding was taking place because of the unchecked effects of what we've been doing to cause Global Warming (or the imbalance of carbon released into the atmosphere versus the rate at which carbon sinks back into the ground naturally).
He shared a pretty funny story about being apprehended in Key West, FL that probably seemed like he was a victim of a little racial profiling while he was weaving through traffic on his motorbike (like the way Italians do weave through traffic on Vespas or motorbikes in Italy). In that story, the cops forcefully pulled him over, put him in cuffs, called the Italian Embassy, and thought he was a drug dealer…
Basically, he said he was quite scared at the time as he could've very well been locked up abroad in the States.
It wasn't until about 11:05am when we finally had to break off our conversation with Leonardo, load up the car in the rain, and get going. Still, we could've just talked indefinitely trading travel stories and grow some more in the process. We were genuinely interested in hearing the differing perspectives, and this is what we contend has to be one of the more rewarding aspects of travel.
At first, we thought it was a wise idea to take the E45 to the A1 before making our way up to Cascata del Sasso, but when we saw on the GPS later that there were red lines (meaning freeway or autoroute) that were more direct along the E45, we eventually turned around and did that. So that ended up being about a 30-minute out-and-back detour before we finally made forward progress towards the goals of today.
But as for the drive heading north on the E45, it was somewhat familiar since this was the way we took going back from Assisi last night. And once again, it was a combination of uneven roads with a few minor potholes (kind of like at home) except the speed limit here typically was 110km/h. And so we were reminded of how free roads like this tend to be missing something while the autostrada collects tolls with dramatically different results in the road conditions.
Most of the drive going up the E45 was pretty much in nonstop rain. So I guess that couldn't have helped matters in terms of the road conditions either.
We would eventually get off the E45 near San Giustino and then take the E78 along some very twisty roads as we went back into the mountains and into the misty low-lying clouds. Once we were on the other side of the pass, the twisty roads eventually gave way to a more straightened out road along what appeared to be a long and broad valley passing by a few more towns until we reached the town of Sant'Angelo in Vado.
The GPS had us turn right on some road for an industrial zone, which didn't look right to us. So after making a U-turn, we went back on the E78 and kept going east until the GPS kept telling us to go back as we were now well outside of Sant-Angelo in Vado and heading towards Urbania.
When we eventually made it back to the place we turned off the E78, we noticed a Cascata del Sasso sign on our left. Funny how that sign was visible as we headed west but was nowhere to be seen when we were headed east on the E78. I guess most visitors to the falls would probably come from the Adriatic side of Italy (or at least that was what must have been assumed).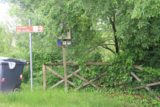 Anyways, now we were able to follow signs (which were consistent with what the GPS was telling us) and we would eventually make it to a signposted pullout (at 2pm) where one look to our right from within the car showed a pretty obvious viewing area on grass with a bench.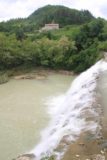 By now, the weather was starting to clear up a bit though the grass was still quite wet.
After getting my camera and letting Julie stay in the car to rest, I then went to the overlook and noticed that I was right above the waterfall. The view from here was on the disappointing side, but when I looked down at the base, I noticed a local who was angling by the shores of the river.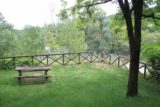 I wondered how he was able to get down there, so I explored a little bit as there was a faint path that descended towards the concrete section right at the top of the falls (stumbling through what looked like poison ivy, which was not good as I was wearing Chacos). But that was the end of the scrambling as there was no way to continue descending further.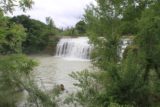 So ten minutes later, I was back in the car. I took out our laptop and double checked our research notes where I noticed there was a way to get to the base from an abandoned stone mill. I wasn't sure what this stone mill looked like, but I wondered if they were talking about what appeared to be someone's home below where the angler was chilling out by the falls.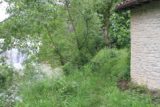 So this time I grabbed my tripod, walked down this unsigned road next to that building I saw earlier, and as I went lower on the road, I immediately started to see more improved views of the falls (albeit with trees in the way).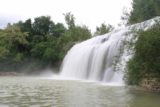 I found a path that went behind the building and that was when I saw the angler heading back up with a smile. He said something to me in Italian that I couldn't understand, but it seemed like he left the place to me all alone. I wondered if he left when I showed up because I did see signs in Italian saying something about not killing anything, and perhaps that also meant no fishing down here.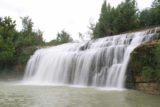 As I got towards the bottom of the path, it started to disappear. Immediately below me, there were some very steep and sketchy-looking paths that were clearly muddy and probably didn't look doable, especially on a day like today when the weather ensured that everything would be wet and slippery. So I continued forward towards the cliff wall that gave rise to the falls, and I saw how the descent going down this way was far more tame to get me right down to the base of the falls.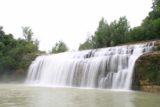 Once at the base, however, I then had to boulder my way towards improved views, but that was when I was once again confronted with poison ivy exposure as well as very slippery surfaces on the boulders themselves as well as some mud on the ground.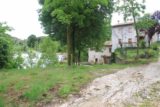 But at least the reward for my troubles down here were far better views, and now I could finally say that this waterfall was definitely worth coming out of the way for. It was a short 15m or so tall waterfall, but it was much wider so it was that block-type waterfall that Julie tends to like.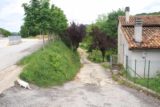 Plus, this waterfall seemed like it was in a naturesque setting though all that industrial development further uphill from me made me wonder if the water quality might have been impacted somehow. After all, the water was kind of a milky greenish color so I wasn't sure if that was just mud from the rain runoff from this morning, or if there were some chemicals that were also dumped in here.
Whatever the case, the block waterfall was attractive and I spent quite a bit of time trying out compositions and even taking shots with my tripod.
At 2:55pm, I finally returned to the car. The scramble back up was probably more drama than it should've been because I actually tried to ascend one of those steep muddy paths when I realized how futile it was. My clothes and even my tripod and camera bags collected a bit of mud as well as my hands.
When I rejoined Julie in the car, it turned out that she also got out and took a few photos of her own on her iPhone.
So we took off and now headed towards Cortona which was one of the Julie's medieval villages that she picked because she knew it was a film location of the movie, "Under the Tuscan Sun." But I had this forebidding feeling that Julie would be disappointed because of built-up expectations from the movie only to learn that reality would be far different than those expectations. I hoped that I was wrong.
We once again followed the GPS west on the E78, which took us back over the twisty mountain pass. Then, we drove through San Giustino before continuing west of the freeway. I wasn't sure why the GPS had us skip the autoroute, but at least the route looked like it was taking us directly to the town despite the fact that there were no signs indicating as such.
My stomach was killing me during this drive because it was very gassy and it wanted to let go of more stuff as diarrhea. So I held it in until we got to some random town with a gas station along the rural road that we took. Fortunately, this gas station had a toilet seat and I was able to do my business while also filling up with benzina for the car as well.
The attendant didn't speak any English but we made some superficial small talk in Italian and he seemed genuinely surprised that I was able to hold my own with him in Italian. That kind of boosted my confidence a bit though I had a feeling that as we were heading towards Toscana, there would be more English spoken because the area had gotten some heavy exposure from Hollywood.
We'd eventually drive through more winding mountainous roads through forests of green again. I started to wonder if the GPS took us on another unnecessary detour. But we'd eventually head to a part where we started to see another medieval village perched atop a hillside with another castle off on top of another hill. It was too bad that we couldn't stop to pull over given the narrowness of the road because this would have been quite the place to take a photo showing such medieval villages juxtaposed with expansive vistas.
At first Julie thought that was Cortona. But when we got to a car park next to this village, we realized that it said something to the effect of "Madonna in Bagno." And since Julie had her heart set on visiting Cortona, we kept going.
We'd eventually start to see Cortona signs at this point, however, and so we followed the signs. We'd eventually get to a spot where we found some free parking at Cortona at 5:10pm, but truthfully, the view of the town from along the roads we were driving didn't look as impressive from its exterior as that Madonna in Bagno place we passed by earlier.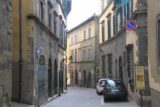 As we went through the arched entranceway nearest to us, we'd eventually get past the Piazza di Signorelli and then into the Republic Square. The latter was where there were lots more people with cafes and shops surrounding the perimeter of the compact square. Watching over the area was a big church-looking thing with a bell tower, I think.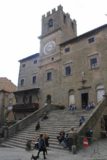 Certainly, we could've have explored some more of the alleyways branching off from this square, but Julie and I were already underwhelmed if this was the place to be in this village. So we then started to head in the direction where there might be some panoramas. We'd eventually get to the Museum of the Diocese, and that was where we caught some vista of the Tuscan countryside though the patchy clouds above us were causing shadows that compromised our photos.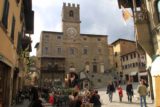 I suspected that we would hear more American voices while we were here, and I was correct. Julie overheard someone talking about buying sunflowers, and that jogged a memory in her as she revealed to me that that reference came from the movie. And based on that observation, I came to realize that those novels or movies were really nothing more than creating expectations for their audiences. That random girl was an example of this, and I had a pretty good perspective from hearing Julie talk about this place.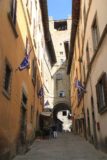 So given all this, I now came to the realization that this place was really nothing special, especially since we thought we visited better medieval villages like Arpino and maybe even Narni. Assisi was clearly head-and-shoulders above most of the medieval villages we visited to this point.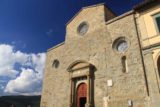 Indeed, I had concluded that most of the medieval villages that were shown in movies were probably chosen not because they were extraordinary in terms of scenery, but perhaps it just so happened to be where the producer or writer or whoever was staying or visiting. Or maybe it was a cost thing. Who knows?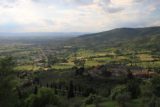 After a brief failed attempt at trying to go up to Santa Margherita Sanctuary which had a bit of a climbing path to some fortress, we decided to just leave and head towards Montepulciano where we were staying.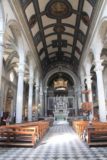 So at 5:55pm, we were back in the car and made our move.
It wasn't until around 7pm that we made it to Montepulciano. It was a good thing that there were signs pointing the way so that created a bit less confusion about how we were going about doing this drive as it was mostly consistent with the GPS. Along the way, we passed through some rolling hills that kind of fit the stereotypical Toscana in much the same way that Julie expected when we first went to Provence in France.
Now I was forewarned by a coworker who had driven here before that he had lots of trouble trying to drive close to his hotel in this town while on his honeymoon. So he had to eventually drive the wrong way or something and possibly get a fine.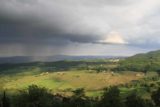 But since Julie and I were no strangers to parking our car and walking into the village with our luggage (even if it included cobblestone steps), we found car park #7 and did just that. And after a bit of a hike that took us through the main piazza with the familiar clock tower that Julie instantly recognized from the Twilight movies, we'd eventually make it to the Via Ricci street where we then descended the street towards the Camere Bellevista, where we'd be staying for the next two nights.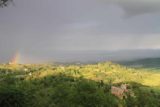 The door was locked and we had to use the intercom to summon the receptionist. During the wait, I took a few panoramic shots from the Piazza di San Francesco, which was a small square fronting a church nearly adjacent to the accommodation. There were some cars parked here with signs saying the spots were reserved for the accommodations near here, including the Camere Bellavista.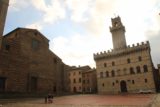 Anyways after about 5 minutes or so, the receptionist drove up to us as we waited in front of the ingresso (entrance) of the property.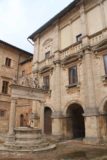 After getting the formalities out of the way, the lady showed us to our room, which was initially Room 112. But after Julie realized that this room didn't have a few, she asked if we could get a room with a view and that was when she told us to get room 7.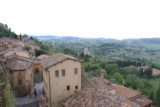 Once Julie went up there to check, that was when she was happy as she got the vista she envisioned when she was reading TripAdvisor reviews in selecting this place to stay.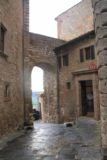 So at 7:50pm, we were finally settled in the room. The receptionist gave me a map and told me how to get to the car park that I had observed earlier. So Julie and I next went down to the car park #7 to recover the car.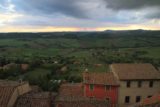 We could see that we were surrounded by some mean-looking squalls as we went down. And after getting our car with the permit in hand (that the receptionist gave us), we then finally parked next to the accommodation at 8:10pm.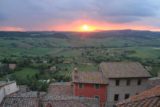 I then contended with more bouts of diarrhea and discomfort, and the timing couldn't have been worse because Julie ended up observing one of the most surreal sunsets she had seen. All I could do was listen to her descriptions and rely on the photos that she took.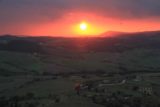 It wasn't until I was finally done with the porcelain god that I went out to see for myself, but by then, then sun was gone. Damn!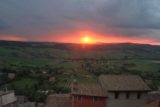 We had a late meal as we walked in the rain at around 9:25pm. The food wasn't that great as Julie wanted soup and it ended up being some kind of stew that was cheesy and was threatening to make Julie throw up. I had some Pici al ragu, which was a thick spaghetti with ground meat.
By around 10pm, we were back in the room, when we could finally call it a day. The weather forecast said more unsettled weather for the next two days at Pisa and Florence, but better weather in Venice. Unfortunately, by the time we'd reach Venice, the forecast was said to return to bad weather. Why is it that our timing always works out this way?!?