Day 9: MY NAME IS LUCCA
It was 5:45am when I awoke to another bout of diarrhea, but at least the system seemed to be stabilizing finally. Unfortunately for Julie, I heard her vomiting multiple times last night so clearly whatever she was fighting was still getting the better of her.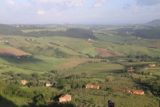 She eventually got up at around 7am. When she opened the shutters and looked at the view, we were relieved to at least see some sun looking out towards the rolling hillsides that was quintessential Toscana. That gave us some hope that at least our day trip to Pisa and Lucca today would at least have some chance of agreeable weather.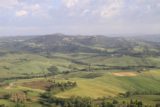 We finally got into the car and were on our way to do the long day trip at 7:50am (skipping brekkie in the process since our stomachs were still unsettled). The first order of business was to get to the autoroute A1, which promised to be a very quick approach to get to where we needed to be. But along the way, we noticed this attractive cathedral just outside the city walls of Montepulciano basking in the soft early morning sun backed by some blue skies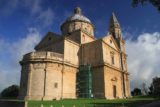 It took probably nearly 30 minutes before we would make it to the autoroute, and as we were zooming along at close to 130km/h, we noticed that we were leaving the partly cloudy skies of Toscana and headed right into some sporadic mean-looking squalls. Some of them even produced lightning!
We really hoped that the weather might not be as foul as this by the time we would make it all the way to Pisa.
The only other drama on the autoroute was the prospect of getting caught by the automatic speed cameras (as always).
Anyways, as we made it out of both the A1 and A11 autostradas (or autostrade, which is plural in Italian), we paid about 12 euro for the right to really save on time on the high speed autoroutes. And once we were within the city limits of Pisa, we pretty much followed the signs for Torre Pendente (that's Leaning Tower in Italian) and especially paid attention to the parking areas.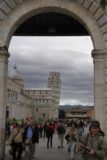 We'd ultimately stumble upon a parking area labeled Torre Pendente at 10:30am, and we were at first skeptical that this place might not be the best place to park since there were a handful of hawkers here as well as lots of empty spaces. Could it be this empty for a reason?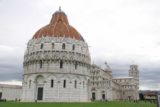 In any case, we grabbed the green token, got our stuff, and proceeded to walk in the direction of Torre Pendente. After less than 5 minutes of walking, we passed through a city wall entrance and saw before us a large crowd of people spread out around the Leaning Tower of Pisa.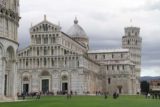 With this being my first time in seeing the marble white tower, I could totally see why it was indeed an iconic attraction. I initially thought this thing can be skipped, but I came to realize after seeing the leaning pagoda in Xi'an, there's just no way any other tower compares to this.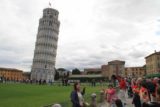 For starters, this pearly white tower had those classic columns that gave it character. Secondly, it had a very pronounced lean that made us wonder how on earth it could still stay up. We imagined that there was quite a bit of effort to reinforce the tower with the lean since it was a major source of tourism money.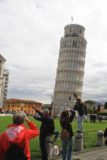 I was quite amused that there were many people putting their hands up to the air in an effort to take that photo where it would look like the smiling person would be holding up the tower. I tried to capture this comical scene in a context shot of people pushing the air, but the problem was that not enough people were doing it at the same time to really make it interesting.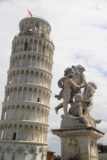 Julie had me go ahead and do that shot for her. I felt stupid being an accomplice in this activity, but at least we got that quintessential touristy photo of Torre Pendente.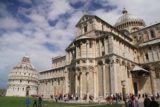 We then spent some more time walking around the complex to check out the other attractive buildings (indeed this place was more than just the tower) including another duomo and some elongated building between them.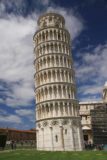 The sun was kind of against us from one side where the lean was pronounced so we went to the other side. There was a hideous chain-linked yellow-and-black fence that was in the way, but at least the polarized lighting and the sun that finally came out made this photo work nonetheless.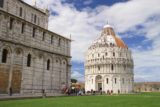 We eventually left the area at 11:50am after Julie had a hot dog that I knew she was going to regret later (though she was already sick of Italian food at this point).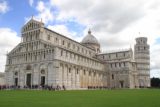 Anyways, we were quite surprised at how easy this visit was considering Julie's rushed tour bus experience several years ago. But with this icon of Italy done, we could now set our sights on the next attraction, which was the walled city of Lucca.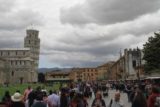 After following the signs for Lucca (instead of taking the autostrada), we'd eventually get to the city of Lucca and its traffic. After a brief difficulty in finding parking that I thought was close to one of the walled entrances, I ended up taking the Parcheggio Partucci (arriving at 12:45pm).
We then fed the machine expecting to spend no more than two hours here, put the ticket onto the dash of our car, and we were off for the walk.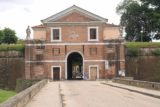 It turned out that we parked not too far from the gate called Porta di S. Donato. Apparently, there was a consistent amount of traffic they let through into this Zona Traffico Limitato (ZTL) where I knew I didn't want to risk getting fined by going in without any advance notice.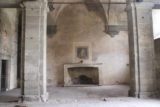 Anyways, we went through the fairly long gate where there seemed to be traces of some past use as there were columns, arches, and even some old fireplaces and murals here. It was definitely something that could have easily been overlooked given the stress of not getting run over by the cars in this narrow corridor.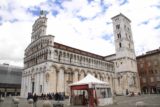 Then, once we were inside, we busted out the LP and followed its map towards the Via S. Croce, which seemed to be the main thoroughfare cutting right across the heart of the historical center of Lucca.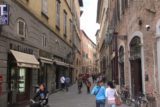 As I had suspected, this corridor where some cars were let through also had featured shops on either side. And it once again confirmed my suspiscion that this was yet another shopping mall disguised as a charming city center. Boy do the Europeans (especially the Italians in this instance) really know how to monetize their history. Perhaps that might be the main reason why pure Nature in the country tended to be so far flung away from civilization and so underappreciated.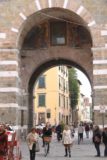 Eventually, we passed by some interesting piazzas (which by now we were figuring out that these tended to be the most photogenic spots of any historical center) before we exited out the eastern gate.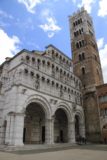 So seeing how we intended to see another square (Piazza S. Martin, I believe), we pretty much followed some lesser-trodden alleyways in search of the piazza that we had yet to see. I even fancied walking along the city walls (ala Dubrovnik), but the walls of this city seemed a bit lower and the buildings here were rather modern.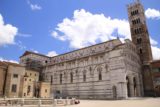 When we finally reached the impressive Piazza S. Martin, we got our shots of the tall church and tower as well as the fountain. And then, in our medievaled out state we were in, we uncomfortably (due to our persistent food poisoning symptoms) ambled about back out the Porta di S. Donato and eventually back to our car at 2:15pm.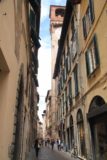 Julie and I couldn't figure out why LP considered Lucca "love-at-first-sight" as this town was too modernized, busy, and less charming than most of the towns we had already seen. We had trouble seeing the appeal and concluded that LP oversold this place.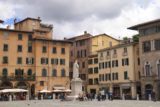 At this point, we were content to go back to our accommodation in Montepulciano and bypass the so-called "Top 3 Foodie Places", which would not be a sure thing and was quite a detour.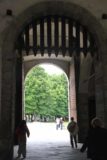 The drive along the A11 and then the A1 on the same route we had taken this morning was once again pretty smooth and event free. The skies were mostly a mix between patchy clouds and sun, and when it was around 4pm, the GPS told us to take an exit that was quite far north of Montepulciano.
Thinking this was a mistake, I kept going along the A1. But then I realized that the GPS had us take a fairly roundabout way to get to Montepulciano from an exit that was way south of town. Clearly, there was no direct exit to the autostrada, and now instead of being back at our room at around 4:15pm, it was going to be on the order of 4:35pm.
To add insult to injury, the exit we took did not have a manned kiosk. So not wanting to risk having the machine eat my credit card, we had to put in 12.80 euros of cash. That really sucked as we were running low on cash already.
And sure enough it wasn't until about 4:50pm when we parked in the familiar spot by the Church of S. Francesco (hoping we wouldn't somehow get a ZTL fine after the fact despite the hotel endorsing us to use their spot).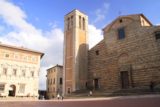 Our arrival back to our room couldn't have come soon enough as I needed to use the toilet once again as I had to battle yet another bout of diarrhea. Boy this being unable to hold our food down on this trip was really getting old fast.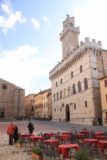 Still with that said, we headed back out into town at 6pm. In the process, we paid for our room, which unfortunately was only accepted in cash at 150 euros. That pretty much depleted just about all of our cash reserves, and now we were in worry mode as we weren't sure how we were going to exchange money between now and the full day we'd be in Florence (two days from today).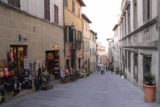 After being silly trying to photograph the Grande Piazza where Edward was supposedly trying to expose himself as a vampire in the New Moon movie, we then walked down the main thoroughfare towards the bottom where we once again walked through more mall-like passages.
We'd eventually settle on this trattoria at the bottom of the hill because they were open, and we wanted to have an early dinner so we could get back up to our room in time for sunset.
Our food was actually decent as Julie's soup really was soup this time, and the duck I had was like duck confit. The bruschetta that had garlic left a little to be desired because the garlic was brown and had a bit of a weird sour taste. I knew from my French language lessons that overcooked garlic meant sour taste, and this was definitely the case.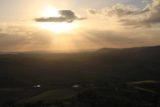 We constantly worried about diarrhea and not being able to keep the food down as we ate. And when we settled the bill and left, it was about 8pm when we finally made it back up the hill to our Camera Bellavista room.
And it was just in time as Julie went right into the toilet to do her visit to the porcelain god.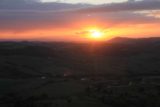 The rest of the day was spent trying to duplicate yesterday's gorgeous sunset. This time it was my turn to observe it since I was incapacitated more or less yesterday. Meanwhile, Julie was preoccupied with internetting from downstairs because somehow the router we were supposed to connect to in our room wasn't operational (i.e. we couldn't connect anymore).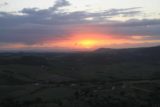 It turned out that sunset somehow didn't seem as dramatic as yesterday's, but it was still beautiful. I actually had more trouble trying to figure out how to capture the colors of the sunset without having the foreground subjects too dark. Conversely, I also had trouble trying to resolve the rolling hills and buildings in foreground without washing out the setting sun. In any case, I did what I could and that as that.
So with that, we pretty much called it the end to this rather long and very chilly (especially in Montepulciano) day. Tomorrow, we march on to Val d'Orcia with a tour to Siena. Even in our medievaled out state, we mind as well check out that place since it was so famous by so many sources. We'll have to see for ourselves. Then, Val d'Orcia was said to be UNESCO so we'll have to see that for ourselves, too.