Day 10: THE RETURN OF OUR APPETITE
It was 7:15am when I awoke up. I had a pretty restful sleep considering that I had slept before midnight for once. I couldn't say the same for Julie because she was compelled to wake up at 3am to diarrhea out more stuff she ate the day before, and then she had some difficulty going back to bed.
When I opened the windows to look outside, I could see that it was still quite cold. It didn't take long before the weather started to turn for the worse and started to rain just as I was starting to load up the car at 7:30am.
It wasn't until 8:15am when we finally left the Camere Bellavista accommodation as we returned the ZTL (Zona Traffico Limitato) permission form (in which we also photographed just in case we need to furnish this record if the rental car company tries to ding us for going into a ZTL area).
With the wet cobblestone streets and steep inclines, I was a bit worried about the tires possibly slipping on the roads, but we'd eventually get out of Montepulciano without such difficulties. We just kept the manual transmission in first gear on the inclines and gradually made our way down without relying too much on the brakes.
We drove towards our next accommodation knowing that it would be too early to check-in. But our intent was to leave our luggage at the accommodation so there would be nothing valuable in the car when we would go to Siena, which was the city that we targeted for today.
The drive was pretty much a combination of rain and some pockets of fair weather. We were weaving through some rolling hills full of long expanses of farmland sprinkled with some Tuscan villas and cypress trees.
This was the Toscana that Julie was sold on when we made a booking to do a farm stay in this region. And we couldn't wait to experience a taste of this Tuscan experience today. Of course, the weather looked like it was doing its best to not cooperate with us.
When we got into the town of San Quirico d'Orcia, we knew we were getting close to the location of our next accommodation at Agriturismo Il Rigo. However, it turned out that the GPS got confused about which road we were supposed to take to get to our farmstay turned bed and breakfast.
After seeing a service station, I asked the attendant there in Italian where the place was after showing him the address on our confirmation printout. He pointed the way saying it was 2km further down the main road from his station, and so I went by his advice to eventually find the turnoff we were supposed to take (as well as the Agriturismo Il Rigo sign).
That took us on an unpaved road with quite a few potholes, and after another kilometer or so of driving on this rural road, we got to the Agriturismo Il Rigo where there were other cars parked here. We arrived at 8:55am.
Apparently, this wasn't the low key farm stay that I envisioned from seeing on a Rick Steves DVD. Instead, this was more of a farm that was run like a B&B in which we saw an example of this in Iceland.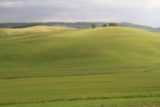 When we walked into the reception, we saw there was a large group of Germans who were on their way out. The receptionist was speaking fluent German to them, and that made me wonder if this guy was a very multilingual person who could converse in many languages with his clients.
Well, it turned out that he himself was German (tedesco) and he was related to the family that owned this property. So that explained the fluent German being spoken.
Anyways as expected, it was too early to check in to our rooms, but we were allowed to leave our luggage. So after doing that, we then drove off for Siena at 9:30am.
The drive to Siena was all along rural roads and even one small stretch of autostrada where the top speed was 90km/h. The drive was a mix of rain and calm but overcast weather. And I feared that we might have to be touring Siena in some foul weather.
We'd eventually get to Siena at around 10:30am and the weather was pretty calm at the time.
However, it took us some time to figure out where were supposed to park that made sense. This was complicated by the fact that I was very afraid of driving into ZTLs where I knew there would be hidden cameras to nab any unpermitted vehicles in the act. So I refused to go anywhere that I saw that red circle sign with white filled in the middle even if there might be signs saying there were more Parcheggios (Parking Lots) past those signs. I just wasn't willing to take that chance.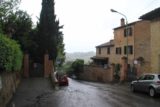 By the time we finally found parking near il Duomo (at least according to the signs) at 10:40am, it was now pouring rain.
So Julie and I tried to wait out the pouring rain by putting on waterproof pants, hiking boots and wool socks, and don our rain ponchos (just in case). By the time we were done doing that inside the confines of the small Fiat Panda (our rental car), it was about 10:55am, and the rains were still falling.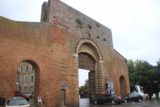 At this point, we got out of the car, Julie went to the nearby parking machine to pay for two hours (since our visits to towns like this generally took no more than that amount of time), we then put the ticket on the dash of our rental car, and then we headed through the gate called Porta di San Marco as we entered the revered town of Siena.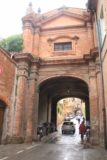 Even though Julie and I were quite prepared for foul weather like this (as evidenced by our donning our rain ponchos to protect our stuff from getting wet, and the waterproof pants to keep our exposed parts of our legs from getting drenched), the brutto tempo (bad weather) really put us in a mood that made us think that Siena might be just like another one of those medieval towns we had seen up to this point that all started to blend in to one another.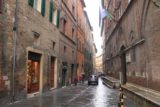 We really adopted a wait-and-see approach with Siena and it was up to the town's charms to prove to us that it was worth the hype.
And this train of thought persisted as we made a bit of a walk trying to follow signs for Il Duomo.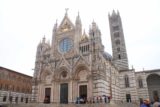 But all that changed when we finally made it to Il Duomo and realized that it was no ordinary Duomo (Cathedral). Unlike the other cathedrals we've seen, this one was decked out in whitish marble. It also had a rather grand and elaborate facade that my words just can't do justice in describing it. Plus, it was grand to the point that we needed more than a wide angle to get it all in one shot plus some context.
Even though the heavy rain persisted (making photo taking under this condition difficult), we took photos from against a wall opposite the cathedral where there was a small awning or roof protrusion that helped us a little bit with taking photos without the rain causing too much of a nuissance.
Then, we walked across the piazza and towards the cathedral when we realized that we had to buy tickets to get in. That was when we followed the signs, which pointed us to the right side of the cathedral and we saw a large crowd of people waiting to get their tickets while most of them were standing in the rain since the queue went that far.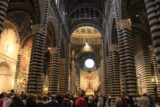 We could see that quite a few of these folks were on tours so apparently our arrival just so happened to coincide with tour groups.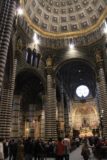 Anyways, the line probably took around 15-20 minutes or so before we finally got our all-inclusive pass at 12 euros per person (with one line accepting credit cards while the shorter faster line took only cash).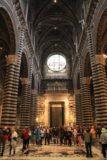 Once we had the tickets in hand, we went proceeded to go right to the entrance of the cathedral. And once we left the pouring rain, we joined the crowd of people already within the cathedral where the rain would not play a factor.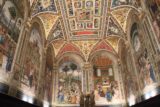 Indeed, this cathedral was grand just like some of the other cathedrals we had seen in Rome (St Peter's Basilica comes to mind). It's hard to capture the grandeur of the place in a single photo, though I'd imagine Julie's stitched photos on her iPhone 5 should communicate the grandeur of the place quite nicely.
After taking a short stroll checking out some of the side displays, painting, the main altar, and even some of the elaborate flooring, we then went into a couple of the side chambers.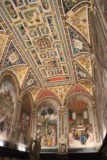 One chamber had a pretty grand room containing a bunch of paintings or drawings on the large ceilings and walls.
The room to the left of the marbled muraled room was a bookstore and some toilets that Julie used.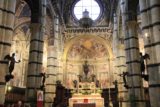 Once that was done, we headed back out to the exit of the cathedral. And by the time we were back outside, it seemed like the rain had let up.
Next, we then entered next to the ticket office where there was the museum of the opera. That was where our tour continued as we showed our tickets, and then entered the next series of rooms.
The next room went into some dark arched area that had statues, but they didn't allow photography in the area. That was a pity because I thought it was a pretty atmospheric place that owed itself to taking at least one non-flashed photo.
So when we had our fill of this place, we then followed some stairs up to another dark room where they didn't allow photography. That dark room featured a bunch of oil paintings where people sat and watched or slowly strolled by in silence. There were two back rooms that showed a few more scrolls and other artifacts.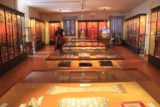 We then went up some more steps towards some room of treasures. This series of rooms housed a collection of gold and crystal artifacts. At least they allowed photography in this room, but it wasn't anything that special in photographs.
Next, we followed the signs to the panorama view. But just as we were about to have some momentum as we moved, we were stopped before a long queue just as we were turning a corner. It turned out that there were people here controlling the flow of people, and I'm imagine that there wasn't going to be much space wherever this vista was going to happen.
So Julie and I patiently waited here for probably another 20-30 minutes. We weren't sure if it was worth the wait (especially since our two-hour parking window was running out), but we figured we mind as well just wait it out since we were here already.
We occupied ourselves by flipping through Julie's stored iPhone images, especially of pictures of Tahia. Even though we were about a week-and-a-half into our Italy trip, we were sorely missing her. We knew this would be the most difficult part of the trip (being without her), but we also knew that it was necessary since it would be next to impossible to explore as much of Italy as we were doing with her, especially when she wouldn't remember anything at this age.
When it was finally our turn to join the group to go up (we were preceded by two groups), we went up some staired corridors before walking up a series of spiral steps that seemed to go on forever. The spiral steps were very tight and we could immediately see why they had to regulate traffic the way they did.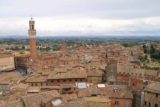 When we got up the first long series of spiral steps, another employee told everyone that we had ten minutes to go up to the very top, do our business, then head back down.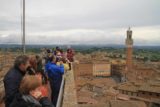 And so when we did that, we went up another long series of spiral steps. But when we finally made it up to the top of the steps, we were on a very narrow walkway with open air all around us. More importantly, we had nearly 360 degree views of the city of Siena.
To one side, we could see Piazza del Campo (or il Campo for short) with the famous clock tower rising high up above the lopsided semi-circular square.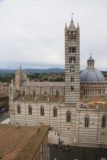 To another side, we could see the Duomo though there was a hideous crane in that direction as there was some restoration work being done.
The rest of the inspiring panorama was filled with red rooftops (kind of reminiscent of Dubrovnik in Croatia).
And even though the skies remained ominously overcast and gray, the panoramas were definitely worth the wait. Now, we understood why so many people were willing to queue up for this panorama.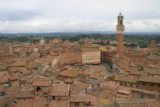 As Julie and I were busy taking our last bit of photos, we ended up being the last pair on our group to leave. As we got down the spiral steps, we snuck in another series of photos towards the Piazza del Campo after asking the employee at this level, "Posso?" (Can I?)
Once we had our fill of this lower panorama, we then went back down the endless spiral trying hard not to trip and fall, and then we finally went past the next long queue waiting to get in.
That pretty much concluded this part of the cathedral visit, but we still had the Crypt and the Battistero to go.
The Crypt was in another entrance to the cathedral just underneath a marbled archway by some marble steps. I knew full well how slippery the surface can be given how wet everything was as we walked the steps, and then we flashed our tickets to get into the crypt.
Once again, no photos were allowed in this section. So we basically soaked in the eerie atmosphere of the place before heading back out.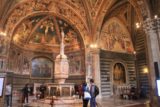 As we went down another flight of steps closer to the bottom, we then entered the Battistero, which was another room with some dome-like ceilings and some altars and statues adorning the floor of the room. At least we were allowed to take photos here, so we did.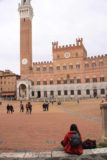 Now that we had our fill of the cathedral (we weren't going to do the 6th attraction, which was in a different part of town), we finally continued down the marble steps and down a throughfare alleyway towards the Piazza del Campo.
Julie had a craving for food so we stopped by this pizza-by-the-slice place on the way down. This would be a test of whether our stomachs had recovered from the food poisoning or not.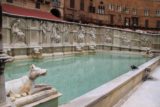 After they heated up the pizzas, we paid the euros, and took the pizzas to go, we then walked down the cobblestone ramp to descend into the grand piazza.
There were a lot of tours here as well as the general bustle of many people all converged in the heart of the city.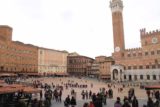 And like the many students who would come here to chill out in the piazza while picnicking, Julie and I sat on the floor on the perimeter of the semicircular piazza and did just the same as we enjoyed our pizzas.
Speaking of which, Julie actually liked these re-heated pizzas better than what we had in Napoli because she liked the crispier crust (something that was lacking in Naples since they tended to make their pizzas more doughy). Whatever the case, I just savored the fact that we got to chill out in Piazza del Campo and just soak in the atmosphere over some takeaway pizzas.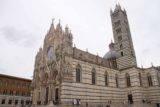 When we were finished with the pizzas, we briefly took some time for some more photos before we tried to retrace our steps to go back to the parking area where we left our rental car.
Our memories were very important in this instance because we didn't really have a map with us (though LP could've been handy had we chosen to use it). Nonetheless, we were successfully able to get back out of the main thoroughfare of tourists before we ended up in some pretty quiet streets that included a couple of grocers.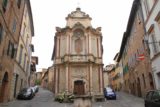 Julie stopped to buy some bananas and cherries at this store that sold produce at a very reasonable price (4.5 euros for all the produce that we bought).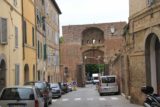 And with that, we'd ultimately return to our parked car at 2:25pm, which was 90 minutes past the expiration of our parking ticket we displayed. Now we didn't see any parking tickets on the car, but that's not to say that a cop came by, made a call to the car rental company, and dinged us that way. I guess we'll have to find out what would happen next once we return the car in Florence or perhaps even afterwards when we get home.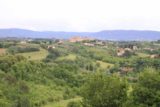 At 2:30pm, we left Siena and headed right back to Agriturismo Il Rigo.
The drive started off calm, but I knew we were heading into some inclement weather. And by the time we got to the farmstay at 3:25pm, the weather was quite brutal as there were some fierce winds combined with heavy rain.
It seemed like we just couldn't catch much of a break with the weather no matter where we go in Europe. Indeed, in 2010, we had lots of rain in parts of Greece, Croatia, and Switzerland. In 2012, our France trip was mostly dominated by rain. And in this trip, we were seeing rain just about everyday since we left Rome and Campagnia. The funny irony was that the one year in 2011 when we didn't go to Europe, they were having a drought. Go figure…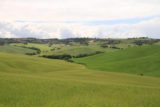 Anyways, we were finally checked into our room at 3:55pm. It turned out that we were staying in an annexed room so we actually had to get back into our car with our left luggage, then bring all that stuff to the annexed building. It turned out that the annex was that picturesque building atop a grassy field that we had photographed earlier.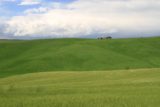 Just as we were getting settled in our room, the weather finally started to calm down a bit. That left us an opportunity to take some photos of the surrounding countryside again. And when that was done, we were finally getting settled in as we were chilling out in the public living room.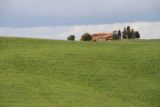 At around 5:10pm, the brief period of calm weather passed. Now, the rain and winds came back in full force. I even noticed there was some hail and lightning!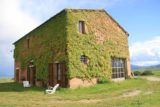 The winds were so strong that I wondered if there could have been a tornado possibility here.
In any case, it was nice to know that we could chill out in the coziness of the warm living room while watching the inclement weather drama outside. Sometimes the lights would flicker as the winds would be howling and the rains would come in horizontally.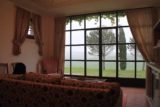 But then at 5:50pm, the storm cell had finally passed. Sun was breaking through once again, but I could still hear thunder cracking from time to time. Who knows how much longer this brief period of calm would last until the next storm cell would hit?
At 6:45pm, we got dressed in our casual dinner attire (the first time we did this over our typical hiking clothes for the entire trip) and drove back to the main area. The weather remained calm though I knew it was only a matter of time before the next big storm cell would hit our area.
When we entered the dining area where there was Wi-Fi, it turned out that there was a large group of Germans already there, and it felt like Julie and I were the only non-German speakers in the place. Clearly, this farmstay location seems to get mostly German-speaking clients, but somehow I got the sense that all the people here kind of knew each other.
So while all the commotion and socializing was going on (mostly in German with some English sprinkled infrequently here and there), Julie was busy reading on her iPhone while I was tending to business on the laptop. As much as we tried to Skype Tahia, nobody was picking up back at home. So we spent the next hour pretty much going about our business using the internet.
The fixed dinner was scheduled for 7:30pm, but we didn't really get started until around 7:45pm.
The meal was said to be traditional Tuscan dinner that was cooked by the girlfriend of the German guy who ran this place. The menu said that she was schooled in the culinary arts.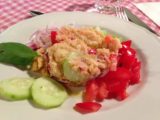 Anyways, the antipasti consisted of a fresh salad of cucumbers, onions, tomatoes, celery, and some basil with bread pieces in olive oil.
However, Julie and I could appreciate this salad because we realized that we didn't look at the food with the mindset that we couldn't eat it or the body wouldn't keep it down. In fact, we actually savored the taste. So that meant that we had finally got our appetite back after nearly four days!
It was a shame that it took until the very end of our Toscana and Umbria section of the trip, because these regions were supposed to be known for good food and fine wine. In any case, we at least couldn't say our Toscana part of the trip wasn't a total loss from a foodie standpoint.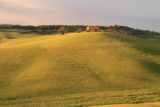 After finishing the antipasti, I started to notice that the afternoon sun was out and that I really wanted to capture some sunset images with the camera I brought with me. I could see the grasses glowing with the warm color of the sun though the winds were blowing hard and the wind chill was definitely a factor as my face was going numb from the frigid air.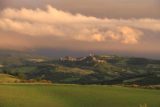 I managed to get some gorgeous shots. However, I might have spent a little too much time outside because my primi (first course) showed up a few minutes before I went back inside to rejoin Julie.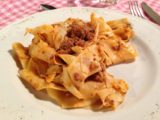 The primi was a thick pasta with ragu, which was ground meat. There was no tomato sauce, and with this being the second time we encountered this dish in Toscana, I was starting to wonder if that was the traditional way Tuscan pasta is typically made.
I know this wasn't Julie's cup of tea as she liked the sauciness of tomato meat sauce. But since it was apparent that that particular preparation of pasta wasn't authentic Toscana, that was another thing we learned about the perception of Italian food back at home versus the reality of authentic Italian food.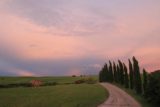 After finishing the pasta, I noticed the skies started to glow purple. When I went back outside to take a few more photos, most of the purple was gone. I also thought I would see a rainbow, but the rainbow wasn't there either. I guess that was the hazard of having dinner right around the time the sun was to set.
Indeed, I happened to return outside just when the sun had already set. So I didn't spend nearly as much time outside on this go around, and I rejoined dinner without stepping outside between courses again.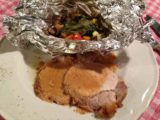 The secondi was a delicious and very different dish from what we had experienced in Italy so far. It was a pork with some kind of sauce on it accompanied by roasted veggies wrapped in foil. And once again, the food was delicious though I'm sure the proprietor must have thought we were a bit strange for not accompanying the meal with some kind of wine.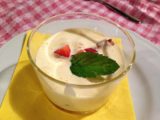 After the secondi, we had a dessert of sweetened egg whites, which was actually quite delicious and like pudding. This was actually a real test of our stomachs, but we didn't really think about it a whole lot as we just savored the dessert.
Following the dessert, we were joined by the German proprietor where we he asked about our holiday while we also learned the story of how he and his girlfriend Luisa met. Apparently, we were pretty unusual guests in that we were spending three whole weeks in Italy, and I guess that was unusual for the type of guests that they get at this farm stay.
During the conversation, one of the German-speaking folks from the other tables joined the conversation with us. Her name was Monica and she was most curious about our backgrounds since she wasn't sure of where we were from. When we explained to her that we were from Los Angeles, she said that that was totally something that she didn't expect to hear.
It turned out that she was from Switzerland in a town northeast of Bern. She was taking a class on singing as well as cooking, and that was what explained the group camaraderie amongst the German-speaking guests and hosts. She also said that no one really knew each other except that they were kept together during the class.
After the dinner, we finally connected with Tahia on Skype. Of course, she was preoccupied with loading up on bread, and it was almost as if Mom and Dad didn't exist as long as she was concentrating on her bread.
The call quality wasn't good, but at least we got to see her again. Perhaps tomorrow in Florence, we'll have better internet.
We left dinner at close to 10pm. But by then, the weather had turned really foul as it was full of thick drops of horizontal rain accompanied by strong and chilly winds. It's times like these that made me wonder if such cells would be the type that could spawn a tornado, especially in the rolling hills and plains like here in Toscana.
There was a little bit of drama in trying to return from our car to our annexed room. And after Julie first went in to get me a rain poncho then come back out to give it to me, I used the poncho to protect the electronics as I made my move back into the accommodation.
The poncho was very wet, the shoes were a little wet, and the bottom of my jeans were also a little wet. But it could have been worse…
And so at 10:30pm, Julie and I were back in the room together again. Now, it was time to sleep and hope that tomorrow's weather wouldn't be as foul as this, especially since we were supposed to visit a waterfall before dropping the rental car off in Firenze.