Day 11: TRADING FLORENCE FOR NATURE
It was 7am when we awoke. When we looked out the window, we could see it was overcast and calm at the moment, but knowing our luck, the weather looked like it could turn at any moment.
During the time we took to get ready for the day, there were moments when the sun came out. So I took this time to take a few photos of the fields and rolling hills around the annex building we stayed at.
Finally at around 8:20am, we left the annex and headed over to the main building for some breakfast and to settle our bill.
During the drive over there, we noticed there was a guy with a tripod on the road between the annex and the main area taking photos of what I'd imagine was the rolling fields and possibly one of the farm buildings or something as the subject.
I guess being a fellow aspiring photographer, I could appreciate the effort and the patience to seek out places like this for that quintessential Tuscan money shot.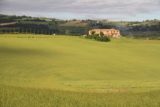 On a separate part of the road, Julie wanted me to take a similar photo from further up the hill. Given the morning light, perhaps now was the time to try to get her idea of that money shot.
Shortly thereafter, we went into the main area for our breakfast, which was the typical basic fare of toasted bread with prosciutto, cereal, fruits, and some water, juice, or milk.
The brekkie didn't take long, and I then went over to the reception to settle the bill.
At this time of the morning, it appeared that Luisa (I only learned of her name from the menu and from her boyfriend [whose name eluded me] who called her by that name) was attending to the main lobby. After settling the bill, we engaged in a little small talk about the foul weather.
I told her that the rains tended to follow us around since this was our third European trip in May in the last four years where the weather was mostly foul. In 2010, we had some intense rains in Croatia and some bad weather in Switzerland, and even some rain was encountered in Greece. In 2012, we hit quite a bit of foul weather in France (while Italy turned out to be dry). And now, this year, it seemed like we couldn't catch a break once we left the Southern parts of the country (while it appeared France was west of the action). Only in 2011, we knew that much of Europe was dry, which was the one year we didn't go there since we that was when Tahia came into our lives.
Anyways, it was in that context that she revealed that the extended Winter in Italy wreaked havoc on her wedding plans, which was supposed to happen in mid-June (only a couple of weeks away). She thought if the outdoor wedding happened on a day where the weather was as violent as yesterday, then she could shoot herself (which she said with a smile of course, but perhaps underscoring the pressure to having that perfect day).
All I could offer up to her was that she needed a Plan B, which she clearly knew needed to be done. Unfortunately, their facility had limited real-estate indoors and they'd have to figure something out with tents. But if the weather was as violent as yesterday, I'm not sure even the tents would have worked.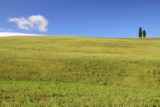 At 9am, we left Agriturismo Il Rigo, and it was now pretty sunny weather. I guess in keeping with the theme of not having good weather when it counted most, it occurred on a transit day when we couldn't enjoy it as much as we could have yesterday. I guess this was yet another example of how we've been pretty rotten with the luck and timing of our trip.
We didn't expect to be in Florence until later in the afternoon since we planned on doing a hike to Le Cascate del Dardagna (the Dardagna Waterfalls), which was the nearest significant waterfall that I was aware of to Florence (though it was probably nearly two hour's drive from there as well).
In any case, after driving nearly an hour on rural roads to get to the A1, the drive was then pretty smooth on the A1 itself (as we started on the autostrada at around 10am). After junctioning with the A11 near Florence at 10:45am, we then headed west another 24km or so before exiting the A11 and onto a fairly busy thoroughfare going up into the mountains and eventually towards Bologna (though we didn't have to go that far).
The drive was twisty but we were confident we were still making progress towards our waterfall goal for today. But then somewhere along the way, the GPS put us on some random rural roads (ultimately with Madolma being the town it was taking us through) before we finally were in Lizzano in Belvedere, which I recalled was a town that was on my research.
But I swore the GPS assumed we'd be going 90km/h on its route when in fact we were going no faster than 30-40km/h. So in the end, we probably lost another 15-30 minutes had we not stuck with the main routes, which we would eventually rejoin with in town.
Next, the GPS had us go on some other road, but the signage indicated nothing about Cascate del Dardagna which started to worry me. But without anything else to go on, we decided to entertain the GPS' directions. After all, I rebelled with the GPS the last couple of days thinking we knew something she didn't but she ended up being right in hindsight. However in this instance, she put us on some very narrow nearly single-lane roads hugging mountains.
I was already starting to have doubts about this approach the further we went and the narrower the road became.
Eventually, at 12:30pm, we showed up at the Refugio Segavecchia, which was where the GPS told us to navigate off road. I hoping that this would be the trailhead for Dardagna, but somehow I doubted it as no signage said anything of the sort.
So having seen people conversing here, I exited the car and busted out my Italian in asking about the waterfall. One of the men in the group of four said in Italian something to the effect that I was on the wrong road.
One of the other men in the group suggested that I talk to the hotel about getting a map. After I pointed to the rifugio as the hotel, they nodded.
I thought that was a good idea, and it turned out that the refugio was indeed the albergo that could help. So when I thanked them, I went into the hotel and once again tried to bust out my Italian.
Inside the rifugio, there was some activity going on behind the lobby. So I went up to the desk and politely asked, "Permesso?"
This time, a group of younger adults smiled and said, "Prego…" as they came out from the reception area, and I asked them in Italian about Dardagna. And like one of the guys I spoke to earlier, he indicated that it was either going to be a 4-hour walk from the refugio to get there, or I would have to drive some 45 minutes through a series of towns to ultimately get to Madonna dell'Acero.
That was the key town where the trail to Cascate del Dardagna started. One of the ladies gave me a map while the young male that was addressing me was showing me on the wall map where I should be driving and ultimately where I should be doing the hike.
So after this exchange in Italian (which included the infrequent word or two of English since he knew I could speak English, but pretty much kept it in his native language), I finally had a sense of where I needed to go. And with a deep sense of gratitude for their friendliness and help in this matter, I was on my way.
Indeed, after backtracking to Lizzano in Belvedere, I then passed through Vidiciatico then La Ca before finally seeing Madonna dell'Acero. I noticed there was a car park with a bus and some cars with a sign for Centro Visita (visitor center, I believe) so that was where I stopped the car at 1:15pm.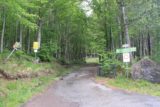 It was starting to rain again, but it wasn't bad enough that I needed to put on rain gear. Anyways, I walked over to the visitor center, and that was when I met up with a guy who had just left and closed to the door to the building. He was about to enter the car when he said, "Ciao!" to me, but then I asked him, "Sa dov'e la Cascada di Dardagna?"
Then, he verbally gave me instructions in Italian. I probably only processed 50% of what he said, but I picked up on the words "sempre dritto" (straight ahead), "santuario" (sanctuary), "300 metre", and "ponte" (bridge), and that was all the information I needed to know that I was getting close and in which direction.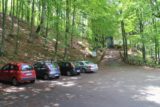 So I went back to the car, drove it 300m or so in search of the sanctuary by the bridge. And sure enough, I saw the Sanctuary of Madonna dell'Acero as well as a sign indicating "Cascate del Dardagna." Finally, a sign for the falls!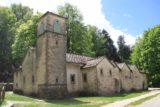 At 1:30pm, I stopped the car. It turned out that the GPS put us on the costly detour that wasted at least an hour of precious time we wanted to devote to Florence (though at least we now have a map of the area so maybe it wasn't a total waste). In any case, I prepared myself for the hike ahead and let Julie stay in the car so I could speed things up by me doing this hike solo. The sign said the hike was only 45 minutes each way, which wasn't all that bad at all since I had anticipated a three-hour return hike according to the map that I received at Refugio Segavecchia.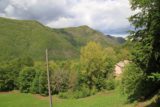 In the beginning, I loitered a little at the old-looking building that was the sanctuary. After having my fill of this edifice from the outside, I then noticed that the GPS batteries were low. So I tried to change out of the old alkaline batteries I had bought as an emergency in Tahiti before putting back in the Duracell batteries.
And that was when I realized that something wasn't right with the GPS unit as it didn't seem to like my Duracell batteries.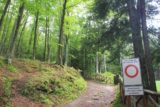 Eventually, I gave up on getting the GPS to work and finally started the hike at 1:45pm.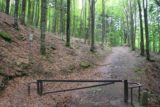 At first, the hike started to climb on some narrow paved path between a couple of buildings before reaching a gate. Then, I was able to walk around the gate and continue the uphill beginning until I reached a fork.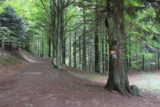 Signed arrows indicated that I should continue on the 331 trail towards falls so that I did. And as the trail started to descend on the correct path from the fork, I could feel immediately that I was truly in a back-to-nature place as I was surrounded by tall trees that reminded me of the type that might be seen in the forests back at home.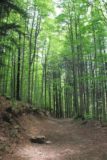 It felt like it had been a very long time between visiting natural waterfalls, and I had forgotten how relaxing and beautiful just being in Nature could be. This was the medicine I needed to get over my medievaled out or ruined out mindset.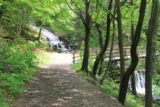 Eventually the descent ended as I was near the river. Now, the trail climbed from this point, and it seemed like it would climb for the remainder of this hike as it seemed to promise to put me on a path to the series of waterfalls making up Cascate del Dardagna.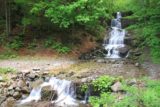 Finally at around 2:10pm, the climb momentarily stopped and made a quick descent past a bridge fronting a cascade and ultimately to the attractive lowermost tier of the Cascate del Dardagna.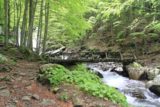 Of course I wasted no time trying to take decent photos of the falls though I also experimented with long exposure photos without a tripod. And just as I was enjoying this waterfall, it looked like some trace amounts of hail was starting to fall.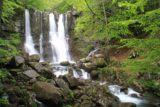 This lowermost tier turned out to not be the end of my day trip since I had noticed there were a more partial views of the upper waterfalls above this main tier. Prior to this realization, I thought just seeing the first tier of the falls was enough, but indeed, I saw that there was more to explore of this falls (thanks to some steps continuing up past the first falls), and it wasn't as dangerous as I had perceived those upper waterfalls to be based on my prior research on the web.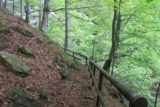 Anyways, I managed to go up the steep steps and then followed the slippery but muddy path towards the second waterfall, which I'd eventually reach at 2:30pm.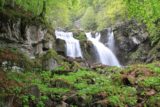 Although the hiking path passed by a pair of smaller cascades, which weren't as impressive as the first, I could totally see that the trail continued to keep going for more of the main waterfalls.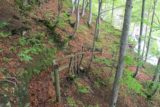 The second waterfall was short, but I still see further up that there was more to be seen and the path kept going.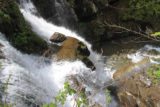 Eventually, I'd reach the third waterfall at around 2:35pm where I met a British middle-aged couple slowly making their way down the steep trail.
At first I asked in Italian, "Il finito e lontano da qui?" (Is the end far from here?)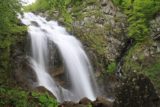 That drew a quizzical reaction by then, so I knew right away they might speak English instead (which was unusual since I never expected non-Italians to be here).
When I asked them (in English) whether the end of the trail was near, the couple told me about the end being less than 10 minutes away though the stairs were steep. The weather was also hailing somewhat in force at this point so the male of the pair bid me good luck and we were on our separate ways.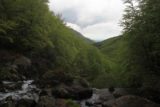 Once I got up the steep steps and followed along a narrow walkway that ultimately led me up to the uppermost tier of Cascate del Dardagna, I could see the fourth and final waterfall. And just as I was noticing this, the weather hailed on me before the weather momentarily broke and it was sunny again (where the light probably wasn't the best at this time of day). And given our persistent foul weather, I kept thinking to myself, "Are you kidding me?"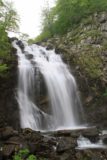 Still, I got onto the slippery rocks right before the uppermost tier of Cascate del Dardagna where I got more photos, movies, and even a downstream panorama over the third waterfall towards some views further downstream.
It was about 2:50pm when I had to leave Cascate del Dardagna. It was too bad my GPS handheld waypoint device was no longer working with Duracell batteries so I couldn't save any of my progress on this hike. I wondered if it had to do with me buying batteries as an emergency in Tahiti and now that that battery stopped working, it might have done something to the expected voltages of my handheld.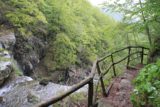 Plus, the hail was also starting to come down even harder than earlier.
Nonetheless, the path to the Dardagna waterfall was well visited, and I probably didn't need the GPS coordinates to navigate my way through to the waterfall.. In fact, I wondered how the British couple knew about this place before getting to Dardagna as I didn't expect there to be a big cotingent of tourist facilities. However, I didn't ask at the time so I guess I'll never know.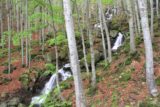 At 2:50pm, I quickly made my way back towards the parked car where Julie was chilling out with her Kindle.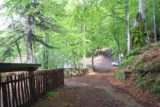 Eventually at 3:20pm, I made it back to the car and the awaiting Julie. I guess it was a good thing the weather decided to hail on me instead of drenching me with more rain because my clothes were still pretty much dry.
And after having some cherries and bananas in the car, we then took off at 3:25pm. And instead of listening to the GPS, I chose to ignore her and stay on the larger roads. We'd eventually get to the SS64, which ran smooth again once again (though the weather alternated between foul and sunny with lots of rain). Indeed, this was the way I should have gone in the first place.
Now, we had to get over to the Florence Airport where we could figure out where to drop off the car rental, and then figure out how we were going to get to the downtown city center without a vehicle.
It wouldn't be until around 5:25pm when we would finally find the parking for rental car returns.
We had a lot of trouble trying to find out where were supposed to drive in order to return the car rental. And finally after 3 or 4 round trips, we finally found what we were looking for. That bit of confusion probably costed us another 20 minutes or so. Indeed, the time we wanted to spend visiting Florence was closing fast.
And then, after uneventfully surrendering the car, we then took a shuttle bus to the airport area.
Once there, we took our luggage, then went to a cambio to exchange $300 despite the Florence Airport rate being a rip off at $1.487 dollar for every euro.
Next, we went searching for the bus stop for the downtown shuttle bus, and that was when we found it by the bus stop designated for it. And it was a good thing we got there when we did because immediately after we paid the driver and he gave us the tickets, the bus started to move before I even had a chance to put our luggage in a place and in a manner they wouldn't roll around.
Ultimately, we'd get to the central station at 6:25pm. Then, we tried looking around for our hotel at Hotels Club Firenze, which was another goose chase that took another 15 minutes (indeed the delays kept adding up).
The Tourist Info office looked like it was closed indefinitely and the other info centers were only for train-related info. So at some point, we had to wing it, and we started by walking towards the old-looking church across the street.
That was when Julie spotted the Hotel we were staying at further down the street to our right, and we made a beeline for the reception whose doors were open and we had to wait our turn behind a large French group who had just arrived to check in.
At 6:50pm, we finally made it up to our room. Whew! What an adventure just to get the car returned, and then figuring out a way to get to the hotel via the downtown shuttle bus! That made us worry about what it would be like to pick up the car in Venice and return it in Milan next week.
Anyways, now it was finally time to get to know this city that was known as the heart of the Renaissance (to be continued)…