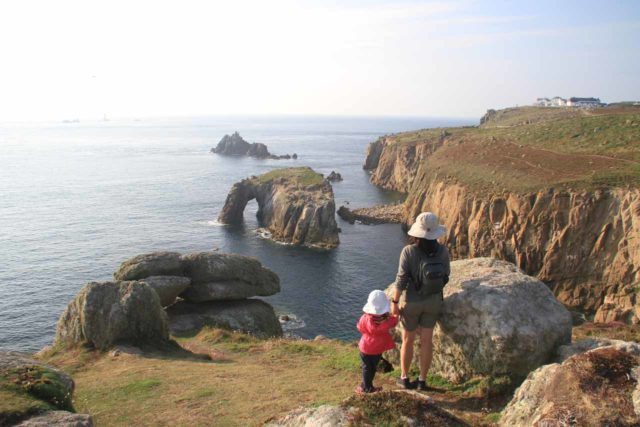 31-August 2014 to 12-September 2014:
When Julie returned to the car, she dropped me some bad news as we learned that there was a NATO Summit going on at exactly the two full days that we would be spending in Cardiff. We weren't sure what the consequences would be in terms of road closures or our ability to access Cardiff Castle or other parts of the city center, but we knew that nothing good would come of this (in much the same manner that we had to ditch Acadia National Park due to the government shut down on our last trip to the New England area).
This development totally blindsided us, and now we had to think fast in terms of how to respond to this sudden turn of events…
Day 19: GOING DOWN PAST LIVERPOOL TO DO SOMETHING
It was 10:35am when we stopped at another Welcome Break stop. Like the other one we stopped at earlier in the day right at the Scottish border, this one had lots of food choices, but the diesel price remained over 1.41 pound per litre. This was easily about 10p per litre over what we had been spending for most of this trip. What's up with that?!?
So I held out and kept going (by now my tank of gas was somewhere between 1/3 and 1/2 full) but not before Julie picked up some Krispy Kreme donuts at this stop.
At 12:15pm, we finally made it to the charming town of Conwy (after nearly 5 hours on the road from Glasgow). At first, we thought it might be too early to check into our Bed and Breakfast in town so we tried to find public parking by the Conwy Castle. But when we struck out on finding parking given how busy it was, we then decided to continue driving a short distance down the road towards the Bryn Derwyn Bed and Breakfast.
It turned out that we were able to check in at this time, but the parking was quite tight, especially with the very steep hill we had to go up even to get up to the car park for the property. That was kind of scary.
Anyhow, by 12:30pm, we spoke with the proprietor Andrew who showed us around while also letting us get into a slightly bigger room knowing that we had a kid staying with us. Still, things were tight all around, and we took the stuff we would be needing to do a tour of Conwy and the Conwy Castle while the room was to get ready. We left the rest of our belongings with the proprietor who would leave the stuff in our room.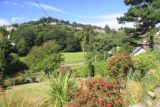 By then, it was 1:25pm when we started walking towards the town center of Conwy. Right off the bat as we passed beneath the castle walls, we could see that this was indeed a charming little town. Julie would eventually have us eat at this place called the Conwy Pantry where we had some tuna and prawns with salad as well as a chicken kiev.
The lunch was fine to keep us going, which was to explore the town a little before capping it off with a visit to the impressive Conwy Castle. At 2:10pm, we were done with the lunch and did just that.
At first, we walked downhill towards the quay or waterfront where the scene down here was busy. We saw a bunch of boats in the water while the imposing castle watched over the quay.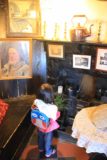 Just to our left, we saw the smallest house in Britain. And we paid a few pounds to go inside and have a look. Indeed, it was small, and if anything, it provided some nice cute little photo ops involving Tahia just to show how small this house was. Apparently, the government thought the house was unfit for habitation given its size so now it serves as this quirky tourist attraction.
Then, we walked towards Conwy Castle, where even the entrance to the castle was pretty atmospheric. After paying the admission, we crossed over a bridge above a road where cars going in both directions had to squeeze their way past a small archway beneath the castle (i.e. it was a single-track section of road). Then, we were in the castle proper and were already treated to the grand interior area, which seemed impressively intact for what turned out to be castle ruins.
We thoroughly enjoyed being awed by the grand towers and walls surrounding us, and as we peered out over some of the windows and walls, we could see some tantalizing views of the town of Conwy, the bay, and some of the residences and hills in the interior.
We then went up some spiral staircases on a couple of the towers to get really beautiful views in all directions. The thing with these towers were that the walls were quite low and there was plenty of dropoff exposure so we really had to keep an eye on Tahia while managing our own butterflies in our stomachs from being so high up.
When all was said and done, we both thought this castle had to have been one of the best castle experiences on this trip. Julie still thought Edinburgh Castle was better because they had crown jewels and stuff, but I felt this castle was very authentic as it didn't pretend to be as manicured as the others we saw in Scotland. Perhaps it was this latter reason that the castle and the town walls were awarded UNESCO World Heritage status.
At 3:55pm, we were done visiting Conwy Castle. We still wanted to check out Llandudno while the weather was fine and there was still daylight.
Though I did want to have that view of the castle from a distance so we could see it in its entirety and photograph it as such as we opted to walk part of the walls towards the car parks near the castle entrance before we realized that the wall walk wouldn't go any further.
At 4:20pm, we had made it back to our room, then a little over a half-hour later, we got back into the car. Before we left Conwy, we drove a little deeper into town so I could climb up the town walls and get to the highest point. And it was from there that I was able to get a distant but complete view of Conwy Castle with decent afternoon backlighting.
At 5:25pm, I was back in the car. Julie and Tahia had stayed in the car, but it turned out that getting up to that point on the town wall wasn't that difficult. So perhaps since we have three nights here in Conwy, they might have other opportunities to do this. We'll see.
After filling up at a Tesco where I managed to get diesel at 1.29 pound per litre (I had to wait in line since apparently this was the cheapest place to get petrol), we then drove the 5 miles to the Victorian bayside town of Llandudno arriving there at 5:50pm.
With the late afternoon sun, there were long shadows, but the large crescent-shaped beachfront area was attractive albeit hard to photograph. What was really striking about this town was that there were lots of Victorian buildings adorning the hillsides as well as the main square at the far end of the crescent near the pier which contained a bunch of amusement park-like attractions.
The beaches here were very rocky or had coarse sand because the waters here were calm. Still, Tahia had her fun playing in this sand as she didn't care if it was soft or hard sand. And after she had her fill of the beach, she then sat on a Hello Kitty coin-op car, which we indulged her as she was definitely having lots of fun.
By about 7pm, we were done checking out the main part of Llandudno, and then we decided to look for a dinner spot before heading back to Conwy. We eventually settled on this place called Home Cookin', and the place served up some pretty good mature rump steak as well as a plaiche (or some kind of local fish) that was very tender and delicious. We topped it all off with a Belgian Waffle topped with ice cream and toffee, and by 8:20pm, we left Llandudno fully satisfied.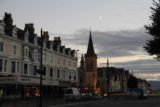 By about 8:40pm, we made it back to our bed and breakfast in Conwy. And at this time, the car park was half-full. We ended up with a tight spot closest to the driveway hoping that we left enough room for others to enter and leave. It was either parking here or in the front, but we thought it would be less secure parking in the front as opposed to up the steep hill in the rear of the property.
And so ended this eventful day. We could see clouds were starting to move in so we didn't expect the weather tomorrow to be anything as nice as it was on this afternoon. No matter, we were intending to do some waterfalling as it was back to business again…
Day 20: PLIGHTS OF SNOWDONIA
The day began with a 7:20am wake-up. All of us slept past our 7am alarms, but it wasn't like we were in any hurry other than trying to make the breakfast at its 8:15am start time. Outside our window, we could see there had been light rain. It was a good thing that we got our photos and experiences of Conwy Castle and Llandudno when we did yesterday afternoon when the skies were clear. So we were kind of expecting that today would be better off done as a driving-dominated day as opposed to a hiking-dominated day.
So we had our full Welsh breakfast (which was quite similar to both the English and Scottish brekkies), and then by 9:25am, we were about to leave for our day's adventures.
However, the adventure found us first as we first noticed that our rear right wheel was once again flat. So in a span of less than 24 hours, we went from a fully inflated tire to a flat one. Clearly, we couldn't go on like this.
But what were we to do? We had quite a bit of stuff planned for today – namely going to Dolgoch Falls then Pistyll Rhaeadr, which were two major waterfalls we sought after but were both a bit of a drive from Conwy. And with the inevitable delay we were to experience when having the tire situation fixed, there would be no way those plans could go through.
Conwy was a small town. In hindsight, we probably should have stomached the delay by going to Europcar at the Glasgow Airport, which was probably better situated than Conwy. But then, we wouldn't have been able to do both Conwy Castle and LLandudno yesterday. So all things considered, we pushed our luck on the tire situation, and our luck ran out as of this morning.
As a short term solution, I thought we could go back to the Tesco with the cheap gas, then fill up the air and drive again. And when we were doing that, Julie finally stomached the roaming charges and called Europcar's roadside assistance number.
It was a good thing we paid the 4 pounds per day for the chips and tire coverage way back at the beginning of the trip. This wasn't the first time we had a flat tire in the middle of a trip (it actually happend twice – once at Buffalo, NY where it costed us around $500 because they claimed all tires needed to be replaced and once in Iceland where our farmstay owner changed the tire with a tractor lifting the car, then we went to an auto shop in Akureyri to get all the wheels replaced).
In all instances I was willing to bet that there was some kind of a scam going on where the rental car companies were reactive instead of proactive with their tire maintenance, then fit the customer with the bill when something finally gives, which just so happened to be us.
I'm not sure how to defend against this other than to stomach a delay at the outset and create a scene with the rental car company insisting that the tires not be bald upon rental. Otherwise, we push our luck like we did and hope we don't get in a dangerous situation where we get a blowout in the middle of nowhere on mountain roads.
So at 9:30am, Julie got in contact with Europcar while we were at the Llandudno Junction Tesco, and after about 15 minutes of answering questions over a dodgy connection, we were told that we'd be contacted again with an approximate time of arrival of the roadside assistance service.
We were told that it might be a few hours, and waiting at Tesco for that long (losing precious vacation time in the process) seemed unpalatable. So with the temporarily inflated tire (while still losing tire pressure as time went), we decided to sneak in a quick out-and-back visit to Swallow Falls just west of Betws-y-Coed in Snowdonia National Park. This would be our Plan B where Swallow Falls would then be followed up (after the tire situation is fixed, we hoped) with Caernarfon Castle and hopefully Aber Falls.
We figured that with cell phone coverage here, we should be able to stay in contact with Europcar while taking matters into our own hands with our time management during a crisis.
So at 9:45am, plan B was on.
We followed a pretty heavily-trafficked road (A470) from Conwy down south to Betws-y-Coed. Even though it was only about 15 miles drive in each direction, getting there took longer than expected because we were pretty much consistently behind someone going real slow with limited opportunities for passing.
Eventually at 10:20am, we would make it to Swallow Falls. We actually parked with a bunch of other cars in a small pullout area, but it seemed like typical visitors were supposed to park at the Swallow Falls Hotel and pay and display.
Just prior to parking, it turned out that Julie had just missed a call (apparently her ringer was off) from the Europcar, and we had to get back in touch with them. They said it would be no later than 11:30am when they'd be at the Tesco, and so we were expecting someone to show up at around that time (in our experience, it tended to be at least that time or later).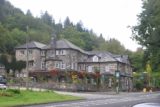 Julie thought we should go straight back the Tesco, but since we were already by Swallow Falls, we mind as well do our visit, then rush our way back.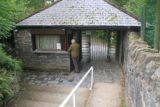 The falls visit had a coin-operated turnstile. And so we put in our 1.5 pounds per person (one person at a time with no change given), and then we quickly went to the main viewpoints of the rivuleted Swallow Falls.
This seemed to be a friendly long exposure waterfall, and I did my best to take such photos without a tripod. At the lower overlook, we saw that quite a few people threw coins into a calm part of the stream near its lower cascades. And by 10:45am, we were back at the car park. We actually spent a few minutes looking for a place to go potty, and that conspired to take even more precious time off before our deadline to get our tire situation fixed.
Then, we quickly drove back towards the Llandudno Junction Tesco. We had to follow behind someone going excruciatingly slow, and we would finally find an opportunity to pass when we were close to the village of Llanrwst.
And with that (while risking speed cameras nabbing us), we would ultimately arrive near the Tesco at around 11:15am, but just then, we saw the red van starting to drive off the other way. So we made an illegal three-point turn and then proceeded to quickly follow the guy as close as we could.
When we finally got his attention, he kept pointing forward. We didn't know what that meant, but ultimately he led us to his tire shop somewhere on the hidden outskirts of Conwy. And by 11:25am, we were finally in a position to get this tire situation resolved.
But that wasn't before we were being chewed out by the young mobile tire service van driver who said we were supposed to wait at the Tesco. I guess he had been waiting there for a bit (well before 11:30am I guess), and he originally thought we didn't even need the tire service if the car was still drivable. But I also wasn't going to tolerate sitting around in Tesco for nearly 2 hours on precious vacation time either.
Well, whatever the case, they did the work with the tire but only replaced the one trouble tire. He also said he was charging us for making him wait though I didn't know how much that would be. The rest of the tires were left intact, though they did say that the other rear tire was also bald. All they were on the hook for doing was to get us out of trouble, and clearly prevention was not in their call to duty here.
Finally at 11:35am, the job was done, I signed some paperwork (again, wondering how much he will charge the rental car company for waiting for us for nearly a half-hour), and then we were on our way to resume our plan B for the day.
Next up, we drove the 25 miles or so to the town of Caernarfon and the Caernarfon Castle. We decided that we would have our lunch over there while also doing the castle tour afterwards.
The drive through several tunnels was mostly uneventful. Eventually at 12:10pm, we managed to find a pay and display parking just outside the castle walls. We weren't sure if this was the right place to park, but in our experience, we thought finding the first opportunity would be the way to go. Little would we realize that there was a more appropriate car park further on around the other side of the castle.
So we paid 2 pounds even though the machine only needed 1.5 pounds for 2 hours. The machine wouldn't give us change so the 2 pounds we paid was only for 2 hours. That wasn't fair. But we didn't have any more change and we'd have to go get some more in town then go back out to the car park to re-feed the meter. Our expiration time was to be 2:19pm.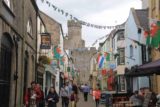 I urged Julie to get a takeaway lunch, but she insisted on having a sit-down lunch place. I was very upset with the decision knowing the time constraint that we were on, and we ended up wasting precious minutes at the first restaurant she saw when we sat and got a menu but didn't eat there.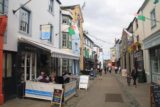 The next place she saw was this place called Scoops, where we went in and sat at 12:35pm. They served Dutch-style pancakes and they were both savoury and sweet ones. So instead of crepes, it would be pancakes instead. Julie was sold on this place, and once again, it was a sit-down place. I knew at this point that we would be condemned to running out of time or rushing our castle visit when the lunch would be finished. The clock was ticking, and we were pushing our luck again…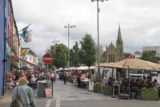 At about 1:10pm, we were done with our lunch. They served both the sweet and savory pancakes at the same time so a lot of the vanilla ice cream on the sweet pancake was melted. Oh well, at least we wouldn't be sitting there longer than we needed to with that bit of a snafu. Nonetheless, the pancake dishes we got were good.
At 1:20pm, we would finally make it into Caernarfon Castle. We did notice there was some bustling market near Castle Square. It looked like something we should spend more time checking out, but again, we were on a time constraint.
Inside the castle complex, we could see that this one was very intact in much the samw way that the Conwy Castle was. However, Julie thought this castle might be even more photogenic. At least as far as the interior was concerned, this castle with hexagonal or octagonal towers was quite distinctive. But from within, clearly there'd be no way to photograph the whole castle in one go.
Anyways, we explored quite a bit of the castle by walking along its walls and climbing up select towers. There were plenty of dead-ends and nooks and crannies to explore, which really made this place atmospheric and fun. However, we still had to keep a very watchful eye on Tahia given there were lots of dropoffs and potential for something bad to happen should she be left to her own devices.
There were signs indicating that the Prince of Wales was celebrated here. Apparently, some ceremonies and processions involving him took place in this very spot. There was also quite a bit of medieval history considering the English were very paranoid about keeping the overthrown Welsh at bay, and hence the impressive castles here to do just that.
Eventually at 2:40pm, I made it to the top of the Eagle Tower, which was the last of the towers that I visited. Eagle Tower was actually three towers, but only one of the three was accessible, and it didn't really provide for the best views since the front two towers kind of blocked the views from the third tower.
Shortly thereafter, we left the castle then went back to the car. By about 3pm, we made it there, but not before seeing that we had been given a 50 pound parking violation ticket. So again in this instance, our luck had run out, and this was certainly becoming one of those days where reality bites while flying high on a vacation.
Julie and I were having a short heated discussion about whose fault it was, but in the end, what was done was done. We now were driving back to our room at the Bryn Derwen where I would drop off Julie and Tahia to let them nap and relax while I'd try to salvage the Aber Falls excursion before the day was over.
By about 3:40pm, we made it back. But before I could get moving, I saw that we had run out of water. So I had to walk into Conwy Town Centre, and quickly buy some water before walking back to the car, then going out for the hike finally.
So it wasn't until about 4:15pm when I finally made it back to the car. By that time, I talked with the proprietor Andrew for a few minutes telling him about our flat tire ordeal then our parking ticket. He seemed to be a bit disappointed that we had to go through that, but I told him that in all of our long trips, we always had such moments whether it was food poisoning, disabled vehicle, computer malfunction, or whatever…
Anyways, I was off for Aber Falls, and after following the signs from Abergwyngregyn to Rhaeadr Aber, I would ultimately arrive at what appeared to be the main car park at about 4:35pm. This car park was a pay and display one for 2 pound all day. I guess it took getting re-used to this pay and display again since our time in Scotland didn't quite have all this stinginess.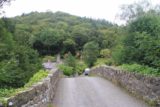 Nonetheless, after doing that, I was about to get started on the hike when I noticed that there seemed to be more road leading up to another car park. So I decided to get back in the car and do this drive up to what turned out to be the "upper" car park for Aber Falls.
But in hindsight from looking at the maps, it probably didn't matter where I parked. Perhaps what was a bit dodgy about the upper car park was that there was a gate where the authorities could easily lock me in if I didn't leave by the closing time of 7pm. It was about 5pm when I got started on the hike, so again, time was of the essence. And with the luck I was having all day today, I sure couldn't afford to have a third strike where my luck would run out once again…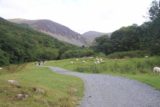 The hike was pretty straightforward as I followed the signs from the upper picnic area and car park. The gate that was immediately there was locked, but further back down the road, it looked like there was an open path that would get me across a bridge, then up to some pastures where signs continued pointing the way to the falls.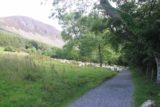 One sign said it was 1.25 miles to get to the falls, so I knew it would be at least a solid 30 minutes of hiking in each direction. And again, with the park closing at 7pm, that would limited the amount of stopping that I could do to fully enjoy the falls and the hike itself. It even conspired to compel me to possibly ditch the secondary waterfall on this excursion called Rhaeadr-fach.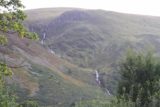 At 5:10pm, I found myself amidst a huge flock of sheep. Apparently, I was smack in the middle of some sheep herding. I don't think I had ever seen that many sheep at one time around me while I was outside of a car. But in a day of strange happenings, I guess I shouldn't have expected anything different on this day.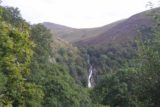 About five minutes later, I noticed in the distance a very tall waterfall that turned out to be Rhaeadr-fach, though I thought at first that it was Rhaeadr Aber.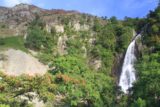 Eventually, at 5:30pm, I would make it to the Aber Falls. Upon approaching the falls, I could see that it was indeed a very tall and impressive falls. But as I got up close to it, the falls' uppermost tiers were hidden from view and so the waterfall itself appeared shorter than it really was.
Still, this was one of the more impressive falls that I had seen on this trip though there were plenty of tree obstructions conspiring to keep me from seeing as most of the falls as I possibly could in one picture.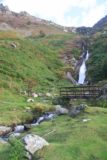 It wasn't until about 5:45pm when I finally managed to pry myself away from Aber Falls, then continue onto Rhaeadr-fach. After passing through a gate, it was clear that I was on land that was managed by someone else it seemed. For now the track went from obvious gravel while being wide into one that was narrower, more overgrown, and even muddier.
By about 5:50pm, I had finally made it to a bridge allowing me to see the immediate tiers of the falls though the uppermost tiers could not be seen from there. I did make an attempt to stand as far back down the slope as I could to reveal more of the uppermost tiers of the falls, but they were awkward and I didn't try too hard with this thinner but taller waterfall series.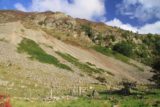 As I was headed back to the car (actually rushing back to ensure I didn't get locked in), I saw other people heading to Aber Falls. Indeed, even this late in the afternoon, the falls appeared to be popular. Even the skies were clearing as I was returning from the hike.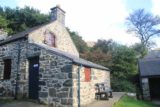 At 6:20pm, I returned to a part of the hike with an exhibit. There wasn't anything extraordinary here except for a glass-encased 3-D model of the area. That was kind of cool.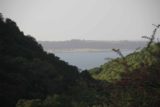 Finally at 6:30pm, I made it back to the car and quickly drove back to the lower car park where I wouldn't be subject to the risk of being locked in anymore. And about 20 minutes later, I would finally make it back to the bed and breakfast.
However, it wouldn't be until about 7:20pm when we were walk back into town looking for a place to eat. It took a while for Tahia to pry herself away from playing with the owner's guinea pig (actually we had to pry her away by bribing her with the promise of eating ice cream).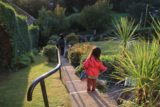 Yet with this being Monday night, apparently lots of places weren't open for business. And in the end, we decided to eat at the Castle Hotel.
When we were seated at about 7:55pm, we learned that the sticky toffee pudding dessert that sold her on this place was not being served even though it was stated on the chalkboard up front. So that was a bummer. The rest of the food of pork loin and some kind of local fish was pretty tender. Julie then indulged herself with a mille-feuille dessert plus a scoop of vanilla ice cream.
And when all was said and done (the service was quite slow), we would finally be back at our room at 9:20pm. The walk back was a bit scary (for Julie and Tahia at least) because quite a few of the town street lights weren't working so there were plenty of dark zones (can never be too careful about possible muggings).
So ended this rather weird yet eventful day. And upon looking back at what we managed to accomplish despite the set backs, at least the calamitous events could be laughed upon later although it would be hard to laugh about it now. As for tomorrow, hopefully, fortune would smile upon us a little better than today…
Day 21: THE SNOWDONIA LOOP
It was 7:05am when we awoke. We were hoping to do a bit better on time than yesterday considering that we had quite a bit of driving to do on this day. So after going downstairs for breakfast by 8:15am (seemingly the same group of people we had seen yesterday were there), we then headed out at 9:15am. This was after we were waiting for Julie so Tahia was busy playing with the owner's guinea pig while also playing on the tree swing.
Once we were headed out, we were pretty much stuck behind caravans of slow-moving cars or lorries. The progress seemed painstakingly slow, and that was further exacerbated by unexpected stops to find the toilet in Blaenau Ffestiniog at 10am (where that took over 10 minutes), then an unexpected photo stop somewhere just outside of Blaenau Ffestiniog.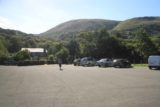 It wouldn't be until about 11:10am when we finally arrived at the car park for Dolgoch Falls. Even though this place in southwest Snowdonia National Park was pretty far off the beaten track as far as North Wales was concerned, there were still quite a handful of vehicles already parked here. Plus, there was a pay and display where it costed us 2 pounds to park.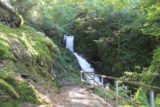 It wasn't until fifteen minutes later when we finally started to walk. Fortunately, after walking under a railroad bridge, then along the stream, it was only 15 minutes after we started when we encountered the first of the Dolgoch Falls. This was a short but attractive drop with some addition drops angled out of sight from the bottom. There were two paths allowing for views of the falls, but we opted to stay on the left side of the stream (saving the other side for later).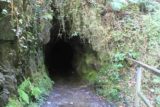 Right next to the falls was what appeared to be a cave or tunnel. I went in there for a look, and it got pretty dark, but before it got totally pitched black, there was some dim daylight at the other end, and it ended up taking me to a locked cage where it seemed like progress beyond the other opening wasn't available anyways.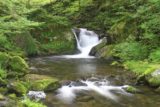 So we then went back into daylight and up the steps as the trail went above this lower waterfall as well as its upper tiers. There was a bridge above this lower waterfall, but we opted to save that other side for later. Then, we followed the river trail on the left side passing by some cave entrances along the way when at about 12:05pm, we made it to an attractive-but-hard-to-see two-tiered drop of Dolgoch Falls.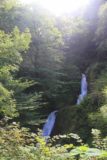 It was hard to see both because there was a lot of overgrowth conspiring to block the views of the lower tier, and the sun was almost smack against our line of sight. I was trying to wait out the sun so the clouds could momentarily cover it up so my photos wouldn't look some washed out, but the clouds never seemed to cover up the sun when you want it to, and on this day, it was quite a nice day.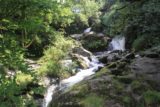 Anyways, we then continued on the trail as it switchbacked a few times before going past the second waterfall, and we would proceed for a few minutes more until we reached a footbridge crossing over the stream at 12:15pm. There was a small multi-tiered waterfall in view from the bridge, but it didn't look that impressive. I had thought Dolgoch Falls had more to offer, but according to the signs, this was it. After the bridge, there was a picnic area where the trail dead-ended.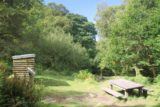 Going back the way we came (ignoring all the other spur trails), we were back at the two-tiered second waterfall at 12:25pm. Again, I was trying to wait out the sun hoping the clouds might cooperate, but they didn't. While I was here, one guy that was leading some young folks on what appeared to be a caving adventure (as they were all wearing hard hats), and he told me that he had a friend of his kayak down this falls. I found it hard to believe, but maybe when the falls was in full spate, there would be enough water to pull it off, but it really looked like a death wish as far as I was concerned.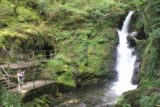 At 12:55pm, we were finally back at the car park. Along the way back, we took the other side of the river to get an alternate (and perhaps better) view of that lower waterfall. Other than that, this excursion left a bit to be desired, and in hindsight, maybe we should have gunned it for the Devil's Bridge, then skip Dolgoch Falls altogether. In any case, we would end up doing Devil's Bridge tomorrow, but that meant we would have less time to briefly tour the Pembrokeshire and still check into to our apartment in Cardiff at a reasonable hour.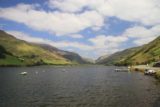 Julie decided to get some sandwiches at the tea room there, and she originally intended to eat there. But I thought it was a waste of time so I hastened her to get them takeaway. I waited in the car for another 15 minutes or so, and it wasn't until 1:10pm when we finally took off and headed towards Pistyll Rhaeadr, which we hoped would be a much better waterfalling experience than Dolgoch was.
The drive involved going on an A road for quite a bit, then the GPS had us go onto some B roads to get to some turnoff near the A490 by Llanfyllin (which might have been unnecessary since there was the A495 paralleling the narrow B4395 and B4393 roads), then onto more B roads leading to the village of Llanrhaeadr-Ym-Mochnant, which was the gateway town to Pistyll Rhaeadr.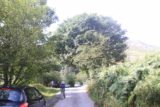 Once we were in the narrow streets of the village, we saw the waterfall sign leading us onto a single-track road with some limited passing places. That last bit of drive would take nearly 4 miles, and by 2:45pm, we finally parked in what appeared to be a "free" car park. Actually, it wasn't really free because the limited space here had rocks jutting up from the grass conspiring to pop tires or scrape the underside of cars. Still, that didn't stop most people from avoiding going all the way to the end of the road where there was a 3 pound charge in a much more spacious car park.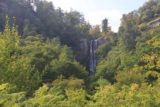 At this time, Tahia was reluctant to wake up from her nap, but when I offered to carry her on the child carrier, we went for it. So I carried her all the way to the lookout for Pistyll Rhaeadr at which time Julie took Tahia out of the carrier and they walked hand in hand checking out the views from the bridge over the Afon Rhaeadr before walking back to the car.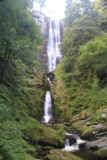 Meanwhile, I was busy taking photos trying to use the railings of the bridge to steady the camera for long exposure shots. I also noticed that there was a natural bridge right in the middle of the falls, which was quite cool.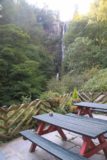 After documenting the falls from this vantage point, I then looked for a way to get to the top of the falls thinking that it wouldn't be that difficult. But as the trail got steeper and dodgier, I turned back. I figured the extra time investment wouldn't be worth it, especially since we were looking forward to going to Betws-y-Coed to perhaps spend the evening there.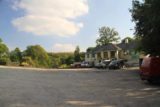 So at 3:50pm, we left the car park for Pistyll Rhaeadr and then made the winding drive on B roads eventually back towards the A5. And as we got closer to Betws-y-Coed, we saw a sign for Conwy Falls, and at 5:10pm decided to stop for that waterfall, whose car park was at some cafe and was quite spacious. It was right besides a junction of the A5 and some side road.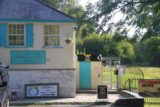 Julie and Tahia stayed in the car, and I paid my 1 pound to go through the turnstile and quickly go downhill to Conwy Falls. It turned out to be a split waterfall that wasn't tall, but it was nice in its own way. After a group of people had left, I had the falls to myself.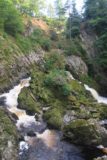 By 5:30pm, I was back at the car. It turned out that on the way down, I took a slightly longer path than the direct path that had steps. Still, after all that, it was only a 20 minute visit.
At 5:40pm, we finally parked the car near a railway station in Betws-y-Coed. While leaving Conwy Falls and driving downhill on the A5, I might have missed an opportunity to photograph Mt Snowdon at a pullout. But I wasn't sure whether that would be it or not because I didn't really know what Mt Snowdon looked like from below. Clearly, we didn't have time to go up to the top of Mt Snowdon by rail either.
So we walked around Betws-y-Coed thinking that this was a more tourist-friendly town, and they ought to have some kind of decent dinner place.
But the more we walked around, the more we realized that there really wasn't a whole lot going on here. Even one side of the sidewalk ended before some cafes and we didn't feel like walking on an A road where we would become a vehicle obstacle.
And after 15 minutes of wandering about the main strip of town, we decided to go back to the car and spend our last night in North Wales in Conwy. After all, we were familiar with the town now, and we had promised Tahia a dessert of Parisella's Ice Cream. We also knew there was a takeaway kebab place so we wouldn't have to be subject to 90-minute to two-hour dinners due to slow service and high prices.
And by 6:50pm, we were right back in Conwy. This time, we paid 50p to park by Lancaster Square after 6pm, which was fine by us, and we proceeded to do what we said we were going to do. We had a kebab dinner, which was no frills but cheap, and then we had Parisella's Ice Cream.
When we were done having the dinner and ice cream, we then walked over the bridge above the Afon Conwy, and we got some nice twilight photos of the bay looking out towards the Irish Sea as well as views of Conwy Castle reflected in the bay and fronted by the bridge we had just crossed.
It was a nice way to cap off our visit of North Wales, and tomorrow, we looked forward to checking out South Wales. However, we had a decision to make as to whether to do the Pembrokeshire after the Devil's Bridge, which meant a late check-in to the Capital Apartments in Cardiff; or whether to go straight for Cardiff after the Devil's Bridge. It was something we'd have to figure out as we go, but one thing was for certain, we had to get a very early start tomorrow morning…
By 8:35pm, we were back in our room. On the way back, I took a different road back to our accommodation, which threw Julie off. In any case, we shared a nice chat with the owners while settling the bill early. And the rest of the evening was spent packing and getting cleaned up so we could get as much sleep as possible before our early morning wake-up tomorrow…
Day 22: NOT MEANT TO BE
Today began with an early wake-up at 6am. We were being as discrete as possible as we were packing up our stuff and bringing them to the car without disturbing the neighbors at the bed and breakfast.
By about 7am, we were leaving. We pretty much drove the mostly quiet streets and highways along the same route we took towards Dolgoch Falls yesterday. However, once we got past the turnoff for Dolgoch Falls on the way to Tywyn (via Tal Y Llyn Lake), we then followed the A road towards Aberystwyth (though not actually getting into the town) before taking a B road towards the Devil's Bridge about 12 miles to the east.
By about 9:20am, we arrived at the customer car park for Devil's Bridge in which we were the first to show up though there was one other couple that arrived a few minutes after us.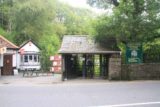 By about 9:35am, we were past the coin-op turnstile to get into the complex. We paid 2 pounds per adult, but the turnstile must've swallowed 2 pounds because we didn't get through the turnstile fast enough so we ended up paying 6 pounds in all for all of us to get in.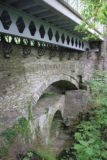 At this point, we started walking a 45- to 60-minute loop that went all the way down to the vicinity of the base of Mynach Falls, then went all the way back up to the road while following alongside the multi-tiered waterfall itself. There was only one choice of direction in this loop. And we opted not to bother with the turnstile across the street from the waterfalls entrance for the Punch Bowl.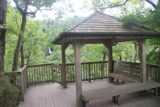 About 15 minutes into the walk, we made it to a gazeebo where we got a decent full view of Mynach Falls though its lowermost tiers were mostly obscured by overgrowth. The falls itself was across the gorge. Yet the trail kept descending steeply down steps and rocks, which fortunately for us was quite dry on this side.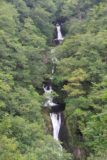 Soon thereafter, we found ourselves at Jacob's Ladder, which was a very steep series of steps going down towards the bottom of the gorge while affording us somewhat awkward views of the obscured lower tiers of Mynach Falls (though the uppermost tiers couldn't really be seen down there). In another 15 minutes, I was at the bottom of the Jacob's Ladder while Julie and Tahia were already well ahead.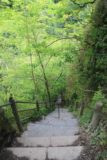 After crossing the bridge over the stream, the walk then proceeded to go steeply uphill along a somewhat muddy and slippery series of steps and rocks. Clearly going down these steps would've been a bit more dangerous due to the probability of slipping and taking a nasty fall. However, in going up, we were able to take our time while paying attention to the falls adjacent to the trail along the way.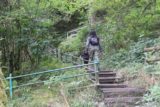 Even though we were always in close proximity to the falls at this point, most of the views were pretty awkward due to the overgrowth. However, it certainly was loud given the rush of water here.
At 10:15am, we checked out the Robber's Cave. The view from here was obscured, and really this spot was more to remember the outlaws who used this cove as a hideout. I'm sure the sound of the falls provided a decent cover to mask any sounds that would've tipped off their whereabouts.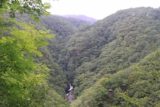 At 10:30am, we made it pretty much to the top of the climb and the end of the trail. There was a lookout with a telescope up here pointing towards a different waterfall in a different gorge not far from the gazeebo with the view of Mynach Falls.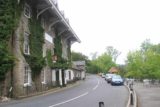 Five minutes later, we passed through the one-way exit turnstile just in front of the Hafod Hotel. We had to walk a little bit of the B road to go across the Three Bridges before returning to the car park. We noticed that the admission price when the kiosk was attended was 3.75 pound per person instead of 2. I'm sure this included a visit to the Punch Bowl as well, and they probably made you go there first before going through to the waterfalls nature walk.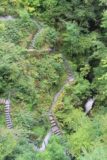 But again, we really didn't save that much money because the coin-op took 2 extra pounds from us.
Being that it was 10:40am when we returned to the car, I thought it might be a good idea to get to the Green Bridge of Wales all the way in the southwest part of Wales in the Pembrokeshire. We knew it could result in a bit of a two-hour round-trip detour to find it before checking in at the apartment in Cardiff.
The drive was long, and the GPS had me take a bunch of B roads before eventually getting to A roads then to the M4. I could see why the GPS did what it did, but I was regretting not taking the coastal route into Pembrokeshire. I guess the scenic drive down there just wasn't meant to be.
Eventually by 1:15pm, we would park the car in front of some cafe when the GPS tried to take us on a direct road that would have led to the Green Bridge of Wales. However, a road closure due to some military activity going on prevented us from doing it. We were hoping for another way around, but we learned from a very elderly lady at the shop adjacent to the cafe that there were firing excercises going on, and we may not have been allowed through.
So I guess the Green Bridge of Wales was also not meant to be, and this detour ended up being a waste of time.
At this point, it was 1:40pm when we left what turned out to be the village of Bosherton, and we went straight for the apartment office at Cardiff. It wouldn't be until 3:35pm when we were in front of the Capital Apartments in Cardiff office, where Julie got out of the car to check in with the reception there. I was getting quite tired during this two-hour stretch of driving on the motorway so the stop was a welcome break, but I was then worried about not being able to visit Cardiff Castle on this day, which I was aware that it was supposed to be closed at 5pm with last admission at 4pm. That didn't leave us much time.
When Julie returned to the car, she dropped me some bad news as we learned that there was a NATO Summit going on at exactly the two full days that we would be spending in Cardiff. We weren't sure what the consequences would be in terms of road closures or our ability to access Cardiff Castle or other parts of the city center, but we knew that nothing good would come of this (in much the same manner that we had to ditch Acadia National Park due to the government shut down on our last trip to the New England area).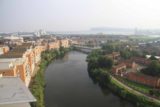 This development totally blindsided us, and now we had to think fast in terms of how to respond to this sudden turn of events.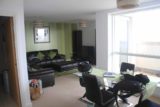 It wouldn't be until about 4:30pm when we were finally getting settled into what turned out to be a very spacious apartment. We were actually upgraded to a penthouse because all the other units were taken up. So perhaps our late arrival into Cardiff might have paid dividends in a surprising way.
So we spent the next hour or so doing a little more research about this NATO Summit and how it affected the city center of Wales and its attractions. We would eventually learn from the official website of Cardiff Castle that it would be closed on Thursday (tomorrow), but it would be open on Friday. So that meant we would have to designate Friday as our Cardiff touring day. However, we would have to wake up early and get out of the city tomorrow to do waterfall hikes all day long before getting back into the city after rush hour.
At least that was the plan. We'll see how it all works out in the next two days, especially since I was now nervous about cramming all of our waterfall excursions into one day.
Finally at 5:30pm, we walked towards Cardiff Bay. We came to realize that the Cardiff City Center was quite a distance from our apartment, but Cardiff Bay was more manageable. Still, it took some time for us to even walk to the happening part of Cardiff Bay, and after a few quick moments of taking in the atmosphere of this little commercial area (kind of reminiscent of what Santa Monica Promenade might be like), we found a Pizza Express here for a dinner at 6:15pm.
The dinner didn't disappoint, and we quickly adopted this place as our favorite chain in the UK. At least we now knew that this pizza place wasn't limited to Scotland as clearly Wales had it too.
By 7:05pm, we left to do some more walking and a little grocery shopping at Sainsbury Local. We checked out the bus stops to see what the schedules were for quickly getting to Cardiff City Center (we were looking at around 20-30 minutes on average wait), and we also stopped by the Cardiff Bay Train Station, which was a tiny end-of-the-line stop with seemingly 10-15 minutes wait time.
Eventually by 8:20pm, we made it back to the apartment. By this point, we realized that even Cardiff Bay's walk wasn't trivial (maybe 10-15 minutes or so in each direction), and it passed through what appeared to be a fairly dodgy neighborhood of the city. Well, there was a heavy police presence with many of them on foot patrol though we knew that they were really there for the NATO Summit and perhaps not necessarily for helping tourists.
And so ended this rather interesting day where it seemed that our calamitous moments (like the flat tire and parking ticket in North Wales) just so happened to occur in Wales. What is it about our luck?
Hopefully, things improve tomorrow, but clearly we have to be a bit more proactive with our trip execution thanks to the NATO Summit (a gathering of what one could argue are the leaders of corruption), and I'm sure there'll be protests and demonstrations to further add to the disruption of this phase of our visit…
Day 23: NATO SUMMIT AVOIDANCE
It was 6am when we awoke. It was an anxious morning because we knew that the first day of the NATO Summit was going on today, and that practically everything we cared to see or do within the city center of Cardiff would be compromised (e.g. Cardiff Castle, etc.) due to police activity and blockades not to mention the associated traffic jams. So today was going to be our waterfalling day as we left tomorrow to be the city touring day when hopefully the police state setup they have for Cardiff city center would be somewhat more alleviated than today.
The sun wasn't up yet at this hour, but by the time it was 7:05am, the daylight had definitely breached the skies, and we were in our car ready to go.
The GPS initially wanted us to go through the city center to get onto the A470 going north towards the Brecon Beacons National Park. However, we opted to go a more rounadbout way by taking the A4232 to the M4, then taking the M4 to the A470. As we were driving north on the A470, we could see there was a lot of congestion going in the opposite direction towards Cardiff City Center. That kind of observation further reinforced our feeling that we did the right thing by avoiding the NATO Summit by all means possible.
By around 8:15am, we were driving north on a local road (I think it's called Pontneathvaughan Road) as the road climbed and narrowed on its way to Ystradfellte. I was aiming for the car park closest to the Four Falls Trail in the Brecon Beacons, but when I found myself getting up to a car park in the north near Ystradfellte (after driving a single-lane road to get there), I saw from the map signs that I had overshot the actual car park I was interested in. The problem with starting the hike from here was that it would've extended the waterfalls hike significantly (at least over an hour or so).
That said, the targeted car park was apparently not very well signposted, whereas this car park (called Cwn Porth) was pay and display while accompanied by quite a bit of car park spaces as well as signage. In fact, it was this signage that I consulted to determine where I was and where I needed to be. By this time, both Julie and Tahia were asleep in the car so I was on my own.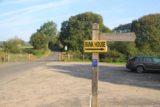 When I made my evaluation that I had to backtrack until I found the Sgwd Clun-Gwyn car park (unsigned as it might be), I would eventually get back to there at 8:40am. Though I had lots of doubts about starting this excursion from this obscure car park, there was a sign that said "Sgwd Clun-Gwyn 15 min" that confirmed that I was indeed in the right place.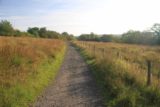 Given its unsigned and obscure nature, I could see that it might be a car park the authorities or locals or someone didn't want foreigners like us using (maybe because there's no pay and display infrastructure here yet). After all, all the literature and write-ups I had seen prior to our arrival here said to either park north of here at the car park I had just shunned or south of here at the Visitor Center – both meant much longer walks just to even get to the Four Falls Trail.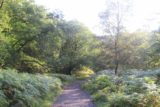 Again, those "sanctioned" and pay-and-display car parks probably were revenue generators. And thus the one car park that made the most sense for this hike was not as well advertised. On the flip side, I suppose it could be argued that the money generated by the parking would help in the maintenance of the trail. I'm sure there are two sides to every story.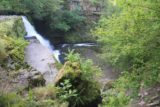 Anyways, as I deliberately made my way onto the trail, it gradually became more obvious that I found the right starting point as I saw another sign telling me where I was. And after crossing through some gates (as this track probably passed through private land), I then found myself descending towards the waterfall Sgwd Clun-Gwyn at 8:55am.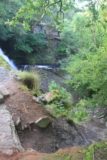 From this side of the falls, I saw that I wasn't able to get clean looks due to overgrowth. However, I did notice there was a steep and slippery scrambling path to the bottom of the falls as well as the flat rock bench that essentially split the trajectory of the falls into two tiers. I opted not to go down when I saw how treacherous it was though I'm sure if I had more time, it would be doable with care.
Still, I knew I had more fish to fry so-to-speak so I didn't want to spend more time trying to get closer than this falls than what was necessary. So instead, I was content to get angled views as well as views from the very top of the falls. And from the bare rock and puddles in the potholes within the rock, if the river Afon Mellte was in full spate, I could easily envision how the falls (i.e. the river) could expand to the full length of the rock bench.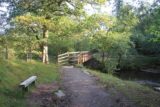 Next, I was worried that perhaps this path wasn't very well advertised because there had to be some unbridged river crossing. But I decided to follow the yellow arrow pointing me further upstream, and barely 10 minutes after I had first seen Sgwd Clun-Gwyn, I saw there was a footbridge.
On the other side of the footbridge, there was a junction where one path would've gone further north to that car park I turned around at earlier (Cwn Porth), which was said to be 30 minutes away. Instead, I continued on the yellow path, which ultimately linked me to the red path that was designated the Four Waterfalls Loop Trail.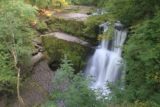 At about 9:20am, I found myself at an exposed overlook for the Sgwd Clun-Gwyn on the other side of the Afon Mellte. There was still some overgrowth on this side which conspired to block parts of the falls, but at least the view of it was more direct. I just had to be careful not to get too close to the dropoffs since there was definitely cliff exposure here.
As I looked around this spot, I noticed that there were red signs pointing back towards the main trail above me saying that it was the recommended route. I saw that there was a larger red sign saying the lower trail was closed. So I climbed back up to get back to the main trail then continue on.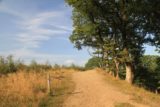 The trail was pretty much through a combination of open bush land and forest. The sun was definitely out and it made the day warm. At each junction, I opted to continue towards Sgwd yr Eira since I knew that would be the last waterfall in this four-waterfall series. Then, I'd see the rest of the falls on the way back to the car.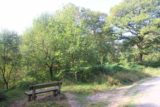 So it wouldn't be until about 9:45am when I passed by a David Morgan memorial (basically a tree planted in his name), who was apparently a former park warden for the Brecon Beacons National Park. This was near a section of trail where I saw a dense grove of tall trees on one side and bush dropping towards a ravine on the other side. At this point, it was apparent that I might be doing the loop trail in a clockwise manner.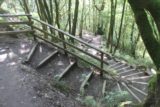 Not long thereafter, I descended a steep series of steps and muddy slopes leading right down to the Afon Mellte and ultimately a direct view of Sgwd yr Eira waterfall at 10am. The footing alongside the river was very slippery given the mist then tended to blow downstream of the falls. So I didn't scramble too far along the river to improve my views of the attractively rectangular falls, especially when I saw that the sun was against me and the shadows it created were quite harsh against the shadows.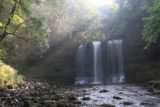 I saw there was no connecting trail from Sgwd yr Eira and Sgwd y Pannwr so I had to make the steep climb back up to the main trail. That on its own made the trail pretty strenuous. But eventually after another 20 minutes of doing this, I finally was at the Sgwd y Pannwr (not Sgwd yr Pannwr) after going down its trail from the main path. I saw that there was a connecting trail between this and Sgwr Isaf Clun-Gwyn, so at least I wouldn't have to go down and up like I had for Sgwd yr Eira.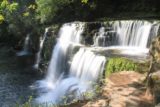 This particular waterfall was short but wide. I was looking right across it at an angle, but once again, the sun and shadows made it difficult to photograph properly.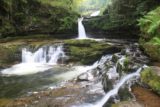 Next, I following the lower loop trail, and at first it was straight forward. However, I then went past a sign that said the trail was muddy and slippery, and boy they weren't kidding!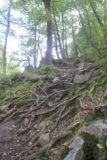 The trail then degenerated into more like a rocky scramble with slippery muddy patches as well as mud-covered rocks. And thus progressing further was awkward. By about 10:35am, I would finally made it to the Sgwd Isaf Clun-Gwyn waterfall, which appeared multi-tiered. It also looked like there was an even higher tier hidden around the corner by the overgrowth but there'd be no way of seeing it from this initial vantage point.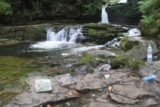 There was also quite a bit of litter here as apparently someone decided to picnic here then left their stuff. It looked like there was uncooked meat as well as a full bottle of bottled water.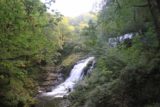 When I had my fill of this spot, I then followed the faint scrambling trails further up the slope. At this point, it was pretty much an all out scramble with dropoff exposure. Now, I really understood what the signs meant about being careful.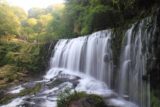 Still, I ultimately made it to the uppermost tier of Sgwd Isaf Clun-Gwyn at 10:50am, and this time, the view of the top two tiers was quite top notch. The uppermost tier was rectangular and wide, while the next drop was more funneled and below me at an angle. I'm sure I could have chilled out here for a while just basking in the scene, but I still had to get back to Julie as now it would be apparent that they would have beeen sitting in the car pretty much the entire morning.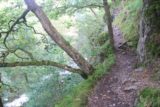 Beyond Sgwd Isaf Clun-Gwyn, the path remained very steep and treacherous. But eventually, the trail flattened out and I was able to make out an actual trail again.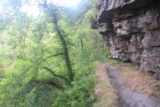 By about 11am, I returned to the big red closure sign near Sgwd Clun-Gwyn that I saw earlier. But now, it was apparent to me that this closure was really a one-sided closure.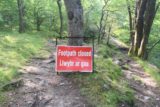 They didn't want you to go down the steep cliffs (a decision I could totally understand now), and by doing this loop clockwise, the hard section would be an ascent which would be much easier than the other way around. I also heard quite a few yelps from males, whom I thought were just juvenile delinquents messing around at the base of Sgwd Clun-Gwyn, but when I peered over the cliff, I saw that they were a group of abseilers going down this falls and probably others on the Afon Mellte.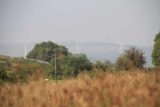 Finally at 11:20am, I was back at the car. Tahia and Julie didn't bother going to at least the first falls, which was a shame since it was only 15 minutes away. I'm sure it must have been boring up there all morning (waiting 2.5 hours for me).
Anyways, we left the falls and followed the main roads towards the Dan-yr-Ogof ("under the cave"?) Show Caves. We'd get there by 11:50am. At least now, we can do things as a family again…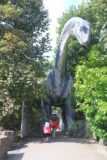 We started off with a lunch, which was not very good (I don't get the cold chicken in the sweet chilli baguette). Anyways, Tahia wasn't in much of an eating mood and so this lunch was mostly a waste of time. It wouldn't be until it was nearly 1pm that we would finally be exploring the show caves. At 36 pounds for the whole family (think nearly $60 USD), it felt like a rip off.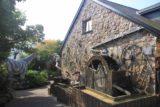 Basically, the show caves was dominated by fake dinosaur displays with a few bronze age village recreations and some recreations of archaeological digs. There were some sound effects to accompany some of the dinosaurs.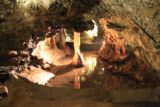 When we went into the first cave, it was basically your typical cave with stalactites and stalagmites with some imaginative formations. There was one waterfall in there, but it was small. There was also a section of the cave that was off limits that appeared to lead to another waterfall, but we wouldn't be able to see that.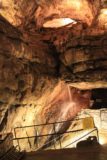 The tour was self-guided because the lights would come on when it sensed someone was near. The pre-recorded narration was also part of this self-tour as well.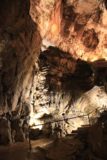 When we were done with this first cave, we then went into what was called the Cathedral Show Cave. This one started off with some cave paintings (which looked fake), then eventually led us by a waterfall beside the walking path before going by, behind, then through a pair of waterfalls as the wedding music got louder when we made it to the end of the trail.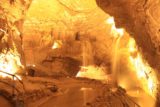 This pair of waterfalls was probably the most scenic part of the whole self-tour, and Julie and Tahia enjoyed it. In fact, Tahia was scared of all the darkness at first, but once she saw the falls, she totally had forgotten about her fears. Julie basically thought this was a very Ruby Falls-like experience, and for that, she thought it was certainly one of the best waterfall experiences we've had on this trip (mostly because it was different from the rest).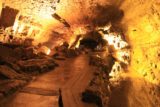 However, I myself wasn't sure whether to celebrate this experience or be cynical. I wasn't sure about the archaeological accuracy of all the dinosaur and historical displays either. Plus, I thought it strange that a place with this many contrivances could be part of the Brecon Beacons National Park. It certainly wasn't a national park from the standpoint of leaving things alone. But then again for caves, if there's no intervention, then only adventurous spelunkers would be able to see and access the caves while the rest of the public could only imagine what's going on.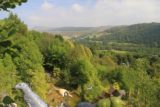 Finally, after prying ourselves away from the Cathedral Show Cave, we then went to the Bone Cave. The path went up stairs alongside what looked to be a fake cascade amidst dinosaurs, and at the top of the steps, we saw there was a nice view. Then, we had to pick up hard hats because we would be going through a low, head-bumping walkway where the helmets helped me absorb some 5 or 6 times I'd hit my noggin on the low-hanging ceilings. I wasn't sure why they made it that way if they contrived everything else, and if anything, it was a recipe for lower back problems.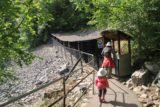 Once inside the Bone Cave, there were more models and recreations. This one was narrated with lights showcasing the parts being narrated. And they pretty much talked about the history of the Bone Cave in this section, though again, I wasn't totally sure just how accurate or contrived the narrative was (like with the rest of the park). There was just something off about it that made me question the credibility of the place.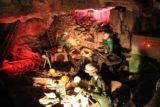 Nonetheless, Julie and Tahia really enjoyed their visit, and I felt a little better eating the heavy admission price because of it. Even Tahia got herself a Woolly Mammoth doll, so I'm sure she'd be pretty pacified for the time being for those moments when she's bored.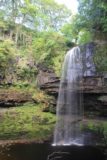 At 2:40pm, we were finally back at the car. And then, 10 minutes later, we took a single-track road towards the Sgwd Henrhyd car park. This waterfall was quite close to the Dan-yr-Ogof Show Caves, and so Julie and Tahia accompanied me on the steep and slippery (due to the loose gravel) downhill trail, which then crossed a bridge before going up steps then flattening out towards a muddy and slippery section of trail with a direct view of the Sgwd Henrhyd waterfall.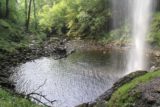 This falls was an attractive 90ft plunge waterfall which also had a graceful flow thanks to the few days we went without rain while in Wales. Plus, we saw there were abseilers trying to descend the falls. At least we saw their ropes dangling alongside the falls. I also did the scramble on the narrow and slippery path going behind the waterfall, making this one of the few falls on this trip that we were able to go behind.
By 3:45pm, we were back at the car park. We still had one more waterfall to go before we could return to Cardiff.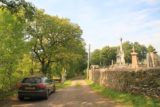 At 4:10pm, we would ultimately be near the Melincwrt (Melincourt) Falls. The GPS had us go up this very narrow single-lane road called Waterfalls Road. However, it was worrying that there was a lack of signage for the falls after we had seen obvious signage from the A roads to get here.
When we drove up to the end of the road, we saw that it was a private residence with a lot of aggressive dogs trying to maul the car. Clearly we weren't welcome up here so we quickly made a three-point turn and went back down the road with a lady looking on as if we were trespassers.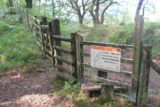 We'd eventually park the car next to a cemetery just off this road at 4:10pm. I decided to go solo and investigate whether we were in the right place though something just seemed off. Nonetheless, I did see that as I walked the road, we were above an obvious waterfall. Then, I went through a gate before getting to a sign that welcomed me to Melincwrt Falls.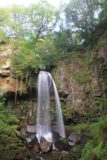 At that point, I could see that the falls really couldn't be seen well from up here due to overgrowth, but there was an obvious path that descended and eventually joined a main trail that followed along the stream. Then, when I went upstream, I was face-to-face with an attractive waterfall that was quite similar to the Henrhyd Waterfall we had just seen earlier.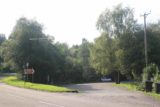 After getting my fill of the falls I then followed the main trail downstream just to see where it led. And after a few minutes, I saw that the trail ended (or began) at a well-signed car park for Melincourt Falls. So it turned out that we had driven up the wrong path (stupid GPS), and that had we parked at the proper car park, it wouldn't be a solo recon mission and more of a family jaunt instead.
When I returned to the car at 4:55pm, we drove down to the main car park. I asked if Julie wanted to quickly go to the falls and back so she could see it for herself while I watched Tahia napping in the car. But Julie was pretty waterfalled out on this day, and so we ultimately decided to leave for Cardiff at a little after 5:10pm.
The drive back to Cardiff was pretty uneventful. Again, we purposefully avoided the city center to avoid the traffic and complications of the NATO Summit. And since we were close to the M4 at this point, we would end up driving a loop that would get us to Cardiff Bay without touching the city center.
Along the way, I did fill up at a petrol station where I was greeted by some friendly cops who were chit chatting with the lady behind the counter while ringing me up for my diesel purchase. They seemed pretty chipper for such a serious task of protecting dignitaries from leaders from around the world (like Obama, Cameron, et. al.).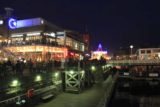 Anyways, by 6:05pm, we were finally back at the apartment. Again since the city center probably resembled more of a police state, we walked to the much closer Cardiff Bay for dinner. And by 7:20pm, we opted to eat at the Cafe Rouge where the mains were pretty good, but the dessert (crepe) was terrible.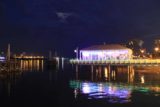 And by 9pm, we were back at the apartment after a little more grocery shopping at the Tesco Express there. We pretty much left tomorrow to be the day that we would finally get to explore the city center of Cardiff. Hopefully the NATO Summit complications wouldn't compromise it too much now that we had avoided what appeared to be the worst of the developments on this day…
Day 24: POLICE STATE
It was about 7:15am when we awoke. We slept through our alarms knowing that we weren't in any particular hurry to wake up early on this day. If anything, we were under the impression that the later we get to the Cardiff City Centre, the more likely the clean-up from the NATO processions from yesterday might be progressing along.
So we took our time having breakfast within the flat over tea and cookies (forgetting to buy eggs and toast on the first day to make it worthwhile since this is our last full day in the city), then it wasn't until 9:35am when we were finally leaving to go downstairs into town.
Since we were looking to ride the bus towards the city center, we actually walked all the way to the familiar Cardiff Bay Bus Stop. Once there, we waited (not long) for a bus that showed up. It turned out that the 8 line showed up first, but that driver said we were better off going on the 6 bus (the so-called Baycar), which was said to get us to the city center faster.
We bought 2 adult day passes for a grand total of 7.2 pounds, which was equivalent to two one-way tickets so we had nothing to lose by buying the day pass. Tahia was able to get on for free.
And by 10:35am, we would eventually make it into Cardiff Castle after being dropped off near the city center, then walking a pretty charming pedestrian High Street until we were right in front of the castle itself.
At first we weren't sure if the castle was open or not because it was surrounded by a forbidding fence that essentially split the road surrounding the castle. There were signs saying that the crossing was to our right so we followed it to the corner of Duke Street and Working Street. Once there, we passed through the opening in the fence and asked one of the police standing there if the castle was open.
He smiled and enthusiastically said "yes, it's open. Go in and have a look. The views of the city are great!"
So with that, the police state setup that we witnessed was less unwelcome, and we promptly walked closer to the gates where more police were standing by. We took a few snaps of part of the clock tower from outside the castle walls before going through the gates, then going to the shop and museum on the right to purchase tickets.
After watching an eight-minute video essentially chronicling the history of the castle, we then walked within the spooky wartime tunnels before going up the steps and walking the battlements. From up there, we were able to look out towards various sections of the city as well as looking towards the castle green where we got some views of the Keep (reminding us of Clifford's Tower in York) as well as the palace itself closer to the clock tower.
It wouldn't be until about 11:25am when we headed down from the battlements then walked towards the palace, where we proceeded to check out the lavish insides. It was from within here that we spoke with some of the employees – first with the guy at the entrance who was going to look after my child carrier; second with the guy watching the fancy room that apparently the NATO dignitaries (including Barrak Obama and David Cameron among others) were having dinner last night.
I was under the impression that the employees seemed to like the unusual circumstances in which they were on watch at the castle. Instead of the typical day at the office, the first employee (the one we saw at the entrance) was chit chatting to me about how many secret service people were at the premise from three weeks prior looking for any security holes or gaps.
The second employee we chatted with at the big dinner room told us that they had to custom make a table to accommodate all the dignitaries who were quite packed within the grand room.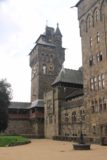 Anyways, after doing the short walking tour through each of the rooms, we then headed back outside, recovered my rucksack, then proceeded to cross the lawn and go up the steep steps to get up to the Keep. Once with the keep, which was mostly empty, we saw there were more steps going up towards the top of its facade.
We got additional views of the clock tower and palace from the various floors, including the top. At the top, we saw both the north view and the south view. Everything around it seemed to be dwarfed.
We spent plenty of time up here getting the views that we could though with the overcast skies, much of the subjects we photographed lacked color. So our photo run up here wasn't as abundant as I'd imagine it could have been.
By the time we were done with the Keep, Tahia was getting tired. So that pretty much ended our castle tour, and we proceeded to walk back to High Street where we would once again lunch at a Pizza Express at 12:35pm. Unfortunately, they didn't take the coupon on this day because it was a Friday (it was only honored from Sunday through Thursday).
Still, we had a pretty satisfying meal further reaffirming our feeling that this was the best pizza chain in the UK (where it even surpassed some of the more boutique Italian pizza places back in the States).
At 1:25pm, we left the Pizza Express then proceeded to walk towards the National Museum of Wales so Tahia could finally get to go in a museum, which she really looked forward to.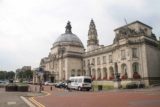 Since she was tired, we were all running out of gas already, but once we got in the museum, we had ourselves a pretty informative visit. Although the museum itself wasn't nearly as impressive as the ones in Edinburgh nor Glasgow, it kept Tahia occupied. We also learned a bit about why we get Ice Ages from an astronomy point of view concerning how elliptical the earth's orbit can be as well as its tilt, which periodically leans then straightens out on the order of every 40,000 years.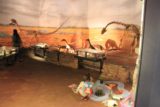 That seemed to explain a lot, and it was the first time I had ever heard of Ice Ages being explained this way. Simple enough. Though I'm sure the Global Warming deniers would try to use this bit of science to turn it into a political debate to keep trashing the planet.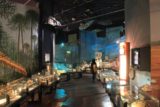 Speaking of trashing the planet, I thought about how most of the dignitaries in NATO would talk the talk about trying to do something about Global Warming, but the very action to actually put a huge dent in it never appears since the very engine of the world's economy are based on extractive industries and overconsumption. Plus, I had thought about how the world's leaders were primarily consisting of people with the means (i.e. wealth or guns) to influence or coerce large numbers of people into doing something.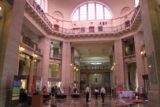 You could have the smartest guy with the best ideas at solving the world's problems, but without the means to make it happen, he/she doesn't get the credit nor does any of the ideas get acted upon. And typically those with the means tend to have gotten their wealth through the very things that destroy the planet or partake in the oppression of millions of other people whether directly or indirectly. I guess such is the catch-22 of why the world is what it is in terms of its long term health – those who are in position to make the changes necessary to keep the world going sustainably are the very same people who have benefitted from its very destruction.
Anyways, it was about 3:10pm when we left the museum. We then walked around the Alexandra Gardens, which was right behind the City Chambers, which had a pretty fancy building accompanied with a clock tower. It was a peaceful garden with some colorful flowers, but even the monuments within this garden were surrounded by fences in much the same manner that just about everything worth photographing was surrounded by hideous fences as well.
When we were done with the tour of the gardens, we then slowly trudged our way back to the bus stop near where we had gotten off earlier in the morning.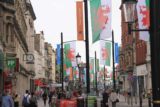 Tahia was out cold for her afternoon nap so I had to carry her both through the gardens then out through the city. When we finally caught the bus to go back to Cardiff Bay, she woke up just in time for us to be walking towards the amusement fair within the happening part of Cardiff Bay.
At 5pm, we were in the amusement area where Tahia was eager to ride the merry-go-round. Although it wasn't cheap (2×2 pounds since Tahia couldn't ride by herself), we indulged her. And when the merry-go-round was over and we walked around to see what other attractions that might interest our little girl, we finally decided to do this huge spiral slide for a thrill ride.
Once again, it was 2×2 pounds and this time I did the ride with Tahia.
And when that was over, she wanted to do more, but the costs were adding up. Just to do these two rides, we probably spent on the order of $15 USD. That was enough.
Now, it was time for dinner, and although Julie initially had her heart set on Spanish tapas, we noticed this ramen place called Wagamama, and we ended up eating there for a quick dinner at 5:30pm. The ramen was ok, though the overall price was probably double that of what we would normally pay for at say Hakata Ramen (Shin-sen-gumi).
At 6:50pm, we had walked from Cardiff Bay back to our flat (apartment), and we would call it a day just to unwind and get our stuff together so we could make an early departure for Cornwall tomorrow.
Day 25: ALARMS AND SURPRISES
It was 6am when we awoke to our alarms. We were expecting to leave Cardiff early in the morning so we could get to Penzance as early as possible. We were looking forward to visiting the Cornwall area (especially since the forecast had been calling for partly cloudy skies at worst), and we were fully expecting a different experience than what the rest of our UK trip had largely been missing – coastal scenery and beaches!
At 6:45am, I started loading the car, and putting into motion the process of getting all packed up and ready to leave. But when I got to the garage, I could see outside that it was raining! Really?!?!
This was completely off from the forecasts that called for partly cloudy skies even for Cardiff! So this was totally not expected.
As I was heating up the croissants (which I had burnt in the oven) and the meat pies that we had bought as takeaway yesterday, I noticed in the book "This Is Cardiff" that there was something about Caerphilly Castle. Both of us looked it up, and saw the pictures on the web.
It totally looked worth doing even though we hadn't planned for it. And so we decided to seize the moment and just go for a visit there before going over to Penzance with a detour to Becky Falls.
Unfortunately, Caerphilly Castle wouldn't open until 9:30am so we didn't quite have a sense of urgency with our breakfast nor our vacating the apartment. But eventually by 8:05am, we were in the car. And it was still raining outside.
The drive out to the car park for Caerphilly was along a bunch of local streets. We didn't take the usual autoroute way to the M4 though we did make an effort to still avoid the area around Cardiff Castle knowing that the vehicle barricades weren't completely removed.
At 8:50am, we had arrived at the Caerphilly Visitor Center car park, which was probably as close to the castle as we could park at. We paid under 2 pounds to stay for 3 hours even though the first 40 minutes would involve just loitering around until the castle opened.
It was still raining and the town was still pretty quiet though it was starting to pick up some activity due to some people going to work.
While we were loitering around the front of the castle, we got a few spots where we took some photos of the castle across the moat, but those views weren't great nor was the rain cooperating. The gray skies and lack of reflections didn't really make for the kind of photo ops we saw in the literature. Speaking of which, we didn't quite see any of the spots that were showcased in the literature either.
Eventually at 9:30am, we came into the castle. We ended up exploring every possible tower they let us ascend, took some time to watch some mini movies, and even strolled around the castle walls itself before concluding our internal self-tour at the leaning tower where there was a statue of someone holding up that tower.
It was strange, but we were the only visitors in the castle for almost our entire visit. Unfortunately, the interior self-tour was pretty ho hum in our minds. Maybe we were getting castled out from all the other castles we had visited to this point.
However, as we were about to be accompanied by another visitor in an orange shirt, I had noticed that he was walking somewhere on the outside of the moat that we hadn't walked to before. At first, I thought he was an employee, but when I saw he was toting a camera, that was when I knew that we should go to where he was visiting before taking off.
And so at around 10:40am, we went all the way out to where he was at, and that was when we realized that this was a public footpath not requiring an admission price (except the gates linking the far southeast end of the moat and the main castle entrance were only open between 10 and 4).
Nonetheless, we got to see all of Caerphilly Castle beautifully reflected in the moat. We knew that this must have been the photogenic spot in the literature. On top of that, the sun started coming out as the rain had finally stopped. So it was basically a convergence of all these good things, and that pretty much salvaged our little seize-the-moment Caerphilly Castle tour.
By 11:10am, we were back in the car. And as we were headed out towards the M4 at Newport, we could clearly see that the Caerphilly town was seeing quite a bit of traffic, and there was also a lot more foot traffic than we had seen just two hours prior. Good thing we got the early start when we did, I guess.
The long drive out of Wales was pretty uneventful though we did run into some traffic in a few spots largely due to merging lanes. As we were driving on the M5 then onto the A38, we were worried about closure signs saying something about the motorway being closed beyond its junction with the A388. That meant we would have to find a different way to get to Penzance.
But at least we were going to stop by Becky Falls as we were intending this to be our lone waterfall visit in the South West of the UK. In fact, I was thinking this would probably be the very last waterfall of this trip period.
Yet as we were about to exit the autoroute near where Becky Falls access was supposed to be, we noticed some brown signage for Canonteign Falls. We didn't know what this was about nor did we plan for it so we skipped it and stuck to the plan for Becky Falls.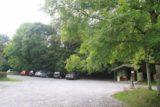 By about 1:30pm, we finally made it to the car park for Becky Falls after driving for nearly 4 miles on mostly single-track roads. The crazy thing about this falls was that they wanted 7.75 pounds per adult, which made this one of the more expensive waterfall visits.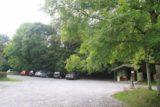 We then had a picnic lunch at around 1:50pm, but with Tahia being a slow eater, it wouldn't be until about 2:05pm when we could finally hike as a family. There were other things around this facility like some caged animals (mostly birds) as well as some farm animals that kids could pet. There was even a reptile house.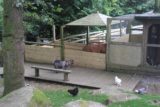 But the main goal here was to do the falls. And barely a few minutes later, we saw the main Becky Falls. Unfortunately, we were quite disappointed with its bouldery appearance in which most of the falls' flow was concealed within the boulders leaving disjointed segments. I knew what Julie was thinking… "We came all the way out this way to see this waterfall?!?"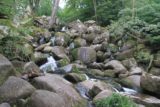 Granted, this waterfall was underwhelming, but I think the point of this place was its tranquility and the kids' activities. Julie and Tahia went back up to the main area while I pursued the red and purple trails to get to the Lower Falls. I was basically going to do that lower waterfall then head straight back the way I came (despite the park wanting me to do all the loops in a clockwise manner).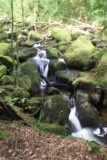 As I was on my mission, I suddenly started having strong urges to go to the toilet. But I managed to hold it in while pursuing the Lower Falls (which was even more underwhelming than the main falls), then quickly make my way back to the main area's toilet to fulfill the nature call #2.
When I was done with that, I had some tea with Julie while Tahia was playing with some toys in their cafe. They had free Wi-fi, and that was when we realized from the web research that Canonteign Falls was way better than Becky Falls. If I had my choice to pick one or the other, it would have been Canonteign. Unfortunately, they were also closed at 5pm with last admission at 4pm. Plus, the hike was 1 hour and 20 minutes to the falls (not sure if it was round trip or one-way). So that pretty much nixed the idea of fitting this in on this day even though we were geographically close.
I had it in my mind to perhaps fit in this visit on the day we go to the Jurassic Coast then all the way to Bath (possibly with an evening visit to Stonehenge) on Monday. We'll have to see if that's even possible or if we have to do more driving on the next day (the final day of our car rental) on Tuesday.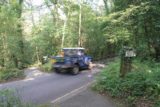 At 3:20pm, we eventually got back to the car and made the final leg of our drive towards Penzance. This visit felt like a bit of a waste of time and money. But I guess that's why we do these things because you never know what it's like until you're out in the field actually doing it.
The drive out to Penzance initially started on more scary single-track roads where the ivy or tall grass were essentially scraping the car given the narrowness of the roads. The GPS was incorrectly calling this road A382, but it was clearly not an A road.
After what seemed like going through these roads forever, we would finally join up with the real A382 road before finally joining up with the A30, which was dual carriageway motorway leading all the way to Penzance and beyond.
The weather was a mix of light rain and Summer haze. The skies looked eerily orange and gray with sections of dark clouds. Again, this was a far cry from the forecast, and I wondered what other unpleasant surprises would come our way..
We would hit more traffic due to converging lanes, but by 6:05pm, we would finally arrive in Penzance and check into our bed and breakfast guest house. They only had street parking, which made me a little nervous about parking availability, but the bottom line was that we could finally get settled and at least walk around town a bit for dinner as well as getting a flavor of the place.
While Julie and Tahia sought a place to eat (they settled on the Assay Restaurant), I did a little individual reconnaissance of the town. I would eventually walk down to the road near the wharf then up the St Marys Church eventually returning to the restaurant on Chappel Street. The view of Saint Michaels Mount was way off in the distance through the late afternoon haze, and I knew that we'd have to go there tomorrow morning or something for a better look. We also wanted to see the Minack Theater tomorrow as well. So I'm sure it would be a packed day, especially since we put it all on one day tomorrow.
We would eventually eat dinner at the Assay Restaurant at around 7:30pm or so. Julie got us some local crab, some duck confit, and bouillabaise. But it would turn out that I would spend just about all of my time at this restaurant trying to crack the really hard and thick shell of the crab. It was an awful lot of effort to get at such tiny pieces of meat, and in hindsight, we probably won't order any more of these crabs again (especially since it was served cold).
When the hard-earned dinner was done at 8:35pm, we then walked back to our room, arriving their at 8:45pm. At least with the day being over, we could look forward to a little bit of a sleep-in before the included breakfast at 8:15am tomorrow morning. However, I wouldn't be sure if it would be wise for us to stay for brekkie the following morning knowing we had more long driving ahead of us…
Nonetheless, we were to live in the moment and look forward to tomorrow hoping the weather would hold up…
Day 26: UNCORNY CORNWALL
We woke up at 7am on this day allowing ourselves to sleep in an extra hour. While it wasn't as difficult to get up at the later time, we still could have easily slept in a bit longer except that we also wanted to show up to the 8am breakfast when it was available as soon as scheduled. Moreover, we knew that this was the only full day we had to explore the Land's End area and we didn't want to squander this opportunity. Plus, the Saint Michael's Mount (similar to the one in France) was walkable at low tide which would be between 8am and 12:35pm on this day.
While Julie and Tahia were freshening up to get ready for the day, I did a little more research about Canonteign Falls in preparation for tomorrow's activities when we make the long drive over to Bath. When I learned that it was an artificially made waterfall through diversion by leats (kind of like the principle behind Cascate della Marmore in Italy), both Julie and I decided it wouldn't be worth the trouble to go out of the way for it.
So with that out of the way, we then went downstairs for the included breakfast at a little after 8am. When the owner saw that Tahia was with us, she was less than pleased about finding out suddenly about her presence. Even though she didn't require an additional bed, nor did she require any extra utensils, the owner told us that this guest house normally doesn't allow kids. Oops.
Still, we thought it a little ironic that the owner herself has a kid that happens to be a bit louder than Tahia. On top of that, Julie would later find out that this place's website also said kids Tahia's age stay free. But I guess it's the owners' rules, and fortunately for us, she let us carry on like we were though the place suddenly felt a little less welcome than before.
The cooked breakfast was pretty good as Julie loved the omelettes. However, the fluffy pancakes were a little bit on the burnt side on the bottom.
At 9:20am, we finally headed out though the skies had a bit of hazy sun mixed with what appeared to be the Cornish version of June gloom. So the sun and the color it would bring was muted.
When we arrived at the Saint Michael's Mount area at 9:35am, we paid our 3 pounds to park there, then we proceeded to walk towards the causeway. The manor at the top of the tidal island looked a bit shadowy thanks to the mostly obscured sun, but we could clearly see there were people walking on the causeway that was obviously dry (the causeway was said to have opened at around 8am earlier this morning). People were already steadily making their way across.
We would do the same, and at about 10:05am, we finally made it onto the tidal island. We then started making a beeline for the castle, and we would end up buying our tickets at around 10:15am, then we made the walk up some uneven cobblestone steps before finally making it up to the entrance of the mount by the time it opened at 10:30am.
The views all around were already gorgeous. We couldn't wait to see what else was going on inside this structure as well as the views from high up on the property towards either rural Cornwall farms in the distance or towards the English Channel.
Once inside, we got an explanation from one of the workers about the resemblance between this mount and the Mont-Saint-Michel in France. It turned out that Normans (now the province of Normandie in France makes sense) for many years had taken over parts of southern England, including Cornwall. And their tendency was to build abbeys or fortresses high up on hills. I'd imagine this was especially the case if it could be naturally protected by the tides.
And so the Saint Michael's Mount and Mont-Saint-Michel were similar in those regards. However, Le Mont-Saint-Michel felt more medieval and grander (probably because it was truly an imposing castle-like fort that also acted like a walled tourist town), and it seemed more like a magic kingdom to us. In contrast, the Saint Michael's Mount seemed more like a manor than a fort though there were canons placed around the terraced perimeters.
That said, the French version also felt a bit more commercialized. Given the relative lack of literature the Saint Michael's Mount had gotten, we didn't have many expectations of it going into our visit. But as we visited each of the rooms and then got more and more views, this mount started winning us over.
Perhaps it was the relative quiet of our visit giving it a more intimate feel. Perhaps it was the views. Whatever the case may be, despite the sense that this place felt more modern than the one in France (at least it appeared that way), Julie and I concluded that it was just a different experience but every bit as good as the larger one in France.
By about 11:15am, we were done with the castle visit. We then killed some time having a Cornish ice cream (not sure if anything -ish was merely a marketing ploy as opposed to something genuine) before exploring the village a little bit before returning via the causeway back to the main part of the land at Marazion.
By about 12:10pm, we let Tahia play in the playground where she was having a ball. There were some challenging obstacle courses or jungle gyms that she seemed to handle, then there was a pretty steep slide that she really enjoyed giving yelps and yells like what some older kids would do on roller coaster rides.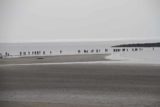 She also loved the pulley trolley (kind of like a poor man's zipline) where she wanted to keep going on that over and over again. By the time it was about 12:40pm, we were finally done with the Saint Michael's Mount and the Follyfield Play Site. Next up was the Minack Theater.
With the weather still exhibiting June Gloom-like conditions at this time, we didn't have much expectations for good pictures at the Minack Theater.
So by 1:15pm, we had followed a caravan of cars towards the car park for the Minack Theater along a combination of A and B roads, then we proceeded to first have lunch at their cafe to try to kill a little time hoping for an improvement in the weather while also satisfying our collective hunger.
By about 2pm, we were done with the lunch, and that was when we saw that the June Gloom finally burned off and we were now having pretty clear skies. It was at that point that we went nuts taking photos from every possible angle we could think of. Eventually, all that activity would just die down until we chilled out momentarily on the grass terraces looking at some people in green shirts either putting together the stage area or rehearsing their bits.
The theater itself was in a magical spot as it kind of brought Julie and I back to parts of Santorini, where steep walkways and steps seemingly led to an expanse of water appearing like it dropped off into an abyss. Speaking of the water, with the sun out, the English Channel now exhibited more greenish and deep blue hues.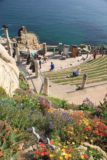 The sun also helped to bring out the colors of the flowers, and the golden brightness of the background cliffs.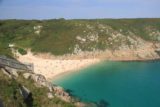 Towards the end of our visit, we went into the Rowena Cade Exhibition where we learned that this place was a creation of Rowena Cade as the theater was the pride and joy of her life (and it shows). Apparently it was her vision and will to get the project to turn this cliffside area into a theater, and she would inspire and have the help needed to keep the work going to this day (even after her death).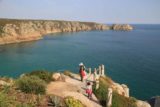 It wouldn't be until about 3:10pm when we were done with the Minack Theater visit, and we returned to our rental car.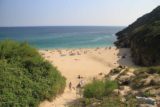 Five minutes later, we went down to the lower car park where we forked over another 2 pounds to park there, then we took a fairly length somewhat sandy trail down to the beach. It turned out that we probably could have saved 2 pounds by leaving the car at the Minack Theater, then walking down a trail leading right to the beach. It would turn out that this alternative car park yielding direct beach access required just as much if not more walking to get to the beach. Granted, if we did this walk from the theater and down, then we would have to get back all that elevation change.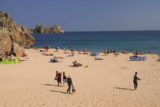 Nonetheless, Tahia had been asking to play in the beach ever since we first saw it at the Minack Theater. And as we were in the sheltered cove with the beach, Julie and Tahia were busy collecting dead shells while I was watching over them while taking photos.
By about 4:20pm, we were back at the car and headed out of Porthcurno. We next had a decision to make – should we do Cape Cornwall or do Land's End. The drawback with Land's End was that (according to TripAdvisor reviews) it was said to have bad food and service while being overly commercialized. However, we were concerned that Cape Cornwall might be a bit dead given the reviews tended to suggest that place was wild.
Julie cared more about the ambience of a place and that sea arch pretty much made it a worthwhile thing to see while there, and so we figured that Land's End might be the place for that while Cape Cornwall wouldn't have either of these things. And so it was decided that we would stick with our original plan.
At 4:30pm, we eventually paid our 3 pounds to park the car in the huge car park right at Land's End. We thought that the sea arch (that really drew me here in the first place) might not be easy to view without getting dangerously close to the unstable cliffs. I even thought it might have been a gimmick (i.e. you needed to be on a boat or something) to see the arch when it was nowhere to be found around the main area.
Anyways, it seemed like just about all the shops and cafes were closed for the day. So the town felt a bit dead.
Since the main goal of our visit was to find the sea arch that was shown on the cover of brochures of the local area (something we didn't expect to be here until we chanced upon the brochures and even some posters in some shops and cafes), we were determined to at least get to the bottom of this before we left.
Upon finding that we couldn't find the arch after spending several minutes walking around fruitlessly searching for it, Julie had asked one of the employees where to get that photo shown on the menu cover. We were eventually told that the view of the arch was past the Greeb's Family Farm.
And at first, I went over there myself to scout out the scene. Along the way, I managed to see two elderly male walkers in the nude. It was almost a bit of a flash of deja vu like what we had witnessed in our first visit to Alamere Falls.
Anyways, when I finally got to the view of the arch (I swore it was probably nearly a mile's walk in each direction), the view from this close up was absolutely beautiful. Eventually some 30 minutes or so later, Julie and Tahia finally caught up to me.
So we took our photos, basked in the rugged scenery of Land's End, and then proceeded to head back to our rental car where we can then finally return back to Penzance in search of dinner and winding down this busy day. I think we made our 3 pounds stretch on this visit, and boy was it nice to bask in such a beautiful scene without the commercialism creeping up this far out given that we had to have walked about 20-30 minutes from the main area.
Anyways, we were glad we made the visit to Land's End instead of St Just and the Cape Cornwall headland. The sea arch was gorgeous, and part of me wished we could have stayed here until sunset to watch the sun setting behind the horizon.
I guess our expectations of Land's End were lowered significantly thanks to unflattering comments about the place on TripAdvisor. I guess this was one example where the TA reviews were a bit off. Sometimes you have to read between the lines when looking at TA reviews to not potentially have regrets about something you might never be able to come back to, and such was the case here.
By about 6:05pm, we finally made it back to our rental car. And at 6:35pm, we made it back to our room at the bed and breakfast. By 7pm, we walked into town (as tired as Tahia was), and then we had ourselves a very good Thai dinner place (called Sukhothai) in the central of O'ahu.
Eventually at 8:40pm we returned to our room where we could finally call it a day. Since Tahia hadn't napped, she was totally knocked out. Meanwhile, Julie and I were looking forward to sleep though we would still have to get up early as we were in for a very long drive from Penzance to Corfe Castle to Stonehenge to Bath.
Day 27: GETTING FLEECED
It was 6am when we awoke. This early morning wake-up was largely due to the long drive that was ahead of us as we were to leave Penzance and head to Bath with detours to the Durdle Door, Corfe Castle, and Stonehenge.
I also managed to wake up with another insect bite. I had three on my left wrist from two nights ago, and now I had this additional one on my right wrist. Julie and I were starting to get concerned that this must be bed bugs. We checked the sheets for tell-tale signs of them, but didn't see anything. So at this point, we didn't pursue the issue any further.
So with that bit of worry out of the way, we managed to get packed up and ready to go (though Tahia was really reluctant as she didn't want to wake up) by 7am. Julie really had to suppress her crying and I guess my presence there didn't help matters so I just kept taking the luggages downstairs to the car as discretely as I could so as to not disturb other guests.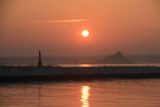 Ten minutes later as we were slowly navigating our way out of Morrab Street and out of town along the waterfront, we were surprised to see a red glowing morning sun through the early morning haze. So I quickly stopped and pulled over in the wrong direction blending in with some of the parked cars already there. Then, I promptly snapped a few photos with Julie's camera as well as with mine.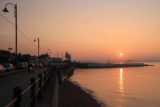 In addition to the red sun, we also saw the silhouette of the attractive Saint Michael's Mount in the distance along with some out-of-commision swimming pool nearby. With the fleeting moment passing before us, I couldn't really pick and choose where I could take photos because each second was precious. And within a matter of a couple of minutes, the moment did indeed pass by as the sun continued to rise and get brighter. At least I got a few snaps in before that happened.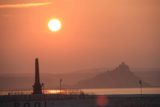 Then, we continued on with our long drive, but I guess we happened to be on the road with a lot of locals
because traffic was very heavy once we left Penzance and starting passing through other towns. Besides the volume of traffic, it seemed like another source of delays was the quantity of tractors on the road. I guess farmers also were out and about at this time of day, too.
There was one roundabout that was particularly busy as cars were blocking parts of the circular road. In that instance, I actually had to take one exit too late, then make a quick three-point turn on a driveway
before going back to the roundabout and taking the last exit (this time I was in the correct lane though).
Other than that, the drive was pretty uneventful. It wouldn't be until about 10:30am when we finally arrived at the Durdle Door. There were signs pointing the way though it turned out that the way I had marked on our GPS before the trip had got us most of the way there. Once we parked, we weren't sure if we were in the right spot because my pre-trip waypoint had us at Lulworth Cove. But after a quick recon of the trail, I could see the sea arch was further below to the right.
So we paid the 3 pounds to park here legally for 2 hours, then we proceeded to make the walk. The area was inundated by a very large tour group of young German tourists. It kind of created a bit of a festive atmosphere both on the trail as well as on the beach below. In any case, we knew that the mostly downhill hike wasn't so bad on the way there, but it would be hot and tiring on the way back. Still, we had plenty of photo ops along the way as there was an adjacent cove called the Man-o-War Cove that was scenic as well as the beach surrounded by high bright cliffs as well as the Durdle Door Arch itself.
Lulworth Cove was on a separate coastal trail, and we opted not to do it.
Anyways, most of the trail was pretty straightforward. As we continued to descend towards the outcrop that was responsible for the Durdle Door, we could see off in the distance some attractive white cliffs that almost seemed so vertical that it was as if that whole cliff had fallen off suddenly. Nearby that vertical cliff was also a smaller natural arch though it didn't seem to have a name.
Next, we saw that we had to descend a gully in order to access the beach, but the gully was a bit eroded and steep. Fortunately, we had dry weather so it wasn't too bad. But I could totally see how this scramble could be far more dangerous if the weather had been rainy. Anyways, it looked like there were planks being set aside to continue making steps to perhaps stave off the erosion that was very evident on the sea cliffs here. Even the longer coastal walk that went up and down the very coast we were just getting a taste of had some pretty long stretches of being re-routed as well.
Once we were down at the beach, Julie marveled at the calmness of the body of water here. She said it reminded her of Tahiti because of the water's calmness. But I guess it was also because of that calmness that the sand here wasn't really sand at all. Instead, it was more like pebbles or small stones. All of us were busy skipping stones while also dipping ankles in the really cold water. The sun was getting brighter as it was burning through the haze of the morning fog as well.
We would eventually have to leave this divine place, but we reluctantly did so at around 12pm. We still had stuff to do later today and I didn't count on spending nearly two hours here when I planned this part of the trip, but we also had to return to the car before our pay and display ticket would expire at 12:30pm.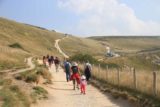 By 12:15pm, we made it back to the car park all hot and sweaty. We managed to make it back up here even after the large youth group of Germans had left. Yet even with their departure, this place was still quite busy. Apparently, it was a very popular spot!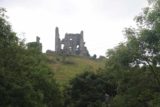 Next, we drove over to Corfe Castle seeing that it was not too far from this sublime part of the Jurassic Coast. By about 12:50pm, we made it to the visitor center right across the highway from Corfe Castle. But from this vantage point down here, we could see that it was basically castle ruins. And after having seen some many other castles (both ruined and intact or re-constructed) on this trip, we decided to skip this castle and head straight for Stonehenge. I hoped that this wouldn't be a decision we'd regret.
So at 1:05pm, we left Corfe Castle with only a couple of quick snaps from the bottom to show for it, and we promptly continued on several A roads until we passed through Salisbury and eventually onto the A303 where we could see Stonehenge from the highway though there was quite a bit of a traffic jam in this area.
We couldn't wait to get to the attraction, but we noticed that the signs for parking for Stonehenge were far away as we followed them with Stonehenge getting further behind in our rear-view mirror.
By the time we made it to the A360, we then had to go north before briefly turning right on the A344, where there was a huge car park for Stonehenge. Given how far it was from here to the attraction itself, I suspected this lot was strictly for park and ride.
Next, after parking the car at 2:55pm, we purchased tickets and essentially got fleeced for almost 30 pounds for both Julie and I. At least Tahia was free.
Once we went on the shuttle bus leading all the way to the Stonehenge site, we saw that were were hundreds of people who were determined to walk the public footpath to get closer to Stonehenge. I started to wonder if we could have saved money by doing the walk (I'm guessing at least 2- to 3 miles in each direction). And even when we ended up at Stonehenge and got off the shuttle, it seemed like nobody was checking for tickets. That was annoying, and we started to wonder why we bothered paying so much for the adult tickets to come here.
Anyways, we would follow the walkway in a counterclockwise manner as we were able to see what's left of Stonehenge from every conceivable angle possible. Although there were easily thousands of people here, it still didn't feel too crowded. In fact, we had opportunities to take family photos before Stonehenge, but I made the mistake of not bringing my tripod along.
So we never really got the family photo that Julie really wanted. And even after asking people to take our photos, they weren't composed well. So, we would eventually have our fill of Stonehenge by 4:40pm, and now we were on our way back towards Bath to complete our driving circuit of almost all of the UK.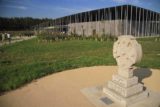 By 6:05pm, we managed to find structured parking at the Bath Spa Southgate area, where we saw that we would only have to pay 5 pounds for the night if we vacate the lot by 9:30am.
We had called earlier about returning the car hire to Europcar on this day, but their meet and greet wouldn't be available until 9am next morning. So we ultimately decided to just park for the night, check into the Royal Bath Spa Hotel, and then finally return the car the following morning.
By 6:50pm, we finally made it into our room in the hotel. This time, the room was a little bigger than the first time around. However, Julie told me that the manager of this hotel was charging us 40 pounds per night (80 pounds total) this time since we didn't tell him earlier that Tahia was still with us (as if we were going to leave her somewhere by herself on this trip?!?). Last time we were here, he charged us 15 pounds to have her stay with us, but now he's citing something about fire codes. Funny he didn't mention that the first time around.
Well, whatever. We're getting fleeced this time, but at least we had a place to stay for the next two nights.
At around 7:30pm, we found a Pizza Express in the shopping area near where we had parked so we got to take advantage of our coupon again. Once again, the food was satisfying though all of us (except Tahia) were feeling guilty about having so much pizza during this trip. So much for the dieting out of necessity thanks to the UK's high prices.
In any case, I really looked forward to not having to drive for the next three full days. One full day in Bath, then a day-and-a-half in London – our last stop in our month-long UK trip…
Day 28: NICKEL AND DIMES
It was about 6am when both Julie and I awoke. We had the intention of sleeping in until 7am, but the problem was that we happened to be staying in a room on the second floor that was right next to the busy Manvers Street. I swore that we heard lorrie and car traffic all the way past 1am or possibly later, but we were so conked out that we managed to sleep through it until now. With the traffic picking up again, there was no way we could fall back asleep. Not helping matters was the thought of being ripped off by the manager of this hotel as well for now charging us for having Tahia in the room 80 pounds even though kids her age were technically free as she was under four (according to their website).
So that reinforced our sour mood. Nonetheless, we couldn't dwell on it for long because there was nothing we could do about it. We'd eventually have the full breakfast at 7:30am (though in hindsight, we probably should've gotten a third cooked breakfast since Tahia was being charged as an adult; oh well, next time). And like the first time we were here nearly a month ago, the brekkie was good.
By the time we were done with our brekkie at 8:20am, I had to bolt out of the hotel with the car keys and GPS, then drive out of the South Gate Car Park and head towards the Europcar further to the west of town. By about 8:30am, I made it back to the Europcar, then I proceeded to clean out our stuff from the car. When I dropped the keys off, I discovered that the tyre guy in Conwy charged an additional 60 pounds for making him wait. So Europcar took that out of my deposit.
However, since I was returning the car early (in their eyes since they were short on cars), they refunded me a prorated amount of some 26 pounds. So the net amount I got back was 216 pounds out of 250 pounds. One thing they didn't talk to me about was the unfair parking ticket we got in Caernarfon. Perhaps they'll bill me later, but I wasn't going to volunteer information if I didn't have to. Perhaps I should have also kept my mouth shut regarding the tyre situation because he wasn't going to ask about it (though I wondered if he would have seen it in the system anyways). In any case, I guess in the grand scheme of things, it worked itself out even though I was still unexpectedly lighter on the wallet, which seemed to be the story of this trip – especially in the south of England.
Come to think of it, I started to wonder if the further north you go, the nicer the people tended to be. For we never had such issues in Scotland or even in Northern England. Even in Wales, Tahia wasn't an issue though we had mixed reactions about the friendliness of people we just happened to chance upon down there. But the stuff going on with Tahia started becoming problems in both Penzance and Bath. Now, we wondered what will happen in London.
Then, I was wondering how I would get back to Bath Station since I had now dropped off the car. The clerk said his two drivers were tied up and so I either had to call a taxi or walk the nearly 3 miles back to Bath Station. I thought it was strange that they couldn't fulfill the other end of the Meet and Greet arrangement (the very reason why we went with this car hire company), and so I was about to conclude it was another rip off job that I'm starting to associate with this city (what with the hotel fiasco and now this meet-and-greet) as I was about to make the long walk.
But just as I was starting my walk onto the street, I noticed a Europcar employee leaving a marked van. It was the same guy that picked us up from the meet and greet at Bath Station. So I immediately stopped him and asked if he could drop me off at the Bath Station. He then punted me back to the guy inside the office, which I promptly did. And I guess to make a long story short, the clerk must have misunderstood me (despite me showing him the contract and letters upon presenting the keys) that we did indeed pay for the meet and greet in both directions.
So with that out of the way, I got a ride back to the Bath Station vicinity, and by 8:55am, I was back at the room with Julie and Tahia.
It wasn't until about 9:30am when we walked into town to explore the city of Bath finally. We meandered the same streets that we wandered the first time around, but now that it was a sunny day instead of a quiet evening, we could see that the city was still quiet but activity was picking up.
At 9:45am, we found the visitor center near the Bath Abbey. The didn't have free maps with ads like they do in other towns or cities, and so we went ahead and bought one for 1 pound. Again, I felt like this was yet another instance of being nickel-and-dimed (on top of getting ripped off by the hotel guy and almost ripped off by the Europcar here).
With that out of the way, we then went inside the Bath Abbey at 9:55am. We didn't bother with the suggested donation, and the lady sitting there made sure that we didn't feel obligated to do it, which was nice of her. Once inside, Julie could see right away that this was a very ornate place. Although it was small, it was tall and surrounded by stained glass windows with some internal statues and other things here and there. I'm sure there was sufficient detail to keep someone interested very busy, but we had our fill with in a few minutes, got our pictures, then quietly left.
Next, we went looking for the Pulteney Bridge. And it didn't take long before we got there, which looked from the street level like an ordinary road bridge except it was lined with shops. We didn't care too much about seeing the bridge from here, so we walked downstream hoping to improve our views. We then saw that we might get decent views from inside the Parade Gardens below, but we would have to pay 1.2 pounds per adult to get in. Tahia was supposed to get in for free, but our receipt said she was charged 80p. Again, another instance of getting nickel-and-dimed or even ripped off, though for 80p, we weren't going to make a stink about it.
Inside the garden, it just seemed like any ordinary peaceful garden spot. We made a beeline for the viewing area of the Pulteney Bridge lined with colorful flowers and a trio of workers looking to take a break there.
So we got our shots then proceeded to meander a bit more in the garden before going back up to street level. We then walked to the North Parade Bridge to get more frontal views of the Pulteney Bridge.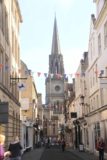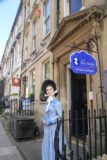 Once we did that, we then walked through the happening part of Bath Town Centre then by the Jane Austen Centre on our way to the Circus (basically a large roundabout with trees in the middle and Roman-like buildings surrounding it), then the Royal Crescent. After not being too satisfied with the pictures we got from their lawn, we decided to pay the 8.5 pounds per adult fee to go inside hoping to get better views of the Royal Crescent while also seeing its interior since Julie was a bit curious about it.
During the tour, we learned from one of the workers at the Man's Bedroom that Jane Austen actually didn't like Bath very much. In fact, she said her characters who went to and from Bath tended to be superficial and disagreeable folk intent on "climbing the social ladder." It sounds a lot like what one might encounter in day-to-day life even in modern times.
I did manage to get photos from the man's bedroom on the third floor. And indeed the views of the crescent were certainly better from up here. Still, we also learned that the man and woman had separate bedrooms because marriages back then were more out of convenience or business and not out of love.
We'd eventually conclude our tour with a brief visit to an exhibit that showed various "grades" of whores (I guess women weren't very respected back in the 17th and 18th centuries and it was very evident in these displays) among other things. However, we also saw what a typical costume might look like in the adjoining room. So we can see how the Pride and Prejudice might have gotten their costume ideas.
At 12:30pm, we left the Royal Crescent. Fifteen minutes later, we came across another Cornish Pasty place, and seeing that they had interesting flavors like Chicken Tikka Masala and Mediterranean, we had ourselves a quick bite here. At least this place didn't charge extra for dining in as opposed to take out.
At 1:05pm, we finished the pretty tasty pasties, then we meandered some more about the happening part of Bath where now it was full blown busy though not quite as atmospheric as say the Royal Mile in Edinburgh or Buchanan Street in Glasgow. Next, we had ourselves an afternoon tea (Julie liked the traditional appearance of the Bath Bun Tea House). However, the main tea room was too busy so we had to go to the quieter upstairs room.
While Julie thought the decorations and ambience here was still charming (plus Tahia was actually awake this time to enjoy the tea with us for the first time), the pastry was dry. The bun was actually like a typical Asian bun except they had rock sugar and some raisins in it. That said, the mango tea that Julie got was actually very fragrant and tasty. All in all, it was a mixed bag, but overall a good arvo tea experience.
We were done with tea at 2:25pm, then we meandered a bit more while getting Tahia some post cards to reinforce her learning on this trip. We also had ourselves some cookies and cream ice cream from the Marshfield ice cream stand, which was actually pretty good. Their clotted cream vanilla was quite orange though it definitely tasted like milk. But I guess Julie didn't care for the yellow color of the milk even though it might have been the real deal, and so we all shared my cookies and cream.
We did get charged 5p for an additional plastic spoon reinforcing the whole nickel-and-dime theme that just seemed to permeate our experiences throughout Bath City. Though in this instance, I thought plastics should be charged since they don't go away in the landfills or in the oceans.
After doing some last ditch meanderings and photograph of the happening part by Bath Abbey and the entrance to the Roman Baths, Tahia and I were back at our room at 3:10pm so Tahia could finally get her afternoon nap. Julie went on a bit of a solo recon mission to look for a place to eat for dinner.
Eventually Julie returned a bit after 4:15pm, and by then all of us had fallen asleep. We'd eventually get up and get back down into town at 5:45pm. The first order of business was to buy train tickets for tomorrow to avoid a Venice-like situation where we had to wait several hours due to trains selling out from waiting 'til the last minute. At least back then, we were able to fit in a Michelangelo's David visit before catching our train. However, in the Bath instance, we already saw and did all we wanted to do in town and waiting around several hours here wouldn't do us any good.
So we ended up buying a 10:13am ticket from Bath to Paddington. We paid something near 54 pounds for the two adults as Tahia got to ride for free. However, I recalled super off-peak fares online were on the order of 36 pounds or something. But anyways, we didn't want to take any chances with buying the wrong ticket and getting ripped off online so we just played it safe and paid the few extra pounds for that piece of mind.
Next, we walked to a Moroccan restaurant called Cafe du Monde. We ended up getting a tabouleh with a duck tagine and sea bass tagine. The tabouleh was different from the Lebannese was of doing tabouleh, but it was different and good. The tagines were filling largely because Julie and Tahia didn't eat very much of their own food. So I left the place totally stuffed at 7:15pm. The ladies still had room for dessert.
We decided to loiter about having gelati from the Real Italian Ice Cream Company (at least this place didn't nickel-and-dime us for more money for each spoon so Tahia could have her own) and enjoying them to a busker performing familiar romantic tunes with the Bath Abbey in the background. It was calming and atmospheric. The sun was setting and we just basked in the moment for a bit forgetting the rip offs and con jobs experienced earlier in the day and yesterday. And just enjoyed ourselves in this instant until it was time to get back to the room.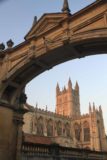 We returned at 8:05pm on this day where we took it easy. I'm sure it will be quite interesting to have to deal with the hustle and bustle of London while carrying all our luggage as we were getting that much closer to coming home…
Day 29: LONDON CALLING
It was 7am when I awoke. Julie was already awake, which was the first time that I can remember on this trip that that has happened. Tahia also woke up aroud the same time as me. I was surprised that I was able to sleep for this long, especially considering how noisy our room was. I swore that I even heard activity from cars and motorcycles to people talking even at 2:45am!
So we went downstairs in time for the 7:30am breakfast, and this time we each shared a full breakfast, smoked salmon, and eggs benedict. We mind as well since Tahia was being charged as if she was an adult.
When we were done with the breakfast, we then spent the next hour or so wrapping up our packing chores as we re-organized our contents to ensure that we would be carrying as few items as possible as well as throwing away stuff we know we wouldn't need (so we could save on both bulk and weight). For now that we no longer had a vehicle, we had to take public transportation, which presented other difficulties especially in terms of lugging our stuff around.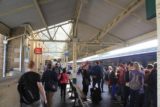 By 9:45am, we waited at the Bath Spa Station. We just saw how busy the London Paddington train was because we happened to have shown up when the 9:43am train was leaving. Our turn was next in a half-hour at 10:13am.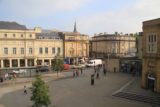 We saw that the Bath Spa Station was actually a pretty small station, but the important thing was that it was well connected, especially to London Paddington. Julie and I were quite thankful that this was a no smoking train station so waiting the half-hour for our train was not a problem.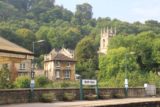 We would get onto our train as scheduled at 10:13am, and then the train ride went pretty smooth though there wasn't a whole lot of aisle space near the door for me to put our luggages and car seat into the common luggage compartment of Coach B (one of 7 coaches on this train). Once we were seated, Tahia had to sit on our lap and she was quite mischievous in the process.
Eventually at 11:50am, we arrived at the London Paddington station 12 minutes late. But that didn't really matter to us so much because we knew that there was a chance we would arrive at our hotel before our room would be ready. Once we left the station with our belongings, we would then arrive at the Tudor Court Hotel, which was just a few paces from the Paddington Statio at 12:10pm.
Sure enough, our room wasn't ready, but it was being worked on. So we were told that after a 10-minute wait, the room should be ready. We decided to sit and wait, then by 12:30pm, we were finally allowed into our room, where we promptly got into our urban attire while leaving most of the stuff in the room. The room itself didn't have a lot of space as we had expected, though this was the first time that the room was so small that we couldn't use Tahia's pea pod tent that she could sleep in by herself.
Anyways, we would head into the city at 1:05pm. And after briefly getting a takeaway wrap at the Paddington Station, we then took the London Underground bound for Tower Hill at 1:30pm. The goal here was to get to the Tower of London since I figured this could be one big ticket item to check off the bucket list of things to do while in the city.
It was a pretty long train ride to get all the way to Tower Hill (roughly 11 stops I believe) via the circle line. We actually took it eastbound where we had to change trains at the Edgeware Road stop. Eventually, at 2:10pm, we found ourselves at the Tower of London, which was an impressive castle or fortress by the River Thames next to the Tower Bridge. The fortress appeared to be surrounded by fake red poppies, which were there to commemorate the fallen in World War I. But since we were worried about getting caught up in queues, we promptly went to the ticket booth to pay to enter, which was a painfully expensive 22 pounds per adult!
Then once we were inside the admission area (fortunately there really wasn't much of a queue), I swore this place seemed like its own city within the tower's walls. There was an overwhelming number of attractions to check out, but we first pursued the crown jewels since that was what Julie really wanted to see.
At 2:30pm, we were in the Crown Jewels area, but there were no photos allowed. There were lots of people inside this exhibit, and we found it funny that one section of the exhibit had a conveyor belt to move the crowd along in a spot where a bunch of different crowns were on display.
I don't think I had ever seen so much gold and diamonds put on objects all collected in one spot. Julie and I were skeptical whether these really were the real thing considering that we suspected these things would be even more heavily guarded than in the Tower of London that was open to tourists.
Anyways, we saw De Beers signs so it wasn't surprising that they were the sponsors of the exhibit. Still with all these gaudy shows of power and wealth, I couldn't help but wonder how much blood was spilled to acquire diamonds for the crown back then. We certainly know a lot of blood was spilled to get diamonds these days.
Next, we went into the White Tower at 2:50pm. This was basically a series of displays showing the various armaments used during the history of the tower. We saw lots of armors as well as swords or other things of interest for military buffs.
Eventually, we'd be done with this section of the tour, then started to walk the Tower Walls, but we got on somewhere not far from gift shot. We immediately saw then that there were more sections of the wall to explore, but we wouldn't be able to until we completed this wall circuit as the lines were generally unidirectional.
And so we did most of the wall circuit, which featured views mostly towards London outside the Tower of London itself. As for looking back towards the internal of the Tower of London complex, there always seemed to be big buildings close to the walls so the views looking in were limited.
Once we were done with the wall circuit, we explored a few towers (including the Bloody Tower), but we'd eventually had our fill of those. And then, we finally found the entrance to the start of the wall walk, which was closer to the overall entrance that we had started at.
Once we did that, we saw the Medieval Palace at 4:25pm, then we saw the part of the wall that let us get views of the Tower Bridge with the sun peeking in and out of the afternoon clouds. Looking in the other direction, we also got decent views back towars the White Tower, which was said to be the tallest building in the Tower of London complex.
By 5pm, our self-tour of the Tower of London was done. We then spent some time taking photos of the Tower Bridge in late afternoon from this side of the River Thames before going onto the bridge itself just in time to get onto the Tower Bridge Exhibition before they closed. We showed up at 5:10pm (20 minutes before last admission), and we did this exhibit in the hopes of getting good top down views of the Tower of London complex.
Unfortunately, there were too many bridge obstacles in the viewing area, and that kind of made the views we sought after a fail. It took some time to get out of the Tower Bridge Exhibit because the only way down to street level was by a lift, and we all had to queue up for it right next to some shop where they tried to sell you photos they took of you earlier in the tour.
By the time we were done with the tour at 5:35pm (we didn't bother with the Engine Room), I got the sense that we probably could have done without this exhibition tour in hindsight. Still, we got good views and photos from both on the bridge as well as across the River Thames towards the Tower of London (both were possible without doing the tour anyways).
While we were exploring this part of the River Thames and the Tower Bridge, Tahia was napping and I had to carry her in the child carrier. Still, Julie and I noticed a walking street around the Tower Bridge Piazza area, and that was where we saw a charming street with bridges spanning tall buildings. It was also in this charming street that we saw a Pizza Express.
Since Tahia was still asleep, we decided to come back here for dinner once Tahia was awake. In the mean time, we did more of the river walk (the Queen's Walk) across the River Thames from the Tower of London. There were more views of the Tower Bridge from this side as well as distant views of the Tower of London. We could also see that there were many people strolling about along this path, and we even saw some Asian model being photographed as well as another Asian couple in wedding attire (though the dude had on something with red and black stripes that might make a Scot proud though it wasn't a kilt).
By 6:20pm, we finally went into the Pizza Express since Tahia had awoken from her nap. I managed to break a glass since I had turned while wearing my child carrier and knocked one of the wine glasses off the table. But other than that, we had a decent dinner though I'd have to say that of all the Pizza Expresses that we had visited throughout the UK on our trip, this one was probably the lowest quality of them all.
When we were done with dinner, it had started getting dark as the sun had already set. Thus, we were caught off guard with how cold it got, especially around the River Thames, and we weren't prepared for it given how much warmer it was during the day.
Still, because we kept moving, we didn't freeze that badly. Plus, we got some decent twilight shots both on and of the Tower Bridge as well as the exterior of the Tower of London en route to the Underground. We also saw a red-uniformed guard read off the names of the fallen in WWI while in the fake red poppie field surrounding the Tower of London since those poppies were to symbolize the blood that was spilled on that war.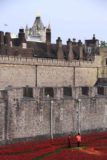 At 7:55pm, we finally made it back to the London Underground, where we then promptly took the Yellow Circle Line back to Paddington Station. This time, we headed west to complete the entire circle, and it would take about 16 or 17 stops to get there.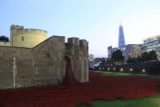 By 8:35pm, we were finally back in our room, where we called it a day on this eventful half-day tour of London. Julie and I were coming to the realization that there was simply too much to do in London in a day-and-a-half, and I wondered whether we were really shortchanging London by only spending 2 nights here based on bad advice from friends who didn't think that highly of London on their travels. I guess different strokes for different folks, and I know we don't travel like most people.
In any case, tomorrow was going to be a very busy day. Hopefully, we can do our must-see hit list before things start to close…
Day 30: LDN
It was 6am when we awoke again. During the previous night, we all had to co-sleep with Tahia because there was no room to open up her pea pod tent so she could sleep on her own. Since Tahia liked to toss and turn a lot during sleep, she didn't like the restricted mobility given the small full-sized bed we all had to share. So she asked to have her own bed sometime in the middle of the night, but of course we couldn't give in and she had to live with it.
Anyways, we all awoke from a chilly night, and it was still pretty chilly this morning.
We then went downstairs for the included breakfast at a little after 7am. It turned out that their English breakfast wasn't very good, but at least it was something. Julie and I discussed whether to take advantage of their included breakfast tomorrow or combine extra time packing and sleeping in a little bit before going to Heathrow Airport.
By about 7:50am, we left our room to explore the city. Knowing that we had a really full day ahead of us (with this being our last full day of the entire trip), we quickly walked beneath the cloudy skies and through the chilly air towards the London Underground. This time, we brought our jackets (unlike yesterday) and we had to buy peak hour day passes (didn't seem to make much difference in price to us except now we could only go to zones 1-2 instead of 1-6; not that it mattered to us since we weren't going far).
By about 8:30am we made it to the Buckingham Palace. We were still about an hour early for our scheduled tour of the place that Julie had bought in advance last night. So we pretty much tried to kill the hour by taking photos of its front facade and the garden area surrounding the roundabout fronting that palace. Unfortunately, we wouldn't be having the added entertainment of watching the changing of the guard in front of the palace because it was scheduled to occur every other day at 11:30am and today happened to be one of those "in between" days.
Eventually after killing about 40 minutes or so of just miscellaneous photo taking outside the gates of the Buckingham Palace, we finally figured out that we were supposed to go to the ticket office and the entrance on the side away from the front gates. That was when we got our requisite stuff then jammed ourselves into a sea of people crowding the entrance tent waiting to enter security at 9:20am.
During a pre-entrance briefing by the staff, we learned that we couldn't take photos throughout our visit. So for however much we paid for these tickets, we wouldn't be able to take home any solid memories of it. And hence I thought it would be a waste of time, effort, and money even though Julie really wanted to do this because she was into watching a bunch of rich people spending lavishly on things to show their wealth and power.
So we went through the obligatory self-tour while getting some tidbits of information about what we were seeing through the audio tour. I actually didn't pick one of those up, but Tahia was getting bored with her visit so I ended up with her audio tour and took advantage of it.
And even after this visit was over at 10:10am, my sentiment that this visit didn't amount to nothing more than contributing to some arbitrary cause of furthering someone else's wealth and showing it off remained. I felt we could've done without it, but Julie wasn't happy about my sentiments insisting that she enjoyed it. Different strokes for different folks I guess (except when it probably costed somewhere on the order of 50 pounds, which is like $80 or $90 USD for 2 adults.
At 11:05am, we spent some time walking to the nearest underground station, then eventually found ourselves on the Westminster Bridge. Just as we were about to surface from the underground level, we could hear the tolling bell of Big Ben ringing 11 times to symbolize that it was 11 o'clock.
As we walked further along the side of the bridge nearest to Big Ben, Tahia couldn't contain her excitement as she had finally gotten to see Big Ben after asking for it the entire trip. She went from being tired and fussy to getting a second wind now that she got to see what she was asking for.
We eventually crossed the Westminster Bridge and were on a walk directly across the Thames River for a more direct view of the Big Ben and Parliament Building. From this vantage point, the photos looked both flat and dark given that it had been gray skies up to this point. And when we had our fill of taking photos from this spot, we then crossed over to the other side of the Westminster Bridge.
That was where we then took photos of the London Eye while also checking out a bagpipe busker as well as trying to ignore the touts that seemed to be exclusively on this side as opposed to the other for some reason.
By 11:40am, we had finished crossing the Westminster Bridge on both ends, then we found ourselves in Parliament Square at 11:50am. This square had a lawn in the middle of a large roundabout, and it seemed to be surrounded by very interesting buildings like Big Ben itself with the Parliament Building as well as the Westminster Abbey next to it.
We briefly picnicked here over takeaway samosas until we then went to the Westminster Abbey's entrance. That was when we saw a very large queue as well as demonstrators with orange flags saying "Unite the Union" marching across the abbey towards the Parliament Building. When we saw that it costed something like 18 pounds per adult plus they wouldn't allow photos to be taken, we decided not to bother with this attraction. Besides, we were already pretty much churched out at this point.
So at 12:20pm we then headed back across the Westminster Bridge and headed right for the London Eye. Even though we knew we'd be spending quite a bit of money to do this (a little over 20 pounds per adult), at least Tahia had asked for it seeing that she thought it was some amusement park ride (well, it was a slow-moving ferris wheel).
Twenty minutes later we were waiting in line for the London Eye. Once we were on it at around 12:55pm, we were joined by a few other small groups as we all shared the half-glassed pod attached to the giant ferris wheel. We would spend most of the time photographing the views from within the pod (so it was prone to glare, which my polarizer helped to cut some of it out).
It was too bad that it was pretty much a very gray day, but we could at least see up and down the Thames River while getting somewhat birdseye views of the Parliament Building, Westminster Abbey, Buckingham Palace in the distance, and even a little bit of St Paul's Cathedral.
After about 30 minutes of chilling out, we were be done with the London Eye at 1:30pm and the time spent here didn't feel like it took as long as it ended up being. Plus, the queue went by really quickly, too. Good thing we didn't go for the London Pass yesterday because it turned out that it wasn't necessary.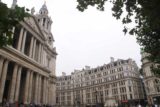 Next, we would chill out by a cafe near the London Eye where Julie could take advantage of the Wi-Fi and check in to our flight on Virgin Atlantic. When that was done in 15 minutes, we then proceeded to head towards St Paul's Cathedral. By this time, Tahia was dead tired and so I carried her on my hips with the child carrier. We would take the underground towards the stop nearest the cathedral, then we walked to the grand front entrance.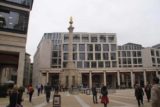 Along the way, we passed through what appeared to be a pretty happening and modern spot mixed in with the old surrounding the cathedral area. But once we went inside, we could see there was another queue and that it costed something like 16.5 pounds per adult while photography wasn't allowed again. So once again, we opted to skip this as we were churched out, and paying that kind of money and not being able to take photographs was just a rip off.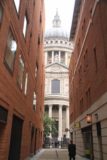 At this point, I think I pretty much came to the conclusion that London (as well as what we had encountered throughout other parts of Southern England) seemed intent on sucking pounds out of tourists as much as possible before they leave and for the most part not be seen again. I guess it was that sentiment that also made me feel like the further south in the UK you go, the less friendlier it gets. We certainly didn't feel nickel-and-dimed or ripped off in Scotland as well as most of the Lakes District as well as Yorkshire.
But in a few instances in Wales and definitely in the South of England (especially Bath and London), it was almost that third-world mentality of being a walking cash register except in this case, it was a developed country that seemed intent on sucking you dry.
Anyways, Julie and I had some desserts at the Paul's nearby, which was nothing near as good as what we came to expect from this chain in France a couple of years ago, then at 3pm we headed towards the British Museum.
By 3:40pm, we would eventually make it to the entrance of the British Museum, though we did spend a few minutes getting a little lost on Tottenham Court Road somehow overshooting the museum then having to backtrack to find it. At this point, Tahia woke up and I was able to let her walk on her own, which helped to relieve my legs, back, and shoulders.
The museum was full of historical artifacts including Egyptian mummies, a Rosetta Stone, statues, trinkets and more. It also featured pre-Egyptian and pre-Roman civilizations like Mesopotamians, Assyrians, Etruscans, etc. And of course it also had a bunch of Greek and Roman artifacts. But Tahia was most fascinated by the mummies. I guess it was because she was in a pre-school class where they had to re-create mummies or something like that.
It was a pretty impressive museum, and Julie and I finally understood why our Egyptian guide said something to the effect that the British had a lot of their treasures. We wondered how they got a hold of these things and put them in this museum. And it seemed like all this museum business was like a game of showing how large ones' collection of world artifacts could be in the face of others.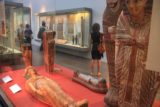 It all seemed pretty arbitrary to me, but Julie seemed to think all this human history added to the diversity of the travelling experience.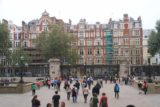 As all of us were running out of gas at this time in the afternoon at 4:30pm, we decided to have an afternoon cup of tea along with a chocolate fudge cake. Again since Tahia was awake, she got to join us in munching on the rather dry cake. I swore that all of our afternoon cuppa experiences were ho hum except for the one we had in York. It all seemed a bit overrated and pricey to me though I could totally understand why the Brits do it since they'd rather have pick-me-ups instead of doing afternoon siestas like in other parts of Europe.
Eventually at 4:55pm, we left the museum, then took the underground and eventually ended up at Trafalgar Square at around 5:25pm. It turned out that we showed up just in time to enter the National Gallery, which was to close at 5:30pm. So we didn't hesitate to go in and Julie made a beeline for the famous paintings that they had in there from Van Gogh to Monet. Tahia and I followed Julie around, but we just weren't as into these exhibits as she was.
Eventually near 6pm, we were back out of the museum and just chilling out in the happening Trafalgar Square. It was a busy public square that seemed to be inspired or embellished upon the Roman or Italian piazza. Indeed, hordes of people were either passing through or just sitting and chillin' while others were like us taking photos somehow trying to capture and communicate the atmosphere of what was before us.
We even spent some time (and some risk) to climb up towards the base of the obelisk at the base of Trafalgar Square. Then took a few more people shots like trying not to mind the cigarette and other elicit drug smoke. In fact, I wondered if one of those guys sitting up there was dealing some stuff because I thought I heard something to the effect of "Thank you" being exchanged between them as he left and the recipients were busy doing stuff with whatever was being sold.
At 6:40pm, we eventually settled on eating at a place called Les Deux Salons Brasserie. We were hoping to eat at this other highly rated place called Terroire, but that place looked way too upscale and we weren't that impressed with the menu.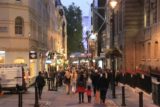 And so we had ourselves some steak frites, foie gras-like pate, and duck confit along with some salad to essentially do a mini-splurge on the last night of our trip.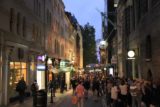 By 7:35pm, we were done with dinner, and we didn't hesitate to take the London Underground back to our accommodation near Paddington Station. While we were riding the subway's Central Line to Paddington, we happened to be an audience to some verbal exchange between a couple of foul-mouthed guys and a young lady speaking out against them.
There was some exchange about something concerning terrorism and the UK, and it eventually degenerated into a profanity-laced argument mostly imposed by the guys. We moved Tahia away from the commotion and eventually got off the subway at Paddington, then prompty headed back to our room. By 8:15pm, we made it back just in time as Tahia had to suddenly potty again while I also had to use the toilet after her.
And so that concluded this very long day of touring London as well as concluding our monthlong trip to the United Kingdom.
I think we were all ready to go home at this point (as we were probably weary of bleeding more money while also ready to return to some normalcy back at home), and so we looked forward to our flight home tomorrow. But I'm sure in due time, we'll be back in that wanderlust mindset again. It's just how we're wired and we never want this to end…
Day 31: HOME
It was 6am once again when we awoke. And as planned yesterday, we opted to skip the included breakfast at the hotel so we could let Tahia sleep in a few more minutes while Julie and I were wrapping up our packing in preparation to go home.
We eventually found ourselves at the Heathrow Express train at 7:45am, which costed us 21 pounds per adult. It was pricey, but I guess for that 15-minute train ride and piece of mind, it was better than our sorry system back home in LAX.
We picked up one last go at Cornish pasties and some croissants (which disappointed Julie in that they were less flakier than the pasties), and then we did the usual drill of checking in and dropping off our luggages at the Heathrow Airport.
While Julie was busy shopping to spend the remaining pounds we had on us (it made no sense to exchange back since we lose on the exchange rates in both directions), a couple of Heathrow employees informed me that there was a family lounge after seeing that I was with Tahia. Seeing that our flight was delayed 15 minutes already from 11:15am to 11:30am (seems like Virgin Atlantic is synonymous with delays as far as our experience is concerned), we thought that was welcome advice to keep Tahia happy.
By 9:30am, we finally found the family lounge and once Tahia saw what was in there, she was beside herself. There were a couple of padded play pens (one for ages 3-9 and the other from ages 3 and under) as well as a quiet room and a room with a TV, and I at least got to put the bags down momentarily while Julie went off shopping again…
While I was nervously watching the monitor displaying flight information from inside the Family Lounge, I was also watching Tahia playing before she wanted me to participate as well. I wasn't getting Wi-Fi access inside this Family Lounge so I went along with her playing in the jungle gym that was clearly sized for someone that is not as tall as a typical adult.
It wouldn't be until 10:45am (30 minutes after they said they'd provide gate information) when we finally knew which departure gate we were supposed to go to. The lady working at the Family Lounge said it would be about a 20-minute walk to get there from here. And it looked like they'd hold the 11:30am departure time according to that monitor, which made us (and I'd imagine a lot of other people) rush to Gate 19 where we were to figure out what would happen next.
Eventually, we would queue up in a long queue for Gate 19, but then once we got inside another waiting area, that was when families with kids under 4 could get seated immediately after the priority boarding groups. It worked out for us though it didn't seem terribly organized given the lateness that seemed to plague our experiences with this round-trip with Virgin Atlantic.
In the end, after a relatively uneventful flight where we all watched various TV shows and movies, we would finally wait to de-plane at 2:50pm (about 75 minutes later than the original arrival time), and we weren't looking forward to the dreaded Friday afternoon rush hour traffic.
It wouldn't be until about 4:20pm when we finally recovered our car, and it wouldn't be until 5:20pm when we finally got home. Of course Tahia hugged grandma before she then went to bed and was out (being that it was past 1am in the UK now). Julie was doing the same thing. That left me to sort out our luggage as we gradually (and grudgingly) would return to reality once again…
Visitor Comments:
Got something you'd like to share or say to keep the conversation going? Feel free to leave a comment below...
No users have replied to the content on this page