Day 27: GETTING FLEECED
It was 6am when we awoke. This early morning wake-up was largely due to the long drive that was ahead of us as we were to leave Penzance and head to Bath with detours to the Durdle Door, Corfe Castle, and Stonehenge.
I also managed to wake up with another insect bite. I had three on my left wrist from two nights ago, and now I had this additional one on my right wrist. Julie and I were starting to get concerned that this must be bed bugs. We checked the sheets for tell-tale signs of them, but didn't see anything. So at this point, we didn't pursue the issue any further.
So with that bit of worry out of the way, we managed to get packed up and ready to go (though Tahia was really reluctant as she didn't want to wake up) by 7am. Julie really had to suppress her crying and I guess my presence there didn't help matters so I just kept taking the luggages downstairs to the car as discretely as I could so as to not disturb other guests.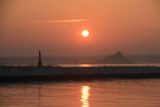 Ten minutes later as we were slowly navigating our way out of Morrab Street and out of town along the waterfront, we were surprised to see a red glowing morning sun through the early morning haze. So I quickly stopped and pulled over in the wrong direction blending in with some of the parked cars already there. Then, I promptly snapped a few photos with Julie's camera as well as with mine.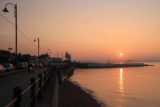 In addition to the red sun, we also saw the silhouette of the attractive Saint Michael's Mount in the distance along with some out-of-commision swimming pool nearby. With the fleeting moment passing before us, I couldn't really pick and choose where I could take photos because each second was precious. And within a matter of a couple of minutes, the moment did indeed pass by as the sun continued to rise and get brighter. At least I got a few snaps in before that happened.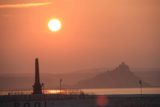 Then, we continued on with our long drive, but I guess we happened to be on the road with a lot of locals
because traffic was very heavy once we left Penzance and starting passing through other towns. Besides the volume of traffic, it seemed like another source of delays was the quantity of tractors on the road. I guess farmers also were out and about at this time of day, too.
There was one roundabout that was particularly busy as cars were blocking parts of the circular road. In that instance, I actually had to take one exit too late, then make a quick three-point turn on a driveway
before going back to the roundabout and taking the last exit (this time I was in the correct lane though).
Other than that, the drive was pretty uneventful. It wouldn't be until about 10:30am when we finally arrived at the Durdle Door. There were signs pointing the way though it turned out that the way I had marked on our GPS before the trip had got us most of the way there. Once we parked, we weren't sure if we were in the right spot because my pre-trip waypoint had us at Lulworth Cove. But after a quick recon of the trail, I could see the sea arch was further below to the right.
So we paid the 3 pounds to park here legally for 2 hours, then we proceeded to make the walk. The area was inundated by a very large tour group of young German tourists. It kind of created a bit of a festive atmosphere both on the trail as well as on the beach below. In any case, we knew that the mostly downhill hike wasn't so bad on the way there, but it would be hot and tiring on the way back. Still, we had plenty of photo ops along the way as there was an adjacent cove called the Man-o-War Cove that was scenic as well as the beach surrounded by high bright cliffs as well as the Durdle Door Arch itself.
Lulworth Cove was on a separate coastal trail, and we opted not to do it.
Anyways, most of the trail was pretty straightforward. As we continued to descend towards the outcrop that was responsible for the Durdle Door, we could see off in the distance some attractive white cliffs that almost seemed so vertical that it was as if that whole cliff had fallen off suddenly. Nearby that vertical cliff was also a smaller natural arch though it didn't seem to have a name.
Next, we saw that we had to descend a gully in order to access the beach, but the gully was a bit eroded and steep. Fortunately, we had dry weather so it wasn't too bad. But I could totally see how this scramble could be far more dangerous if the weather had been rainy. Anyways, it looked like there were planks being set aside to continue making steps to perhaps stave off the erosion that was very evident on the sea cliffs here. Even the longer coastal walk that went up and down the very coast we were just getting a taste of had some pretty long stretches of being re-routed as well.
Once we were down at the beach, Julie marveled at the calmness of the body of water here. She said it reminded her of Tahiti because of the water's calmness. But I guess it was also because of that calmness that the sand here wasn't really sand at all. Instead, it was more like pebbles or small stones. All of us were busy skipping stones while also dipping ankles in the really cold water. The sun was getting brighter as it was burning through the haze of the morning fog as well.
We would eventually have to leave this divine place, but we reluctantly did so at around 12pm. We still had stuff to do later today and I didn't count on spending nearly two hours here when I planned this part of the trip, but we also had to return to the car before our pay and display ticket would expire at 12:30pm.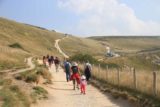 By 12:15pm, we made it back to the car park all hot and sweaty. We managed to make it back up here even after the large youth group of Germans had left. Yet even with their departure, this place was still quite busy. Apparently, it was a very popular spot!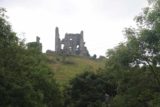 Next, we drove over to Corfe Castle seeing that it was not too far from this sublime part of the Jurassic Coast. By about 12:50pm, we made it to the visitor center right across the highway from Corfe Castle. But from this vantage point down here, we could see that it was basically castle ruins. And after having seen some many other castles (both ruined and intact or re-constructed) on this trip, we decided to skip this castle and head straight for Stonehenge. I hoped that this wouldn't be a decision we'd regret.
So at 1:05pm, we left Corfe Castle with only a couple of quick snaps from the bottom to show for it, and we promptly continued on several A roads until we passed through Salisbury and eventually onto the A303 where we could see Stonehenge from the highway though there was quite a bit of a traffic jam in this area.
We couldn't wait to get to the attraction, but we noticed that the signs for parking for Stonehenge were far away as we followed them with Stonehenge getting further behind in our rear-view mirror.
By the time we made it to the A360, we then had to go north before briefly turning right on the A344, where there was a huge car park for Stonehenge. Given how far it was from here to the attraction itself, I suspected this lot was strictly for park and ride.
Next, after parking the car at 2:55pm, we purchased tickets and essentially got fleeced for almost 30 pounds for both Julie and I. At least Tahia was free.
Once we went on the shuttle bus leading all the way to the Stonehenge site, we saw that were were hundreds of people who were determined to walk the public footpath to get closer to Stonehenge. I started to wonder if we could have saved money by doing the walk (I'm guessing at least 2- to 3 miles in each direction). And even when we ended up at Stonehenge and got off the shuttle, it seemed like nobody was checking for tickets. That was annoying, and we started to wonder why we bothered paying so much for the adult tickets to come here.
Anyways, we would follow the walkway in a counterclockwise manner as we were able to see what's left of Stonehenge from every conceivable angle possible. Although there were easily thousands of people here, it still didn't feel too crowded. In fact, we had opportunities to take family photos before Stonehenge, but I made the mistake of not bringing my tripod along.
So we never really got the family photo that Julie really wanted. And even after asking people to take our photos, they weren't composed well. So, we would eventually have our fill of Stonehenge by 4:40pm, and now we were on our way back towards Bath to complete our driving circuit of almost all of the UK.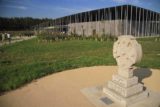 By 6:05pm, we managed to find structured parking at the Bath Spa Southgate area, where we saw that we would only have to pay 5 pounds for the night if we vacate the lot by 9:30am.
We had called earlier about returning the car hire to Europcar on this day, but their meet and greet wouldn't be available until 9am next morning. So we ultimately decided to just park for the night, check into the Royal Bath Spa Hotel, and then finally return the car the following morning.
By 6:50pm, we finally made it into our room in the hotel. This time, the room was a little bigger than the first time around. However, Julie told me that the manager of this hotel was charging us 40 pounds per night (80 pounds total) this time since we didn't tell him earlier that Tahia was still with us (as if we were going to leave her somewhere by herself on this trip?!?). Last time we were here, he charged us 15 pounds to have her stay with us, but now he's citing something about fire codes. Funny he didn't mention that the first time around.
Well, whatever. We're getting fleeced this time, but at least we had a place to stay for the next two nights.
At around 7:30pm, we found a Pizza Express in the shopping area near where we had parked so we got to take advantage of our coupon again. Once again, the food was satisfying though all of us (except Tahia) were feeling guilty about having so much pizza during this trip. So much for the dieting out of necessity thanks to the UK's high prices.
In any case, I really looked forward to not having to drive for the next three full days. One full day in Bath, then a day-and-a-half in London – our last stop in our month-long UK trip…
Visitor Comments:
No users have replied to the content on this page