Day 28: NICKEL AND DIMES
It was about 6am when both Julie and I awoke. We had the intention of sleeping in until 7am, but the problem was that we happened to be staying in a room on the second floor that was right next to the busy Manvers Street. I swore that we heard lorrie and car traffic all the way past 1am or possibly later, but we were so conked out that we managed to sleep through it until now. With the traffic picking up again, there was no way we could fall back asleep. Not helping matters was the thought of being ripped off by the manager of this hotel as well for now charging us for having Tahia in the room 80 pounds even though kids her age were technically free as she was under four (according to their website).
So that reinforced our sour mood. Nonetheless, we couldn't dwell on it for long because there was nothing we could do about it. We'd eventually have the full breakfast at 7:30am (though in hindsight, we probably should've gotten a third cooked breakfast since Tahia was being charged as an adult; oh well, next time). And like the first time we were here nearly a month ago, the brekkie was good.
By the time we were done with our brekkie at 8:20am, I had to bolt out of the hotel with the car keys and GPS, then drive out of the South Gate Car Park and head towards the Europcar further to the west of town. By about 8:30am, I made it back to the Europcar, then I proceeded to clean out our stuff from the car. When I dropped the keys off, I discovered that the tyre guy in Conwy charged an additional 60 pounds for making him wait. So Europcar took that out of my deposit.
However, since I was returning the car early (in their eyes since they were short on cars), they refunded me a prorated amount of some 26 pounds. So the net amount I got back was 216 pounds out of 250 pounds. One thing they didn't talk to me about was the unfair parking ticket we got in Caernarfon. Perhaps they'll bill me later, but I wasn't going to volunteer information if I didn't have to. Perhaps I should have also kept my mouth shut regarding the tyre situation because he wasn't going to ask about it (though I wondered if he would have seen it in the system anyways). In any case, I guess in the grand scheme of things, it worked itself out even though I was still unexpectedly lighter on the wallet, which seemed to be the story of this trip – especially in the south of England.
Come to think of it, I started to wonder if the further north you go, the nicer the people tended to be. For we never had such issues in Scotland or even in Northern England. Even in Wales, Tahia wasn't an issue though we had mixed reactions about the friendliness of people we just happened to chance upon down there. But the stuff going on with Tahia started becoming problems in both Penzance and Bath. Now, we wondered what will happen in London.
Then, I was wondering how I would get back to Bath Station since I had now dropped off the car. The clerk said his two drivers were tied up and so I either had to call a taxi or walk the nearly 3 miles back to Bath Station. I thought it was strange that they couldn't fulfill the other end of the Meet and Greet arrangement (the very reason why we went with this car hire company), and so I was about to conclude it was another rip off job that I'm starting to associate with this city (what with the hotel fiasco and now this meet-and-greet) as I was about to make the long walk.
But just as I was starting my walk onto the street, I noticed a Europcar employee leaving a marked van. It was the same guy that picked us up from the meet and greet at Bath Station. So I immediately stopped him and asked if he could drop me off at the Bath Station. He then punted me back to the guy inside the office, which I promptly did. And I guess to make a long story short, the clerk must have misunderstood me (despite me showing him the contract and letters upon presenting the keys) that we did indeed pay for the meet and greet in both directions.
So with that out of the way, I got a ride back to the Bath Station vicinity, and by 8:55am, I was back at the room with Julie and Tahia.
It wasn't until about 9:30am when we walked into town to explore the city of Bath finally. We meandered the same streets that we wandered the first time around, but now that it was a sunny day instead of a quiet evening, we could see that the city was still quiet but activity was picking up.
At 9:45am, we found the visitor center near the Bath Abbey. The didn't have free maps with ads like they do in other towns or cities, and so we went ahead and bought one for 1 pound. Again, I felt like this was yet another instance of being nickel-and-dimed (on top of getting ripped off by the hotel guy and almost ripped off by the Europcar here).
With that out of the way, we then went inside the Bath Abbey at 9:55am. We didn't bother with the suggested donation, and the lady sitting there made sure that we didn't feel obligated to do it, which was nice of her. Once inside, Julie could see right away that this was a very ornate place. Although it was small, it was tall and surrounded by stained glass windows with some internal statues and other things here and there. I'm sure there was sufficient detail to keep someone interested very busy, but we had our fill with in a few minutes, got our pictures, then quietly left.
Next, we went looking for the Pulteney Bridge. And it didn't take long before we got there, which looked from the street level like an ordinary road bridge except it was lined with shops. We didn't care too much about seeing the bridge from here, so we walked downstream hoping to improve our views. We then saw that we might get decent views from inside the Parade Gardens below, but we would have to pay 1.2 pounds per adult to get in. Tahia was supposed to get in for free, but our receipt said she was charged 80p. Again, another instance of getting nickel-and-dimed or even ripped off, though for 80p, we weren't going to make a stink about it.
Inside the garden, it just seemed like any ordinary peaceful garden spot. We made a beeline for the viewing area of the Pulteney Bridge lined with colorful flowers and a trio of workers looking to take a break there.
So we got our shots then proceeded to meander a bit more in the garden before going back up to street level. We then walked to the North Parade Bridge to get more frontal views of the Pulteney Bridge.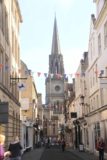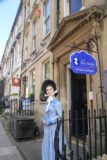 Once we did that, we then walked through the happening part of Bath Town Centre then by the Jane Austen Centre on our way to the Circus (basically a large roundabout with trees in the middle and Roman-like buildings surrounding it), then the Royal Crescent. After not being too satisfied with the pictures we got from their lawn, we decided to pay the 8.5 pounds per adult fee to go inside hoping to get better views of the Royal Crescent while also seeing its interior since Julie was a bit curious about it.
During the tour, we learned from one of the workers at the Man's Bedroom that Jane Austen actually didn't like Bath very much. In fact, she said her characters who went to and from Bath tended to be superficial and disagreeable folk intent on "climbing the social ladder." It sounds a lot like what one might encounter in day-to-day life even in modern times.
I did manage to get photos from the man's bedroom on the third floor. And indeed the views of the crescent were certainly better from up here. Still, we also learned that the man and woman had separate bedrooms because marriages back then were more out of convenience or business and not out of love.
We'd eventually conclude our tour with a brief visit to an exhibit that showed various "grades" of whores (I guess women weren't very respected back in the 17th and 18th centuries and it was very evident in these displays) among other things. However, we also saw what a typical costume might look like in the adjoining room. So we can see how the Pride and Prejudice might have gotten their costume ideas.
At 12:30pm, we left the Royal Crescent. Fifteen minutes later, we came across another Cornish Pasty place, and seeing that they had interesting flavors like Chicken Tikka Masala and Mediterranean, we had ourselves a quick bite here. At least this place didn't charge extra for dining in as opposed to take out.
At 1:05pm, we finished the pretty tasty pasties, then we meandered some more about the happening part of Bath where now it was full blown busy though not quite as atmospheric as say the Royal Mile in Edinburgh or Buchanan Street in Glasgow. Next, we had ourselves an afternoon tea (Julie liked the traditional appearance of the Bath Bun Tea House). However, the main tea room was too busy so we had to go to the quieter upstairs room.
While Julie thought the decorations and ambience here was still charming (plus Tahia was actually awake this time to enjoy the tea with us for the first time), the pastry was dry. The bun was actually like a typical Asian bun except they had rock sugar and some raisins in it. That said, the mango tea that Julie got was actually very fragrant and tasty. All in all, it was a mixed bag, but overall a good arvo tea experience.
We were done with tea at 2:25pm, then we meandered a bit more while getting Tahia some post cards to reinforce her learning on this trip. We also had ourselves some cookies and cream ice cream from the Marshfield ice cream stand, which was actually pretty good. Their clotted cream vanilla was quite orange though it definitely tasted like milk. But I guess Julie didn't care for the yellow color of the milk even though it might have been the real deal, and so we all shared my cookies and cream.
We did get charged 5p for an additional plastic spoon reinforcing the whole nickel-and-dime theme that just seemed to permeate our experiences throughout Bath City. Though in this instance, I thought plastics should be charged since they don't go away in the landfills or in the oceans.
After doing some last ditch meanderings and photograph of the happening part by Bath Abbey and the entrance to the Roman Baths, Tahia and I were back at our room at 3:10pm so Tahia could finally get her afternoon nap. Julie went on a bit of a solo recon mission to look for a place to eat for dinner.
Eventually Julie returned a bit after 4:15pm, and by then all of us had fallen asleep. We'd eventually get up and get back down into town at 5:45pm. The first order of business was to buy train tickets for tomorrow to avoid a Venice-like situation where we had to wait several hours due to trains selling out from waiting 'til the last minute. At least back then, we were able to fit in a Michelangelo's David visit before catching our train. However, in the Bath instance, we already saw and did all we wanted to do in town and waiting around several hours here wouldn't do us any good.
So we ended up buying a 10:13am ticket from Bath to Paddington. We paid something near 54 pounds for the two adults as Tahia got to ride for free. However, I recalled super off-peak fares online were on the order of 36 pounds or something. But anyways, we didn't want to take any chances with buying the wrong ticket and getting ripped off online so we just played it safe and paid the few extra pounds for that piece of mind.
Next, we walked to a Moroccan restaurant called Cafe du Monde. We ended up getting a tabouleh with a duck tagine and sea bass tagine. The tabouleh was different from the Lebannese was of doing tabouleh, but it was different and good. The tagines were filling largely because Julie and Tahia didn't eat very much of their own food. So I left the place totally stuffed at 7:15pm. The ladies still had room for dessert.
We decided to loiter about having gelati from the Real Italian Ice Cream Company (at least this place didn't nickel-and-dime us for more money for each spoon so Tahia could have her own) and enjoying them to a busker performing familiar romantic tunes with the Bath Abbey in the background. It was calming and atmospheric. The sun was setting and we just basked in the moment for a bit forgetting the rip offs and con jobs experienced earlier in the day and yesterday. And just enjoyed ourselves in this instant until it was time to get back to the room.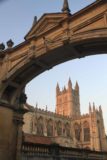 We returned at 8:05pm on this day where we took it easy. I'm sure it will be quite interesting to have to deal with the hustle and bustle of London while carrying all our luggage as we were getting that much closer to coming home…
Visitor Comments:
No users have replied to the content on this page