Day 29: LONDON CALLING
It was 7am when I awoke. Julie was already awake, which was the first time that I can remember on this trip that that has happened. Tahia also woke up aroud the same time as me. I was surprised that I was able to sleep for this long, especially considering how noisy our room was. I swore that I even heard activity from cars and motorcycles to people talking even at 2:45am!
So we went downstairs in time for the 7:30am breakfast, and this time we each shared a full breakfast, smoked salmon, and eggs benedict. We mind as well since Tahia was being charged as if she was an adult.
When we were done with the breakfast, we then spent the next hour or so wrapping up our packing chores as we re-organized our contents to ensure that we would be carrying as few items as possible as well as throwing away stuff we know we wouldn't need (so we could save on both bulk and weight). For now that we no longer had a vehicle, we had to take public transportation, which presented other difficulties especially in terms of lugging our stuff around.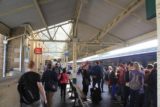 By 9:45am, we waited at the Bath Spa Station. We just saw how busy the London Paddington train was because we happened to have shown up when the 9:43am train was leaving. Our turn was next in a half-hour at 10:13am.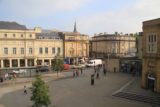 We saw that the Bath Spa Station was actually a pretty small station, but the important thing was that it was well connected, especially to London Paddington. Julie and I were quite thankful that this was a no smoking train station so waiting the half-hour for our train was not a problem.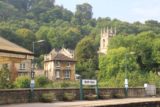 We would get onto our train as scheduled at 10:13am, and then the train ride went pretty smooth though there wasn't a whole lot of aisle space near the door for me to put our luggages and car seat into the common luggage compartment of Coach B (one of 7 coaches on this train). Once we were seated, Tahia had to sit on our lap and she was quite mischievous in the process.
Eventually at 11:50am, we arrived at the London Paddington station 12 minutes late. But that didn't really matter to us so much because we knew that there was a chance we would arrive at our hotel before our room would be ready. Once we left the station with our belongings, we would then arrive at the Tudor Court Hotel, which was just a few paces from the Paddington Statio at 12:10pm.
Sure enough, our room wasn't ready, but it was being worked on. So we were told that after a 10-minute wait, the room should be ready. We decided to sit and wait, then by 12:30pm, we were finally allowed into our room, where we promptly got into our urban attire while leaving most of the stuff in the room. The room itself didn't have a lot of space as we had expected, though this was the first time that the room was so small that we couldn't use Tahia's pea pod tent that she could sleep in by herself.
Anyways, we would head into the city at 1:05pm. And after briefly getting a takeaway wrap at the Paddington Station, we then took the London Underground bound for Tower Hill at 1:30pm. The goal here was to get to the Tower of London since I figured this could be one big ticket item to check off the bucket list of things to do while in the city.
It was a pretty long train ride to get all the way to Tower Hill (roughly 11 stops I believe) via the circle line. We actually took it eastbound where we had to change trains at the Edgeware Road stop. Eventually, at 2:10pm, we found ourselves at the Tower of London, which was an impressive castle or fortress by the River Thames next to the Tower Bridge. The fortress appeared to be surrounded by fake red poppies, which were there to commemorate the fallen in World War I. But since we were worried about getting caught up in queues, we promptly went to the ticket booth to pay to enter, which was a painfully expensive 22 pounds per adult!
Then once we were inside the admission area (fortunately there really wasn't much of a queue), I swore this place seemed like its own city within the tower's walls. There was an overwhelming number of attractions to check out, but we first pursued the crown jewels since that was what Julie really wanted to see.
At 2:30pm, we were in the Crown Jewels area, but there were no photos allowed. There were lots of people inside this exhibit, and we found it funny that one section of the exhibit had a conveyor belt to move the crowd along in a spot where a bunch of different crowns were on display.
I don't think I had ever seen so much gold and diamonds put on objects all collected in one spot. Julie and I were skeptical whether these really were the real thing considering that we suspected these things would be even more heavily guarded than in the Tower of London that was open to tourists.
Anyways, we saw De Beers signs so it wasn't surprising that they were the sponsors of the exhibit. Still with all these gaudy shows of power and wealth, I couldn't help but wonder how much blood was spilled to acquire diamonds for the crown back then. We certainly know a lot of blood was spilled to get diamonds these days.
Next, we went into the White Tower at 2:50pm. This was basically a series of displays showing the various armaments used during the history of the tower. We saw lots of armors as well as swords or other things of interest for military buffs.
Eventually, we'd be done with this section of the tour, then started to walk the Tower Walls, but we got on somewhere not far from gift shot. We immediately saw then that there were more sections of the wall to explore, but we wouldn't be able to until we completed this wall circuit as the lines were generally unidirectional.
And so we did most of the wall circuit, which featured views mostly towards London outside the Tower of London itself. As for looking back towards the internal of the Tower of London complex, there always seemed to be big buildings close to the walls so the views looking in were limited.
Once we were done with the wall circuit, we explored a few towers (including the Bloody Tower), but we'd eventually had our fill of those. And then, we finally found the entrance to the start of the wall walk, which was closer to the overall entrance that we had started at.
Once we did that, we saw the Medieval Palace at 4:25pm, then we saw the part of the wall that let us get views of the Tower Bridge with the sun peeking in and out of the afternoon clouds. Looking in the other direction, we also got decent views back towars the White Tower, which was said to be the tallest building in the Tower of London complex.
By 5pm, our self-tour of the Tower of London was done. We then spent some time taking photos of the Tower Bridge in late afternoon from this side of the River Thames before going onto the bridge itself just in time to get onto the Tower Bridge Exhibition before they closed. We showed up at 5:10pm (20 minutes before last admission), and we did this exhibit in the hopes of getting good top down views of the Tower of London complex.
Unfortunately, there were too many bridge obstacles in the viewing area, and that kind of made the views we sought after a fail. It took some time to get out of the Tower Bridge Exhibit because the only way down to street level was by a lift, and we all had to queue up for it right next to some shop where they tried to sell you photos they took of you earlier in the tour.
By the time we were done with the tour at 5:35pm (we didn't bother with the Engine Room), I got the sense that we probably could have done without this exhibition tour in hindsight. Still, we got good views and photos from both on the bridge as well as across the River Thames towards the Tower of London (both were possible without doing the tour anyways).
While we were exploring this part of the River Thames and the Tower Bridge, Tahia was napping and I had to carry her in the child carrier. Still, Julie and I noticed a walking street around the Tower Bridge Piazza area, and that was where we saw a charming street with bridges spanning tall buildings. It was also in this charming street that we saw a Pizza Express.
Since Tahia was still asleep, we decided to come back here for dinner once Tahia was awake. In the mean time, we did more of the river walk (the Queen's Walk) across the River Thames from the Tower of London. There were more views of the Tower Bridge from this side as well as distant views of the Tower of London. We could also see that there were many people strolling about along this path, and we even saw some Asian model being photographed as well as another Asian couple in wedding attire (though the dude had on something with red and black stripes that might make a Scot proud though it wasn't a kilt).
By 6:20pm, we finally went into the Pizza Express since Tahia had awoken from her nap. I managed to break a glass since I had turned while wearing my child carrier and knocked one of the wine glasses off the table. But other than that, we had a decent dinner though I'd have to say that of all the Pizza Expresses that we had visited throughout the UK on our trip, this one was probably the lowest quality of them all.
When we were done with dinner, it had started getting dark as the sun had already set. Thus, we were caught off guard with how cold it got, especially around the River Thames, and we weren't prepared for it given how much warmer it was during the day.
Still, because we kept moving, we didn't freeze that badly. Plus, we got some decent twilight shots both on and of the Tower Bridge as well as the exterior of the Tower of London en route to the Underground. We also saw a red-uniformed guard read off the names of the fallen in WWI while in the fake red poppie field surrounding the Tower of London since those poppies were to symbolize the blood that was spilled on that war.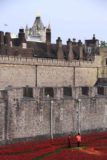 At 7:55pm, we finally made it back to the London Underground, where we then promptly took the Yellow Circle Line back to Paddington Station. This time, we headed west to complete the entire circle, and it would take about 16 or 17 stops to get there.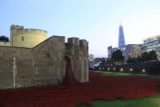 By 8:35pm, we were finally back in our room, where we called it a day on this eventful half-day tour of London. Julie and I were coming to the realization that there was simply too much to do in London in a day-and-a-half, and I wondered whether we were really shortchanging London by only spending 2 nights here based on bad advice from friends who didn't think that highly of London on their travels. I guess different strokes for different folks, and I know we don't travel like most people.
In any case, tomorrow was going to be a very busy day. Hopefully, we can do our must-see hit list before things start to close…
Visitor Comments:
No users have replied to the content on this page