Day 30: LDN
It was 6am when we awoke again. During the previous night, we all had to co-sleep with Tahia because there was no room to open up her pea pod tent so she could sleep on her own. Since Tahia liked to toss and turn a lot during sleep, she didn't like the restricted mobility given the small full-sized bed we all had to share. So she asked to have her own bed sometime in the middle of the night, but of course we couldn't give in and she had to live with it.
Anyways, we all awoke from a chilly night, and it was still pretty chilly this morning.
We then went downstairs for the included breakfast at a little after 7am. It turned out that their English breakfast wasn't very good, but at least it was something. Julie and I discussed whether to take advantage of their included breakfast tomorrow or combine extra time packing and sleeping in a little bit before going to Heathrow Airport.
By about 7:50am, we left our room to explore the city. Knowing that we had a really full day ahead of us (with this being our last full day of the entire trip), we quickly walked beneath the cloudy skies and through the chilly air towards the London Underground. This time, we brought our jackets (unlike yesterday) and we had to buy peak hour day passes (didn't seem to make much difference in price to us except now we could only go to zones 1-2 instead of 1-6; not that it mattered to us since we weren't going far).
By about 8:30am we made it to the Buckingham Palace. We were still about an hour early for our scheduled tour of the place that Julie had bought in advance last night. So we pretty much tried to kill the hour by taking photos of its front facade and the garden area surrounding the roundabout fronting that palace. Unfortunately, we wouldn't be having the added entertainment of watching the changing of the guard in front of the palace because it was scheduled to occur every other day at 11:30am and today happened to be one of those "in between" days.
Eventually after killing about 40 minutes or so of just miscellaneous photo taking outside the gates of the Buckingham Palace, we finally figured out that we were supposed to go to the ticket office and the entrance on the side away from the front gates. That was when we got our requisite stuff then jammed ourselves into a sea of people crowding the entrance tent waiting to enter security at 9:20am.
During a pre-entrance briefing by the staff, we learned that we couldn't take photos throughout our visit. So for however much we paid for these tickets, we wouldn't be able to take home any solid memories of it. And hence I thought it would be a waste of time, effort, and money even though Julie really wanted to do this because she was into watching a bunch of rich people spending lavishly on things to show their wealth and power.
So we went through the obligatory self-tour while getting some tidbits of information about what we were seeing through the audio tour. I actually didn't pick one of those up, but Tahia was getting bored with her visit so I ended up with her audio tour and took advantage of it.
And even after this visit was over at 10:10am, my sentiment that this visit didn't amount to nothing more than contributing to some arbitrary cause of furthering someone else's wealth and showing it off remained. I felt we could've done without it, but Julie wasn't happy about my sentiments insisting that she enjoyed it. Different strokes for different folks I guess (except when it probably costed somewhere on the order of 50 pounds, which is like $80 or $90 USD for 2 adults.
At 11:05am, we spent some time walking to the nearest underground station, then eventually found ourselves on the Westminster Bridge. Just as we were about to surface from the underground level, we could hear the tolling bell of Big Ben ringing 11 times to symbolize that it was 11 o'clock.
As we walked further along the side of the bridge nearest to Big Ben, Tahia couldn't contain her excitement as she had finally gotten to see Big Ben after asking for it the entire trip. She went from being tired and fussy to getting a second wind now that she got to see what she was asking for.
We eventually crossed the Westminster Bridge and were on a walk directly across the Thames River for a more direct view of the Big Ben and Parliament Building. From this vantage point, the photos looked both flat and dark given that it had been gray skies up to this point. And when we had our fill of taking photos from this spot, we then crossed over to the other side of the Westminster Bridge.
That was where we then took photos of the London Eye while also checking out a bagpipe busker as well as trying to ignore the touts that seemed to be exclusively on this side as opposed to the other for some reason.
By 11:40am, we had finished crossing the Westminster Bridge on both ends, then we found ourselves in Parliament Square at 11:50am. This square had a lawn in the middle of a large roundabout, and it seemed to be surrounded by very interesting buildings like Big Ben itself with the Parliament Building as well as the Westminster Abbey next to it.
We briefly picnicked here over takeaway samosas until we then went to the Westminster Abbey's entrance. That was when we saw a very large queue as well as demonstrators with orange flags saying "Unite the Union" marching across the abbey towards the Parliament Building. When we saw that it costed something like 18 pounds per adult plus they wouldn't allow photos to be taken, we decided not to bother with this attraction. Besides, we were already pretty much churched out at this point.
So at 12:20pm we then headed back across the Westminster Bridge and headed right for the London Eye. Even though we knew we'd be spending quite a bit of money to do this (a little over 20 pounds per adult), at least Tahia had asked for it seeing that she thought it was some amusement park ride (well, it was a slow-moving ferris wheel).
Twenty minutes later we were waiting in line for the London Eye. Once we were on it at around 12:55pm, we were joined by a few other small groups as we all shared the half-glassed pod attached to the giant ferris wheel. We would spend most of the time photographing the views from within the pod (so it was prone to glare, which my polarizer helped to cut some of it out).
It was too bad that it was pretty much a very gray day, but we could at least see up and down the Thames River while getting somewhat birdseye views of the Parliament Building, Westminster Abbey, Buckingham Palace in the distance, and even a little bit of St Paul's Cathedral.
After about 30 minutes of chilling out, we were be done with the London Eye at 1:30pm and the time spent here didn't feel like it took as long as it ended up being. Plus, the queue went by really quickly, too. Good thing we didn't go for the London Pass yesterday because it turned out that it wasn't necessary.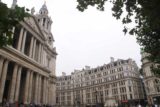 Next, we would chill out by a cafe near the London Eye where Julie could take advantage of the Wi-Fi and check in to our flight on Virgin Atlantic. When that was done in 15 minutes, we then proceeded to head towards St Paul's Cathedral. By this time, Tahia was dead tired and so I carried her on my hips with the child carrier. We would take the underground towards the stop nearest the cathedral, then we walked to the grand front entrance.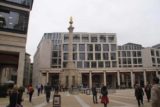 Along the way, we passed through what appeared to be a pretty happening and modern spot mixed in with the old surrounding the cathedral area. But once we went inside, we could see there was another queue and that it costed something like 16.5 pounds per adult while photography wasn't allowed again. So once again, we opted to skip this as we were churched out, and paying that kind of money and not being able to take photographs was just a rip off.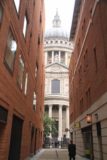 At this point, I think I pretty much came to the conclusion that London (as well as what we had encountered throughout other parts of Southern England) seemed intent on sucking pounds out of tourists as much as possible before they leave and for the most part not be seen again. I guess it was that sentiment that also made me feel like the further south in the UK you go, the less friendlier it gets. We certainly didn't feel nickel-and-dimed or ripped off in Scotland as well as most of the Lakes District as well as Yorkshire.
But in a few instances in Wales and definitely in the South of England (especially Bath and London), it was almost that third-world mentality of being a walking cash register except in this case, it was a developed country that seemed intent on sucking you dry.
Anyways, Julie and I had some desserts at the Paul's nearby, which was nothing near as good as what we came to expect from this chain in France a couple of years ago, then at 3pm we headed towards the British Museum.
By 3:40pm, we would eventually make it to the entrance of the British Museum, though we did spend a few minutes getting a little lost on Tottenham Court Road somehow overshooting the museum then having to backtrack to find it. At this point, Tahia woke up and I was able to let her walk on her own, which helped to relieve my legs, back, and shoulders.
The museum was full of historical artifacts including Egyptian mummies, a Rosetta Stone, statues, trinkets and more. It also featured pre-Egyptian and pre-Roman civilizations like Mesopotamians, Assyrians, Etruscans, etc. And of course it also had a bunch of Greek and Roman artifacts. But Tahia was most fascinated by the mummies. I guess it was because she was in a pre-school class where they had to re-create mummies or something like that.
It was a pretty impressive museum, and Julie and I finally understood why our Egyptian guide said something to the effect that the British had a lot of their treasures. We wondered how they got a hold of these things and put them in this museum. And it seemed like all this museum business was like a game of showing how large ones' collection of world artifacts could be in the face of others.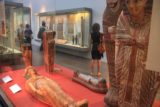 It all seemed pretty arbitrary to me, but Julie seemed to think all this human history added to the diversity of the travelling experience.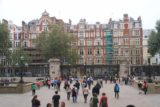 As all of us were running out of gas at this time in the afternoon at 4:30pm, we decided to have an afternoon cup of tea along with a chocolate fudge cake. Again since Tahia was awake, she got to join us in munching on the rather dry cake. I swore that all of our afternoon cuppa experiences were ho hum except for the one we had in York. It all seemed a bit overrated and pricey to me though I could totally understand why the Brits do it since they'd rather have pick-me-ups instead of doing afternoon siestas like in other parts of Europe.
Eventually at 4:55pm, we left the museum, then took the underground and eventually ended up at Trafalgar Square at around 5:25pm. It turned out that we showed up just in time to enter the National Gallery, which was to close at 5:30pm. So we didn't hesitate to go in and Julie made a beeline for the famous paintings that they had in there from Van Gogh to Monet. Tahia and I followed Julie around, but we just weren't as into these exhibits as she was.
Eventually near 6pm, we were back out of the museum and just chilling out in the happening Trafalgar Square. It was a busy public square that seemed to be inspired or embellished upon the Roman or Italian piazza. Indeed, hordes of people were either passing through or just sitting and chillin' while others were like us taking photos somehow trying to capture and communicate the atmosphere of what was before us.
We even spent some time (and some risk) to climb up towards the base of the obelisk at the base of Trafalgar Square. Then took a few more people shots like trying not to mind the cigarette and other elicit drug smoke. In fact, I wondered if one of those guys sitting up there was dealing some stuff because I thought I heard something to the effect of "Thank you" being exchanged between them as he left and the recipients were busy doing stuff with whatever was being sold.
At 6:40pm, we eventually settled on eating at a place called Les Deux Salons Brasserie. We were hoping to eat at this other highly rated place called Terroire, but that place looked way too upscale and we weren't that impressed with the menu.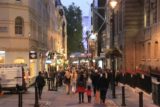 And so we had ourselves some steak frites, foie gras-like pate, and duck confit along with some salad to essentially do a mini-splurge on the last night of our trip.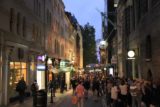 By 7:35pm, we were done with dinner, and we didn't hesitate to take the London Underground back to our accommodation near Paddington Station. While we were riding the subway's Central Line to Paddington, we happened to be an audience to some verbal exchange between a couple of foul-mouthed guys and a young lady speaking out against them.
There was some exchange about something concerning terrorism and the UK, and it eventually degenerated into a profanity-laced argument mostly imposed by the guys. We moved Tahia away from the commotion and eventually got off the subway at Paddington, then prompty headed back to our room. By 8:15pm, we made it back just in time as Tahia had to suddenly potty again while I also had to use the toilet after her.
And so that concluded this very long day of touring London as well as concluding our monthlong trip to the United Kingdom.
I think we were all ready to go home at this point (as we were probably weary of bleeding more money while also ready to return to some normalcy back at home), and so we looked forward to our flight home tomorrow. But I'm sure in due time, we'll be back in that wanderlust mindset again. It's just how we're wired and we never want this to end…
Visitor Comments:
No users have replied to the content on this page