Day 19: GOING DOWN PAST LIVERPOOL TO DO SOMETHING
It was 10:35am when we stopped at another Welcome Break stop. Like the other one we stopped at earlier in the day right at the Scottish border, this one had lots of food choices, but the diesel price remained over 1.41 pound per litre. This was easily about 10p per litre over what we had been spending for most of this trip. What's up with that?!?
So I held out and kept going (by now my tank of gas was somewhere between 1/3 and 1/2 full) but not before Julie picked up some Krispy Kreme donuts at this stop.
At 12:15pm, we finally made it to the charming town of Conwy (after nearly 5 hours on the road from Glasgow). At first, we thought it might be too early to check into our Bed and Breakfast in town so we tried to find public parking by the Conwy Castle. But when we struck out on finding parking given how busy it was, we then decided to continue driving a short distance down the road towards the Bryn Derwyn Bed and Breakfast.
It turned out that we were able to check in at this time, but the parking was quite tight, especially with the very steep hill we had to go up even to get up to the car park for the property. That was kind of scary.
Anyhow, by 12:30pm, we spoke with the proprietor Andrew who showed us around while also letting us get into a slightly bigger room knowing that we had a kid staying with us. Still, things were tight all around, and we took the stuff we would be needing to do a tour of Conwy and the Conwy Castle while the room was to get ready. We left the rest of our belongings with the proprietor who would leave the stuff in our room.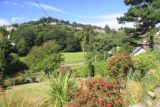 By then, it was 1:25pm when we started walking towards the town center of Conwy. Right off the bat as we passed beneath the castle walls, we could see that this was indeed a charming little town. Julie would eventually have us eat at this place called the Conwy Pantry where we had some tuna and prawns with salad as well as a chicken kiev.
The lunch was fine to keep us going, which was to explore the town a little before capping it off with a visit to the impressive Conwy Castle. At 2:10pm, we were done with the lunch and did just that.
At first, we walked downhill towards the quay or waterfront where the scene down here was busy. We saw a bunch of boats in the water while the imposing castle watched over the quay.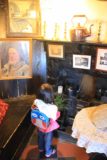 Just to our left, we saw the smallest house in Britain. And we paid a few pounds to go inside and have a look. Indeed, it was small, and if anything, it provided some nice cute little photo ops involving Tahia just to show how small this house was. Apparently, the government thought the house was unfit for habitation given its size so now it serves as this quirky tourist attraction.
Then, we walked towards Conwy Castle, where even the entrance to the castle was pretty atmospheric. After paying the admission, we crossed over a bridge above a road where cars going in both directions had to squeeze their way past a small archway beneath the castle (i.e. it was a single-track section of road). Then, we were in the castle proper and were already treated to the grand interior area, which seemed impressively intact for what turned out to be castle ruins.
We thoroughly enjoyed being awed by the grand towers and walls surrounding us, and as we peered out over some of the windows and walls, we could see some tantalizing views of the town of Conwy, the bay, and some of the residences and hills in the interior.
We then went up some spiral staircases on a couple of the towers to get really beautiful views in all directions. The thing with these towers were that the walls were quite low and there was plenty of dropoff exposure so we really had to keep an eye on Tahia while managing our own butterflies in our stomachs from being so high up.
When all was said and done, we both thought this castle had to have been one of the best castle experiences on this trip. Julie still thought Edinburgh Castle was better because they had crown jewels and stuff, but I felt this castle was very authentic as it didn't pretend to be as manicured as the others we saw in Scotland. Perhaps it was this latter reason that the castle and the town walls were awarded UNESCO World Heritage status.
At 3:55pm, we were done visiting Conwy Castle. We still wanted to check out Llandudno while the weather was fine and there was still daylight.
Though I did want to have that view of the castle from a distance so we could see it in its entirety and photograph it as such as we opted to walk part of the walls towards the car parks near the castle entrance before we realized that the wall walk wouldn't go any further.
At 4:20pm, we had made it back to our room, then a little over a half-hour later, we got back into the car. Before we left Conwy, we drove a little deeper into town so I could climb up the town walls and get to the highest point. And it was from there that I was able to get a distant but complete view of Conwy Castle with decent afternoon backlighting.
At 5:25pm, I was back in the car. Julie and Tahia had stayed in the car, but it turned out that getting up to that point on the town wall wasn't that difficult. So perhaps since we have three nights here in Conwy, they might have other opportunities to do this. We'll see.
After filling up at a Tesco where I managed to get diesel at 1.29 pound per litre (I had to wait in line since apparently this was the cheapest place to get petrol), we then drove the 5 miles to the Victorian bayside town of Llandudno arriving there at 5:50pm.
With the late afternoon sun, there were long shadows, but the large crescent-shaped beachfront area was attractive albeit hard to photograph. What was really striking about this town was that there were lots of Victorian buildings adorning the hillsides as well as the main square at the far end of the crescent near the pier which contained a bunch of amusement park-like attractions.
The beaches here were very rocky or had coarse sand because the waters here were calm. Still, Tahia had her fun playing in this sand as she didn't care if it was soft or hard sand. And after she had her fill of the beach, she then sat on a Hello Kitty coin-op car, which we indulged her as she was definitely having lots of fun.
By about 7pm, we were done checking out the main part of Llandudno, and then we decided to look for a dinner spot before heading back to Conwy. We eventually settled on this place called Home Cookin', and the place served up some pretty good mature rump steak as well as a plaiche (or some kind of local fish) that was very tender and delicious. We topped it all off with a Belgian Waffle topped with ice cream and toffee, and by 8:20pm, we left Llandudno fully satisfied.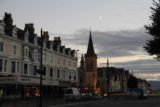 By about 8:40pm, we made it back to our bed and breakfast in Conwy. And at this time, the car park was half-full. We ended up with a tight spot closest to the driveway hoping that we left enough room for others to enter and leave. It was either parking here or in the front, but we thought it would be less secure parking in the front as opposed to up the steep hill in the rear of the property.
And so ended this eventful day. We could see clouds were starting to move in so we didn't expect the weather tomorrow to be anything as nice as it was on this afternoon. No matter, we were intending to do some waterfalling as it was back to business again…
Visitor Comments:
No users have replied to the content on this page