Day 20: PLIGHTS OF SNOWDONIA
The day began with a 7:20am wake-up. All of us slept past our 7am alarms, but it wasn't like we were in any hurry other than trying to make the breakfast at its 8:15am start time. Outside our window, we could see there had been light rain. It was a good thing that we got our photos and experiences of Conwy Castle and Llandudno when we did yesterday afternoon when the skies were clear. So we were kind of expecting that today would be better off done as a driving-dominated day as opposed to a hiking-dominated day.
So we had our full Welsh breakfast (which was quite similar to both the English and Scottish brekkies), and then by 9:25am, we were about to leave for our day's adventures.
However, the adventure found us first as we first noticed that our rear right wheel was once again flat. So in a span of less than 24 hours, we went from a fully inflated tire to a flat one. Clearly, we couldn't go on like this.
But what were we to do? We had quite a bit of stuff planned for today – namely going to Dolgoch Falls then Pistyll Rhaeadr, which were two major waterfalls we sought after but were both a bit of a drive from Conwy. And with the inevitable delay we were to experience when having the tire situation fixed, there would be no way those plans could go through.
Conwy was a small town. In hindsight, we probably should have stomached the delay by going to Europcar at the Glasgow Airport, which was probably better situated than Conwy. But then, we wouldn't have been able to do both Conwy Castle and LLandudno yesterday. So all things considered, we pushed our luck on the tire situation, and our luck ran out as of this morning.
As a short term solution, I thought we could go back to the Tesco with the cheap gas, then fill up the air and drive again. And when we were doing that, Julie finally stomached the roaming charges and called Europcar's roadside assistance number.
It was a good thing we paid the 4 pounds per day for the chips and tire coverage way back at the beginning of the trip. This wasn't the first time we had a flat tire in the middle of a trip (it actually happend twice – once at Buffalo, NY where it costed us around $500 because they claimed all tires needed to be replaced and once in Iceland where our farmstay owner changed the tire with a tractor lifting the car, then we went to an auto shop in Akureyri to get all the wheels replaced).
In all instances I was willing to bet that there was some kind of a scam going on where the rental car companies were reactive instead of proactive with their tire maintenance, then fit the customer with the bill when something finally gives, which just so happened to be us.
I'm not sure how to defend against this other than to stomach a delay at the outset and create a scene with the rental car company insisting that the tires not be bald upon rental. Otherwise, we push our luck like we did and hope we don't get in a dangerous situation where we get a blowout in the middle of nowhere on mountain roads.
So at 9:30am, Julie got in contact with Europcar while we were at the Llandudno Junction Tesco, and after about 15 minutes of answering questions over a dodgy connection, we were told that we'd be contacted again with an approximate time of arrival of the roadside assistance service.
We were told that it might be a few hours, and waiting at Tesco for that long (losing precious vacation time in the process) seemed unpalatable. So with the temporarily inflated tire (while still losing tire pressure as time went), we decided to sneak in a quick out-and-back visit to Swallow Falls just west of Betws-y-Coed in Snowdonia National Park. This would be our Plan B where Swallow Falls would then be followed up (after the tire situation is fixed, we hoped) with Caernarfon Castle and hopefully Aber Falls.
We figured that with cell phone coverage here, we should be able to stay in contact with Europcar while taking matters into our own hands with our time management during a crisis.
So at 9:45am, plan B was on.
We followed a pretty heavily-trafficked road (A470) from Conwy down south to Betws-y-Coed. Even though it was only about 15 miles drive in each direction, getting there took longer than expected because we were pretty much consistently behind someone going real slow with limited opportunities for passing.
Eventually at 10:20am, we would make it to Swallow Falls. We actually parked with a bunch of other cars in a small pullout area, but it seemed like typical visitors were supposed to park at the Swallow Falls Hotel and pay and display.
Just prior to parking, it turned out that Julie had just missed a call (apparently her ringer was off) from the Europcar, and we had to get back in touch with them. They said it would be no later than 11:30am when they'd be at the Tesco, and so we were expecting someone to show up at around that time (in our experience, it tended to be at least that time or later).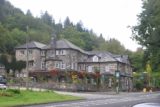 Julie thought we should go straight back the Tesco, but since we were already by Swallow Falls, we mind as well do our visit, then rush our way back.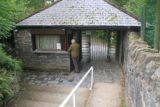 The falls visit had a coin-operated turnstile. And so we put in our 1.5 pounds per person (one person at a time with no change given), and then we quickly went to the main viewpoints of the rivuleted Swallow Falls.
This seemed to be a friendly long exposure waterfall, and I did my best to take such photos without a tripod. At the lower overlook, we saw that quite a few people threw coins into a calm part of the stream near its lower cascades. And by 10:45am, we were back at the car park. We actually spent a few minutes looking for a place to go potty, and that conspired to take even more precious time off before our deadline to get our tire situation fixed.
Then, we quickly drove back towards the Llandudno Junction Tesco. We had to follow behind someone going excruciatingly slow, and we would finally find an opportunity to pass when we were close to the village of Llanrwst.
And with that (while risking speed cameras nabbing us), we would ultimately arrive near the Tesco at around 11:15am, but just then, we saw the red van starting to drive off the other way. So we made an illegal three-point turn and then proceeded to quickly follow the guy as close as we could.
When we finally got his attention, he kept pointing forward. We didn't know what that meant, but ultimately he led us to his tire shop somewhere on the hidden outskirts of Conwy. And by 11:25am, we were finally in a position to get this tire situation resolved.
But that wasn't before we were being chewed out by the young mobile tire service van driver who said we were supposed to wait at the Tesco. I guess he had been waiting there for a bit (well before 11:30am I guess), and he originally thought we didn't even need the tire service if the car was still drivable. But I also wasn't going to tolerate sitting around in Tesco for nearly 2 hours on precious vacation time either.
Well, whatever the case, they did the work with the tire but only replaced the one trouble tire. He also said he was charging us for making him wait though I didn't know how much that would be. The rest of the tires were left intact, though they did say that the other rear tire was also bald. All they were on the hook for doing was to get us out of trouble, and clearly prevention was not in their call to duty here.
Finally at 11:35am, the job was done, I signed some paperwork (again, wondering how much he will charge the rental car company for waiting for us for nearly a half-hour), and then we were on our way to resume our plan B for the day.
Next up, we drove the 25 miles or so to the town of Caernarfon and the Caernarfon Castle. We decided that we would have our lunch over there while also doing the castle tour afterwards.
The drive through several tunnels was mostly uneventful. Eventually at 12:10pm, we managed to find a pay and display parking just outside the castle walls. We weren't sure if this was the right place to park, but in our experience, we thought finding the first opportunity would be the way to go. Little would we realize that there was a more appropriate car park further on around the other side of the castle.
So we paid 2 pounds even though the machine only needed 1.5 pounds for 2 hours. The machine wouldn't give us change so the 2 pounds we paid was only for 2 hours. That wasn't fair. But we didn't have any more change and we'd have to go get some more in town then go back out to the car park to re-feed the meter. Our expiration time was to be 2:19pm.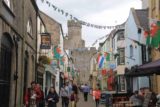 I urged Julie to get a takeaway lunch, but she insisted on having a sit-down lunch place. I was very upset with the decision knowing the time constraint that we were on, and we ended up wasting precious minutes at the first restaurant she saw when we sat and got a menu but didn't eat there.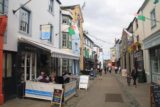 The next place she saw was this place called Scoops, where we went in and sat at 12:35pm. They served Dutch-style pancakes and they were both savoury and sweet ones. So instead of crepes, it would be pancakes instead. Julie was sold on this place, and once again, it was a sit-down place. I knew at this point that we would be condemned to running out of time or rushing our castle visit when the lunch would be finished. The clock was ticking, and we were pushing our luck again…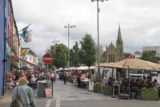 At about 1:10pm, we were done with our lunch. They served both the sweet and savory pancakes at the same time so a lot of the vanilla ice cream on the sweet pancake was melted. Oh well, at least we wouldn't be sitting there longer than we needed to with that bit of a snafu. Nonetheless, the pancake dishes we got were good.
At 1:20pm, we would finally make it into Caernarfon Castle. We did notice there was some bustling market near Castle Square. It looked like something we should spend more time checking out, but again, we were on a time constraint.
Inside the castle complex, we could see that this one was very intact in much the samw way that the Conwy Castle was. However, Julie thought this castle might be even more photogenic. At least as far as the interior was concerned, this castle with hexagonal or octagonal towers was quite distinctive. But from within, clearly there'd be no way to photograph the whole castle in one go.
Anyways, we explored quite a bit of the castle by walking along its walls and climbing up select towers. There were plenty of dead-ends and nooks and crannies to explore, which really made this place atmospheric and fun. However, we still had to keep a very watchful eye on Tahia given there were lots of dropoffs and potential for something bad to happen should she be left to her own devices.
There were signs indicating that the Prince of Wales was celebrated here. Apparently, some ceremonies and processions involving him took place in this very spot. There was also quite a bit of medieval history considering the English were very paranoid about keeping the overthrown Welsh at bay, and hence the impressive castles here to do just that.
Eventually at 2:40pm, I made it to the top of the Eagle Tower, which was the last of the towers that I visited. Eagle Tower was actually three towers, but only one of the three was accessible, and it didn't really provide for the best views since the front two towers kind of blocked the views from the third tower.
Shortly thereafter, we left the castle then went back to the car. By about 3pm, we made it there, but not before seeing that we had been given a 50 pound parking violation ticket. So again in this instance, our luck had run out, and this was certainly becoming one of those days where reality bites while flying high on a vacation.
Julie and I were having a short heated discussion about whose fault it was, but in the end, what was done was done. We now were driving back to our room at the Bryn Derwen where I would drop off Julie and Tahia to let them nap and relax while I'd try to salvage the Aber Falls excursion before the day was over.
By about 3:40pm, we made it back. But before I could get moving, I saw that we had run out of water. So I had to walk into Conwy Town Centre, and quickly buy some water before walking back to the car, then going out for the hike finally.
So it wasn't until about 4:15pm when I finally made it back to the car. By that time, I talked with the proprietor Andrew for a few minutes telling him about our flat tire ordeal then our parking ticket. He seemed to be a bit disappointed that we had to go through that, but I told him that in all of our long trips, we always had such moments whether it was food poisoning, disabled vehicle, computer malfunction, or whatever…
Anyways, I was off for Aber Falls, and after following the signs from Abergwyngregyn to Rhaeadr Aber, I would ultimately arrive at what appeared to be the main car park at about 4:35pm. This car park was a pay and display one for 2 pound all day. I guess it took getting re-used to this pay and display again since our time in Scotland didn't quite have all this stinginess.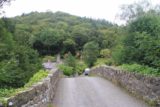 Nonetheless, after doing that, I was about to get started on the hike when I noticed that there seemed to be more road leading up to another car park. So I decided to get back in the car and do this drive up to what turned out to be the "upper" car park for Aber Falls.
But in hindsight from looking at the maps, it probably didn't matter where I parked. Perhaps what was a bit dodgy about the upper car park was that there was a gate where the authorities could easily lock me in if I didn't leave by the closing time of 7pm. It was about 5pm when I got started on the hike, so again, time was of the essence. And with the luck I was having all day today, I sure couldn't afford to have a third strike where my luck would run out once again…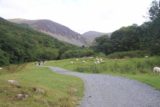 The hike was pretty straightforward as I followed the signs from the upper picnic area and car park. The gate that was immediately there was locked, but further back down the road, it looked like there was an open path that would get me across a bridge, then up to some pastures where signs continued pointing the way to the falls.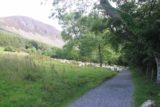 One sign said it was 1.25 miles to get to the falls, so I knew it would be at least a solid 30 minutes of hiking in each direction. And again, with the park closing at 7pm, that would limited the amount of stopping that I could do to fully enjoy the falls and the hike itself. It even conspired to compel me to possibly ditch the secondary waterfall on this excursion called Rhaeadr-fach.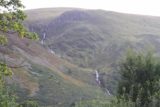 At 5:10pm, I found myself amidst a huge flock of sheep. Apparently, I was smack in the middle of some sheep herding. I don't think I had ever seen that many sheep at one time around me while I was outside of a car. But in a day of strange happenings, I guess I shouldn't have expected anything different on this day.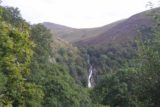 About five minutes later, I noticed in the distance a very tall waterfall that turned out to be Rhaeadr-fach, though I thought at first that it was Rhaeadr Aber.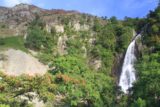 Eventually, at 5:30pm, I would make it to the Aber Falls. Upon approaching the falls, I could see that it was indeed a very tall and impressive falls. But as I got up close to it, the falls' uppermost tiers were hidden from view and so the waterfall itself appeared shorter than it really was.
Still, this was one of the more impressive falls that I had seen on this trip though there were plenty of tree obstructions conspiring to keep me from seeing as most of the falls as I possibly could in one picture.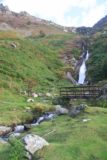 It wasn't until about 5:45pm when I finally managed to pry myself away from Aber Falls, then continue onto Rhaeadr-fach. After passing through a gate, it was clear that I was on land that was managed by someone else it seemed. For now the track went from obvious gravel while being wide into one that was narrower, more overgrown, and even muddier.
By about 5:50pm, I had finally made it to a bridge allowing me to see the immediate tiers of the falls though the uppermost tiers could not be seen from there. I did make an attempt to stand as far back down the slope as I could to reveal more of the uppermost tiers of the falls, but they were awkward and I didn't try too hard with this thinner but taller waterfall series.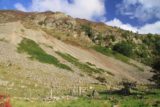 As I was headed back to the car (actually rushing back to ensure I didn't get locked in), I saw other people heading to Aber Falls. Indeed, even this late in the afternoon, the falls appeared to be popular. Even the skies were clearing as I was returning from the hike.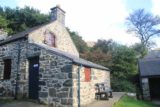 At 6:20pm, I returned to a part of the hike with an exhibit. There wasn't anything extraordinary here except for a glass-encased 3-D model of the area. That was kind of cool.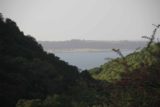 Finally at 6:30pm, I made it back to the car and quickly drove back to the lower car park where I wouldn't be subject to the risk of being locked in anymore. And about 20 minutes later, I would finally make it back to the bed and breakfast.
However, it wouldn't be until about 7:20pm when we were walk back into town looking for a place to eat. It took a while for Tahia to pry herself away from playing with the owner's guinea pig (actually we had to pry her away by bribing her with the promise of eating ice cream).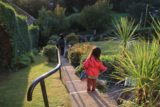 Yet with this being Monday night, apparently lots of places weren't open for business. And in the end, we decided to eat at the Castle Hotel.
When we were seated at about 7:55pm, we learned that the sticky toffee pudding dessert that sold her on this place was not being served even though it was stated on the chalkboard up front. So that was a bummer. The rest of the food of pork loin and some kind of local fish was pretty tender. Julie then indulged herself with a mille-feuille dessert plus a scoop of vanilla ice cream.
And when all was said and done (the service was quite slow), we would finally be back at our room at 9:20pm. The walk back was a bit scary (for Julie and Tahia at least) because quite a few of the town street lights weren't working so there were plenty of dark zones (can never be too careful about possible muggings).
So ended this rather weird yet eventful day. And upon looking back at what we managed to accomplish despite the set backs, at least the calamitous events could be laughed upon later although it would be hard to laugh about it now. As for tomorrow, hopefully, fortune would smile upon us a little better than today…
Visitor Comments:
No users have replied to the content on this page