Day 21: THE SNOWDONIA LOOP
It was 7:05am when we awoke. We were hoping to do a bit better on time than yesterday considering that we had quite a bit of driving to do on this day. So after going downstairs for breakfast by 8:15am (seemingly the same group of people we had seen yesterday were there), we then headed out at 9:15am. This was after we were waiting for Julie so Tahia was busy playing with the owner's guinea pig while also playing on the tree swing.
Once we were headed out, we were pretty much stuck behind caravans of slow-moving cars or lorries. The progress seemed painstakingly slow, and that was further exacerbated by unexpected stops to find the toilet in Blaenau Ffestiniog at 10am (where that took over 10 minutes), then an unexpected photo stop somewhere just outside of Blaenau Ffestiniog.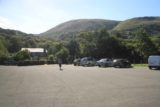 It wouldn't be until about 11:10am when we finally arrived at the car park for Dolgoch Falls. Even though this place in southwest Snowdonia National Park was pretty far off the beaten track as far as North Wales was concerned, there were still quite a handful of vehicles already parked here. Plus, there was a pay and display where it costed us 2 pounds to park.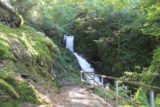 It wasn't until fifteen minutes later when we finally started to walk. Fortunately, after walking under a railroad bridge, then along the stream, it was only 15 minutes after we started when we encountered the first of the Dolgoch Falls. This was a short but attractive drop with some addition drops angled out of sight from the bottom. There were two paths allowing for views of the falls, but we opted to stay on the left side of the stream (saving the other side for later).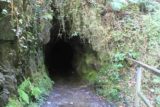 Right next to the falls was what appeared to be a cave or tunnel. I went in there for a look, and it got pretty dark, but before it got totally pitched black, there was some dim daylight at the other end, and it ended up taking me to a locked cage where it seemed like progress beyond the other opening wasn't available anyways.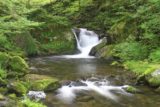 So we then went back into daylight and up the steps as the trail went above this lower waterfall as well as its upper tiers. There was a bridge above this lower waterfall, but we opted to save that other side for later. Then, we followed the river trail on the left side passing by some cave entrances along the way when at about 12:05pm, we made it to an attractive-but-hard-to-see two-tiered drop of Dolgoch Falls.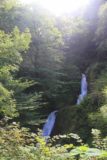 It was hard to see both because there was a lot of overgrowth conspiring to block the views of the lower tier, and the sun was almost smack against our line of sight. I was trying to wait out the sun so the clouds could momentarily cover it up so my photos wouldn't look some washed out, but the clouds never seemed to cover up the sun when you want it to, and on this day, it was quite a nice day.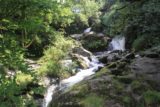 Anyways, we then continued on the trail as it switchbacked a few times before going past the second waterfall, and we would proceed for a few minutes more until we reached a footbridge crossing over the stream at 12:15pm. There was a small multi-tiered waterfall in view from the bridge, but it didn't look that impressive. I had thought Dolgoch Falls had more to offer, but according to the signs, this was it. After the bridge, there was a picnic area where the trail dead-ended.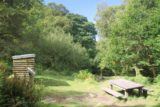 Going back the way we came (ignoring all the other spur trails), we were back at the two-tiered second waterfall at 12:25pm. Again, I was trying to wait out the sun hoping the clouds might cooperate, but they didn't. While I was here, one guy that was leading some young folks on what appeared to be a caving adventure (as they were all wearing hard hats), and he told me that he had a friend of his kayak down this falls. I found it hard to believe, but maybe when the falls was in full spate, there would be enough water to pull it off, but it really looked like a death wish as far as I was concerned.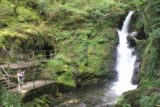 At 12:55pm, we were finally back at the car park. Along the way back, we took the other side of the river to get an alternate (and perhaps better) view of that lower waterfall. Other than that, this excursion left a bit to be desired, and in hindsight, maybe we should have gunned it for the Devil's Bridge, then skip Dolgoch Falls altogether. In any case, we would end up doing Devil's Bridge tomorrow, but that meant we would have less time to briefly tour the Pembrokeshire and still check into to our apartment in Cardiff at a reasonable hour.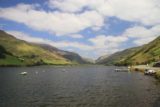 Julie decided to get some sandwiches at the tea room there, and she originally intended to eat there. But I thought it was a waste of time so I hastened her to get them takeaway. I waited in the car for another 15 minutes or so, and it wasn't until 1:10pm when we finally took off and headed towards Pistyll Rhaeadr, which we hoped would be a much better waterfalling experience than Dolgoch was.
The drive involved going on an A road for quite a bit, then the GPS had us go onto some B roads to get to some turnoff near the A490 by Llanfyllin (which might have been unnecessary since there was the A495 paralleling the narrow B4395 and B4393 roads), then onto more B roads leading to the village of Llanrhaeadr-Ym-Mochnant, which was the gateway town to Pistyll Rhaeadr.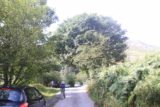 Once we were in the narrow streets of the village, we saw the waterfall sign leading us onto a single-track road with some limited passing places. That last bit of drive would take nearly 4 miles, and by 2:45pm, we finally parked in what appeared to be a "free" car park. Actually, it wasn't really free because the limited space here had rocks jutting up from the grass conspiring to pop tires or scrape the underside of cars. Still, that didn't stop most people from avoiding going all the way to the end of the road where there was a 3 pound charge in a much more spacious car park.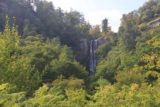 At this time, Tahia was reluctant to wake up from her nap, but when I offered to carry her on the child carrier, we went for it. So I carried her all the way to the lookout for Pistyll Rhaeadr at which time Julie took Tahia out of the carrier and they walked hand in hand checking out the views from the bridge over the Afon Rhaeadr before walking back to the car.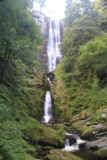 Meanwhile, I was busy taking photos trying to use the railings of the bridge to steady the camera for long exposure shots. I also noticed that there was a natural bridge right in the middle of the falls, which was quite cool.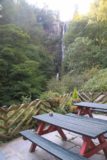 After documenting the falls from this vantage point, I then looked for a way to get to the top of the falls thinking that it wouldn't be that difficult. But as the trail got steeper and dodgier, I turned back. I figured the extra time investment wouldn't be worth it, especially since we were looking forward to going to Betws-y-Coed to perhaps spend the evening there.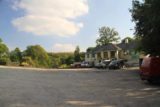 So at 3:50pm, we left the car park for Pistyll Rhaeadr and then made the winding drive on B roads eventually back towards the A5. And as we got closer to Betws-y-Coed, we saw a sign for Conwy Falls, and at 5:10pm decided to stop for that waterfall, whose car park was at some cafe and was quite spacious. It was right besides a junction of the A5 and some side road.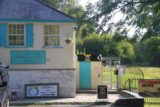 Julie and Tahia stayed in the car, and I paid my 1 pound to go through the turnstile and quickly go downhill to Conwy Falls. It turned out to be a split waterfall that wasn't tall, but it was nice in its own way. After a group of people had left, I had the falls to myself.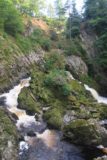 By 5:30pm, I was back at the car. It turned out that on the way down, I took a slightly longer path than the direct path that had steps. Still, after all that, it was only a 20 minute visit.
At 5:40pm, we finally parked the car near a railway station in Betws-y-Coed. While leaving Conwy Falls and driving downhill on the A5, I might have missed an opportunity to photograph Mt Snowdon at a pullout. But I wasn't sure whether that would be it or not because I didn't really know what Mt Snowdon looked like from below. Clearly, we didn't have time to go up to the top of Mt Snowdon by rail either.
So we walked around Betws-y-Coed thinking that this was a more tourist-friendly town, and they ought to have some kind of decent dinner place.
But the more we walked around, the more we realized that there really wasn't a whole lot going on here. Even one side of the sidewalk ended before some cafes and we didn't feel like walking on an A road where we would become a vehicle obstacle.
And after 15 minutes of wandering about the main strip of town, we decided to go back to the car and spend our last night in North Wales in Conwy. After all, we were familiar with the town now, and we had promised Tahia a dessert of Parisella's Ice Cream. We also knew there was a takeaway kebab place so we wouldn't have to be subject to 90-minute to two-hour dinners due to slow service and high prices.
And by 6:50pm, we were right back in Conwy. This time, we paid 50p to park by Lancaster Square after 6pm, which was fine by us, and we proceeded to do what we said we were going to do. We had a kebab dinner, which was no frills but cheap, and then we had Parisella's Ice Cream.
When we were done having the dinner and ice cream, we then walked over the bridge above the Afon Conwy, and we got some nice twilight photos of the bay looking out towards the Irish Sea as well as views of Conwy Castle reflected in the bay and fronted by the bridge we had just crossed.
It was a nice way to cap off our visit of North Wales, and tomorrow, we looked forward to checking out South Wales. However, we had a decision to make as to whether to do the Pembrokeshire after the Devil's Bridge, which meant a late check-in to the Capital Apartments in Cardiff; or whether to go straight for Cardiff after the Devil's Bridge. It was something we'd have to figure out as we go, but one thing was for certain, we had to get a very early start tomorrow morning…
By 8:35pm, we were back in our room. On the way back, I took a different road back to our accommodation, which threw Julie off. In any case, we shared a nice chat with the owners while settling the bill early. And the rest of the evening was spent packing and getting cleaned up so we could get as much sleep as possible before our early morning wake-up tomorrow…
Visitor Comments:
No users have replied to the content on this page