Day 22: NOT MEANT TO BE
Today began with an early wake-up at 6am. We were being as discrete as possible as we were packing up our stuff and bringing them to the car without disturbing the neighbors at the bed and breakfast.
By about 7am, we were leaving. We pretty much drove the mostly quiet streets and highways along the same route we took towards Dolgoch Falls yesterday. However, once we got past the turnoff for Dolgoch Falls on the way to Tywyn (via Tal Y Llyn Lake), we then followed the A road towards Aberystwyth (though not actually getting into the town) before taking a B road towards the Devil's Bridge about 12 miles to the east.
By about 9:20am, we arrived at the customer car park for Devil's Bridge in which we were the first to show up though there was one other couple that arrived a few minutes after us.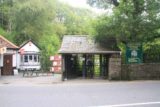 By about 9:35am, we were past the coin-op turnstile to get into the complex. We paid 2 pounds per adult, but the turnstile must've swallowed 2 pounds because we didn't get through the turnstile fast enough so we ended up paying 6 pounds in all for all of us to get in.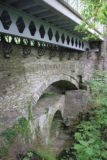 At this point, we started walking a 45- to 60-minute loop that went all the way down to the vicinity of the base of Mynach Falls, then went all the way back up to the road while following alongside the multi-tiered waterfall itself. There was only one choice of direction in this loop. And we opted not to bother with the turnstile across the street from the waterfalls entrance for the Punch Bowl.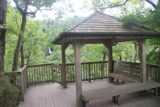 About 15 minutes into the walk, we made it to a gazeebo where we got a decent full view of Mynach Falls though its lowermost tiers were mostly obscured by overgrowth. The falls itself was across the gorge. Yet the trail kept descending steeply down steps and rocks, which fortunately for us was quite dry on this side.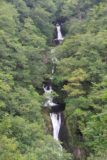 Soon thereafter, we found ourselves at Jacob's Ladder, which was a very steep series of steps going down towards the bottom of the gorge while affording us somewhat awkward views of the obscured lower tiers of Mynach Falls (though the uppermost tiers couldn't really be seen down there). In another 15 minutes, I was at the bottom of the Jacob's Ladder while Julie and Tahia were already well ahead.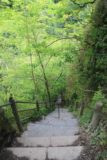 After crossing the bridge over the stream, the walk then proceeded to go steeply uphill along a somewhat muddy and slippery series of steps and rocks. Clearly going down these steps would've been a bit more dangerous due to the probability of slipping and taking a nasty fall. However, in going up, we were able to take our time while paying attention to the falls adjacent to the trail along the way.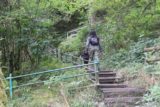 Even though we were always in close proximity to the falls at this point, most of the views were pretty awkward due to the overgrowth. However, it certainly was loud given the rush of water here.
At 10:15am, we checked out the Robber's Cave. The view from here was obscured, and really this spot was more to remember the outlaws who used this cove as a hideout. I'm sure the sound of the falls provided a decent cover to mask any sounds that would've tipped off their whereabouts.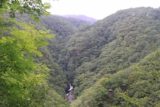 At 10:30am, we made it pretty much to the top of the climb and the end of the trail. There was a lookout with a telescope up here pointing towards a different waterfall in a different gorge not far from the gazeebo with the view of Mynach Falls.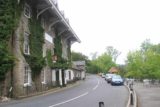 Five minutes later, we passed through the one-way exit turnstile just in front of the Hafod Hotel. We had to walk a little bit of the B road to go across the Three Bridges before returning to the car park. We noticed that the admission price when the kiosk was attended was 3.75 pound per person instead of 2. I'm sure this included a visit to the Punch Bowl as well, and they probably made you go there first before going through to the waterfalls nature walk.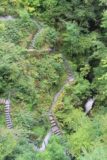 But again, we really didn't save that much money because the coin-op took 2 extra pounds from us.
Being that it was 10:40am when we returned to the car, I thought it might be a good idea to get to the Green Bridge of Wales all the way in the southwest part of Wales in the Pembrokeshire. We knew it could result in a bit of a two-hour round-trip detour to find it before checking in at the apartment in Cardiff.
The drive was long, and the GPS had me take a bunch of B roads before eventually getting to A roads then to the M4. I could see why the GPS did what it did, but I was regretting not taking the coastal route into Pembrokeshire. I guess the scenic drive down there just wasn't meant to be.
Eventually by 1:15pm, we would park the car in front of some cafe when the GPS tried to take us on a direct road that would have led to the Green Bridge of Wales. However, a road closure due to some military activity going on prevented us from doing it. We were hoping for another way around, but we learned from a very elderly lady at the shop adjacent to the cafe that there were firing excercises going on, and we may not have been allowed through.
So I guess the Green Bridge of Wales was also not meant to be, and this detour ended up being a waste of time.
At this point, it was 1:40pm when we left what turned out to be the village of Bosherton, and we went straight for the apartment office at Cardiff. It wouldn't be until 3:35pm when we were in front of the Capital Apartments in Cardiff office, where Julie got out of the car to check in with the reception there. I was getting quite tired during this two-hour stretch of driving on the motorway so the stop was a welcome break, but I was then worried about not being able to visit Cardiff Castle on this day, which I was aware that it was supposed to be closed at 5pm with last admission at 4pm. That didn't leave us much time.
When Julie returned to the car, she dropped me some bad news as we learned that there was a NATO Summit going on at exactly the two full days that we would be spending in Cardiff. We weren't sure what the consequences would be in terms of road closures or our ability to access Cardiff Castle or other parts of the city center, but we knew that nothing good would come of this (in much the same manner that we had to ditch Acadia National Park due to the government shut down on our last trip to the New England area).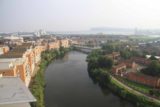 This development totally blindsided us, and now we had to think fast in terms of how to respond to this sudden turn of events.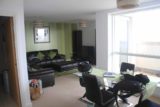 It wouldn't be until about 4:30pm when we were finally getting settled into what turned out to be a very spacious apartment. We were actually upgraded to a penthouse because all the other units were taken up. So perhaps our late arrival into Cardiff might have paid dividends in a surprising way.
So we spent the next hour or so doing a little more research about this NATO Summit and how it affected the city center of Wales and its attractions. We would eventually learn from the official website of Cardiff Castle that it would be closed on Thursday (tomorrow), but it would be open on Friday. So that meant we would have to designate Friday as our Cardiff touring day. However, we would have to wake up early and get out of the city tomorrow to do waterfall hikes all day long before getting back into the city after rush hour.
At least that was the plan. We'll see how it all works out in the next two days, especially since I was now nervous about cramming all of our waterfall excursions into one day.
Finally at 5:30pm, we walked towards Cardiff Bay. We came to realize that the Cardiff City Center was quite a distance from our apartment, but Cardiff Bay was more manageable. Still, it took some time for us to even walk to the happening part of Cardiff Bay, and after a few quick moments of taking in the atmosphere of this little commercial area (kind of reminiscent of what Santa Monica Promenade might be like), we found a Pizza Express here for a dinner at 6:15pm.
The dinner didn't disappoint, and we quickly adopted this place as our favorite chain in the UK. At least we now knew that this pizza place wasn't limited to Scotland as clearly Wales had it too.
By 7:05pm, we left to do some more walking and a little grocery shopping at Sainsbury Local. We checked out the bus stops to see what the schedules were for quickly getting to Cardiff City Center (we were looking at around 20-30 minutes on average wait), and we also stopped by the Cardiff Bay Train Station, which was a tiny end-of-the-line stop with seemingly 10-15 minutes wait time.
Eventually by 8:20pm, we made it back to the apartment. By this point, we realized that even Cardiff Bay's walk wasn't trivial (maybe 10-15 minutes or so in each direction), and it passed through what appeared to be a fairly dodgy neighborhood of the city. Well, there was a heavy police presence with many of them on foot patrol though we knew that they were really there for the NATO Summit and perhaps not necessarily for helping tourists.
And so ended this rather interesting day where it seemed that our calamitous moments (like the flat tire and parking ticket in North Wales) just so happened to occur in Wales. What is it about our luck?
Hopefully, things improve tomorrow, but clearly we have to be a bit more proactive with our trip execution thanks to the NATO Summit (a gathering of what one could argue are the leaders of corruption), and I'm sure there'll be protests and demonstrations to further add to the disruption of this phase of our visit…
Visitor Comments:
No users have replied to the content on this page