Day 23: NATO SUMMIT AVOIDANCE
It was 6am when we awoke. It was an anxious morning because we knew that the first day of the NATO Summit was going on today, and that practically everything we cared to see or do within the city center of Cardiff would be compromised (e.g. Cardiff Castle, etc.) due to police activity and blockades not to mention the associated traffic jams. So today was going to be our waterfalling day as we left tomorrow to be the city touring day when hopefully the police state setup they have for Cardiff city center would be somewhat more alleviated than today.
The sun wasn't up yet at this hour, but by the time it was 7:05am, the daylight had definitely breached the skies, and we were in our car ready to go.
The GPS initially wanted us to go through the city center to get onto the A470 going north towards the Brecon Beacons National Park. However, we opted to go a more rounadbout way by taking the A4232 to the M4, then taking the M4 to the A470. As we were driving north on the A470, we could see there was a lot of congestion going in the opposite direction towards Cardiff City Center. That kind of observation further reinforced our feeling that we did the right thing by avoiding the NATO Summit by all means possible.
By around 8:15am, we were driving north on a local road (I think it's called Pontneathvaughan Road) as the road climbed and narrowed on its way to Ystradfellte. I was aiming for the car park closest to the Four Falls Trail in the Brecon Beacons, but when I found myself getting up to a car park in the north near Ystradfellte (after driving a single-lane road to get there), I saw from the map signs that I had overshot the actual car park I was interested in. The problem with starting the hike from here was that it would've extended the waterfalls hike significantly (at least over an hour or so).
That said, the targeted car park was apparently not very well signposted, whereas this car park (called Cwn Porth) was pay and display while accompanied by quite a bit of car park spaces as well as signage. In fact, it was this signage that I consulted to determine where I was and where I needed to be. By this time, both Julie and Tahia were asleep in the car so I was on my own.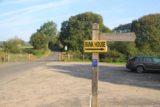 When I made my evaluation that I had to backtrack until I found the Sgwd Clun-Gwyn car park (unsigned as it might be), I would eventually get back to there at 8:40am. Though I had lots of doubts about starting this excursion from this obscure car park, there was a sign that said "Sgwd Clun-Gwyn 15 min" that confirmed that I was indeed in the right place.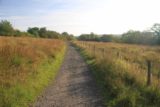 Given its unsigned and obscure nature, I could see that it might be a car park the authorities or locals or someone didn't want foreigners like us using (maybe because there's no pay and display infrastructure here yet). After all, all the literature and write-ups I had seen prior to our arrival here said to either park north of here at the car park I had just shunned or south of here at the Visitor Center – both meant much longer walks just to even get to the Four Falls Trail.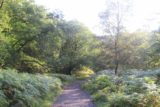 Again, those "sanctioned" and pay-and-display car parks probably were revenue generators. And thus the one car park that made the most sense for this hike was not as well advertised. On the flip side, I suppose it could be argued that the money generated by the parking would help in the maintenance of the trail. I'm sure there are two sides to every story.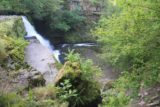 Anyways, as I deliberately made my way onto the trail, it gradually became more obvious that I found the right starting point as I saw another sign telling me where I was. And after crossing through some gates (as this track probably passed through private land), I then found myself descending towards the waterfall Sgwd Clun-Gwyn at 8:55am.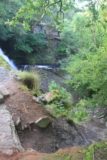 From this side of the falls, I saw that I wasn't able to get clean looks due to overgrowth. However, I did notice there was a steep and slippery scrambling path to the bottom of the falls as well as the flat rock bench that essentially split the trajectory of the falls into two tiers. I opted not to go down when I saw how treacherous it was though I'm sure if I had more time, it would be doable with care.
Still, I knew I had more fish to fry so-to-speak so I didn't want to spend more time trying to get closer than this falls than what was necessary. So instead, I was content to get angled views as well as views from the very top of the falls. And from the bare rock and puddles in the potholes within the rock, if the river Afon Mellte was in full spate, I could easily envision how the falls (i.e. the river) could expand to the full length of the rock bench.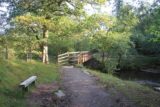 Next, I was worried that perhaps this path wasn't very well advertised because there had to be some unbridged river crossing. But I decided to follow the yellow arrow pointing me further upstream, and barely 10 minutes after I had first seen Sgwd Clun-Gwyn, I saw there was a footbridge.
On the other side of the footbridge, there was a junction where one path would've gone further north to that car park I turned around at earlier (Cwn Porth), which was said to be 30 minutes away. Instead, I continued on the yellow path, which ultimately linked me to the red path that was designated the Four Waterfalls Loop Trail.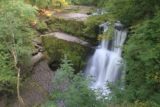 At about 9:20am, I found myself at an exposed overlook for the Sgwd Clun-Gwyn on the other side of the Afon Mellte. There was still some overgrowth on this side which conspired to block parts of the falls, but at least the view of it was more direct. I just had to be careful not to get too close to the dropoffs since there was definitely cliff exposure here.
As I looked around this spot, I noticed that there were red signs pointing back towards the main trail above me saying that it was the recommended route. I saw that there was a larger red sign saying the lower trail was closed. So I climbed back up to get back to the main trail then continue on.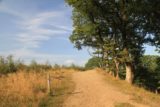 The trail was pretty much through a combination of open bush land and forest. The sun was definitely out and it made the day warm. At each junction, I opted to continue towards Sgwd yr Eira since I knew that would be the last waterfall in this four-waterfall series. Then, I'd see the rest of the falls on the way back to the car.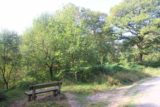 So it wouldn't be until about 9:45am when I passed by a David Morgan memorial (basically a tree planted in his name), who was apparently a former park warden for the Brecon Beacons National Park. This was near a section of trail where I saw a dense grove of tall trees on one side and bush dropping towards a ravine on the other side. At this point, it was apparent that I might be doing the loop trail in a clockwise manner.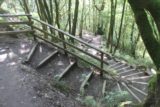 Not long thereafter, I descended a steep series of steps and muddy slopes leading right down to the Afon Mellte and ultimately a direct view of Sgwd yr Eira waterfall at 10am. The footing alongside the river was very slippery given the mist then tended to blow downstream of the falls. So I didn't scramble too far along the river to improve my views of the attractively rectangular falls, especially when I saw that the sun was against me and the shadows it created were quite harsh against the shadows.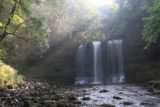 I saw there was no connecting trail from Sgwd yr Eira and Sgwd y Pannwr so I had to make the steep climb back up to the main trail. That on its own made the trail pretty strenuous. But eventually after another 20 minutes of doing this, I finally was at the Sgwd y Pannwr (not Sgwd yr Pannwr) after going down its trail from the main path. I saw that there was a connecting trail between this and Sgwr Isaf Clun-Gwyn, so at least I wouldn't have to go down and up like I had for Sgwd yr Eira.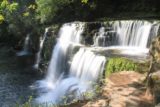 This particular waterfall was short but wide. I was looking right across it at an angle, but once again, the sun and shadows made it difficult to photograph properly.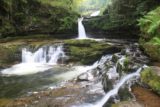 Next, I following the lower loop trail, and at first it was straight forward. However, I then went past a sign that said the trail was muddy and slippery, and boy they weren't kidding!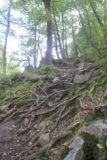 The trail then degenerated into more like a rocky scramble with slippery muddy patches as well as mud-covered rocks. And thus progressing further was awkward. By about 10:35am, I would finally made it to the Sgwd Isaf Clun-Gwyn waterfall, which appeared multi-tiered. It also looked like there was an even higher tier hidden around the corner by the overgrowth but there'd be no way of seeing it from this initial vantage point.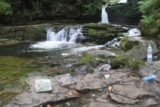 There was also quite a bit of litter here as apparently someone decided to picnic here then left their stuff. It looked like there was uncooked meat as well as a full bottle of bottled water.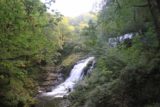 When I had my fill of this spot, I then followed the faint scrambling trails further up the slope. At this point, it was pretty much an all out scramble with dropoff exposure. Now, I really understood what the signs meant about being careful.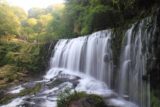 Still, I ultimately made it to the uppermost tier of Sgwd Isaf Clun-Gwyn at 10:50am, and this time, the view of the top two tiers was quite top notch. The uppermost tier was rectangular and wide, while the next drop was more funneled and below me at an angle. I'm sure I could have chilled out here for a while just basking in the scene, but I still had to get back to Julie as now it would be apparent that they would have beeen sitting in the car pretty much the entire morning.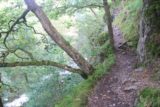 Beyond Sgwd Isaf Clun-Gwyn, the path remained very steep and treacherous. But eventually, the trail flattened out and I was able to make out an actual trail again.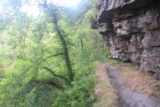 By about 11am, I returned to the big red closure sign near Sgwd Clun-Gwyn that I saw earlier. But now, it was apparent to me that this closure was really a one-sided closure.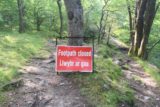 They didn't want you to go down the steep cliffs (a decision I could totally understand now), and by doing this loop clockwise, the hard section would be an ascent which would be much easier than the other way around. I also heard quite a few yelps from males, whom I thought were just juvenile delinquents messing around at the base of Sgwd Clun-Gwyn, but when I peered over the cliff, I saw that they were a group of abseilers going down this falls and probably others on the Afon Mellte.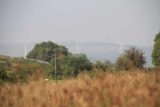 Finally at 11:20am, I was back at the car. Tahia and Julie didn't bother going to at least the first falls, which was a shame since it was only 15 minutes away. I'm sure it must have been boring up there all morning (waiting 2.5 hours for me).
Anyways, we left the falls and followed the main roads towards the Dan-yr-Ogof ("under the cave"?) Show Caves. We'd get there by 11:50am. At least now, we can do things as a family again…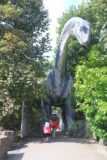 We started off with a lunch, which was not very good (I don't get the cold chicken in the sweet chilli baguette). Anyways, Tahia wasn't in much of an eating mood and so this lunch was mostly a waste of time. It wouldn't be until it was nearly 1pm that we would finally be exploring the show caves. At 36 pounds for the whole family (think nearly $60 USD), it felt like a rip off.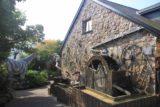 Basically, the show caves was dominated by fake dinosaur displays with a few bronze age village recreations and some recreations of archaeological digs. There were some sound effects to accompany some of the dinosaurs.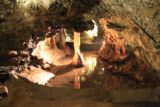 When we went into the first cave, it was basically your typical cave with stalactites and stalagmites with some imaginative formations. There was one waterfall in there, but it was small. There was also a section of the cave that was off limits that appeared to lead to another waterfall, but we wouldn't be able to see that.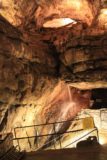 The tour was self-guided because the lights would come on when it sensed someone was near. The pre-recorded narration was also part of this self-tour as well.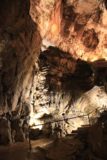 When we were done with this first cave, we then went into what was called the Cathedral Show Cave. This one started off with some cave paintings (which looked fake), then eventually led us by a waterfall beside the walking path before going by, behind, then through a pair of waterfalls as the wedding music got louder when we made it to the end of the trail.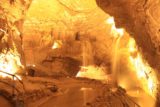 This pair of waterfalls was probably the most scenic part of the whole self-tour, and Julie and Tahia enjoyed it. In fact, Tahia was scared of all the darkness at first, but once she saw the falls, she totally had forgotten about her fears. Julie basically thought this was a very Ruby Falls-like experience, and for that, she thought it was certainly one of the best waterfall experiences we've had on this trip (mostly because it was different from the rest).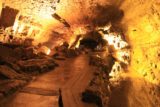 However, I myself wasn't sure whether to celebrate this experience or be cynical. I wasn't sure about the archaeological accuracy of all the dinosaur and historical displays either. Plus, I thought it strange that a place with this many contrivances could be part of the Brecon Beacons National Park. It certainly wasn't a national park from the standpoint of leaving things alone. But then again for caves, if there's no intervention, then only adventurous spelunkers would be able to see and access the caves while the rest of the public could only imagine what's going on.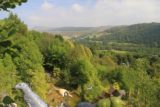 Finally, after prying ourselves away from the Cathedral Show Cave, we then went to the Bone Cave. The path went up stairs alongside what looked to be a fake cascade amidst dinosaurs, and at the top of the steps, we saw there was a nice view. Then, we had to pick up hard hats because we would be going through a low, head-bumping walkway where the helmets helped me absorb some 5 or 6 times I'd hit my noggin on the low-hanging ceilings. I wasn't sure why they made it that way if they contrived everything else, and if anything, it was a recipe for lower back problems.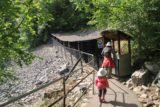 Once inside the Bone Cave, there were more models and recreations. This one was narrated with lights showcasing the parts being narrated. And they pretty much talked about the history of the Bone Cave in this section, though again, I wasn't totally sure just how accurate or contrived the narrative was (like with the rest of the park). There was just something off about it that made me question the credibility of the place.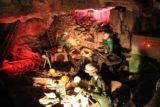 Nonetheless, Julie and Tahia really enjoyed their visit, and I felt a little better eating the heavy admission price because of it. Even Tahia got herself a Woolly Mammoth doll, so I'm sure she'd be pretty pacified for the time being for those moments when she's bored.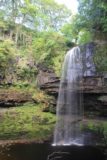 At 2:40pm, we were finally back at the car. And then, 10 minutes later, we took a single-track road towards the Sgwd Henrhyd car park. This waterfall was quite close to the Dan-yr-Ogof Show Caves, and so Julie and Tahia accompanied me on the steep and slippery (due to the loose gravel) downhill trail, which then crossed a bridge before going up steps then flattening out towards a muddy and slippery section of trail with a direct view of the Sgwd Henrhyd waterfall.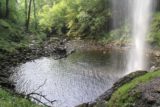 This falls was an attractive 90ft plunge waterfall which also had a graceful flow thanks to the few days we went without rain while in Wales. Plus, we saw there were abseilers trying to descend the falls. At least we saw their ropes dangling alongside the falls. I also did the scramble on the narrow and slippery path going behind the waterfall, making this one of the few falls on this trip that we were able to go behind.
By 3:45pm, we were back at the car park. We still had one more waterfall to go before we could return to Cardiff.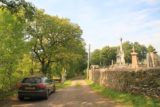 At 4:10pm, we would ultimately be near the Melincwrt (Melincourt) Falls. The GPS had us go up this very narrow single-lane road called Waterfalls Road. However, it was worrying that there was a lack of signage for the falls after we had seen obvious signage from the A roads to get here.
When we drove up to the end of the road, we saw that it was a private residence with a lot of aggressive dogs trying to maul the car. Clearly we weren't welcome up here so we quickly made a three-point turn and went back down the road with a lady looking on as if we were trespassers.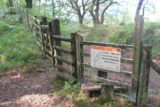 We'd eventually park the car next to a cemetery just off this road at 4:10pm. I decided to go solo and investigate whether we were in the right place though something just seemed off. Nonetheless, I did see that as I walked the road, we were above an obvious waterfall. Then, I went through a gate before getting to a sign that welcomed me to Melincwrt Falls.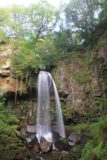 At that point, I could see that the falls really couldn't be seen well from up here due to overgrowth, but there was an obvious path that descended and eventually joined a main trail that followed along the stream. Then, when I went upstream, I was face-to-face with an attractive waterfall that was quite similar to the Henrhyd Waterfall we had just seen earlier.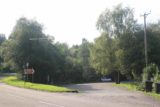 After getting my fill of the falls I then followed the main trail downstream just to see where it led. And after a few minutes, I saw that the trail ended (or began) at a well-signed car park for Melincourt Falls. So it turned out that we had driven up the wrong path (stupid GPS), and that had we parked at the proper car park, it wouldn't be a solo recon mission and more of a family jaunt instead.
When I returned to the car at 4:55pm, we drove down to the main car park. I asked if Julie wanted to quickly go to the falls and back so she could see it for herself while I watched Tahia napping in the car. But Julie was pretty waterfalled out on this day, and so we ultimately decided to leave for Cardiff at a little after 5:10pm.
The drive back to Cardiff was pretty uneventful. Again, we purposefully avoided the city center to avoid the traffic and complications of the NATO Summit. And since we were close to the M4 at this point, we would end up driving a loop that would get us to Cardiff Bay without touching the city center.
Along the way, I did fill up at a petrol station where I was greeted by some friendly cops who were chit chatting with the lady behind the counter while ringing me up for my diesel purchase. They seemed pretty chipper for such a serious task of protecting dignitaries from leaders from around the world (like Obama, Cameron, et. al.).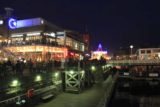 Anyways, by 6:05pm, we were finally back at the apartment. Again since the city center probably resembled more of a police state, we walked to the much closer Cardiff Bay for dinner. And by 7:20pm, we opted to eat at the Cafe Rouge where the mains were pretty good, but the dessert (crepe) was terrible.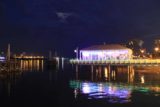 And by 9pm, we were back at the apartment after a little more grocery shopping at the Tesco Express there. We pretty much left tomorrow to be the day that we would finally get to explore the city center of Cardiff. Hopefully the NATO Summit complications wouldn't compromise it too much now that we had avoided what appeared to be the worst of the developments on this day…
Visitor Comments:
No users have replied to the content on this page