Day 25: ALARMS AND SURPRISES
It was 6am when we awoke to our alarms. We were expecting to leave Cardiff early in the morning so we could get to Penzance as early as possible. We were looking forward to visiting the Cornwall area (especially since the forecast had been calling for partly cloudy skies at worst), and we were fully expecting a different experience than what the rest of our UK trip had largely been missing – coastal scenery and beaches!
At 6:45am, I started loading the car, and putting into motion the process of getting all packed up and ready to leave. But when I got to the garage, I could see outside that it was raining! Really?!?!
This was completely off from the forecasts that called for partly cloudy skies even for Cardiff! So this was totally not expected.
As I was heating up the croissants (which I had burnt in the oven) and the meat pies that we had bought as takeaway yesterday, I noticed in the book "This Is Cardiff" that there was something about Caerphilly Castle. Both of us looked it up, and saw the pictures on the web.
It totally looked worth doing even though we hadn't planned for it. And so we decided to seize the moment and just go for a visit there before going over to Penzance with a detour to Becky Falls.
Unfortunately, Caerphilly Castle wouldn't open until 9:30am so we didn't quite have a sense of urgency with our breakfast nor our vacating the apartment. But eventually by 8:05am, we were in the car. And it was still raining outside.
The drive out to the car park for Caerphilly was along a bunch of local streets. We didn't take the usual autoroute way to the M4 though we did make an effort to still avoid the area around Cardiff Castle knowing that the vehicle barricades weren't completely removed.
At 8:50am, we had arrived at the Caerphilly Visitor Center car park, which was probably as close to the castle as we could park at. We paid under 2 pounds to stay for 3 hours even though the first 40 minutes would involve just loitering around until the castle opened.
It was still raining and the town was still pretty quiet though it was starting to pick up some activity due to some people going to work.
While we were loitering around the front of the castle, we got a few spots where we took some photos of the castle across the moat, but those views weren't great nor was the rain cooperating. The gray skies and lack of reflections didn't really make for the kind of photo ops we saw in the literature. Speaking of which, we didn't quite see any of the spots that were showcased in the literature either.
Eventually at 9:30am, we came into the castle. We ended up exploring every possible tower they let us ascend, took some time to watch some mini movies, and even strolled around the castle walls itself before concluding our internal self-tour at the leaning tower where there was a statue of someone holding up that tower.
It was strange, but we were the only visitors in the castle for almost our entire visit. Unfortunately, the interior self-tour was pretty ho hum in our minds. Maybe we were getting castled out from all the other castles we had visited to this point.
However, as we were about to be accompanied by another visitor in an orange shirt, I had noticed that he was walking somewhere on the outside of the moat that we hadn't walked to before. At first, I thought he was an employee, but when I saw he was toting a camera, that was when I knew that we should go to where he was visiting before taking off.
And so at around 10:40am, we went all the way out to where he was at, and that was when we realized that this was a public footpath not requiring an admission price (except the gates linking the far southeast end of the moat and the main castle entrance were only open between 10 and 4).
Nonetheless, we got to see all of Caerphilly Castle beautifully reflected in the moat. We knew that this must have been the photogenic spot in the literature. On top of that, the sun started coming out as the rain had finally stopped. So it was basically a convergence of all these good things, and that pretty much salvaged our little seize-the-moment Caerphilly Castle tour.
By 11:10am, we were back in the car. And as we were headed out towards the M4 at Newport, we could clearly see that the Caerphilly town was seeing quite a bit of traffic, and there was also a lot more foot traffic than we had seen just two hours prior. Good thing we got the early start when we did, I guess.
The long drive out of Wales was pretty uneventful though we did run into some traffic in a few spots largely due to merging lanes. As we were driving on the M5 then onto the A38, we were worried about closure signs saying something about the motorway being closed beyond its junction with the A388. That meant we would have to find a different way to get to Penzance.
But at least we were going to stop by Becky Falls as we were intending this to be our lone waterfall visit in the South West of the UK. In fact, I was thinking this would probably be the very last waterfall of this trip period.
Yet as we were about to exit the autoroute near where Becky Falls access was supposed to be, we noticed some brown signage for Canonteign Falls. We didn't know what this was about nor did we plan for it so we skipped it and stuck to the plan for Becky Falls.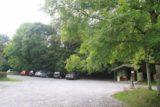 By about 1:30pm, we finally made it to the car park for Becky Falls after driving for nearly 4 miles on mostly single-track roads. The crazy thing about this falls was that they wanted 7.75 pounds per adult, which made this one of the more expensive waterfall visits.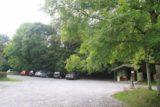 We then had a picnic lunch at around 1:50pm, but with Tahia being a slow eater, it wouldn't be until about 2:05pm when we could finally hike as a family. There were other things around this facility like some caged animals (mostly birds) as well as some farm animals that kids could pet. There was even a reptile house.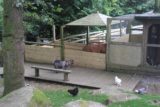 But the main goal here was to do the falls. And barely a few minutes later, we saw the main Becky Falls. Unfortunately, we were quite disappointed with its bouldery appearance in which most of the falls' flow was concealed within the boulders leaving disjointed segments. I knew what Julie was thinking… "We came all the way out this way to see this waterfall?!?"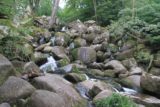 Granted, this waterfall was underwhelming, but I think the point of this place was its tranquility and the kids' activities. Julie and Tahia went back up to the main area while I pursued the red and purple trails to get to the Lower Falls. I was basically going to do that lower waterfall then head straight back the way I came (despite the park wanting me to do all the loops in a clockwise manner).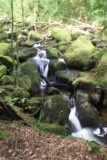 As I was on my mission, I suddenly started having strong urges to go to the toilet. But I managed to hold it in while pursuing the Lower Falls (which was even more underwhelming than the main falls), then quickly make my way back to the main area's toilet to fulfill the nature call #2.
When I was done with that, I had some tea with Julie while Tahia was playing with some toys in their cafe. They had free Wi-fi, and that was when we realized from the web research that Canonteign Falls was way better than Becky Falls. If I had my choice to pick one or the other, it would have been Canonteign. Unfortunately, they were also closed at 5pm with last admission at 4pm. Plus, the hike was 1 hour and 20 minutes to the falls (not sure if it was round trip or one-way). So that pretty much nixed the idea of fitting this in on this day even though we were geographically close.
I had it in my mind to perhaps fit in this visit on the day we go to the Jurassic Coast then all the way to Bath (possibly with an evening visit to Stonehenge) on Monday. We'll have to see if that's even possible or if we have to do more driving on the next day (the final day of our car rental) on Tuesday.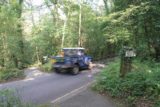 At 3:20pm, we eventually got back to the car and made the final leg of our drive towards Penzance. This visit felt like a bit of a waste of time and money. But I guess that's why we do these things because you never know what it's like until you're out in the field actually doing it.
The drive out to Penzance initially started on more scary single-track roads where the ivy or tall grass were essentially scraping the car given the narrowness of the roads. The GPS was incorrectly calling this road A382, but it was clearly not an A road.
After what seemed like going through these roads forever, we would finally join up with the real A382 road before finally joining up with the A30, which was dual carriageway motorway leading all the way to Penzance and beyond.
The weather was a mix of light rain and Summer haze. The skies looked eerily orange and gray with sections of dark clouds. Again, this was a far cry from the forecast, and I wondered what other unpleasant surprises would come our way..
We would hit more traffic due to converging lanes, but by 6:05pm, we would finally arrive in Penzance and check into our bed and breakfast guest house. They only had street parking, which made me a little nervous about parking availability, but the bottom line was that we could finally get settled and at least walk around town a bit for dinner as well as getting a flavor of the place.
While Julie and Tahia sought a place to eat (they settled on the Assay Restaurant), I did a little individual reconnaissance of the town. I would eventually walk down to the road near the wharf then up the St Marys Church eventually returning to the restaurant on Chappel Street. The view of Saint Michaels Mount was way off in the distance through the late afternoon haze, and I knew that we'd have to go there tomorrow morning or something for a better look. We also wanted to see the Minack Theater tomorrow as well. So I'm sure it would be a packed day, especially since we put it all on one day tomorrow.
We would eventually eat dinner at the Assay Restaurant at around 7:30pm or so. Julie got us some local crab, some duck confit, and bouillabaise. But it would turn out that I would spend just about all of my time at this restaurant trying to crack the really hard and thick shell of the crab. It was an awful lot of effort to get at such tiny pieces of meat, and in hindsight, we probably won't order any more of these crabs again (especially since it was served cold).
When the hard-earned dinner was done at 8:35pm, we then walked back to our room, arriving their at 8:45pm. At least with the day being over, we could look forward to a little bit of a sleep-in before the included breakfast at 8:15am tomorrow morning. However, I wouldn't be sure if it would be wise for us to stay for brekkie the following morning knowing we had more long driving ahead of us…
Nonetheless, we were to live in the moment and look forward to tomorrow hoping the weather would hold up…
Visitor Comments:
No users have replied to the content on this page