Day 26: UNCORNY CORNWALL
We woke up at 7am on this day allowing ourselves to sleep in an extra hour. While it wasn't as difficult to get up at the later time, we still could have easily slept in a bit longer except that we also wanted to show up to the 8am breakfast when it was available as soon as scheduled. Moreover, we knew that this was the only full day we had to explore the Land's End area and we didn't want to squander this opportunity. Plus, the Saint Michael's Mount (similar to the one in France) was walkable at low tide which would be between 8am and 12:35pm on this day.
While Julie and Tahia were freshening up to get ready for the day, I did a little more research about Canonteign Falls in preparation for tomorrow's activities when we make the long drive over to Bath. When I learned that it was an artificially made waterfall through diversion by leats (kind of like the principle behind Cascate della Marmore in Italy), both Julie and I decided it wouldn't be worth the trouble to go out of the way for it.
So with that out of the way, we then went downstairs for the included breakfast at a little after 8am. When the owner saw that Tahia was with us, she was less than pleased about finding out suddenly about her presence. Even though she didn't require an additional bed, nor did she require any extra utensils, the owner told us that this guest house normally doesn't allow kids. Oops.
Still, we thought it a little ironic that the owner herself has a kid that happens to be a bit louder than Tahia. On top of that, Julie would later find out that this place's website also said kids Tahia's age stay free. But I guess it's the owners' rules, and fortunately for us, she let us carry on like we were though the place suddenly felt a little less welcome than before.
The cooked breakfast was pretty good as Julie loved the omelettes. However, the fluffy pancakes were a little bit on the burnt side on the bottom.
At 9:20am, we finally headed out though the skies had a bit of hazy sun mixed with what appeared to be the Cornish version of June gloom. So the sun and the color it would bring was muted.
When we arrived at the Saint Michael's Mount area at 9:35am, we paid our 3 pounds to park there, then we proceeded to walk towards the causeway. The manor at the top of the tidal island looked a bit shadowy thanks to the mostly obscured sun, but we could clearly see there were people walking on the causeway that was obviously dry (the causeway was said to have opened at around 8am earlier this morning). People were already steadily making their way across.
We would do the same, and at about 10:05am, we finally made it onto the tidal island. We then started making a beeline for the castle, and we would end up buying our tickets at around 10:15am, then we made the walk up some uneven cobblestone steps before finally making it up to the entrance of the mount by the time it opened at 10:30am.
The views all around were already gorgeous. We couldn't wait to see what else was going on inside this structure as well as the views from high up on the property towards either rural Cornwall farms in the distance or towards the English Channel.
Once inside, we got an explanation from one of the workers about the resemblance between this mount and the Mont-Saint-Michel in France. It turned out that Normans (now the province of Normandie in France makes sense) for many years had taken over parts of southern England, including Cornwall. And their tendency was to build abbeys or fortresses high up on hills. I'd imagine this was especially the case if it could be naturally protected by the tides.
And so the Saint Michael's Mount and Mont-Saint-Michel were similar in those regards. However, Le Mont-Saint-Michel felt more medieval and grander (probably because it was truly an imposing castle-like fort that also acted like a walled tourist town), and it seemed more like a magic kingdom to us. In contrast, the Saint Michael's Mount seemed more like a manor than a fort though there were canons placed around the terraced perimeters.
That said, the French version also felt a bit more commercialized. Given the relative lack of literature the Saint Michael's Mount had gotten, we didn't have many expectations of it going into our visit. But as we visited each of the rooms and then got more and more views, this mount started winning us over.
Perhaps it was the relative quiet of our visit giving it a more intimate feel. Perhaps it was the views. Whatever the case may be, despite the sense that this place felt more modern than the one in France (at least it appeared that way), Julie and I concluded that it was just a different experience but every bit as good as the larger one in France.
By about 11:15am, we were done with the castle visit. We then killed some time having a Cornish ice cream (not sure if anything -ish was merely a marketing ploy as opposed to something genuine) before exploring the village a little bit before returning via the causeway back to the main part of the land at Marazion.
By about 12:10pm, we let Tahia play in the playground where she was having a ball. There were some challenging obstacle courses or jungle gyms that she seemed to handle, then there was a pretty steep slide that she really enjoyed giving yelps and yells like what some older kids would do on roller coaster rides.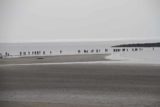 She also loved the pulley trolley (kind of like a poor man's zipline) where she wanted to keep going on that over and over again. By the time it was about 12:40pm, we were finally done with the Saint Michael's Mount and the Follyfield Play Site. Next up was the Minack Theater.
With the weather still exhibiting June Gloom-like conditions at this time, we didn't have much expectations for good pictures at the Minack Theater.
So by 1:15pm, we had followed a caravan of cars towards the car park for the Minack Theater along a combination of A and B roads, then we proceeded to first have lunch at their cafe to try to kill a little time hoping for an improvement in the weather while also satisfying our collective hunger.
By about 2pm, we were done with the lunch, and that was when we saw that the June Gloom finally burned off and we were now having pretty clear skies. It was at that point that we went nuts taking photos from every possible angle we could think of. Eventually, all that activity would just die down until we chilled out momentarily on the grass terraces looking at some people in green shirts either putting together the stage area or rehearsing their bits.
The theater itself was in a magical spot as it kind of brought Julie and I back to parts of Santorini, where steep walkways and steps seemingly led to an expanse of water appearing like it dropped off into an abyss. Speaking of the water, with the sun out, the English Channel now exhibited more greenish and deep blue hues.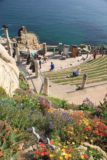 The sun also helped to bring out the colors of the flowers, and the golden brightness of the background cliffs.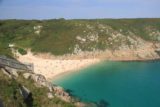 Towards the end of our visit, we went into the Rowena Cade Exhibition where we learned that this place was a creation of Rowena Cade as the theater was the pride and joy of her life (and it shows). Apparently it was her vision and will to get the project to turn this cliffside area into a theater, and she would inspire and have the help needed to keep the work going to this day (even after her death).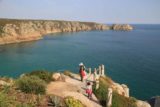 It wouldn't be until about 3:10pm when we were done with the Minack Theater visit, and we returned to our rental car.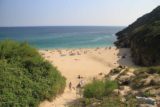 Five minutes later, we went down to the lower car park where we forked over another 2 pounds to park there, then we took a fairly length somewhat sandy trail down to the beach. It turned out that we probably could have saved 2 pounds by leaving the car at the Minack Theater, then walking down a trail leading right to the beach. It would turn out that this alternative car park yielding direct beach access required just as much if not more walking to get to the beach. Granted, if we did this walk from the theater and down, then we would have to get back all that elevation change.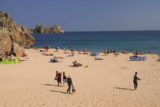 Nonetheless, Tahia had been asking to play in the beach ever since we first saw it at the Minack Theater. And as we were in the sheltered cove with the beach, Julie and Tahia were busy collecting dead shells while I was watching over them while taking photos.
By about 4:20pm, we were back at the car and headed out of Porthcurno. We next had a decision to make – should we do Cape Cornwall or do Land's End. The drawback with Land's End was that (according to TripAdvisor reviews) it was said to have bad food and service while being overly commercialized. However, we were concerned that Cape Cornwall might be a bit dead given the reviews tended to suggest that place was wild.
Julie cared more about the ambience of a place and that sea arch pretty much made it a worthwhile thing to see while there, and so we figured that Land's End might be the place for that while Cape Cornwall wouldn't have either of these things. And so it was decided that we would stick with our original plan.
At 4:30pm, we eventually paid our 3 pounds to park the car in the huge car park right at Land's End. We thought that the sea arch (that really drew me here in the first place) might not be easy to view without getting dangerously close to the unstable cliffs. I even thought it might have been a gimmick (i.e. you needed to be on a boat or something) to see the arch when it was nowhere to be found around the main area.
Anyways, it seemed like just about all the shops and cafes were closed for the day. So the town felt a bit dead.
Since the main goal of our visit was to find the sea arch that was shown on the cover of brochures of the local area (something we didn't expect to be here until we chanced upon the brochures and even some posters in some shops and cafes), we were determined to at least get to the bottom of this before we left.
Upon finding that we couldn't find the arch after spending several minutes walking around fruitlessly searching for it, Julie had asked one of the employees where to get that photo shown on the menu cover. We were eventually told that the view of the arch was past the Greeb's Family Farm.
And at first, I went over there myself to scout out the scene. Along the way, I managed to see two elderly male walkers in the nude. It was almost a bit of a flash of deja vu like what we had witnessed in our first visit to Alamere Falls.
Anyways, when I finally got to the view of the arch (I swore it was probably nearly a mile's walk in each direction), the view from this close up was absolutely beautiful. Eventually some 30 minutes or so later, Julie and Tahia finally caught up to me.
So we took our photos, basked in the rugged scenery of Land's End, and then proceeded to head back to our rental car where we can then finally return back to Penzance in search of dinner and winding down this busy day. I think we made our 3 pounds stretch on this visit, and boy was it nice to bask in such a beautiful scene without the commercialism creeping up this far out given that we had to have walked about 20-30 minutes from the main area.
Anyways, we were glad we made the visit to Land's End instead of St Just and the Cape Cornwall headland. The sea arch was gorgeous, and part of me wished we could have stayed here until sunset to watch the sun setting behind the horizon.
I guess our expectations of Land's End were lowered significantly thanks to unflattering comments about the place on TripAdvisor. I guess this was one example where the TA reviews were a bit off. Sometimes you have to read between the lines when looking at TA reviews to not potentially have regrets about something you might never be able to come back to, and such was the case here.
By about 6:05pm, we finally made it back to our rental car. And at 6:35pm, we made it back to our room at the bed and breakfast. By 7pm, we walked into town (as tired as Tahia was), and then we had ourselves a very good Thai dinner place (called Sukhothai) in the central of O'ahu.
Eventually at 8:40pm we returned to our room where we could finally call it a day. Since Tahia hadn't napped, she was totally knocked out. Meanwhile, Julie and I were looking forward to sleep though we would still have to get up early as we were in for a very long drive from Penzance to Corfe Castle to Stonehenge to Bath.
Visitor Comments:
No users have replied to the content on this page