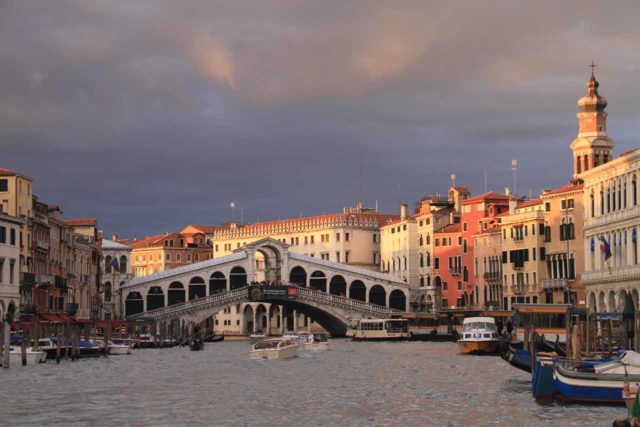 26-May 2013 to 30-May 2013:
The first order of business was to go to one of the self-help kiosks to buy train tickets for the 8:30 train. However, when we got to the machine, we found out that both the 8:30 and 9:15 trains were sold out! Damn! I knew we should have bought the tickets last night!
Anyways, we then went to the biglieteria where the lady there said the same thing the machines already indicated to us. So we just bought tickets for the next train at 10:15am, which was about a little over 2.5 hours away.
The next thought on our minds was to use this unexpected time in the city to do the one thing we wanted to do but couldn't because yesterday the museums were closed… see Michelangelo's statue of David! There was some concern whether the lines would be so long that we might even miss the 10:15am train, but at this point, we weren't going to sit idly at the train station for over two hours. So the decision was made and we were now going to act on it.
Indeed, the idea of seeing David was resurrected…
Day 11: THE CITY OF ART
…It wasn't until 7:55pm that we'd eventually be done TripAdvisoring for restaurants in town near our hotel. I wasn't too happy about the extra hour we killed chasing food when we could have toured the city while there was still light out.
We ultimately decided to eat at La Grotta di Leo, which was a pretty busy place, but we were able to be seated immediately.
The meal wasn't extraordinary, but Julie got her Bolognese-style pasta while I was devouring a beef "Florentine style" which was nothing more than a T-bone porterhouse steak. At least it was good to know that we finally got our appetite back for sure as we could keep down these heartier meals.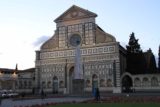 The dinner was done at around 8:50pm where we were finally out on the town to do some exploring.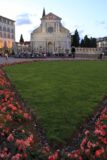 First up was the Old Bridge or Ponte Vecchio. Whether it was by accident or intentionally, we took a street past some Gelato Festival in the Piaza di Santa Maria Novella, which was a square near our hotel. The church looked elaborate and the piazza that the gelato festival was in was quite big with flowered plots sprinkled throughout. But we didn't bite on the gelato (even though today was its last day) and we kept going.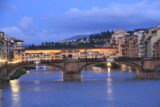 We ended up taking some street that eventually put us right by the river. The plan was to go to the Duomo first and get to the Old Bridge by way of the more signature sights on this scouting walk, but since we were by the river, we mind as well go backwards of what we had planned.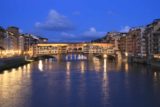 Seeing the Old Bridge to our left, we immediately walked towards a bridge right before it. This was where we tried to take advantage of what remaining little light we had to take twilight shots of the river and the Old Bridge.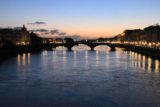 After we had our fill of photographing the Ponte Vecchio, we then walked to the bridge itself which was still dark even though there were some street performers on the bridge.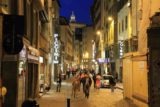 We then walked a main thoroughfare towards the Ufizi Gallery as well as the Gallery of the Academics. Unfortunately, these exhibits would close on Monday (i.e. the one full day we were in Florence), and so we realized that we were pretty much screwed in terms of trying to see the Statue of David or something. Again, that kind of summed up the bad combination of our timing and our luck on this trip.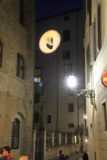 So now we were faced with a decision on either staying in Florence on the day we leave Venice for a little longer or just go right to Venice and worry about these exhibits years later when Tahia gets old enough to travel with us.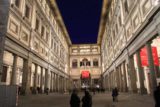 We then stumbled into a massively large outdoor corridor that was the Uffizi Museum. We could see there was a huge line for it, and I guess people wanted to ge their fix of the paintings today since every museum (including this one) seemed to be closed tomorrow as well.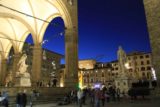 As we ambled towards the main part of the square with a very big tower, we couldn't help but notice there were other statues flanking the permiter of the square (Piazza). It was almost as if this place was like an outdoor museum.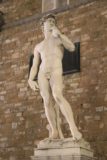 Heck, there was even an outdoor replica statue of David (though we knew the real deal that was out of marble was inside the Galleria dell'Academia). And since the museum containing David nor the Uffizi gallery wasn't open tomorrow while we were going to Venice the day after, I guess this was just one of those things we have to live without for a while.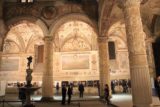 Next, we did some exploring of the grand square, which was a very happening place at this time of night. The Piazza della Signoria was busy, but there was also a big line for the Uffizi Gallery apparently even this late into the evening. I guess they tried to get their looks in before it would be closed tomorrow.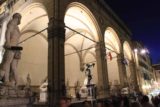 Meanwhile, being in the Piazza della Signoria further added to the artsy aura about Florence. Heck that combination of the Uffizi buildings combined with the outdoor museum of statues (known as the Loggia dei Lanzi) that we'd normally find inside museums just further amplified that sense that indeed we were at the heart of the Renaissance.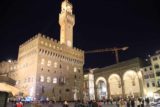 It was a shame that our lone full day in Florence would be on Monday, which was a day when the museums would close because all this Renaissance vibe I was getting while touring this part of the city made me very curious about touring the Uffizi Gallery while also desiring to experience this atmosphere once again while given the benefit of a full day in the city (not as stressful and action-packed as today was).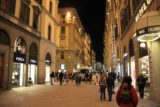 Once we had our fill of this grand square, we then continued on the thoroughfare until we saw there was a Charlie Chaplin immitator who had drawn quite a crowd. But behind the crowd we were at another large square, which happened to be the Piazza de la Repubblica.
Next, we continued back on the thoroughfare towards Il Duomo. And when we saw the front facade of the cathedral, we were quite blown away by its grandeur of white marble with ornate decorations.
Indeed, with the sense of scale plus the marble and jam-packed attractions all in one shot, it made me wonder whether it was all fake or something because it certainly stopped looking like it was for real (in a good sense). It must be the loss of perspective or something as it was easy to get lost in the grandeur of all these edifices in close proximity to each other.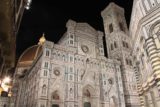 Once we finally had our fill of the Duomo, we came to realize that our 90-minute tour of the city was plenty of time for this orientation of Florence. And based on what we saw in this brief time, I could totally see why many people considered Florence to be one of the most beautiful cities in the world.
Indeed, it had a lot of things going for it in such a compact area that was easily within walking distance so we wouldn't need a cab or bus (it didn't look like there was a metro from what we could tell).
Eventually, at 10:25pm, we were back in the room. It was late, and we still had yet to shower and brush, so I knew that this would be one of those nights where I wouldn't get much sleep. We still had to get up somewhat early in order to better maximize our time tomorrow (since that was all we had to visit this city).
I also spent some time looking at the weather forecast, and with just our foul luck, it appeared that the window of fair weather in Venice will elude us when we'd get there the day after tomorrow. Indeed, the rain simply follows us where it counts, and well, there was not much we could do about it.
So we mind as well just take it one day at a time and whatever happens happens.
And so ended this rather hectic and long day…
Day 12: FLORENCE WITHOUT THE ART
It was 6:45am when we awoke. I actually didn't wake up to the alarm for some reason, despite me going to be at around 2am last night.
It took us a little time for Julie to get ready while I was busy trying to get caught up on writing up travel entries like today while also updating our photo library from the day before.
After another basic included breakfast at the Hotels Club, we were then finally ready to get out the door by 8:45am to start to see Firenze by day.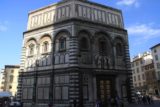 As soon as we stepped outside, we could see that the sun was definitely out though there were some patchy clouds (some of them were dark) that were also present. In any case, we headed straight to the Duomo area where we knew from last night exactly which way we were to walk.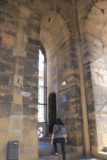 Once we got to the Duomo, we could see that it was somewhat against the sun. Still, we knew that the Duomo itself wasn't open until 10am so we wondered what we might be doing in the mean time.
But after exploring a little bit behind the tall tower to the right of the main cathedral, we noticed that this tower was called the Campanile and it was open since 8:30am. So we went ahead and worked our way up these steps to the very top of this really tall tower.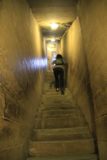 Signs indicated that there were at least some 414 steps, but it was the size of the steps and the narrowness of the corridors that kept us on our toes when it came to our own personal safety. I couldn't imagine how people could do this excursion with their kids or how elders' knees could handle the grind of the stairs.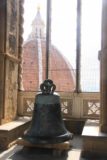 Meanwhile, there had to have been at least four or five rest sections with long stair sections in between each "rest" area. Eventually, we made it up to the very top of the Campanile, where there were fences covering the square path on the very roof of the structure.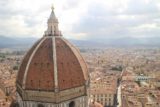 Looking in one direction, we could see the dome of the Duomo up close. Looking in other directions, we could see the Piazza della Signoria, the train station at Stazione Centrale, and plenty of other red-roofed buildings (ala Dubrovnik in Croatia) as well as the mountains further north of the city.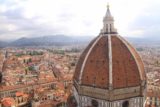 Given all the work we expended to get up here, we spent as much time as we could before we had our fill of the panorama atop the Campanile. When we looked towards the Duomo, we could see there were some people that had already made it up to the cathedral's dome-shaped top as well.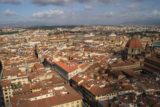 However, we decided to pass on that one since we knew it was be like getting a panorama atop Half Dome where the view would be missing the iconic monolith itself. Except in this instance, the view of the Duomo would be missing from the top of the Duomo itself.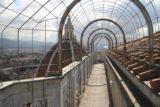 So we went back down the steps while squeezing in between people going the other way and walls through the tight staired corridor to continue.
During the descent, we spent a little more time examining some of the rest areas as they offered some surprising views of the city even though the caging was a bit narrower than at the top of the Campanile. So that forced us to be very specific with our composition and photo subjects.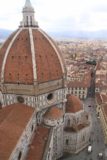 Still, we noticed a liberty-bell-looking bell fronting a Duomo from down here as well as some interesting facades on the corner of some building next to the Duomo.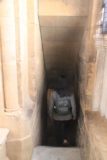 We could see more people suffering as they were on their way up, and we were sure glad that we had gotten past the hard part long ago. Indeed, it was pretty much all downhill for us as long as we didn't stumble and fall down these steps!
By the time it was 9:50am, we were back at the bottom thinking we next ought to line up for the Cathedral itself. After all with such a grand and elaborate facade, there must be somethinng going on there for visitors to gawk at and take more photos, right?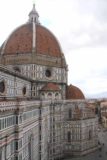 So we did just that. We lined up as the line snaked its way across some road traffic from the Cathedral door and out to the Battistero. We managed to converse with a German family who stood in front of us who managed to see the statue of David and said it was worth the wait.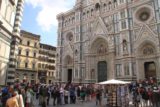 But with today being Monday (the lone full day we had in Florence), we were made aware last night that the museums would be closed today, and this included the Uffizi Gallery and the Galleria dell'Academia where the real David was moved for safe keeping. I would have thought Sunday would be that closure day like in Rome, but instead, it was Monday in Florence. Who knew?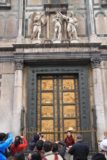 I guess that didn't make the agony of having to choose between seeing the statue tomorrow at the expense of spending less time in Venezia any easier. But at the end of the day, we made the executive decision to just not do the statue of David nor the Uffizi gallery.
We'll worry about doing those things when Tahia gets old enough to appreciate this stuff (perhaps when she happens to be learning about European history at the same time), though all these dreams would be dependent on whether fuel prices remain within affordability and that the stability of the world order is somewhat maintained (not a guaranteed thing by any stretch of the imagination going forward).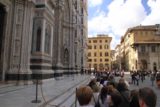 When 10am rolled around, the line started moving. When we finally went inside, we pretty much walked into a very grand cathedral, but it seemed to be very bare compared to the other duomos or basilicas we had walked into in other places like Siena, Assisi, and the Vatican. I even overheard a British person say, "Well, this place was rather disappointing, isn't it?"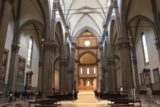 Indeed, it wasn't worth the line, and we quickly snapped our pictures then made our way back outside. That was when we walked around the backside of the Duomo's exterior where we could see scaffoldings as some restoration work was being done there.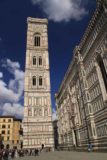 At least the lighting of the morning was great from this side and we took a few more photos of the tall tower of the Campanile as well as swung around to the other side of the Duomo to see the long line for the Duomo itself.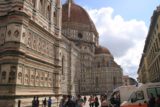 It turned out that this other line was to go up the steps to the top of the Duomo itself. Except having already done the Campanile, we decided to forego the line for the Duomo and continue walking around the city's main thoroughfares and piazzas and attractions while the day was fine so far.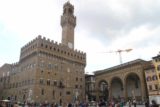 After going to Grom's for some hyped about gelato right when they opened, it turned out that they hardly gave you much gelato (it was about as stingy as Berthillon in Paris and wasn't all that great), we then walked the familiar thoroughfare towards the Piazza della Signoria.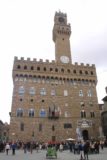 It was 10:45am by the time we made it to the very busy piazza where there were many tour groups as well as school groups. I guess I could totally appreciate why touring of popular attractions generally would be best done in the afternoon when those groups would have disbanded by then. But in the mean time, we just snapped photos and tried to make sure we didn't get anything stolen in the ocean of humanity at this piazza.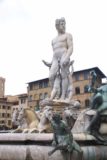 We did manage to take some photos of the replica of David, which stood where he was originally until the original got moved. In the mean time, we were looking up at the outdoor statue museum where we started to pay attention to what was shown by those statues.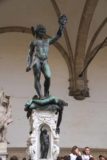 In one instance, there was a morbid scene of a beheaded woman with a dude holding the head while her body was slumped under him. It made me wonder whether this was a depiction of the male-dominated society back in the day. Julie wasn't too keen on the message of this statue (though after further reading, it was supposed to be the beheaded Medusa).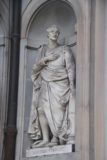 By this time, the clouds had covered the sun and the weather suddenly turned windy and cold with a few sprinkles. So Julie and I continued about on our walk along the Piazza deghli Uffizi. When we walked all the way to the end, we were right on the banks of the river.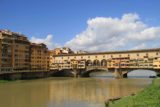 To our surprise, the sun was back out and we also saw the backside of the Ponte Vecchio (Old Bridge) where it seemed to exhibit a bit more color and character than the front side that we saw last night.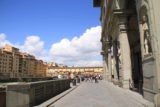 So we took some time to take photos of the bridge from here, and then we walked further away from the bridge towards the next bridge so we could take photos of Ponte Vecchio from the middle of the river. The Old Bridge was quite distant from this neighboring bridge so we had to be careful about being selective of the photo subjects.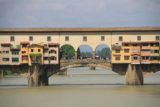 Now with more time than we knew what to do with (thanks to the closure of the museums), we decided to chase that panorama that Julie recalled being at when we was on a bus tour with her Mom several years ago.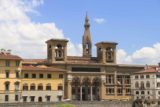 So we continued walking further away from the Ponte Vecchio and started to notice signs for Fortezza in Belvedere thinking that that was the place we were supposed to get the panoramas. So we followed the signs and then walked up a pretty long road until we finally reached the entrance to the Fortezza in Belvedere.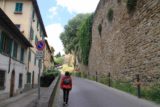 Unfortunately, it was closed on Mondays (yet another reason why today was not an optimal time to be in the city of Florence).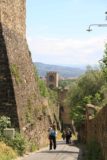 So we walked back down the way we came when we realized that the Piazzale di Michelangelo was actually the overview we should have chased in the first place.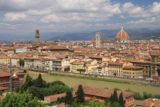 And after another round of climbing (this time up a long series of steps), we finally reached the crowded piazza at 12:15pm. Julie believed that this was the place where her tour bus took her and her mom. And now, it was our turn to soak in this panorama together while the sun was in between being hidden and being out in the open to add some of that sun kiss on the city below.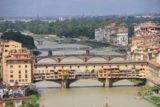 At this panorama, we could pretty much see all the city's main buildings in one go. To the far left was the river and the Ponte Vecchio (Old Bridge). To the right of it, we could see the tall clock tower overlooking the Piazza della Signoria, and then to the right of that, we could see the imposing Duomo.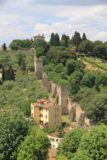 There were still more interesting architectures that we hadn't seen up close further to the right, but including those in our photos would only make our photos flatter and smaller.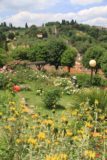 So we probably spent another 30 minutes or so soaking in this scene before we finally had our fill and decided to head back towards the Old Bridge for some lunch.
Now along the way down from the overlook, we passed through an impressive rose garden where we took a little more time taking photos of this garden, which added quite a bit of color to the photos we took down here.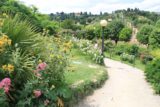 Then, we finally walked down the long series of steps as we passed through the archway of the entrance (now exit for us) of the Centro Storico (Historical Center) of Firenze. And along the way, we noticed this pizza place that claimed to make their pizza in Naples style called Pizzacchiere.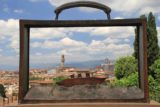 Julie must've gotten over her disappointment of the two places we had in Napoli because we was game to try out this place. So at 1:05pm, we were seated and finally were off our feet as we looked forward to having lunch and testing our appetite once again.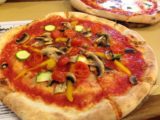 It turned out that the Napolean style pizza was crispier than what we had in Napoli. Julie enjoyed the pizza as it had the texture she was looking for though she said she liked the sauciness and the ingredients from the Naples places like Gino Sorbillo better. I guess you can't win them all.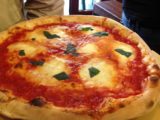 Anyways, I was practicing my Italian when I could with the lady who co-owned this place since it was a humble Mom and Pop joint. I could see them working in the kitchen at the same time she was going back and forth between tables to wait customers and settle bills. Talk about working hard!
Nonetheless, I was flattered by her telling me that I spoke with an accurate accent and that she encouraged me to keep trying to speak Italian. That was very encouraging and nice to hear from her.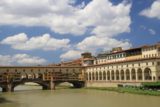 After we were done with the lunch and paid our bill at 1:45pm, we then headed over to the Ponte Vecchio where this time we walked on the bridge itself. However, the bridge itself didn't seem like anything special as it was basically just another cobblestone road flanked by a bunch of jewelry shops.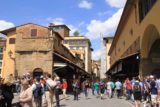 On both sides of the middle of the bridge, there were statues and vistas, but they weren't as impressive since there didn't seem to be any worthwhile photo subjects.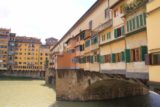 So we then crossed the bridge and walked slowly back up towards the main outdoor piazza of the Uffizi where we could see that the afternoon blue skies were really the time to take daytime photographs of the iconic buildings.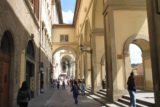 After passing through the scaffoldings, we were back at the Piazza della Signoria where we took more photos of the David replica as well as have a more peaceful time at the outdoor art gallery where we examined more of the statues here while also chilling out and getting off our feet momentarily once again as we soaked in the atmosphere of the place.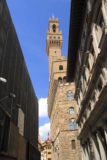 Unlike in the morning, it was much quieter at the Loggia dei Lanzi (i.e. the outdoor museum) so we took our time taking pictures at a leisurely pace while also having a bit of a rest while watching the world go by within the Piazza della Signoria.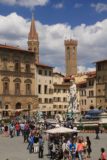 We also studied some of the statues a bit more and found that the more warrior-like statues in the front seemed to have grabbed our attention more so than the more philosophical statues perched against the walls.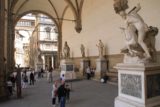 When we had our rest, we then ambled about the Piazza della Signoria trying once again to capture in photos the grandeur and energy of this place (even though it wasn't nearly as crowded nor as cloudy as this morning).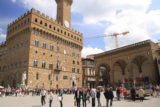 There was just something alluring about this place that I could put my finger on other than we just felt like we were within an art masterpiece. It was definitely a sensation that I didn't expect to be pleasantly blindsided with.
Next, we then slowly ambled our way back over to the Piazza del Duomo once again where the marbled exterior of the grand edifice was now juxtaposed with blue skies. Indeed, this somewhat fine weather we were having was probably the first time since we left the Amalfi Coast that we had a day that was free of rain (though admittedly, we only stayed in one place that is Florence instead of moving around all over Toscana like we were before).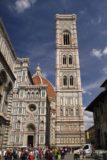 I don't know how many photos of the same buildings and piazzas we had counting last night and today, but we felt like we pretty much had our fill of Firenze.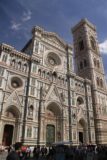 Again, we wished we could've spent some more of today visiting the must-see museums, but since they were closed and we weren't about to sacrifice time in Venice in favor of these works of art, we pretty much called our sightseeing of the city done.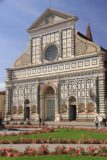 As it got close to 4pm, we were back at the Stazione Centrale di Firenze. While there, we examined the ticket machines to see when the trains for Venice would take off, and we targeted 8:30am tomorrow morning though we didn't commit to buying tickets yet (though the thought heavily crossed my mind that we ought to buy them now).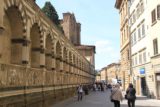 And finally after this bit of scouting, we were back in the room at 4:10pm where we pretty much spent the time internetting and even sneaking in a siesta nap for a bit as we were clearly tired for such a busy day of sightseeing and lack of sleep from last night.
Of course the silence was broken by some infrequent groans of some lady apparently having sex. We couldn't tell if it was next door or above us, but it was quite audible and it lasted some time. But in the end, it faded into background noise and we managed even Skype Tahia before we headed back into town for dinner at 7:10pm.
We didn't have to go far because this place called the Trattoria Maso ended up having something that Julie and I were looking for a long time. It was a dish called brasato, and it was beef stewed in Chianti wine over and over again. It had a sentimental place in our hearts because it was the secondi that was served at our dinner reception at Villa Toscana in Whitianga, New Zealand. And for nearly 9 years, it was a dish we were looking for (let alone trying to figure out what it was spelled).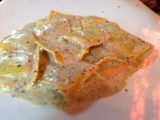 Even when we met up with Giorgio and Margherita at their place in January 2010, we had trouble explaining to them the dish we were trying to identify. They didn't remember either since they served multiple clients over the years.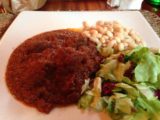 So at 7:30pm, we had our dinner of that brasato as our secondo piatto while our primo piatto was a kind of ravioli stuffed with cheese and spinach swimming in truffle sauce. Then, we finished off with a tiramisu.
When we were done eating at 8pm, I was hoping to do one more twilight photo run, but by this time the clouds had pretty much covered the city. This didn't bode well for tomorrow's trip to Venezia where we hoped there would be at least some good weather.
Anyways, we headed right back to our room and called it an end to our visit to Florence. We intended to ride the 8:30am train to Venezia tomorrow, which meant we had to be up and ready to go by then.
Day 13: DAVID RESURRECTED
It was 6am when we awoke to our alarms. Although we slept relatively early last night, the rest wasn't what it could have been due to a pair of pesky mosquitoes in the room taking pot shots at me while buzzing close to my ear. It turned out that I unknowingly slapped one of them, and it ended up dead on my shoulder with blood, which meant it must've gotten some of my blood.
In any case, we got up early in anticipation of taking the 8:30am train to Venice (Venezia). So after going downstairs a little after 7am for the usual basic breakfast provided by the hotel, we then took our stuff and headed straight for the train station with our belongings.
The first order of business was to go to one of the self-help kiosks to buy train tickets for the 8:30 train. However, when we got to the machine, we found out that both the 8:30 and 9:15 trains were sold out! Damn! I knew we should have bought the tickets last night!
Anyways, we then went to the biglieteria where the lady there said the same thing the machines already indicated to us. So we just bought tickets for the next train at 10:15am, which was about a little over 2.5 hours away.
The next thought on our minds was to use this unexpected time in the city to do the one thing we wanted to do but couldn't because yesterday the museums were closed… see Michelangelo's statue of David! There was some concern whether the lines would be so long that we might even miss the 10:15am train, but at this point, we weren't going to sit idly at the train station for over two hours. So the decision was made and we were now going to act on it.
Indeed, the idea of seeing David was resurrected…
The first order of business was to use the left luggage service at the train station. It was a fairly hefty price we had to pay at 5 euros per piece of luggage and we were going to leave 4 so that would mean we would pay 20 euros at the end in cash (probably amounting to almost $30 USD). So we walked all the way to the platform 16, left our stuff, showed the staff our passports, and off we went at 7:45am.
Now that we were pretty familiar with the city, we quickly walked in the rain all the way towards the Duomo. However in our haste to get moving, we neglected to bring an umbrella so we pretty much went through the city taking our chances with getting wet if the weather decided to rain harder.
At the same time, we didn't exactly know where the Galleria dell'Academia was so we simultaneously walked with a mission while also scanning our paper city map trying to find the place so we knew where we were supposed to be going once we got to the landmarks like the Duomo, Piazza della Signoria, or the Uffizi.
After some tense moments in scanning the map for the small icon and words for the Galleria dell'Academia, I eventually found it, which was northeast of the Duomo. Fortunately, we were approaching the Duomo from the west so there would be no wasted steps.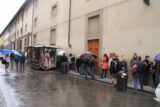 Sure enough, there was a brown sign on the street we were supposed to turn left on and then we hastily walked the narrow streets following the sign for the Academic Gallery. And eventually at 8:05am, we saw a line of people waiting along the wall and so we assumed that this was the line we were supposed to be in.
The place didn't open until 8:15am and we noticed that we weren't that far from the entrance for the non-reserved door. Meanwhile, we were standing underneath the shelter of someone's stand selling souvenirs, post cards, and some clothing. That shelter was welcome so we wouldn't get pelted on some more by the rain.
As the opening time neared, we could see that both the reserved and non-reserved lines grew quickly. It was a good thing we came here when we did, but still our thoughts turned to how quickly the line moved and whether they might make us wait in another line after purchasing tickets (ala the Chateau de Versailles in France).
By around 8:30am, we had gone through the metal detectors, bought our tickets at 11 euros per person (credit cards accepted as cash supply was becoming a problem again), and then quickly made our way directly to the statue of David where there was already a big crowd gathered in front of the statue.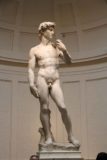 On the way here, there was a sign at the entrance that said we couldn't take photos nor take videos. That was annoying because both Julie and I knew that they did this to make the visitors buy post cards. So Julie managed to sneak a photo in with her iPhone 5, while I hid behind a column to sneak a photo in with my DSLR.
This photo prohibition had nothing to do with respecting the art and everything to do with squeezing more money out of tourists so I had no problem doing our subtle act of rebellion.
Now that we got our look at David, we had time to spare so we looked at text below the marble statue and realized that its significance was really more historical than masterpiece (though lots of people swear you could see this statue and forget about seeing everything else).
The idea was that the statue was carved with David's sling mostly hidden to emphasize that he used more brains than brawn to defeath Goliath. The Florentine people identified with this figure and it became a rallying symbol that they could be inspired to defeat larger armies by outsmarting their adversaries.
History (which is typically written by those who were victors after the end of conflicts) seemed to corroborate the idea that David was the rallying icon for an entire republic or city-state or whatever form of governance that prevailed in the 15th century.
But in addition to the history, we started to pay more attention to the detail of the David statue because there was a lot more to his famous uncircumsized penis. Indeed, we saw there was some serious attention to detail as we could see protruding veins in his arms, his feet, and even some skin features. We figured that he must've had someone model for him as he was laying out the concept to figure out how to chisel out the marble.
It was either that or it was Michelangelo's fantasy or idea of what a perfect male should look like. This was something we started to wonder about with the new appreciation of Michelangelo's homosexuality. And it was in this light that we could better understand how he could've really put so much effort and energy into this work.
Anyways, we had more time to browse around the galleries that we missed earlier (including an intriguing musical gallery showing instruments used as early as the 15th century). Most of the paintings were of religious scenes, which we didn't really appreciate much considering we weren't into religion.
When we returned to the statue of David, I tried to sneak in another photo to show the context of the crowd, but that was when the nearest proctor caught me and immediately pointed at me to put the camera into my bag and never take it out.
So from that point on, we basically just explored the rest of the gallery pretty much looking at whatever caught our eye. Perhaps the most interesting works were the ones that showed what Florence looked like back in the day. We were also interested in a room showing other casts and statues, which was in the room to the left of the large Michelangelo room.
One thing we noticed about all the other statues besides the David one was that the level of detail devoted to David wasn't there in those other statues (most of them smaller). I guess it was these subtle things that made us start to understand why people thought the David statue was as worth the price of admission and the wait as anything.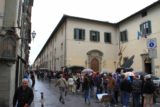 We pretty much glossed over the religious works. So after exploring everything that we could (including an upstairs gallery near the exit), we left the museum at 9:10am.
Now the next order of business was to return to the Hotels Club and use their Wi-Fi so we could let the Palazzo Cendon know that we were running two hours late due to the 8:30 train being sold out.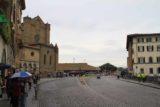 When that was done at 9:35am, we then went to the train station to collect our bags, pay the 20 euros, and then patiently await the train for Venice.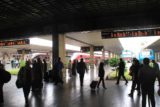 Eventually at 10am, we boarded the train, which was crowded this time (as opposed to the Roma to Napoli train). There was someone using our seat as he was occupying two seats, but then we claimed our seat and everything was cool.
Even though this train was to get us to the island part of Venice in 2 hours 10 minutes, I didn't realize that it made at least 3 or 4 stops… one in Bologna Central at 10:55am, one in Padova at 11:50am, and then one in Venice at 12:10pm but not with the water canals (which we almost mistakenly got off on).
It was a good thing I helped this one Italian girl getting her stuff down from the top (which was out of her reach) as she was about to disembark the train. When Julie and I had mistakenly gotten off, she eventually told me in Italian that it wasn't the Santa Lucia station (though we did start to wonder something was a bit off).
Another couple did the same thing, so it was fortunate that we were back on the train (though we did annoy some folks who were trying to get off since he thought we were just boarding the train before everyone got off).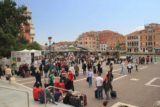 Finally at 12:25pm, we were at the Venice Santa Lucia Station. As soon as we walked out of the station, we knew we were in the right place as we could see the water canal (part of the Grand Canal) as well as crowds of people gathered about this area. Further affirming our suspiscions were information booths, biglieterias for water taxis, and general foot traffic.
Now, Julie and I had to walk to our accommodation knowing it would be about a ten-minute walk with our luggage to get there. Eventually, we'd get to the accommodation by about 12:45pm where we had to wait some 15 minutes for our room to be ready.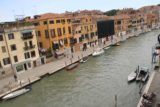 We used that time to ask the receptionist for a map of the city as well as talk about how to get to places like Burano as well as the taxi to the airport when we left the day after tomorrow.
We also saw the forecast and knew that if we wanted to see Burano, that would have to be today while the weather was still somewhat agreeable. That was because tomorow, the forecast called for rain pretty much all day.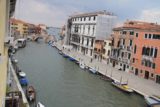 So once we finally got into our room at 1:05pm, which was very nice with a view of the Canareggio Canal, we left our stuff and headed out into the city at around 1:30pm.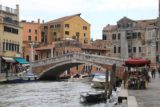 First order of business was to find the tickets for the water taxi. At first, we went to the tabacchaio but the one nearest to us was closed.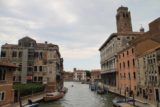 So we walked through the main thoroughfare at the Spanish Quarter and eventually returned to the main area at the rail station. There, we bought a pair of 48 hour tickets at a whopping 40 euros per person!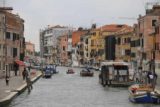 I wasn't sure how much everything costed individually, but that was a pretty hefty price to pay.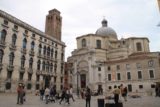 I guess the convenience of not having to go to another line to secure tickets might help us save time.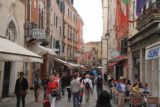 Anyways, we got onto a water taxi that took us out to the outskirts of Venice Island at Fondamente Nove. We had to pay careful attention to the signs on each boarding pontoon because it appeared that there was nothing in English that would help us know when to get on or off the boats.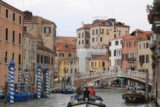 When I asked the employee where the change stop was to go to Burano, he told me we were about to get off at the F9 stop which was next. He then said we had to walk over the bridge to get to the boarding pontoon for Murano and Burano. A local also said the same thing to me in Italian as he pointed out the bridge we had to walk over and the station we had to wait at just as the boat was about to stop.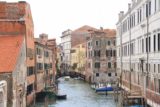 Then, we got on the now-crowded boat when the Burano boat arrived (they really pack in the people here) and after another rather lengthy taxi stretch where taking photos was pretty much out-of-the-question since the water taxis were like sardines, we finally arrived at Burano at 3:05pm.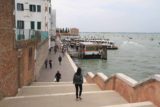 There was a station that said "Burano" so we knew we were in the right place though the colorful homes (ala Recoleta in Buenos Aires, Argentina) kind of hinted to us that we were in the right place anyways.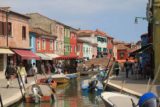 While Venice was mostly depressingly overcast, we could see that Burano was still under the sunkissed skies. So that brought out some more color on those homes flanking the narrow canals of this small island.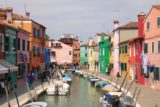 As Julie anticipated (having been here before), this was the place that she called a photographer's dream.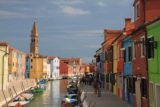 Basically each small canal we walked along, we saw attractively colored buildings adding more interest to an already interesting scene. After briefly seeing what Venice was like, we could see that Burano was far more interesting from a scenic allure standpoint.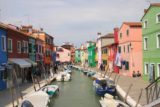 As we got towards the other edge of the island, we saw there was a clock tower with a pretty severe lean. It was almost as if we had stumbled across yet another torre pendente, except this one looked like it could go at any time.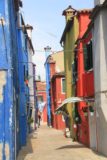 Another difference was that Pisa's Leaning Tower was very elaborate and made of marble. This one was aged and looked like if it went, it would go into the water without too much care, it seemed.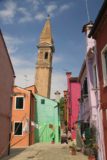 Something Julie noticed as we were walking in the quieter parts of town was that many residents put cloths covering their front doors. We wondered if the residents weren't too pleased with people randomly photographing their front doors or posing in front of them. Julie said they didn't have this some 6 years ago when she went with her Mom.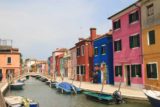 After we had our fill of the leaning tower of Burano, we noticed this other quiet canal where the water was calm enough to produce some blurry reflections. It was also a much quieter part of town so we soaked in the atmosphere here while still trying to take photos and capture the magic of the scenery.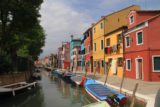 One thing we noticed was missing while touring Burano was that none of the boats within the smaller canals of the town were moving. Could it be that the town was pretty much in siesta except for a few vendors and restauranteurs trying to make a living off the tourists who would still flock to here?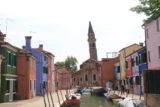 Anyways we spent a little more time in this quiet corner of Burano looking back at the leaning tower of Burano in the distance as well as some more brightly colored buildings adding some life to our photos of the charming canals here.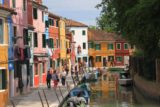 Next, we slowly made our way back to the happening piazza, which was on the way back to the main area and eventually the boat dock we were to wait for the return boat to the main part of Venice.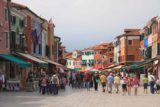 That happening piazza contrasted greatly to the relative quiet of the corner we were strolling through as this seemed more like the now-familiar happening town squares that all Italian towns seem to have. Indeed, these piazzas were like the heartbeat of a particular city or town as we sensed the vast majority of the energy of the place was here.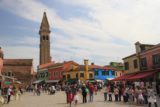 Eventually, we had our fill of exploring the quiet streets and canals of Burano. By about 4:05pm, we waited in a rather big queue of people anxiously waiting to get on the next water taxi back to Venice. I doubted that all these people would fit on the next boat back to town.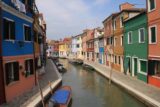 Sure enough when the boat arrived and people crowded their way on (almost reminiscent of what China was like), we didn't make the cutoff and had to wait for the next boat at 4:15pm. But at least we were close to the front so perhaps at least one of us could have a seat.
And at 4:30pm, we were finally on another crowded boat taxi back to the F9 stop (Fondamente Nove). Julie managed to get us a pair of seats and so the boat lulled me to sleep while Julie was busy reading her Kindle. Once we got to the F9 stop, we then went over to the next waiting boat, which was also crowded with people as it would drop us off back at the rail station (I think it was the 4.2 line or something).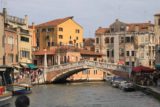 Finally at 5:40pm, we were at the rail station and we were looking for the Vaporetto dell'Arte line, which was the tourist line we were supposed to take through the Grand Canal.
At 5:50pm, a boat showed up that looked like an ordinary water taxi. At first we waited, but then there were people pushing through between us and it started to make us wonder if this was the boat. When I asked the employee if it was the Vaporetto for the Grand Canal, he said yes. Maybe he heard Grand Canal because I was skeptical if this was the tourist line.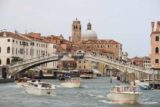 I was especially skeptical after the second or third stop when it was clear this was just an ordinary water taxi.
When we saw the Vaporetto boat going the other way, we knew it wasn't the one we were looking for. Damn!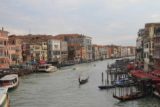 Anyways, we got off the boat by the Rialto Bridge at 6pm. The bridge was crowded with people getting that iconic view of the Grand Canal looking to the south. Meanwhile, we tried to get a better look at the bridge from further away from it but none of the views were that great from the land.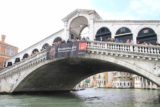 Oh well, I was bumming we couldn't do the Vaporetto on the Grand Canal on a day like today when the weather was cooperating. I guess we'll have to do it tomorrow.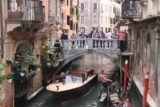 But as we were walking from Rialto to the Piazza San Marco, we noticed there was a foreign exchange bank that yielded the best rates we had seen this entire trip (at about 1.318 $USD for each euro). Julie went ahead and exchanged $300 of the $500 we had left. I guess this kind of offset the $300 we exchanged while being ripped off at the Florence airport at 1.487 $USD for each euro).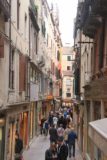 We were finally at Piazza San Marco at around 6:30pm. There were some ugly scaffoldings on the basilica facing the west side of the square. However, the clock tower was very impressive and the square itself was very grand.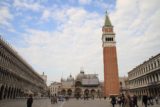 I wondered if there would be flooding, but there was none on this day.
After we were done checking out the main square, we then walked towards the waterfront where we saw there was a lot more action going on here as well.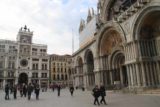 Meanwhile, there were some impressive Duomos and other buildings across the grand canal, and it seemed like there were signs of wealth and grandeur in all directions. I could only imagine how intimidating this must have been to a foreigner when they'd pull into this port and perhaps come to the realization that the Venetian Republic was not to be messed with.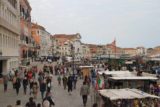 Anyways, when we had our fill of the general Piazza San Marco, we then walked towards a restaurant that Julie spotted on LP. But along the way, Julie spotted this Hard Rock Cafe next to a smelly patch of canals and a bunch of parked gondolas.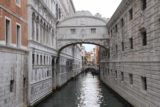 Since Julie was pretty sick of Italian food at this point, she actually made us go into the Hard Rock where it felt like we were back in an American chain again ('cause we were).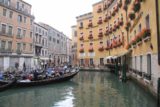 We knew the food was going to be crap and probably overpriced, but Julie wasn't going to be denied a respite from the constant bombardment of Italian food that she had had enough of for the time being.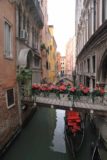 I couldn't believe that we were eating American food in Venice of all places, but I guess it is what it is.
At least there was some atmosphere as there were a bunch of young Italian teenie-boppers who were singing as a chorus the Carlie Rae Jepsen song "Call Me Maybe" while the video was on. That kind of added to the atmosphere while our waitress was also singing along.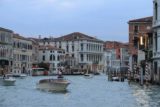 At 8:10pm, we were done eating and we headed back to the Piazza San Marco waterfront. Once again, we were hoping to catch the Vaporetto back to the rail station, but alas, it didn't seem like there was one.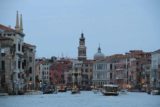 So we took another one of those crowded and frequently-stopping water taxis back to the main station, but we secured the frontmost spot we could get so I could take some twilight photos from the boat.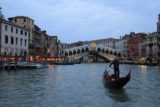 I wasn't sure how blurry most of them would get, but I figured this would be the most atmospheric time to be taking photos anyways.
I guess the Vaporetto would have to wait for tomorrow.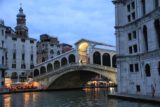 It was a shame that we couldn't have done the Vaporetto dell'Arte on the return trip at this hour because the ride certainly was atmospheric.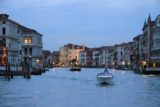 As the skies were darkening and the lights were coming on, we could see that Venice was taking on a different kind of energy. Sure the thoroughfares remained very busy, but it seemed like the boat traffic was significantly less as well as the typical tour group traffic as well.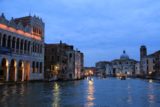 As the skies got darker, I could see that my camera was struggling to keep the photos sharp. So a larger percentage of my shots as the boat was in motion turned out blurry.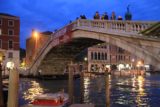 Still, of the photos that did turn out, the moody magic of the twilight hours in one of the most unique cities on earth was certainly apparent. I guess that's the beauty of digital photography since you have nothing to lose as you shoot first and worry about which ones could be discarded later.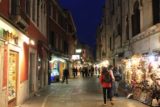 After getting off the boat, we then made the now-familiar walk through the so-called Spanish Quarter, which was that thoroughfare between the railway station and one of the side canals that would ultimately lead us to the Palazzo Cendon.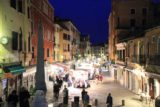 At 9:35pm, we were finally back at the room after walking from the rail station to the Palazzo Cendon. We'd spend a couple of hours down in the lobby using the Wi-Fi while Skyping Tahia. Since we paid 10 euros for this, we mind as well do this (while seeing other guests coming in at the same time).
Eventually after 2am (after opening and drinking a glass from a bottle of complimentary wine), we finally slept.
Day 14: SUN-KISSED VENICE
It was 6:30am when Julie awoke. I awoke 15 minutes later.
As expected, we saw that the ground was wet so clearly it had rained last night as the weather forecast had predicted. However, we were expecting it to rain all day today, and so far this morning, it seemed like the rain had let up with even some sun breaking through the clouds!
I thought that was a good sign because we didn't want to leave Venice without at least seeing the sun kiss this "city of dreams."
Julie and I were dilly-dallying in the room for a bit and it wasn't until 8:45am when we were having the included breakfast. And it wasn't until 9:25am when we finally started to head into town to explore it at leisure.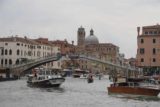 We had no set itinerary today because what we expected to do today (i.e. Burano) was done yesterday out of the fear that we would miss the sun if we didn't seize the moment and go for it on that day. The jury was still out as to whether the sun would be cooperative today given the unsettled weather that was predicted. It's times like these where living for the now often means not taking anything for granted by putting things off.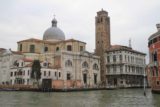 The first order of business as we walked into the city was to go all the way to the railway station where we would catch the Vaporetto dell'Arte. However, since it was still around 9:40am, we waited a bit for the Vaporetto dell'Arte tour boat to show up. We made the mistake yesterday of taking the crowded and rushed taxis so we weren't going to make the same mistake today (though we saw other people do what we did yesterday after a bit of confusion).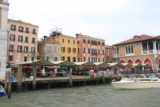 We were about 20 minutes too early as the Vaporetto dell'Arte didn't start running from the Ferrovia stop until 10am. That was when the brownish boat with long slick shape showed up and Julie quickly staked a claim to one of the frontmost seats.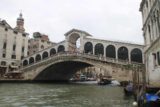 The skies were brighter but still overcast so my photo run consisted of many photos of the same things as yesterday, except this time it involved the brightness of the daylight hours.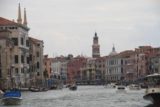 Unlike the other boats that we took yesterday, this Vaporetto was far different in that there were plenty of open spaces and I was able to maneuver around the boat frequently so I could take some photos of the buildings flanking the Grand Canal. They also checked the tickets to make sure that the special ticket we bought was shown and that it was valid according to the machine on board the boat.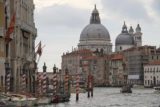 Julie was able to employ the Wi-Fi on her phone but only to listen in to the guided tour of the Vaporetto, which was in multiple languages.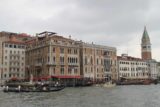 As expected, I was able to photograph the Grand Canal from the middle of the canal itself (especially in spots where bridges didn't span the wide canal) as well as check out some of the attractions like the Rialto Bridge itself.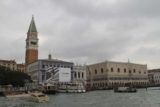 By about 10:50am, we got off the Vaporetto a couple of stops beyond the Piazza San Marco. We disembarked instead at the Giardini dei Biennale. And at this spot, it looked like there was quite a large crowd of people as well as long queues as it seemed like there was some kind of event going on.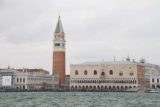 We didn't bother with the event and instead walked along the lengthy waterfront. We could see the tall protruding clock tower of Piazza San Marco way in the distance so we knew that we had a bit of a walk before us in order to get back to the Piazza San Marco (which was where it seemed like quite a bit of the action was).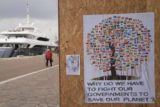 During the walk, we could see that there were plenty of day visitors who got off cruise ships. We could also see that the sun was starting to persist a little more as there were some pockets of blue skies. Indeed, the weather was turning out far better than what the forecast had predicted!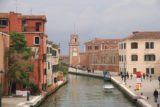 Even though we felt like it was still pretty early in the morning, the promenade on the waterfront was still quite crowded with many pedestrians.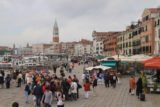 And with each bridge that we crossed from a side canal, we kept thinking that we were finally back at Piazza San Marco only to realize that we still had more walking to do.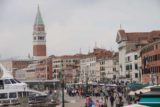 Still, looking into some of the side canals while ambling along this atmospheric walk (while also getting exercise in the process) was certainly a pleasurable way to experience Venice as far as we were concerned.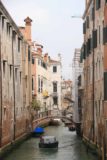 Even though we were only walking along the marina, we could really appreciate the vast size of Venice and its network of canals as we continued to routinely pass by these smaller canals that seemed so inviting for us to explore.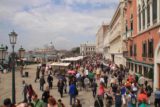 Indeed, this place was huge, and now we could understand why Julie called Annecy, France a poor man's version of Venice. There simply wasn't another place on earth like this place.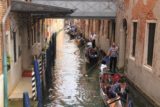 It wasn't until 11:30am when we finally made it back to the Piazza San Marco.
And while Julie and I were still ambling along with no real itinerary, we decided that now was the time to go for some early lunch.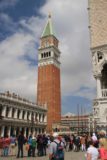 At first we looked at the immediate Piazza San Marco area. However, we didn't particularly want to be ripped off just to be in the action on this go around. So we ended up rejecting all the restaurant choices on the perimeter of the square.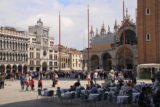 So then we started to go into some of the smaller alleyways again. Again, we had no clue where we were going, but for some reason, it seemed like no matter which obscure street we chose, there were lots of foot traffic and plenty of shops.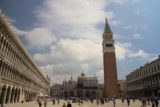 Indeed, it was as if the entire city of Venice around the Piazza San Marco area was just one big shopping mall arcade!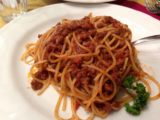 So we'd eventually find this place that was less fussy and had some decent fare of squid ink pasta as well as Julie's preferred spaghetti alla Bolognese.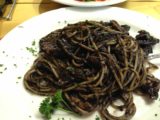 The lunch was simple but hit the spot, and it wasn't one of those nearly $100 USD places. Now we were a little concerned about our stomachs since we had apparently gotten sick off of bad seafood in Positano, but this time around, it seemed like there were no issues with the food.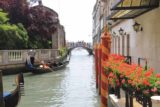 At around 12:40pm, we were done with the pastas and left the restaurant. Next, we ambled about aimlessly some more back towards the Piazza San Marco where we then noticed there were some people atop the tall tower overlooking the square. So we decided to go line up for this tower (called the Campanile), paid the 8 euros per person, and took the crowded lift up to the crowded viewpoint at the top.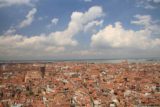 Up here, we could see all around us a birds eye view of the city. We weren't high enough to see the curvature of the Grand Canal, but we could see the sea of red from the tiled rooftops of the buildings as well as the impressive features of some of the non-red-tiled buildings like the domes of the Basilica di San Marco as well as the wide square itself looking out the other side.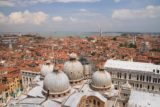 We could also see the mouth of the Grand Canal where there were plenty of boats criss-crossing the waterway on water that was more green than blue.
However, we couldn't get that S-shaped view of the Grand Canal since it was too buried deep amongst the tall buildings surrounding it.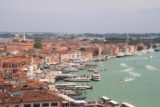 When we had our fill of the Campanile, we took the lift back down, and then went to go line up for the Basilica di San Marco.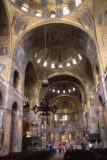 Unlike the Cathedral in Florence, this basilia had a grand and impressive interior. There were other parts of the basilica that could be toured, but they folks here were nickle and diming by charging more euros to get into places like the Treasure Room, the terrace, and others.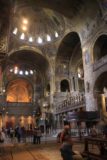 We passed on those, snuck in a couple of photos (even though the sign said no photos here), and then walked back out into the square by 1:40pm.
Next, we ambled about through some busy streets that I tended to refer to as the outdoor shopping mall (talk about monetizing the place!). The intent was to look for some of the smaller quieter canals for some more photos of Venice's canals.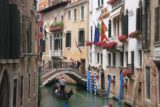 Ultimately, we'd stumble upon a few of them where we could see some gondola rides perusing those smaller canals that were practically insisting that we take more photos of them.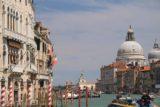 I knew that we didn't even visit a large chunk of Venice in the two days that we were here, and so that was kind of a testament to just how grand this city of Dreams was. Yet at the same time, Julie and I were getting Venice'd out so we figured now was the time to go back to the Piazza San Marco and catch the Vaporetto back in the other direction along the Grand Canal to the Ferrovia Station.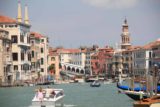 Ultimately, we'd board that Vaporetto dell'Arte and it was just Julie, me and another couple on this long brown boat. With the sun kissing the city with some blue skies in the direction we were looking, I took even more photographs (on top of the nearly 1,000 photos I had already taken to this point) which seemed to have more color and life than what I had taken earlier this morning.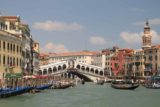 Indeed, it was like Rome all over again from the standpoint that there was some nasty predictions of 90% showers and thunderstorms on the two days we were there, but then the weather cleared up quickly and the skies ended up being sunnier than anticipated.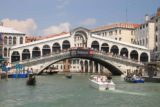 It was great that we were able to get some bel tempo in Venezia because it would have been a shame to spend time in this beautiful city without the benefit of the sun's kiss to add life to the scene (and our photographs).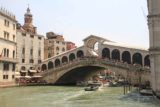 Finally at around 2:45pm, Julie and I decided on having a gelato run looking for this out-of-the-way place called Alaska.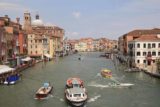 So we crossed the bridge by the Ferrovia Station and went into the San Croce area, which was much quieter than the thoroughfare between Rialto and Piazza San Marco.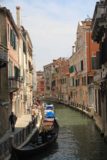 After passing by the place and making it to some square deeper into San Croce, we then backtracked towards the Ferrovia station thinking we mind as well give up on chasing food like so many times before (resulting in disappointment). But that was when Julie finally found the gelateria Alaska (at 3:25pm) which had a handful of people waiting as well as eating the gelato from here.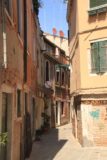 For about a euro per scoop, Julie tried the non-milk flavors of ginger, strawberry, and kiwi. Meanwhile, I had tiramisu, stracciatella, and pistacchio.
And after all the time and trouble spent looking or this place, Julie admitted that it was worth seeking it out as the gelato was light and not too sugary.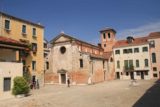 Finally at 3:55pm, we were back in the room at Palazzo Cendon. We saw the same receptionist as yesterday, and we got some more pointers from her about taking the transport lines back to the airport where we could then figure out how to get to the rental car place (since tomorrow, we would resume self-driving for the last week of the trip).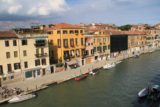 And so on this relaxed day, we did what the locals typically would do – have a siesta. Hopefully, we wouldn't oversleep to the point that we'd have dinner later than expected and miss out on seeing the Rialto area in twilight.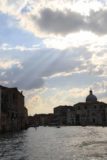 At around 5:45pm, we headed back into town after our brief afternoon nap. Outside, the buildings still looked like they were being sun kissed though I could also see some dark clouds around us.
The first thing we did was to take the public water transport to the Rialto Mercato dock where we then walked towards this place called All'Arco. It was basically a father and son joint that provided cichiere (basically bruschettas with some creative mix of toppings).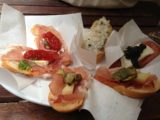 When we first walked into the humble corner deli at 6:30pm, we bought some 6 of them (of which 4 were different from each other). At a cost of 10 euros total including 2 bicchieri (glasses) of water, which we took to a nearby table just outside the corner deli in a seemingly quieter part of the area west of the Rialto Bridge and Market.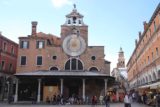 That pretty much acted as our appetizer (or antipasti if you will), and then we walked towards the bridge and looked for a more atmospheric dinner along the grand canal. We had a feeling that the food her wouldn't be great but we were after the ambience this time.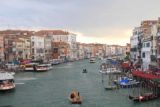 Anyways, we settled on this place further away from the Rialto Bridge on the right hand side where thre was a large group of restaurants all along the waterfront. We happened to pick one particular place because they served chicken cacciatore, which Julie really wanted to try.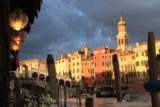 It was during this dinner that the skies really started to darken and the clouds unloaded on the city. Fortunately, we were eating within the sheltered dining area on the banks of the grand canal so we watched how the weather unfolded as the Rialto bridge emptied with the heavy rains (clearly people were seeking shelter) while watching some of the gondola riders in the open-air suffer.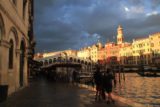 Unlike those folks, we weren't affected by this squall. We got to watch all the action from the comfort (except for the cigarette smoke) of our dinner table.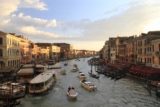 When dinner was over, it was around 8:20pm. So we then slowly walked across the Rialto Bridge while taking more pictures of the Grand Canal from the bridge's apex. Then, we continued walking away from the bridge downstream along the canal until we finally found the boat dock that more or less had Julie's panorama view she saw in a puzzle.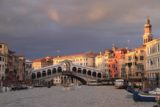 Unfortunately, that puzzle was taken later at night and I didn't have a tripod. I eventually waited for such lighting events to occur, but when 9pm rolled around, it just wasn't meant to be as not enough buildings were lit up to provide that twilight night glow.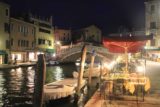 So in the end, Julie and I took the Line 1 boat back to the familiar Ferrovia, and then walked to the Palazzo Cendon.
At around 9:45pm, we were back in our room. We then took our laptop downstairs so we could Skype Tahia. And when that videoconference was done, Julie and I were left to our own devices to get whatever internetting needed to get done before we called it a day.
Tomorrow, we had to figure out how to get back onto the main land or bus station, and take that to the airport where we would then figure out how to get to the rental car area to commence with our last week in the country, which would be taking place in the far north.
Again, we hope that the weather would cooperate enough so we wouldn't have to cancel any of our waterfalling plans due to snow or hazardous conditions from such intense storms that were happening consistently it seemed throughout this trip.
Day 15: FROM CANALS TO ROADS
It was 7am when we awoke. One look outside our windows and we could see the weather was very overcast. At least this time, whether it would rain in Venice or not wouldn't matter to us since we were leaving this city like no other for the Marco Polo airport so we could start the next driving phase of our Italy trip.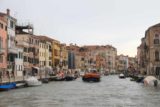 After getting our belongings packed and ready to go, we then had ourselves a quick basic breakfast. By around 8:50am, we were finished checking out of the Palazzo Cendon and were waiting at the Crea Station for the 4.1 boat towards Piazzale Roma, which was where the bus station was at.
It took a bit of time to wait since these 4.x lines only came around once every 20 minutes or so. But once we boarded it, we'd eventually get off at Piazzale Roma where we then walked quite a distance towards the bus area (basically following a bunch of people since we weren't sure which way we were supposed to be going).
We'd eventually join a queue of people with luggage going onto a local bus that was eventually headed to the airport. But I could tell by the number of stops it was going to make that it was probably going to be a long trip. And by 10am, my fears were realized as it ultimately took us some 45 minutes from the time we boarded the bus (6 euros per person) to the Marco Polo Airport.
From that point, we waited in the queue to talk with the Europcar personnel for our car hire pre-bookings, and by 10:50am, we were finally settled into our own set of wheels. This time, they put us in an Opel since they apparently ran out of the Fiat Panda that we booked with originally.
Now that I was back behind the wheel, it was now time to get back to Nature and start exploring some parts of Italy that not many people have heard of (let alone bother to explore)…
Visitor Comments:
Got something you'd like to share or say to keep the conversation going? Feel free to leave a comment below...
No users have replied to the content on this page