Day 11: THE CITY OF ART
…It wasn't until 7:55pm that we'd eventually be done TripAdvisoring for restaurants in town near our hotel. I wasn't too happy about the extra hour we killed chasing food when we could have toured the city while there was still light out.
We ultimately decided to eat at La Grotta di Leo, which was a pretty busy place, but we were able to be seated immediately.
The meal wasn't extraordinary, but Julie got her Bolognese-style pasta while I was devouring a beef "Florentine style" which was nothing more than a T-bone porterhouse steak. At least it was good to know that we finally got our appetite back for sure as we could keep down these heartier meals.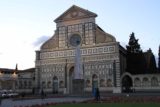 The dinner was done at around 8:50pm where we were finally out on the town to do some exploring.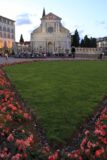 First up was the Old Bridge or Ponte Vecchio. Whether it was by accident or intentionally, we took a street past some Gelato Festival in the Piaza di Santa Maria Novella, which was a square near our hotel. The church looked elaborate and the piazza that the gelato festival was in was quite big with flowered plots sprinkled throughout. But we didn't bite on the gelato (even though today was its last day) and we kept going.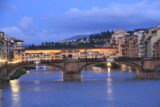 We ended up taking some street that eventually put us right by the river. The plan was to go to the Duomo first and get to the Old Bridge by way of the more signature sights on this scouting walk, but since we were by the river, we mind as well go backwards of what we had planned.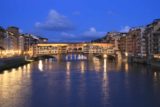 Seeing the Old Bridge to our left, we immediately walked towards a bridge right before it. This was where we tried to take advantage of what remaining little light we had to take twilight shots of the river and the Old Bridge.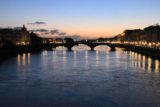 After we had our fill of photographing the Ponte Vecchio, we then walked to the bridge itself which was still dark even though there were some street performers on the bridge.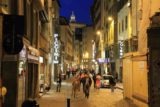 We then walked a main thoroughfare towards the Ufizi Gallery as well as the Gallery of the Academics. Unfortunately, these exhibits would close on Monday (i.e. the one full day we were in Florence), and so we realized that we were pretty much screwed in terms of trying to see the Statue of David or something. Again, that kind of summed up the bad combination of our timing and our luck on this trip.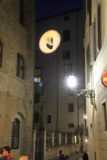 So now we were faced with a decision on either staying in Florence on the day we leave Venice for a little longer or just go right to Venice and worry about these exhibits years later when Tahia gets old enough to travel with us.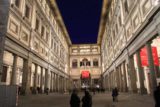 We then stumbled into a massively large outdoor corridor that was the Uffizi Museum. We could see there was a huge line for it, and I guess people wanted to ge their fix of the paintings today since every museum (including this one) seemed to be closed tomorrow as well.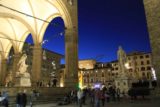 As we ambled towards the main part of the square with a very big tower, we couldn't help but notice there were other statues flanking the permiter of the square (Piazza). It was almost as if this place was like an outdoor museum.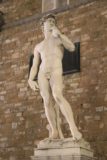 Heck, there was even an outdoor replica statue of David (though we knew the real deal that was out of marble was inside the Galleria dell'Academia). And since the museum containing David nor the Uffizi gallery wasn't open tomorrow while we were going to Venice the day after, I guess this was just one of those things we have to live without for a while.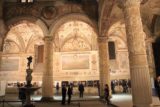 Next, we did some exploring of the grand square, which was a very happening place at this time of night. The Piazza della Signoria was busy, but there was also a big line for the Uffizi Gallery apparently even this late into the evening. I guess they tried to get their looks in before it would be closed tomorrow.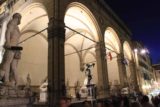 Meanwhile, being in the Piazza della Signoria further added to the artsy aura about Florence. Heck that combination of the Uffizi buildings combined with the outdoor museum of statues (known as the Loggia dei Lanzi) that we'd normally find inside museums just further amplified that sense that indeed we were at the heart of the Renaissance.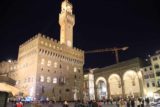 It was a shame that our lone full day in Florence would be on Monday, which was a day when the museums would close because all this Renaissance vibe I was getting while touring this part of the city made me very curious about touring the Uffizi Gallery while also desiring to experience this atmosphere once again while given the benefit of a full day in the city (not as stressful and action-packed as today was).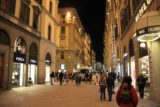 Once we had our fill of this grand square, we then continued on the thoroughfare until we saw there was a Charlie Chaplin immitator who had drawn quite a crowd. But behind the crowd we were at another large square, which happened to be the Piazza de la Repubblica.
Next, we continued back on the thoroughfare towards Il Duomo. And when we saw the front facade of the cathedral, we were quite blown away by its grandeur of white marble with ornate decorations.
Indeed, with the sense of scale plus the marble and jam-packed attractions all in one shot, it made me wonder whether it was all fake or something because it certainly stopped looking like it was for real (in a good sense). It must be the loss of perspective or something as it was easy to get lost in the grandeur of all these edifices in close proximity to each other.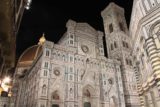 Once we finally had our fill of the Duomo, we came to realize that our 90-minute tour of the city was plenty of time for this orientation of Florence. And based on what we saw in this brief time, I could totally see why many people considered Florence to be one of the most beautiful cities in the world.
Indeed, it had a lot of things going for it in such a compact area that was easily within walking distance so we wouldn't need a cab or bus (it didn't look like there was a metro from what we could tell).
Eventually, at 10:25pm, we were back in the room. It was late, and we still had yet to shower and brush, so I knew that this would be one of those nights where I wouldn't get much sleep. We still had to get up somewhat early in order to better maximize our time tomorrow (since that was all we had to visit this city).
I also spent some time looking at the weather forecast, and with just our foul luck, it appeared that the window of fair weather in Venice will elude us when we'd get there the day after tomorrow. Indeed, the rain simply follows us where it counts, and well, there was not much we could do about it.
So we mind as well just take it one day at a time and whatever happens happens.
And so ended this rather hectic and long day…