Day 12: FLORENCE WITHOUT THE ART
It was 6:45am when we awoke. I actually didn't wake up to the alarm for some reason, despite me going to be at around 2am last night.
It took us a little time for Julie to get ready while I was busy trying to get caught up on writing up travel entries like today while also updating our photo library from the day before.
After another basic included breakfast at the Hotels Club, we were then finally ready to get out the door by 8:45am to start to see Firenze by day.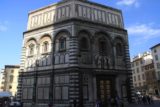 As soon as we stepped outside, we could see that the sun was definitely out though there were some patchy clouds (some of them were dark) that were also present. In any case, we headed straight to the Duomo area where we knew from last night exactly which way we were to walk.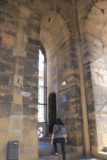 Once we got to the Duomo, we could see that it was somewhat against the sun. Still, we knew that the Duomo itself wasn't open until 10am so we wondered what we might be doing in the mean time.
But after exploring a little bit behind the tall tower to the right of the main cathedral, we noticed that this tower was called the Campanile and it was open since 8:30am. So we went ahead and worked our way up these steps to the very top of this really tall tower.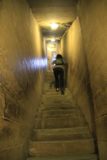 Signs indicated that there were at least some 414 steps, but it was the size of the steps and the narrowness of the corridors that kept us on our toes when it came to our own personal safety. I couldn't imagine how people could do this excursion with their kids or how elders' knees could handle the grind of the stairs.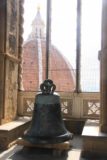 Meanwhile, there had to have been at least four or five rest sections with long stair sections in between each "rest" area. Eventually, we made it up to the very top of the Campanile, where there were fences covering the square path on the very roof of the structure.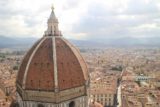 Looking in one direction, we could see the dome of the Duomo up close. Looking in other directions, we could see the Piazza della Signoria, the train station at Stazione Centrale, and plenty of other red-roofed buildings (ala Dubrovnik in Croatia) as well as the mountains further north of the city.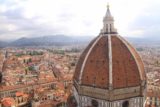 Given all the work we expended to get up here, we spent as much time as we could before we had our fill of the panorama atop the Campanile. When we looked towards the Duomo, we could see there were some people that had already made it up to the cathedral's dome-shaped top as well.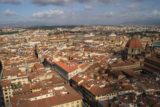 However, we decided to pass on that one since we knew it was be like getting a panorama atop Half Dome where the view would be missing the iconic monolith itself. Except in this instance, the view of the Duomo would be missing from the top of the Duomo itself.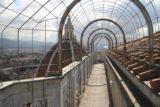 So we went back down the steps while squeezing in between people going the other way and walls through the tight staired corridor to continue.
During the descent, we spent a little more time examining some of the rest areas as they offered some surprising views of the city even though the caging was a bit narrower than at the top of the Campanile. So that forced us to be very specific with our composition and photo subjects.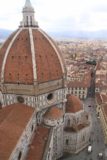 Still, we noticed a liberty-bell-looking bell fronting a Duomo from down here as well as some interesting facades on the corner of some building next to the Duomo.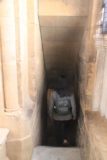 We could see more people suffering as they were on their way up, and we were sure glad that we had gotten past the hard part long ago. Indeed, it was pretty much all downhill for us as long as we didn't stumble and fall down these steps!
By the time it was 9:50am, we were back at the bottom thinking we next ought to line up for the Cathedral itself. After all with such a grand and elaborate facade, there must be somethinng going on there for visitors to gawk at and take more photos, right?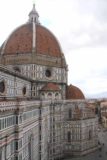 So we did just that. We lined up as the line snaked its way across some road traffic from the Cathedral door and out to the Battistero. We managed to converse with a German family who stood in front of us who managed to see the statue of David and said it was worth the wait.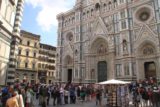 But with today being Monday (the lone full day we had in Florence), we were made aware last night that the museums would be closed today, and this included the Uffizi Gallery and the Galleria dell'Academia where the real David was moved for safe keeping. I would have thought Sunday would be that closure day like in Rome, but instead, it was Monday in Florence. Who knew?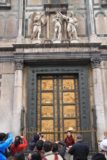 I guess that didn't make the agony of having to choose between seeing the statue tomorrow at the expense of spending less time in Venezia any easier. But at the end of the day, we made the executive decision to just not do the statue of David nor the Uffizi gallery.
We'll worry about doing those things when Tahia gets old enough to appreciate this stuff (perhaps when she happens to be learning about European history at the same time), though all these dreams would be dependent on whether fuel prices remain within affordability and that the stability of the world order is somewhat maintained (not a guaranteed thing by any stretch of the imagination going forward).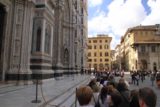 When 10am rolled around, the line started moving. When we finally went inside, we pretty much walked into a very grand cathedral, but it seemed to be very bare compared to the other duomos or basilicas we had walked into in other places like Siena, Assisi, and the Vatican. I even overheard a British person say, "Well, this place was rather disappointing, isn't it?"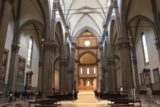 Indeed, it wasn't worth the line, and we quickly snapped our pictures then made our way back outside. That was when we walked around the backside of the Duomo's exterior where we could see scaffoldings as some restoration work was being done there.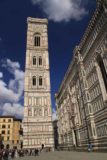 At least the lighting of the morning was great from this side and we took a few more photos of the tall tower of the Campanile as well as swung around to the other side of the Duomo to see the long line for the Duomo itself.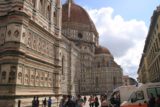 It turned out that this other line was to go up the steps to the top of the Duomo itself. Except having already done the Campanile, we decided to forego the line for the Duomo and continue walking around the city's main thoroughfares and piazzas and attractions while the day was fine so far.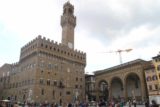 After going to Grom's for some hyped about gelato right when they opened, it turned out that they hardly gave you much gelato (it was about as stingy as Berthillon in Paris and wasn't all that great), we then walked the familiar thoroughfare towards the Piazza della Signoria.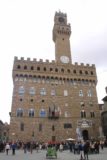 It was 10:45am by the time we made it to the very busy piazza where there were many tour groups as well as school groups. I guess I could totally appreciate why touring of popular attractions generally would be best done in the afternoon when those groups would have disbanded by then. But in the mean time, we just snapped photos and tried to make sure we didn't get anything stolen in the ocean of humanity at this piazza.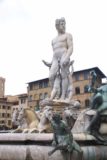 We did manage to take some photos of the replica of David, which stood where he was originally until the original got moved. In the mean time, we were looking up at the outdoor statue museum where we started to pay attention to what was shown by those statues.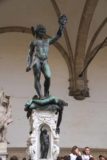 In one instance, there was a morbid scene of a beheaded woman with a dude holding the head while her body was slumped under him. It made me wonder whether this was a depiction of the male-dominated society back in the day. Julie wasn't too keen on the message of this statue (though after further reading, it was supposed to be the beheaded Medusa).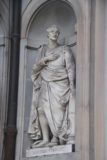 By this time, the clouds had covered the sun and the weather suddenly turned windy and cold with a few sprinkles. So Julie and I continued about on our walk along the Piazza deghli Uffizi. When we walked all the way to the end, we were right on the banks of the river.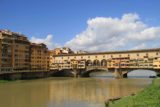 To our surprise, the sun was back out and we also saw the backside of the Ponte Vecchio (Old Bridge) where it seemed to exhibit a bit more color and character than the front side that we saw last night.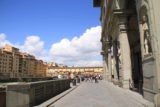 So we took some time to take photos of the bridge from here, and then we walked further away from the bridge towards the next bridge so we could take photos of Ponte Vecchio from the middle of the river. The Old Bridge was quite distant from this neighboring bridge so we had to be careful about being selective of the photo subjects.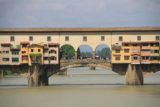 Now with more time than we knew what to do with (thanks to the closure of the museums), we decided to chase that panorama that Julie recalled being at when we was on a bus tour with her Mom several years ago.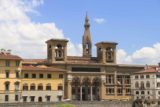 So we continued walking further away from the Ponte Vecchio and started to notice signs for Fortezza in Belvedere thinking that that was the place we were supposed to get the panoramas. So we followed the signs and then walked up a pretty long road until we finally reached the entrance to the Fortezza in Belvedere.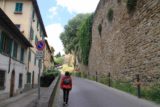 Unfortunately, it was closed on Mondays (yet another reason why today was not an optimal time to be in the city of Florence).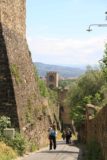 So we walked back down the way we came when we realized that the Piazzale di Michelangelo was actually the overview we should have chased in the first place.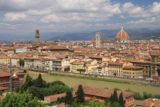 And after another round of climbing (this time up a long series of steps), we finally reached the crowded piazza at 12:15pm. Julie believed that this was the place where her tour bus took her and her mom. And now, it was our turn to soak in this panorama together while the sun was in between being hidden and being out in the open to add some of that sun kiss on the city below.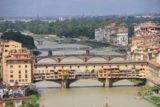 At this panorama, we could pretty much see all the city's main buildings in one go. To the far left was the river and the Ponte Vecchio (Old Bridge). To the right of it, we could see the tall clock tower overlooking the Piazza della Signoria, and then to the right of that, we could see the imposing Duomo.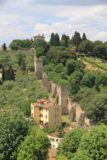 There were still more interesting architectures that we hadn't seen up close further to the right, but including those in our photos would only make our photos flatter and smaller.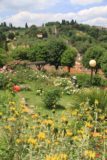 So we probably spent another 30 minutes or so soaking in this scene before we finally had our fill and decided to head back towards the Old Bridge for some lunch.
Now along the way down from the overlook, we passed through an impressive rose garden where we took a little more time taking photos of this garden, which added quite a bit of color to the photos we took down here.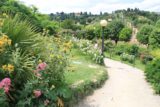 Then, we finally walked down the long series of steps as we passed through the archway of the entrance (now exit for us) of the Centro Storico (Historical Center) of Firenze. And along the way, we noticed this pizza place that claimed to make their pizza in Naples style called Pizzacchiere.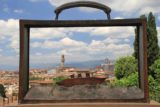 Julie must've gotten over her disappointment of the two places we had in Napoli because we was game to try out this place. So at 1:05pm, we were seated and finally were off our feet as we looked forward to having lunch and testing our appetite once again.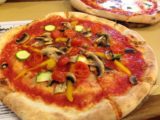 It turned out that the Napolean style pizza was crispier than what we had in Napoli. Julie enjoyed the pizza as it had the texture she was looking for though she said she liked the sauciness and the ingredients from the Naples places like Gino Sorbillo better. I guess you can't win them all.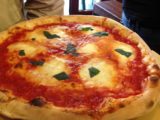 Anyways, I was practicing my Italian when I could with the lady who co-owned this place since it was a humble Mom and Pop joint. I could see them working in the kitchen at the same time she was going back and forth between tables to wait customers and settle bills. Talk about working hard!
Nonetheless, I was flattered by her telling me that I spoke with an accurate accent and that she encouraged me to keep trying to speak Italian. That was very encouraging and nice to hear from her.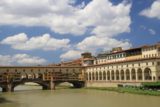 After we were done with the lunch and paid our bill at 1:45pm, we then headed over to the Ponte Vecchio where this time we walked on the bridge itself. However, the bridge itself didn't seem like anything special as it was basically just another cobblestone road flanked by a bunch of jewelry shops.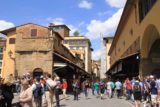 On both sides of the middle of the bridge, there were statues and vistas, but they weren't as impressive since there didn't seem to be any worthwhile photo subjects.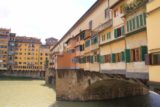 So we then crossed the bridge and walked slowly back up towards the main outdoor piazza of the Uffizi where we could see that the afternoon blue skies were really the time to take daytime photographs of the iconic buildings.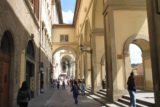 After passing through the scaffoldings, we were back at the Piazza della Signoria where we took more photos of the David replica as well as have a more peaceful time at the outdoor art gallery where we examined more of the statues here while also chilling out and getting off our feet momentarily once again as we soaked in the atmosphere of the place.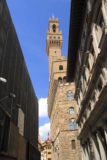 Unlike in the morning, it was much quieter at the Loggia dei Lanzi (i.e. the outdoor museum) so we took our time taking pictures at a leisurely pace while also having a bit of a rest while watching the world go by within the Piazza della Signoria.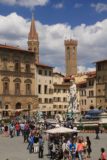 We also studied some of the statues a bit more and found that the more warrior-like statues in the front seemed to have grabbed our attention more so than the more philosophical statues perched against the walls.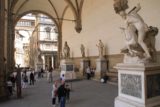 When we had our rest, we then ambled about the Piazza della Signoria trying once again to capture in photos the grandeur and energy of this place (even though it wasn't nearly as crowded nor as cloudy as this morning).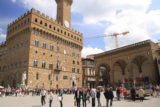 There was just something alluring about this place that I could put my finger on other than we just felt like we were within an art masterpiece. It was definitely a sensation that I didn't expect to be pleasantly blindsided with.
Next, we then slowly ambled our way back over to the Piazza del Duomo once again where the marbled exterior of the grand edifice was now juxtaposed with blue skies. Indeed, this somewhat fine weather we were having was probably the first time since we left the Amalfi Coast that we had a day that was free of rain (though admittedly, we only stayed in one place that is Florence instead of moving around all over Toscana like we were before).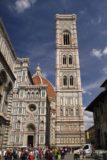 I don't know how many photos of the same buildings and piazzas we had counting last night and today, but we felt like we pretty much had our fill of Firenze.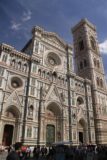 Again, we wished we could've spent some more of today visiting the must-see museums, but since they were closed and we weren't about to sacrifice time in Venice in favor of these works of art, we pretty much called our sightseeing of the city done.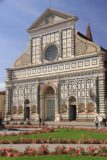 As it got close to 4pm, we were back at the Stazione Centrale di Firenze. While there, we examined the ticket machines to see when the trains for Venice would take off, and we targeted 8:30am tomorrow morning though we didn't commit to buying tickets yet (though the thought heavily crossed my mind that we ought to buy them now).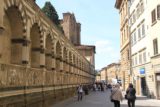 And finally after this bit of scouting, we were back in the room at 4:10pm where we pretty much spent the time internetting and even sneaking in a siesta nap for a bit as we were clearly tired for such a busy day of sightseeing and lack of sleep from last night.
Of course the silence was broken by some infrequent groans of some lady apparently having sex. We couldn't tell if it was next door or above us, but it was quite audible and it lasted some time. But in the end, it faded into background noise and we managed even Skype Tahia before we headed back into town for dinner at 7:10pm.
We didn't have to go far because this place called the Trattoria Maso ended up having something that Julie and I were looking for a long time. It was a dish called brasato, and it was beef stewed in Chianti wine over and over again. It had a sentimental place in our hearts because it was the secondi that was served at our dinner reception at Villa Toscana in Whitianga, New Zealand. And for nearly 9 years, it was a dish we were looking for (let alone trying to figure out what it was spelled).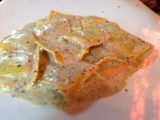 Even when we met up with Giorgio and Margherita at their place in January 2010, we had trouble explaining to them the dish we were trying to identify. They didn't remember either since they served multiple clients over the years.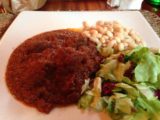 So at 7:30pm, we had our dinner of that brasato as our secondo piatto while our primo piatto was a kind of ravioli stuffed with cheese and spinach swimming in truffle sauce. Then, we finished off with a tiramisu.
When we were done eating at 8pm, I was hoping to do one more twilight photo run, but by this time the clouds had pretty much covered the city. This didn't bode well for tomorrow's trip to Venezia where we hoped there would be at least some good weather.
Anyways, we headed right back to our room and called it an end to our visit to Florence. We intended to ride the 8:30am train to Venezia tomorrow, which meant we had to be up and ready to go by then.