Day 15: FROM CANALS TO ROADS
It was 7am when we awoke. One look outside our windows and we could see the weather was very overcast. At least this time, whether it would rain in Venice or not wouldn't matter to us since we were leaving this city like no other for the Marco Polo airport so we could start the next driving phase of our Italy trip.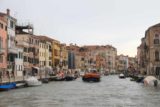 After getting our belongings packed and ready to go, we then had ourselves a quick basic breakfast. By around 8:50am, we were finished checking out of the Palazzo Cendon and were waiting at the Crea Station for the 4.1 boat towards Piazzale Roma, which was where the bus station was at.
It took a bit of time to wait since these 4.x lines only came around once every 20 minutes or so. But once we boarded it, we'd eventually get off at Piazzale Roma where we then walked quite a distance towards the bus area (basically following a bunch of people since we weren't sure which way we were supposed to be going).
We'd eventually join a queue of people with luggage going onto a local bus that was eventually headed to the airport. But I could tell by the number of stops it was going to make that it was probably going to be a long trip. And by 10am, my fears were realized as it ultimately took us some 45 minutes from the time we boarded the bus (6 euros per person) to the Marco Polo Airport.
From that point, we waited in the queue to talk with the Europcar personnel for our car hire pre-bookings, and by 10:50am, we were finally settled into our own set of wheels. This time, they put us in an Opel since they apparently ran out of the Fiat Panda that we booked with originally.
Now that I was back behind the wheel, it was now time to get back to Nature and start exploring some parts of Italy that not many people have heard of (let alone bother to explore)…