Day 28 (July 10, 2018 – Graz, Austria): "Within Our Graz"
It was 5am when I awoke. I used this time to catch up on blogging as well as getting packed up and ready to go. I managed to make one trip down to the garage to load up the car, and then have some cold breakfast before taking down Julie's other luggages to the car.
So it wouldn't be until around 7:30am when we finally left the Hyatt. We had to pay 120 euros for the 3 nights of parking (at 40 euros/night) so that was painful. But I guess we can't really complain otherwise since we did stay the three nights for free as we used Hyatt Points.
The drive out of Wien was a little bit confusing at first, but eventually we followed the Danube River and eventually made our way to the A2 freeway. Once we were on the autobahn, we then made good progress as we eventually exited the freeway at Wollensee (sp???) before taking local roads all the way to Muggendorf, which was the town closest to Myrafalle – the waterfall target for today.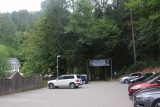 We eventually made it to the well-signed car park for the Myrafalle at 8:35am. There were already cars parking at this limited lot just as we showed up. It didn't take long before other incoming visitors would have to park further up the hill at the spillover car park.
I didn't realize that Myrafalle was so popular, but it's turning out to be the case on this visit. Yet in my research, it didn't seem like a significant waterfall, so I wondered what could be the draw?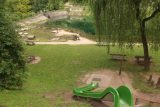 Well, Tahia was already looking forward to play time when she realized that there was a playground below the car park. Meanwhile, there was an automatic machine to buy tickets at 5 euros per adult and 1.50 per child above age 6. I only had exact change for the 2 adult tickets so I only bought those.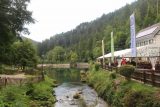 However, when Julie went to the kassa and paid for the tickets as well as for the kid, that was when the lady took my tickets and gave back cash.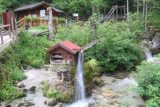 In any case, at the entrance, there was a pair of attractive small cascades as well as one that was spilling into a waterwheel that was causing a carousel to spin. That was kind of cute.
I also noticed a rock with some plaques on it showing Maria Theresia and some verbiage suggesting that she made a visit here in 1801. Perhaps this also helped to make this waterfall as popular as it seemed to be.
After going through the self-help turnstile with our paid tickets, we then walked up several wooden bridges and steps. With each level we were going up, we were seeing different aspects of the Myrafalle Cascades.
Eventually, we reached one attractive part where there appeared to still be more of the path ascending towards the top of the falls, but Julie and Tahia were content to check out the falls from here and turn back.
I actually kept going up past this point and I saw that there was another tier further upstream that was segmented and attractive. And I'd imagine that this was the last of the Myrafalle Waterfalls.
I then did a little more exploring to see if the cascades kept going. But as I got past the top of the falls, the path started to flatten out more, then cross a bridge, and then the path followed the stream past minor cascades as it continued up eventually towards the Hausstein Massif.
There was also a path that rejoined the road, which kind of reminded me of the Schiessentumpel hike in Luxembourg. But this was my turnaround point, and I went back down the path to enjoy the Myrafalle Waterfalls once again.
As I was going down, I was taking videos of each section. I was half trying to interact with the Austrians going up the waterfalls while trying to keep on filming. But there were quite a few people making their way up so the popularity of this falls was undeniable.
Eventually at about 9:45am, I rejoined Julie and Tahia at the playground. Apparently, Tahia had a good time playing there where at first she was going down the long slides then swinging on the swings. However, the thing that really made her happy was a raft where she had to pull herself across from one dock to the other.
That gave her a good workout, and it certainly was fine by Julie and I as it kept her out of the iPhone and physically interacting with her surroundings.
Finally at 10:25am, we were back in the car just as more families were descending upon the playground. I guess this excursion took less time than I anticipated so we might end up in Graz sooner than I expected. The GPS suggested we'd be there at around 12:30pm, but we told the apartment owner (that we were staying at for tonight) that we'd be there around 1pm.
At first there was some confusion about whether we had already paid or not (we did it through booking.com) and Julie got the company on the phone to communicate with the owner to ensure that we wouldn't be double paying.
But eventually when we finally got into the innenstadt of Graz at around 12:35pm, we had a lot of trouble trying to figure out where we were supposed to park. The owner kept saying there was street parking, but it didn't look like it.
As we were trying to look for the apartment, we found suddenly found ourselves in an area where only trams and pedestrians were allowed in. And we couldn't figure out how to get out. There was one pedestrian that told us the obvious (that we couldn't be in there), and so we made a three-point turn and slowly drove our way back out to where we thought the apartment was supposed to be.
After making one circle and returning to the same spot, we then found an alleyway. So we pulled over at some spot in that alleyway where none of the signs appeared to suggest it was an illegal spot. And as we were walking around looking for clues about whether we were parked ok and whether we could get the apartment keys, a parking enforcement guy showed up with a camera phone and ready to cite us.
Good thing I was there to talk to him. He said we could not stop where we were at, but he suggested that we could stop for 10 minutes in a blue parallel parking spot just behind us (a guy had just vacated that spot).
So with that, we did just that while we were waiting for Julie to do her thing.
Eventually at about 1pm, Julie came back and told us that a good parking spot had just opened up near where she was waiting for the apartment owner to show up with the keys (it wasn't in the lock as shown in her video that she sent to Julie). We probably showed up too early as the owner seemed to be in between her full-time job and managing the apartment with us checking in.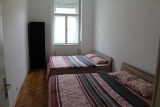 Finally at 1:15pm, the lady showed up and showed us to the apartment. We finally got settled, and the lady was quickly making her way back out to her day job.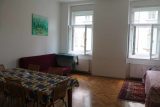 Meanwhile, I had to feed the meter, and at first, I paid about a euro, which was good for a little over an hour of parking. And in the time that we waited to feed the meter again, Julie went across the street to Eurospar and made a quick Frankfurter and kraut lunch (basically hot dogs without the unhealthy ketchup and bun, and more pure meat than what we'd find back at home).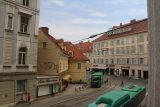 Come to think of it, the Germans did indeed invent the sausages that were essentially the pink meat of hot dogs. And apparently Austrians called the sausages Frankfurters (since they were apparently from Frankfurt, Germany) since the word "wiener" suggested that it was something that was invented in "Wien" or Vienna.
So the term "Viennese Sausage" could have very well been the bastardization of the term "wiener" referring to hot dog when in fact "wiener" was more commonly referring to the ubiquitous "Wiener Schnitzel" which was basically breaded veal chops or cutlet.
Anyways, after the quick lunch and feeding the meter the maximum 3 hours (for 5.4 euros), we then started walking around at about 2:50pm. We were supposed to come back and feed the meter at around 5:40pm. So hopefully, this would be enough time to tour Graz and come back.
However, we wound up wasting the first 45 minutes going across the river on some kind of TripAdvisor detour. Julie was looking for the city center and old buildings as well as the Schlossberg (where there was the town's signature tower and views), but we wound up far from it.
During this fruitless detour, we saw the same parking enforcement guy on foot patrol making the rounds. We already saw one car parked with a parkschein, but apparently he noted that the ticket had expired and so warranted the citation. That reminded me that we had better make sure our parking ticket wouldn't be expired with no replacement ticket to ensure we're in good shape…
So it wouldn't be until around 3:35pm when we were finally back at the zentrum near Jakominiplatz, and then we finally found a tourist info site at 4pm, where we then got oriented, got helpful city maps, and got good advice from the lady working there.
With the dark clouds looming and a rain storm coming, we knew we had to make haste in order to make it up to the clock tower on Schlossberg. However, as Julie was busy being distracted by spontaneous purchases of popcorn and figuring out how to take pictures of the main platz (Hauptplatz) surrounded by old buildings, I gave her my car keys and told her that I'll meet them at the top while they go back and feed the meter since their sense of urgency wasn't very high despite Mother Nature showing signs suggesting otherwise.
So off I went though I did think in the back of my mind that it might not be easy to rejoin them again given that the clock tower complex might be bigger than anticipated.
Regardless, after going up the steps (and not doing the lift nor the funicular), I sweated my way up to an attractive garden with a view of the clock tower in the background. Then, I soaked in the views before climbing even higher past the clock tower and going up towards the Chinese pagoda and Bastion.
By around 5pm, I had made it up to the bastion on my own, and soaked in the views of the city's red-rooftops, which someone from this city at the Hyatt concierge told us about. However at the same time, I was wondering when Julie and Tahia would join me as I saw for myself how easy it was to not find each other given how big the bastion area was (which was my biggest fear about being separated and meeting here).
In any case, I spent some more time taking pictures, and checking out other interesting parts of the bastion as well as some church tower. I also found the top of the funicular though I wasn't sure if Julie and Tahia were going up that way or going up the lift by the steps that I chose not to take earlier.
After sitting around the clock tower at 5:25pm, I then started walking back up slowly in the direction of the Chinese pagoda and bastion. That was when I started to hear Julie yelling out my name in the distance. I still couldn't see her, but I suspected that she was at the bastion overlook, and after climbing a little higher on the road leading up to the pagoda, I saw Julie taking pictures.
That was when I yelled back to her, and eventually we reunited at around 5:45pm.
Julie had already paid for tickets to go back down the funicular, but I told her that that was a waste of money because it's easy to go back down the steps and back into town. Not only that, but they would also get the best views of town as well as the best views of the clock tower.
So we went ahead and did just that just as dark clouds were definitely coming overhead while we could see rain bands in the distance. Time was definitely running out.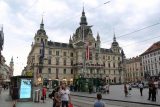 On our way back down, we took the obligatory shots of the clock tower, the attractive garden below it, and the steps leading back down to the downtown area (Innenstadt). Eventually at 6:15pm, we were finally back at ground level and proceeded to walk back in the direction of the Bio-markt called "Denn".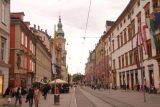 Along the way, Julie got distracted by some deals at Zara, and decided to go in there. But after not finding what she was after, we then went back outside and were greeted by the onset of some fairly heavy rain.
I was walking us towards the Denn bio-markt, but Julie wanted to go back to the apartment to get an umbrella. After it was too late and we crossed the street in the direction of the apartment, Julie finally realized what I was telling her – that the Denn was just down the street with some reasonable shelter to walk under.
Unfortunately, there was too much road traffic to jay walk back in the other direction. And so we had to deal with the rain, then go across the crosswalk in front of the Denn, and finally get into the supermarket at around 6:35pm while we were partially wet from the rain.
During our shopping run, Julie picked up some bacon, some qwark (which made her think that this place was like Alnatura), and some more fresh organic fruits.
Eventually at 6:55pm, we were back at our apartment. We once again had to walk through the rain, and we were winding down the day finally out of the rain and making preparations for dinner. I also checked the parking situation to see if that enforcement guy who was making the rounds on foot would be checking on our car, but fortunately I didn't see a citation. There was still 20 more minutes to go before parking was supposed to be free until 8am.
Anyways, back at the apartment, I was looking at the forecast. Unfortunately, tomorrow was going to rain all day. So this would involve a fair bit of uncomfortable hiking in the rain to two waterfalls as well as a castle.
Apparently, there was some degree of rain and/or T-storms in the forecast in each of the next several days. So I guess this is the new norm as we were returning to the mountains.
We'll have to see how all this plays out, but the show must go on – rain or shine…