Day 29 (July 11, 2018 – Obermillstatt, Austria): "Taking A Punt"
It was 4:55am when I awoke. It looked like there was light rain outside, and that made me worried about another uncomfortably soggy day of hiking where today's itinerary consisted of two waterfalls as well as a castle.
I was also worried about a later-than-planned start as Julie didn't get going with the breakfast until almost 6am. In the mean time, I was loading up the car in the rain to try to streamline the list of things to do. I was also taking out the trash and washing the dishes and the fruits amongst other things.
So it wasn't until around 7am when we were finally heading out. There was definitely lots of activity in the city of Graz at the time. But at least we were leaving the city. Unfortunately, with ambiguous directions from both GPS units (and Julie Facebooking instead of navigating on the phone with the GoogleMaps routing), we wound up incorrectly taking an 11km tunnel from Graz in the direction of Salzburg. So it wouldn't be until around 13-14km from the start of the tunnel before I could finally turn around and head back through the tunnel to be finally back on track.
That was a costly 30-minute detour and I was already not happy with the way things were starting out as time was of the essence, especially with thunderstorms predicted to occur in the late afternoon at Millstatt, which was where we were supposed to be spending the next two nights.
At least the drive went along pretty smoothly and the traffic was definitely light compared to other parts of both Germany and Austria throughout this trip. In fact, even the weather appeared to start letting up as we were getting closer to Klagenfurt.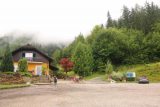 However, we first targeted the Wildensteiner Waterfall and I wouldn't start seeing signs for it until we got to the town of Gallienz. From there, I followed the signs and eventually made it to the empty but spacious car park at 8:50am. At this time, there was no rain but there were low-hanging clouds everywhere.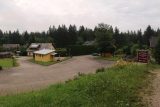 Upon seeing that the sign suggested the hike was 20 minutes to get up to the Wildensteiner Waterfall, Julie and Tahia also decided to join in on the hike. However, I pushed forward since I knew it took them a lot of time to get started and to hike up.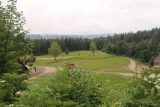 The path was pretty straightforward as it followed a sloping gravel path. However, there were false trails that wound up not going to the desired waterfall. And I managed to fall for one of them near some benches and a picnic table at a switchback. That narrow and potentially slippery and eroded path was nothing more than a shortcut skipping maybe a switchback or two, and it wasn't worth the overgrowth and wet pants.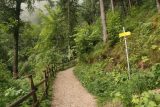 The uphill hike definitely made me sweat. It made me feel like I definitely needed to do some laundry as I was running out of clean clothes.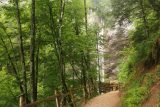 Eventually, I made it up to the dead-end where there was the impressive Wildensteiner Waterfall. It was a plunging drop of around 39m or so (I think that was what was reported), but they closed off the path leading to the backside of the falls due to the risk of rockfalls. So I was content to just get my views and document this pleasant plunging falls though Julie and Tahia were nowhere to be found even though I was lingering here for at least 15 minutes or so.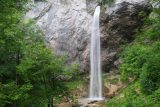 When I started heading back down, I finally started to see Julie and Tahia heading up, but they were distracted by picking wild raspberries as well as lesser wild strawberries.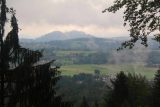 They'd eventually get up to the main lookout and partake in a few selfie shots before we had to get back down.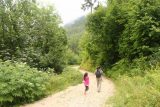 On the way back down, Julie and Tahia took their time picking more wild fruits. As we got closer to the bottom, there was one family that was coming up, and they were the only other people we saw on this excursion though we did get an early start.
By 10am, we were back at the car. Without the rain, it was still a bit warm given the exercising, but at least it wasn't soggy. And the cloud cover definitely didn't make it too oppressively hot.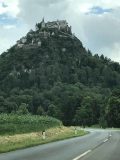 The GPS next made us take some local roads as we pretty much followed the shortest distance route. I was wondering if we could have taken a combination of the A10 and the S37 to get to the next excursion, which was the Burg Hochosterwitz. Since this wasn't on the Rick Steves literature, I knew that there wouldn't be many American tourists (we might be the only ones).
However, there remained the question of whether we'd have a pleasant surprise or something that wasn't worth the trouble of getting there.
Well, the drive as we approached the Burg Hochosterwitz was interesting as the castle was perched high up on the top of a hill. We couldn't stop and take pictures along the road, but it was definitely an imposing presence, and it whetted our appetite at checking out this off-the-beaten-path attraction of Carinthia.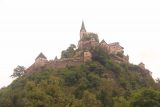 Anyways, we'd eventually get to the main car park for the Burg Hochosterwitz at 10:50am. The free parking spots were all taken up, and there was a logging crane blocking the way to get to the P4 lot further downhill. We did initially park at the very base of the hill, but when we saw that it was going to be a fairly brutally uphill hike, we went back to the car to get up to the Burgplatz.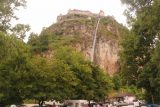 We eventually parked at Gasthaus Tatzer, which charged only 1 euro to park on their lot. Actually, that wasn't a bad price to pay and it certainly helped us to not have to deal with the circling vehicles trying to squeeze and find the limited free parking spots at the P2 lot.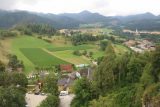 Then, we paid for the tickets to get into the Burg Hochosterwitz as well as paying for the crazy-looking vertical lift leading up to the castle itself. The price we wound up paying for the three of us was a whopping 65 euros! That might have costed us more than the combo ticket of Hohenschwangau and Neuschwanstein Castles. We were thinking that this better be worth it for this price.
Well, after going up the lift and rising quickly above the surrounding landscape, we were then deposited just outside the castle's battlements and ledges where we got commanding views of the farmlands and de-nuded parts of the forest as logging was definitely an apparent staple in this part of the country.
We also saw the context of the P4 lot, which appeared to have finally opened up as we saw a handful of cars down there.
Anyways, we walked right into the central courtyard of the castle, where there was a tented dining area. We spent some time looking around to see if there was an obvious spot to enter the castle and do some kind of tour like they'd do the other castles.
However, after walking into the museum, we saw that there was a display of armaments, armors, paintings, and even a little shrine or something.
The signs said that there were no photos allowed, but in this castle, it didn't seem like they were strictly enforcing this though we were being discrete about it. This museum visit was only for about 4 or 5 rooms. But after that, the path went back into the courtyard via a gift shop. And that was that.
We couldn't believe that we paid this much money for such a limited castle experience. And it felt more and more like a rip off.
In any case, we could have taken the funicular back down, but we decided that we should walk all the way back down and really made the castle visit worth our while.
And as we did this, we started to notice several towers during our descent. Perhaps the most compelling of the towers was a church tower fronted by a small flower garden.
Aside from that, we pretty much went from tower to tower (most of them seemed to date back to the late 16th century). However, with no real opportunity to get a feel for how this castle was used and learning more about who lived here, the experience pretty much amounted to an overpriced castle ruins experience even though the castle wasn't ruined (actually it seemed to be quite intact).
It wasn't until about 12:45pm when we finally ate at the Gasthaus Tatzer (the folks we paid to park at), and had ourselves a quick lunch of "Fitnessteller" (a fitness plate of grilled chicken salad, which was the only gluten free item on the menu) and a huge Wiener Schnitzel that Tahia and I shared.
The nice thing about this place was that they didn't charge for tap water, and that they accepted credit cards even though our meal was less than 20 euros.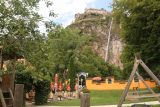 By 1:15pm, we were finally back at the car, where now the Gasthof parking lot was pretty much full when it was only about 2 or 3 cars full when we first parked here.
Regardless, we next continued our drive towards the Finsterbach Waterfalls, which was the next excursion of the day. The drive took a little bit longer than expected because the S37 highway heading towards Klagenfurt was closed near the Burg Hochosterwitz. It wasn't until we got past the detour that we finally got on the highway, and then made it past Villach before circling back to the northern shores of the Lake Ossiachersee towards the village of Sattendorf.
At first, it didn't seem like there was an obvious place to park the car (nor was the waterfall way that well-signed if you were coming by car). However, I did notice a sign that did say "Wasserfallweg", and I knew that had to be for the Finsterbach Falls.
There was one person that parallel parked on the narrow road in front of some building that didn't appear to be occupied. And even though there were some no parking signs in German that led uphill, it seemed like parallel parking on the road next to the wall beneath the unoccupied building seemed ok.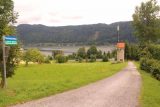 So I stopped the car at 2:10pm. Julie and Tahia opted to stay in the car (actually Tahia was napping). So if there was some parking issues, at least Julie could move the car.
About 10 minutes later, I finally got geared up and ready to go on the hike.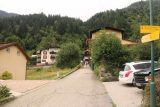 Pretty much immediately, the path went steeply up a paved road between some attractive homes with roses fronting windows, and then we went past some gasthaus with signs pointing the way to continue hiking up towards the waterfalls. Apparently, the first waterfall was a mere 5 minutes away. However, the third waterfall was said to be another 30 minutes away.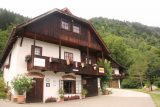 The paved path then gave way to a dual-tracked road that then quickly ended at the trail start. That was right in front of a junction with some benches and signs. And that was where I started to see the first Finsterbach Waterfall.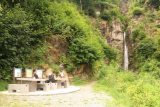 There was a spur trail that went right to its base. So I did that first, where I encountered a family that wanted me to take a family photo for them. When they left at around 2:30pm, I then spent a few more minutes documenting this pretty impressive waterfall, but I knew that there was so much more to see and do so I moved on.
The family that I helped out were in front of me, and they were going at a slow pace because the uphill trail quickly got steeper, more rockier, and rootier. It was still manageable, but I could see that some caution was definitely necessary as one other kid who was on his way down managed to slip and fall backwards though he sprung right back up and it wasn't a thing.
At one of the next junction, I saw signage pointing the way to the second waterfall. That family continued on to the third waterfall and didn't do the second one.
When I got to the second waterfall at around 2:45pm, I was all alone. It seemed like most people tended to skip this waterfall for some reason. It wasn't like it was hidden or anything.
Regardless, there was some kind of dam almost immediately downstream of the second waterfall, which seemed slightly smaller than the first but had a definite plunge. There was also a concerete wall discouraging anyone from trying to swim or get right at the base of this waterfall.
As I had my fill of this waterfall, when I started to head back to the main trail, I got some pretty decent (albeit partial) views towards the Ossiachersee and Sattendorf down below. It was neither a wide nor expansive view, but I always say lake views are best from above, and this certainly fit that criteria.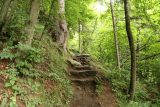 Next, the trail then climbed even more steeply where some of the rocky parts were slippery or were steep enough to cause some people to climb hand over feet. And this stretch definitely made me sweat a bit more even though the skies were overcast and threatening rain but the temperatures remained quite warm.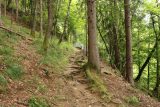 Eventually, the trail started to flatten out and then follow along the gorge before crossing a pair of bridges. There was some kind of mine or alcove or something fronting the first bridge. And after getting up to the second bridge, I started to partially see the impressive third waterfall though there was still enough foliage to make it hard to see the falls from here.
So I kept going up beyond the second bridge as it ascended steps before eventually reaching the dead-end where further progress was fenced off to keep people from becoming victims of rockfalls or landslides. I managed to get up here at about 3:10pm.
This waterfall was definitely larger than the first two waterfalls, and there were some attractive cascades immediately downstream from it though they were hard to photograph all-inclusively.
I actually had passed by that family I had helped out earlier on to get here, but as they started to linger, I started to leave as I took a video that took in all the different views of the third waterfall that I could notice and think of.
With that, I had my fill of the falls and headed back down. During the descent, I still saw a lot of people coming up as well as passing some people who were making their way down. Indeed, this waterfall was popular with Austrian holidaymakers, but I was under the impressive that I was once again the only foreign visitor.
Eventually at 3:35pm, I returned to the car where Julie and Tahia were waiting in the car. I was now a very smelly and sweaty mess from the physical exertion, and I started driving off as we were finally headed towards Millstatt.
The drive further west towards Millstatt was actually quite scenic as we were passing some lakes and villages along the way. Then, when we were approaching Millstatt, there were some attractive lakefront views (almost Hallstatt-like) except there were dark brooding clouds and mist in the distance suggesting that the rain had already started to fall.
At about 4:25pm, we saw a pretty big Eurospar barely 3km from Millstatt, and Julie decided that we should make a stop there and pick up some goods so we can eat in and self-cook.
At 5pm, we finally were finished with the grocery run. Then, we drove into the main drag through Millstatt where we found an info office that appeared to still be open. So Julie and Tahia went in there while I waited in the car.
When Julie returned, apparently, she got some disappointing news that the thermal lake and spa experience she wanted in town wasn't conducive for kids. Instead, we were referred to going to a town some 30-minutes away called Bad Kleinkirchheim, which was apparently more family-oriented than the Badehaus Millstattersee.
The Badehaus Millstattersee that Julie anticipated doing was a fully-nude type place, and that was the big reason why it wasn't a good idea to have Tahia there. I think the minimum age was like 16 years or something like that.
Another suggestion was that there was a swimming area at Spittal an der Drau. However, I think Julie had her mind set on the first suggestion, which we'd have to punt for tomorrow, depending on how much time we'd have left for it as it would be towards the end of the day.
By about 5:35pm, we finally made it up to our apartment-hotel at the Hotel Berghof, which was actually further up the mountain the town of Obermillstatt instead of Millstatt. Apparently, apartments were hard to come by in town, which was why Julie chose this location. In hindsight, however, I wondered if it would have been more kid-friendly to be staying in Spittal and der Drau since it seemed to be a bigger city and it was right off the autobahn, apparently.
The rain was coming down real hard at the time. And bringing stuff into our room was a bit of a rush while also trying to minimize the wetness. By 6pm, we finally got settled in the room. Unfortunately, there was no laundry so I'd still have to make do with re-using smelly clothes at this point of the trip.
However, everything else was working just fine as we had a bit more space, and it felt like the apartment experience that we had gotten used to throughout much of the earlier parts of this trip.
The rest of the evening was spent having the dinner and Facetiming loved ones back at home. During Julie's dinner preparations, the rain was coming down really hard, where we even heard some thunder.
However, eventually when the dinner ended, the storm looked like it blew over as we started to see some breaks in the clouds.
In any case, we looked at the forecast, and it was looking more and more than we should do the Grossglockner High Alpine Road tomorrow even though it was probably better using Zell am See as the base for that visit. Unfortunately, the weather looked foul for the rest of the days thereafter and so we would have to make that High Alpine Road experience work for tomorrow and still fit in Julie's spa experience.
There was even an attractive town at Linz, which was at the far south end of the Grossglockner Road and west of Millstatt. So by fitting that in to the overall excursion, it might be a bit much. But we'll have to see how it all plays out as there was definitely to see and do, but too little time (and lots of distance to cover) in this part of the trip.
Indeed, we'll just have to take it as it comes first thing in the morning tomorrow and see where we end up. Definitely the included breakfast (which wasn't until 8am) was not going to work tomorrow, but we could try to do that on the day we leave as I'd then be awaiting Raggaschlucht or other paid attractions to open up on our way to Zell am See…