Day 30 (July 12, 2018 – Obermillstatt, Austria): "Grossglocknered Out"
I woke up at about 5am. It was still cloudy outside, and that gave me a little cause for concern about the forecast suggesting that today was probably going to be the best weather day to do the Grossglockner High Alpine Road. Starting tomorrow, it was said that there'd be more thunderstorms or rain thereby forcing our hand into doing it today even though we were all the way to the southeast of it in Millstatt.
After Julie spent some time making eggs and frankfurters (hot dogs) with sauerkraut for breakfast (I also washed fruits and had some kefir to go with it), we were finally leaving at 6:50am.
Since it was quite the long drive to even get to the Grossglockner Road from the north (near Zell am See), I knew that both Julie and Tahia were going to get some shuteye during the drive.
One thing that was a little on the unusual side was that there was actually a toll station where people collected money for using the A10 autobahn. In our case, we spent something on the order of 11.50 euros. But I figured that it was justified considering that we had passed through a pair of very long tunnels. It's not that easy to have a road system deep in the Alps, but it appeared that the Austrians found that tunneling through the mountains was the most practial way to go.
As we went further north on the A10, we started getting into familiar territory as we were now more than half-way from Millstatt to Salzburg (even though we weren't going back to Salzburg on this day). Then, we headed west on the familiar B311 road where passing opportunities were limited. Regardless, it didn't take long before we kept going after bypassing the turnoff leading to Bad Gastein, which was something I had already done several days ago.
Eventually, I took the well-signed turnoff for the Grossglocknerstrasse, which then took me south near the turnoff for Zell am See (where we were going to spend the next three nights starting tomorrow). We were originally supposed to do the Grossglockner Road while we were staying in Zell am See, but given the weather predictions of bad weather for several consecutive days (spanning all the days that we were staying in Zell am See), we had to use today to take our shot.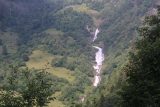 As we drove south on the road, we then pulled over at 8:45am as we saw an attractive waterfall behind some pullout with some benches and a fountain. It was overlooking some kind of wasserwerks (a dam and reservoir basically), but what I believed to be the Walcher Wasserfall was in plain sight just beyond bathed in morning light.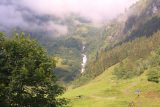 In the distance were some nice-looking alpine peaks. There were still some morning clouds clinging to parts of the northern faces of the mountains which still had some snow on parts of them, but there was enough of a teasing view to really get us excited about the road we were about to drive.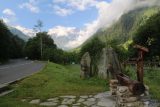 Since the focus for today was the Grossglockner Hochalmsstrasse, I took a rain check on doing this waterfall for another day. So ten minutes later, we continued our drive and almost a few minutes later, we had to enter through a toll gate near the village of Ferleiten where we had to pay a whopping 36 euros to go onto the Grossglockner Road!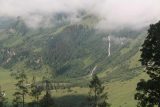 At least this toll road takes credit card, but with my mounting expenses on the international card and dwindling credit line (this trip was turning out to be one of the most expensive trips we've done to date), this didn't help our cause.
Anyways, as we continued past the toll gate, the road narrowed and climbed considerably. There were already tour buses slowly going up the narrow road as well as other passenger cars.
There were signs already marking the number of switchbacks as we were encountering them. And as the road climbed higher and higher, we were still getting partial views of the alpine scenery of the north faces, but the clouds became more persistent and it was getting harder to see what was up here.
So that made Julie wonder if we just picked a bad day to do this road. Still, I knew that today was the only predicted good weather day. It was going to be today or never.
As we continued driving higher and higher passing more kehre signs as we got up into the teens, Julie was keeping track of the map keys with some larger numbered signs. We wound up stopping at stops 4 and 5 since they were pretty much at the top of some kind of ridge where the road made a bit of a bow loop around an outcrop before making a descent.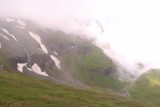 At these stops, there were definitely clouds blocking the expansive views, which was a shame. There were trails and cafes, but they didn't seem to be doing any business. Yet I did see tour buses parked here, and I thought to myself that the poor passengers that paid for that tour had to put up with stopping here and wasting precious time probably because they were on a set itinerary that said they had to stop here.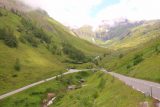 Naturally, we stopped here at around 9:20am, but we didn't linger for long. It was also quite chilly up here as the temperatures was said to be about 3C, which meant that we had to wear our jackets.
By now, Tahia had woken up but it was too bad there wasn't a whole lot to see as the clouds seemed to be getting thicker.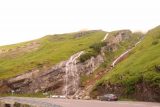 Next, we drove into some pretty dense fog where it was hard to see the vehicle in front of us. We momentarily got some relief when we passed through a couple of tunnels, and after another brief moment of thick fog, the road descended enough to be below the cloud cover and we were starting to see clearly again.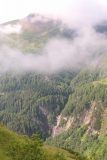 The road continued to descend, and it made us wonder if we were pretty much done seeing the high points of the Grossglockner Hochalmsstrasse. After feeling like we were getting ripped off at the Burg Hochosterwitz yesterday, this possibility was definitely on our minds.
Eventually, after flip flopping about what we should do next (going for the waterfall hike Gossnitz as well as Jungfernsprung, or continue taking this spur road up the Grossglocknerstrasse?), we ultimately continued on the Grossglocknerstrasse as now the road continued climbing again.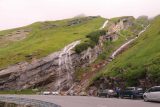 At this point, the kehre count was now in the 20s. But with the views seemingly starting to clear up even though there were still lots of clouds around, we made a stop for an unexpected roadside waterfall with a Fensterbach sign next to it. We were the first car here at about 9:55am, but it didn't take long before a good half-dozen or so cars also made a stop here.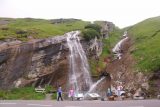 While we managed to get decent closeup views of this waterfall, it seemed like I was able to see more of this pair of converging cascades from the opposite side of the road. There wasn't a whole lot of a shoulder so I could stand by the guardrail and take my shots and videos while vehicles going downhill would be passing by, but I made do.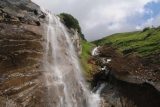 Looking downstream on the other side of the road, I managed to see an attractive plunging waterfall way down in the distance (possibly called Leitfall) as well as a tease at the steep valley down below.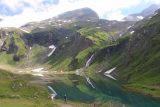 In one moment, I even managed to see the tip of the Grossglockner Peak, which revealed itself before being shrouded in dark clouds again.
At about 10:10am, we were back in the car and continued the slow drive.
However, it didn't take long before we went up a few more switchbacks as the sun was now breaking through and then we passed by an attractive man-modified wall cascade before hitting the next pullout area signed for Nassfeld Wasserfall.
Once again, we pulled over and checked out the scene, which was very scenic as there was the waterfall cascading into a colorful reservoir (held up by that wall-cascade we had driven before earlier on), but there was also a cirque further up this mini-valley.
On the left side of this valley (opposite the Nassfeld Waterfall) was another waterfall that was thinly flowing. We could even look back downhill at some cafe or gasthaus against the backdrop of switchbacks and imposing mountains partially obscured by stubborn clouds now willing to be burned off.
We took some time to walk a path that took us almost directly across the Nassfeld Waterfall, and there were fewer people willing to leave their cars to get out here, which was refreshing.
With the sun continuing to break through and burn off most of the clouds around us, we could have easily lingered here for much longer just admiring the color of the "lake" which I believe was exacerbated by the man-made contraptions further below closer to the road (probably to control the waterflow and protect the road; or at least provide water or something to the alpine house further downhill).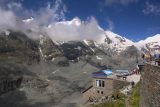 So it wouldn't be until about 10:50am when we finally got back into the car. With all the tour buses and motorcycles and other passenger cars making their way uphill, I was concerned that there might be limited parking at the very end of this road (or at least where the highlight views would be).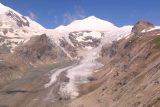 In any case, after passing by a limited car park in front of some restaurant and cafe, we kept driving as we would eventually make our way towards the covered P4 parking garage. That lower lot we had passed by earlier was where the tour buses had to stop because apparently the remaining 350m stretch of road was too narrow for them.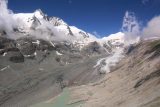 The views along this stretch of road were definitely mind-blowing as we could see the teasing glimpses of the Grossglockner Peak making in appearance when stubborn dark patches of clouds weren't covering it. However, the Pasterze Glacier was looking quite compelling though a large chunk of it looked like it was dirty ice. There were still some stretches of snow and ice further uphill, however, and it made the scene against the clearing skies look like we were on top of the world.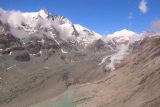 Anyways, as we were approaching the P4 lot alongside all the pedestrians walking and gawking on the paths overlooking the glacier and the valley left behind, we were relieved at seeing that the P4 lot was an indoor parking garage.
It was a smart thing that they had this parking structure to handle such a large volume of traffic. And it was nice that the parking was free (we weren't getting nickel-and-dimed for once; though it was probably included in the whopping 36 euros we paid to get on this toll road in the first place). So we had no trouble finding parking at 10:55am, and then we promptly headed out to soak in the views by foot.
Indeed, it was nice to finally get our shots of the Grossglockner Peak (when it revealed itself), which could very well be the highest point in Austria at 3798m. However, a sign said that we were now at an altitude of 2369m above sea level. Lots of people wore jackets up here, but the sun was intensifying and beating down on us threatening to cause sun burn.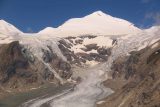 As we continued soaking in the views, we could see that there was a gletscherbahn that took people down a funicular towards the bottom of the glacier-carved valley. Unfortunately, it looked like that bahn only went down to the rocks below or at least close to the dirty ice where it was hard to tell if it was still glacier or not.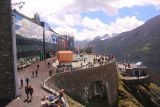 We knew that Global Warming accelerated the diminishing of this glacier (said to be the second largest ice field in Eastern Europe), and like with Glacier National Park in Montana, this place probably would only have a few more years before they're all gone (though this one might last a bit more than the 15 years remaining that the NP service predicted for those in Montana).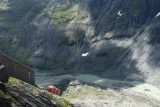 My thoughts also turned to the Briksdal Glacier, which was one glacier that we got real close to, but now I bet that that one also probably lost most of its ice volume if we'd be fortunate to come back to it.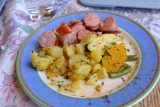 We then decided to have an early lunch at around 11:30am at one of the self-help cafes with a nice view of both the glacier and peak through giant windows. We wound up eating large hot dog-like wurstls with grilled veggies. Tahia and I shared the wurstl with cheese and bacon, while Julie got the plainer one so it was gluten free.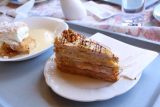 We also indulged on a bit of a dessert where some kind of merengue topping apple strudel and swimming in vanilla sauce was the non-gluten frei dessert while Julie got some kind of Esterhazytorte though she felt that one was drier than the one we had in Hallstatt.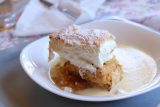 Anyways, it was a good thing that Julie gotten us to have the early lunch because by the time we were done, it became much busier. So we briefly soaked in the views, didn't spend more time on the Franz Josef Hohe (which might have been at the end of the apparent path through more rock shelters and continuing to go up closer to the bluer parts of the glacier), and ultimately got back to the car at 12:20pm.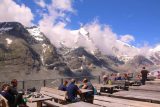 By now, we felt satisfied that we got to experience the highlight of the Grossglockner Road in pretty fine weather, and that we didn't feel the need to go back to the parts that were cloud-covered earlier on today. In hindsight, it was probably a good thing that we didn't linger there as long as we did since we still had plans to get all the way back to Bad Kleinkirchheim to let Tahia play in a water slide and have some water play time, which she was anticipating since yesterday.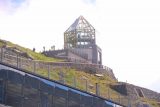 Next, we drove back down the Grossglockner Road. It was too bad that the rental car was automatic and didn't let me limit the gears at will. Otherwise, I wouldn't be burning the brakes, which we could smell every time we stopped the car.
Speaking of which, I really wished I had stopped at a couple of the pullouts with expansive views of the valley we were heading into. There were teasing views of the profile of Jungfernsprung dropping into the valley though the Gossnitz Waterfall (my anticipated waterfall hike) remained stubbornly hidden from us during our drive).
Eventually, we followed a caravan of slow drivers before we finally stopped at this town called Heiligenblut. I wasn't sure where I was supposed to park the car, and I assumed that we mind as well park in the structure here in order for me to get out and hike to the Gossnitz Waterfall. At least Julie and Tahia could check out the town while I was solo hiking, which was supposed to take me 30 minutes in each direction.
So at 12:55pm, I parked the car, and I told them that I'd be back by 2:30pm at the latest.
But as I was walking through the charming small town (with a tall-spired church fronting the alpine backdrop with a teasing view of Grossglockner Peak in the distance), I would eventually learn that I didn't park in the nearest car park for the waterfall, and I very well could have added another hour to the hike.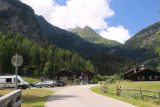 Thus, I continued the downhill hike along the road with more views of Heiligenblut clinging above a scenic valley before the road bottomed out at some quieter town full of residences and accommodations. I managed to get to the bottom of the road at around 1:30pm. I then continued walking towards signs pointing the way to camping.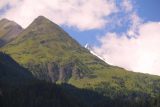 Eventually at around 1:40pm, I would finally arrive at what appeared to be the official car park for the Gossnitz Waterfall! This was called the Retschitzparkplatz, and there was an interesting Natura Mystica oracle of some sort (basically circularly-lined logs and rocks) to create this illusion that the trail was to follow the teachings of this oracle. It was kind of kitschy, but then again, I knew that it was trying to teach the would-be hiker the ways of Nature.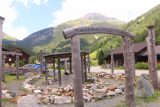 In any case, since I knew I was behind schedule with Julie and Tahia, I quickly made my way onto the footpath, which clung to a sloping ledge overlooking the rest of Winkl (I believe the name of the village I was at now), and then the forested path made it to a junction. At first, I wasn't sure if I should start by going left or keeping right, but the Natura Mystica sign pointed to the right so I followed it.
The trail pretty much continued following along some signage nestled in a serene forest. It passed by one meadow where there were those sprawling wooden "lawn chairs" that some Austrian visitors took advantage of by laying on them and basking in what sun made it through the forest cover.
As I continued the hike, I would eventually get to more parked cars, and now I wondered if this was an even closer car park for the waterfall! That said, this one seemed to be at the end of some unpaved road. I managed to get here at around 2pm.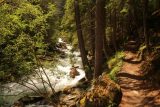 Now, after crossing a bridge, I finally saw reassuring signs for the Gossnitz Waterfall. This time, it had me follow a path that upstream alongside the stream as well as alongside some wooden canal feeding a mill. The hike continued along the stream before reaching a footbridge crossing it.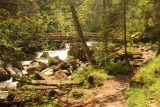 But before I crossed the bridge, I noticed a trail of use that continued following the stream. There were a couple of guys who were already up this way, and I decided to pursue it since I knew it would lead to some view of the Gossnitz Waterfall.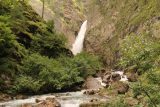 Sure enough, after getting by sections of the banks of the stream (where it would certainly be flooded if there were more water) and clinging onto eroded and overgrown sections of use-trail, I'd finally get to the end, which was right beneath a near-vertical cliff that I'm sure would be prone to rockfall. It would probably be a matter of time before some additional infrastructure would be set up to discourage going this way.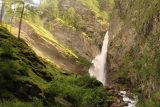 That said, I managed to get my first glimpses of the Gossnitz Waterfall at around 2:20pm. It was in a gushing profile view, and from the position of the sun, I knew that the official lookout, which was way up on a bluff on the opposite side of the stream, would be looking against the sun.
So after getting my fill of this spot (knowing that the risk of rockfall was higher where I was at), I then returned to the trail, crossed the bridge, passed some family, then went up the steep rooty path to the official lookout of the Gossnitz Waterfall.
That path got steeper the higher I went, and it eventually made me drip with lots of sweat. The spray from the Gossnitz Waterfall wafting up onto the trail was actually quite a relief, but it also made the trail slippery, especially where there were large slabs of rock.
But eventually by 2:40pm, I finally made it to the sanctioned view of the Gossnitz Waterfall where it was against the sun as I expected. It was also still in the spray zone of the falls. While the views at each of the switchbacks in the final ascent were nice of the falls, I guess the payoff for making it all the way up here was the view in the other direction towards Winkl and the Grossglockner High Alpine Road way in the distance, where I can still see cars lining up and following slow moving tour buses.
In fact, that was the thing that I found really refreshing about this hike – that it was nice and quiet and I hardly heard the obnoxious sounds of motorcycles and cars passing by. Clearly, this hike was the thing to do if getting back to Nature was what was called for.
Well, just as the family showed up, I was headed back down. And I made as much haste as I could knowing that I was officially behind schedule and they'd blame me if I caused us to run out of time to do the Bad Kleinkirchheim pool experience that Tahia so badly wanted to do.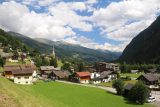 So it wouldn't be until around 3:05pm when I finally made it back to the Retschitzparkplatz (i.e. the nearest official car park for the falls), and after continuing to go uphill along the roads back to Heiligenblut, I finally rejoined Julie and Tahia waiting at a cafe just outside the parking structure at 3:30pm.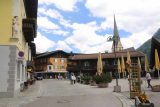 We promptly got back in the car, got the usual nagging inquiry about what took me so long (to which I explained that we stopped at the wrong car park and probably added an hour to the whole excursion), and then we promptly continued the drive as now time was of the essence.
At 3:40pm, we stopped for the well-signed car park and cafe (called Hexenkuchl which I'd imagine was Witches Kitchen or something) for Jungfernsprung. This was an easy roadside waterfall to take in, and it seemed like that best views were actually at the end of the car park opposite the Hexenkuchl.
The views from the top of the wooden steps with the maiden wooden carving on it (apparently the name of the falls was the "Maiden's Leap") weren't as good though it did reveal that there was more walking trail to get to the bottom of the falls, which we just didn't have the time to do. Besides, it was said to be 60-90 minutes walk, and we were pretty Grossglockner'd out by now.
So at 3:55pm, I got back in the car and then we made the drive all the way back to Millstatt. When we made it down to the east-west road, this was a precursor to the road we'd be taking to Zell am See tomorrow as I determined that we should do Fallbach, Malta Hochalmsstrasse, then Raggaschlucht, and Linz before making it to Zell am See. It was going to be an action-packed day, but at least that would minimize the amount of driving (leaving the Gunstner Waterfall for a free divide-and-conquer day while staying in Zell am See and while we'd be less concerned about the weather impacting the overall experience).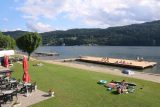 It wouldn't be until 5:10pm that we ultimately stopped at the Billa in Millstatt. Julie promptly went inside to buy a few more groceries. And in the mean time, Tahia and I went towards the lake front to check out the scene there since we didn't want to spend our time shopping.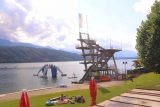 As we did this, we saw where the free play in the lake itself was at, and it was quite busy with lots of kids and adults enjoying the dock, the little beach, and even a pontoon with a rock wall that you can climb. The only thing that wasn't going was a big open-air slide, which I'm sure Tahia would have loved.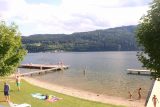 Had we had our little Kartnercard, we could have gone through the turnstile for free and joined the festivities. In fact, the nice weather we were seeing now was a far contrast to the nasty weather we experienced yesterday afternoon when it was raining cats and dogs.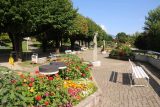 Tahia still had it in her mind to do the Bad Kleinkirchheim pool experience, and so she didn't want to join in on doing this lake now. Instead, she spent some time at a nearby playground before we headed back to the Billa and rejoined Julie at 5:30pm.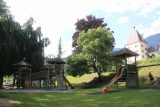 Next, we made it back up to our apartment at Obermillstatt at 5:35pm, and we promptly had ourselves a self-cooked early dinner of steak, asparagus, kraut, and some frankfurters.
By 6:40pm, we were back in the car, and now we could finally head to Bad Kleinkirchheim to fulfill Tahia's desires.
The drive up there was non-trivial as we had to follow some slow drivers on narrow roads, but ultimately at 7:10pm, we parked at the lot for Therme St Kathrein. With dark clouds looming above us, we knew that there would probably be a thunderstorm or two, but at least we'd be indoors as Julie did the research and had to choose between the thermal spa experience at a competing place in town or this one where Tahia really looked forward to doing the slide. She had better appreciate the sacrifice Julie made, we thought, since we did this for her instead of doing the more relaxing thermal thing at the competing place.
Ultimately, we made it into the facility, paid around 44 euros for the family for 3 hours (though I knew we probably wouldn't need the whole 3 hours, and it was closing in less than 2 hours anyways), and promptly got changed and right into the pools.
This was really more of an indoor pool facility where they somewhat heated the pools. The outdoor pools were much cooler and there wasn't much to do out there.
We spent some time in the large pool area which had a mushroom waterfall and some bubble jets, but that got pretty boring for Tahia real fast. Really, the thing that took the most time was this thrilling water slide where we must have gone on it at least 12 times each.
In fact, Tahia didn't want to leave when it got late and we had to go.
We probably did this slide so many times that we even experimented with going in backwards, head-first (despite the signs clearly saying to go in feet first and right-side-up), and in tandem where I tried to make us go as fast as possible.
In one of the wrong-way experiments, I managed to slam my chin on the slide when I let go of the bar to propel myself forward, and that seemed to have left me a little bit dazed.
When it came time to towel off, there was blood on one of the towels as apparently I must have cut myself on that chin. I hoped that I didn't break a bone there.
By about 8:50pm, we were finally back in the car just as we were seeing dark clouds get darker and flashes of lightning and clasps of thunder accompanying them. That kind of made that drive back a little more on the adventurous side.
By about 9:20pm, we made it back to the apartment where we could finally call it a day. I wasn't feeling too great at the time because I was still feeling a little on the woozy side. I had blamed it on my little slide accident after going backwards on it, and I was wondering if I was dehydrated, overheated, or concussed. Whatever the issue was, the sleep time couldn't have happened soon enough.
Eventually at around 11pm, we all pretty much crashed. Outside, there were more frequent clasps of thunder and flashes of lightning, and that made me even more glad that we seized the moment, used the schedule flexibility, and ultimately did the Grossglockner Hochalpinestrasse when we did. Indeed, there's no telling what the weather would bring from here on out…