Day 31 (July 13, 2018 – Zell am See, Austria): "Fitting Things In"
It was about 5:45am when I awoke. This was a bit later than I had anticipated, but I guess this was my body telling me that I needed the extra minutes of sleep even though my alarm had gone off an hour earlier.
In looking out the window, I saw lots of gray everywhere, but there was no rain. It was quite the contrast from last night's active weather where frequent flashes of lightning could be seen piercing through the darkness through the windows before I was trying to get some shut eye.
It took some time for us to load up the car, but we made it a point to try out the included breakfast before taking off for the day. So this was already one source of delay, but I didn't feel like we needed to rush to do anything on this day.
We didn't have their included brekkie yesterday because we had to get to the Grossglockner High Alpine Road and back in time before doing the swimming pool and spa at Bad Kleinkirchheim. So it was a full day and we couldn't afford to wait until the 8am brekkie. So this day was our last shot at trying it out. Hopefully it was worth the wait.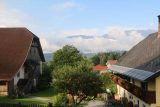 So by about 7:50am, the car was mostly loaded up. And five minutes later, Tahia and I went upstairs to the fruhstuck room, where there was a surprising amount of variety of hot and cold foods.
They had poached eggs, prosciutto, other schinken (cold cuts), bacon, scrambled eggs, sausages, and bread with nice texture that went well with the eggs. They even had a couple of small chocolate chip cookies, which I snatched up knowing that Tahia would love to have one (as well as myself). They were the only two they had.
Julie even noticed that there was champagne so we made mimosas out of the combo of the champagne and OJ. Obviously they weren't fresh orangensaft, but how often do you get to do mimosas for fruhstuck?
So it wouldn't be until 8:35am when we were back in the car and finally started taking off. Indeed, this brekkie was worth the wait, and I was glad that we loaded up so it should hold us over just in case we were to have a late lunch given our late start and a slew of activities to fit in before checking into Zell am See tonight.
The drive out of Obermillstatt and the Millstatt followed a similar route as yesterday when we were driving towards the Grossglockner Road from the north. However, after leaving the tunnel, we then exited for Gmund, where we then followed Maltatal Landstasse into the Maltatal Valley.
As we drove the valley, there was nice scenery in terms of a broad sweeping valley flanked by attractive mountains as well as nice mountains way in the background. It was too bad that pullouts were non-existent because I would have loved to pull over and take such a shot. And it was especially the case when Fallbach started coming into view to frame one side of the valley, but alas, it wasn't meant to be. They didn't have the infrastructure to pull over safely and take that photograph.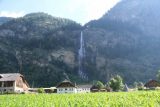 By about 9:10am, we made it to the already piling up car park for Fallbach, which was in the shadow against the morning sun. There were lots of families here.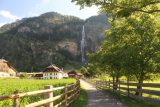 Even though the falls was easily visible from the car park, I knew that there was an admission to go in. Julie and Tahia wanted to stay in the car so I went solo.
And as I went uphill along the well-established path between some kind of corn field and some buildings, I then went into the kasse where I paid 5 euro for myself. After that, I went onto the trail, where the left fork at the split led to the kinderspielplatz area where there was a huge playground full of swings, slides, see-saws, you name it!
There was even that raft thing where kids could hop on and pull themselves across a pond, and there was also a zipline-like thing where a kid could hang on and let gravity take them to the other side!
I knew Tahia would have loved this, and I could totally see why they would charge for admission. Oh well, they missed out by staying in the car. Such is what happens when you're not in the moment. I'm sure Tahia would be bummed the moment she found out about this.
Anyways, I kept right at the split, and the path went around the playground while there was a cow pasture on the opposite side.
The higher up I went on the trail, the more the Fallbach Waterfall got closer. And when I turned around to look back, the more of the valley I was able to see.
Eventually, once I got past the playground, the morning shadow was long enough to provide me some relief from the already intense sun. Once in the shady area, I was able to start feeling the coolness of both the falls' influence as well as the shade, and I proceeded to get past a fence and into an area where apparently cows could roam free.
That meant that I really had to watch out for cow patties on the trail as they were everywhere. It kind of reminded me of the Huldrefossen excursion near Forde, Norway, where there was an agricultural school fronting the attractive waterfall but there were cow patties everywhere there as well.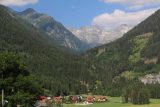 In any case, I followed along a short climbing path along a fence that took me past some more signage before ultimately making it up to the top of a small hill where I got nice sweeping views back towards the Maltatal Valley as well as a bottom up look up at the Fallbach Waterfall. One of the signs said that it was the highest free-leaping waterfall in Austria, but there were so many waterfalls like this that it was hard to tell if people are now making things up and putting them on signs.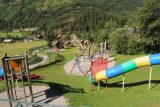 After having my fill of the falls, I then went back to the car, where I got there at 9:55am. Julie had to use the toilet when I got back (why didn't she use it earlier?), and that was when she realized that Tahia and her could have chilled out at the playground while I was doing the quick hike. Of course, had Tahia known, she would have never left!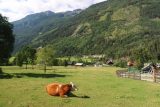 In any case, we took off, and Tahia was left wondering what might have been.
Next, we drove deeper into the Maltatal Valley, where it didn't take long before we had to get through a road toll station, where I was charged 19.50 euro toll to continue into the Malta Hochalmstrasse. Having paid 36 euro for the famous Grossglockner Hochalpenstrasse yesterday, it didn't sting as bad, but I was also not expecting to spend a whole lot of time here since we were heading up to some kind of reservoir.
This was something I wasn't thinking of spending that much time on, but I decided to give it a go since Ruth said in a submission on our site that it was one of the most beautiful drives he had ever done.
In any case, the hits came almost immediately as we drove past a very beautiful waterfall, which I believed was the Melnikfall. We didn't stop at its car park as we figured we could come back for it later. But at least we knew to target it on the return.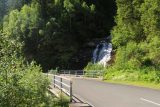 However, we then saw another small waterfall on a bridge signed for Strannerbach at 10:10am. But this was just a miscellaneous stop and we kept going on.
About ten minutes later, there was another giant waterfall that didn't have a pullout, however, as we continued on, we were stopped as there was a line of cars waiting at a traffic light. There was some sign saying the wait time could be as long as 22 minutes but we only had 3 minutes or something like before the light would change. There was even another sign saying to make use of the wait time by going up 50m to see the Maralmbachfall, which was that waterfall we saw.
So I decided to quickly get out of the car, run up the small uphill trail, and take my shots and videos of the falls before running back down to our car. And it was not a moment too soon as the line of cars started to move, and there was a nice guy who left a gap for us to get back in line (as we were pulled over at a pullout going the opposite way).
Next, we continued following the caravan of cars going up the narrow road (single lane in large stretches, which was why they had the ampel in the first place) that involved a bunch of tunnels and switchbacks. There were still more minor waterfalls en route along this path, and Julie started to think of this drive as Waterfall Alley.
Eventually by 10:40am, there was a large car park area beneath some kind of restaurant and cafe area as well as gasthaus that was overlooking the Kolnbrein Reservoir and Dam. We saw that there were people walking onto the dam so we figured that that was the thing to do while we were here.
As we were taking in the scenery, we saw that there was yet another waterfall spilling onto a reservoir below us (different from the one held up by the dam we were walking on), and there were more minor cascades spilling towards larger reservoir further upstream from us. Looking way deeper into the end of the reservoir further upstream, we saw that there were mountains still clinging onto snow and ice in the distance. There was also some other house with people parked there on the opposite side of the reservoir backed by more smaller cascades and cliffs.
Indeed, this place was a feast for the eyes. Even though I had mixed feelings about the man-made contraptions here, we definitely spent more time here than expected. We even went onto a harrowing airwalk where there was an overhanging platform with see-through glass or gratings beneath our feet so we could see that it was a straight drop right beneath us along the 200m dam wall.
Butterflies were definitely in the stomach as the body knew that we were standing somewhere we're not supposed to be, and Julie was quite nervous about standing on this thing.
Anyways, we got our photos (making sure not to drop the phone), and then headed back to the car where we headed back down the mountain at 11:20am. We made one brief stop to check out that attractive waterfall spilling onto the lower reservoir, but then we were stopped at a long traffic light at 11:35am, where it said that we had to wait for 22 minutes! We must have just missed the last caravan of cars going our way and now had to wait for a long caravan of cars going in the opposite direction.
It was too bad that the wait down here didn't have that waterfall to kill time. On this side, there was nothing to see. So we just snacked on fruits and other things while organizing the mess in the car before we could finally continue moving again at 11:50am.
By about 12:05pm, we finally stopped at the Melnikfall. But since we had stuff to do later today, all we did was check out the falls from the small car park. We didn't do as other people did and walk down to the bridge right at the bottom of the falls. We figured that the view from here was good enough.
Five minutes later, we finally resumed the drive out of Malta Hochalmstrasse, and then headed back south on the A10 before heading west along the B100 then B106 towards Raggaschlucht.
This drive went by pretty smoothly, but it still wasn't until about 1pm when we finally arrived at the very busy and unshaded car park for Raggaschlucht. When a brochure we picked up from our appartment-hotel suggested that this took a minimum of 90 minutes, Julie and Tahia decided that they were going to chill out and have lunch here while I was going on my excursion solo again. They still had yet to do a chasm walk (either a klamm or schlucht) and I knew they were missing out, but they also didn't feel like going on long excursions, I guess.
In any case, this mini-divide-and-conquer was set in motion, and I promptly geared up and walked uphill following the signs just as lots of other visitors were going down the other way. I was getting plenty of looks as I guess I was an uncommon sight in this part of the land, but that didn't stop me from greeting people cordially as I headed up to the kasse.
Once at the kasse, I paid my 7 euros in cash, and then proceeded higher up into the route, where the tour route made me go up the steep gorge on a series of wooden steps and planks (much like other thrilling gorge adventures or erlebnis) before going back down a forest path.
This particular gorge followed along some kind of water channel following the rushing stream before reaching the wooden plank part where there was a door that I guess would be controlled for closure if the conditions weren't safe to proceed. That wasn't the case today so I kept going forward.
There were plenty of signs saying to give space between yourself and the next hiker or groups of hikers. But I took my time as I was trying to capture whatever awkward photos I could of the gorge with the planks clinging onto the narrow cliffs within the chasm. I was also looking right against the sun with some pretty harsh shadows so a lot of the photos I knew wouldn't really turn out.
The higher I climbed, the more waterfalls I was seeing, but eventually, the path climbed high enough to reach the grand finale after some sign saying that there were hard white rocks that gave rise to this waterfall finale. And indeed, as I was going up a steep series of steps, the plunging waterfall was finally revealed.
After getting my fill of this waterfall from a variety of positions and levels, the path continued climbing some more leading up to an overlook with a view towards the attractive mountains in the distance speckled with small farms and villages clinging onto the slopes.
Then, I went down the steep forested path, which had a bit of loose gravel. So I tried to ride the momentum of my descent to ensure that I didn't take a nasty tumble. Other people wearing sneakers had a harder time with the slope as they used the railings and still struggled. But I managed to quickly get down this hill no problem, and by 2:35pm, I rejoined Julie and Tahia who were eating at the Gasthof Raggaschlucht.
There, they gave me a takeaway Wiener Schnitzel, where I promptly ate it up with some french fries, and then by 3:15pm, we were all finally back in the car and ready to resume the drive.
As we continued west along the B106, the GPS kept wanting to take me to the Grossglockner Hochalpenstrasse, but we rebelled and headed southwest towards the city of Lienz. I was hoping that that would be our late lunch stop, but now we were content to just go there and see whether LP was right in singing the praises of its tight altstadt.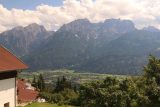 Along the drive, I saw some very attractive mountains backing the city in another one of the sweeping valleys.
But eventually at 4pm, we found a P1 parkplatz that was a mere 3 minutes walking from the Altstadt. Parking wasn't hard to find, and we opted to pay 2 euros for 3 hours not knowing how much longer we'd linger here.
Well, after getting out of the car (Tahia was reluctant to get out as it was quite warm and she was in the middle of a deep nap), we quickly got into an attractive plaza with a statue spilling water and some colorful pastel buildings fronted with cafes, cigarette smoke, and lots of people just chilling out.
We followed along a lane that was flanked with shops and quite a bit of pedestrian traffic before reaching another platz, which I believe was the Hauptplatz (actually, the whole thing might be it). Here, there was another statue and cafe eating areas.
We continued even more along the lanes until we got to some construction site. I guess that was the end of the line for this Lienz experience as Julie didn't feel like going to the Schloss Bruck, and she didn't want to bother going out of the way to pursue the Tourist Info office, which was a ways away from the Hauptplatz.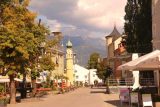 So we headed back the way we came, stopped by some backerei for a gluten free cake as well as a gelato stand. So that gave us a little pick-me-up, before we were back at the car at 5:05pm. Indeed, we probably overpaid for the parking, but we still had to drive all the way to Zell am See, where we were spending the night.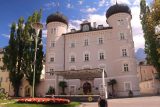 Anyways, the drive out of Lienz followed along a caravan of cars seemingly headed the same way as us. However, it didn't take long before we starting going onto a very scenic stretch of B108 Road that was flanked with seemingly big waterfalls as well as picturesque cliffs and cirques along the way.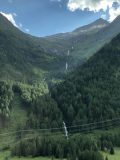 The traffic was moving quickly along this stretch of road, and the pullouts seemed very limited or came too quickly to stop and take shots. There were also long tunnels along the way, and there was even a scenic toll station where they collected 11 euros right before we got into a very long tunnel that went uphill then downhill before curving to go outdoors.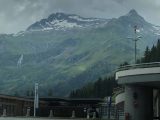 Indeed, this scenic stretch was like the poor-man's Malta Hochalmstrasse, and Julie tried to take road shots with her iPhone as I was busy paying attention to the road.
Eventually, the scenery petered out as we headed into Mittersill, then headed east along the B168 Road in a broad sweeping valley. We'd continue following the caravan of cars as we continued following signs for Zell am See. Eventually, we found street parking in Zell am See near the Post Office at 6:30pm, where Julie saw that the Spar was about to close in less than 30 minutes.
So instead of figuring out how to check in straight away, we just got our grocery bags and left stuff in the car before making the quick grocery run. Then, we returned to the car to bring up the first load of stuff to the apartment, where Julie followed the owners instructions, got the keycards, and we were in the apartment by 7:20pm.
The place was spacious, and it was a nice little spot to spend the next three nights. Unfortunately, they didn't have a laundry here so I was relegated to re-using clothes probably for the rest of this trip. I hope people don't mind my smell.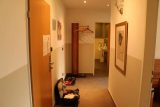 After moving the car to an even closer spot as I went down to get the second load of luggages, I was then finally settled at 7:40pm. And so ended this eventful day where we wound up seeing and doing lots of things as they were all fit into the long drive.
Tomorrow promises to be a lighter day of activities as we'd be pursuing the Krimml Waterfalls finally while I'd do a divide-and-conquer early morning excursion to the Walcher Waterfall now that the Grossglockner Road was quite close to where we're based…