Day 32 (July 14, 2018 – Zell am See, Austria): "Elbogenhaut Auf Der Rodelbahn"
It was 5am when I awoke. I took some time to get caught up on the blogging after a very event-filled day yesterday.
Upon looking out the window as the day was getting brighter was that there were more clouds looking in the direction of the mountains to the south. I hoped that wasn't a sign of bad weather to come today where I was hoping to do the Krimml Waterfalls, which was anticipated to be the waterfalling highlight of Austria.
But first thing's first. I was going to spend the early part of the morning visiting the Walcher Waterfall now that I had a bit more time than the day we were driving the Grossglockner High Alpine Road a couple of days ago.
So at 6:10am, I went to the car, which was conveniently parked in front of the Post Office (we were staying above that post office). There were lots of empty spots around me, which contrasted with the hard-to-compete-for street parking in the blue-lined areas from last night.
In any case, I got going, and by 6:30am, I eventually parked before the toll booths in the village of Ferleiten, which was hardly a village at all (more like the Ferleiten Zoo, Water Park, toll booths for the Grossglockner High Alpine Road, and some gasthouses and farms with cows grazing the pastures).
It was overcast when I showed up, but now the clouds that once covered the north-facing mountains that would have been part of the Grossglockner High Alpine Road from a couple of days ago were now totally revealed. It made me wonder "what if" had we been able to savor the views from stops 4 and 5 without the heavy cloud cover.
Anyways, there were plenty of parking spaces along the road that weren't assigned to kunden (customers) of the water park, or zoo, or even the restaurants and guest houses. After getting out of the car, I soaked in the views, geared up, and then walked towards the trails.
It turned out that there were signs saying that the hiking trail was closed due to the risk of loss of life. So I went ahead and decided to hike towards where the closures would occur as my aim was primarily to experience the Walcher Waterfall the best I could.
Now from so close to the cascade itself, I was only able to see parts of the waterfall. It was very difficult to see the whole thing in its entirety. For that, I'd imagine that I'd have to be further away, and it might be even better if there was a trail that climbed up the valley on the opposite side.
In any case, I stuck to my guns and followed along the unpaved farm road that revealed bits and pieces of the Walcher Waterfall before reaching a junction. There were signs saying that the path continuing north was private property, and that the trail going closer to the falls was closed though this time for a different reason – there was work going on from 06:00-22:00, which meant that they'd probably keep anyone from moving forward with the hike despite the warning signs of risk to life and limb.
After getting my fill of the Walcher Waterfalls from this part of the trail, I then got back to the car at around 7:30am. As I was turning around before the toll booths (so I wouldn't have to pay another 36 euros as I wasn't going that way anyways), I then started driving north back in the direction of Zell am See again.
However, as I was driving out, I started to notice that the views of the Walcher Waterfalls were actually better and more complete than what I had seen from the trail (as I had anticipated). It was too bad that the pullouts for them weren't obvious nor were they sizable enough for me to suddenly stop for them on the opposite side of the road.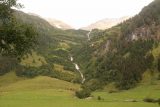 So instead, I stopped the car at the familiar pullout with the fountain and view of part of the Walcher Falls. Then, I walked alongside the road (there were no shoulders so it was a dicey move), and then I started to get my shots as I got to the other two tiny pullouts by the 14 sign. Then, after doing this, I pretty much completed my Walcher Falls experience without going on the hike to get right up to it as others apparently had done in the past (probably way back then as I suspect that trail had been closed for quite a while).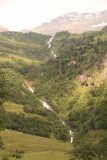 Eventually at 7:50am, I returned to the car, and then I resumed the drive back to Zell am See. By around 8:10am, I finally made it back to the apartment where I was still able to score a decent parking spot right in front of the Post Office. However, since it was 08:00-12:00 on Saturday, I had to pay an euro to ensure that we had an hour to finish up with breakfast, checking in with the reception so we can pay the remaining balance of our stay, and then gear up and get back to the car to finally start off our day.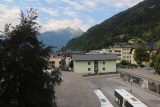 That wouldn't happen until about 9:20am. Upon paying for our stay, the owner originally wanted us to pay the remaining balance (all 260+ euros worth) in cash, which I told her that it would be tough to pull that off at the moment. However, I managed to negotiate this down to 100 euros in cash though that still put a heavy dent in our cash balance. I wasn't keen on withdrawing more euros because we kept getting hit with $12 USD worth of bank fees and foreign exchange fees. So every time we withdrew 200 euros, it was really like $250+ USD.
Regardless, the owner was helpful in suggesting some things to do around Zell am See in addition to what I didn't plan on doing. One of them was an alpine roller coaster (really a luge-like sled). That seemed like something that would be loads of fun, but we'd have to play it by ear and see if we could do it today after visiting the Krimml Waterfalls.
Anyways, the drive was under increasingly cloudy skies and I was getting really concerned about visiting the Krimml Waterfalls under a thunderstorm, which was predicted to happen some time around 1pm. It was actually raining just before we arrived at the parking lots for the Krimmler Wasserfalle even though there were some blue skies nearby.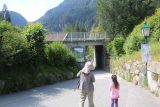 By 10:25am, we finally arrived at the P4 parking lot, which was reserved for people doing the Wasser Wunderwelt and the Haus der Wasser in addition to the waterfalls themselves and the parking. When we got our familienkarte for around 20.50 euros, we were good to go. That said, I wonder if we overpaid since the fees for just the waterfalls themselves were 4 euros per adult and 1 euro per child. I doubted that the parking fees would have made up for the remaining 11 euros and change that we paid.
Oh well, I was hedging my bets that Julie and Tahia needed something to do while I was hiking all the way to the top of the uppermost Krimmler Waterfall.
So after briefly walking down to the bottom of the waterfalls where the lighting was terrible (morning sun was totally against each of the lower tiers), we took our obligatory shots along with dozens of other people, and it wouldn't be until around 11:30am when I finally started my hike in earnest as Julie and Tahia did their own thing.
At this point, I went from viewpoint to viewpoint (I believe the maps had 12 in all), and for each of the viewpoints, I was competing with crowds of people trying to get their people shots or selfies or just plain old shots as mist was spraying all over the onlookers while creating rainbows fronting the otherwise attractive scene of the valley down below and mountains across the way.
As I went higher and higher, each of the viewpoints remained busy with people. So my theory that the crowds would thin out the higher I went didn't seem to apply at this time.
I continued going up several switchbacks as I was now working up a pretty hefty sweat. I still went from lookout point to lookout point as I'd frequently pass people, then stop to take photos so those same people I passed would pass me again, and then I continued going uphill faster than them so I'd pass them again.
Eventually at around 12:15pm, I made it up to the cafes and kiosks at the top of the Middle Waterfall. By this time, I was hoping that I had gone at least 2/3 of the way up because signs suggested that it was still another 30 minutes to the top of the Upper Waterfall though I did see a sign not long after that suggesting that it was still another 40 minutes to the top. Which one was right?
The switchbacks got steeper the higher up I went but there were also more attractive views of the Upper Waterfalls, which looked a bit more attractive from the trail than the earlier falls, where the viewpoints were way too close to really capture the various Krimmler Waterfalls in photos and even videos.
After some more sweat-inducing switchbacks, I finally made it up to the top of the Upper Waterfall at around 12:45pm. While there were much fewer people who made it this far, there were still about a dozen or so chilling out. Some did continue hiking further upstream but I knew from the maps that this was the end of the line for me.
So by around 12:55pm, I started to head back down. As the sun was starting to hide behind some of the budding clouds, the lighting became a bit more even though the scenes were still on the bright side, which made it a bit harder to figure out how to configure the camera to take advantage of the current lighting conditions.
After doing a bit of trail running and going back to some of the viewpoints that I either punted or did a do over for a second time, I'd ultimately make it back to the kiosk at around 1:30-ish. Then, I continued the long descent to the waterfallzentrum.
Indeed, it wouldn't be until around 2:20pm when I finally made it back to the Waterfall Center, where I then used the family ticket to get into the Water Wonder World and the House of Water, where I found Julie and Tahia checking out some of the exhibits there.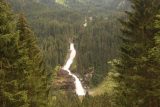 When Julie told me to go back to the car to eat the leftovers that she left there, I promptly did that, but that also meant that I couldn't go back into the area where Julie and Tahia were to enjoy the leftover lunch. Instead, I just ate at one of the tables nearest to the exit of the paid area, and I watched Tahia play while I was having the leftover schnitzel and boiled potatoes.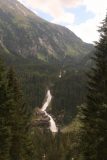 It wouldn't be until around 2:40pm when we were finally back at the car, which was baking in the unrelenting sun. But before driving back to the Sommerrodelbahn at Saalfenden, which was said to be 15 minutes north of Zell am See, we drove in the opposite direction because we wanted to check out the viewpoints of the Krimml Waterfalls from a distance.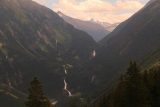 Something was missing from the close-up experience, and we were hoping to complete the Krimmler experience by seeking out the views before heading back east.
At around 2:50pm, we arrived at one of the overlooks which revealed the entirety of the lower two components of the Krimmler Waterfalls, but it was missing the uppermost tier. It wasn't quite what I was hoping to see (especially during my hike when I suspected there would be views across the valley).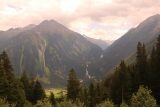 There was one hitchhiker who was hoping to get a ride from us, but when she asked which direction we were going, I told her that I wasn't sure myself since we were trying to improve the views of the waterfall. So she went to find someone else for a ride.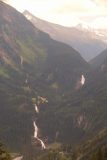 That said, I did recall glimpsing a sign suggesting the utsicht was over 6.2km away, so I figured we had to keep going to get there. And it was a good thing that I did because by 3:10pm, we finally made it up to the Wasserfalleblick, which was the desired overlook of the Krimmler Waterfalls.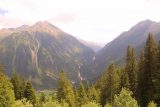 Up here, there were only a couple of other cars. For all intents and purposes, we were pretty much alone, and it was refreshingly quiet. It made me wonder why not more people checked out this view since it was far better than the lower lookouts.
Indeed, up at this vantage point, we could see all the tiers of the Krimmer Waterfalls, but we could also see the V-shaped gorge containing the falls framing the waterfalls themselves. And for scale, we could see the tiny Waterfall Center and car parks all looking teeny weeny.
It was a commanding view, and we could have easily lingered here for even longer if it weren't for our sense of urgency in trying to get to the Summer tobagan run at Saalfelden, which Julie thought was closing at 5pm. Julie actually called the facility, and they said that actually it was closed at 6pm today.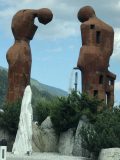 Since the weather looked pretty tame, we decided that today was probably the day to do it because who knows what the weather will be like tomorrow?
Anyways, we made haste driving back down the mountain and then past Krimml before heading back on the B311 east towards Zell am See. Along the way, we once again saw the "pissing statues" at the roundabout in Mittersill. This time, however, Julie came prepared to take pictures of them.
There was always cars in front of us going slow and causing a bit of a queue, but we made a couple of stops ourselves for a quick grocery run (knowing that just about all supermarkets were closed tomorrow, which was a Sunday) as well as filling up on diesel.
And ultimately at around 4:45pm, we finally arrived at the Saalfelden Sommerrodelbahn, where even as we were pulling up to the car park, we could see the size of the run and the chair lift taking people all the way to the top of the mountain. The run looked so long that it surely had to be lots of fun, but it was also on the order of 32 euros for the three of us per run. So that also was a bit on the pricey side.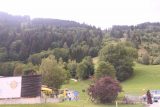 Well, when we went up to the kasse to try to buy the tickets, they momentarily closed the kasse as well as the turnstiles because someone at the top was saying that there was a long queue as well as a chance of some rain. If the track had any water on it, they wouldn't let people go on it because it would be hard to apply the brakes.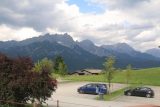 They said that maybe in 15-20 minutes, the situation might change, but in the mean time, we were willing to wait it out since they didn't close until 6pm, and we had already made the trouble to get out here in the first place.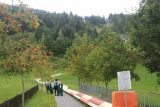 And as we were seeing people coming down the luge runs, it definitely looked like a lot of fun. However, there was one guy who didn't put on the brakes and ran into someone who was stopped in front of him. Yet that bigger guy who hit the person in front of him (and his daughter was crying) who was mad at the guy in front of him.
He not only chewed him out in Austrian but he was also complaining to staff about him. Yet from a casual observer, it seemed like it was the big guy who was a bit on the reckless side as he could have easily stopped the sled at the very end.
Well, after waiting for about 20 minutes or so, we saw that there were blue skies and the clearing of clouds. They waited another 5 minutes before we they were finally given the OK to resume the tobagan run. At that point, the lady suggested we just pay for 1 lift and run as a family, and then see if we have time to go on it again. You never know how the weather might change.
And so we eagerly parted with our money and promptly took our tickets to the turnstile to get onto the chairlift queue. Then, we got on, and we were taken for a fairly long ride as I was busy trying to turn behind me and take pictures of the beautiful landscape of the mountains in the distance and the town of Saalfenden in the foreground. There were also the luge tracks below that further whetted our appetites as we saw other people making their runs.
Once we got to the top, Tahia and I were riding tandem. At first she didn't want to do it, but I guess she had a change of heart. Meanwhile, I made sure Julie was behind us because I knew that it was better if no one was in front of us.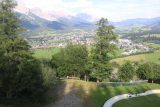 Anyways, we went on our run, and it was totally thrilling. At first, we applied the brakes pretty liberally because it was so easy for things to go wrong and fall onto the track (probably leaving skin on the tracks). And yet, it was so exhilarating that Tahia let out squeals of pleasure and excitement while I was holding on to her and controlling the speed of the luge sleds.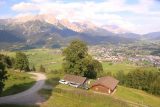 Ultimately, we made it back down to the bottom, where we were all alone. And Tahia was so excited that she wanted to go on it again.
Soon thereafter, Julie made it down and then we went ahead and bought another ticket at around 5:30pm. I guess we had just enough time for one last run.
Once again, we rode up to the top, and I was determined to make this last run count.
And once again, Tahia rode tandem with me, but this time there were more people waiting to use the tobagans at the top. We waited until the lights turned green, and then we made our approach back down the track.
Throwing caution to the wind, we tried to gun it as we pushed the lever forward almost the whole time trying to really feel the rush of the speed of going down these things while also being so close to having something go wrong.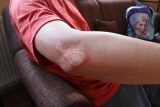 After we were nearly about a half-way down the track, apparently we went too fast as we lost control of the sled and even after trying to apply the brakes, I leaned too far backwards and managed to fall back onto the track. I felt something on my elbows immediately but I was more concerned about Tahia.
Well, she wasn't crying, and she was even talking to me about getting back on and continuing the experience. But I saw that I had a bit chunk of skin left onto the track on my right elbow, and I also saw that Tahia's right elbow also got a little scratched up. However, I also noticed a little bruise on her right eye, and I wondered if the camera might have hit her during the impact.
I'm sure Julie was going to let me have it for being so reckless, but we still wanted to get the most of our ride so we kept pushing forward and going as fast as we could but this time with a bit more caution.
Ultimately, we'd catch up to some lady in a head-scarf who was going a bit slower than us. So even after we fell and had to get restarted, I guess we still caught up to her.
It got to the point that we had to slowly follow her, and then we realized that we probably had to just stop and wait for her to go sufficiently down the course before we could resume our need for speed. However, our waiting ultimately allowed Julie to catch up to us and so we had to get going once again whether we wanted to or not.
Eventually, after going down the three thrilling drops, then going around the photo bends, we then finally caught up to the girl in front of us at the very end of the course. Certainly this second run wasn't as good as the first because of the accident and the slow-down, but all good things had to come to an end, and it was now time to get back to the apartment as it was now about 6pm when we returned to the car.
At this point, Julie saw my wound and gave me the guilt trip for putting Tahia at risk. I even think because of Julie's reaction, that made Tahia scared about the injuries she sustained. Plus, Julie was worried that my elbow might get infected.
When Julie spray alcohol onto my elbow, it had a very painful sting that even Tahia in her frightened state seemed mildly amused by my discomfort.
Thus, on the drive back to Zell am See, we went looking for a place to buy ointment and gauze. So we tried to stop at a Billa at 6:20pm as we knew Spar and other places were closed since 18:00, and unfortunately that place didn't have what she was looking for.
Eventually, we found parking (though it wasn't as close to the Post Office as I would have hoped) and then we were back at the apartment at 6:35pm. She dug into her luggage to at least put some vasoline-like cream on my elbow as well as three bandages though they struggled to stay on my arm.
And with that, Julie made dinner once again (this time it was ground beef with sauerkraut in a lettuce wrap) so we'd save money on not eating out (this was like the fourth night in a row that we didn't eat out for dinner so surely that should have helped us to save some money).
Finally after finishing up with our self-cooked dinner, we then decided that we should seize the moment and experience the pedestrian zone of Zell am See for the first time since we've stayed here. After all, who knows what the weather tomorrow will bring?
So at 9pm, we finally went back into town, which was just in time for the magical twilight which was best for photo taking of the soft light of street lamps and the glow of shops. There was also quite a happening scene of people strolling about the shopping arcades where cafes, restaurants, and pubs were alive with people chit chatting over drinks and a smoke.
As Julie was going from cafe to cafe looking for gluten free desserts for an after-dinner snack (a nachtisch, if you will), she finally found this place that kind of spoke her language. In other words, they told her in plain English if a particular dessert was made with flour, or if there was a smidge of it, or if it was completely gluten free. That was music to her ears.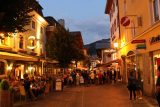 So she decided to eat at this spot where Tahia and I shared a Sacher Torte with a scoop of vanilla ice cream while Julie had a small piece of Easterhazy Torte. For her it hit the spot, and for Tahia and I, we were fighting to get all the scraps of the ice cream and the Sacher Torte.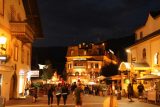 I guess Julie found a keeper in town, and she was hoping to come back here tomorrow night, especially when she found out that they were open on Sundays.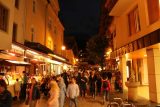 As we continued meandering about the main drag of Zell am See, we saw that the majority of the foot traffic tended to gravitate towards some Grand Hotel. But our progress was stopped short when there were a couple of guards at a fence preventing people from coming in unless tickets were paid for.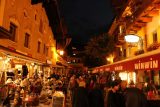 We weren't sure what kind of party or festival was going on, but that was the end of the line for us.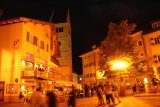 On the way back, I overheard some waiter explaining to the people he was serving that there was some fireworks show going on over the lake. So I guess that explained why it was so happening and why there were guards there making sure that only paying customers were allowed in.
Anyways at 10:05pm, we were back at our room. We were ready to unwind the night, but that was when I heard loud series of explosives right at 11pm.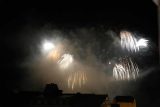 Apparently, that was the fireworks show that I had overheard some local explaining to someone else, and it wasn't until five minutes or so had passed when I realized that I should open the windows facing the other side of the building so I could at least see the fireworks show.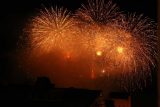 So I did exactly that, and even Tahia got in the act as we both looked out the window and got our dose of the fireworks show (or what was left of it). Eventually, things went quiet after about 11:10pm, and so ended our show. I re-closed the windows and made sure the decorations were back where they were found in the first place.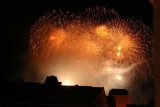 And finally, we could call it a day. Julie missed out on the show since she was already dead asleep. And it didn't take much longer before Tahia followed suit. I still had to shower, brush and floss, and only then could I finally crash and take on tomorrow.
Speaking of tomorrow, that was going to be a divide-and-conquer day as I was hoping to catch the waterfalls missed up to this point that were on the plans for a visit. Unfortunately, it would involve a bit of long driving as well as some bad weather. But I'll just have to take what comes and hope for the best. And with that, I finally caught my Zzzs though hopefully my elbow would be sufficiently healed by then as well…