Day 33 (July 15, 2018 – Zell am See, Austria): "Doubling Back"
It was 6am when I awoke. I managed to sleep late last night because there were drunks outside making loud chants and noises well after midnight. In fact, I was still able to hear some more of them stumbling about outside the apartment as apparently they must have pulled an all nighter.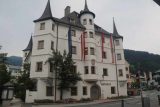 Meanwhile, I could see heavy clouds shrouding the mountains to the south of us. The forecast called for rain starting today, and for at least the next two days thereafter. So I was going into my excursion for the day expecting rain. By the way, the excursion I was targeting was the Gunstner Waterfall, which was some 97km away from Zell am See. It was actually closer to Millstatt, but we the circumstances were such that I couldn't fit it in when we were staying there.
Eventually after having a quick breakfast of kefir and fruits (I missed out on Julie's bacon and eggs), I finally headed out at 7am. I could already see rain clouds building in the mountains even more and I suspected that it was a matter of time before the rain would get worse.
Regardless, with the early start, the drive went pretty smoothly as I headed back west on the familiar B311 Road eventually joining up with the A10 autobahn. I then followed the A10 until the GPS made me get off around Altenmarkt im Pongau onto the B99.
At first, I was lamenting the GPS making me not stay on the A10, but then I recalled that there was a fairly hefty toll due to the long tunnels we had passed through before when driving from Millstattersee to the northern side of the Grossglockner Road. So perhaps the GPS directions helped me save a little bit of money.
Anyways, the drive continued pretty uneventfully as there were some light sprinkles in spots, before I finally got to the town of Tamsweg. While I passed through the town, there was a little bit of confusion on my part as to what was the main throughfare. But eventually, I'd get through the town and onto the B96 where I'd eventually follow signs for Krakaudorf.
Once I arrived in the small town of Krakaudorf, that was when I finally started to see signs for the Gunstner Waterfall.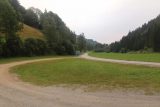 By around 9am, I arrived at a spacious grassy car park with a Gunstner Falls sign by it. I thought I had made it, and that I should be walking from here on out as there was a Fussweg sign saying the falls was another 400m away.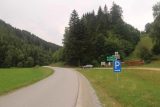 It still hadn't been raining yet and even some glimpses of sun piercing through the clouds' thinnest sections gave me some reassurance that this excursion wouldn't be under miserable conditions as I had feared.
As I geared up then walked along the narrow (nearly single-lane) road towards the Gunstner Waterfall, I saw at the unpaved turnoff that there were more signs indicating that there was parking for visitors (in German) further up the unpaved road. And sure enough, after another 100m or so of walking, I saw the cafe and a couple of cars already parked here.
I guess I managed to extend my excursion by about 1km round trip, but that was no big deal.
I pretty much followed the signs as it led me past some kind of donation slot and then onto a wooden path hugging a cliff while practically on top of the stream from which I knew the Gunstner Falls was on. And indeed, it didn't take long before I was face-to-face with the lower drop of the Gunstner Falls.
The further I walked up, the more the upper tier revealed itself (though the lower tiers started hiding itself). So after getting my fill of the falls from this spot, I continued hiking up the steps where there was a fork. Unfortunately, the trail leading to the bridge over the top of the falls was closed as it appeared the bridge might have experienced a wash out.
So that shortened my hiking route and time spent here as I basically continued along the wooden steps ignoring the signs for Markushohe (as I wasn't going to make it all the way up there) and continuing onto the apex of the steep ladders. Once there, I then had to descend some pretty rocky, rooty, and steep "paths" before reaching a couple of lookouts with benches and/or picnic tables.
From there, I was able to capture videos revealing the entirety of the Gunstner Falls, which was impressively tall when you count all the tiers together. I also managed to take some awkward photos trying to get the whole thing wherever I could. Also, the sun starting to come out also didn't do me any favors with the lighting at this time of day.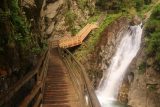 After having my fill of these lofty vantage points for the Gunstner Falls, I then went down the steep steps eventually returning to the donation slot junction. Given the amount of work that went into building this trail (as well as the ongoing repairs to restore the bridge and allow visitors to get to the other side), I wondered if the owners here really should charge for a visit instead of relying on that donation slot (no one seemed to be doing it).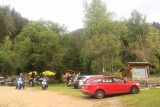 It seemed like a lot of effort went into trail building and maintenance only to do so without expectation of payment. Something tells me that's not sustainable and it would be only a matter of time before the owners would finally note the effort involved in keeping this place open and thus would charge visitors to recoup some of those costs.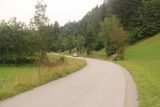 By the time I was back down, there were some other Austrian visitors, which kind of made me wonder how well known this place was with the Austrians given how there had to have been at least a dozen people or so on my way out.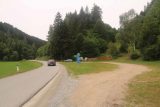 By about 10:05am, I returned to the car, and then proceeded to drive back the way I came. The GPS this time tried to take me onto the A10 autobahn which would have required tolls, but I knew from memory that I should be going back the same way I came through the Obertraun (sp???) Region.
During this drive back, there was quite a bit of stretches of rain (some of which was moderate). This was the kind of weather that I was expecting given the forecast, and it was a good thing that my Gunstner Falls excursion didn't suffer as a result of bad weather. I'm not sure I can say the same thing about tomorrow's excursion to the Umbal Waterfalls on our way to Northern Italy.
Eventually, I'd reach the brief stretch of the A10 that had a bit of a stau (stopped traffic) at around 11:40am. It appeared that most of the stopped traffic was headed towards Salzburg. When I saw some people taking the emergency lane and kept going, I ultimately started to do that myself, and sure enough, the right lane opened up to reveal the exit that would have taken me back to Zell am See.
While driving west along the B311, I noticed that there was a waterfall that was spilling from a cliff just as I was entering the east side of the town of Taxenburg. It was hard to stop for it given the rate of speed on this highway and the lack of obvious pullouts given the situation. I did notice parking lots for Kitzlochklamm, and I was wondering if that waterfall was somehow affiliated with that gorge adventure. In any case, I couldn't stop for this though it did pique my curiosity about other waterfall surprises like this.
Aside from those little hiccups, I finally made it back to the apartment at 12:45pm. I wasn't expecting to score a good spot right across the post office, but I did manage to score parking a little closer than yesterday.
Regardless, by 1pm, I was back inside the apartment where Julie was making lunch and Tahia was busy spotting me and conversing with me as I was walking back to the apartment. Apparently, they did some shopping at the local Billa while also briefly checking out the lake, but they said that it had been raining so they cut their lakeside visit short.
For the next couple of hours, we killed time having lunch together while I was also tending to some blogging duties. Neither of us had plans to do anything this afternoon. I guess this extra night spent at Zell am See seemed necessary to get all the planned activities in, but it turned out that I might have overestimated the time durations so we were afforded some margin.
That's actually a good practice to have as I've learned over the years that you need to have some room for unexpected discoveries as well as flexibility (especially with the variability of the weather).
Anyways, Julie's lunch was basically chicken pan fried along with sauerkraut and some lettuce. It was a simple meal, and it reminded us of how much money and time we actually save by doing this instead of eating out all the time.
After the lunch, Julie decided that she wanted to savor her last day in Zell am See, and so she was in the mood for a thermal spa. And upon reading that Bad Gastein had a well-known spa that was said to be one of the top European spa experiences, I think Julie was sold on the idea, and she was ready to head out there (with us following her).
Funny how I was there a week or so ago when we were staying in Salzburg. We could have knocked this out back then (though I did show up early). In any case, we were doing it now, and it felt like today was all about doubling back as the Gunstner Waterfall involved backtracking and now we're going back to another familiar place in Bad Gastein.
It wouldn't be until 3pm when we were finally back in the car. Since I had already been to Bad Gastein earlier in the trip (where I went there on a divide-and-conquer-day) while we were staying in Salzburg, the drive went mostly uneventfully until we finally scored street parking at 4pm.
We went to this place called the Felsentherme, which was said to be one of the better spas in town (or all over Europe according to The Guardian). It was also said to be family-friendly so I could keep an eye out on Tahia while Julie tried to do more of the adult stuff (i.e. the sauna area where I'm sure clothing was optional).
The drive was pretty uneventful, and I was quite surprised at seeing how much the weather was holding up as I was expecting to see more bad weather starting today and continuing on for the next couple of days.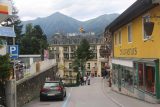 The Felsentherme was actually in a part of town that I wasn't familiar with since I pretty much hiked a loop around the many waterfalls that spilled right through town. I was actually a little disoriented by where this place was.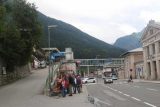 In any case, we paid the 50 euros for the family package for 3 hours, and we then experienced each of the pools. Julie went upstairs as expected, but Tahia and I stayed downstairs where we went from one lukewarm pool to the next. There was a slide that was like the Bad Kleinkirchheim except it was smaller this time around.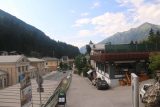 There was, however, a waterfall massage as well as bubble jets in the main pools. There was also a diving board at a deeper pool, which Tahia foolishly jumped right in forcing me to drag her out and move her to the wall (that took a surprising amount of energy to do).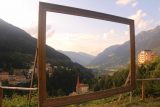 Before we knew it, two hours had passed when we finally decided to rinse off and return to the car. It was about 6:25pm when we finally started driving but my disorientation had us continuing to drive uphill on one-way streets before we finally cut across to the main road then we went downhill to the familiar road that I had taken on my earlier visit.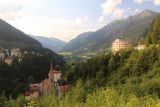 At least we managed to get one panorama shot where we did a three-point turn, and then I pointed out the uppermost waterfall to Julie as we were passing by.
Again, the weather was still holding up on our drive back to Zell am See as there was still plenty of sun and clearings in the clouds. This was definitely contrary to the forecast that called for bad weather today and the next couple of days.
As we approached the town of Taxenburg, I once again looked for that waterfall off to the left of the road. However, I noticed that the waterfall I had seen earlier had disappeared! Was this one of those waterfalls that they can turn on or turn off? If so, then perhaps that's why I hadn't seen it in the context of waterfalling – because it wasn't real?!?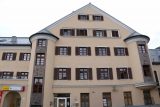 In any case, we got back to the apartment at 7:20pm, where we managed to score a good parking spot right in front of the post office. This would come in handy when we'd have to load up the car possibly in the rain that was predicted tomorrow.
The town felt a bit deader than last night, but I figured it would be that way considering it was a Sunday night.
Anyways, now it was time for another self-cooked dinner, and then Julie was planning to go back into town to indulge in another round of gluten free dessert. We'll see how that works out because the clouds outside were darkening, and perhaps that predicted bad weather was finally going to make its appearance for good…
Julie and Tahia did make one quick dessert run in town under the light rain at 9:20pm. They said there were still lots of people in town, but it was nowhere near as busy as it was last night.
And so ended this last full day in Zell am See. Tomorrow, we were headed into Northern Italy and back onto the Rick Steves Trail as apparently his books covered the places we were about to get to – the Dolomites, Innsbruck, Tirol, the Romantic Road in Germany, Rothenburg, Bamberg (not on Rick Steves Trail), and eventually Frankfurt.
But with the uncertainty of bad weather (which is always the case in Europe, especially in the Alps), this will have to be something we'll have to read and respond to. We'll see what tomorrow brings…