Day 20 (July 2, 2018 – Salzburg, Austria): "Seizing The Weather"
It was about 6am when I awoke. I basically went back to sleep after my 4:45am alarm went off, but I thought today was going to be an easy day so I just let my body get a little more caught up on sleep.
The early morning was pretty much spent blogging and marveling at the clear blue skies. I was kicking myself for not doing the Eagle's Nest and Konigssee today instead of yesterday because we could've gotten an early start and beat the crowds had we gone there this morning. Moreover, we could have gotten better lighting looking in the direction of Konigssee with the morning light as well.
We could have visited Salzburg yesterday though things would have been challenging given it was Sunday and just about everyone was closed on the ruhetag (rest day).
In any case, it wouldn't be until about 9:10am when we were finally heading into town to tour Salzburg. We had ourselves a self-cooked breakfast to take advantage of the kitchen facilities in our more spacious apartment.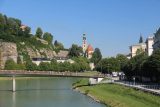 During the walk into town, we saw that there was a lot more foot traffic as soon as we had crossed the bridge over the Salzach River. The side that we were staying in was where all the accommodations were, but it turned out that most of the action was actually across the river.
There were also lots of service vehicles, which I guess was a result of this being Monday, the first werktag (workday) of the week.
As we were making our way in the direction of the festung (fortress) that was looming over the city of Salzburg, we went through some charming alleyways which were lined with shops. Perhaps the most engaging part of the walk was the Dom and the plaza nearby, where there was some golden ball that was really shining against the morning light.
Inside the Dom, we saw the usual grand cathedral interior that was now customary for every cathedral we've been to. Apparently, there was one section where some people were allowed up the stairs and watch someone play the church organ, which was audible throughout.
The visit was short since we were pretty cathedraled out on this trip, but we figured we mind as well do this quick visit considering we were already here.
By about 9:55am, we took the funicular up to the festung. We wound up buying the all inclusive package because Julie wanted to see the regency room or something like that (she was always into furnished castles, palaces, or in this case a fortress). The all-inclusive ticket also included a trip back down the funicular, and this ticket only costed about 3-4 euro more than the basic price, which only covered the funicular one-way and didn't include the extra museum visit.
Anyways, once we were at the top of the funicular, we turned right and headed straight for the panorama terrace. Up there, we were treated to gorgeous views towards the mountains in the direction of the Eagle's Nest. With such a clear sky day, we could see over the backside of Salzburg and towards the mountains which appeared to be clinging on to its last remaining bits of snow or ice in tiny sections. They looked like they'd be snow or ice free before the end of this Summer.
Next, we walked up through one of the towers before following the path to the left towards the actual interior of the fortress itself. There, we presented our tickets, got a free audio guide, and then we proceeded to self-tour through the interior of the fortress.
The self-tour involved first going through some kind of room full of archbishops or something before it went up a bunch of steps past some torture chamber. At the very top, there was yet another lookout area where we could see in all directions, especially in the direction of the Salzach River and the old town of Salzburg.
It got a bit crowded up there as soon as a large group of school children showed up.
Then, we went down the steps into a separate corridor that was the battlements. Throughout this section, we were checking out the views over both the courtyard area in the middle of the fortress as well as the views towards the old part of Salzburg and the Salzach River. By the time we got out of the battlements, there was a person there collecting audio guides, and that pretty much concluded our visit through the festung that was included with the basic package.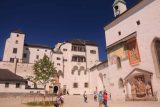 As we left the battlements, we found ourselves right in the courtyard itself and we then went around some small chappel towards a different terrace where we could get views into the old part of Salzburg without worrying about window glare. It was yet another nice photo spot, and we came to the realization that visiting the festung was more about the views in all directions than it was about the history (at least compared to other castles and palaces that we had visited to this point on this trip).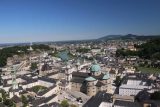 Next, we then went under an archway and up some stairs towards a museum. That was where we showed our ticket and entered a different exhibit area, which showcased some weapons, treasures, and some preserved parts of the fortress that included a chapel as well as some old Roman arches.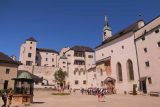 There was even a short theater or something like that as well as a couple of bedrooms. The museum was under renovation so there was quite a bit of restoration work, apparently. I guess that part of the visit was the so called Regency Rooms.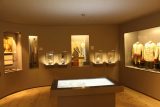 Then, we went into some rooms that showcased more modern weaponry, uniforms, and displays of Kaiser Franz Josef I. This part of the tour seemed like more of a modern warfare display as it showed what life was like in the castle during the time of World War I. The reason behind that war was still a bit unclear to me, but there was no doubt that it was a destructive one, and what we saw in that museum was a display of the equipment that was used during that time.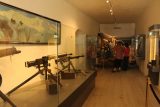 When our visit was done, we then promptly went right for the Panorama Terrace Cafe. We got there at 11:30am, and all the choice spots were already taken up as other people thought the same thing about enjoying the views over some food.
Still, eventually one table left, and we promptly seized that spot to better enjoy the views out towards the mountains and the quieter side of Salzburg. Our meal consisted of some kind of pork medallions with spatzle and veggies. Meanwhile, Julie had some creamy salmon. While they had giant pretzels in a basket ready for the taking, we knew they costed at least 2 euro a pop and we had to keep a close eye on Tahia to make sure she wouldn't touch it.
There was a trio sitting next to us, where the guy that appeared to be a tour guide sounded Australian, but he had some fluency in both Mandarin Chinese as well as German. That was pretty impressive.
By about 12:25pm, we were done with lunch. We then took the busy funicular back down into the old town of Salzburg (once again, we didn't get a chance to have choice views in the minute-long ride), and we then walked back through the now-busier alleyways of the old town getting a few shots in there.
Along the way, we stopped by some place called the Wurfel Lucker Cafe or something like that. Julie had read that they made a pretty good Apfelstrudel, and we decided to try one with an ice cream scoop at 12:55pm.
After that short visit, we then walked back to our apartment and got there at 1:25pm, where we promptly changed our clothes anticipating that perhaps we should do a hike in Halstatt with the beautiful weather. We had known in the forecast that on the day we were supposed to stay in Halstatt on Thursday night, that the weather would turn sour once again.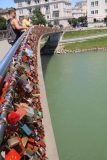 So we tried to be proactive about today's gorgeous weather and just seek out the lakeside town hoping to capitalize on the experience.
When we recovered the car at about 1:45pm, we promptly followed the GPS directions as it took us on a seemingly roundabout route towards Bad Ischl before heading south to Halstatt. While the detour might have costed us a little time wise, it did have offer some beautiful views over some lesser known lakes of the Salzkammergut Region.
It was too bad we didn't stop for any of the views as we were focused on getting to Halstatt, but in hindsight, we probably should have stopped for at least one or two lookouts (as busy as they were) for the colors of the water were a magical turquoise blue set against the mountainous backdrop and blue skies.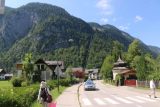 Eventually at around 3:15pm, we finally arrived at the P1 parking lot in Halstatt, where there was a sheltered underground garage. There was someone preventing people from parking at the P2 parking lot, which I guess would be marginally closer to town. In any case, it was about 3:15pm when we were finally starting to walk and experience the UNESCO town of Halstatt.
As we made our way along the street back to the charming lakeside town, there were some thunderclouds that were budding in the mountains behind the town of Halstatt, which periodically impacted the lighting. Actually, in terms of taking good photos, this place was more of a morning place than an afternoon place.
Still, like with the Colmar experience earlier on this trip, we were enjoying that the town was photographable almost every step of the way along the lakefront with timbered homes practically stacked atop each other on the steep slopes of the mountain.
Along the way, we even noticed a nice waterfall though it was hard to tell if it was possible to get a better view of it. This wasn't the Waldbachstrub Wasserfall that went into one of the valleys from the town, however. And as it was getting late in the day, I decided that I would probably have to do that hike in the rain when we would be staying here rather than making us stay late here and still have to drive back to Salzburg later on.
In any case, by about 4:25pm, we arrived at the post card view spot of Halstatt. And as expected, this too was more of a morning spot. Still, the scene of the churches of Halstatt backed by gorgeous mountains (even if the afternoon sun was somewhat against us) was a sight to behold, and we could tell that other people who managed to walk this far were feeling the same.
The tourist crowd here definitely had more of a Chinese flavor to it because it seemed like the mass tour groups were primarily mainland Chinese people. So that kind of added to the tourist crush.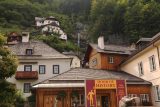 Anyways, after getting our fill of the lookout (there was a sign here that said "Point of Silence" though I doubted that this point was called that officially; probably it was more for residents trying to keep the peace), we then walked back through town and eventually to our car as we pretty much abandoned any attempt at going on a long hike on this day.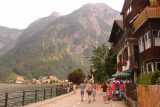 At about 5:15pm, we were back at the car, and then we proceeded to take the more sane route back to Salzburg (though it was still around a 90-minute drive given the traffic and slower traffic holdups by trucks and buses).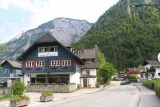 It wouldn't be until about 6:50pm when we actually took the fairly long detour to the bahnhof of Salzburg where there was a Forum 1 car park as well as shopping mall. In there, we grocery shopped at a Euro Spar (there was no more Alnatura or Rewe), and we had to get used to the Austrian way of referring to goods where the German words we were familiar with were no longer being used.
So things like Bio Quark probiotic yogurts were now apparently Topfen, and other nuances like that.
Not everything we got was organic, which was much to the disappointment of Julie. But still, with the shops closing at 7:30pm, we pretty much maxed out time wise on stocking up on supplies for self-cooking in the apartment, which we hoped would save us money and time from having to eat out all the time.
Eventually at 7:45pm, we were back at the Mirabell Car Park. And by 8pm, we were back in the room, where Julie and Tahia stayed in the apartment and got re-settled while I was busy going back into town to do a little more quick exploring.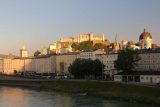 With the late afternoon lighting, it seemed like the festung was getting the benefit of such lighting, and I sought to take advantage of it in my photos. However, back at the bridge full of locks, it seemed like the river and the foreground buildings along the Salzach River were under shadow or partial shadow.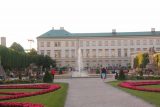 I'm guessing the best lighting would have been a few hours prior. I'm sure that was where Rick Steves shot one of his videos with the festung in the background, and that was probably around the time he made his video shoot as well.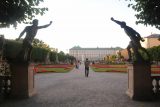 On the way back to the apartment, I spotted some attractive garden, which was apparently the Mirabell Garden. There was a fountain and some kind of palace-like thing in the background. I'm sure if Julie knew about this earlier, she totally would have taken the time to do it. But as it was, it was kind of a nice little discovery and I stopped to take a few photos of this, and the entrance to the Mozart Wohnhaus (where apparently Mozart lived).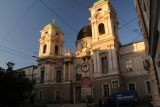 I'm sure when we divide and conquer tomorrow (where I'm on my own to do some hiking while Julie and Tahia could tour the city freely), the ladies were free to spend their time visiting these things without me getting twitchy about being confined to buildings and people (and parting with lots of euros) while I go out on Nature hikes to waterfalls.
Anyways, I was back at the apartment at 8:20pm, and after having dinner together as a family, we then cleaned up and slept as what promised to be an easy day actually turned out to be quite a busy one. But at least we got to experience Halstatt in good weather, and now we didn't feel as pressured to try to do stuff in that town when the bad weather would be expected to hit when it came our turn to stay there…
Visitor Comments:
Got something you'd like to share or say to keep the conversation going? Feel free to leave a comment below...
No users have replied to the content on this page