Day 22 (July 4, 2018 – Salzburg, Austria): "Resolution"
It was 5:45am when I awoke. I slept in on this night knowing that I had made a conference call with the TopTal folks at 11pm last night. I didn't go to bed until after midnight. So I needed the extra sleep.
That said, I had thought that today was going to be a light day of touring as Eisriesenwelt and Golling Waterfall were the only things I had planned on this day. However, Julie and Tahia had this idea of doing a salt mine visit at Hallein, and I thought that might be a tough go unless we got an early start.
However, since Julie got Tahia into the Sound of Music yesterday after touring the Mirabell Gardens and looking at some of the film locations for that movie in the Salzburg area, she had this idea of touring the gardens early this morning while Tahia was still asleep and the crowds wouldn't have showed up.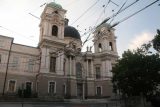 So by about 6:15am, I went with Julie straight to the Mirabell Gardens which was only a couple minutes walk from our Arte Vida Boutique Apartments, and we wound up reproducing some of the shots that the occurred in the Sound of Music concerning this garden.
Among the shots included the striding and reaching statues at the foot of the gardens as well as the arched trellises.
We also went up the stairs for a surprisingly good look back over the gardens towards the Festung Hohensalzburg, which was quite attractive in the early morning.
I'm sure the locals that were chilling out here must be wondering what the big deal was regarding the re-creation of the Sound of Music scenes, but that view back towards the Festung transcended the cheezy and went right into legit photoworthy opportunities.
Then, we went into the rose garden area right in front of the building, where we managed to show the nice flower gardens fronting the rest of the garden with the Festung Hohensalzburg in the background.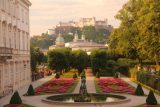 With hardly any people strolling about in the gardens, we peacefully took our shots. However, the fountains weren't running so something was missing in the shots. I guess you have to pick your poison with these things – either have the fountains running but deal with the hordes of people, or get the peace and quiet but miss out on the fountains. Looks like you can't have the best of both worlds unless you got super lucky or you paid to clear out the crowds and get your shots.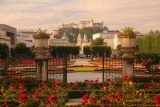 By 7am, we were back at the apartment where Tahia was still asleep as she could even sleep through the clanging church bells that were ringing for quite a while as if it was announcing the start of the day so everyone should be waking up.
As usual for our morning routine, it took a while to get ready for the day. Julie was preparing breakfast, Tahia took time to get up and even more time to eat, and before we knew it, we were finally in the car at 8:45am to start the day. This was quite a bit later than I would have liked, especially since Tahia was looking forward to doing the roller coaster in the salt mine at Hallein after getting through with the priorities for the day.
The drive out of town involved the usual navigating through the city streets to eventually get onto the A10. I'm sure it disagreed with the GPS' initial shortest distance routing, but this "get-to-the-autobahn" route, was probably the most sensible considering that the signs kind of suggested that this should be the direction to go.
One thing that I started to notice about the car now was that with the constant warning about the diesel exhaust fluid being empty, we were now getting another warning message saying that the engine restart would not be possible in the next 800km and it was counting down the further we were driving!
Now, we were quite worried about being stranded in the middle of nowhere, and that we had better get this issue addressed. At least we knew of an auto service spot for Jaguar in Salzburg (we happened to see a Jaguar sign on the way into Salzburg a few days ago), and we made it a point to go there after the day's activity would be over. Surely, the two activities we had planned should be short enough before returning to town to get this issue addressed, we thought. But squeezing in Hallein given all these other priorities was definitely pushing it.
Also, we learned that the Hertz people (at least those we spoke to) probably didn't know what they were talking about in terms of letting this car drive on without heeding the warning signs. This thing had all the makings of something that's easy to do that we could do ourselves, but without being able to read the manual that's completely in German, we weren't sure which hole under the hood we could fill in after buying the liquid from a gas station.
So that pretty much put more pressure on the salt mine visit as we now had more higher-priority issues to address. Indeed, this issue that came up a few days ago when we were entering Salzburg, Austria, was now growing to near crisis levels. I guess we always have some bit of car drama when it came to these long road trips.
Anyways, after smoothly going south on the A10 and following the brown signs for the Eisriesenwelt Ice Cave, whose exit started not long after one of the long tunnels, we then continued following the signs as we were taken past some interesting-looking castle (already with lots of cars and tour buses) called the Burg HohenWerfen. Like other castles perched in high places, this one was strikingly perched atop a rocky cliff overlooking the town of Werfen, and we started to see a pattern with nicely situated castles in the spirit of Neuschwanstein even though this castle might have nothing to do with Ludwig II.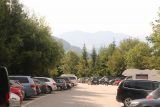 Then, we took a steep road uphill eventually leading up to the car park for the Eisriesenwelt Cave. There were lots of parking spaces, but we managed to score one near the top at 9:40am. Even though this was over an hour later than I would have liked (as there were already a lot of people here including a tour group full of kids), we were surprised by the number of people already here. I guess this place was more touristy than I would have anticipated.
As we approached the ticket office, the first thing we noticed was that there was a huge sign saying that after purchasing our tickets, we would have to go on a 20 minute walk, then we'd have to take a cable car, then we'd have to follow that up by another 20-minute walk before finally reaching the cave entrance. From there, we would have another 70-minute tour before getting to go all the way back down to the car. So we were in for at least a 3-hour excursion, which was a bit longer than I anticipated, and that salt-mine thing was looking less and less likely.
We first waited in line to purchase our tickets, which took quite a bit of time as the line itself was hardly moving and it took some time before we finally purchased a family pass for around 55 euros. The whole time, I was looking at the video on the big screen above the ausgang kind of informing us what the experience will be like on the way up to the entrance. They also repeatedly reminded us that no photos were allowed inside the cave in order to ensure a smooth experience. I knew that kind of sucked because we would be unable to take home the experience with us, especially with the amount of money we were paying.
The uphill hike from the kassa to the cable car station was a bit of a hot and sweaty affair. Fortunately, there was a direct cave route where the path was much cooler and very welcome to take a bit of the bite out of the exercise needed to get to the cable car.
Eventually, we'd make it to the cable car, wait in a short queue before we'd get crammed in the stuffy vessel, and then rise even higher above the town of Werfen as everything below alongside the Salzach River and the A10 were getting smaller and smaller.
When we got off the cable car station at the top, we then went on the next hiking section, which involved walking past some cafe before going on a bit of an uphill hike involving more switchbacks. The views up at this part of the hike were commanding as we had that on-top-of-the-world feeling, and it was hard not to want to take photos on the way up as we went.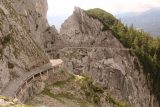 Towards the end of the hot and sweaty uphill hike, there were rock shelters set up to prevent rock slides or falling rocks from hitting people on the nogging in the steepest sections. Some of the pinnacle-like formations up at this altitude were interesting to see though also a foreshadowing of how easy the rocks up here can flake off and land on the hiking trail.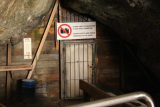 Ultimately, we'd make it to the entrance of the cave some time just before 11am. While we were a hot and sweaty mess just to make it up to this point, there were also lots of other people who have made it up here and anticipated doing their tour. At least, it was noticeably cooler at the cave entrance where we could have a seat and wait for the English-speaking tour to commence. Naturally, the Deutsch side started earlier since they had more German-speaking tourists here than English speaking ones upon our arrival.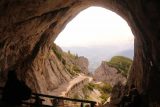 At least that gave us a chance to cool down as well as to start putting on our jackets knowing that it would be 0C inside the cave itself.
Eventually, one of the guides distributed old-fashioned natural gas or kerosene-like lamps to every second or third party as this was to serve as the primary source of lighting for our tour. Apparently the cave was absent artificial lighting, which would make taking pictures even more difficult even if you were to sneak in a shot or two against the rules of the staff here.
Once we were finally able to go on our tour, we had to get through the really strong gust of wind as the thermal exchange between the warm outside and the cool interior was quite striking. But once we were inside, we pretty much followed our guide who was periodically using his kerosene lamp to light up sticks with magnesium wicks, which shone even brighter than the softer-light kerosene lamps that some people were holding.
Given the amount of darkness in the cave, we really had to watch our steps as the wooden planks and half-metal steps assured that we would have a relatively comfortable walking surface without as much risk of slippage had we been walking directly on the ice.
Now, this cave was primarily rich with ice formations, but there were also quite a few spots devoid of ice. So it wasn't the complete ice experience like it was inside the glacier at the top of Jungfrau in Switzerland, but it was still quite an atmospheric experience as we were following the flow of the tour and allowing ourselves to really get our minds wrapped around how large this cave system was.
The tour itself involved lots of steps (the guide said 700 on the way up and 700 on the way back down). The initial part of the tour involved the bulk of the climbing.
Eventually, we'd reach sections where the ice was more predominant, and that there were some frozen waterfall formations, which he called the ice palace. I'm sure if Tahia was still into Elsa, this would be one place that would totally reinforce the need for ice.
After a bit more climbing, we then started to see other interesting formations as well as what appeared to be a smooth and flat ice lake. All this was apparently the result of water seeping through the mountain and ultimately making its way into the cave in the warmer Summer months, where then the cave would freeze the water but not before resulting in these interesting formations.
Some parts of the cave were noticeably warmer than the others, which contributed to the constantly changing formations inside. But it still remained a pretty constant 0C inside even though the temperatures can fluctuate outside (and even be colder than the cave itself like in the Winter time).
Finally, the tour then concluded with a long walk back down the steps, which once again was quite atmospheric. I really wished I could somehow capture the moment with the camera in long exposure but high ISO setting, but it was turning out to be not possible given the flow of the tour, and how the minimal light made it easy to miss a step and take a bad tumble down the wooden steps.
The tour then ended, where the guide personally greeted everyone on the way out (also probably to get a trinkeld or two), and we'd then be back at the entrance of the cave, where another even larger crowd of people were ready to make their way in.
From there, we went on a relatively quick all-downhill hike as Tahia and I rode the momentum of gravity and practically jogged our way down to the cable car station, then went back in the stuffy cable car itself to look down at everything around us as they were getting bigger and bigger once again, and then go down the last hiking section to the gift store, where I opted to take the panorama weg as opposed to the cave way back down (though the views weren't that great on that detour section).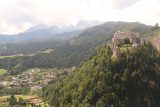 Eventually at 1pm, we were finally back at the car, where it was scorching hot in the interior despite the windows being cracked open. There were some thunderclouds still scraping the tops of the mountains around us, which limited the views, but it seemed like the clouds had momentarily lifted from earlier this morning to really produce gorgeous panoramas as if we were still on top of the world. Indeed, the views up here were almost Switzerland-like (thinking of Lauterbrunnen Valley), and on a cloud free day, the views must be sublime.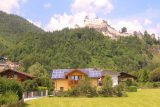 After squeezing through the car park and making our way down, we made a couple of quick stops to take pictures of the Hohenwerfen Castle. But then, we headed right into the town of Golling, where Julie wanted us to have a quick lunch stop.
We picked this cafe where everything was in German so we took our chances at 1:35pm. I kind of suspected that it might not be a great place to help her gluten free restriction considering it felt more like a coffee shop than eatery, but we still had some decent pork and beef steak medallions (that was Julie's gluten free option), but the snitzel was pretty much a veal cutlet that was probably not the healthiest option. So Tahia and I shared that.
Considering that this place didn't seem that friendly to tourists, we figured that it was cash only (confirmed by the lady serving us), and we couldn't even drink our own water when she wouldn't bring out another leitungswasser to us after we had run out (probably a good thing because we were getting charged for it).
I guess with a place that's not very touristed despite being so close to Salzburg, on the one hand I liked that it didn't feel crushed but at the same time, we did get moments like this where it didn't feel like we were very welcome. I guess that's understandable considering the language barrier, and that Julie's diet restrictions and communication style might rub off the locals a bit wrongly sometimes (which probably would trigger the "ugly American" stereotype I'm sure whether that assumption was wrong or not).
By about 2:40pm, we were finally back in the car, and now we could get going on our visit to the Golling Waterfall.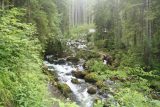 The way was quite well-signed from town, and by about 2:50pm, we finally made it to the car park, where we had to navigate quite a few narrow streets just to even get here. By now, there were some dark clouds overhead and it seemed like it was threatening to dump its load on us, so despite the warm temperatures, I had to close the windows fully just in case.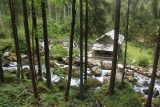 With that, we then walked into the kassa, where we paid 6 euros for Julie and I as the proprietor said Tahia was free.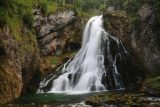 We then followed along a short trail leading to a busy area as some younger folks were chilling out by the fast-moving stream. However, we still had to go uphill a bit on a short path eventually leading to the impressive Golling Waterfall after about 5 minutes from the car park.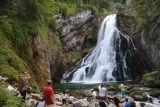 There, Julie and Tahia had a good time taking pictures while Tahia went looking for a shallow and calm spot to get a little wet. There were also quite a few other people around here enjoying the mist being thrown their way to cool off from the humidity. And indeed, Julie and I felt that this waterfall was impressive enough to get a score of a 2.5 at least or possibly a 3.
I then went ahead and continued to hike uphill as the path continued onwards towards the top. However, Julie and Tahia opted to chill out here for a bit before going back.
In the mean time, I managed to get some pretty nice views looking down at the Golling Waterfall on the ascent, and then I was able to continue on even higher as the trail would momentarily top out before descending onto the so-called Rainbow Bridge, where I could get a direct look at the spray coming out of the mouth of a surprising natural bridge, where the upper drop of the Golling Waterfall could only be partially seen as a result of the natural bridge.
There were some giant boulders partially blocking the natural bridge, and I'd imagine that the bridge might be a very temporary formation as it would continue to collapse from the underside, I'm sure.
In any case, I was welcoming the spray coming out of the mouth of the natural bridge, and I was also enjoying the views looking downhill towards the valley. But with the long shadows from a combination of the dark clouds and the sun starting to produce them with the cliffs behind me, it was hard to get satisfying shots without blowing something out.
The hike then continued further uphill along a bunch of short choppy steps before I'd reach another junction. This time, I kept right at first to check out the source of the waterfall, which was an interesting cave where the stream was flowing out of it.
Then, I went down the other fork, which went to the so-called Hexenbrucke (Witches Bridge), where I could look right down at the upper waterfall, which had a bit more of a plunge as well as an even more commanding view downhill towards the valley as well as the other parts of the trail that I had just walked.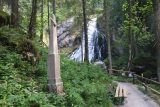 It was hard to photograph the upper falls given its height and the close proximity to it from the Hexen Bridge. It was best to capture the scene in video as opposed to a photo or in pano mode with a mobile.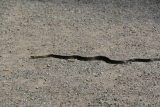 But after this experience, I knew that it was getting late in terms of returning to the trailhead and then trying to race to the Jaguar service station before they'd close for the day. So I quickly made my way back down (taking some pics along the way), and then I'd finally rejoin Julie and Tahia by the cafe at the trailhead.
Just before rejoining them, I spotted a snake going across the trail, which had a pretty long but narrow body. I wasn't sure if it was poisonous or not, but I kept my distance, took some pictures, and then let it slither back into the bush before I proceeded further.
By 4:05pm, we were back at the car, and we could then drive back into Salzburg. Julie said that while she was waiting for me, she did some more reading of the Hallein Salt Mine and said that there were very mixed reviews. So we weren't going to do it on this day, and it was probably a good thing considering that it might be a bit more of a touristy thing than something that might be authentic and genuine (even though Tahia really looked forward to the roller coaster).
By about 4:35pm, we finally pulled into the Jaguar service station where we explained our trouble to one of the sales guys, and then he directed us to work with the lady assistant.
She told us that while this was one thing we could easily do on our own, she did say that if we overfilled this fluid, the car would not work anymore. So in any case, it was a good thing that we just let the people that know what they're doing take care of this issue.
Of course, we'd get billed and pay out of pocket, and per the Hertz Roadside Assistance instructions (which she called on our behalf), we'd then seek reimbursement from Hertz upon rental car return.
While were waiting for things to get done, I couldn't help but notice that the assistant was this attractive blonde wearing a pretty revealing blue dress tank top showing a bit of cleavage as well as having a short hemline. It seemed like she was dressed to go out on the town in a night club or something as opposed to a workplace like this, but then Julie and I figured that in a facility where she was the only female, maybe this was necessary to keep the guys interested or something. Who knows?
When she went on a brief break, she was smoking outside to ensure we wouldn't get the second-hand smoke. I suspected that Europeans tended to smoke a lot because they're convinced it might make them thinner or it's an image thing or something. But it didn't seem at all surprising to me that she'd light up and do her thing.
Well, when all was said and done, we paid around 108 euros to get this done, and we made sure to affix this to the rental car documentation to make sure that we'd get reimbursed for this visit when we return the car to Frankfurt Haupbahnhof. At least finally, we felt like we laid this issue to rest, and we were assured that the top up of this fluid was probably good for 13k kilometers. Surely we wouldn't be driving near that amount for the remaining 4 weeks of this visit, I thought.
In any case, by 4:55pm, we got the car back, wished the lady that helped us a pleasant evening, and then we were on our way back to the Mirabell car park, which we'd get to at 5:05pm.
By about 5:20pm, we were finally back at the apartment, where it was a bit of a muggy walk back considering the thick and dark clouds overhead seemingly wanting to dump buckets of rain on us.
By about 5:35pm, we then headed back into town after a short change of clothes. Julie had her sights on this beer garden place called the Steinbrau or something like that, which was just across the bridge from near our apartment. We then had ourselves some boiled beef as well as a pork roast, which seemed to be gluten free as Julie anticipated when she scoped out places to eat yesterday.
However, the dessert was really what Julie was after, which was called the Salzburger Nockerl, and it was kind of a light, eggy souffle-like desert using vanilla with some raspberry jam or something that was supposed to be put into the nockerl itself (kind of like how we'd pour chocolate or vanilla liquid into the souffle to make it rise).
Julie and Tahia liked this dessert so much that they got it twice. So that prolonged our dinner, and eventually at 7:40pm, we then slowly made our way back to the apartment where we took a few more pictures of the festung with the Salzach River and lock-filled bridge in the foreground, bought a few more things from the Billa as well as some gift shop for one of those cheeky T-shirts you could only get in the country we were in, and then by 8:10pm, we were back at the apartment.
I managed to pick up a whole wheel of pizza from the L'Osteria across the way, where I got to see the busy and chaotic kitchen as I was waiting for my takeaway box, and then we spent the rest of the evening eating away at this pizza (which was reasonably-priced at 12 euros considering how expensive food can get here), and then we "walked off" a bit of our overindulgences exploring other parts of the old town near our apartment.
By around 9:15pm, we finally called it a day on our final night in Salzburg. Tomorrow, we were to return to Halstatt, but with the weather changing, we were a bit worried about trying fit in excursions before the onset of bad weather. We'll see how things play out, but in the mean time, we just got some much-needed shuteye, and were about to close the book on this most touristed and dare-I-say Americanized part of Austria as we were about to go deeper into a land that would probably be off the beaten path as far as most Americans would be concerned…