Day 23 (July 5, 2018 – Hallstatt, Austria): "Saltseeing"
It was about 5am when I awoke. It looked beautiful outside, but I wondered how long will this last given that the weather was forecasted to turn later this afternoon.
It took a bit of time to get ready as was usual on a day when we had to pack up, check out, and leave. All the hectic packing was making both Julie and myself antsy as I was lamenting that we were wasting precious time getting the late start while Julie was mad at me for rushing her.
In any case, I wound up picking up the car at 8am, where I then drove out of the Mirabell car park, but I was then greeted with some kind of local farmers market or something on the way out. I then drove back towards the familiar bollard in front of apartment (there was a cop waiting in front of the church, though he didn't seem to mind us driving into the fusgangerzone to load up the car with our belongings from the apartment.
Eventually at 8:15am, we left after waving to Herbert (the friendly guy at the reception we spoke a bit with us during our stay; Tahia and Julie really liked him) a fond farewell. And with that, we left.
The drive out to Hallstatt was a pretty typical one as we took the same route we used to drive into Salzburg, but now we were taking that route to get out of Salzburg via the A10. Then, we drove south on the A10 until we got to the familiar Golling exit, but then we headed east on the 156 road as we headed towards the Salzkammergut Lakes region of which Hallstatt was one of the towns and lakes comprising the excellent scenery there.
Even some of the Sound of Music's lakeside scenes were said to be filmed in the Salzkammergut region, and it was a fitting place to do it.
Well, the purpose of our visit to Hallstatt was to get the morning shots of the post card shot looking back at Hallstatt backed by beautiful mountains. I was hoping that our excursion wouldn't take that long so we could then go to the Dachstein Ice Caves before returning to town to finally do the Waldbachstrub Waterfall hike and perhaps let Julie and Tahia do the Salt Mine Tour (Salzwelten), which would include a roller coaster type slide that I'm sure Tahia would be stoked about.
By about 9:35am, we finally made it into the P1 car park in Hallstatt, where there were plenty of parking spaces so we had our pick of spots.
The plan was to make a beeline for the post card view with morning lighting, and I didn't expect this to be a long visit before we would move onto the Dachstein Ice Caves. I was really looking forward to doing that one because they let you take photos of the ice caves unlike the Eisriesenwelt Ice Cave that we did yesterday.
We managed to make it back to the post card view just as the walkway was starting to get crowded with mostly Chinese tourists. It really seemed like these tour groups really targeted Hallstatt, and I suspected that there must have been some kind of marketing ploy going on that sold the population on this place's scenic wonders.
Of course, I knew that it wasn't the only scenic lake as our drive to Hallstatt via Bad Ischl showed (except we didn't stop for photos to showcase birdseye views of the lakes with the backing mountains to show for it).
Eventually, we'd make it back to the familiar post card view by some time after 10am. It was still somewhat quiet over there, and as expected, the morning light was good for this signature view of Hallstatt. However, the clouds were definitely rolling in at the time, and that kind of created more hazy skies than the nice soft glow shots you'd see in the post cards or on Rick Steves.
After having our fill of this spot, we then walked back towards the P1 car park. However, along the way, we were filling up on our water bottles at one of the trinkwasser fountains. Most people walked by it, but when Tahia pointed out that the sign looked like it sanctioned the running water spigot as drinking water, that was when we dumped the tap water we got from Salzburg and loaded up on the water from this spigot, which was nice and cold and therefore refreshing on a hot day like today.
At around 11:30am, Julie and I saw the parking situation as none of the lots had any available parking spaces. So that gave us the idea to perhaps do the divide-and-conquer right now – meaning that I should do the Waldbachstrub Waterfall hike while Julie and Tahia would go up to the Saltwelten tour, which involved going up the funicular that was so easily seen throughout a good chunk of the walk between P1 and the town.
The hope was that once we were done with this excursion that we could then go do the Dachstein Caves when the parking situation would be a bit more normal. For if we did that cave right now, there's no guarantee that we could come back and secure a parking space as we were spending the night in town at the Fenix Hotel.
I was under the impression that the Dachstein Ice Cave was closed at 5pm though you never really knowing about these things (especially when they decide when the last tour was to occur prior to closing). I guess we'll have to see how it all turns out once we get to that point. But for now, it was time to go our separate ways and hopefully we'd all reconvene in time to do the Dachstein Ice Caves so we may compare it with the Eisriesenwelt Caves experience.
In any case, I went forward with returning to the garage to gear up while Julie and Tahia were to go straight to the Salt Mines.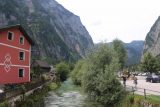 It wouldn't be until about 11:45am when I finally started the hike as I went looking for the correct path to go inland from the lake. But I never really found signage for it except for the one by the P1 car park where it seemed to take me on an incline and into another village which didn't seem right.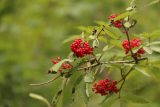 As I proceeded inland, I found the entrance to the Salt Mines which seemed to attract quite a few people. But I kept going as I then found the vaunted P2 parking lot, which wasn't sheltered and yet it was a pretty big lot. For some reason, there is always someone making sure traffic is moving along to not use the P2 lot even when there were a few spaces available, which I found to be strange. And it made me wonder how people even get to this lot whenever that someone is always there.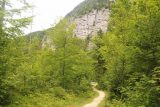 Well, we were in the P1 lot early enough so this wasn't a concern to us.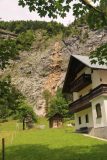 I then followed a street on the north side of the Waldbach which eventually got me past some residential area where I found some criss-crossing narrow roads and a bridge that took me across the Waldbach. I managed to get there at 12:05pm as I also started to see Themenweg signs.
On the other side of the bridge, I finally saw a "Wasserfall" sign saying it was still 45 minutes away, but the track was now the standard forested trail as it finally took me off the road where I would have had to share with bikers and motorists.
Along this part of the hike, there were some signs in German as well as a few English-German interpretive signs. Apparently this trail wasn't as unknown as it seemed given such infrastructure. However, I was pretty much the only person I was aware of on this trail (except for one Austrian couple sitting on a bench seeming like they were done with the hike).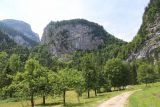 While it was warm and I was already sweating quite a bit from my dog-eared hat to protect from the bright sun, there were some incoming clouds corroborating the incoming bad weather that was forecasted to come some time this afternoon (and extend into the next couple of days). Yet it was this level of discomfort that kept the tour bus crowd and even most of the self-driving crowd in the town of Halstatt so it was delightfully peaceful and quiet on this hike.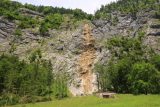 At about 12:25pm, the trail then started to really skirt the Waldbach after passing by some facility labeled Kleinewasserkraftswerk Halstatt, and then shortly thereafter I saw some modest cascade with a small cave by it. By this time, there were numbered interpretive signs explaining some of the history of what I was seeing along this trail. But aside from these signs, this was pretty much a classic forested hike.
The terrain remained mostly flat though it did have a slight incline grade that wasn't terribly noticeable.
The forested path then rounded a bend as it weaved in between some farm and houses with some logging shack. Backing this idyllic valley scene (as the trees were opening up), I saw some waterfall streaking a tall cliff wall at around 12:35pm.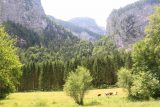 That particular waterfall wasn't doing so well, but it was probably what I saw labeled on the maps as the Schleierfall or Schleier Waterfall.
Surrounded by rounded mountains and cliffs that could have been like a mini-Yosemite in a way with cows grazing in the grass, it could have been a scene where one could just chill out and paint or just be in the moment and chillax.
But with no rest benches (this did seem like someone's work area after all), I had to keep moving and get back into the tree cover so the intense sun wouldn't be burning me.
Next, the trail started to climb a bit more noticeably as it passed by some other thing called Eulenloch, which was nothing more than a rock climbing spot as there was a hanging rope there. It wasn't anything special, nor did it look much like the interpretive sign here where there was a cave or shaft entrance or something.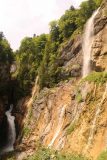 At about 12:50pm, I finally made it to the lower cascades of the Waldbachstrub Falls. The trail had split here as the lower path descended towards some bridge over the Waldbach and some signage suggested that it headed to the Gletschergarten (Glacier Garden?). I took the upper path as it said the waterfall was another 15 minutes away.
There was a family chilling at a bench here with some bikes. They were the only other people I've seen besides the couple I saw at the end of the town where the trail started to leave the road.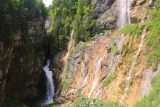 Now, the trail really climbed steeply as it went up a few switchbacks and some steps. But eventually, I got past some small split in the trail where I kept going up and kept right. And by 1pm, I finally arrived at the Waldbachstrub Falls.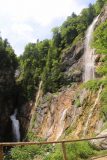 Here was a convergence of several waterfalls. There was a main pair of drops gushing out of a small gorge with a bridge above it. However, there were also several taller tiers of waterfalls plunging off the cliffs to the right that added to the symphony of waterfalls in this convergence spot at the head of the valley.
There was also an interpretive sign here explaining the beauty of this place and how it was known for over 200 years or something like that.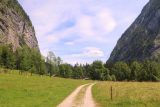 And so I spent the next several minutes just basking in the scene before me and taking what pictures and videos I could those I sensed that they really didn't do it justice. If anything, it was Julie's iPhone in Pano mode that probably captured the scene best.
As it was getting late and I was still hoping to get back to Fenix Hall to meet up with Julie and Tahia so we could still do the Dachstein Ice Caves, I then quickly made my way back down. But as I was almost down the hill, I had completely forgotten about the other spur path that I told myself mentally I would check out.
I wasn't up for climbing back up there to see where that path led to so I hoped that it wasn't a decision I would regret. But it just goes to show you that sometimes you have to seize the moment and just take the first path available then go up to the end. I've had more than one occasion where I've tried to keep a rain check on something just discovered only to have completely forgotten it later on, which would lead to regrets.
This was yet another reminder of the mistake I made.
Anyways, given the downhill profile of the hike, I quickly made it back to the upper end of Lahn, where I then followed some Dachstein Runde path, which was really more of a mountain biking path than a hiking path, but it passed by some kind of religious memorial or something like that as well as presented a few more idyllic views of horses grazing back by tall cliffs surrounding this quieter side of Hallstatt.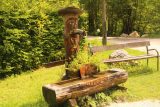 By 2:10pm, I was finally back at the Fenix Hall, where I used the hotel's WiFi to text then Facetime Julie. Unfortunately, they were still coming back from the Salt Mine visit, which was concerning. So I tried to use this time to get checked in and bringing in the luggages from the P1 parking garage.
At about 3:35pm that was when we were finally all checked in and settled in as Julie and Tahia showed up. Unfortunately, it was too late to do the Dachstein Ice Caves as apparently their last tour was at 3pm or something like that. So I was pretty bummed about not doing that as I wanted to at least take some photos of an actual ice cave instead of committing to memory what was seen and done at Eisriesenwelt. I guess Julie just didn't share that sense of urgency and I really wished that I would have gone there by myself since I had the time to do it.
So instead, while Julie and Tahia chilled out in the room, I then walked towards the Muhlbach Waterfall, which was that attractive waterfall easily visible from the busy walking path and throughfare of Hallstatt. However, with the help of the Italian receptionist who took our room payment, she told me that it was possible to get a good look at that waterfall by taking stairs to a parking area up there.
I knew it was possible to drive there, but she said that it was better to walk because they're always filled up.
So I went ahead and followed her advice, and by 3:55pm, I made it up to the P in front of the Muhlbachfall. In addition to finally getting some satisfying views of the waterfall (albeit against the sun), there was also attractive views back in the direction of Hallstatt and the Hallstattersee.
There were also a surprising number of people experiencing this lookout though still nothing quite like the crush of down below.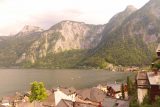 While there were dark clouds coming in, they seemed to be really slow moving so I was always contending with the sun. But I guess this was a fine consolation prize for not doing the Dachstein Ice Caves nor the Five Fingers Lookout, and I guess it just won't happen on this trip since we were to be driving to Admont tomorrow and eventually to Melk.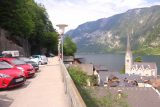 At 4:55pm, I made it back to the apartment where I was surprised to see that Julie and Tahia still didn't go to the swimming area that the receptionist recommended that was quite close to our hotel.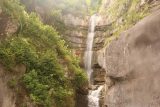 So I went ahead and got changed and accompanied Tahia there while Julie continued to nap. And by around 5pm, we would finally be in the shallow swim area between a small island and the main area. The water was quite chilly even though I had been sweating bullets for almost the entire time today during my walks and hikes.
Eventually I got used to the water temperature, but I noticed that the dark clouds were getting bigger and bigger the more I looked towards the mountains. Indeed, the slow-moving storm was budding and coming for sure.
Tahia was shivering. So after a few goes on the water slide, she then wanted to go on the swing, which we did, and then we noticed a zipline where Tahia got to go on that before rejoining Julie back at the apartment.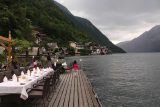 We had to get back to the room and walk into Hallstatt again because the receptionist made a reservation for us for 6pm at some place in town. Unfortunately when we started our walk to dinner at 5:55pm, we forgotten to bring that map.
So we were winging it, and Julie assumed that she made reservations for this place called the Seehotel Gruner Baum. It had a very nice terrace though we thought it was strange that they didn't have our 6pm reservation and instead had some 7:30pm reservation for 5 people.
Regardless, we were initially seated on the terrace and checked out the scene while waiting to take our order, but we could see that there were cloudbursts across the lake, and there was an incoming squall that appeared to blow in our direction.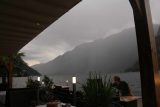 The staff worked quickly to get all the table cloths out of the outdoors and stack up all the chairs and tables, and everyone was moved inside so as to not get potentially drenched.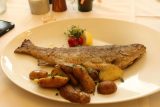 Anyways, we ultimately got to order some boiled beef, local trout from the Halstattersee, and ravioli for Tahia. We also indulged in a dessert of an Esterhazy Torte and an Apfelstrudel (as Julie talked me out of having the Black Forest Ice Cream Cake that was really eyeing).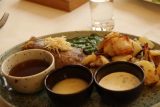 As we were waiting for the food and for ordering and stuff (service was never prompt as that's more of a European thing that we never really get used to but we've learned to just accept that you can't be in a rush at any sit down establishment), Julie and Tahia were regaling with pictures, videos, and stories of their Salt Mine visit.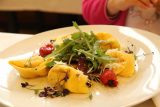 Indeed, Julie was beaming that she was glad she got to do that visit because apparently the mine they visited was the very reason why Hallstatt was a UNESCO World Heritage Site, and it all had to do with the salt and its heritage as apparently being one of the oldest salt mines in the history of civilization.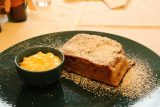 Of course, it was the pair of slides where they were going at nearly 26km/h (according to some souvenir photo they bought and kept) that was the real reason why Tahia was sold on this tour though she said she was creeped out by the darkness and the apparently skeletons or something like that where she must have witnessed it. I wasn't quite sure what she was tripping out about on, but with kids' minds, you can only imagine what our own childhood memories were like and how things scary and euphoric were amplified as our brains were still developing.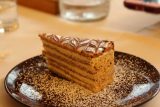 I started to sense that Julie and Tahia took a lot longer than anticipated at the Salt Mine tour because they probably spent a lot of time in the gift shop up there while also taking in the views in addition to the walking and the tour itself. They were up there for nearly 4 hours, which was longer than my hike. But at least they were happy with their visit, and sometimes you can just do it all when time and money are the limiting constraints on a trip like this.
While the service was very slow (at least slower than the slow we were used to from other European dining experiences) because we were sharing a room where a larger party was being tended to (they seemed to know Arnold Schwarzenegger or something from overhearing their small talk), we probably wound up getting the best meal we've had in Austria so far though we paid dearly for it as the meal was nearly 100 euros!
We even paid to have leitungswasser (tap water) while that other party had cocktails and wine and hor d'ouevres and the like so they must have spent a fortune so it's no wonder they got all the attention compared to us and other patrons at this establishment.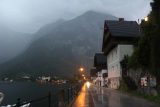 As we were leaving the restaurant, the rain was really coming down. But in seeing that there was no end in sight for this latest squall as there appeared to be another wave coming in behind us, we had to use the bent umbrellas from the Fenix Hotel and just put up with the rain. While the twilight was atmospheric, the leaking umbrellas and local street flooding made for an uncomfortably soggy experience that even Tahia wasn't too keen about.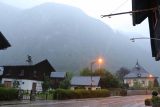 Eventually at 8:35pm, we were back in the room. And upon looking at that map that we had forgotten, I noticed that the receptionist had put a heart next to the Gasthof Zauner Seewirt. In other words, we showed up to the wrong restaurant!
No wonder why the reservations seemed all wrong at the Gruner Baum. My next thought was my wondering of what the consequences might be for a no-show of a reservation. I hope they didn't have our credit card number and put out a charge against us for this.
Regardless, we unwound the night as the heavy rain continued to fall. We tried hang-drying our wet clothes (and shoes in Julie's case), but I knew that they were not likely to dry overnight.
And with tomorrow being a long driving day that included the Admont Abbey and a hike at the Wasserlochklamm, it wasn't going to be a comfortable day to say the least. But every trip has uncomfortable moments like these, and it's all part of rolling with the punches as you do in life. Indeed, Rick Steves said that traveling is like life accelerated, and we're certainly living that adage at the moment…