Day 24 (July 6, 2018 – Melk, Austria): "Bad Breaks"
It was 6am when I awoke. It was still raining outside though it wasn't as heavy as it was last night. Nevertheless, the rain was persistent, and I knew that it was going to be a rather wet walk to the car at the P1 lot.
Not everything was dry overnight as we did our best to hang dry them against the draft from the windows. I guess the difference in humidity wasn't great enough to overcome the dampness of our clothes given last night's heavy rain that we had to walk through.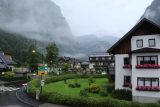 We took our time getting packed and ready to go so at least we could be ready for the included breakfast right at 8am. We didn't have high expectations for this brekkie, though, so it wouldn't be like the ones we had at the hotel in Munich. That said, Julie wanted us to get fed since we had no refrigerator even against my doubts as to whether this included breakfast was worth the wait or not.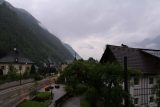 As according to plan, it was 8am when the door was open for breakfast, and it was pretty much cold cuts, fruits, cereal, bread, some pastries, and the cooked stuff was pretty much some kind of hash brown-like thing as well as a hard-boiled egg. So the brekkie didn't take long, and it was a good thing we got the early start because the selection was limited and we took up all the eggs (there was only two available).
After I was done with breakfast, I started to take the luggage downstairs and leave them at the lobby door. I then took what I knew I could lug over to the P1 garage, and I proceeded to walk through the rain. While my small luggage got a little wet and my laptop and camera bags got some rain drops as well, it wasn't too bad.
By 8:40am, I loaded up the first wave of stuff into the car, then by 8:50am, I drove back to the Fenix Hall where Julie and Tahia were waiting for me. After getting in the larger stuff, we were finally ready to go.
The drive in the rain was pretty uneventful as the combination of low clouds and wet conditions made it unpalatable to make any photo stops. I also had to make sure that we were driving slower due to the curviness of the roads and the slippery roads. That said, some of the locals were still driving at or above the speed limit (I was only going about 10-20km/h below the speed limit) despite the slick conditions.
When we passed Obertraun and the turnoffs for the Dachstein Ice Caves, I was left wondering what might have been as we had no photo evidence of any ice caves that we witnessed. I guess all we have are the memories of Eisriesenwelt and the atmospheric kerosene and magnesium lighting by hand-carrying that made that experience quite unique and rustic. Dachstein Cave was said to be artificially lit so photos would be possible as no hand would be tied up holding a lamp.
Regardless, we eventually made it to the town of Admont and the Stift Admont car park at 10:10am. It was still raining and dreary, but we managed to find parking in a lot that was partially full. It then took us some time to get out of the car as Tahia was reluctant to get out, and somehow we managed to get her car door stuck as the remote alarm wouldn't unlock it.
So she had to get out of the car over her belongings via another door, and we hoped that the car door would eventually correct itself after our visit.
Anyways, we made our walk to the abbey, where red signs clearly pointed the way to the Bibiotek (library) that they knew everyone came here for. And when we got to the kasse, we were in a slow-moving queue. After another 15 minutes or so, we finally got our familienkarte with a purchase of one photo ticket (so I could take pictures of the library and natural history museum).
They even gave Tahia a photo ticket on the house.
And after a brief difficulty trying to get through the turnstile, they opened up the handicap one for us, and then we were finally through. We had to go up a couple flights of stairs before we walked down a hallway with some video rooms, but we pretty much made a beeline right for the library.
The door was closed, and we had to quietly open the door. And once we were inside, we saw what all the internet pictures and Lonely Planet photos whetted our appetites for. Indeed, we were in a grand hallway lined with books that was two stories worth. We couldn't access the upper floor.
There were some bronze-looking statues in the center of the library flanking some columns, and there were round frescoes on the ceiling really making this place not look real in pictures (though with random people in the photos, that provided the evidence that this place was indeed real).
All the books looked like ancient manuscripts and certainly this was not a place to do any free reading (as Tahia was hoping to do). It was run like a museum. There was even one particular book that was on display towards the far end of the library for a closer look at one such exemplary work of the time.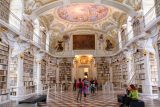 There were already groups being narrated to in German. So we had to squeeze past those groups for a little more breathing room to take pictures.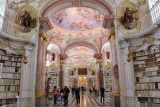 But with the room so captivating for photo taking and to just bask in this rather unique experience that wasn't on a Rick Steves, we easily spent a pretty solid hour just in this room alone.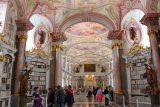 Speaking of Rick Steves, the more I thought about it, the more I realized that there weren't a whole lot of American accents in the library. Instead, we heard a lot more German and a few English. That led me to believe that the Rick Steves effect wasn't on display here since it wasn't in his guidebooks. And that also made the experience a little more refreshing albeit no less crowded as people were starting to pile in as time progressed.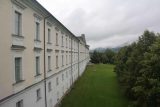 After having our fill and taking hundreds of pictures somehow trying to capture what we were witnessing in this library, we then walked up some stairs with glass windows so we could look at the cloud-shrouded local mountains before getting up to the top floor where we then went into the natural history museum.
There, we saw a rather impressive collection of animals, insects, and even an apple display. We also learned a bit more about who were responsible for maintaining this collection as well as the impacts of the 1865 fire that destroyed the abbey (so all the stuff we were seeing in the library were what remained or were restored and kept that way for 150+ years.
Some of the more interesting displays were of the tortoise sizes, alligator sizes, and whole assortment of snakes, and the insects.
By 11:55am, we were back in the car. It was still raining and I knew that the next excursion to the Wasserlochklamm would be a real uncomfortable one.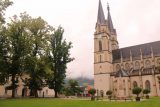 So onwards we drove further east as we made our way into the National Park Genuse (sp???) where we were passing through tall forest-clad terrain and winding roads. The incessant rain made it so that I had it in my mind to don waterproof pants and a rain poncho though experience told me that I might be getting wet from those things not being very breathable. I guess it was either my comfort or everything getting wet.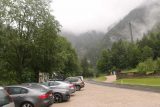 At 12:45pm, we made it to the signed Wasserlochklamm car park. For a day like today, it was surprising the number of cars that were parked here.
Still, the rain hadn't let up, and I took a few minutes to put on the waterproof pants, wear my outdoor Scottish jacket, try to put things like wallet and other things I didn't want to get wet in the jacket pocket since the waterproof pants only had one tiny pocket, and then lace up the hiking boots.
Julie and Tahia had made up their mind that they weren't going to do this excursion as I told them from my research that it was going to take 3 hours. The lady at the kassa said it was 2 hours so Julie had this expectation that I'd be back sooner rather than later. However, I knew that I would be going slow taking pictures in the miserable conditions, which might make things even slower given the elements.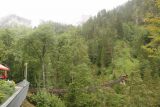 So we only purchased one ticket at 6.50 euros. At least they took credit card here, which was rather surprising.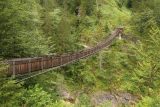 I then took that ticket and went out the back where there was some video display as well as some interpretive signs in German. I figured that in this part of Austria, hardly any Americans come here so I had to make do with my limited German to even have a chance at reading this stuff (though I tended to take pictures of the signs so I could read them later back at home when time wouldn't be so precious).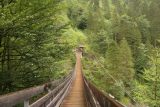 Then, I went across a suspension bridge spanning a gorge where down below there were people doing some kind of river rafting. There was a power line that kind of messed up the view going upstream where cloud-shrouded mountains would have nicely framed the river landscape. That power line no doubt was powering something on the other side, which in this case, was a self-help turnstile.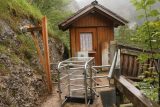 So I put the barcode part of the ticket just bought under the scanner, and the turnstile let me go through one turn. Then I followed a path that initially descended before following the river. Then, the path undulated a little bit before making a steep ascent.
There were already quite a few people going down from that ascent as they probably were finishing up their excursion. I was quite surprised by the number of people on this trail given the conditions, but I guess they were thinking like me, they had planned for today to do this activity, and it didn't matter if it was raining or shining. The show must go on.
The ascent definitely made things hot for me as the waterproof pants and jacket with rain poncho combo definitely were making me sweat from the inside out. So not only were things getting wet from the outside rain, but the sweat produced from my body was making things like my underwear and the insides of my jacket a bit wet.
So I was concerned that things like my wallet, notepad, tickets, maps, etc. were also getting wet by my own sweat.
In any case, after some initial climbing, the path then followed along a half-wooden ledgeway and half-rocky trail as it entered the Wasserlochklamm Gorge. It didn't take long before I saw the first waterfall, which was said to be 22m and it was already impressive.
Its position kind of reminded me of a smaller version of mist trail where the trail would go up alongside the right side of the falls though this one didn't produce a lot of spray.
After going up alongside this falls, the trail then followed along more ledges before entering a part that was signposted "Canyon". Here, the gorge narrowed and there were cascades and wild waters below my feet. This was starting to become customary for the klamm experience as this was the third klamm I've done on this trip, and they all seem to feature these narrow canyons and walkways above the tight inaccessible confines below.
Shortly thereafter, the path crossed to the other side of the gorge, and it briefly climbed up to the next sign, which said it was Wasserfall 2. This waterfall could only be partially seen due to a cliff and foliage protrusion that only revealed its upper and lowermost sections of its 26m drop.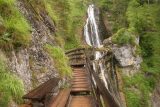 Then, the path continued uphill alongside the waterfall revealing more cascades as well as the base of an attractive semi-segmented waterfall up ahead. As I got up to that waterfall, a sign there said it was the Schleier Wasserfall at 39m tall. It certainly didn't look that tall from just looking at the part facing me, but as I continued up the stairs, I started to see more hidden tiers.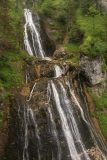 Now, it was starting to look like it could be more than 39m in total height, and it was hard to tell where the last waterfall ended and where the next waterfall began.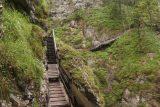 Indeed, if it weren't for the wet conditions that was threatening to ruin my DSLR camera, I would have spent a lot more time on the narrow steps taking shots of the falls while also taking videos.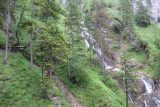 Speaking of which, there was one moment where my lens appeared to malfunction, and it wasn't until I removed the lens (carefully as I tried to prevent the rain drops from getting into the CCD sensor) and then reinserted it, did the camera start to function again. Whew, close call!
So I continued on as the trail now ascended quite steeply given the height of this waterfall. There were plenty of steps and switchbacks as well as moments to pause and try to show the cliff-hugging trail with the waterfall. And given the narrowness of the trail, I gladly paused to let people pass as I was trying to take pictures and wipe the lens of water at the same time.
Just about everyone I greeted with "Guten Tag" or "Gruwss Gott" were Austrian. There was definitely no foreign tourists here, and the look they gave me (as if I was an unusual sight in these parts) kind of on the one hand refreshing but on the other hand, it kind of reminded me how much of a stranger I am.
Nonetheless, after huffing and puffing my way up, I'd eventually reach the fifth waterfall (they counted the Schleier Waterfall as the fourth apparently), which seemed like it burst out of a narrow section in the cliffs. This one was said to be 37m tall but what I saw of it looked nowhere near that tall. Perhaps they counted what I thought to be the entire Schleier Waterfall as part Waterfall 5 and part Schleier Waterfall. So that might explain the height discrepancies that I was observing.
After the fifth waterfall, the trail then ascended steeply up several more switchbacks. The wooden cliff-ledge parts of the trail seemed to be over, and now I was on a classic mountain track. Eventually, I'd make it up to a junction where it looked like I could make it all the way back down to the cafe and car park via a different rundweg, but I instead took the spur track that went up to some kind of shelter as well as a natural bridge (which the maps promised there was one up there).
As I got up to the shelter at around 3pm, I could see that there was some additional wooden trail steps that continued onto the top of the hard-to-see natural bridge. And it was from there that there was a view down at the valley below (a sign here said it was the Salzatalblick at 850m above sea level) though it felt like I was on top of the world.
Indeed, the views from up here were commanding, but due to the low clouds, it felt like I was above some of those clouds while the mountains on the other side of the valley were shrouded in more clouds. Plus, the wet conditions made it hard to take pictures for a prolonged period of time.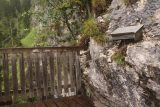 There was also a trail register with a guestbook that I went ahead and signed even though many of the pages were wet. It seemed like I had produced the only English text in this book from what I could tell.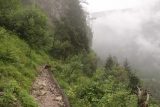 And with that, I started heading down as I knew that it was getting late and Julie and Tahia were already waiting for me for 2 hours before I even started this descent.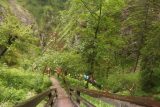 The way down went quite a bit smoother since it was all downhill though I had to be very careful about not slipping and falling on the steps. If that happened, it would be disastrous as the steps were narrow and steep and it was definitely not something for people afraid of heights. I was worried that my rain poncho might get caught in something in those stretches so I tried to be as quick but deliberate as possible in those spots.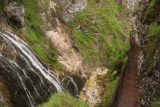 The trail was also narrow enough that I opted to wait for large groups of hikers going the other way. Again, I was quite surprised at how many people were on this trail despite the miserable conditions.
As I eventually went to the bottom of the Wasserlochklamm, I then followed the trail along the river back toward the suspension bridge. However, on one wooden ramp that didn't have planks to protect againt slipping, I managed to eat it on my last step of that ramp. Although the fall stung and my water bottle fell out of my pack, I didn't think anything of it and I just kept going.
However, it was only later that I noticed that there was blood on both of my hands, and that I felt something sting in my left knee, where there were apparently a couple of holes in the waterproof pants. I guess that would be something that I'll address back in the car, but for now, I couldnn't wait to get out of this waterproof gear, which was making me uncomfortably sticky and drenched in sweat from the inside out for sure.
Finally at about 4pm, I was back at the car where Julie and Tahia were waiting for me. I went ahead and grabbed my Chacos and dry hiking pants and used the cafe's toilet to get changed out of the wet stuff and into the drier and more comfy stuff. The thick smell of cigarette smoke in the toilets was a bit on the choking side, so I made haste to do this task as quickly as possible.
Back at the car, Julie left some leftovers for me to have a quick lunch. It was basically pork chops and pasta cold. Then at 4:15pm, we finally drove off in the rain.
The drive out of the area remained under persistent rain. It certainly made us mentally feel uncomfortable though I was definitely feeling the physical discomfort of being wet with sweat and now stinging from open wounds as plasma was oozing out of one hand and sticking to my pants on my left knee from the blood oozing out of there as well.
At 5:15pm, we entered some sizable town along the B25 where Julie decided to make me stop at a Eurospar there for some grocery shopping. She expected that we'd be in an apartment tonight so she could cook dinner and then cook breakfast the next day. So it took some time before she'd finally return to the car at 5:35pm.
But when she saw my wounds on my knee for the first time, she went back in to get bandages, and then we woundn't be continuing on the road until about 5:45pm.
By now, the persistent rains seemed to have let up. Apparently, we were out of the mountains and into the valley (the Wachau Valley, I believe). So that at least was a little bit of relief from the dreary conditions we had endured for nearly 24 hours.
Eventually, we got onto the A1 and then we got off in the direction of Melk. We had a bit of trouble looking for this apartment in Melk, but after asking around, the key breakthrough was that we realized that Google Maps was incorrect and that Apple's routing software was more correct in this instance.
We also asked locals that corroborated Apple's waypoint.
So eventually at 6:35pm, we managed to find street parking (really tight) and then we met up with the guy Julie tried to speak to over the phone earlier today concerning parking and checking in. However, he didn't really speak English so I had to get by with my German.
And when he showed us to our room, we realized that this place was not the apartment that Julie had assumed. Instead, this was merely a room of the owner's apartment. So we didn't have a kitchen nor did we have a fridge.
The place also had a pretty strong smell. At first, I thought it my own BO from all the sweating and dampness from my Wasserlochklamm excursion. However, this smell only persisted in the owner's apartment so I suspected it was the dogs and/or the owner.
At least he let us use one of their refrigerators to try to keep our meats preserved, but with the next 3 nights after tonight in Vienna and not in an apartment, we were probably going to have to deal with the meats that Julie had just bought at the Eurospar to be spoiling. That was a definite waste of money and time, and I wasn't particularly pleased about this oversight and assumption on Julie's part.
In any case, we had to make due with our arrangements as it was only for a night. So instead of bringing our luggages upstairs to the top floor, we just grabbed basic toiletries and PJs and just quickly got settled for the night.
In the mean time, we went back downstairs and checked out the Altstadt of Melt at 7pm. The town seemed kind of dead, which was unusual for a Friday night. In any case, we ate at this place called the Rathauskeller at 7:25pm, where we tried blood sausage "strudel" (more like an eggroll) as well as a beef steak with creamy chanterelle sauce, and a chicken filet. We were also charged for leitungswasser, which was becoming quite the norm.
At 8:20pm, we were finally done. And we then proceeded to walk around the quiet town despite the very dark clouds that were looming overhead.
From the main square, we could see the Melk Abbey looming above the Altstadt. It already looked pretty fancy and grand from its exterior, and we wondered what it would be like on the interior (even though I understood that no photos were allowed, which seemd to be customary in all the palaces and castles throughout Germany and Austria).
We eventually went across the St Leonard Bridge, where we managed to get more photos across the river towards the Melk Abbey. Then, we slowly walked back into the dead Altstadt, where Julie wanted us to go to the Hotel zur Post to try the local apricot dumpling dessert that was apparently the local specialty.
When we were done with the dessert (I could have done without it but at least we tried), the lighting around the town and the abbey was that magical twilight. So we spent a bit more time trying to take what photos that we could before the magic hour faded.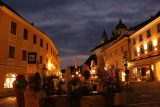 And by 9:30pm, we were finally back in the room. We definitely got the sense that Melk was primarily visited by day trippers from Vienna because the town itself was definitely dead. Still, that was nice for us since it was quiet and peaceful though it definitely lacked that ambience from the other towns. I guess it's a balancing act when it comes to mixing ambience and atmosphere.
So we looked forward to tomorrow and hopefully the weather would improve. I also had to keep an eye out on the parking situation as apparently it was free from 18:00 to 08:00. So I had to either pay the machine or move the car when the time came.
All in all, this was one of the more uncomfortable and "low point" of the trip. Every trip has one of these. But it wasn't anything to dwell on. We just had tomorrow to look forward to and try to stay in the moment day by day taking things as they come.
And with that, we cleaned up and crashed in the king-sized bed as we all co-slept rather comfortably considering the circumstances…