Day 25 (July 7, 2018 – Vienna, Austria): "Green Danube"
It was about 6:15am when I awoke. For a place that was as cramped as this room we stayed at (compared to the apartments that we were used to), I actually managed to sleep through my alarms and get as much sleep as I had all trip long. So I felt quite refreshed, and with no real major errand or activity planned except to get to the Stift Melk when they open at 9am, we had time on our side to get packed, load up the car, and have breakfast.
I also had to move the car before 8am, where upon learning that the Stift Melk parking was free, I was to move the car up to the abbey car park, then return to the owner's apartment for our breakfast before doing some last minute checkout activities before finally walking back to tour the famous abbey itself.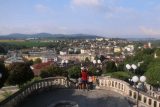 It was about 8:10am when I had parked the car at the Stift Melk car park before I then walked back down into the Altstadt where one young Chinese lady who was touring by herself was relieved that I spoke some Mandarin as apparently she told me that there weren't many Chinese people in these parts.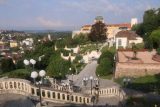 I thought to myself how surprising that comment was because I would have thought large tour bus crowds (especially Chinese ones) would descend upon the Stift Melk to get a taste of the bling that was said to rival the Vatican or something like that. At least that was the hype and expectations that we were coming in with. We'll have to see if the real deal meets those expectations.
After finishing up our breakfast, we bid the accommodation owners a fond farewell. They indulged me in my broken German as they were surprised that I knew enough to get by. They also gave Tahia a gift, which was a jar of apricot jam that the wife said she made from apricots in her garden. Since apricots were a big deal in the Wachau Valley, that was a pretty cool gift.
We also left them the frozen shrimp since we knew that we wouldn't be having a freezer in our hotel accommodation in Vienna, which was where we were going to stay for the next three nights.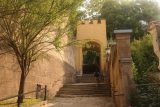 So with that, we headed up the steep signposted path leading to entrance to the Stift Melk. We wound up getting there at a little after 9am, which only happened after Julie made me take another bag full of stuff to the parked car (which was now a bit of a walk from the Stift Melk entrance). That wasn't fun as the day was heating up.
Eventually, we paid for our admission ticket, and then walked past a couple of impressively grand courtyards before going up the stairs and into the Abbey itself. There, someone opened the door and let us through with our purchased tickets. However, they reminded us that no pictures were allowed inside the abbey, and there were lots of signs in just about every room reminding people of that.
We kind of zipped through the first few rooms of the abbey as there was plenty of blinged out swords, staffs, thrones, and crowns among other things. Julie was trying to go by the Rick Steves guide to help her along, but I think she wound up blowing through the initial part of the visit when there really wasn't any rush to blow through anyways.
Since we couldn't take the experience with us through the pictures, we mind as well visit every nook and cranny of the abbey that they'd allow, right?
Well, the first few rooms were indeed impressive, and it didn't take long before we wound up past a grand empty room before going out to some kind of balcony or U-shaped mezzanine overlooking the river as well as the Altstadt of Melk.
Once we got back into the other side of the U and back indoors, we then entered a very blinged out library. The big library room was full of books with gold covers and trims. It was also multiple stories and had a very grand wooden-like interior. Julie thought that this library was better than the one in Admont Abbey, but I personally thought the one in Admont was a better experience because we got to take pictures and at least take that memory with us.
As tempted as I was to take pictures inside this library, we refrained and moved onto the smaller library room, which was also quite grand. There was also a proctor in there to make sure people were well-behaved.
Next, the tour route then took us downstairs into the church. When we went inside that church, we were immediately struck by its size as well as the bling once again. Now, I was thinking to myself that this was an indication of how powerful the church was, and it was indeed on display given the concentration of wealth that was totally on display here.
Again, as much as I wanted to take pictures, we couldn't. And even if we did, I wasn't so sure much justice could be made to such a grand place.
Tahia was fascinated with some of the altars near the main altar where there was one empty sarcophagus (cenotaph) and one that actually had the remains of some other sankt (I forgot his name since I couldn't take pictures of signs or anything).
After loitering around and just taking in the visual bling of the high-ceilinged church, we were done with the tour at about 10am.
We then exited into the courtyard beneath the mezzanine we were just at, and then we exited to the gift shop, where we were then deposited back into a long hallway where there was a side door revealing a side view of the blinged out cathedral.
Then, we made our way back across the courtyard (making one very short stop at some exhibit which contained a bunch of modern art about crosses) before going into the panorama terrace, where turnstiles allowed only paying customers in.
When we were done with the panorama terrace, we then descended into the garden, where there was a pinkish house at the far end fronted by an extensive garden area with a fountain in the middle. The pink house was actually some kind of cafe serving up desserts (of course the ubiquitous apricot nodeln (sp???) was amongst the desserts since apricots were a specialty of the area.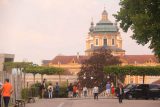 Eventually at 10:40am, we returned to the parked car where we then embarked on a scenic drive along the B3 on the northern side of the Danube River of the Wachau Valley.
During this drive, we quickly noticed that this part of Austria reminded us of the Romantic Rhine in Western Germany. Here, we saw cute villages as well as some boat traffic in the river itself, and lots of vineyards spread out between each of the villages flanking the Danube.
Julie had read that Durnstein was the cutest of the Wachau Valley villages, and so we made it a point to stop there and use a few hours to wander around a bit and soak in some of the Wachau Valley outside of the car.
One thing we noticed about the river was that it wasn't blue as one might imagine from the classic musical piece "Blue Danube". Instead, it took on more of a greenish appearance when the sun did come out against the patches of clouds around the area. That said, this drive was definitely more laid back than say the Rhine or the Mosel River Valleys.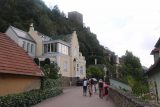 At about 11:10am, we got lucky scoring a parking spot right at the sign for the start of the pedestrian zone leading up to Durnstein. We wound up paying for the full day at 4 euros instead of risking it for 2 hours at 3 euros. We knew that if we were going to eat lunch at a sit down place here, that would consume a minimum of an hour or more.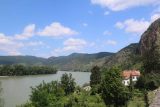 We then proceeded to walk up the narrow road where we managed to get some teasing glimpses of the Danube River though I got the feeling that we took a back way into the main part of the village of Dachstein.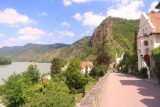 Once we got into the main drag of the town (there was a gate on one side and some hotel Durnsteiner on the other side), we then started to soak in the ambience of the town while Julie was busy trying to scope out places to eat lunch.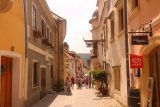 At first, we tried this one place that was a festive beer garden where some guy was playing the accordian and there were lots of people seated though the place was already thick with second hand smoke.
We got seated next to the guy playing the accordian, and he wasn't shy about playing Chinese songs then pointing to the tip jar (we didn't tip as it wasn't like we were asking for this).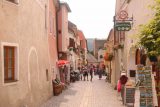 When Julie looked through the menu and didn't see any items that she could have since everything pretty much had gluten in it, we were then asked by the waiter if we wanted something to drink.
I asked him if they have "leitungswasser" and the guy said, "Leitingswasser?" and then he proceeded to laugh loudly.
Apparently, it was a thinly veiled attempt at ridiculing us for getting tap water in a beer garden, but it was usually me that would try to ask for these things since I knew enough German to get by. And yet, I'm the one being ridiculed here, when I knew that all these requests were for Julie. I guess this is the price I pay for taking it for the team even though I had a more flexible palate.
Regardless, despite the dickhead move by the waiter (as if we were forced to order beer we didn't care for or something we don't like to drink that was too loaded with sugar or grains), we were already in the mindset to leave since Julie couldn't have anything.
Eventually, we wound up at this place called the Durnsteinerhof at 11:50am, which was Julie's first choice as it had Tafelspitz, which was like rolled boiled beef. We knew that ought to be gluten free even though the waitress that served us didn't speak English (so once again, I had to try to bust out my German to see if that might smooth over the communication barrier somewhat).
When I was doing that, I noticed that she felt more comfortable talking to me even though that put me on the spot. Still, I guess after over 3 weeks of touring German-speaking regions and countries, I'd like to think that I picked up a little German to get by even more so than just the books and CDs that I had been learning with for over 6 months in preparation for this trip.
Ultimately for this meal, we had Julie's tafelspitz while I had some kind of roast pork dish with onion rings on them (not gluten free, but Tahia and I could share). At least the service was more attentive here despite the language barrier, and by 12:35pm, we were done with the meal.
Next, we walked around for a short bit hoping to check out that blue-towered church except there happened to be some kind of hochzeitsfest (Wedding Party) that made it a bit weird to spend money to go in there and mosy around with people in wedding attire trying to enjoy their big day.
We also saw glimpses of the Richard Lionheart Hotel with some ruins of where his former prison used to be.
Anyways, so this was when Julie and Tahia decided to loiter around the main drag of Durnstein while I went solo hiking up to the Durnstein Castle Ruins at the very top of the hill above the town. It was said to be about 20 minutes in each direction so I told Julie and Tahia that I'd meet up with them back at the main drag by around 1:30pm.
And so in the height of the heat of the day, I went forward with the uphill hike, which went up a combination of ramps and lots of steps. As I was making my ascent, I already started to get teasing glimpses of the Stift Durnstein tower as well as the red rooftops of the rest of the village.
As I continued my ascent, I started to get more commanding views of the Danube River flanked by more cute villages on both sides of the river itself.
Eventually at around 1:20pm, I made it up to the very top of the castle ruins, where there was a bit of a nice breeze to help offset the sweat from all the work it took to get up here.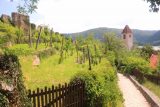 From this vantage point, I managed to get sweeping views over the Wachau Valley, which included a handful of villages along both sides of the wide river. There was even an impressive looking abbey or some kind building way at the top of a hillside in the distance.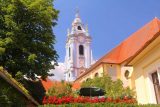 After having my fill of this regal vantage point of the Wachau Valley as well as the castle ruins itself, I then quickly made my way back down to the main drag of Durnstein, where Julie and Tahia found me and wanted me to check out some terrace dining area where it was possible to get a view back up at the Stift Durnstein as well as some partial views across the Danube River.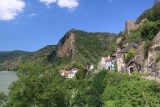 Eventually at about 1:55pm, we finally made it back to the car. However, since it was sitting under the sun the whole time, the interior was baking!
We then proceeded to drive east on the B3 alongside the northern edges of the Danube River, before the road eventually merged with the A1, and then we flew (not literally) right into the city center of Vienna at around 2:55pm.
That was where we went into a parking garage that charged 40 euros per night! And worse than that, this parkplatz that was opposite the Park Hyatt where we were staying also didn't take credit card. So potentially, we could be paying the equivalent of about $150 USD for three nights of parking all in cash!
It wasn't until Julie finally came down to the garage with room keys were we finally able to take some of the stuff back upstairs into the pretty fancy room.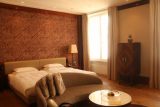 By about 3:45pm, we finally entered the hotel room as a family, and we were immediately struck by the wooden interior and bling factor of some of the decorations within this room.
Once we got settled, it wouldn't be until about 5pm when we finally went downstairs. Most of that 75 minutes time in the room was Julie spending the time looking up places to indulge her sweet tooth that was gluten free.
I kept wondering whether we would lose out on opportunities to really experience the city over chasing these food things when there were far better things to pursue. I guess she was taking for granted that we would have two full days to experience the city. I didn't plan anything for the city stuff so I left her in control of what we were going to see and do (much like we had done for Munich, Paris, and other great cities on this trip).
I did spend time talking with the concierge about getting a map and getting a run down of the city. When I asked him about Tichy (the dessert place), he told me that I was the first person who asked him about that place as apparently most of the clientelle of the Park Hyatt wouldn't consider going to these places.
Similarly, when he noted how far from the inner ring it was, he offered to hail me a cab though I told him I'd rather use the U-bahn instead.
"Are you sure you want to use the U-bahn?" he asked me.
I guess us staying in this place on Hyatt points kind of made us feel like we didn't belong or something (as if we were frauds or something). Clearly this was a baller hotel but we weren't the typical baller guests.
So he obliged me with the run down on how to use the U-bahn, and with all the wealth of knowledge that he gave me, I thanked him and we were finally on our way.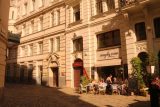 First up, Julie managed to find the first place that she looked up via internet as it was merely a few paces from our hotel. This place was called Simply Raw. That was all gluten free where they creatively used bananas, coconut, walnuts, etc. to give cakes texture. She went nuts buying two different kinds of desserts in small cups as well as a cupcake for Tahia.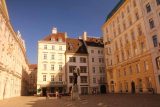 And just those three desserts costed us 18 euros. So she took those away as takeaway ready to eat them as we were expecting to have dessert at Tichy, which was something I was looking forward to after attempting to try the ice cream cake from a place in Hallstatt for dinner that she managed to talk me out of and try apple strudel instead (which I wasn't that nuts for). So I was hoping to try a slice of that kind of cake at this place.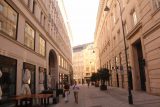 Anyways, after getting the desserts, we then wandered around looking for a U-bahn station (basically a subway). But as we were wandering around aimlessly, we were starting to see quiet streets with attractive plazas. In fact, it appeared that we were going from one platz to another before we started to see high volumes of foot traffic as we went behind some small cathedral and then went into some shopping lane.
That shopping lane then led to a very atmospheric street on the Graben and then the Singerstrasse. That was where we saw hordes of people going north and south on the Habsburgergrasse as well as east and west on the Graben. There were fancy buildings surrounding both lanes so we knew that there must be something significant in both directions.
We opted to follow Graben as there was the sounds of a marching band (though they weren't marching) playing to a very large crowd next to some statue.
As we gravitated in that direction, we saw a modest cathedral at Petersplatz, but then we kept going until we saw an even bigger one with a huge tower that reminded us of one of the spires at the Sagrada Familia in Barcelona, Spain. However, this one seemed to have a bit more of an old-world flavor to it as the Catalonian one was more modern.
That was when we pretty much were at Stephansplatz, which appeared to be the heart of the city. We briefly stepped into the St Stephans Cathedral, where there was some kind of ceremony going on. It was clear that lots of people were ignoring the signs that said some kind of service was going on (so no visitation), and we did as they did and snuck a peak.
What we wound up seeing was a very blinged out and grand cathedral with people sitting in chairs and a couple of white-robed guys speaking in German to that audience. There was a rope preventing casual visitors from getting any closer than the far back.
So we took non-flash photos, but it really felt like we were intruding upon something so we stepped back out.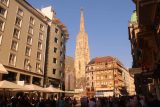 Then, we went downstairs into the U-bahn subway station nearby (within view of the St Stephans Cathedral) and proceeded to buy 3x 48-hour tickets. They appeared to do the validation system instead of the turnstile system where it seemed that no one was paying, but we did not knowing how they enforce these things. We were supposed to validate our ticket at one of the machines and I guess if someone was checking, you'd have to show the validation to avoid getting a fine.
That costed us around 14 euro per person as there was no such discounted fare for children. But with each trip costing at least 2.5 euros in each direction, I'm sure this would pay itself off royally once we got used to using this system.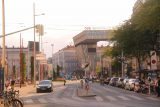 Anyways, we took the U-bahn west towards Westbahnhof, where we then walked towards Julie's selected dinner spot.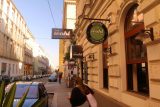 We eventually went to this place called Zum Wohl though we did make a couple of detours towards some supermarkets as Julie was hoping to get some cold breakfast that we could munch on to go without needing to buy something expensive and time consuming at the Hyatt.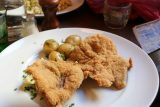 At 6:20pm, we'd finally get seated and start ordering food. The waitress there had a good command of English so communicating with her concerning Julie's diet restrictions was no issue.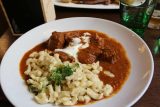 We wound up ordering some kind of beef gulash (which Julie really liked a lot) as well as a duck breast. Julie gave into Tahia having a wiener schnitzel because the breading was gluten free.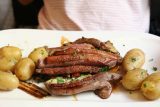 However, we also over-ordered as we wound up getting this "Zum Wohl" dumpling that was really nothing more than a giant plate of spatzel with eggs. I thought it was a vorspeise (appetizer) probably because there was another "Zum Wohl" dumpling that was mozarella cheese with tomatoes, but this was a waitress recommendation so we tried it.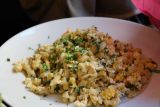 But in the end, we had three boxes of takeaway. With no stove, all these takeaways would be cold breakfast. Plus they were very starchy so it wasn't like Julie could have them. So I knew that I was going to have a very filling cold brekkie.
By about 7:30pm, we were done with dinner, which was over 50 euro but was actually a lot more food for that kind of money than most of the other places we had eaten at on this trip.
We then took the U-bahn towards the place called Tichy (pronounced "tiki" according to the concierge at the Hyatt), where we finally pursued that dessert where I had been eyeing the Schwarzwalder Torte ever since the Seehotel Gruner Braun dinner in Hallstatt that Julie talked me out of having a slice over having an apple strudel instead (which I wasn't nuts for).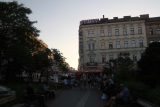 When we eventually got to Tichy, it was basically a very busy takeaway ice cream place with a sit down section that apparently had their own menu that was separate from the takeaway place. Julie thought we were supposed to order at the counter before finding a place to sit.
So we went to the counter first, but with the language barrier (I was definitely out of my depth with my German in communication with a pair of ladies who knew no English), we eventually learned that we would have to buy the Schwarzwalder Torte ice cream cake in full (i.e. the entire wheel that costed 27.50 euros!). I was expecting that we'd be able to order by the slice like for around 6.50 euros back at the hotel in Hallstatt.
I was really not up for spending that much money on dessert for a quantity that was way too much to consume in one sitting.
Well after spending minutes of awkward waiting and dialog with the counter person along with getting Julie to stay with me so I can pay (she was holding the cash), we finally decided to just get the big wheel of cake. Then, once we got the icy cake in a box, we tried to sit down at the table to eat it right away, but some other lady said we couldn't eat anything bought at the counter at those sit down tables.
So I guess this was yet another bad assumption on Julie's part and so we quickly left the place now that we were worried that the cake would melt between now and the time we returned to the Hyatt. So much for experiencing the twilight ambience of Vienna's city center on a Saturday night, I thought to myself.
At this point, neither Julie and I were happy with each other. I couldn't let go of the fact that we had just spent nearly 47 euros on dessert, and that I really wished I had just stuck with my instincts back at Hallstatt so I could try their more famous "dumpling" ice cream desserts in that visit as opposed to the original place, which led to this very expensive and not-so-pleasant visit.
Alas, that was not meant to be.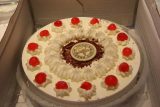 Eventually by 8:40pm, we were back at the room. At least the concierge said they would be willing to store the giant cake box in the refrigerator so we wouldn't have to gorge on it on this evening. But I'd imagine that it would take at least two days to finish this thing, and we'd probably be sick of this dessert by then.
The rest of the evening was spent eating this cake and unwinding from the day. Tahia really wanted to go swimming in the pool downstairs, and she had been asking since 9pm, but Julie was spending time ignoring her and doing other things. So by the time they finally went downstairs (and Julie finally got Tahia's swimming gear, which she opted not to bring up from the car on the first go that I had outside the car ready to go up), it was 10pm and the pool was closed.
Tahia was very disappointed that she would have to wait for tomorrow, and I'm sure we probably wouldn't hear the end of it until she'd finally get a chance to do it tomorrow night. But we better hope that the dinner will end soon enough to let her finally get her swimming shot, which is not a guaranteed thing as apparently there were lots to see and do in Wien.