Day 26 (July 8, 2018 – Vienna, Austria): "History Repeating"
It was 6am when I awoke. Outside, it looked cloudy and as if it was going to rain today. Being that we were in the city though, I didn't feel like it was going to matter too much, but I always found it interesting that weather plays more of a factor when we're in the rural areas (especially the mountains) than in the cities.
And I don't think that's a coincidence.
That's because mountains tend to be cloud magnets with their own microclimate. Cities tend to be in basins or places that are devoid of mountains in the immediate vicinity. So that probably explains why we tend to get crappier weather on our trips, especially when we're in the mountains (where the waterfalls are) as opposed to the cities, where the cloud magnets and microclimates don't exacerbate the weather extremes.
So even if it's going to rain today, I got the sense it wouldn't be the all-day rain that we had to endure like on the day we drove from Hallstatt to Melk as well as on the day we were driving from Fussen to Munich.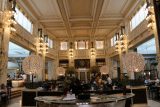 With Julie doing all the planning for what we were going to see and do in the city, I allowed myself to sleep in and gradually get into blogging and other things. Julie actually ran an errand by going to the one of the few supermarkets open on a Sunday at a Billa close to the Praterstern. That way, she could pick up something quick for breakfast on the go.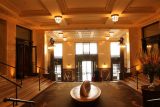 It wouldn't be until around 8:15am when Julie came back with things like kefir, smoked trout, and some fruits. She couldn't buy things for another day because the mini-bar refrigerator was not that cold. I even took a risk eating the spatzel leftovers cold as it was sitting in that mini-bar fridge.
And it wouldn't be until about 9:20am when we were finally out the door and starting our first full day in Vienna.
The first sightseeing target of the day was the Sissi Museum, which was one of several things to see and do in the Hofsburg Palace, which itself was a massive complex of fancy buildings and large gardens just walking distance from the Hyatt and the St Stephans Cathedral at the happening Stephansplatz.
By about 9:30am, we entered the paid part of the museum tour, where we were zipping through the first floor that was all blinged out with china collections, silverware, and other pots and pans that were blinged out in silver, gold, crystals, or other displays of concentrated wealth.
That part of the tour could have gone on for 40 minutes or so if we wanted to, but we were here for the appartments and royal residences. And so by 9:40am, we were then touring the Sissi Museum.
Since no photos were allowed throughout this museum, we really took our time listening to the audio guides and trying to correlate what we were hearing with what we were seeing that was on display. As we were going from room to room, and listening to the narration in the Ken Burns style of having acted voice-overs dubbed in the languages that are understandable (and not all in German), we really got the sense that Kaiserin Elisabeth (aka Sissi) was a tormented soul where she was really not into the royalty of being the empress.
She felt like the day her life ended was literally the day that Emperor Franz Josef I married her, and from that point on, Sissi had to endure the formalities and restrictions of royal court life.
Really, it was like the Princess Diana Story all over again, where at one point, the royal life was embraced to perhaps do ones own bidding, but eventually that kind of life would be all consuming, and then she'd retreat away from the royal life. However, in Sissi's case, Franz Josef I really supported her as he was head-over-heels in love with her but the feeling may not have been mutual nor was this life of being a royal blood was in her either.
So we could really see in the paintings and pictures the transformation of wearing bright colors to almost always wearing black (especially when one of her sons died). We could also see how she was more interested in pushing herself physically so she was very much into exercise and taking big risks horseriding. Same went for her poetry and learning languages.
It was as if she managed to find what little freedom she had in those pursuits.
When we were learning about the Mad King Ludwig II concerning the many Bavarian castles he commissioned and oversaw, we saw similarities between he and Sissi as they may have been kindred spirits. While the museum didn't say anything about whether the two had correspondences and found some kind of bond in each others' ordeals, their similarities in their situations and mental state seemed apparent.
Regarding Ludwig II, those castles were kind of his retreat from royal life that he wanted no part of when it came to him being unable to express himself (i.e. being gay, hating the city life, retreating into his fantasy castles, and blowing off fortunes and burdening the treasury by amassing huge debt, etc.).
It seemed like Sissi lived into her 50s or so until she was assassinated by an anarchist. But he perhaps did her a favor though the rest of the Austro-Hunagarian Empire mourned her loss and perpetuated her myth.
In a way, it's funny seeing how history tends to repeat itself. As Princess Diana felt to me like the second coming of Sissi except the British Royalty had more symbolic and PR sway than it did political sway like in Sissi's case. That said, Princess Diana was mobbed by the media and adored by people who looked up to the royalty as if they were major celebrities, and eventually she died in a tunnel in a car accident when the driver of that car tried to outrun pursuers that were said to be papparazzi or something like that.
The parallels with her and Sissi had more to do with Princess Diana's reluctance to be part of the typical royalty as she tended to give to charities and really try to relate to people in far less fortunate positions than herself. But the royal life aspect was cause for her unhappiness.
And in today, I can kind of see similar parallels between life behaving in a corporate controlled world versus being oneself while breaking out of the rat race. There's always some degree of keeping up with the Jones' and doing arbitrary pursuits of money and wealth by playing by the conventions and rules of corporate behavior and being lucked into corporate biases (in favor of or against; that aren't in your control), and so it seemed like everyone had some degree of Sissi in them. Perhaps that's why I found her story so relatable and why the Princess Diana story seemed like history repeating.
After getting through the Sissi part of the tour (which I'd have to say was the most compelling part of the tour since her story seemed to be most relatable), we then went through Emperor Franz Josef I's rooms, where we got the sense that he was the military head man and one of the last great kings before World War I put an end to the age of monarchies as the world knew it.
By about 11:05am, we then continued on the tour as we found our way to the treasury (schatzkammer). It had been raining outside by this time, but the rain had let up momentarily as we walked outside the Hofsburg Palace and then back in at a different section closer to the main courtyard where hordes of tour groups were already mobbing the city and especially this palace.
Inside the treasury, we were allowed to take pictures though the lighting was so dark that I really had to hold my breath for a bit to keep the photos from being unacceptably blurry. It was basically yet another display of bling bling and while this part was not in the Sissi Ticket, I felt like I could have done without spending money for this part of the tour.
By about 11:45am, we were done touring the Treasury, and then we meandered about the Franz Josefs Platz before going over to the Augustinaplatz. Then, we headed back into the happening part of the Wien Innenstadt (city center). Along the way, Julie made a stop at the Mozart Cafe to pick up some haughty desserts that happened to be gluten free. But we picked them up to go so we'd have to find a place to sit down casually and enjoy them.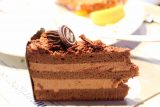 We wound up eating at this cafe-style place called Nordsee at 12:30pm, which wasn't the first time we saw something like this. But this time, Julie saw some delicious-looking shrimp, prawns, and even lobsters with grilled veggies, and it was all in self-catered cafe style.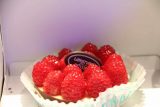 So thus, the price was reasonable and the casual sit down allowed Julie and Tahia to eat their desserts while we were already seated and no one seemed to care a whole lot about what we were eating or doing since we were already paying customers. In fact, we didn't even get charged for tap water (let alone get ridiculed for even asking for it) for a change!
We kept asking ourselves, why didn't we do this more often earlier on this trip. That surely would have saved us time and money since every sit down place was expensive, tended to burn through our cash (when credit cards weren't accepted), and took a minimum of 60-90 minutes or more of precious time due to typical inattentive service.
At 1:05pm, we were done eating and then we walked around a bit though the weather started to turn and sprinkle once again. We then spent the next few minutes walking the other side of the happening part of the Vienna city center, and then we went into the St Stephens Cathedral. I guess the other blinged out church we went into yesterday was the St Peter's Cathedral which wasn't as grand though they did have some ceremony going on there at that time.
But in this case, the main altar and aisles of the St Stephans Church appeared to be devoid of traffic as they had roped off sections and a cage keeping tourists confined to the back of the Dom as well as one side. There were some additional purchases that could be made to tour things like the crypt as well as the bell tower (Pummerin?).
After having our fill of the cathedral, we then started to head towards the U-bahn so we could head to the Belvedere.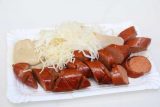 However, we made an additional stop to check out one of the street stands to have ourselves some fresh horse-raddish and mustard with some sausages that looked really good. So we fit that extra snack in before we then took the public transport in earnest.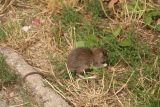 Once we got to the correct stop at the Quartier Belvedere stop, it took us a bit of time to actually reach the Upper Belvedere Palace because we took a combination of U-bahn and S-bahn (both waiting for trains and walking from stop to stop) then we managed to walk the wrong way and going on a fruitless loop before finally going where we needed to go.
Eventually at 2:50pm, we finally reached the pretty grand Upper Belvedere Palace, where there was the now-typical impressive Versailles-inspired buildings with an extensive fountained garden between that and the Lower Belvedere Palace in the distance further down the hill.
The walking path we took seemed devoid of tourists while it appeared that the other approach from the Lower Palace was the more common approach (and probably where the tram stop [strassenbahnhaltestelle] was).
The main reason why Julie wanted to go into this palace was to see some paintings. I wasn't real keen on doing this, but since we were here, and the views weren't as extensive of the city as I would have liked to warrant loitering outside, I just bit the bullet and paid another adult fare to go in. At least Tahia got to go in for free.
Then, we pretty much walked from room to room on the first floor, where the famous "Kiss" painting and some other erotic painting of some satisfied-looking woman was located. There were also other works on the floor that we were reading the signs and trying to interpret what we were seeing through what the artist wanted to communicate.
However, we were really just killing time and making our admission worth our while.
We then went upstairs to the second floor to see the impressionist and realism arts. Some of the works that I most connected with were those that had to do with landscapes as some of the locations were now more familiar to us after having been there. Such places included Lauterbrunnen, Bad Ischl, Hallstatt (before it got touristy), and the before-and-after looks at Wien.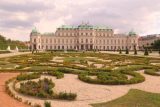 We ended off the Belvedere Exhibit Tour by spending a brief time going back down to the 0th floor to check out the medieval art, which had bolder colors (as they were oil on canvas apparently), and they also were more focused on religious themes.
Eventually at 4:40pm, we were finally done with the exhibit, and then we walked down past the Lower Palace towards the Tram 71 stop. We then took the slow-moving tram back towards Karlsplatz, where we then went on a roundabout subway route going back to Stephansplatz, then the Volkstheater, and finally the Rathaus stop (when we could have taken the U2 line direct from Karlsplatz to Rathaus though we didn't know better at the time).
The reason for all this trouble was to go to some Italian eatery called Pizzeria Scaraboccio, which sold gluten free pizzas (well at least you had to ask for it for an additional 2.9 euros). And this place didn't accept credit cards so we were going to burn through a lot of our cash here, as well.
We ultimately got there at 5:40pm, making it an hour-long commute to get from the Belvedere to here even though I was willing to bet that we probably could have walked the whole distance and still get here faster.
Regarding this restaurant, had we limited ourselves to just one pizza and refrained from the dessert, this place would have been pretty affordable. However, we wound up getting a fairly pricey main of saltimbocca (salty veal meat topped with prosciutto), 2 gluten-free margherita pizzas with buffala mozarella cheese, and a tiramisu along with mixed salad and we got charged for leitungswasser as well as some mysterious 2 euro sitting fee (must be an Italian thing).
All in all, we spent on the order of 65 euros in cash. That hurt. The service also wasn't attentive either as we eventually took it upon ourselves to just go up to the register to ask for stuff or to pay the rechnung (bill), which was something that we were pretty used to do by now.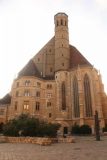 At 7:45pm, we finally made it back to our room to end off the day. I spent time with Tahia to use the swimming pool, which seemed more like a spa experience than it was a play pool. But Tahia got her fun, and we eventually went back up to the room after 9:15pm or so, and then we both cleaned up and crashed.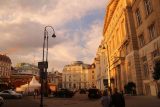 It seemed like each day took a lot out of us, and even on a day like today where we did lots of walking and didn't have a real packed itinerary, we'd still be out of energy by the end of the day. So that made me wonder what tomorrow would bring even though we had planned for a day light in activities. But somehow, I got the feeling we'll be pooped by the end of tomorrow as well…